In this ultimate guide to the types of tables you'll see the different design styles for living rooms, dining rooms, work rooms, game rooms, available shapes, and materials.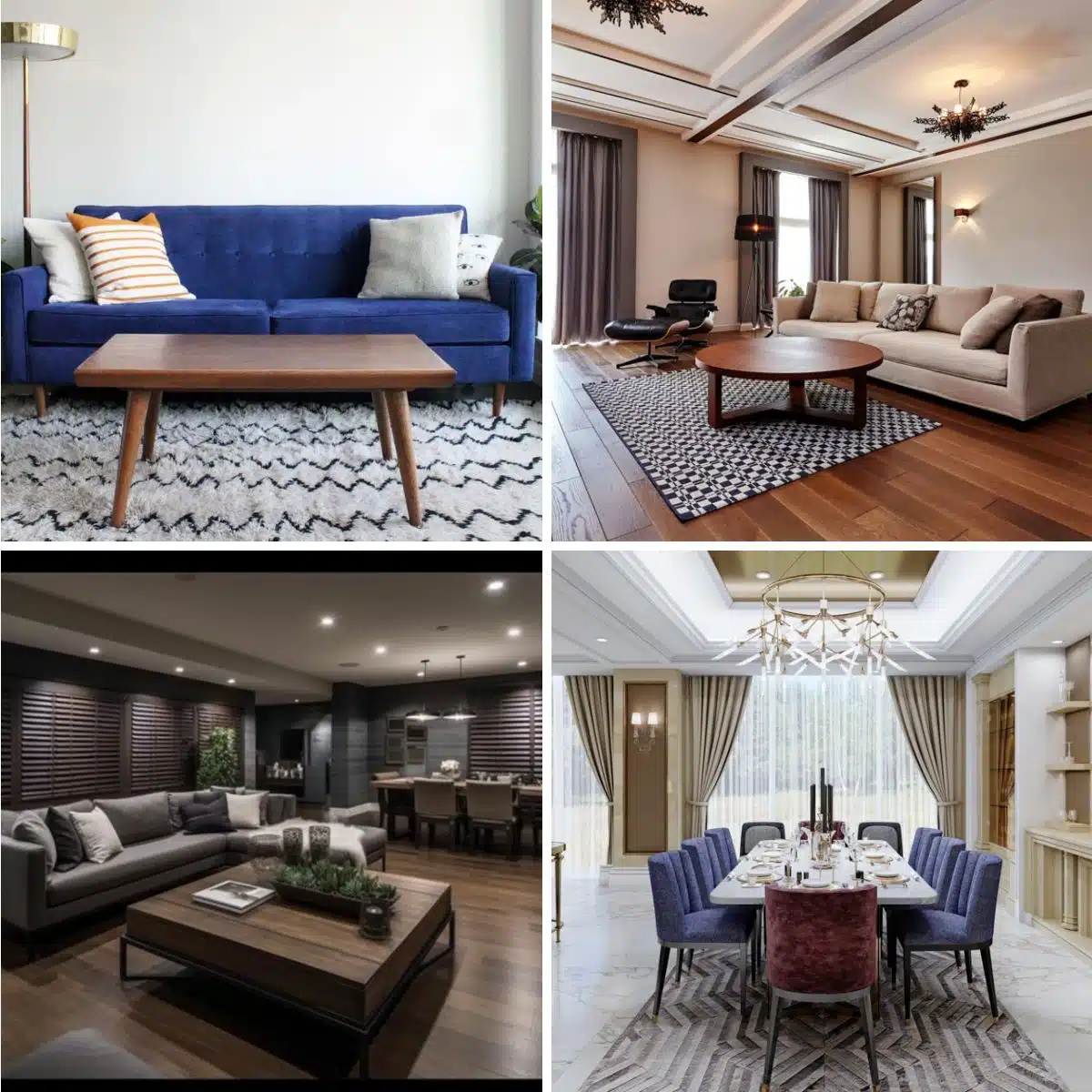 Tables are some of the most used objects inside our beloved homes. They are, in fact, among the most essential household objects. We cannot live properly without functional tables in our house. It is nearly impossible to be productive in our homes, workplaces, dining rooms, or bedrooms without the presence and assistance of tables.
Indeed, tables should be thoroughly examined in every space, from the bedroom to the family room. We can enumerate a myriad of different tables, but it would be impractical. It is necessary enough to understand all of the most widely used types of tables used in today's world, though they are still numerous.
In this long post, we will share with you all of the types of tables you can include in your entire property. We will show you each of their descriptions as well as their functions. Basically, we will discuss practically everything about tables.
Types of Living Room Tables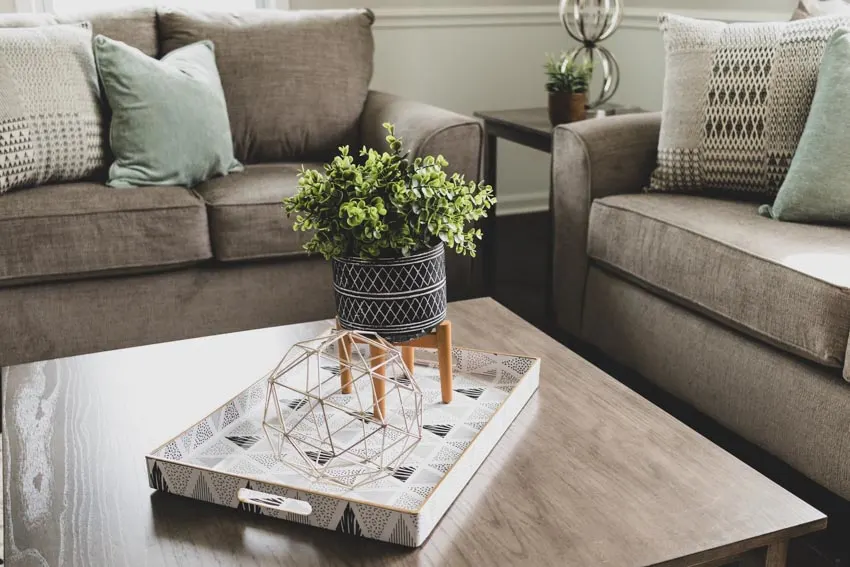 Here we share the different types of tables for living rooms.
Accent Table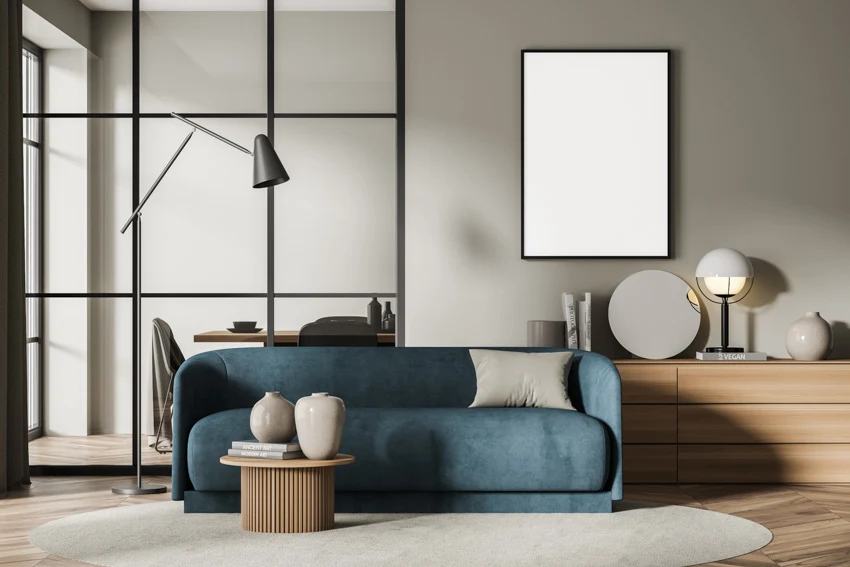 An accent table may be the solution if you wish to freshen and enhance your living area with a functional table but do not want to invest in a huge piece of home furniture.
Consoles are usually a small piece of furniture, generally oval or round-sized, that is normally located in the corner of the living room or any room.
However, the phrase "accent table" is frequently referred to as console and sofa tables. Since this term can pertain to its function rather than appearance, it can also allude to an end table, cocktail table, or coffee table. Accent tables are normally used if you want some furniture that can truly enhance your home décor.
The location of your accent table will help determine the type of function that you will need. For instance, you can opt for consoles if you are decorating a small room as this accent furniture are meant to squeeze into small spaces due to its slim design. It can be placed near your entryways, and hallways, fit behind your sofa, or sit sleekly against a wall.
Your accent table must not only complement but also transcend the appearance of your house. It is the component that connects your mid-century contemporary architecture or contributes a lovely splash of art to your décor. It is all about aesthetics. Hence, when designing your room with an accent table, you should allow your vision to direct you.
End Table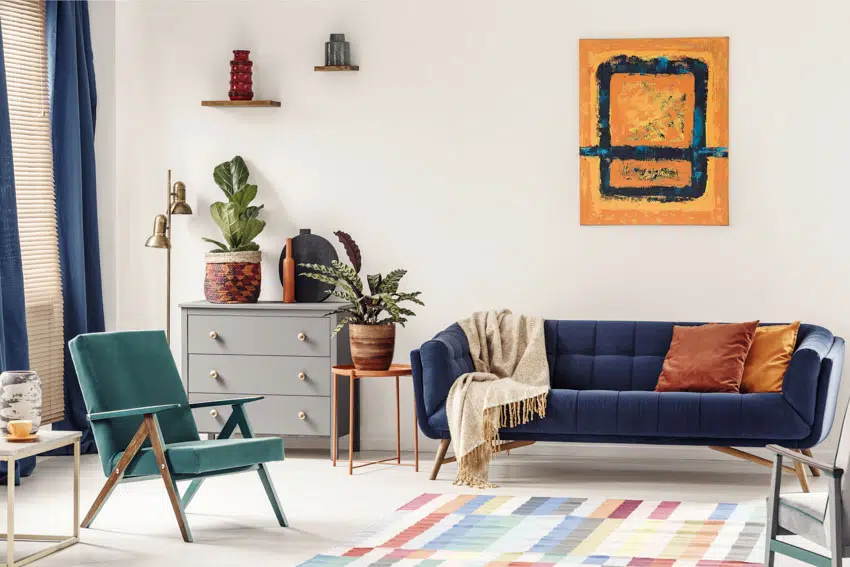 As aforementioned, an end table is under the accent table's family. The best types of end tables also help in increasing the visual appeal of rooms and are ideal for the bedroom or living as they can accommodate tiny lighting fixtures, trays, and publications as well as act as a resting spot for refreshments.
End tables are normally more compact than side tables and can squeeze into narrow spaces. Because end tables are tiny, they can be easy to relocate whenever you need to reorganize the room, thus you can position them anywhere you want, even if that is adjacent to the couch, bed, or placed near your workstation.
It is critical to gather measurements of your essential furniture items when searching for end tables. In general, an end bureau must be the same height as or slightly lower than the armrest of your seat.
Console Table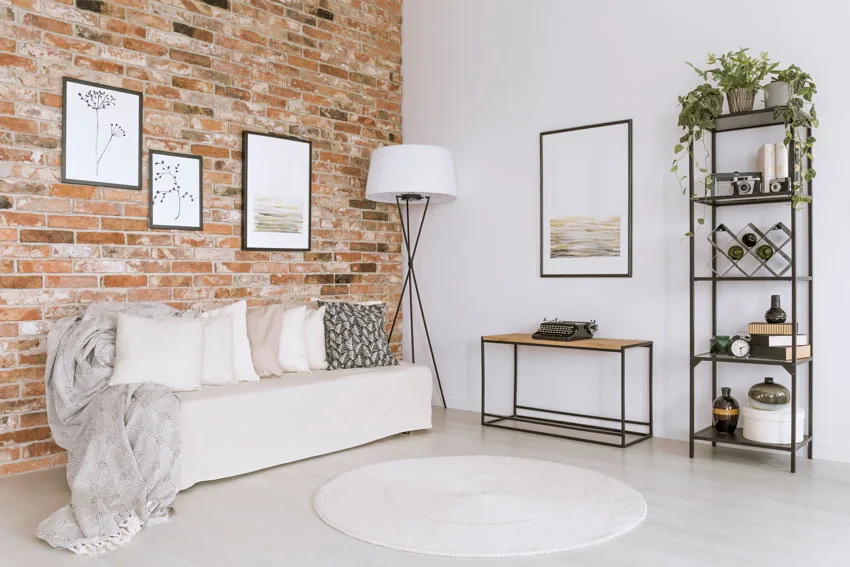 Consoles and end tables are frequently confused since they are both long and slender. They both fit well behind a couch or in a hallway as well.
A console table placed beside the front door would be very beneficial if you want some more layer of complexity in your space or just want to have a place to drop your belongings such as keys.
This furniture acts as a bridge or connection between two different spaces as well as a compact table with storage. This type of furniture may be thought of as ornamental furnishing intended to accentuate the décor of a living area. Consoles can also be utilized to accommodate tiny objects such as remote devices or even a small vase with a lovely flower display.
Because a consoles also serves as a great storage system, you can use a variety of basins and containers of varying sizes to store whatever you desire. When placed on a console table, these baskets can provide a level of refinement to the living area.
It usually has an appealing finish and a handmade appearance, which contributes to its charm. When it comes to beautifying your console table, you may go with a minimalist theme to make your overall design eye-pleasing.
Miniature and exquisite figurines or any other art pieces are wonderful options for decorating the console table. A console, when embellished, can welcome visitors with a glimpse of the design of your home as well as provide it with a charming and lived-in atmosphere.
Coffee Table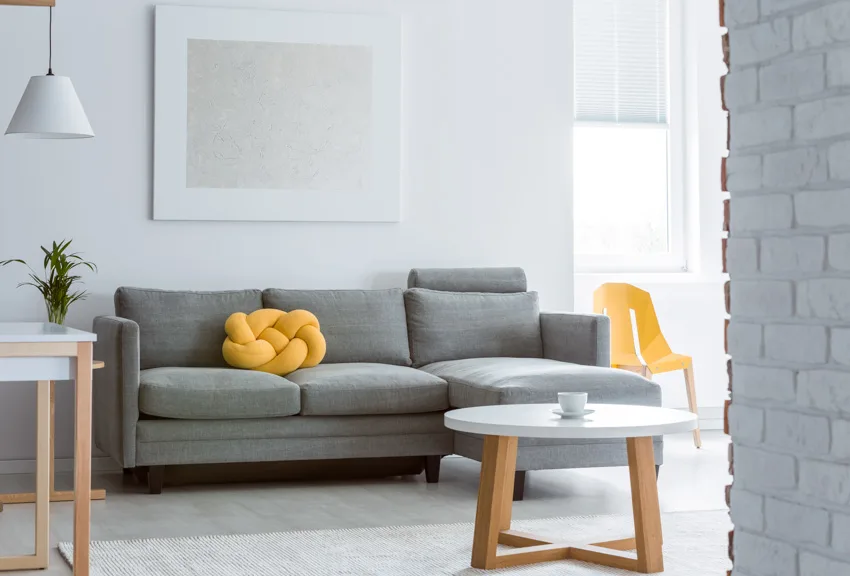 A coffee table is usually positioned in front of the sofa in a lounge room or study room. You can put food or beverages on it or simply use them to exhibit your magazines, plants, or miniature ornaments.
This centerpiece is indeed an essentialfurniture in any living area. It normally functions as a social hub for family members and friends, as well as a repository for several necessary household objects. The coffee table defines the aesthetic of the room, thus it would be worthwhile to invest in the one you genuinely think is elegant.
Generally, the top surface of the coffee table is parallel with the seat cushioning of the neighboring couches or armchairs. Although this conventional living room centerpiece is short and rectangular, you can find a wide variety of coffee tables with different shapes, designs, and increased functionalities available in the market nowadays.
Different types of coffee tables are primarily meant to adapt to a diversity of architectural styles, while some sets are particularly tailored for either modern or classical design. This living room centerpiece can be made out of a wide range of materials, including hardwood, metal, as well as solid plastic.
Furthermore, even though the primary role of this furniture is to provide a suitable surface for those lounging on the couch, it is not uncommon for this furniture to be constructed to additionally accommodate storage as well. Certain types have sections or drawers beneath the surface, whereas others have a simple shelf layout.
Some manufacturers create movable top coffee stands that enable the topmost surface to be modified to a selection of elevations. This enables the ottoman to function as a lower board for hot drinks, or as a larger table at the appropriate height for establishing a nice location to savor your meal.
Side Table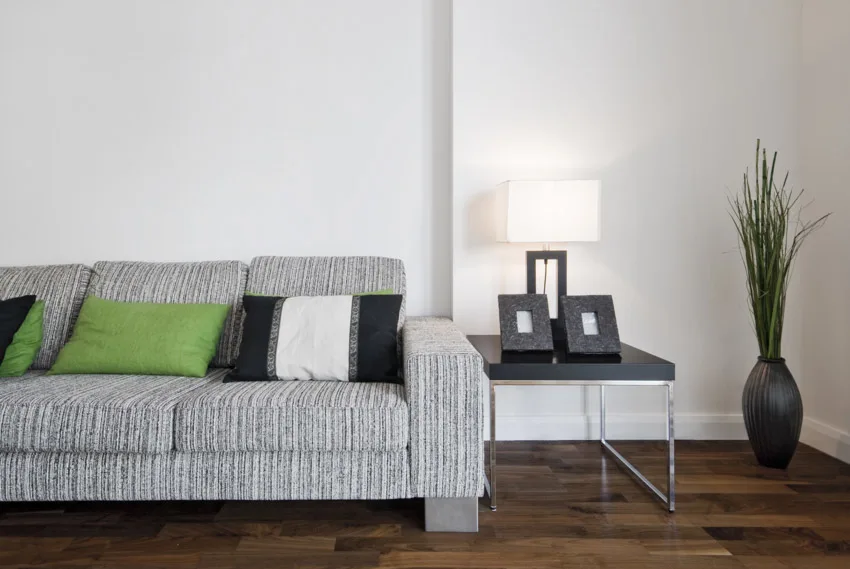 A side table, as its name suggests, is placed on a side of the couch and is ideal for storing a light fixture or a beverage. It is also known as a nightstand, albeit that word refers to a movable table used next to a bed every night. Side tables are commonly seen in bedrooms, living rooms, entertainment rooms, etc.
While they are typically used against walls, these sofa sidekicks can appear quite well in open areas. Side tables are not as large as dining counters, but they can contribute to the overall appearance of a room. They are available in a variety of styles, colors, and materials.
These are now used for a multitude of purposes. A sideboard can simply be converted into a mini bookshelf to contain books. These can also function as compact collection sections. To add balance to a bedroom, you can place two accent stands on either side of the bed. This provides both practical and aesthetic benefits.
Several people use compact pedestals to store toiletries as well as other objects. Some utilize it as a minibar, which is loaded with various beers, condiments, and glassware.
Furthermore, in some homes, they can function as television platforms, particularly for small television monitors. Additionally, flower pots, vases, and houseplants on a sideboard offer a decorative finish to the area.
Buffet Table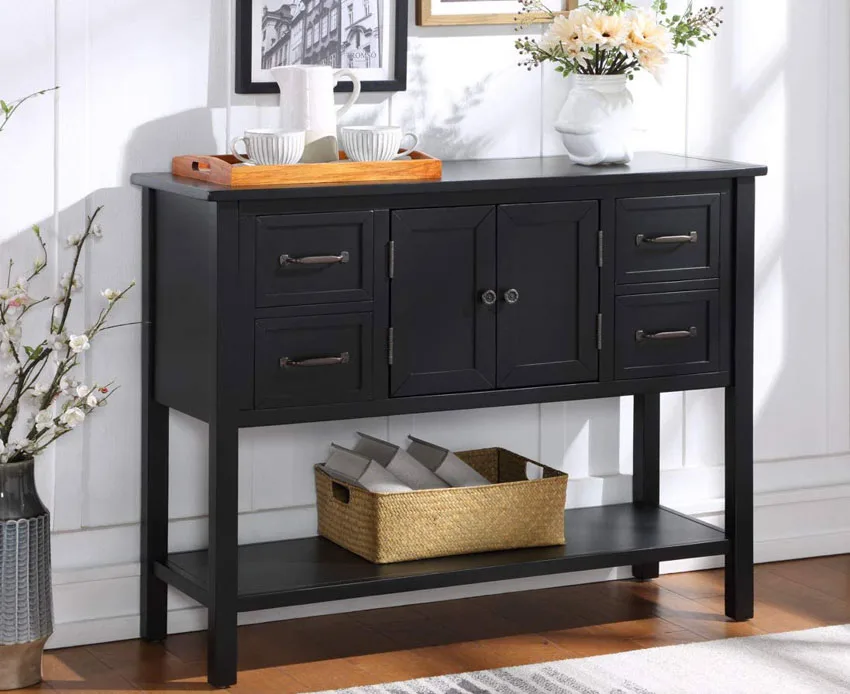 See this buffet table at Amazon [sponsored link]
A buffet table, sometimes called a sideboard, is a lengthy and low type of table that is used to store and exhibit objects in a dining area. It can also be used as an additional space for presenting food. Buffet sideboards are adaptable enough to be used as storage and presentation components in a family room, a foyer, and a corridor.
Aside from that, a sideboard is intended to offer adequate space for your ceremonial and special event dinnerware, cutlery, and tablecloths that you would normally use in a dining area. It also functions as a platform for putting dishes or meal trays.
When not in operation, the topmost surface is commonly used to exhibit a harmonious arrangement of ornamental accessories like lamps, candles, and artworks. Buffet counters can either complement or contrast with your dining room furniture and décor for a much more trendy and unconventional aesthetic.
C-Table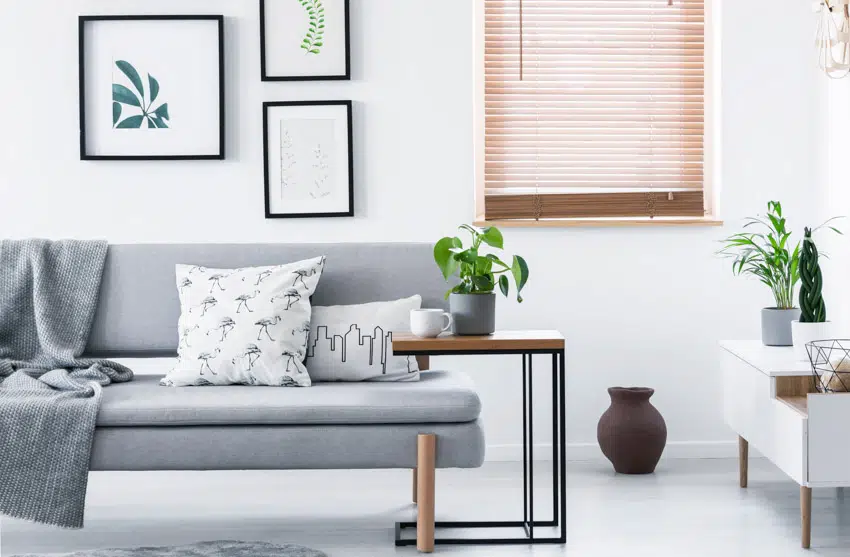 The name C-table comes from its unusual c-shape, which enables it to rotate around over a chair, bed, or sofa. You can utilize it to carry a beverage as well as your notebook or laptop.
C-racks are an interesting way to update the design of your living space without purchasing a new side table. Given its distinctive design, it can be turned from a basic rack to a very functional furniture with a shelf connected to a two-racked side stand.
Moreover, C-rack has a streamlined, modern aesthetic that will look fantastic in any space of your house, including your living room, study room, as well as your bedroom.
Among the best advantages of the C-rack is its ease of placement over a couch or bed where you can easily eat, drink, or use your laptop.
Cocktail Table
The cocktail counter, which gained popularity in the 1920s, is a low rectangle or square table that is used to accommodate cocktails, store books, decorations, and cigarette trays.
It is often interchangeably used with a coffee table. It is typically a convenient lounge piece positioned either in front or to the side of seating locations such as sofas and armchairs, upon which a beverage, liquor or not, can be poured.
Cocktail bars exist in a number of sizes, materials, and designs, and selecting one normally involves searching for something that complements the design of your living room.
When purchasing a lounger centerpiece, one factor to take into account is the table's height. Most of these are low to the ground and have short legs. What you need to consider is the accessibility aspect for visitors. A cocktail table that is too low for a high couch or armchair might be awkward for you to use.
Many individuals stress about the type of cocktail tables to buy. There are those made of wood, wicker, wood-glass, and metal-glass. Some individuals choose glass or marble tops for this kind of furniture because they are easier to maintain.
Bar Table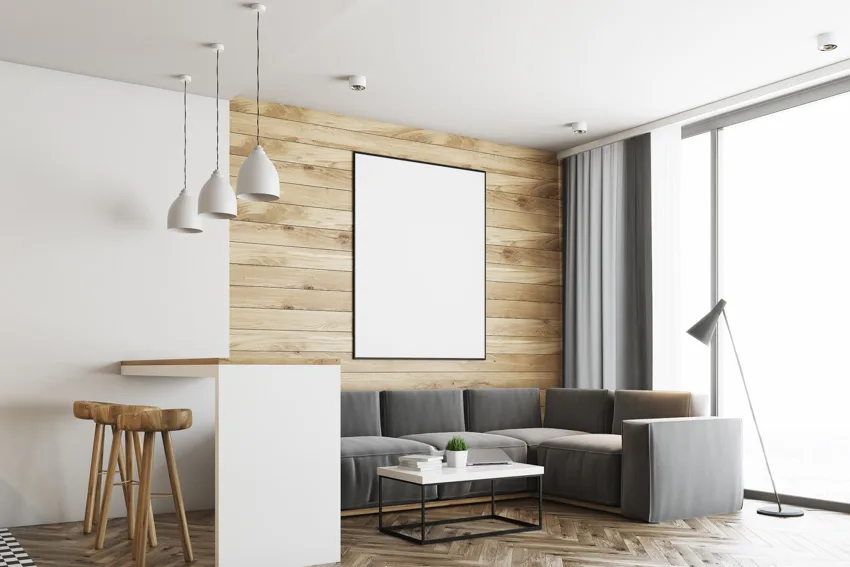 Bar tables are defined as elevated counters with tall chairs. If you only have a little amount of countertop area for catering, you can put one of these in your kitchen. These are typically spotted at taverns and bars. Bar counters are normally extremely tall and necessitate tall bar stools to accommodate your household members and guests.
A bar counter can be relatively compact and circular, and it may contain cross-pieces to be utilized as foot supports midway on its legs. Some bar table sizes are likewise fairly tall, but they are bigger and could be rectangular or square.
Although there are many different suitable materials for the production of a bar counter, wood is the most commonly used. However, the design, materials employed, height, and purpose of this furniture may vary depending on the application, and they can be tailored to accommodate the specific appearance of a space.
Several bar counters are intended to function as literal bars. They might have drawers or storage underneath the tabletop, and they could be large enough to fit multiple bar stools solely on a single side of the perch.
A bartender can then leverage the opposite side of the barcounter to serve drinks to customers. This furniture is typically fairly heavy-duty, although being a little bit more compact than a full-service bar.
Nesting Table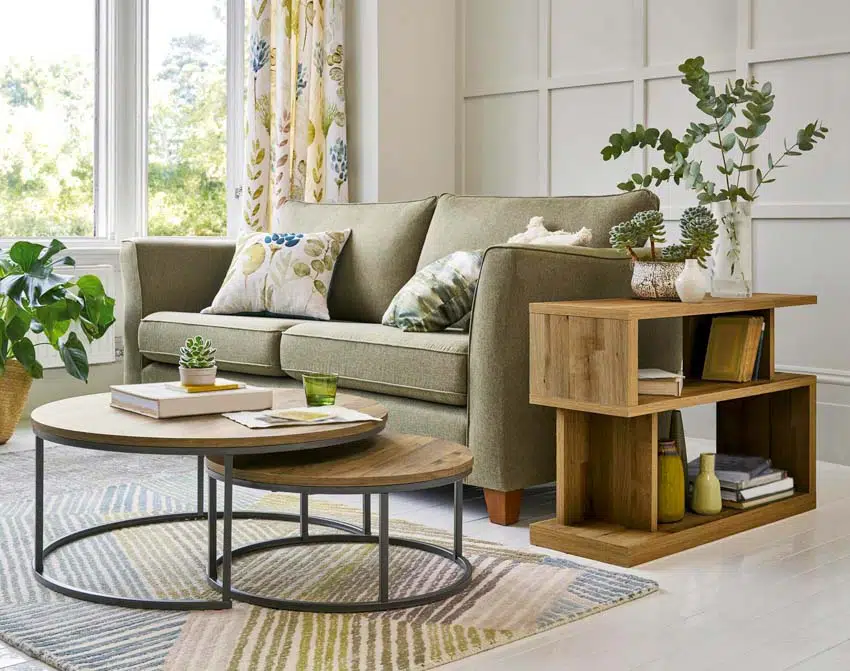 A nesting table can either function as a cocktail or accent tables, but it simply pertains to multiple tables that can nestle together or be stretched out. It is indeed an excellent choice for a small house. It is basically a collection of tiered furniture of varying heights that may be built on top of one another.
This is a little set of stackable furniture that can be stacked one on top of one another without the legs overlapping. They have a plethora of useful and beautiful applications in every house.
This tiered furniture can be attractive, sleek, and appropriate for contemporary houses, notwithstanding their status as an iconic selection for homes.
Because they are stackable, you can effortlessly relocate tiered furniture around a space to meet your needs without having to bother about messing up your space. There are quite a few various types to choose from, as well as boundless possibilities for personalizing them.
This furniture is the pinnacle of flexibility since it can be placed in a nook and then taken out when guests come, providing a level of versatility that few other items provide, whether you wish to use them as supplementary storage for goodies and refreshments or as more seats.
Drop Leaf Table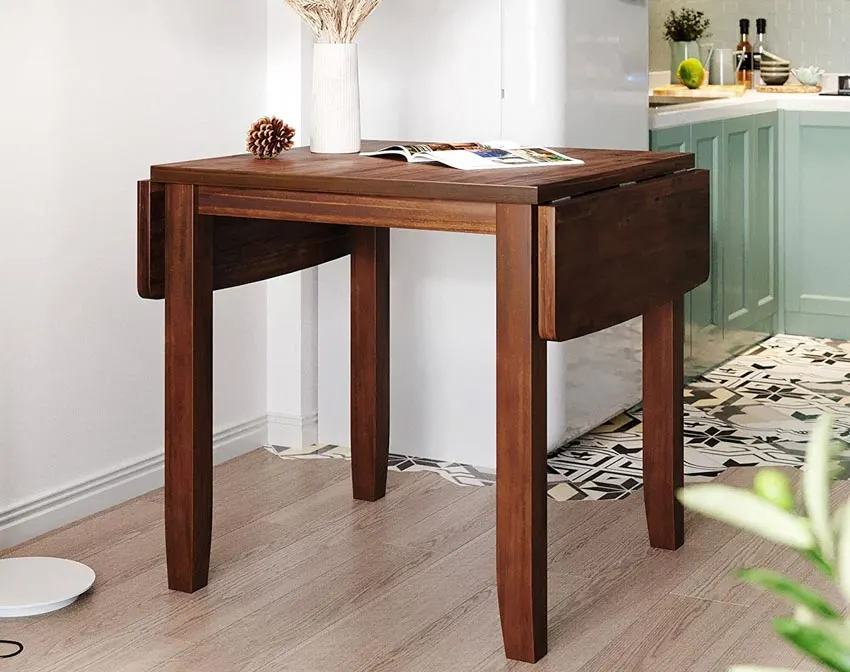 See this drop leaf table at Amazon [sponsored link]
Drop-leaf furniture features a fixed piece in the center as well as a hinged element (leaf) on both sides that may be folded downward (dropped). When folded up, the leaf has been held by a frame.
If the leaf is sustained by legs that extend out from the center, it would be referred to as a gateleg table. The leaves of drop-leaf or gateleg desks might come practically all the way down to the ground or only marginally lower.
A drop-leaf desk is typically used to conserve space while the desk is not being used. Drop-leaf tables are commonly viewed and used as kitchen desk, nightstands, end bar tops, ottomans, and workstations.
Premium-quality woods such as walnut, cherry, mahogany, and maple increase the appeal as well as the value of a drop-leaf table. This is particularly applicable for quality furniture timbers and hard-to-find woods nowadays.
Entryway Table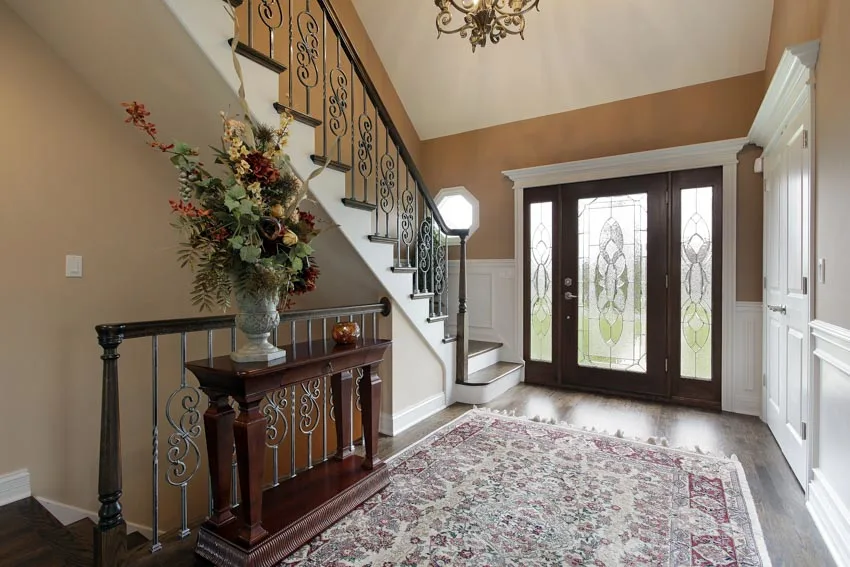 Another type of uncommon table is the entryway table. It is purely designed for the entryway. In many homes, not all of the entryways have a table, but they do seem to be a welcome addition. The majority of them are placed against a wall, but circular or square hallway consoles can be placed in the middle of spacious entryways.
Entrance sideboards usually accommodate frequently used household objects including keys, smartphones, magazines, books, umbrellas, and mail. Passage dressers, consoles, and reception stands are all variations of entryway furniture.
Glass-based or wrought-iron foyer furniture are popular in modern homes. Hardwood or oak-stained entryway stands, on the other hand, are common in rustic or farmhouse design homes. Classic homes generally have mahogany, walnut, or cherry anteroom showcase stands that can either be new or old.
Sofa Tables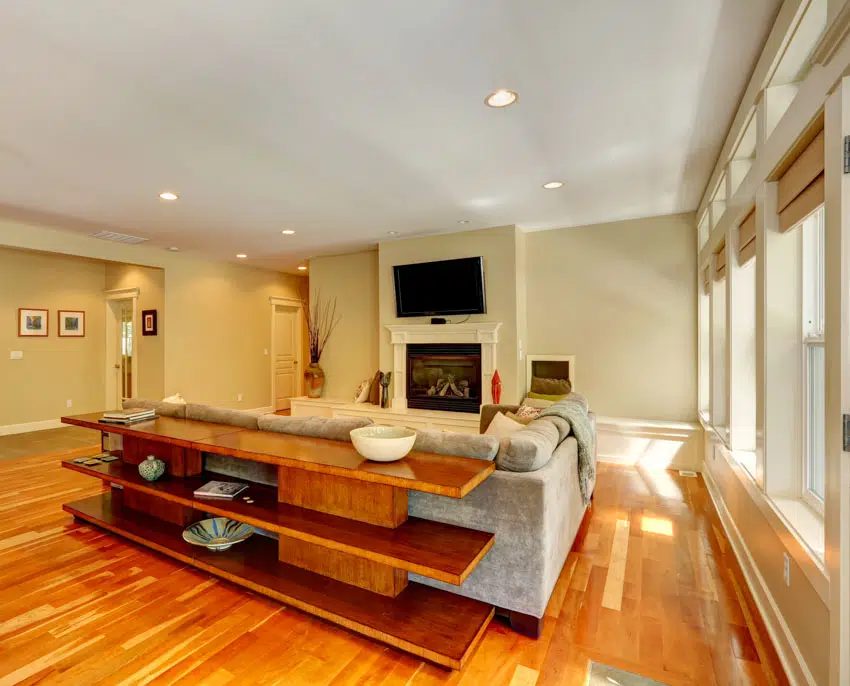 The top surface of a sofa table is normally secured by wood slats or frames instead of the traditional four legs. As a result, it is comparable to a reinforced shelf and is not intended to be used as a freestanding surface. Nevertheless, there are still couch ledges on the market that are sustained by four legs, but they still have one to two tiers or racks.
A sofa table's goal is to contribute to the beauty of the room while also providing storage space for objects such as publications or gadgets. It is usually placed next to or at the back of the sofa.
Loveseat counters can help in decluttering a room by serving as storage. Such settee shelves are attractive furnishings that can be used to enhance the ambiance of the living space.
The reasons for purchasing this furniture are as broad as the ones for purchasing a sofa. This furniture complements your sofa and works much better with your design than a coffee table.
They are also efficient. If you do not want to use the ceiling-mounted light all the time, a console can accommodate your lamp.
You should choose this furniture that complements the rest of the décor in the area. It will be vital in bringing the centerpieces together. You will want to maximize the use of the sofa table, but of course, you still have to maintain it by dusting it regularly.
TV Tray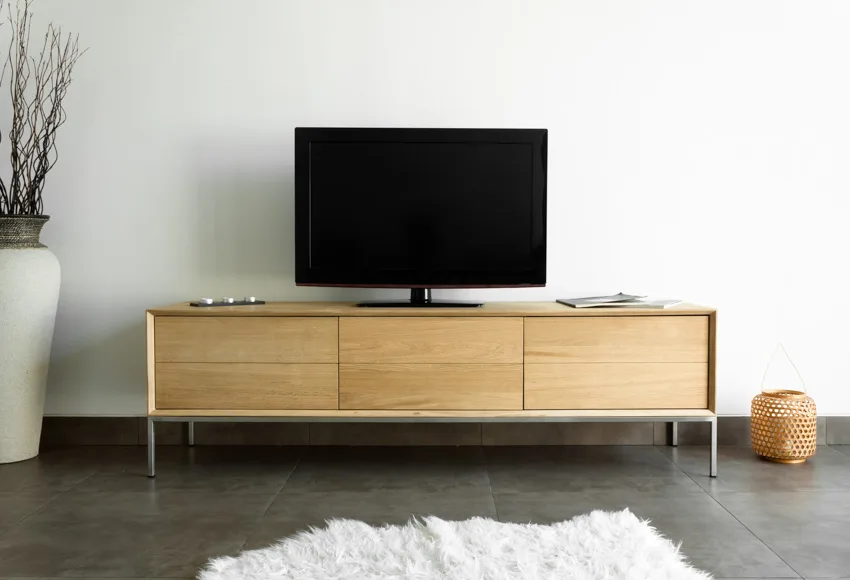 This can be a tray table or a wooden media stand. A TV tray is a sort of foldable furnishing that works as a compact, collapsible table.
These little stands were initially intended to provide a platform for eating food or drinking beverages while watching the television. TV tray stands can also allude to fold-away trays like those used in front of airplane seats.
A TV tray can also refer to as a hutch, a traditional wooden piece of furniture with drawers or shelving piled on a horizontal counter surface. This TV stand design only holds the television and has bordering cabinets. See more types of TV stands here.

Drum Table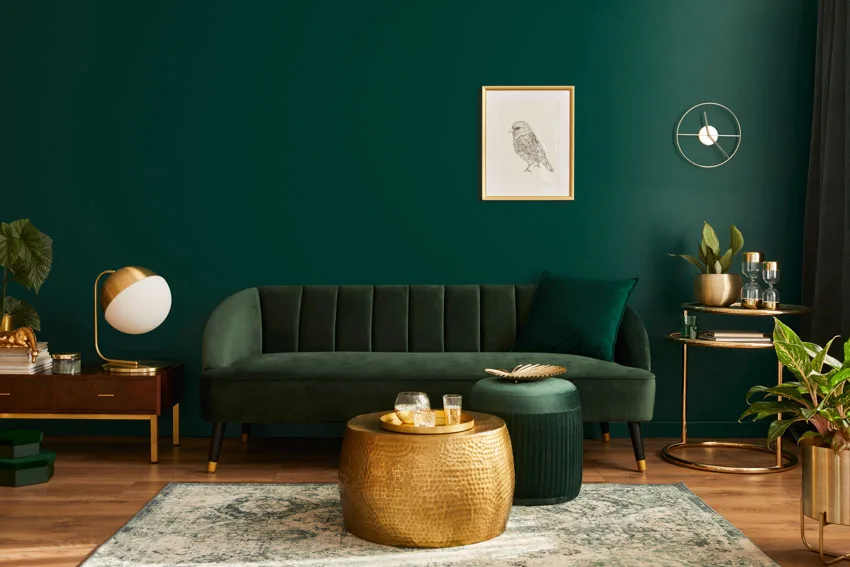 The drum table is a substantial, round table that was invented in the 1700s. It can be tall and sturdy enough to function as a chair, and it can have shelving, compartments, and a machined leather top surface as well. Nowadays, the term might essentially pertain to a large round table, such as a stone-made coffee table.
Oftentimes, the support takes the configuration of a pillar supported by four beautifully tapering legs finishing in claw feet. In other cases, the supports are supported by a platform with four sloping sides, which are supported by claw feet.
Ottoman Tables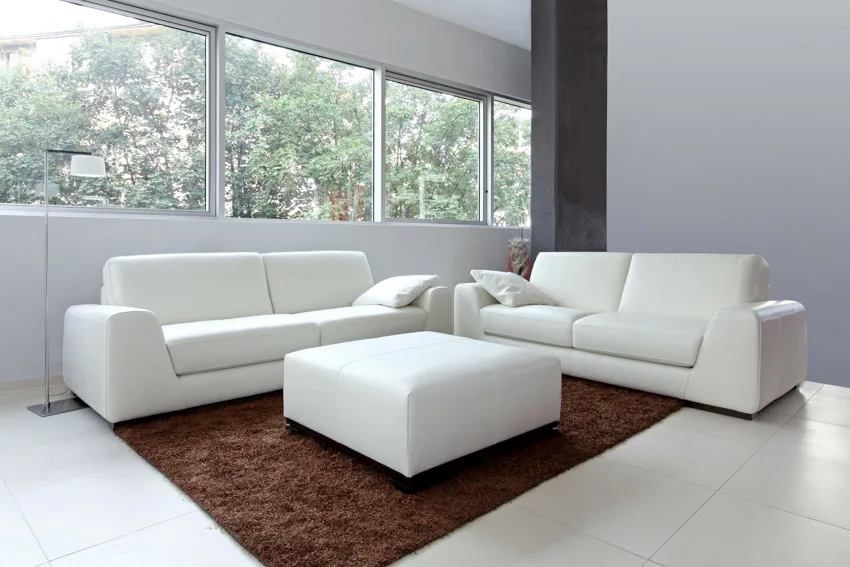 An ottoman that also functions as a table is a fantastic and versatile furniture option. Huge ottomans with a level top that can also be used as tables can be purchased on the market. I think this furniture design arose as a byproduct of individuals always placing their feet up on end or sofa stands.
The most practical types of ottomans would be merely for storage, but are also sturdy enough to accommodate other items on top, such as coffee mugs, ornaments, or perhaps a seat for somebody.
The storage ottoman is the most frequent type of ottoman. It might have a completely removable cover or a hinged lid like a chest. Others do not have a covering and are used to serve as a table. Read more about ottoman dimensions here.

Folding Tables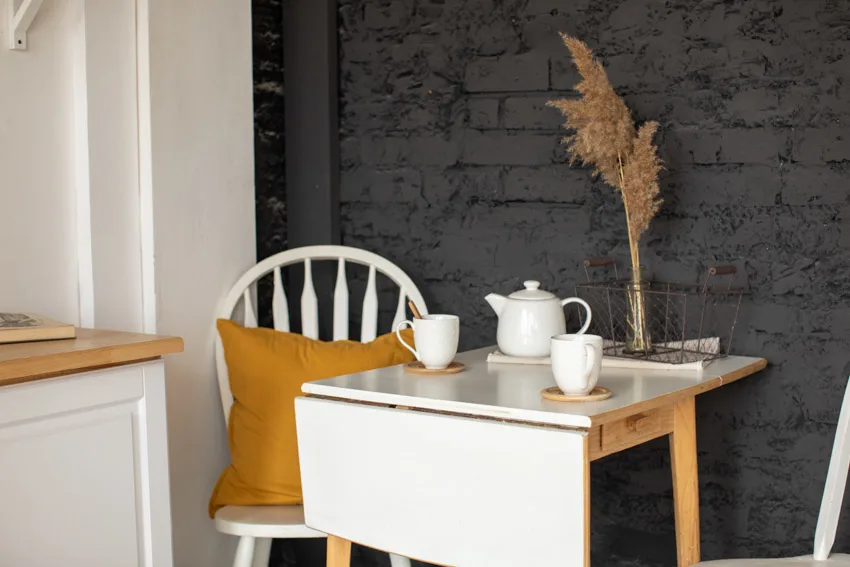 A folding table features either two or four legs that fold with the assistance of a hinge that is generally near the backside of the tabletop, towards the table's rear portion.
The style varies. You may buy a table with built-in seating, similar to a picnic table, which folds up and resembles an oversized briefcase.
The folding table is not intended to be a decorative element in your house. It is not also a part of the interior design. It is simply a portable table that you can fold up and store in a cabinet until you require additional space. You can employ it to accommodate a big gathering, to conduct crafts, or to move outdoors.
This furniture piece comes in a variety of sizes. Religious and education institutions appear to be well-known for this kind of furniture that accommodates anything. See our folding table sizes guide here.

Such large folding tables are also ideal for various creative hobbies as well as logic-enhancing sports like chess. Some smaller foldable furniture pieces are designed just for your laptop, which might come in useful while you are working late in the evening.
Pedestal Tables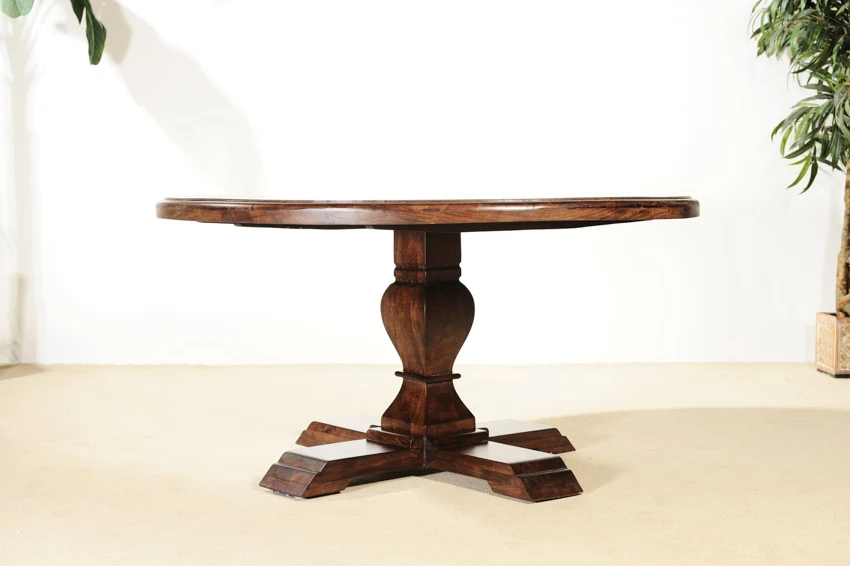 A pedestal table is sustained by a large central pillar that is connected to a series of feet. Tall and slender stands with central bases that resemble ancient pedestals, whether or not they include a central pillar, are also occasionally referred to as pedestal centerpieces.
These types of furniture are available in a diversity of forms, sizes, and designs to complement a variety of space layouts. Numerous furniture stores have available pedestal tables, and it is also feasible to specifically order a certain pedestal if requested.
Some people love creating these furniture pieces by their own effort as they can be ideal for starting carpentry projects. A pedestal also has a tiny profile due to the solitary pillar support and generally slender footprint of the stabilizing feet.
Lift Top Tables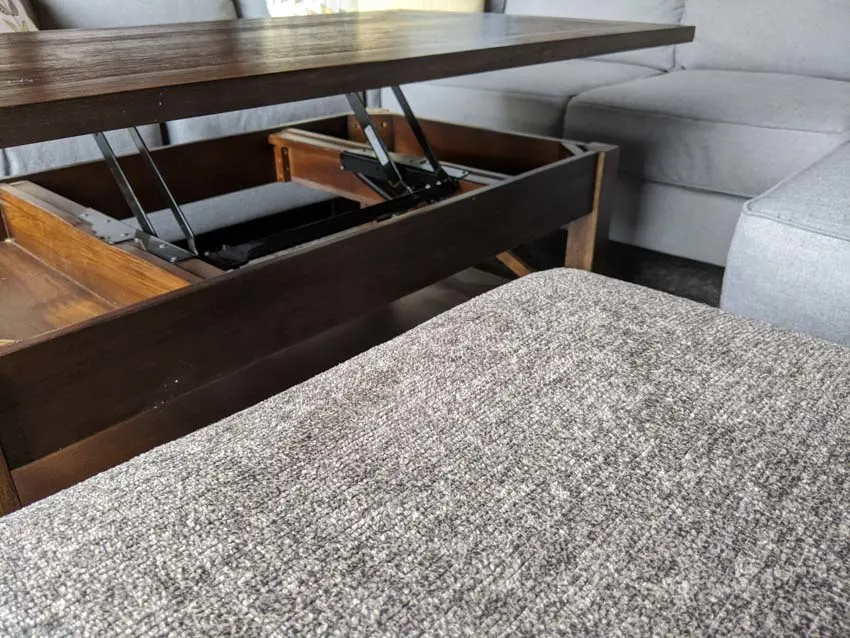 A lift-top table may appear to be just another coffee or end table. The lift-up storage units are distinctive in that they include an elevating mechanism that enables you to elevate the tabletops. Storage areas are visible beneath when it is raised.
Moreover, lifted stands can be used as desks or to create more space to eat food while watching the television. Several people prefer lLift-Up Storageas storage places because they keep publications and entertainment devices out of sight.
Without a doubt, a lift-top table may meet all of your living room needs and preferences. It has two sections that rise up and out to provide a wonderful dining tray or working surface. Every lift-top piece has a discreet storage pocket behind it, which excellently works for storing remotes and other items.
Corner Table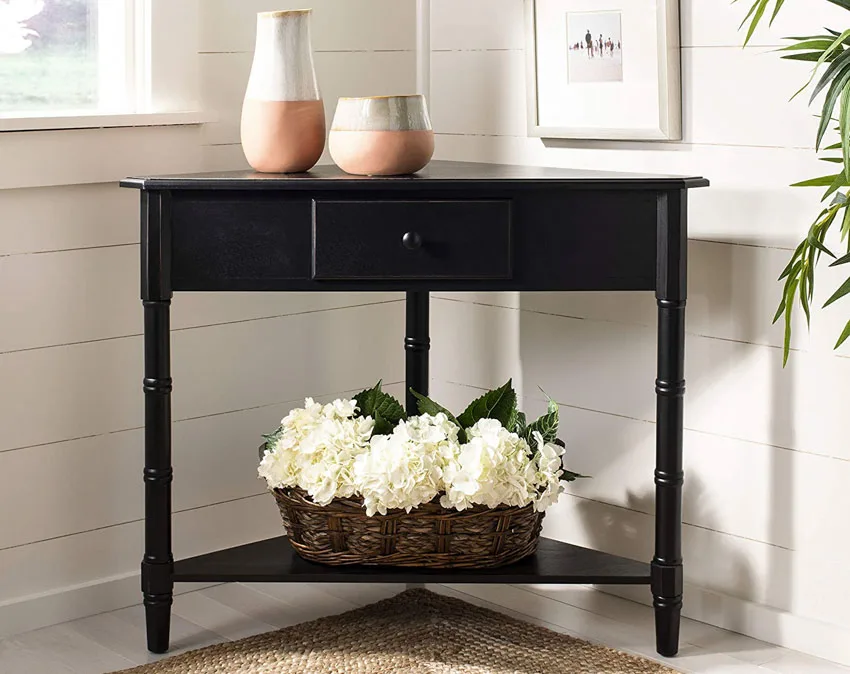 See this corner table at Amazon [sponsored link]
Corner tables are ideal when you want furnishings that do not take up too much space. They are more compact than standard-sized stands and may be used practically anywhere – at home, in dormitories, and sometimes at the workplace.
It was initially an 18th-century table with a triangular surface and a triangular drop-leaf structure of the same size. This design is meant to be placed at corners.
When not in use, low-rise corner corner pedestals can simply be tucked under standard-sized sideboards. If you do not have enough space in your house, you may always use corner stands to showcase publications or beautiful types of candles instead of occupying too much space in your house using huge-sized coffee pedestals. Read more about decorating living room corners on this page.

Types Of Dining Tables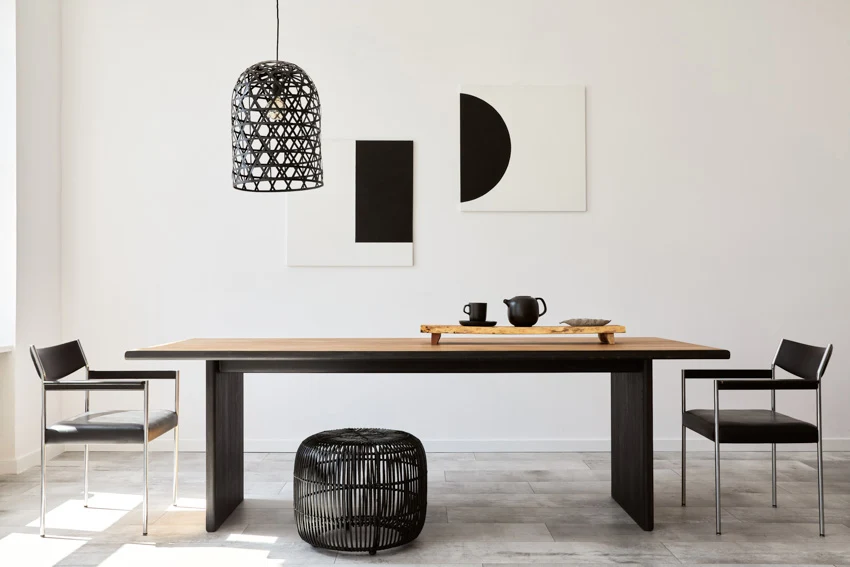 Here we share the different types of tables for dining rooms.
Dining Table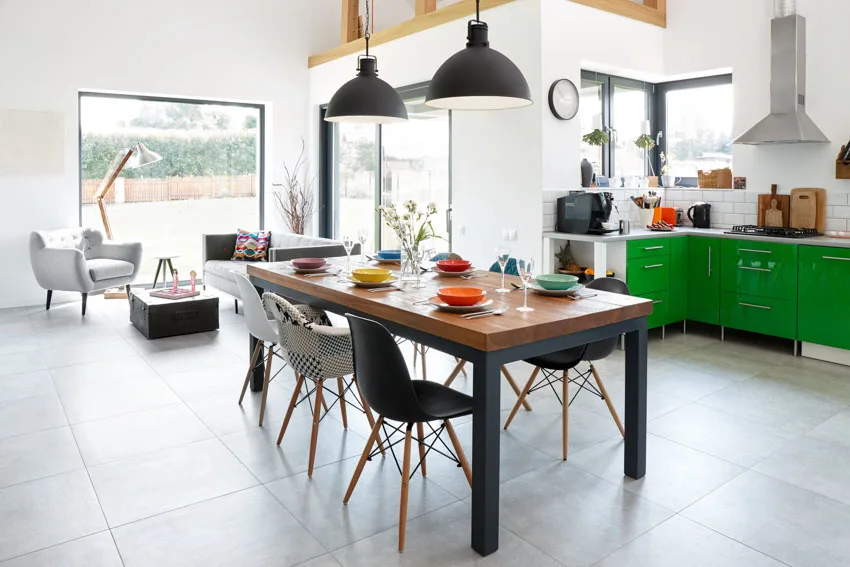 A dining table is where everyone in the household eats their meals, drinks beverages, and socializes. The very first thought that springs to mind when you think about dining tables is undoubtedly a huge furniture piece in the center of the room surrounded by seats.
Although this is a frequent configuration, it is not the only method to arrange a dining room. Dining tables can seat up to six people and are generally in large settings. They often have extra spaces to give extra seats and are typically located in dining rooms.
These tables differ in size. For small houses, some types of dining tables can accommodate only two to four people, whereas, in huge houses, they can accommodate six to eight people.
Kitchen Table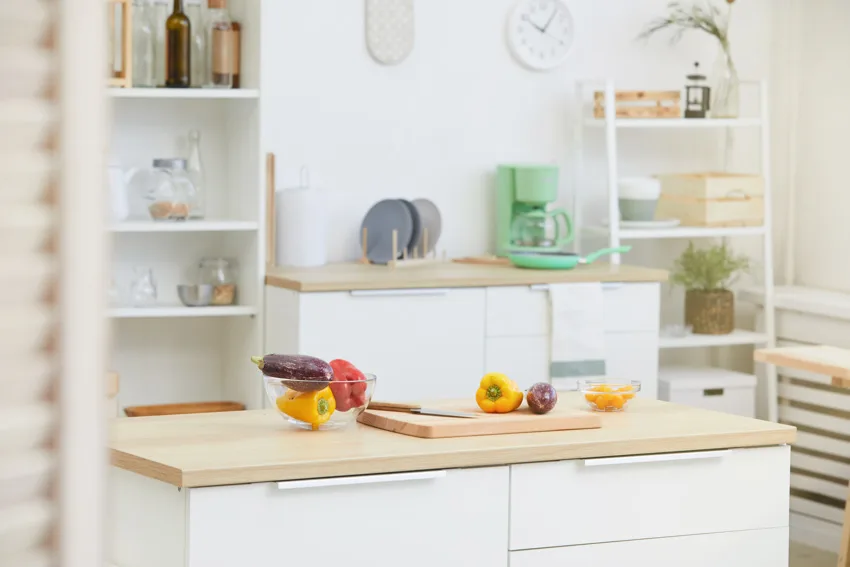 The kitchen table, contingent on its size, is among the most versatile furnishings in the home. It can serve as an additional workspace for food preparation, storage, or a dining table.
Kitchen tables normally have a flat top surface that is sustained by two or more legs, and they are typically located in the home's widely used areas. Kitchen tables, which are generally more compact than main dining tables, are practical and versatile. They can be used in different kitchen settings.
Moreover, kitchen tables have evolved significantly in the design world as condos and homes have become more multifunctional. The kitchen counter is increasingly regarded as a communal location for performing work, receiving mail, sharing meals, and even playing games on the laptop.
Bistro Table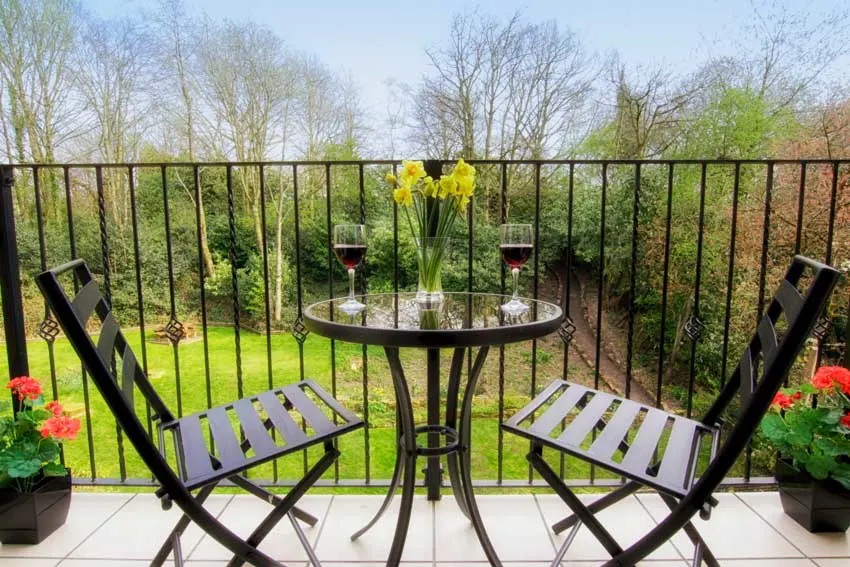 Bistro tables are an excellent choice for tiny rooms that require additional sitting. You may also utilize them to create a comfortable atmosphere in your dining area, as an end table, or in your compact lounge room.
Bistro tables have a modest size, so they do not really occupy too much area, but they, nevertheless, have extra room for a vase as well as a couple of glassware.
This type of table is typically made out of metal-based components, but it can also be built of wood. The top could be made of similar materials as the foundation. In certain instances, the topmost surface of a bistro table is constructed of glass or is mosaic-decorated.
Such tables are most typically found in restaurants that offer informal eating options. They are also occasionally utilized as outdoor furniture or as an element of a bar's outdoor dining section.
Banquet Tables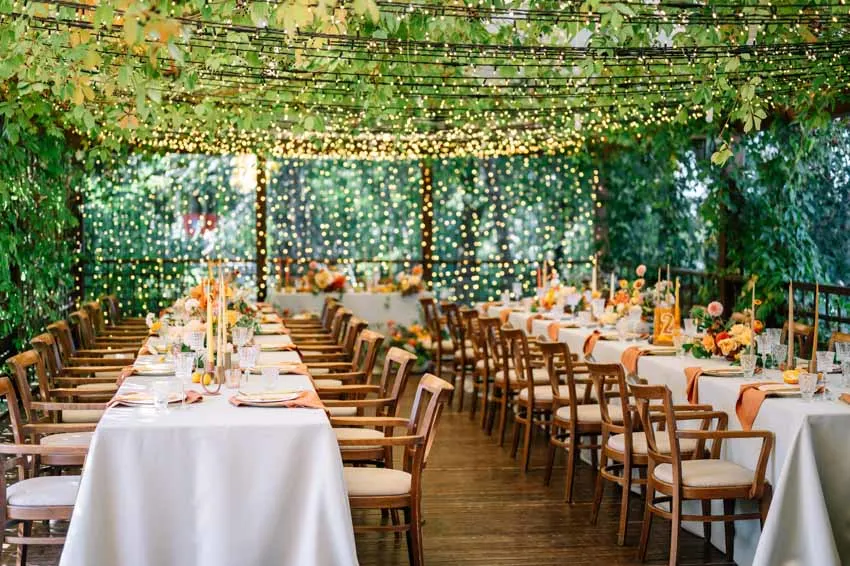 Banquet tables are utilized for special occasions such as wedding celebrations, catering occasions, casual corporate picnics, and other social gatherings.
They are usually foldable tables that can be readily moved around a space to provide varied seating formations and swiftly packed away at the end of an occasion. Banquet tables are designed to be waterproof, hence they are normally made out of hard plastic.
Wine Tables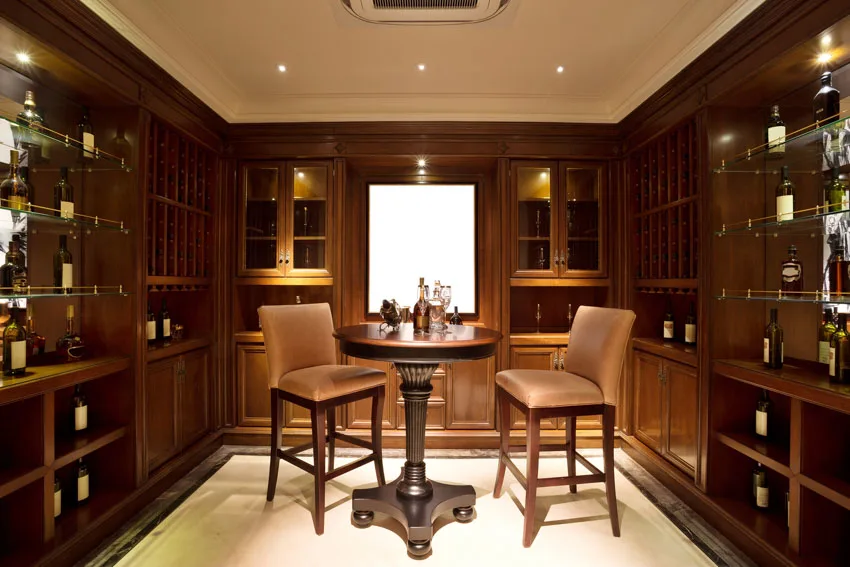 A wine table is an after-dinner refreshment space from the late 15th century. The guests sit around the outside circle of the thin semicircular or horseshoe shape. Metal zones for wine bottles and ice were sunken on the surface of the table in older and basic shapes; they were equipped with brass caps.
Types Of Bedroom Tables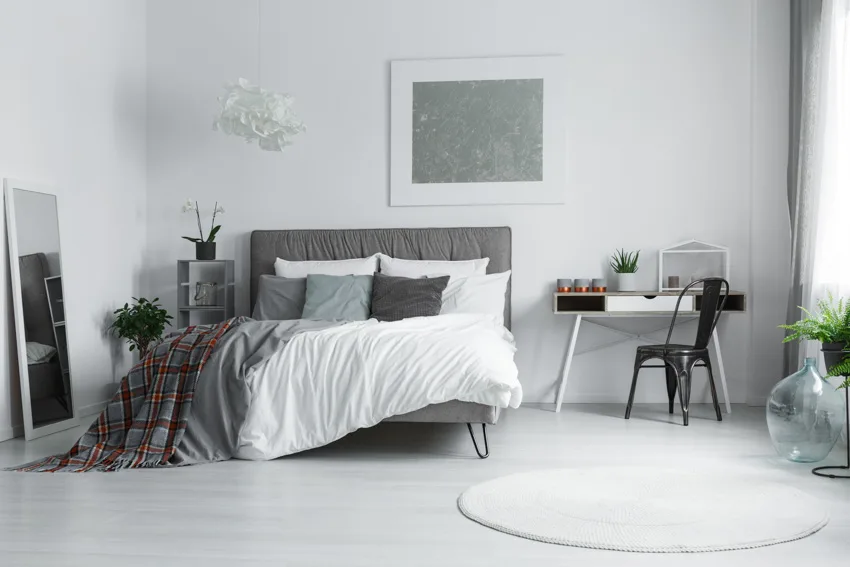 Here we share the different types of tables for bedrooms.
Bedside Table (Nightstand)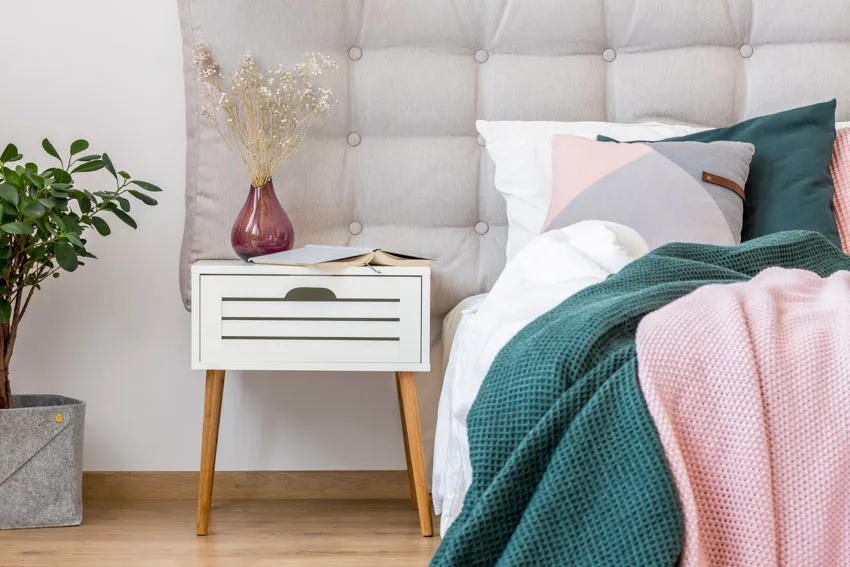 A nightstand, often referred to as a bedside table, is a tiny table or cabinet that is intended to be placed alongside a bed or somewhere else within a bedroom. Nowadays, most types of nightstands are typically compact bedside tables with one or even more drawers.
They are frequently used to hold objects that may be essential at night, including a nightstand lamp, alarm clock, study materials, mobile phone, spectacles, a drink, or medicines. Bedside tables are also ideal in terms of revamping the overall look of your bedroom
Bed Table (Breakfast in Bed)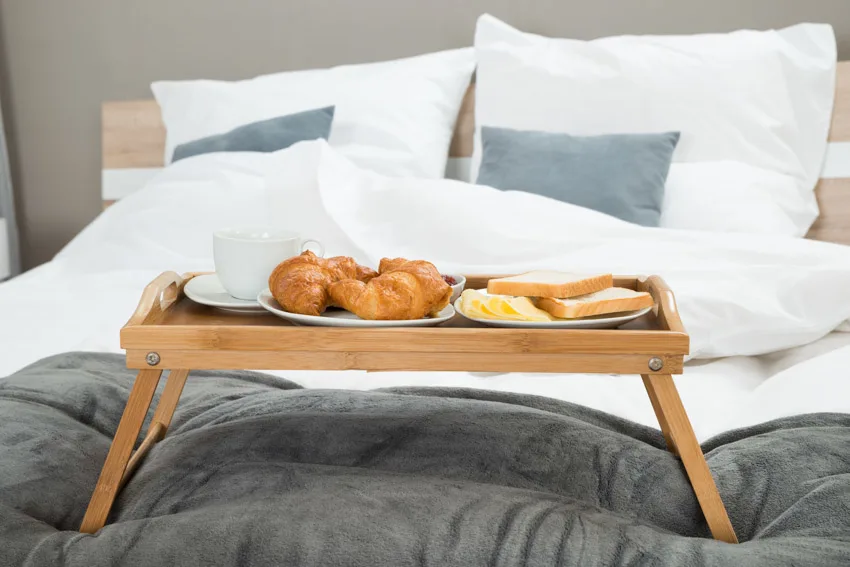 A bed table is a small table with short legs that are meant to be placed on top of your bed. This is frequently called a breakfast-in-bed table since this table is used by homeowners who eat their breakfast in bed. Such beds are normally made from wood or hard plastic, and they are foldable versions as well for easy storage.
Vanity Table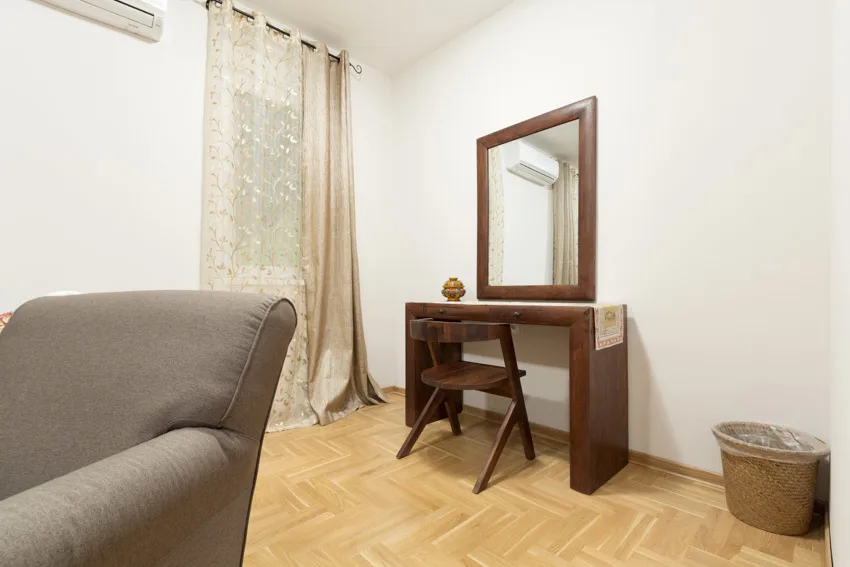 A vanity table depicts the opportunity to renew and recharge both in the mornings when getting dressed and at night while settling down. It is usually supplied with beauty supplies, a small chair, and a huge wall mirror.
Vanity tables are often seen in bedrooms that are owned by women as they normally use them whenever they do their makeup and prepare themselves before they go out.
Dressing Tables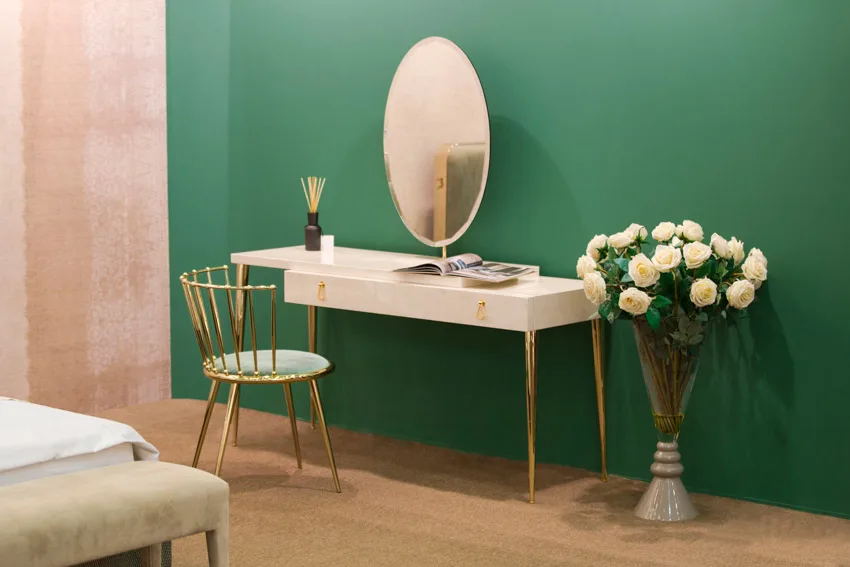 A dressing table is a type of bedroom furniture with compartments as well as a massive built-in mirror that one sits in front of while preparing and beautifying oneself. It usually contains everything you need to be dressed and ready for the day, such as your makeup. It is frequently made of wood.
Changing Table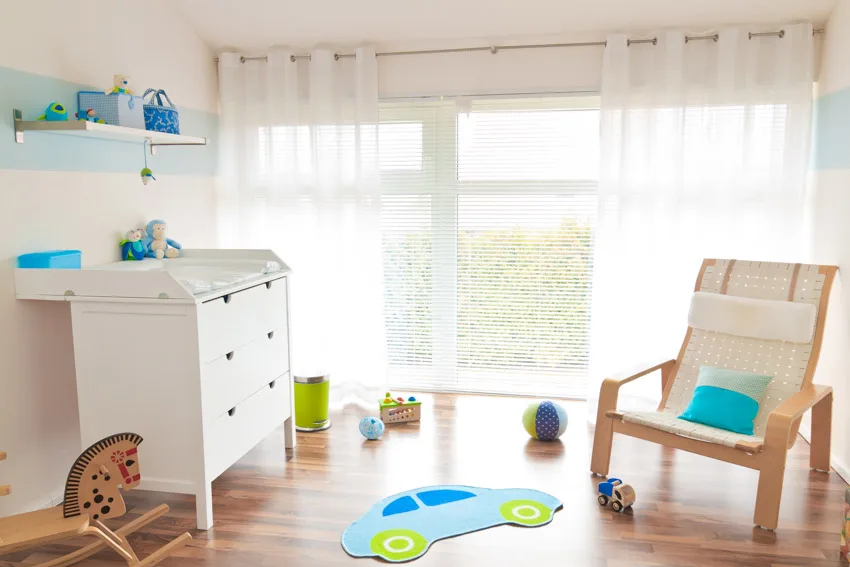 A changing table is a small table, yet it has an elevated top surface on which a parent can change their baby's diaper in their bedroom. It is a high table and often has several drawers for the baby's necessary supplies. Furthermore, they are frequently made from wood.

Overbed Tables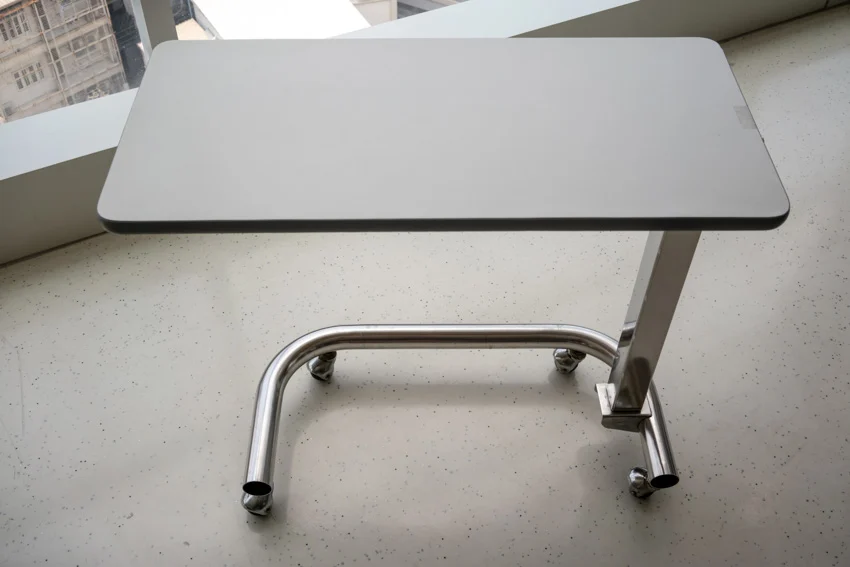 An overbed table is a slender rectangle furniture that crosses the bed and is often equipped with wheels as well as a crank for altering the height and angling the top. Its term is pretty self-explanatory – a table that slides over a bed.
Overbed tables are typically designed for hospitalized people, elderly individuals with restricted mobility, and persons who stay at home and are r`estrained to their beds.
When not in usage, you can store overbed tables adjacent to the bed since they offer an ideal, easy-access flat surface for keeping essentials such as water, disinfectants, and medicines.
Types Of Outdoor Tables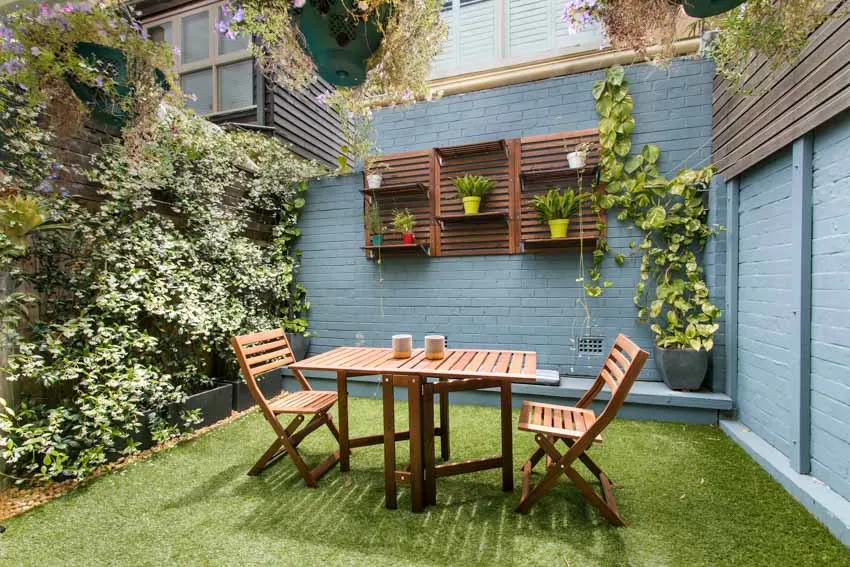 Here we share the different types of outdoor tables.
Patio Table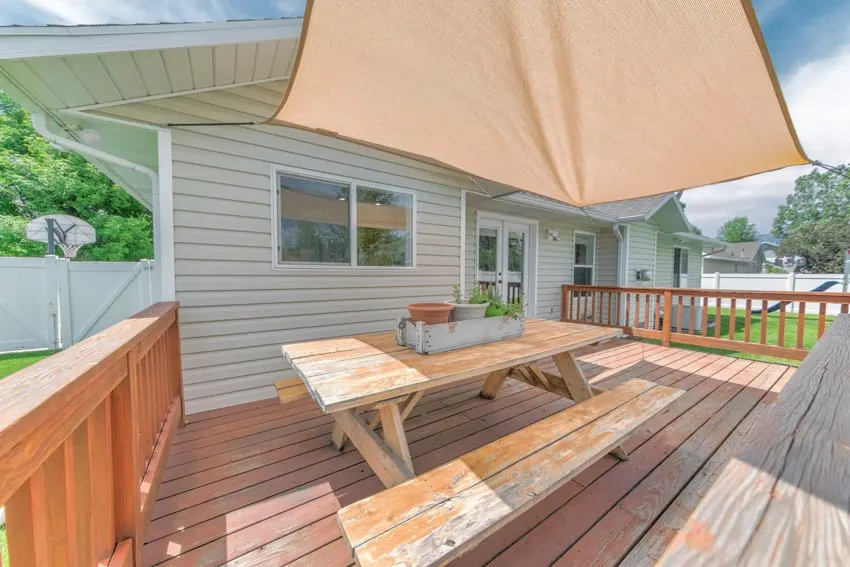 Patio tables are built to withstand the conditions on a patio, veranda, or other exterior location, although some should be stored indoors during the wintertime if you reside in a cold region. Today's patio furnishings, on the other hand, are not confined to unappealing white plastic and may often be used indoors.
Patio tables come in a variety of styles and sizes, but they are all intended to complement your outdoor living environment. Certain patio furniture include umbrella openings, whereas others include a built-in burner for grilling.
If you utilize this form of the outdoor furniture, you should consider how you will use it. If you have a lot of patio gatherings, you will want to get one that is built of top-quality materials that can withstand a lot of wear.
Fire Pit Table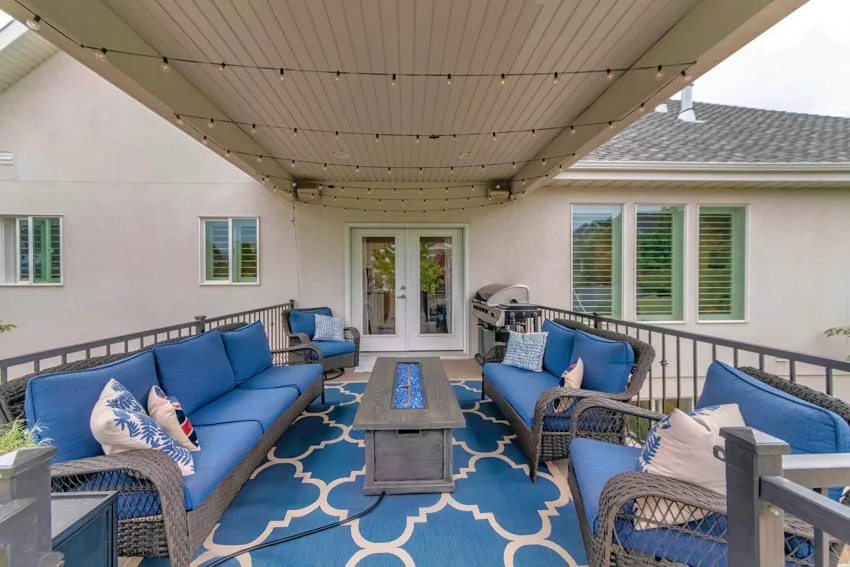 A fire pit table is an outdoor type of furniture that provides elegance and sophistication to a poolside or garden. It is ideal for entertaining friends and keeping everybody comfortable on cold nights.
Indeed, fire pit tables may be entertaining for everyone, as they can be used for dinners, making conversations, performing card and board activities, and other games. They are often made out of metal, so they are sure to withstand the outdoor elements.
Picnic Tables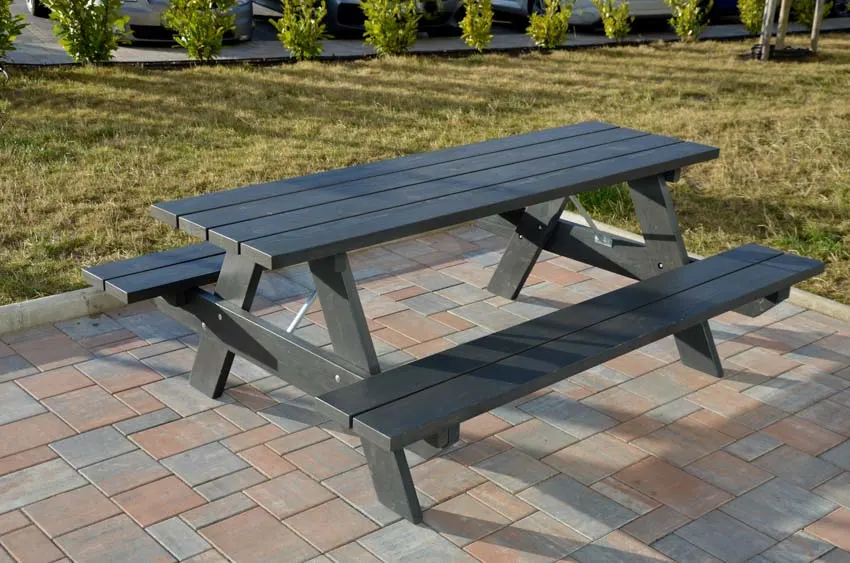 A picnic table is a type of outdoor table that is intended for alfresco dining events such as barbecue parties or mini social gatherings. Portable types of picnic tables frequently include built-in benches and are foldable for mobility.
Although wooden boards were the traditional and most frequent material for picnic tables, they can now be manufactured from a wide range of materials, including split timbers, concrete, metal, and repurposed HDPE plastic. The structure, seats, and platform can all be manufactured from a variety of materials.
Picnic tables can also be created in a variety of forms and sizes, ranging from rounds to hexagons. Regular picnic tables might be difficult to use, particularly for people in wheelchairs, but there are several designs for accessible picnic tables available on the market.
Serving Cart Tables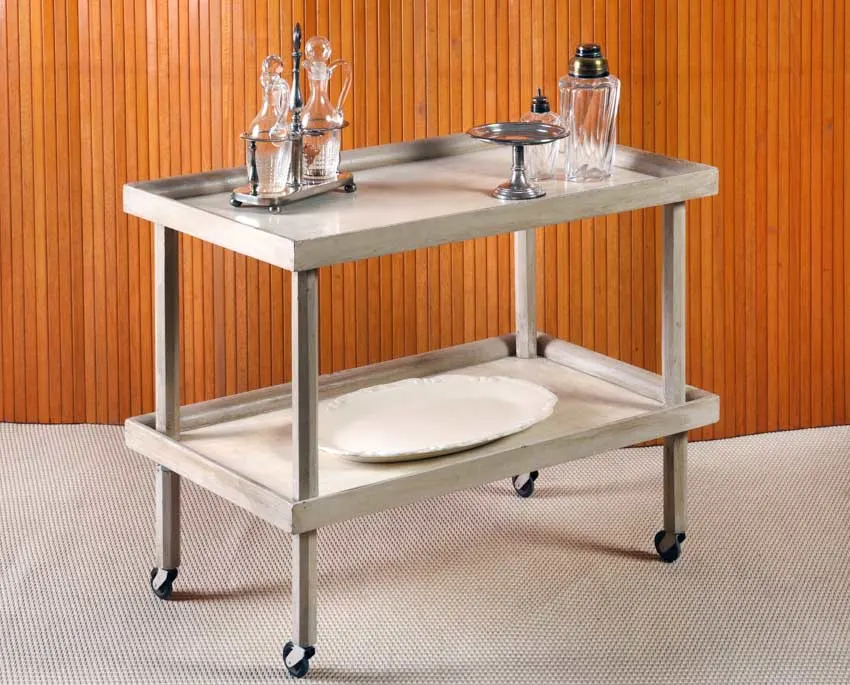 A serving cart table is a type of mini food cart employed by eateries to distribute or exhibit food. Serving cart tables are very popular in homes as well.
It features two to four castors and is intended for transferring dinnerware and meals from one area to another. A serving cart table is also commonly seen in hotels and fine dining establishments.
Types Of Work Tables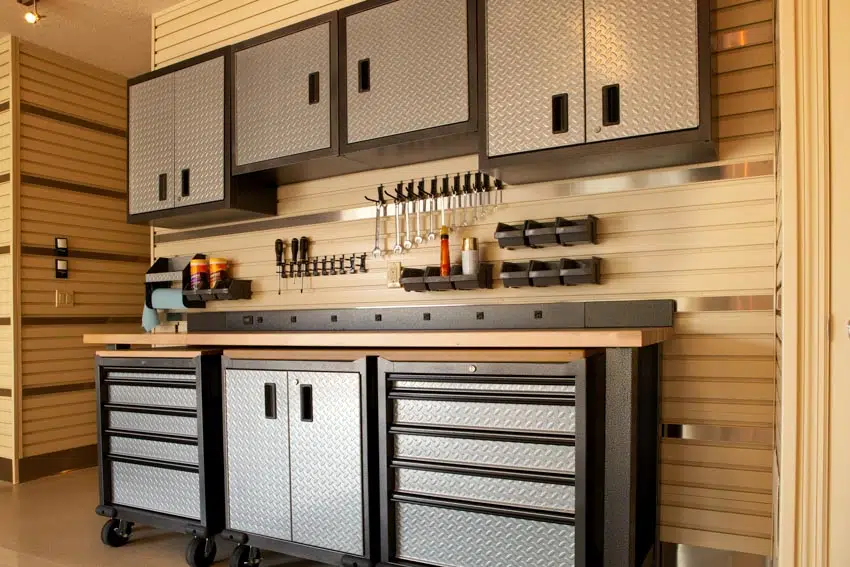 Here we share the different types of work tables.
Work Tables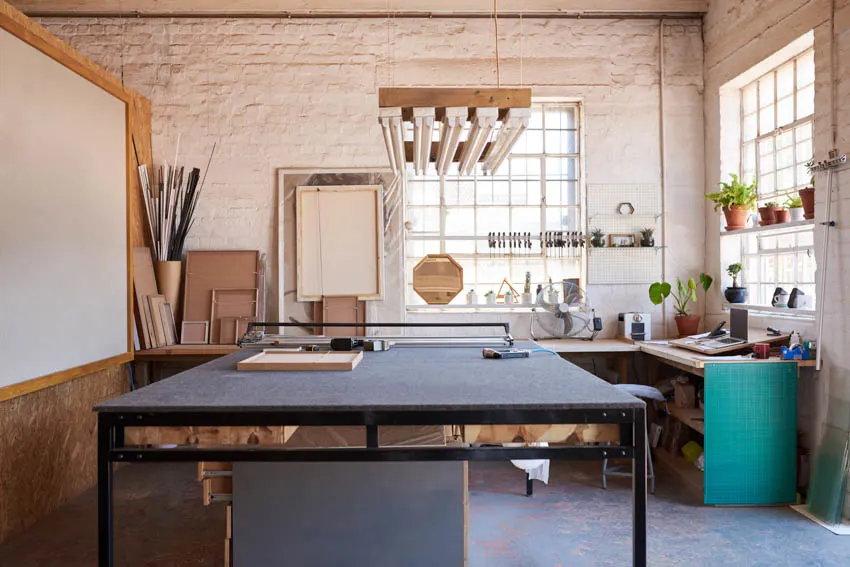 Work tables are essential in every kitchen, garage or factory. On a work table, numerous foods are being prepared. In this table, for example, you can cut numerous ingredients. Individuals require space to carry out these duties, which is precisely what a work table can provide.
Additionally, there are work tables that are outfitted with multiple drawers or racks to provide further storage. They are normally made out of stainless steel for extreme durability and water resistance purposes.
Desk Tables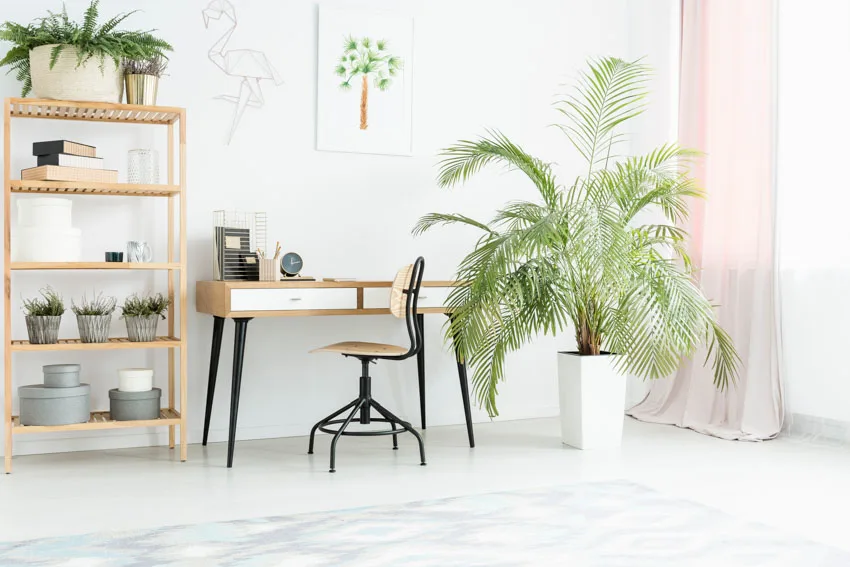 A desk table is a type of indoor furniture that normally features a flat table-style workpiece that is often used in a school, company, house, or similar setting for educational, commercial, or household activities such as studying, writing, or operating certain electronic devices. See our gallery of the different types of desks here.

Computer Tables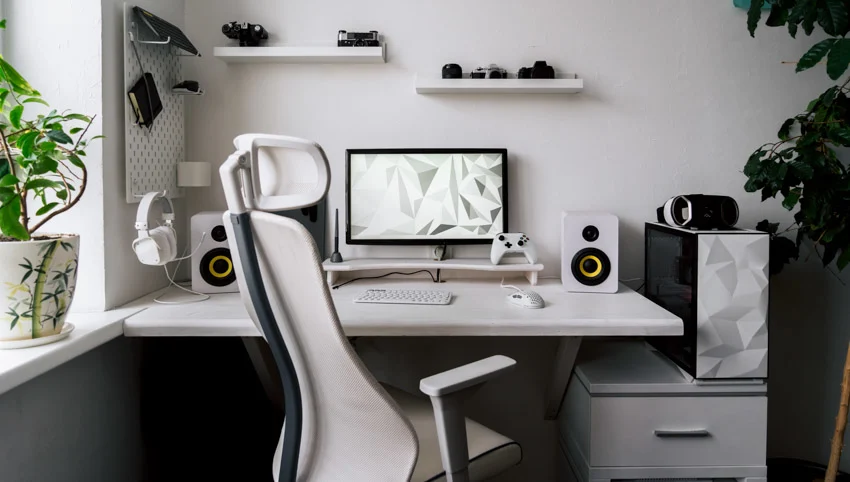 The computer desk is intended to deliver a comfortable and visually pleasing working surface while also housing or concealing workplace devices such as computers, terminals, and cables for business and house owners.
Computer office tables are larger than writing tables, with sufficient space to house computer monitors, hard disks, and all of the cords they require. Due to the particular quantity they can hold, such tables are vital for maintaining excellent levels of organization and neatness.
A computer desk's multi-layering of shelves is yet another element, which helps in organizing your other work-related materials such as pens, notebooks, and other electronic gadgets.
Writing Tables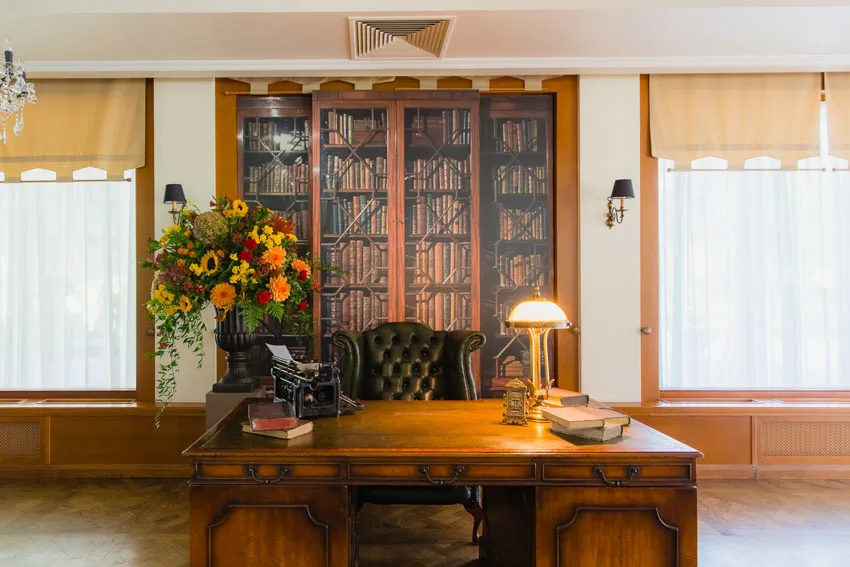 Writing tables are typically used for writing and feature an antique appearance, classic visual design, drawers, and occasionally hutches. These are exquisitely crafted yet minimalist pieces of furniture. Their purpose is to assist individuals in educational or work-related tasks such as writing several notes or studying a language.
Newer writing tables can accommodate a laptop, but they are not designed to handle heavy devices such as desktop monitors, CPUs, as well as printers. Their workspace is somewhat limited. They can be put wherever in the area, making them ideal for somewhere along the wall or in the center of a private office area.
Drafting Tables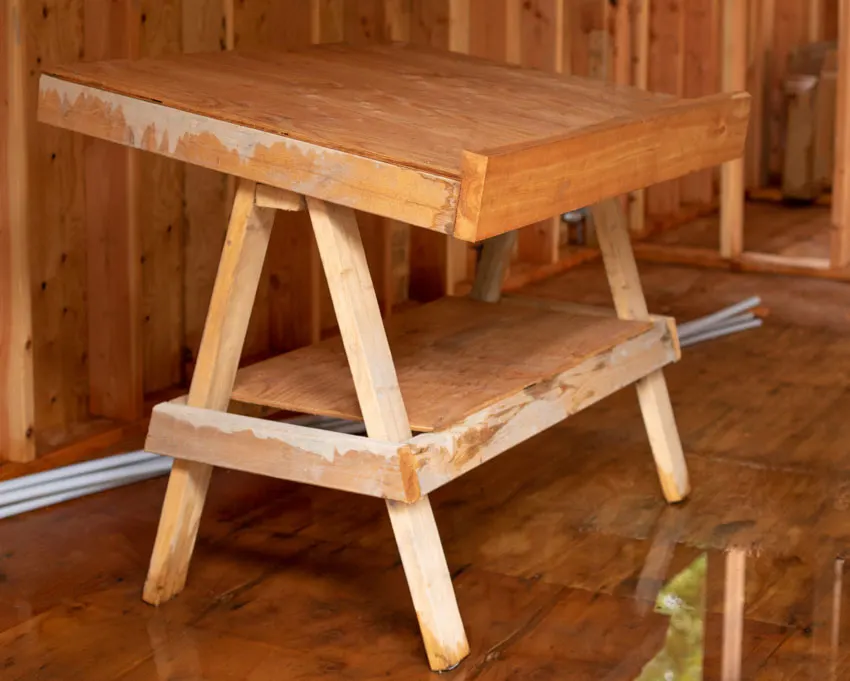 Engineers, architects, and illustrators use drafting tables as multifunctional desks. It provides a solid foundation for drafting and reading layouts. These tables are generally height-adjustable, allowing you to work while standing or sitting. The capacity to modify the board inclination angle to a suitable drawing posture is a fundamental element featured in drafting tables.
Drawing board designs vary considerably. Standard drafting tables are quite common and have worked well through the years. The standard board is mounted on an artist's stand or on four legs with a table frame. – Architectural Working Drawings, Ralph W. Liebing
In its original version, a drafting table is a type of versatile workstation that can be employed for any type of writing or spontaneous sketching on a huge sheet of paper, reviewing a large-sized book or other enormous documents, or designing accurate technical graphics. It is often made out of wood and has two legs.
Conference Tables
A conference table, like a dining room table, is quite massive and frequently very classic. However, a conference table frequently incorporates plugs and connectors for smartphones and laptops. Conference tables are a common type of furniture in conference halls as well as classrooms worldwide.
The conference table would be a significant benefit if you want to ensure that your meetings run smoothly and efficiently. Certain conference tables are designed to enable full participation by all attendees.
Customizable versions can be tailored to the number of attendees at the conference. Some versions include built-in touch displays, loudspeakers, microphones, and other communication functions. Hardwood, laminated particleboard, metal, and glass are all prevalent structural elements of conference tables.
Utility Room Tables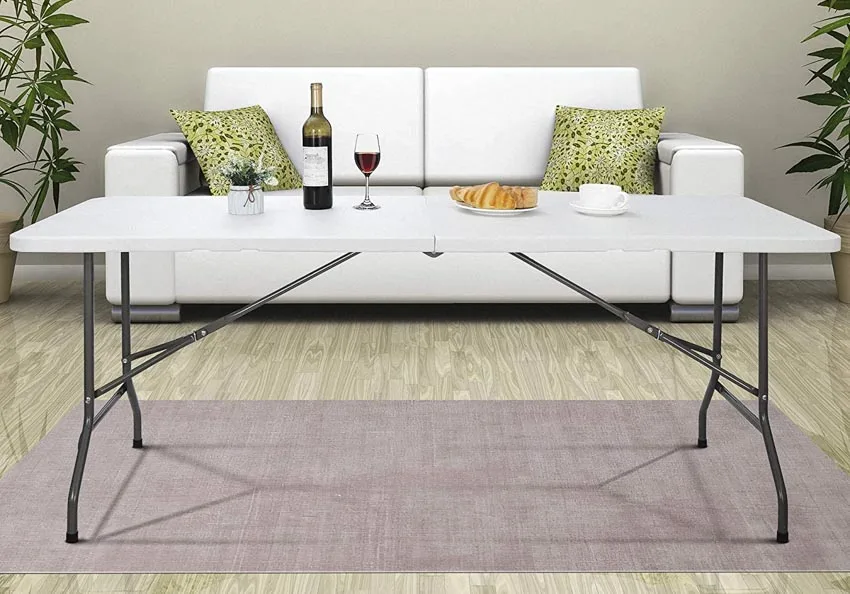 Utility tables are often frequently used in the home for laundry rooms to sort and prepare to wash clothing. Some have a laundry ironing board station or drawers or shelving for additional storage capacity.
A utility table can also be used to store office supplies such as printers, and file containers, or to provide a location for workers to dine and evaluate the day's work. They can also play an important role in event preparation. Whatever the requirement, these adaptable utility tables can handle it.
Utility types of tables are designed to be applied to practically any situation. Foldable utility tables are ideal for transporting to outdoor activities or establishing a booth at a festival, whereas fixed utility tables can be used for everything from a distribution table in a workshop to a condiments table in a cafeteria or diner. Several utility tables include racks for extra storage in a space.
Craft Table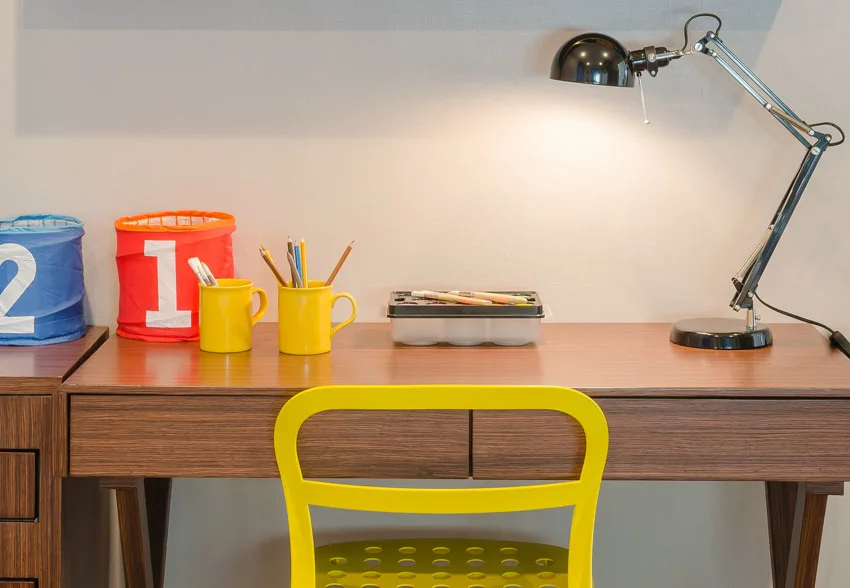 A craft table is a designated area in your home where you may work on any of your creative projects. You will be able to keep your dining table clutter-free with a crafts table, and you will not have to fret about the negative effects of halting amid a huge art project. The craft table can also serve as a creativity zone.
Game Tables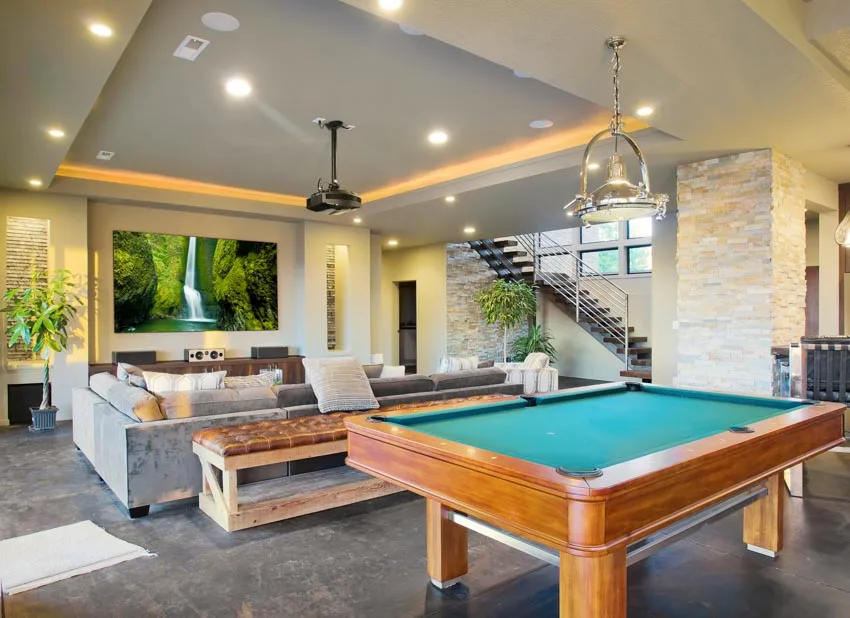 Here we share the different types of tables for game rooms.
Card Table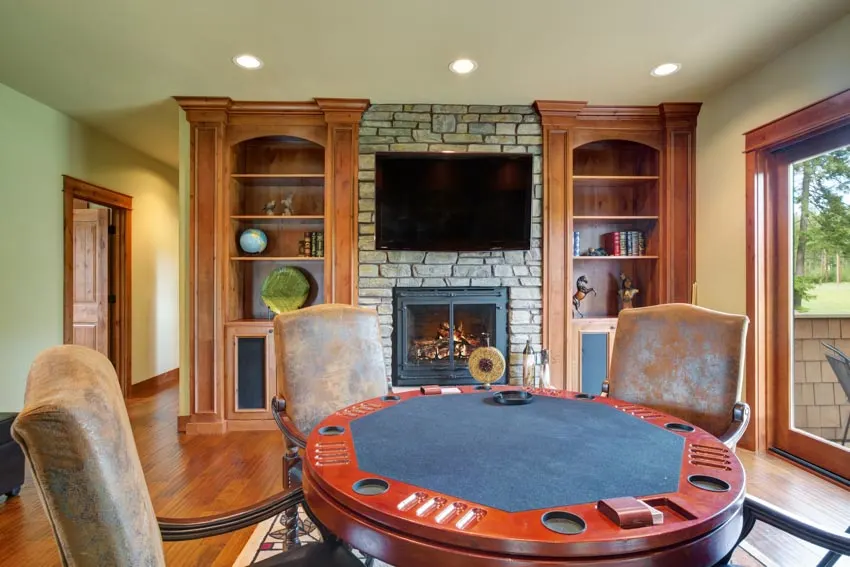 One of the coolest and most enjoyable indoor household activities is the card game. Card tables vary in size, appearance, and primary material utilized. Some are constructed of wood, whereas others are constructed of metal.
Most of these are ordinary, whereas others can be folded and slid. It is often very lightweight. It is mainly used for playing card games and the like.
Pool Table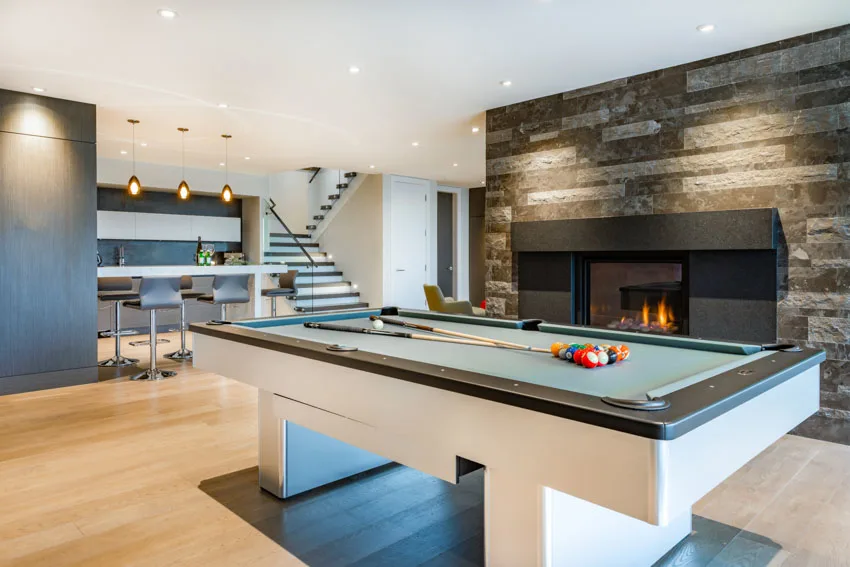 Pocket billiards can be normally played on a pool table. It includes a sturdy frame, six pockets on the edges, and a playing field composed of either nylon, woolen, or synthetic fabric.
Types of pool tables come in a variety of sizes, designs, and finishes. Pool table sizes vary from small to huge sizes, and the design is identified by where it is placed. The finish, nonetheless, is determined by the materials utilized. These include wood, granite, or plastic.
Ping Pong Table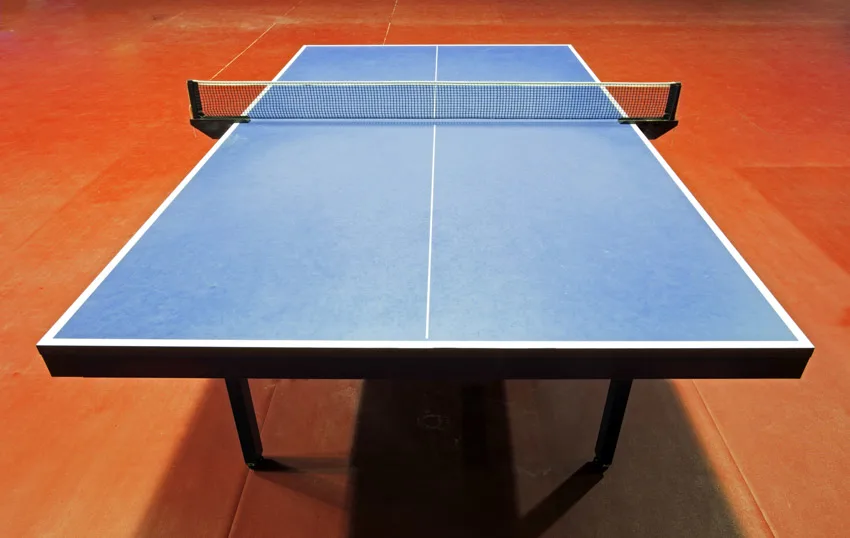 If you enjoy sports but are not an outdoorsy type, ping pong or table tennis would undoubtedly fulfill your desire for an indoor game. A net divides a ping pong table into two sections. For the ball to bounce well, it typically has a black, matte appearance.
Foosball Table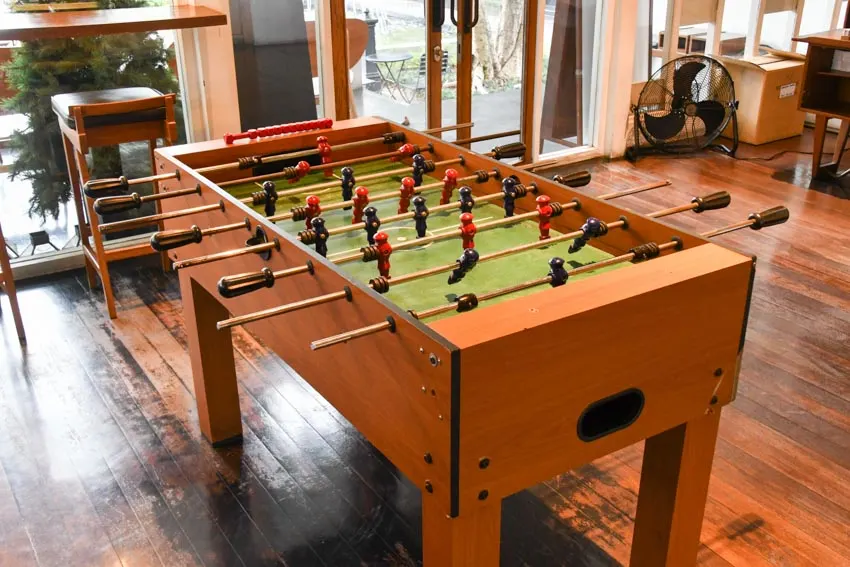 Foosball is a football-based tabletop indoor activity that is commonly found in casinos and play areas. Foosball tables are available in a multitude of forms, with some having a luxurious finish and others having an iconic and classic form. Depending on your preferences, the balls might be constructed of wood, metal, plastic, or marble.
Table Shapes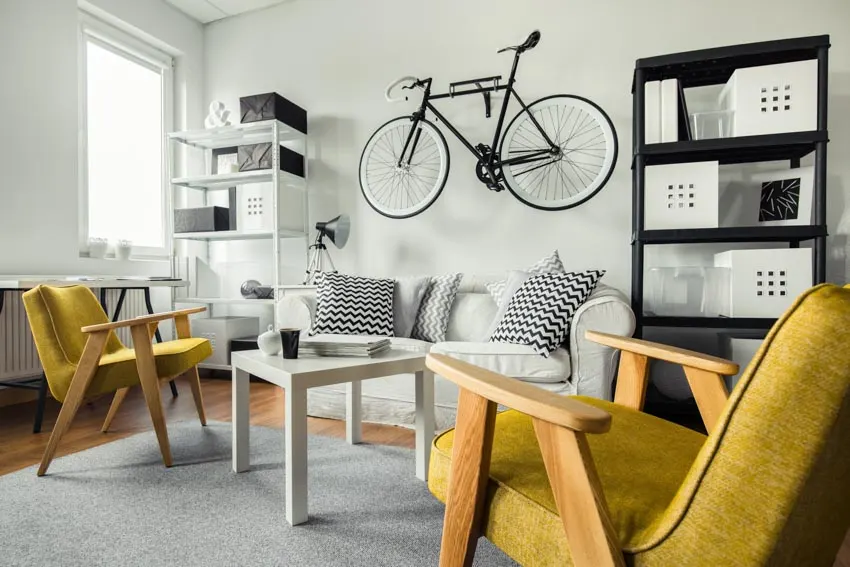 Here we share the different types of shapes for tables.
Rectangular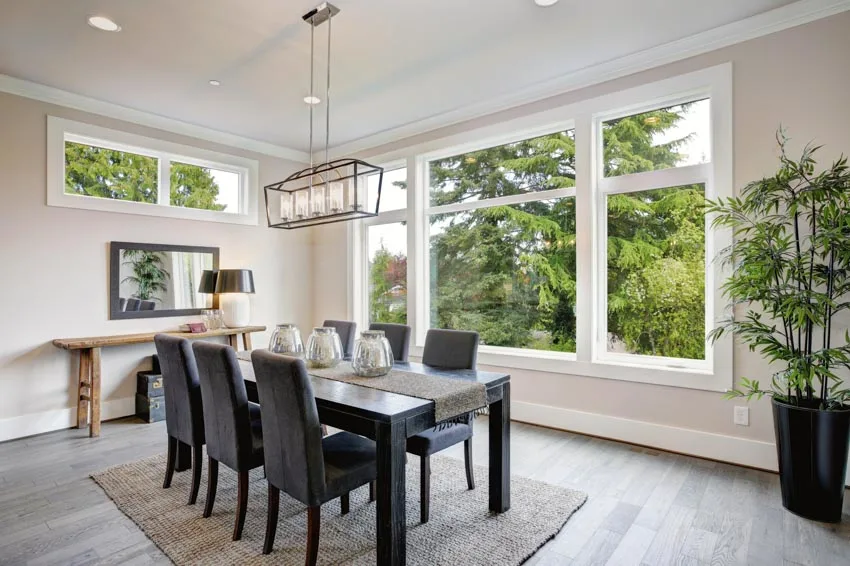 You will not be disappointed with four corners as well as four sides, hence, the rectangle is the most popular shape for any type of table! Rectangular tables are frequently better suited to lengthy, narrow spaces.
It can even shrink to the size of round tables while still covering a large area. Rectangles are ideal for accommodating a large crowd for a thanksgiving meal or squeezing a work table into an underutilized closet.
Square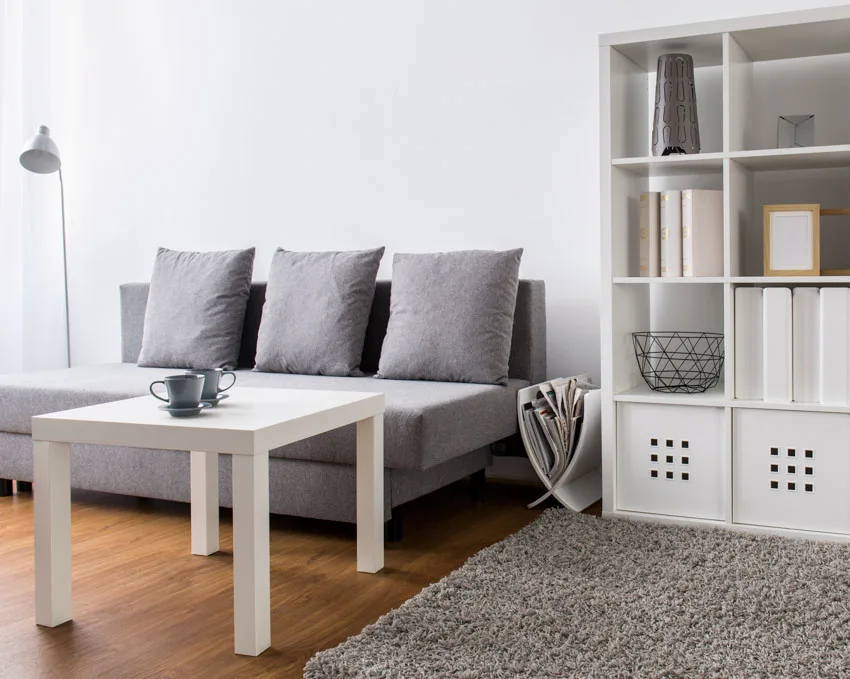 Square-sized tables are among the most popular shapes and functional tables with seating for two to twelve people. Square tables, which can be joined side by side to form bigger rectangular seating designs, are typical in cafes and restaurants with configurations that must be changed frequently to satisfy the needs and expectations of varying group sizes.
Round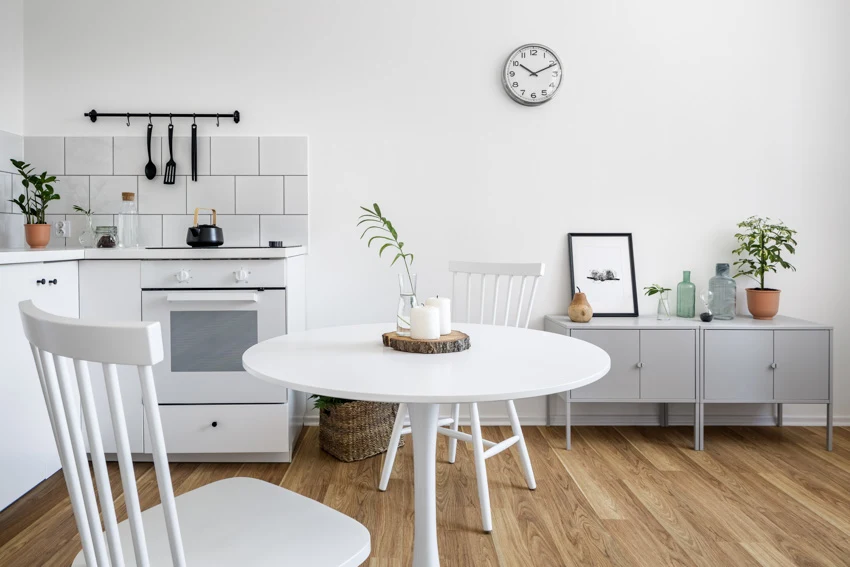 Round tables are space-saving tables with a multitude of typical dimensions for certain seating setups, ranging from modest two-person tables to bigger twelve-person versions.
Round tables have smaller sizes than rectangle and square tables due to the removal of corners, but they are generally less adaptable since you cannot readily merge them with other round tables.
Oval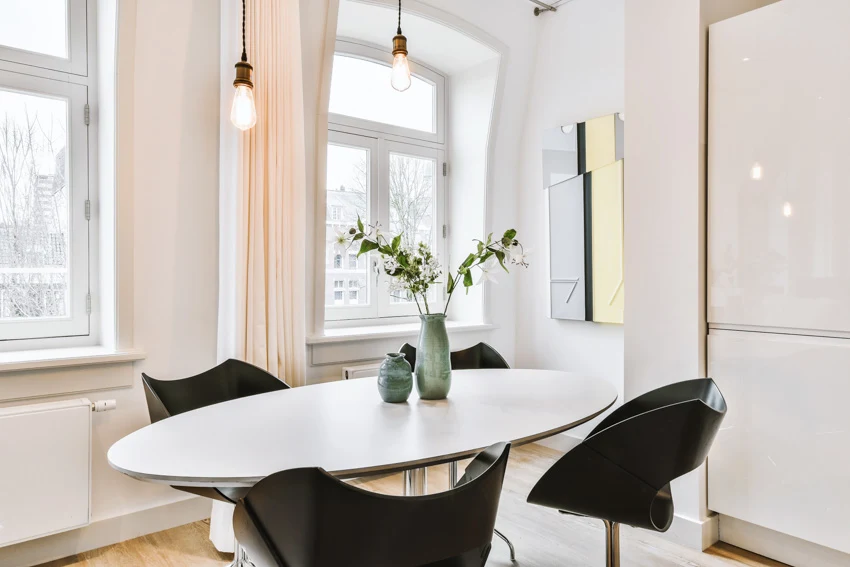 Oval tables are interesting tables that come in a range of geometric sizes and ratios and may accommodate two to twelve individuals. Oval tables, due to their curves, are typically utilized as standalone pieces in dining structures and cannot be readily merged with other tables.
Polygon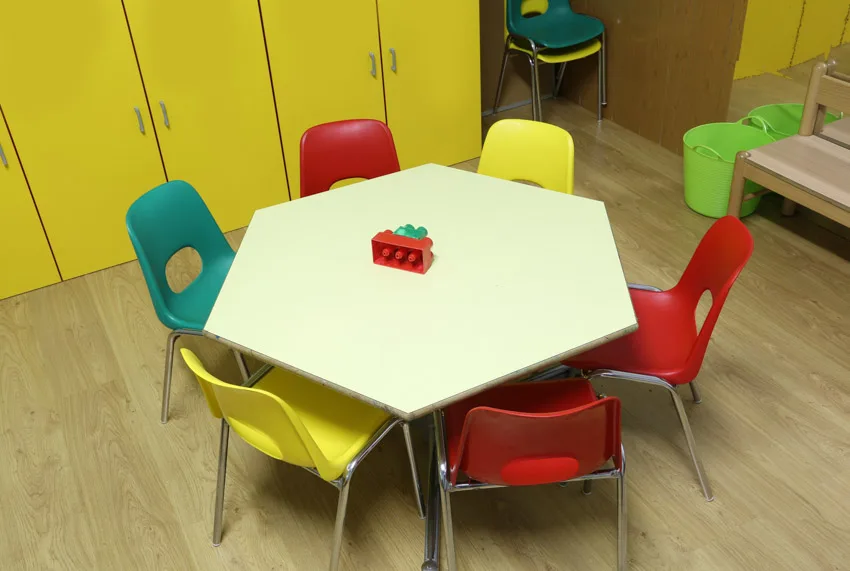 A polygon table, with its straightforward structure and color system, provides an ideal solution to the requirement for all types of surfaces in the home and office. It can either be in a hexagonal, octagon, or diamond shape. This is not a common table shape option, but it also has its advantages for your home.
Styles Of Tables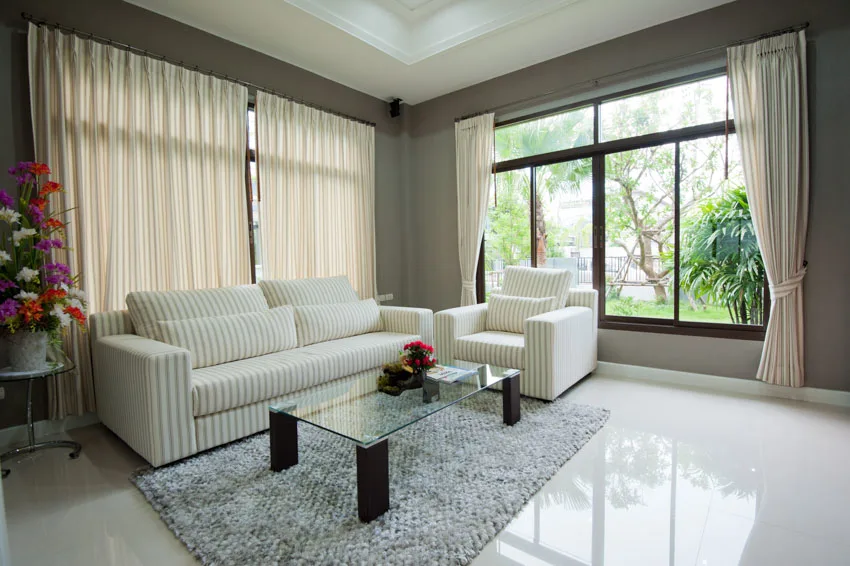 Here we share the different table styles.
Farmhouse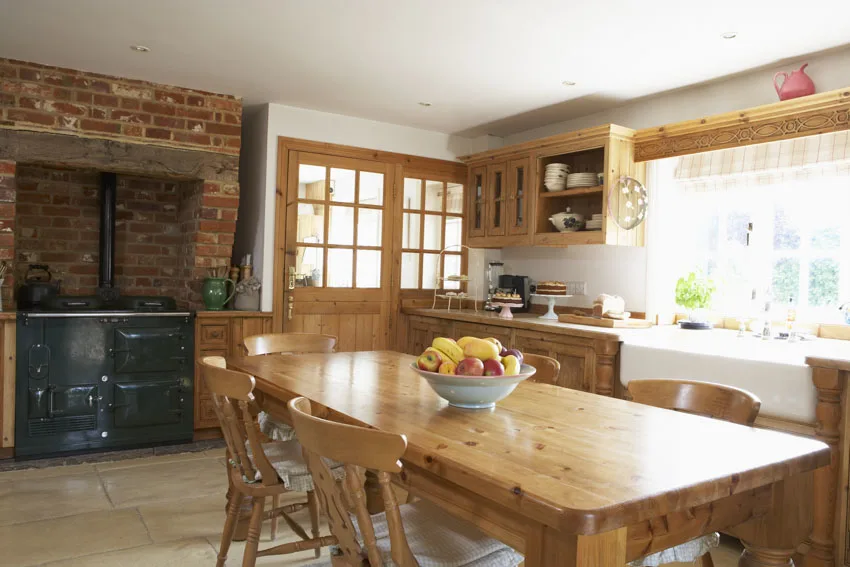 Substantial, distressed wood and a throwback to craftsmanship elements, such as over-the-door wood slats and ornate molding, define the farmhouse style. Large, white farmhouse-style tables are common, as are aesthetic allusions to the French and Italian farmlands in lavender, flora, and, on occasion, stucco.
Farmhouse types of tables, as well as gorgeous works of art, are frequently used as decorative pieces for this style, and antique chests and dressers frequently function as accent tables.
Contemporary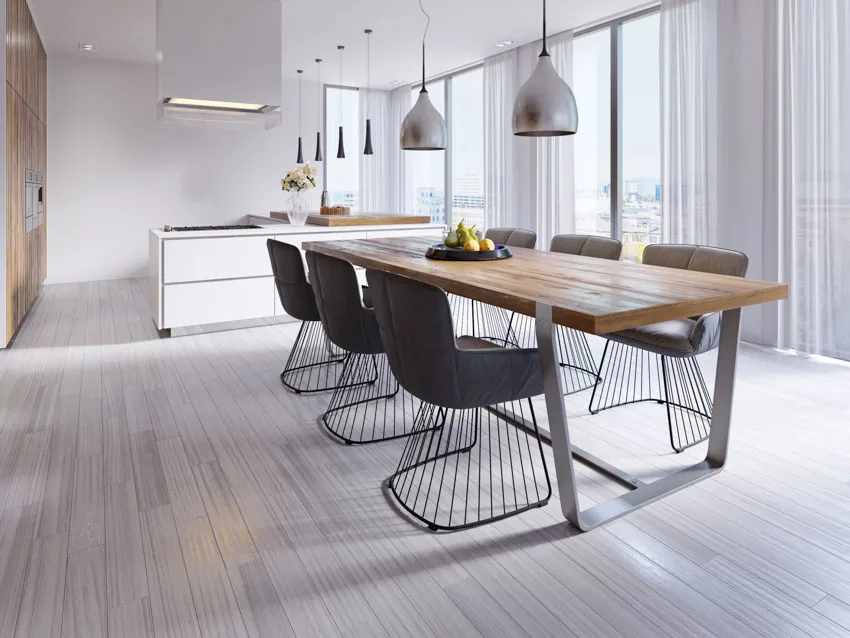 A contemporary table is distinguished from a classic one by its unique shape, color, manufacturing process, as well as materials. It can lend a distinctive accent to a regular or traditional design. A contemporary counter could be collapsible, feature extensions for several purposes, and include built-in lighting, storage, and other functional features.
Modern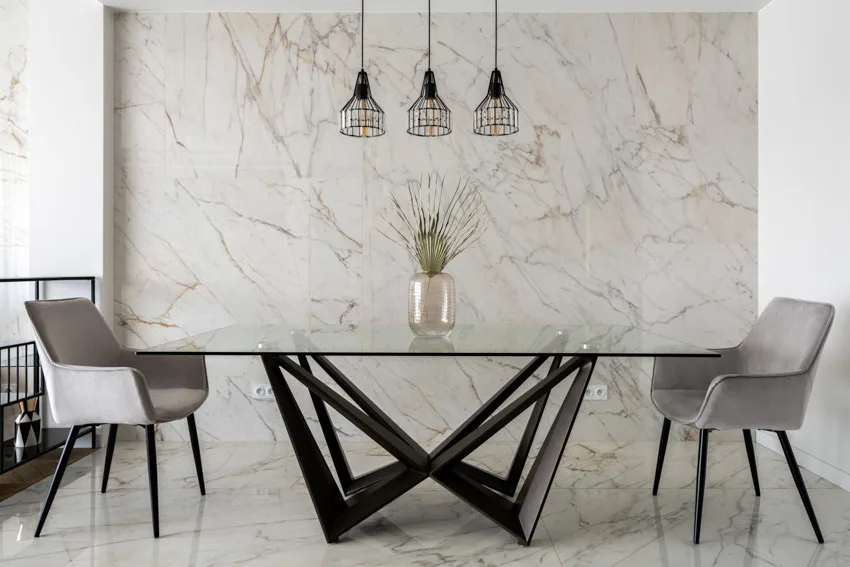 Modern types of tables are available in a range of materials, such as real hardwood, metal, and also plastic. The material chosen is not necessarily an indicator of quality. Plastics and other manmade materials have been used to make numerous high-end, luxury table sets.
Furthermore, modern tables have clean, basic lines. They lack carvings, trimmings, and moldings. Not all desk sets are square and have plain legs.
Minimalist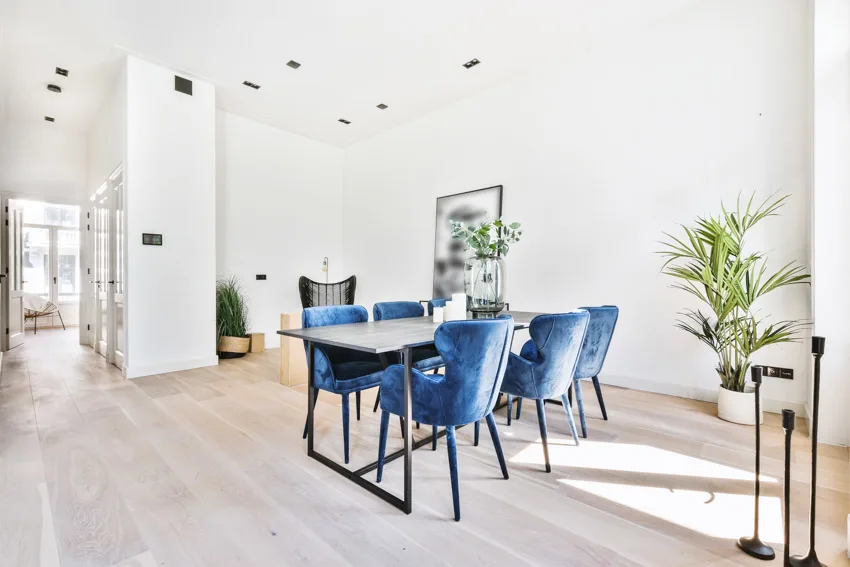 Most people nowadays are aware of the core principle of minimalism, which entails reducing objects to their simplest form. Minimalist tables are comparable to modern tables in that they use only the minimal necessities to produce an uncomplicated and clutter-free space.
It is distinguished by its elegance, sleek lines, and monochrome palette with accents of color. It usually concentrates on the shape, color, and texture of a few key pieces.
Industrial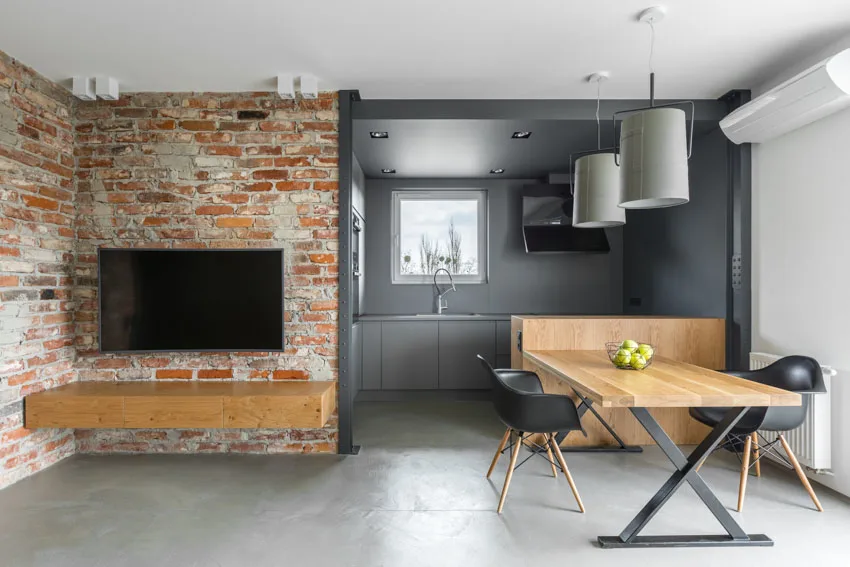 Materials typical during the new century are used in industrial style, which most prominently uses uncovered brick, weathered wood with natural dyes, and bare steel as well as other types of metal.
An industrial table composed of metal and timber can be a terrific way to personalize your house. These furniture ;types can be true pieces of art, with some appearing to be made from actual factory machines.
Mid Century Modern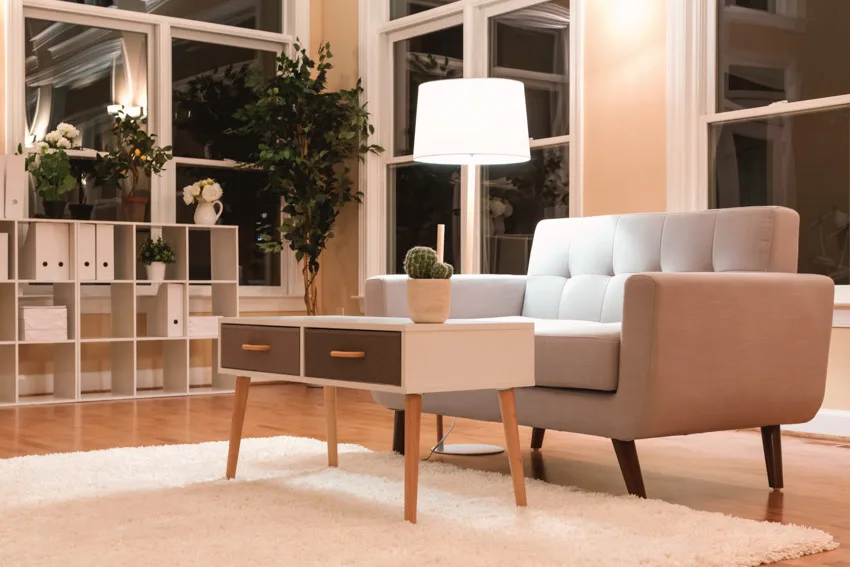 The furnishings that are designed in the mid-1900s are referred to as mid-century modern. It is incredibly popular even now, and for a valid cause – its naturalistic, sleek design and the usage of ecological and engineered elements are attractive, pleasant, and highly adaptable.
Low contours and honey-stained genuine wood, frequently engineered plywood, distinguish mid-century modern types of tables. Some designs are extremely trendy as well as others that are more delicately sophisticated and informal.
Scandinavian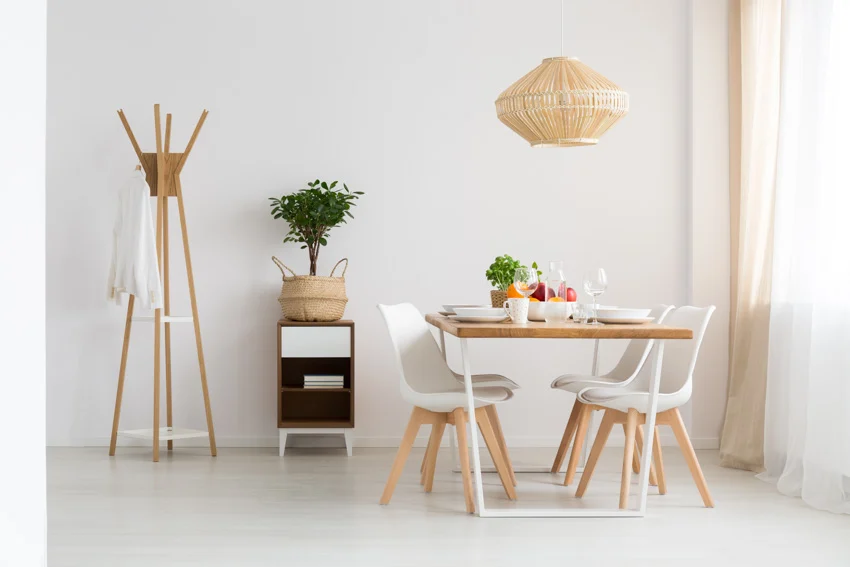 This style is considered identical to mid-century modern in the way that it employs sharp lines and leans toward simplicity. Nevertheless, a genuine Scandinavian aesthetic employs white and light hues and infrequently employs fabric or particularly fluffy textiles. Instead, it opts for clean, light-hued wood surfaces with white or gray tones.
Shabby Chic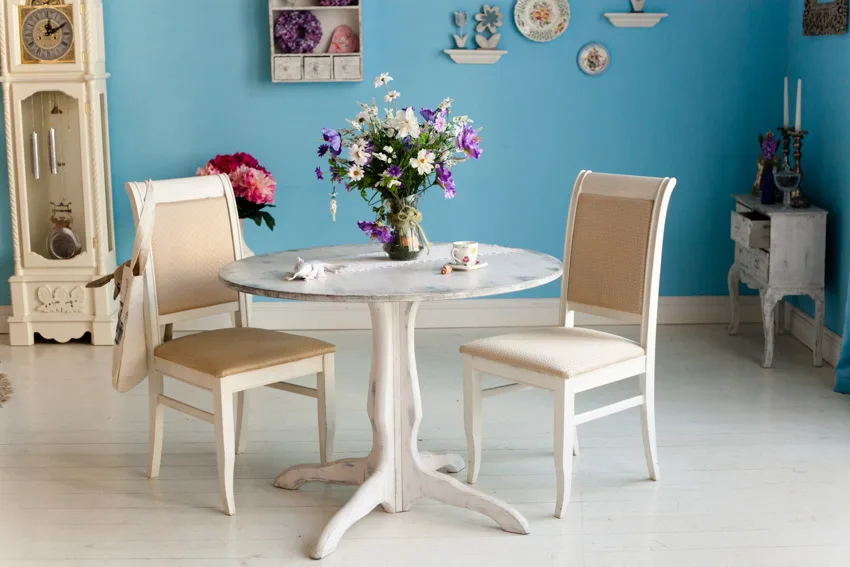 Shabby chic is comparable to rustic or farmhouse style, but it somewhat differs in the softness of the woods employed and, in many cases, in the underlying gentleness. The furniture in this style is delightfully antique and modestly odd, typically in white or extremely soft hues.
Faux patinas are commonly applied to wood furniture, making this a simple style to imitate for do-it-yourselfers. Tables that are in shabby chic styles are frequently refurbished in a few tones of white, khaki, or any pastel color.
Rustic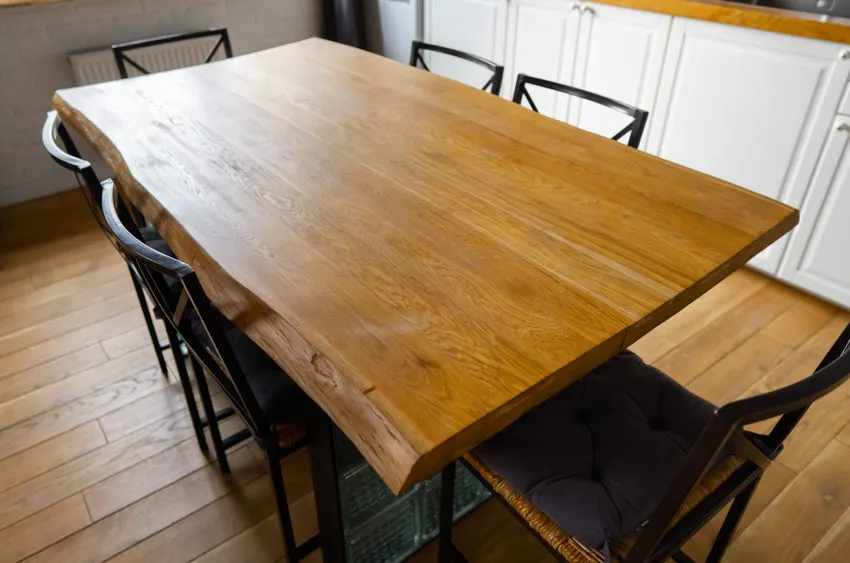 A rustic table usually adds a primitive & natural touch and atmosphere to any area. They frequently have durable wooden spindle legs as well as a hefty wood top constructed of substantial boards like pine, walnut, or oak.
Vintage rustic types of furniture are available with either a classical rustic wood treatment or a painted foundation for added elegance and sophistication. Current rustic tables with the distinctive thick repurposed wood design surface but with a more modern foundation, like square wood or iron legs, are also available.
Table Materials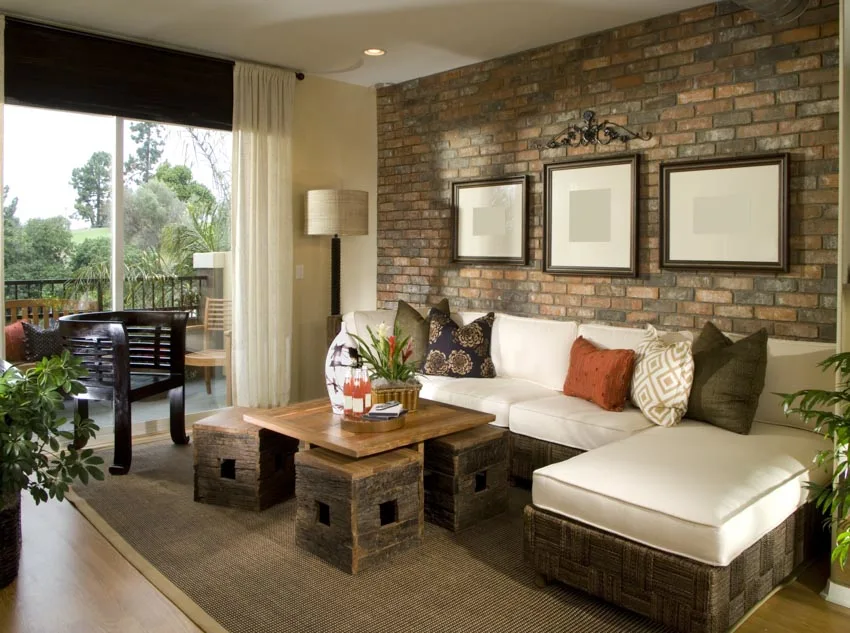 Here we share the different types of materials for tables.
Solid Wood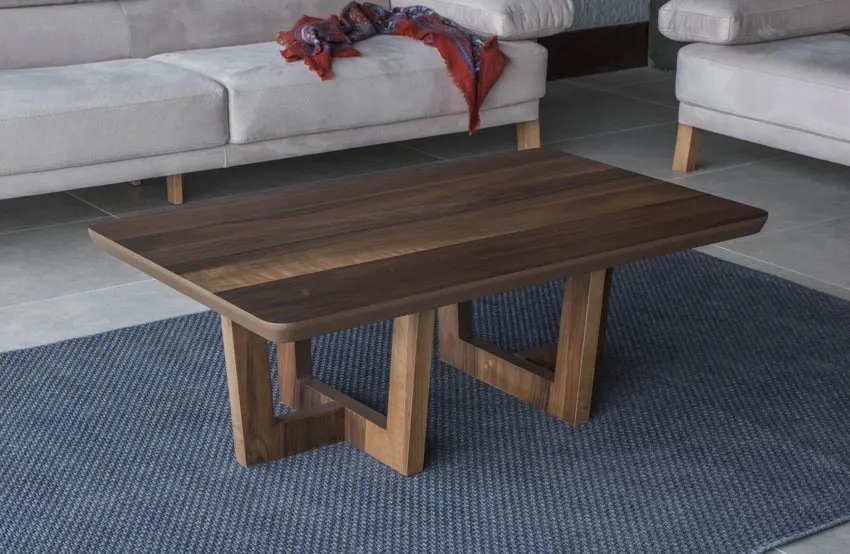 Solid wood is a classic material that has lately made a breakthrough once more. Although modern wood tables have historically been widely known because of their durability and sturdiness, natural and earthy wood tables are coming back into fashion. For meal preparations, wood is indeed the appropriate material.
If you wish to have a furniture piece that is sure to last for a long time, solid wood would be an excellent choice. Solid wood tables could be polished, repainted, or sanded, adding long-term quality to the table you are purchasing.
The roughness, wood graining, and hue of wood vary according to the species of tree as well as the nature of the wood. For instance, due to its superior toughness and cost-effectiveness, oak is frequently used for tables. Pine is frequently less expensive than oak, but it is also lighter and less durable.
Metal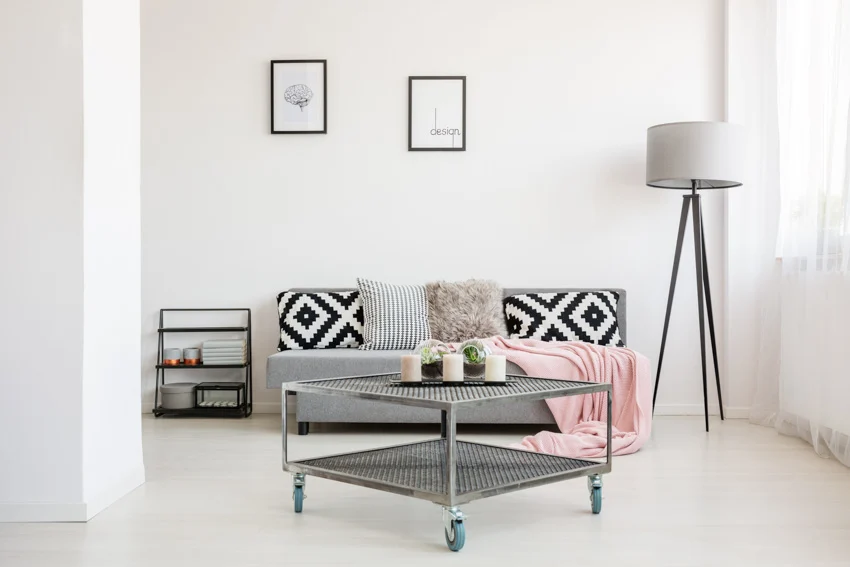 Metal, which is frequently utilized in industrial and oftentimes contemporary furnishings, may provide wonderful lines and complexity of view to your house making your counter a standout. Unless you are working with something such as copper, metal would be generally quite strong and resistant to breakage.
Nevertheless, metal is heavy, thus if you anticipate undertaking a lot of movement, you should stick to small metal accent types of tables. Metal must also be coated or painted to avoid rusting, particularly if you reside in a humid climate.
Laminate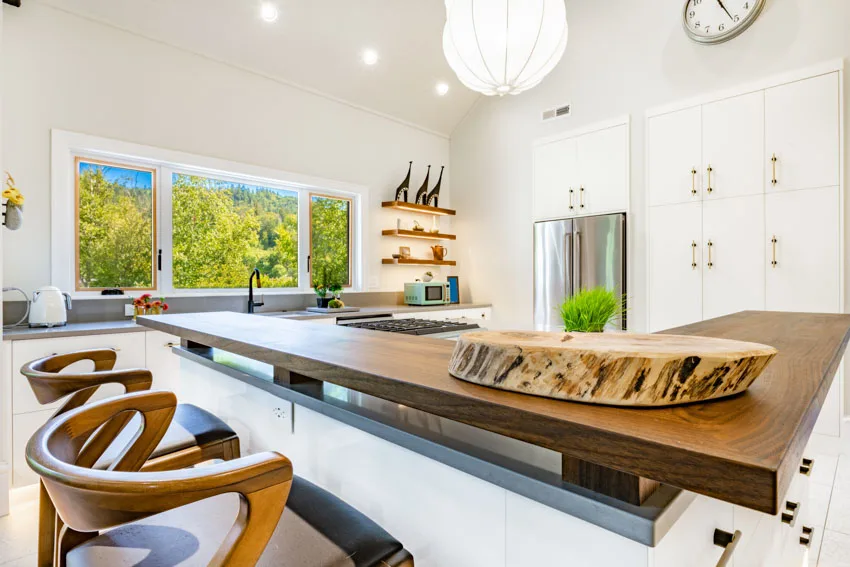 Laminate is a manufactured material that resembles wood but is not genuine. It is typically constructed of plastics that have been printed to resemble wood. This is often a less expensive option for high-end wood tables, but low-quality laminate can easily appear cheap.
It also has a very low-profit potential and is of lower quality. However, a lot of laminate was utilized in the 1960s, and many of the premium-quality pieces have lasted to this very day.
Unfortunately, this ;material cannot normally be repainted or refurbished, thus avoid buying a laminate furniture if you intend to spruce it up at any point.
Wood Veneer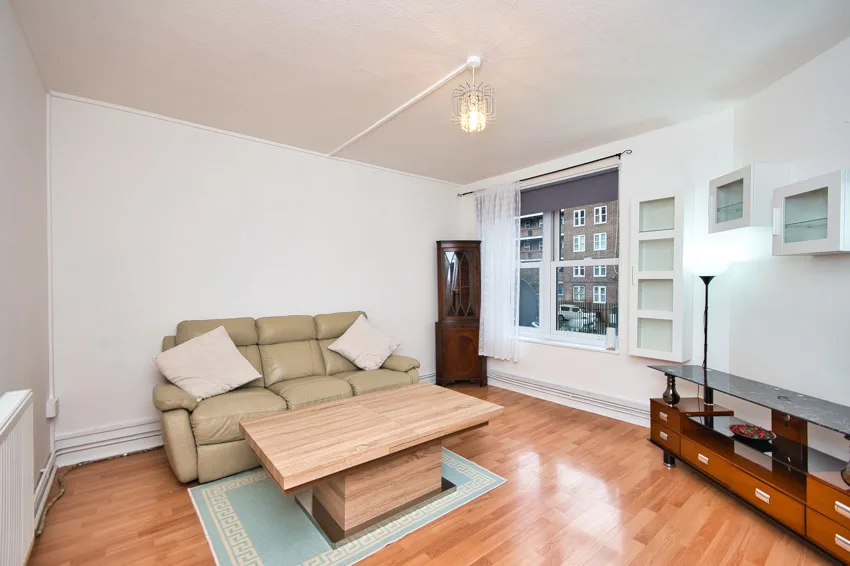 Wood veneer is an exceedingly thin sheet of wood that has been put onto core boards and is arguably the most common solution for inexpensive tables nowadays. When made correctly with high-quality wood veneer, you will not notice that the table is not made from pure wood.
Glass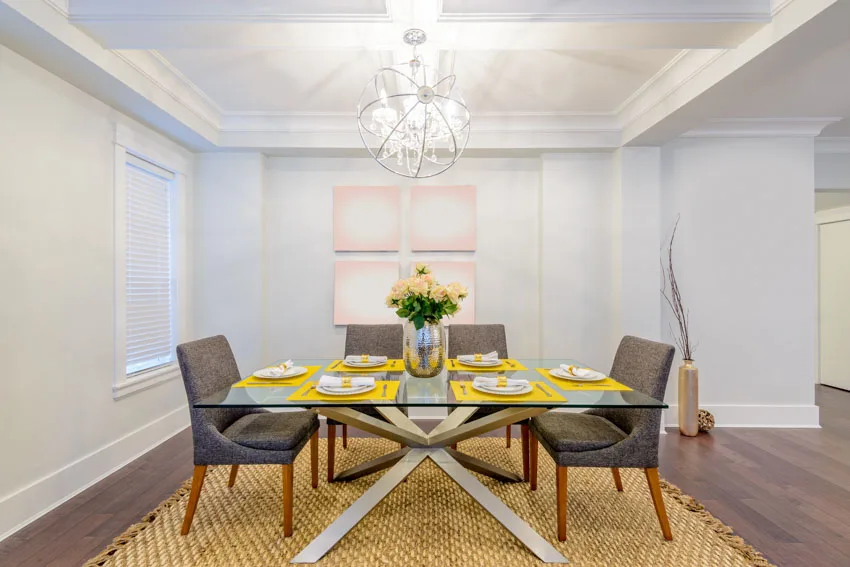 Glass is very easy to maintain, but it must be cleaned periodically to minimize streaks, blotches, and other blemishes. It must also be handled with care because it is brittle. It is not a good option for a child-friendly setting because of its pointed edges.
It can, meanwhile, be both traditional and contemporary, and it can provide a very delicate touch to a space. If you do not want the table to be the main element of your décor, the glass would be an excellent choice.
Marble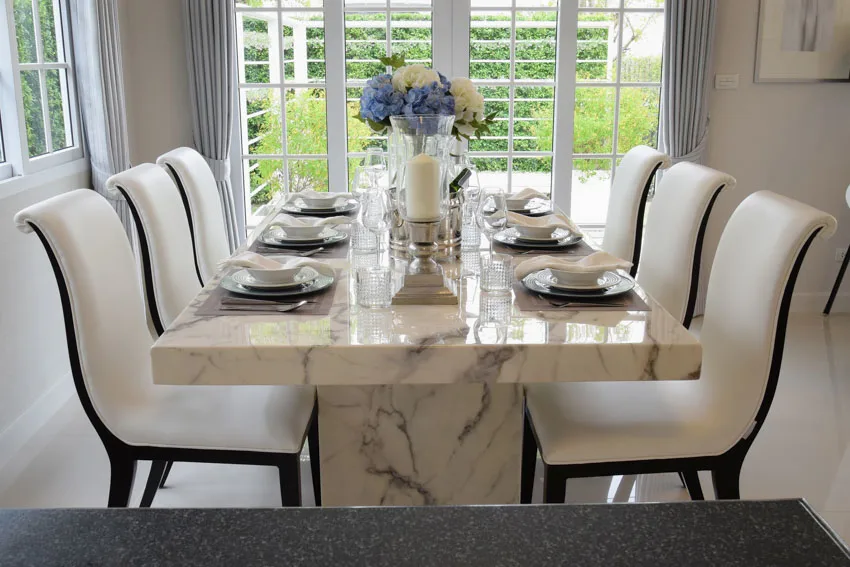 Marble is a wonderful material that may be used to bring drama or timeless elegance to a space. It is not, nonetheless, a smart selection if you want anything heavy-duty.
Although marble types of tables are available in a broad range of shapes, sizes, hues, and polished edges, they scratch and etch readily. They are also hard to maintain.
Certain marble tables, meanwhile, must be sealed periodically. A specialist can refinish marble, which is something to consider if you are searching for a vintage or second-hand marble table.
Types Of Table Legs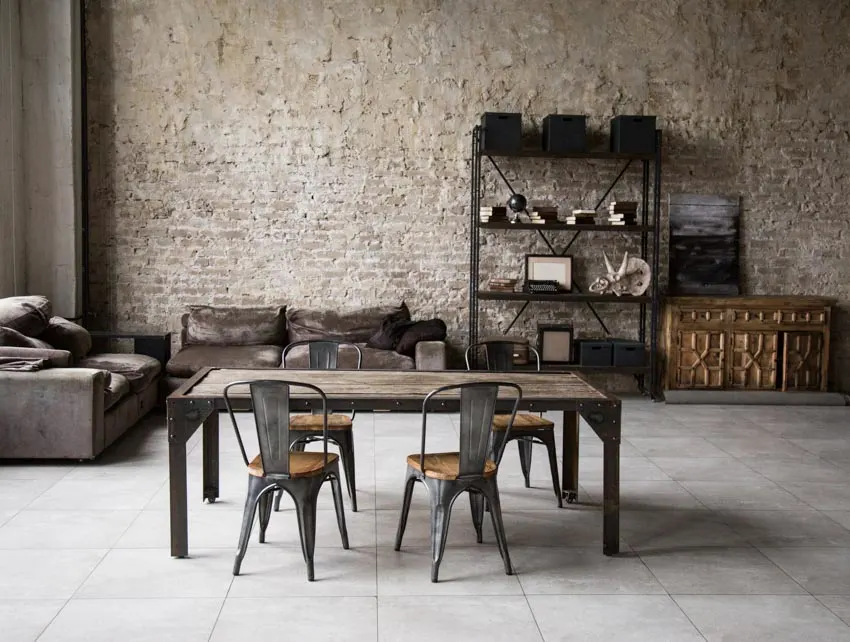 Here we share the different types of legs for tables.
Square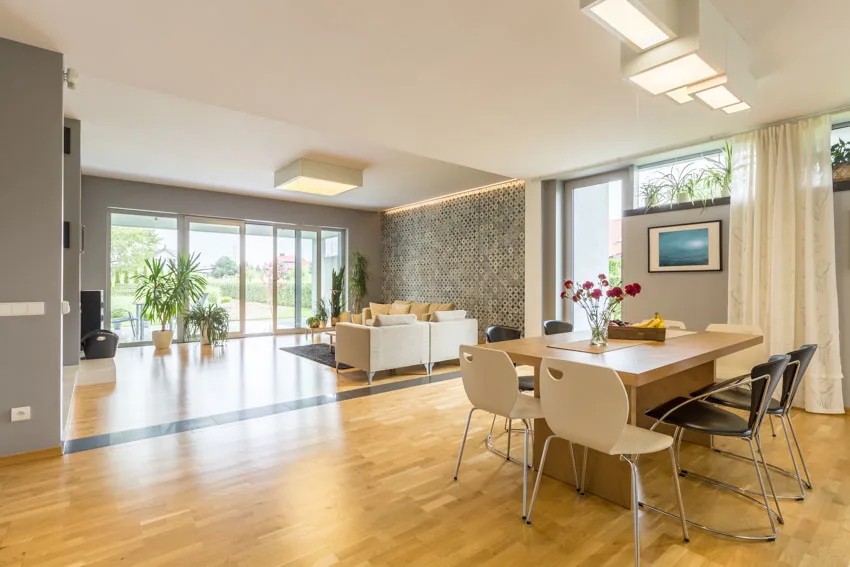 Square legs create a basic yet stunning side table, seat, or dining table by adding sharp lines to any tabletop. Because of their minimalism, they often make their way into workplaces and industrial environments.
Such modern-styled types of table legs are normally pre-installed with a hanging bolt to simply connect the legs to the tabletop. Users can either pick squared or circular corners.
Tapered
Tapered legs extend vertically down. As the leg approaches the foot, it gets slimmer. Spade, fluted, and straight are prevalent configurations for tapered legs.
Adjustable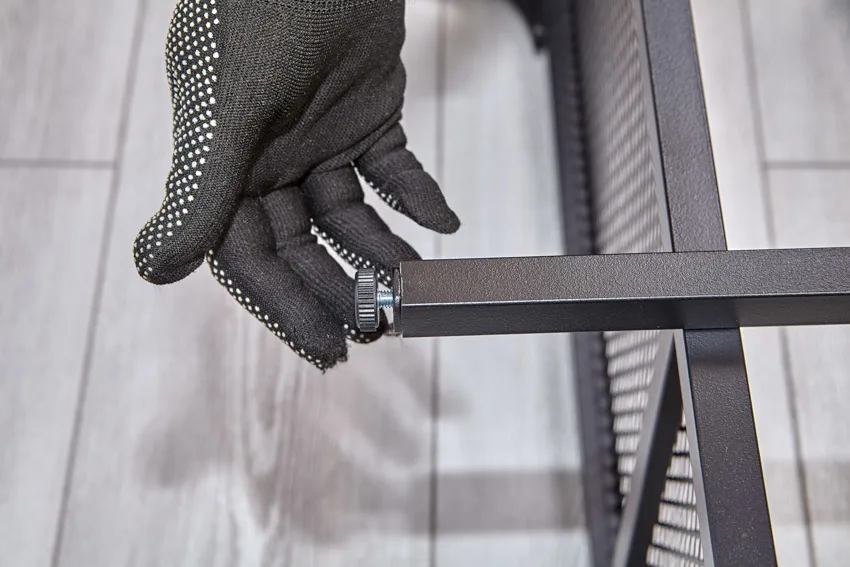 Adjustable legs may increase the height of your desk by 4 inches or more. This type of leg is ideal for use with a work table, gaming table, computer table, or craft table.
Height-adjustable legs are just about as durable as non-adjustable legs and stay steady even after multiple height alterations. This also comes in a variety of styles.
Trestle Table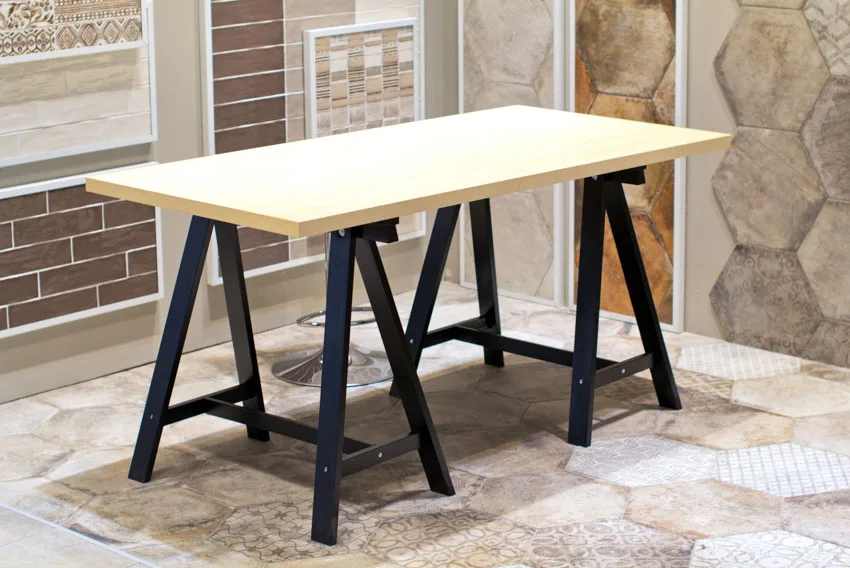 A trestle is essentially a tabletop board supported by trestles. Trestles are often constructed of two slopedlegs reinforced by horizontal joists, resulting in a movable, strong structure. Trestles are originally made of three legs and employed to make robust tripods as well as stools.
Pedestal Table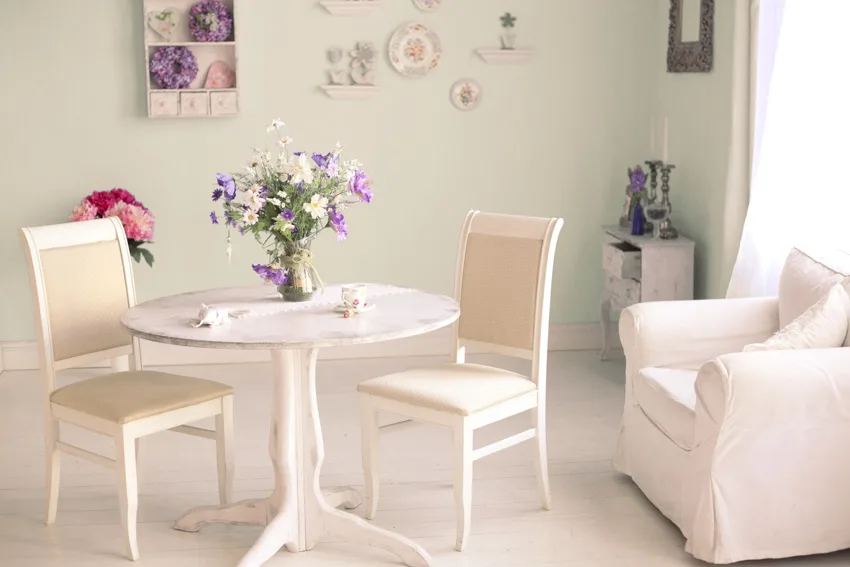 In reality, pedestals are not consideredlegs. However, pedestals support the tabletop and make it very sturdy. A pedestal, whether single or double, sustains the tabletop rather than legs, as the name implies.
Round or rectangular tables with diameters ranging from 36 to 60 inches are supported by a single pedestal. A twin pedestal, on the other hand, sustains the tabletop on rectangular or oval tables that are over 72 inches.
Saber Legs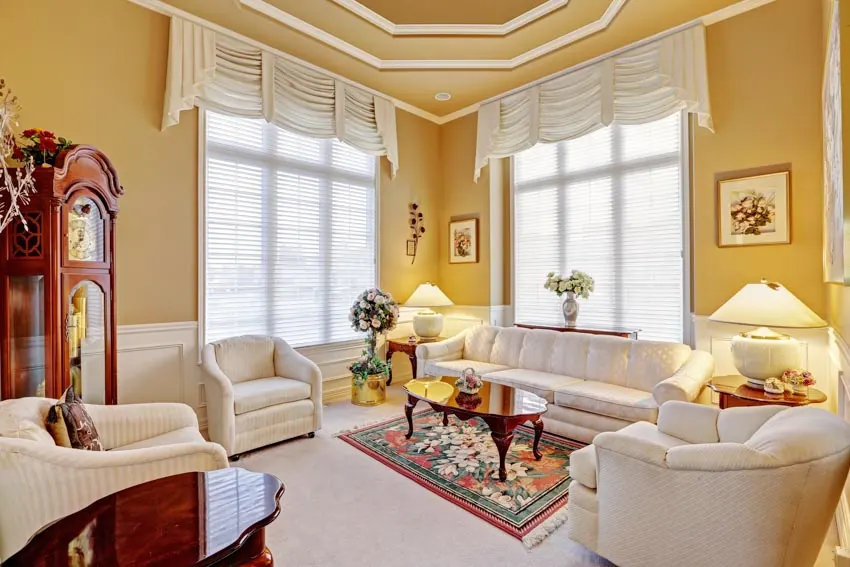 Saber legs feature a slight outward tilt. Not like other old leg styles, these often lack intricate carvings. Saber legs are also among the most traditional solutions for old furniture. Thus, if you want to acquire an antique pedestal that can be upgraded, this would be an ideal leg type to consider.
Table Sizes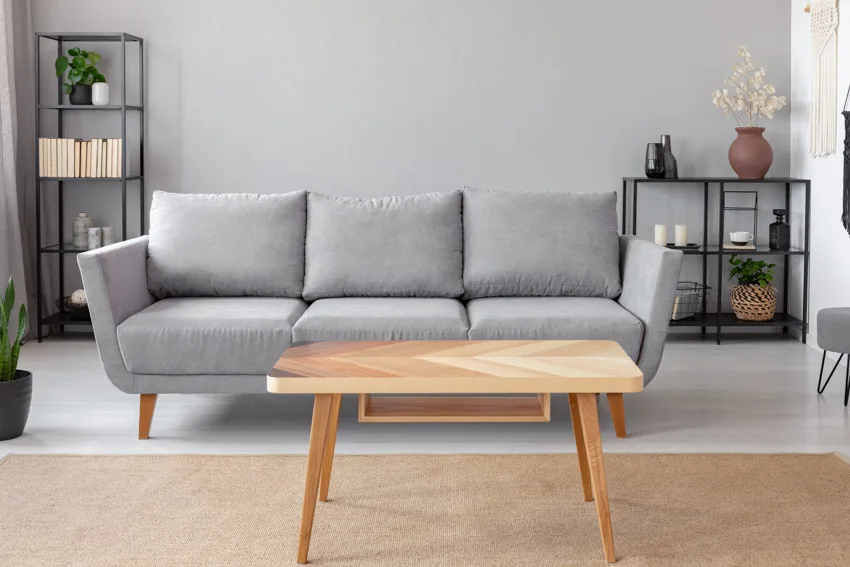 • Rectangular Table: The proportions of rectangular tables may vary as they will depend on how many individuals you want to accommodate. Normally, rectangular tables are 36 to 40 inches in width.
A table that accommodates 4 individuals must be around 48 inches in length, and a counter that seats 4 to 6 people must be at least 60 inches in length. It must be at least 78 inches in length for 6 to 8 individuals, and you must provide 24 inches of room for each seat at your table.
• Square Table: Square types of tables accommodate 4 individuals comfortably and are typically 36 to 44 inches in width. Square tables are sometimes counter-height instead of the regularheight, measuring around 34 to 36 inches in height.
• Round Table: A round table's diameter is the most important measurement. This design, similar to square tables, is ideally designed for smaller parties and can fit nicely in smaller areas.
A round workstation that is 36 to 44 inches in diameter may accommodate 4 individuals; a desk that is 44 to 54 inches in diameter may accommodate 4 to 6 individuals; your board must be 54 inches in diameter or greater to accommodate 6 to 8 people.
The usual height for most dining tables is around 28 to 30 inches. Usually, people may easily lay their feet on the ground at this height, making it ideal for fine dining or everyday meals.
Tables are available in a variety of heights. A counter-height workstation will be a similar height as a dining bar or island countertop, which is 36 inches tall. Such tables are ideal for transitioning from doing schoolwork to eating meals with your household members.

How to Choose a Table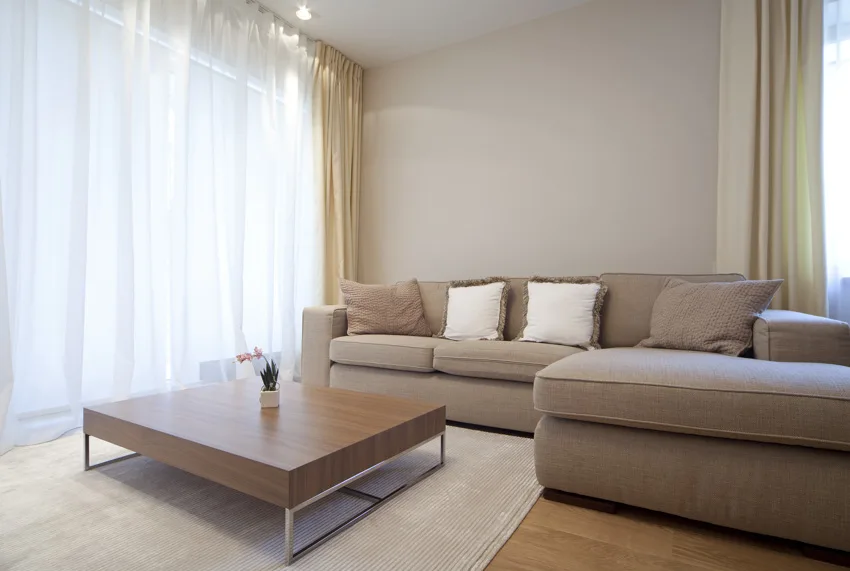 • Determine your layout & available space – The amount of space must be considered when selecting a living room centerpiece for your home. Examine the size of the space where your desktop set will be placed. This will bring you an estimate of the measurements of a prospective design you may require once you go out and purchase a pedestal.
• Choose a complimentary design style – Select a furniture piece that will complement your living space based on the design of your home. Whether you have a farmhouse, contemporary, modern, Scandinavian, or farmhouse décor, your desk should match that. There are a lot of designs in the market that will complement your present décor.
• Select high quality furniture – Selecting top-quality and long-lasting materials are directly related to the long-term maintenance of your pedestal. Hence, always choose the best material that goes according to your needs and preferences. You can scan once again the materials to identify which one is the best option.
• Consider the table's use – Consider how you will use your pedestal before heading to the store. For instance, if your desk is frequently used by the whole household, choose solid, medium to large-sized tables built of long-lasting materials. If you live in a leased property, we suggest purchasing lightweight and sturdy pedestal structures.
---
Selecting the Perfect Table for Your Space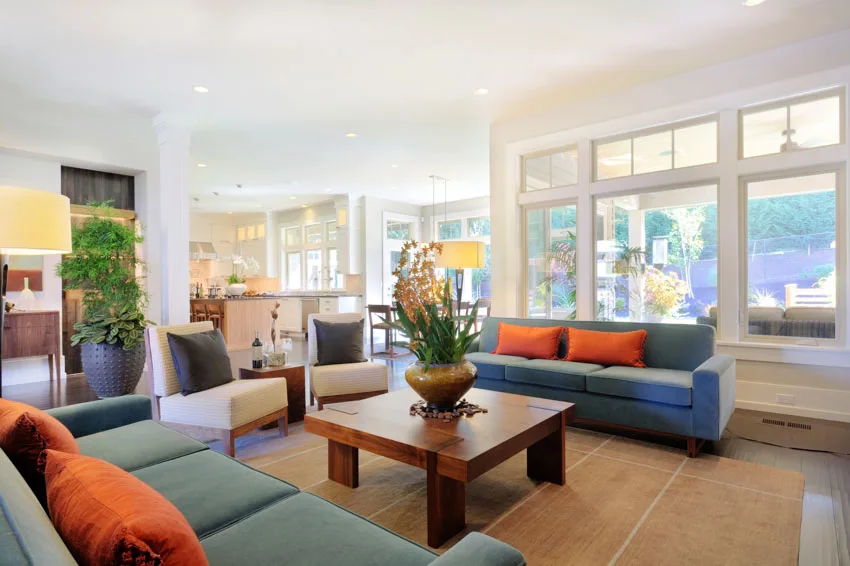 We asked interior designer Danielle Porter, for her best tips of choosing a pedestal and this is what she had to say:
Whether it's your dining room console, ottoman, end shelves, or even the ottoman where you drink coffee every morning on the front patio – picking the right pedestal for the occasion can make or break the experience for you and your guests.
While there are many aspects to consider in selecting your console, the most important of all is ensuring this decision isn't made, as we say in the industry, in a vacuum. That is to say – you need to consider the rest of your space and furniture, and accessories while making your selection.
To help make the decision-making process more manageable, there are two components that we always recommend clients start with: ;size and material. These two aspects alone will quickly narrow down your search results letting you focus on the details.
Starting with size, always confirm the size of your room and any furniture being paired with your pedestal first. Once you have those, there are some helpful guidelines you can use to help to determine the appropriate size for your table:
Coffee Tables: size it to leave 18" from the face of the seat to the edge of the workstation.
Decorative or End Tables: Ensure you leave at least 36" between the stand and anything else if there is a walking path next to it.
Dining Tables: you'll want at least 24-36" of space from the edge of the pedestal to the wall or furniture for enough space to pull out your chair – if it's a large room, consider adding more space.
In addition to tabletop size, always remember to confirm the height of the workstation. Below are a few additional guidelines to help narrow down the choices.
Accent Table