Here's our ottoman dimensions guide including the different measurements for Barcelona, Eames and sectional sofa ottoman sizes.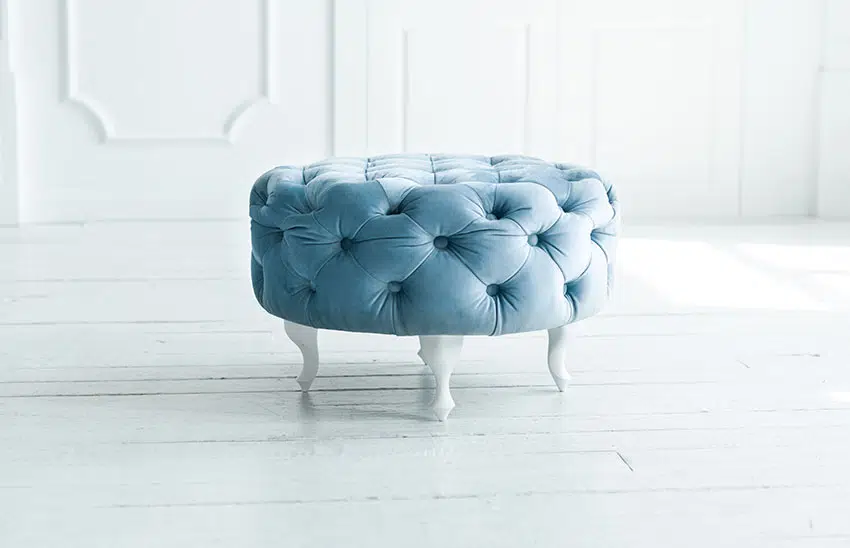 Ottomans are a freestanding seating option that you can add anywhere in your house. Some are multifunctional and practical, while some are decorative and luxurious.
Here, we will provide you with an Ottoman 101 to help you get a head start in your quest to find the right ottoman for your home.
Standard Ottoman Sizes
The ottoman's name is derived from the Ottoman Empire itself because of their fond use of the seating comprising a pile of cushions. It has evolved from what we know as the ottomans of today.
Ottomans come in different shapes and sizes, and some designs are famous enough that owning them is a bragging right. There are no standard heights or sizes to an ottoman because they are made and sold either as a set or individually.
Ottoman Height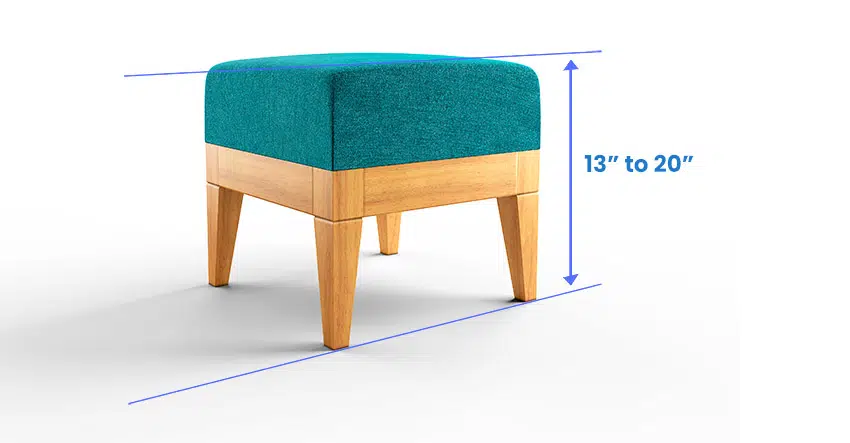 Ottomans come in different forms and dimensions, and they could range in height from top to bottom from 13 to 20 inches or 33 to 52 centimeters.
Should Ottomans Be the Same Height As the Couch?
The answer to this problem varies from one opinion to the next, on whether you want to have it the same height as your couch or not.
Most ottomans are as tall as the sofa and any other coordinated sets it comes with, although sometimes, the more modern and contemporary interior designer likes to mix and match with seats, especially with vintage ottomans. So, it's totally up to the homeowners what their preferences are. Read more about different sofa dimensions here.

Ottoman Size for Sectional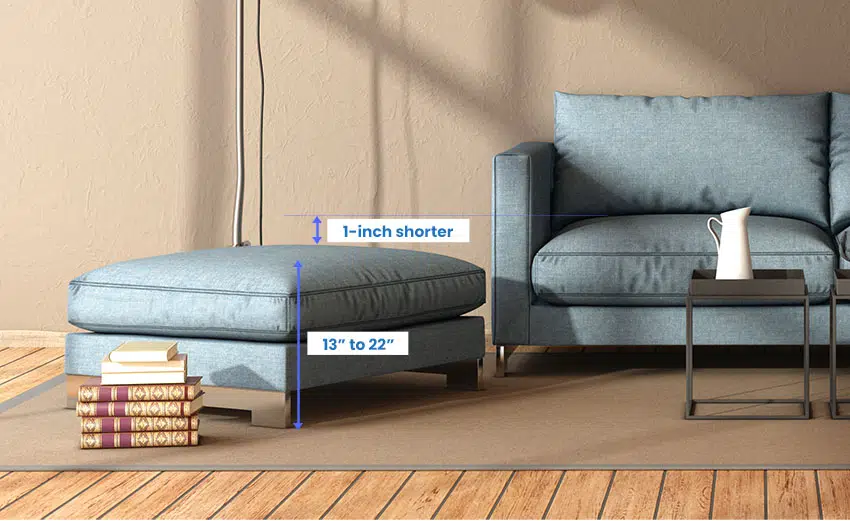 As stated above, ottomans come in different shapes and sizes, and there is no right or wrong size as long as it works for you. However, there is an average size that some commercial makers and furniture design follow, and it is based on the standard height of a sofa.
The average dimensions for ottomans for a sectional sofa are 13 to 22 inches or 34 to 56 centimeters in height. If part of a sectional, an ottoman should be 1-inch shorter allowance than the cushion or the seat of a couch or a chair.
This height allowance will ensure that the ottoman will be comfortable if used as a footstool. Sometimes, an ottoman is centered on sectional, and there is equal space on all sides, usually 18 inches.
Barcelona Ottoman Dimensions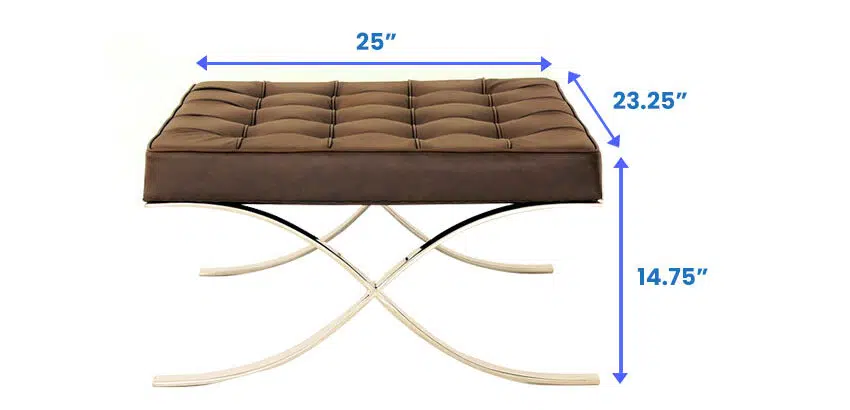 Ludwig Mies van der Rohe produced the Barcelona Ottoman in 1929 as it was presented to the public on the German Pavilion at the International Exposition in Barcelona. Since then, it has cemented itself as one of the most coveted furniture pieces that defined the coming modern century design.
The Barcelona Ottoman has 18 individual panels tufted, welted, and cut by hands with cowhide leather buttons. The inside is cushioned with the highest quality urethane foam and down fiber-like Dacron polyester fiberfill. The upholstery is also made in cowhide, while the hardware and the legs are made of aluminum with a mirror finish to add a sleek design to the ottoman.
Barcelona Ottomans has dimensions of 25 inches or 64 centimeters in width, a seat depth of 23.25 inches or 59.15 in centimeters, and a seat height from the floor to the seat of 14.75 inches or 37.47 centimeters. To have this ottoman in your home will give you a piece of the mid-modern century design that is gaining a reborn in this time and century.
Eames Ottoman Dimensions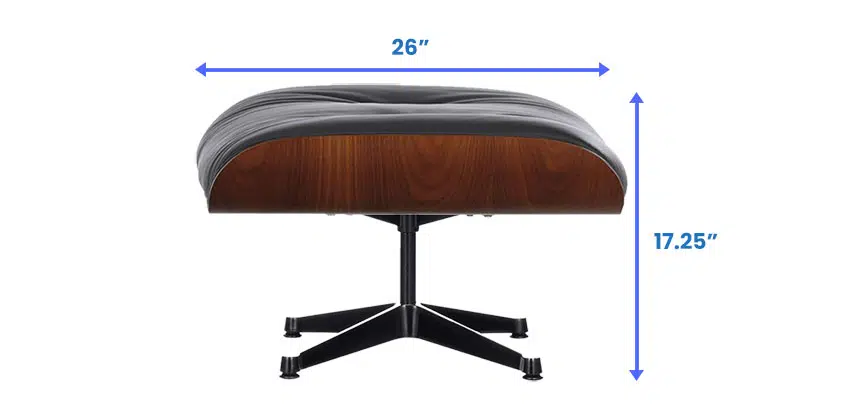 Charles and Ray Eames, in 1956, created the Eames Lounge and Ottoman, and it has since been one of the most recognizable pieces of furniture that define that decade in that century of interior design.
The Eames Ottoman is made to look like a baseman's mitt, and the result is one chair that would embody what it means to relax. The Eames Ottoman embraces the technology and craftsmanship the Eames pioneered using the molded plywood technology.
This ottoman is made of the finest leather, effectively depicting old-fashioned charm and luxury. It has a 6 inches thick foam cushion made of urethane upholstered in that luxurious leather. The great thing is all the wood used to produce this chair is made of sustainably managed forests. This luxury ottoman is a handcrafted thing and has a stamp of medallion indicating authenticity.
The Eames ottoman comes with a dimensions of 26 inches or 66.04 centimeters in width and a height from floor to seat of 17.25 inches or 43.82 centimeters. This ottoman will be the perfect addition to your Eames Lounge or is also remarkable by itself.
How Big Should an Ottoman Be?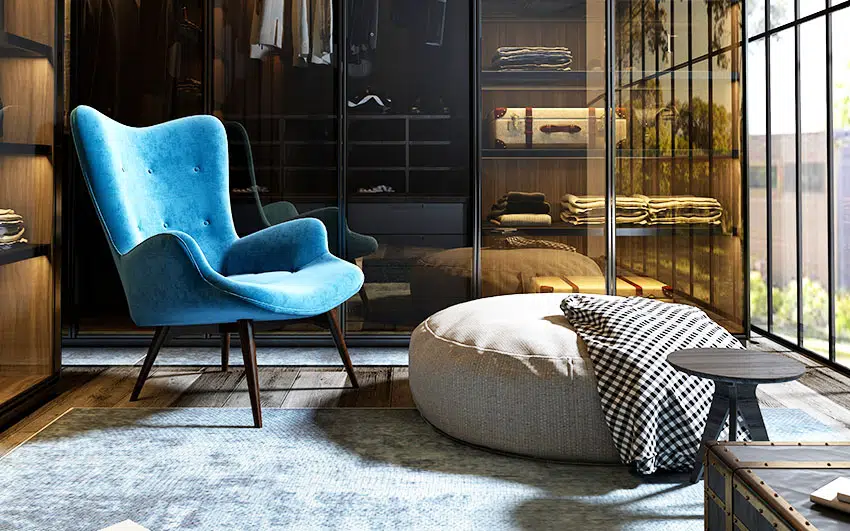 There is no one size of an ottoman. It will depend on the size of your room, on what you will use it for, what special features it includes, and many other factors. Instead, to answer your question, we'll list a couple of guidelines as your example in buying what ottoman is right for you.
Putting an ottoman in front of a couch should be the same as the couch's length from the floor up to the seat. On the other hand, if you put an ottoman in front of a chair, it should be an inch or two lower since you will be using it as a footstool.
Ottoman in front of beds is also a good investment, especially if the ottoman has a compartment and can be an added storage unit. Ottoman in front of beds should at least be 2 to 3 inches lower than your bed. It should also have a width three inches less than the bed itself.
Some ottomans could act like coffee tables, and they would look great in your living room. If you want them, their height could be the same or lower than your sofa. An inch or two lower than your sofa, then you could use it as a footstool when you want to lounge in your living room.
Ottomans come in different fashions and measurements, and you could find one that suits your need whatever size they are. Just remember to measure correctly!
For more related content, visit our comparison guide on ottoman vs coffee table here.