Here's our guide to an ottoman vs coffee table including the pros and cons & what type is best for your interior design.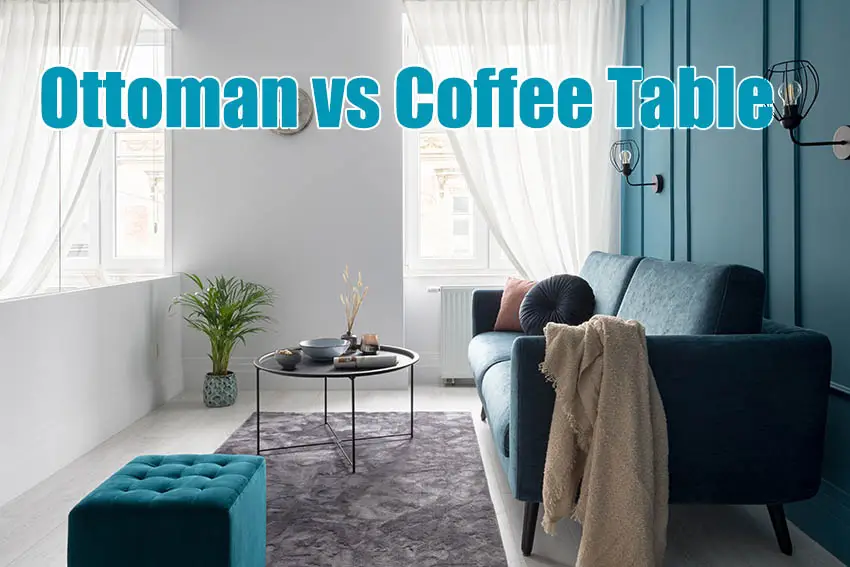 Choosing between an ottoman and a coffee table is hard. They both have many great features. To make a decision, think about what's important in your life.
If your favorite part of the day is putting your feet up and watching TV, an ottoman might take your relaxation and enjoyment to the next level.
On the other hand, if you love to gather friends for drinks, they need to put their glasses somewhere! A coffee table will also do a better job of preventing spills.
Coffee Table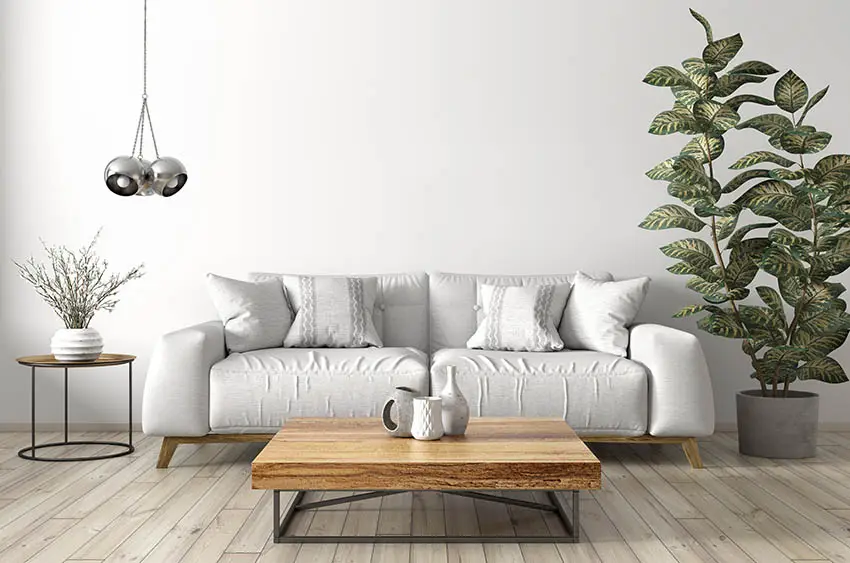 A coffee table is a small, low table that sits in the center of a seating area. They usually match the height of the couch or sofa seat. While people can and do eat off of coffee tables, they are a little awkward for this purpose due to their low profile.
The main purpose of the coffee table is storage, both permanent and temporary. The coffee table is a place to stash your remote controls, books and magazines, or anything else that is useful to have within arms reach of the couch. It can also be used to hold snacks and drinks while socializing or watching a movie in the living room.
Apart from the table's surface, some models may feature smaller shelves underneath, or drawers to keep things out of sight.
Coffee Table Pros and Cons

See this acacia wood grain table top coffee table at Pier 1. [sponsored link]
Coffee Table Pros
Assortment of styles – Coffee tables are available in a range of styles and sizes, and can be used in casual or formal settings.Read more about different styles of sofas here.
Stable countertop surface – The most obvious advantage is right there in the name — it provides a stable surface for drinks like your morning cup of coffee.
Easy to clean – When spills inevitably happen, they are easy to wipe up without long term damage to the table. You may need to use a coaster to protect the surface of a wood coffee table.
Durable – Coffee tables are made from durable materials such as glass, wood, metal, and marble. There is no fabric to fray or tear. A quality coffee table can be expected to last 10 – 20 years.
Make a living room appear larger – An oval coffee table is a great solution for a small space, with the rounded corners allowing additional room to navigate. As long as there is adequate space to move around your coffee table, it can be used to make your living room look larger.
Enhances the interior design – The open space underneath the table top breaks up the look of heavy sofas and chairs. Living room seating tends to be squashy and have soft, rounded edges. A coffee table with sharp lines adds visual interest. Read more about sofa arm styles here.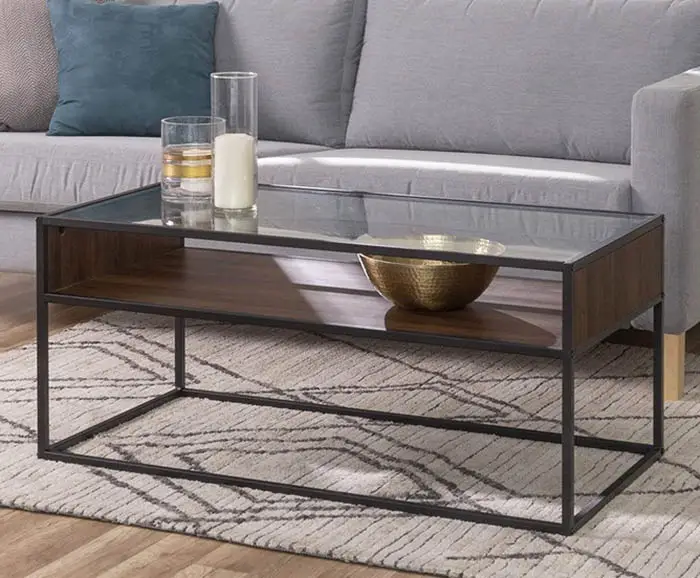 See this dark walnut coffee table with glass top at Amazon [Sponsored link]
Coffee Table Cons
Can get in the way – If you have a coffee table, eventually you're going to bang into it. Whether your knee, shin, or toe takes the brunt of the impact is all that's up for debate. Because hard materials such as glass are traditionally used to construct coffee tables, when you bump into it, it hurts!
To avoid this as much as possible, ensure you have enough room to get around the coffee table without tripping. A good rule of thumb: your coffee table should have a minimum of 16 inches of clearance on every side.
May not be safe for young children – Not only are coffee tables hard, they usually have sharp edges and pointy corners. So pointy, in fact, that coffee table corner covers are a popular baby-proofing product.
Curious but wobbly toddlers might strike their heads on the coffee table as they take a tumble, which is one reason some parents opt for an ottoman instead.
Ottoman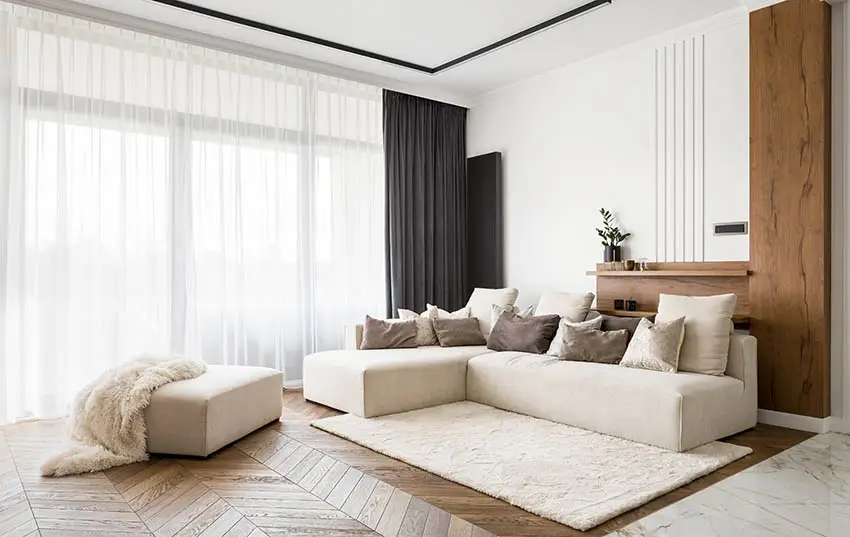 An ottoman is a low, upholstered, backless piece of furniture that can be sat upon or used as a footstool. They tend to be square or rectangular in shape, though circular or oval styles are also available.
While the trend of using an ottoman in place of a coffee table has taken off in recent years, this style of furniture has roots in the Ottoman Empire. Turks in the 1700s were observed to use low upholstered chairs as footstools and the idea spread throughout the world from there.
Choosing an Ottoman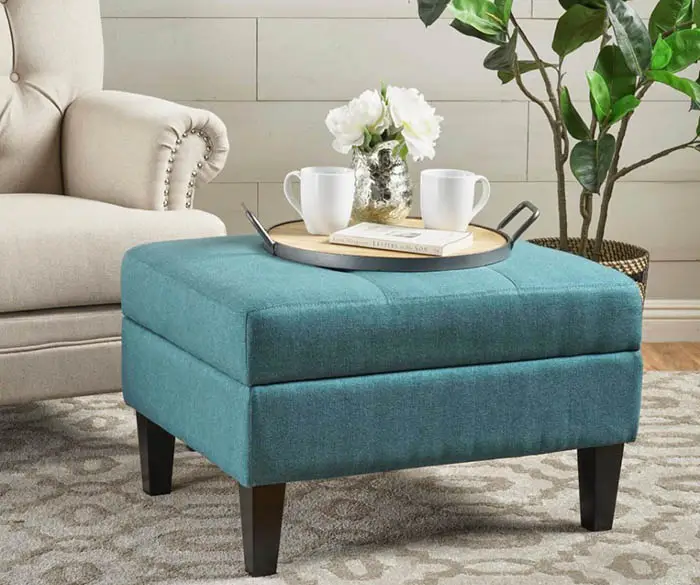 See this teal storage ottoman at Pier 1 [sponsored link]
If you intend to use the ottoman as a footstool, it should be at least one inch lower than the couches or chairs in your living room. This will prevent over-extension of the knees and make it more comfortable to put your feet up.
If you want to use your ottoman as extra seating, the height should be close to the height of your chairs. An ottoman that is much shorter will lead to one guest being seated at a different level than the others, which is not a comfortable experience.
There are many different styles and sizes of ottomans, and the options for the pattern of the upholstery are essentially unlimited. An ottoman can be used as a statement piece with a trendy fabric or bold color, or fade into the background with a more neutral hue.
Many ottomans are sold with a matching chair as part of a set, but they can also be purchased solo. For a classic pulled-together look, search for an ottoman that is the same color as your couch, but a few shades lighter or darker.
Ottoman Pros and Cons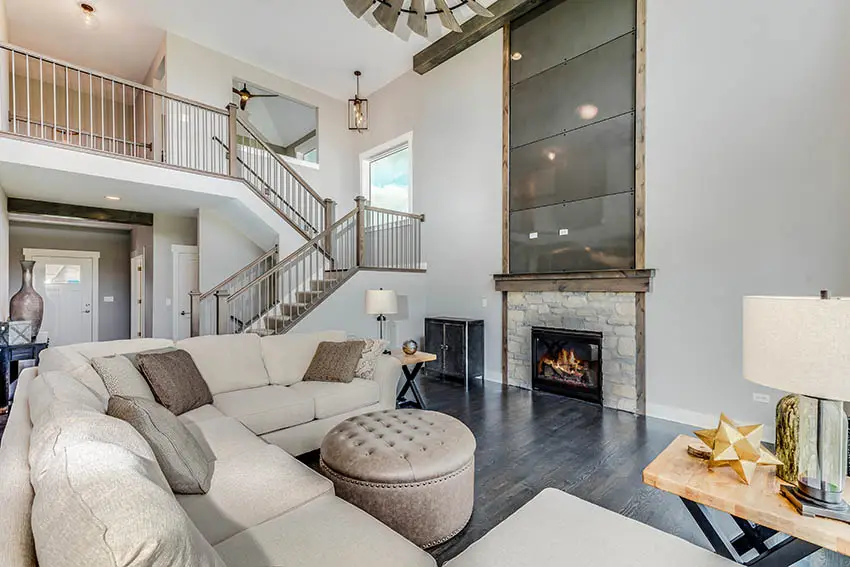 Ottoman Pros
Versatile furniture piece – An ottoman is a multi-purpose piece of living room furniture and can be used as a footstool, extra place to sit, or as a coffee table (with an added hard surface such as a tray).
Comfortable – Ottomans blend comfort and elegance. Less fussy than an ornate coffee table but more formal than a bean bag chair, this versatile piece of furniture has a place in any home.
Potential extra storage – Some models can be opened like a box, with storage for extra blankets and pillows hidden inside.
Comfort – You can kick your feet up while relaxing on your sectional sofa or couch on a more comfortable surface than a coffee table.
Ottoman Cons
Cleaning – Ottomans are always upholstered. Like any piece of upholstered furniture, keeping it clean is a major concern.
Pretreating your ottoman with a protective spray or spill coating can give you peace of mind. You'll want to wipe up spills quickly, to avoid staining.
When your ottoman starts to show wear and tear, you will have to replace it or pay for reupholstering, which is an additional expense.
Bulky – Ottomans tend to be a bit bulky and dense, and can be difficult to rearrange without help, limiting their versatility.
Can take up space – Visually, an ottoman blocks the floor underneath and the couch behind it, which can make the room feel crowded.
Using an Ottoman as a Coffee Table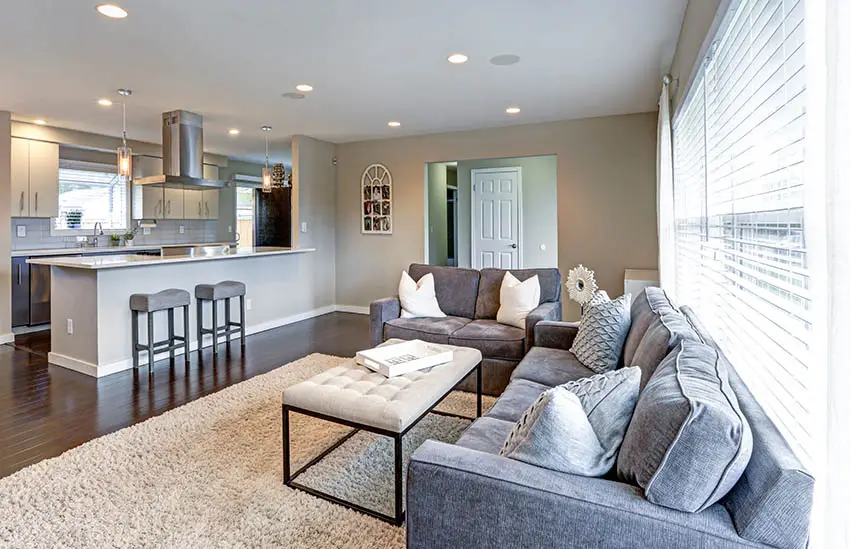 Ottomans got their start as footstools and many people enjoy using them for this purpose. However, if you want to use them as a coffee table, you will need to add some kind of hard surface.
A tray is ideal for this purpose, as it can be easily moved somewhere else if you want to put your feet up. Look for a tray that takes up less than half of the surface area of the ottoman and you can have the best of both worlds.
Hybrid ottomans are another great choice. A hybrid ottoman usually has storage inside. The lid can be lifted and flipped over, exposing a tray or hard surface on the other side.
Or, if you want a footstool, but aren't ready to ditch your coffee table, look for upholstered cubes. These are less expensive than ottomans and may be small enough to stow under the table.
How Do I Turn My Coffee Table Into an Ottoman?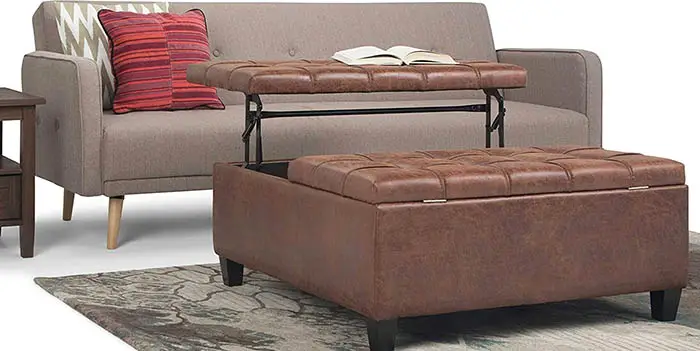 See this faux leather storage ottoman at Amazon [sponsored link]
Recently, coffee table ottomans have become popular. The plush upholstery and rounded edges of an ottoman are combined with the legs and frame of a coffee table.
The result is essentially a bench, padded on the top and sides. This solution to the ottoman vs coffee table problem is beloved by people who have smaller spaces or want to include angles and increase visibility in their decor.
You can purchase pre-made coffee table ottomans at specialty retailers and some big box stores. Or, if you have a wooden coffee table already, you can use it as a base, adding foam or stuffing and upholstery fabric to turn it into a hybrid ottoman.
Depending on the height of the coffee table you're using, you may need to shorten the legs. Four inch upholstery foam is thick enough for guests to sit on without feeling the hard surface of the coffee table underneath. It will add four inches of height. A hacksaw is a foolproof way to shorten the legs of a wooden coffee table.
When you're ready to get started, measure a piece of foam slightly larger than the surface area of your table. Cut it using a utility knife.
Spray upholstery adhesive onto the clean and dry table top, and attach the foam. Allow the adhesive time to cure in accordance with the directions on the can. When the adhesive is cured and the foam is securely attached, drape upholstery fabric over it, leaving generous overhang on all sides.
Make sure the fabric is smooth and check the direction of the pattern, if applicable. Using four staples from a staple gun, tack the fabric to the underside of the table top in the middle of each side. Then, ignoring the corner, work your way around the table edge, stapling the fabric to the wood.
Last, tuck the corners tightly and use a generous amount of staples to secure them and trim the excess fabric. You can use upholstery tacks for added security and decoration.
When it comes to choosing an ottoman vs coffee table it really depends on your individual needs and wants. An ottoman can make your space look comfortable and welcoming, while a coffee table can look more stylish. What is your favorite? Let us know what you think below.
Fore more related content take a look at our gallery of the types of furniture styles.