Find out how to break in a couch with the best ways to make this furniture more comfortable, softer, and how long it would take to break it in.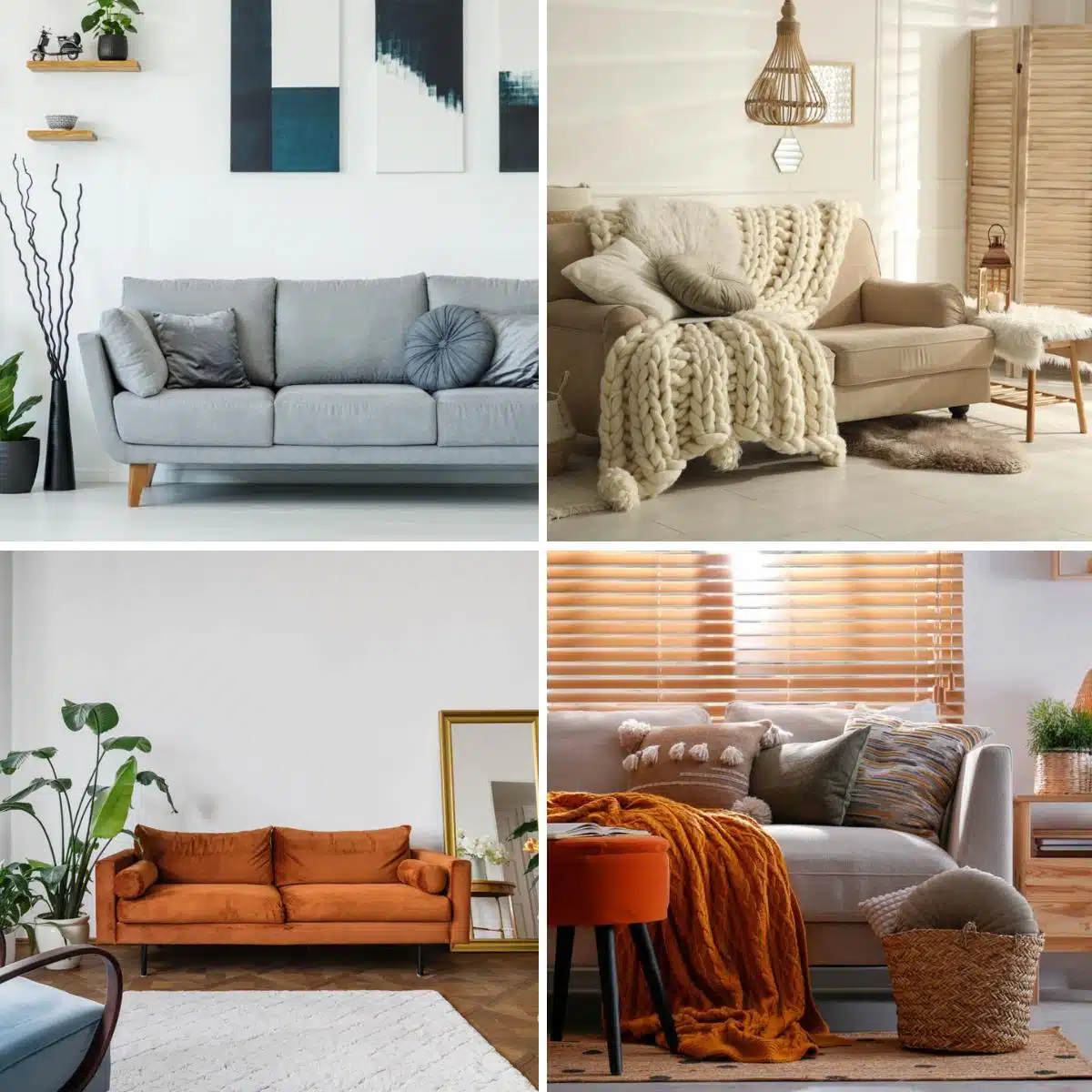 It's a real bummer when you bring home that brand-new couch, and the cushions fail to give you quite the comfort level you hoped for. But don't worry – we have figured out exactly how to turn it into your little sanctuary of snuggly softness.
Time is of the essence when it comes to breaking in a couch. However, keep in mind that in no time, you'll be able to whisk your couch away into the cozy oasis of your dreams.
From loving cuddles to simple tweaks and turns, prepare for your furniture-friending journey as you learn clever little techniques that will pamper, tease and tickle your couch until it's deeply devoted to its soft and squishy new form.
Quicklook: How to Break in a Couch
Sit On It All The Time
Massage The Cushions
Leave Heavy Items Like Books Or Weights On The Cushions Overnight
Use Modifiable Pillows
Wash Covers (make sure to check the washing instructions)
Gently Stretch The Cover Materials (for fabric couches)
Ways To Make A Sofa More Comfortable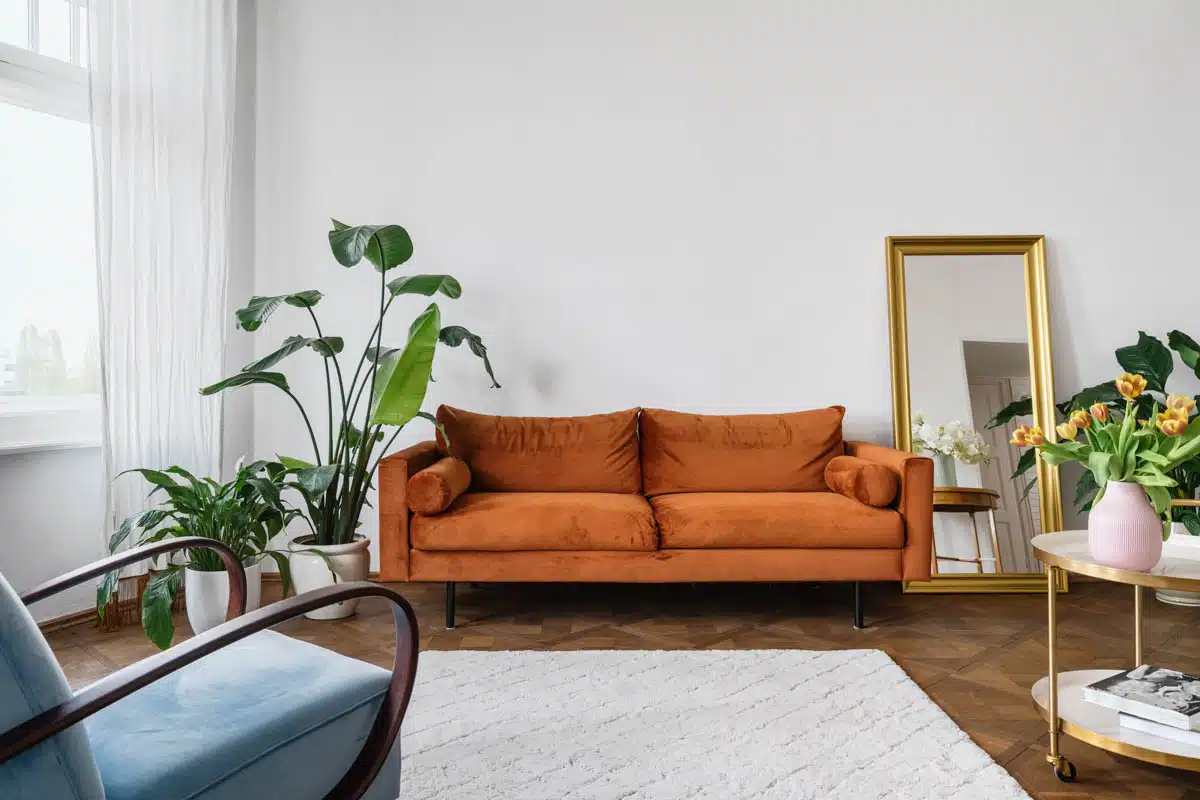 One of the easiest ways to break in a couch is to sit on it all the time. Regular sitting will help soften the cushions quicker and give you the results you want. While you're doing all that sitting you can gently massage the cushions to soften the inner filling material.
If your cushions are extra stiff you can place heavy objects on them overnight. Items like large books or even weights can have the effect of a person sitting there and help compress the filling fibers.
For fabric couches, you can try gently stretching the cover material. However, the key is to do it softly to avoid damaging the fabric.
For an extra tad of comfort and style, transforming your rooms beloved sofa into a comfy paradise is no tall order. Just follow these Pro-tips that'll have you living the life: Think fluffy blankets, plush pillows and chic decorations to feel like you're snuggled up in heaven.
Get ready to kick off your shoes and drift away onto cloud nine – it's just a few simple tips away:
Make Use of Modifiable Pillows: Take control of your sofa's comfort level with custom cushions – you can get ones that come with zippered covers, so you can zip in and out some filling to make it just right. If there was ever a way to ease in the ultimate relaxation, this might be it.
With a tailor-made design perfectly embracing your body shape, you can lounge in comfort , knowing that every part of you will be taken care of and pampered. There's nothing quite like settling into the luxurious cushiony goodness and feeling your stress melting away.
Enhance Your Mattress with a Memory Foam Topper: Treat yourself to a cozy memory foam topper that can turn any existing cushion into the comfiest spot in town. This decadent 'hug', tailored to your every curve, is like having a mini-massage at the ready. Even better – let it be your personal reminder of just how deserving you are of pleasure.
The memory foam knows exactly how to mimic your body's contours and give you the best possible rest – almost like a mini vacation each time you spend some rest and recreation on that cushy sofa. It's an oasis from reality, providing ultimate relief and support.
Find Comfort and Support with Lumbar Pillows: With tenderly crafted supportive lumbar pillows, you can experience utter bliss. You'll finally be able to wave goodbye to all that pesky lower back pain and thoroughly enjoy ergonomic perfection in a flash.
Lumbar pillows are portable, firm foam pillows shaped to provide lower back support for seating. – Interior Textiles: Fabrics, Application, and Historic Style, Karla J. Nielson
Sinking into a couch that calmly cups your back, you can relax and unwind while also taking care of your health – the perfect balance for a healthy chill zone. These supportive sofas provide unquestionable comfort by gently following the curves of your spine, enabling an enjoyable restful experience.
Enjoy the Soft Coziness of Feather-Filled Throw Pillows: Snuggle into something cozy – why not plush feather-filled throw pillows? These stylish and vibrant accents bring the best out of your sofa, creating a luxurious atmosphere where you just want to melt with comfort. From the fancy feel of down feathers to those splashy colors, throw pillows add a new level of fashion in your home.
The feeling of these sumptuous pillows is practically heavenly, but what's even better is that you'll get just the right support for your head and neck so you can drift away into a blissful state of pure relaxation.
Supply Fleece or Sherpa Throw Blankets: Whether you choose dreamy fleece or head-cozy Sherpa, snuggling up in one of these cozy companions will give you that irresistible feeling of relaxation and warmth. And just look at how they transform your sofa into an inviting oasis – everything about it screams comfort.
Use Body-Supporting Bolsters: Reach the astral level of comfort with strategically-placed body cushions that'll have you feeling absolute heaven. Whether it's your arms, legs, or neck that needs to be supported the bolsters will cradle them in plush hugs — guarding against stiffness and guaranteeing maximum comfort and chill vibes.
As you sink into the cushiony folds of your sofa, its snug hug is all it takes for your tense muscles to relax and for this cozy haven to become a stress-free sanctuary.
Put Anti-Slip Furniture Pads: You can now wave goodbye to shaky sob stories and lay down a solid base for your sofa with some anti-slip furniture pads beneath its legs. These genius little accents keep differentsofa stylessteady and shield your floors from all kinds of marks so that your sofa and house stay as perfect as ever.
Place Adjustable Headrests: You can achieve your much-needed comfort by getting yourself a sofa with adjustable headrests. This nifty feature is designed to accommodate every type of rest position, from lounging upright to sprawling out. So, take complete control and craft your perfect support system for your neck and head.
There will be no discomfort and you can make way for a truly ergonomic experience. There'll be no better place to relax than on your custom sofa with headrests.
Put Multi-Functional Ottoman: Optimizing your living space has never been easier; don't let this multi-functional ottoman slip by. As stylish and aesthetically pleasing as it is practical, its multiple purposes for decor and both seating and resting your feet make it a must-have.
Ottomans are the perfect counterpart to your sofa, immersing you in ultimate comfort and allowing for those extra visitors with no fuss. You can always put your feet up and make yourself at home.
How To Make Couch Cushions Softer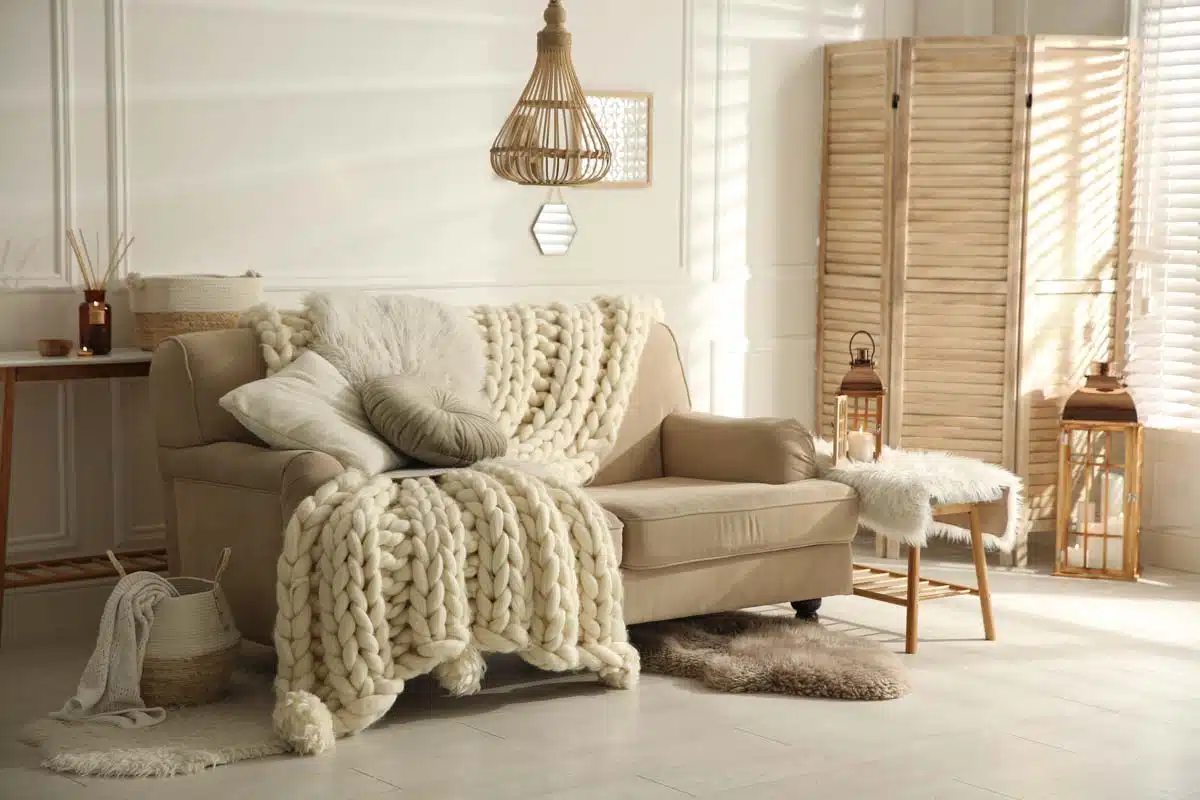 You'll never want to get up from your couch again once you follow the right tricks that will help make those cushions sumptuously soft and inviting. Get ready to bid a fond farewell to stiff seating because you're about to be enveloped in pure, sublime comfort with the following ideas:
Provide Your Pillow with an Intense Kind of Rubdown: It's time to give these fresh couch cushions some rubdown. Mildly pummel each cushion until its nice and fluffy to test your amateur boxing skills with a friendly sparring match.
Transform into a heavyweight champ of comfort and tackle this task like you would win a title belt; cradle, caress, and cuddle those cozy cushions as if they were your own.
It's a never-ending endeavor to achieve the perfect sleep sanctuary – that one magical nook of supreme cloud-like cuddliness. Day after day, strive for this place where worries disappear and your stress melts away. You'll get that gratifying feeling after accomplishing it all every so often when you can finally cocoon into the comfy arms of restful relaxation.
Spruce Up Your Cushion with Personalized Touches: If you're putting in your best effort but your cushions won't budge, time for some cushion readjusting. If they've got polyfill stuffing, just unfasten the seams and take out a bit – that'll soften them up perfectly.
With the utmost care, gently tuck that last bit of cushion fluff back in place – making sure it's distributed uniformly. Keep packing until you get your desired level of softness and flexibility.
Or, you can really go the extra mile for a fully customized experience and switch to foam padding of lesser density – guaranteeing you infinite amounts of blissful comfort catered perfectly to fit your needs.
Do the Fabric Rejuvenation Process: Cradle your cushion covers in some tenderness, love, and care. Take a peek at the packaging instructions and give those fabric covers a good and gentle wash. The caring environment will nourish the fibers, easing them into silky relaxation so they can feel new again.
However, you have to be extra careful when dealing with leather cushions ; put too much pressure on them, and you risk creating those dreaded stress cracks or rifts.
If your leather couch cushions need an extra appearance booster, give them an extra shine with leather treatment like Otter Wax or a tiny dollop of Vaseline. But be careful not to use this method on other cushion materials; slathering them up could cause more harm than good.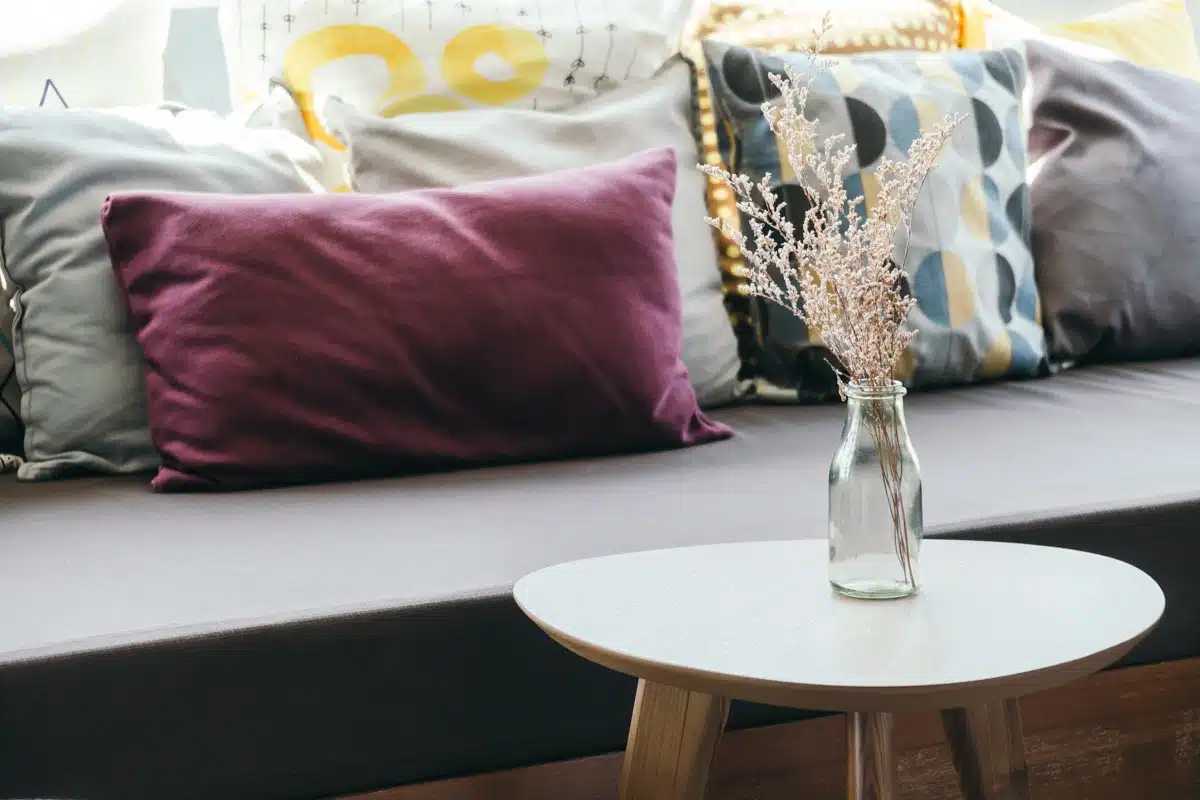 Tread Softly Along the Pillows: Cushions make a great pick-me-up for tired feet. Grab a few, plop them down on the floor, and don't forget to slip into some cleaned socks before you enjoy the opportunity to take your time strolling around those luxuriously cushiony surfaces.
With a gentle hand, you can get an even spread of the soft filling by lightly stroking it into place. Once that's done, a simple flip does the trick.
Seek Expert Help with Upholstery Services: If you've been searching for the perfect level of comfort on your couch, look no further than a reliable upholstery shop. Hand off your beloved cushions to the experts and they'll create custom foam that really gives you something to sink into.
They know exactly what kind of softness will make you never want to stand back up again. They can also help prevent problems by choosing the wrong fabric which can lead to an uncomfortable couch.
Just be Patient: It's up to you if you are eager to settle in and soak up the strength of patience on this calming voyage. Every second that passes while slouching cuddly on your cozy couch brings a softening sensation as it weaves an affectionate, comforting connection between your body and its inviting cushions.
Make snuggling up on the couch part of your daily routine and savor every moment of sublime relaxation. Keep it balanced and flip those cushions over once a week to prevent sagging or indentations, ensuring that it remains the ideal escape from reality.
How Long Does It Take To Break In A Couch?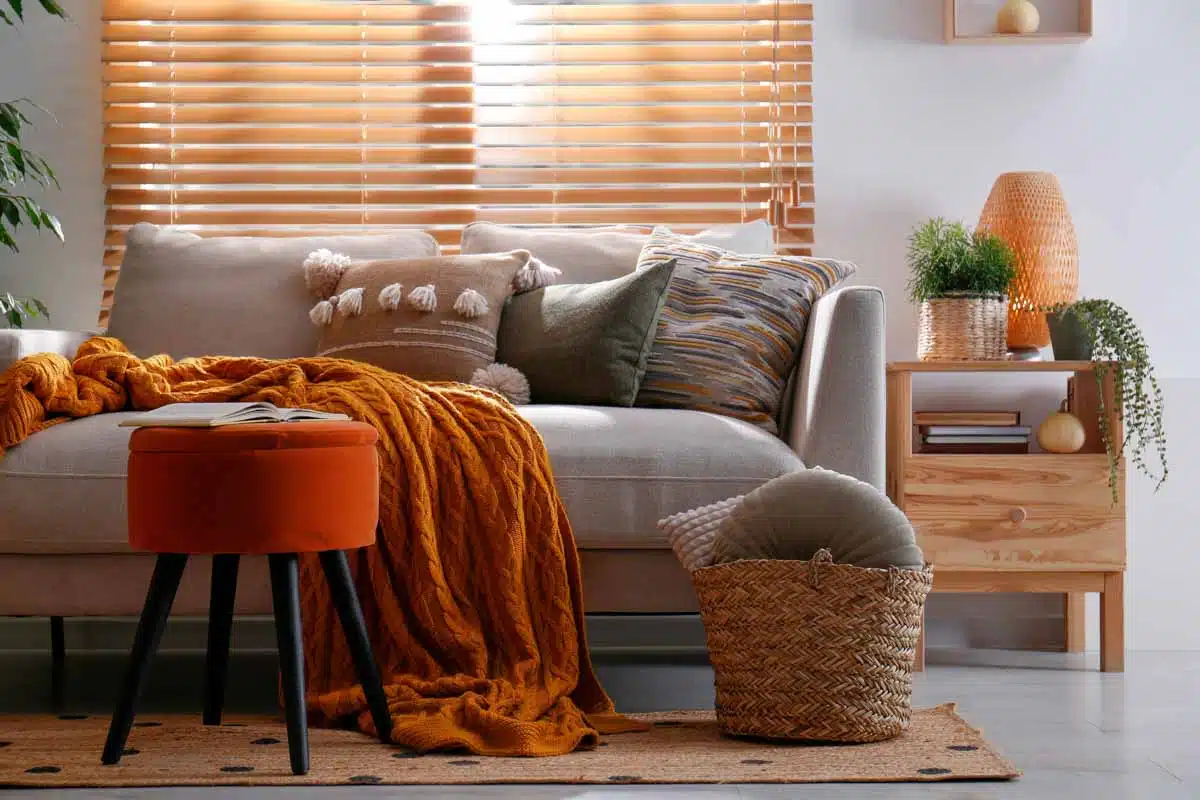 The time it takes to break in a couch will depend primarily on the quality of the couch materials, type of filing and the amount of use it gets. However, it generally takes anywhere from several weeks to a few months to completely break in a couch.
When you've got yourself a brand-new couch, it'll take its time to settle in. The foam, springs, and padding need a bit of time to see if they fit just perfectly with your body shape and temperature before they can work their best magic – that could mean the couch is too hard or soft at first. But like most new things, some patience is all you need to get that ideal cushiony comfort immediately.
As you put the couch through its paces in the long term, it'll start adapting to your body until, eventually, those cushions and upholstery fit like a glove. Sure, that process takes some time; month after month, you're likely going to feel the materials becoming softer as they compress and loosen over time for your perfect comfort.
And don't forget to rotate and flip your cushions occasionally, as this will help them break-in uniformly, rather than in one area.
Without a doubt, the caliber of the components and their assembly will definitely change how long it takes for us to really break in our couch. It's important to take these factors into account when making your buying choice.
Do Sofas Soften Over Time?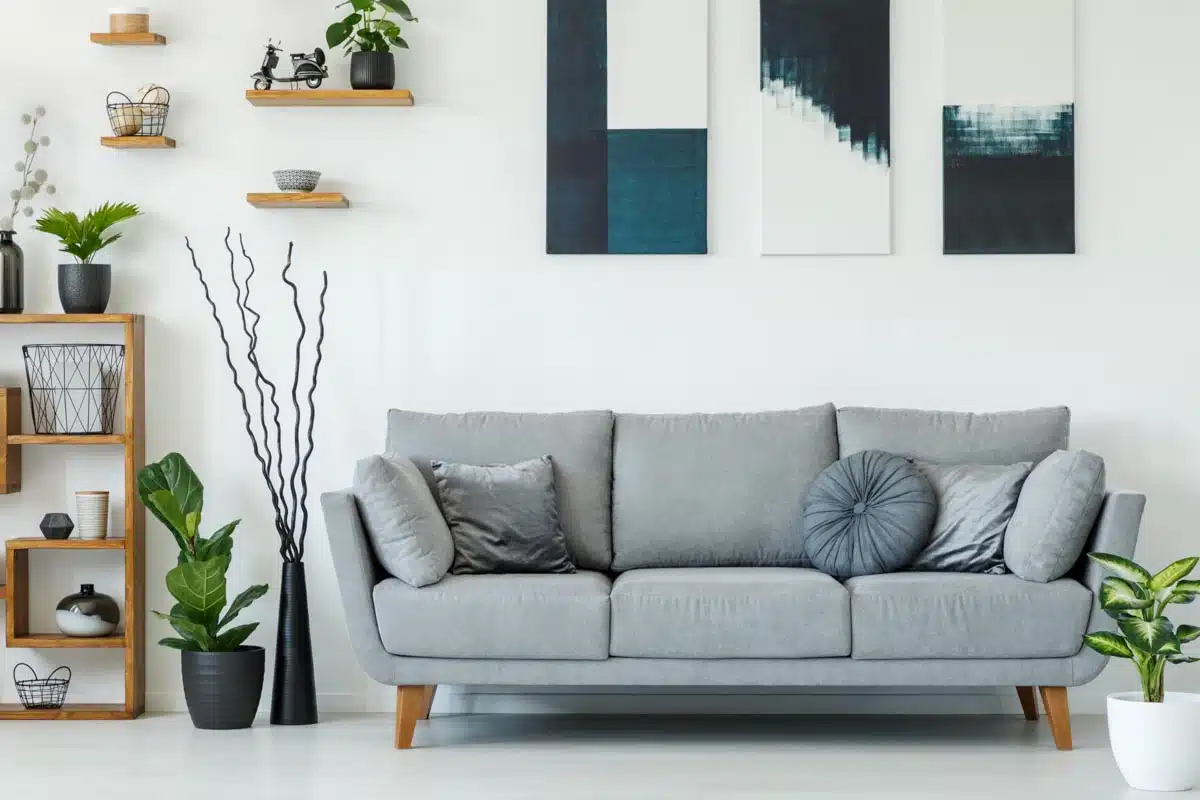 Yes! Sofas will undoubtedly soften whenever you use them, particularly on a regular basis. With good care, over time your couch will become as cozy as you've always wanted it to be – like a literal hug for those nights on the sofa after long days! So hang tight and know the patience will pay off soon enough.
Sitting back and getting comfy on the couchis like snuggling up a soft glove – as if it were custom-made for your body. Its cushioned silkyness gradually starts to seep into your skin and take comfort to the next level.
Ultimately, the trick is to give your couch some time and let it naturally soften up after use for the ideal sitting experience.
See more related content in our article about how much does a couch weigh on this page.