Here's our TV stand dimensions guide including measurements for different TV sizes and how big a TV stand should be for your room design.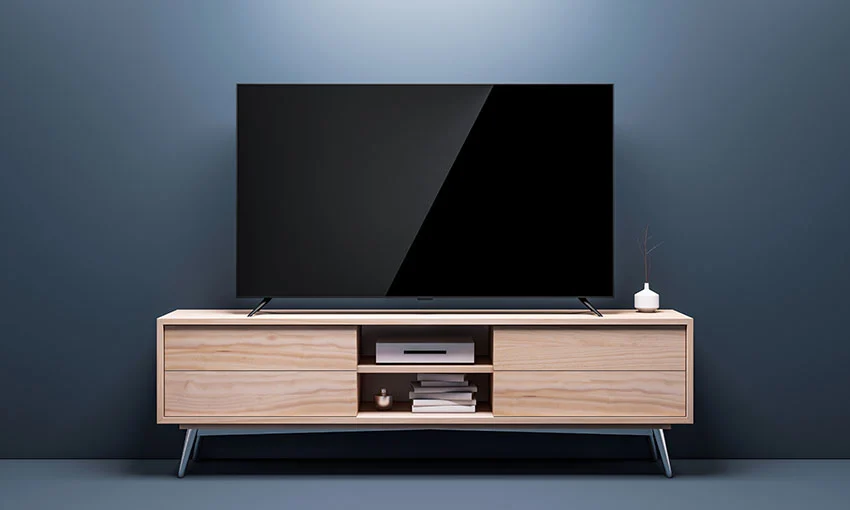 TV nowadays can be mounted on walls, but some of us prefer the old TV stands. With so many options, how do you select the right one for you?
Here, we answer that question and help you decide the correct dimensions for your next TV stand.
Standard TV Stand Dimensions
It is not common knowledge that TV sizes are measured diagonally from one top side — an upper right corner, for example— to its other bottom side— the bottom left corner. This measuring process is also done on the screen itself, with the bezel measurement not included.
In choosing a stand mount for your TV, knowing the width of your television is essential. Width is measured from side to side, so you are looking at measuring the bottom corners of your television.
TV Stand Width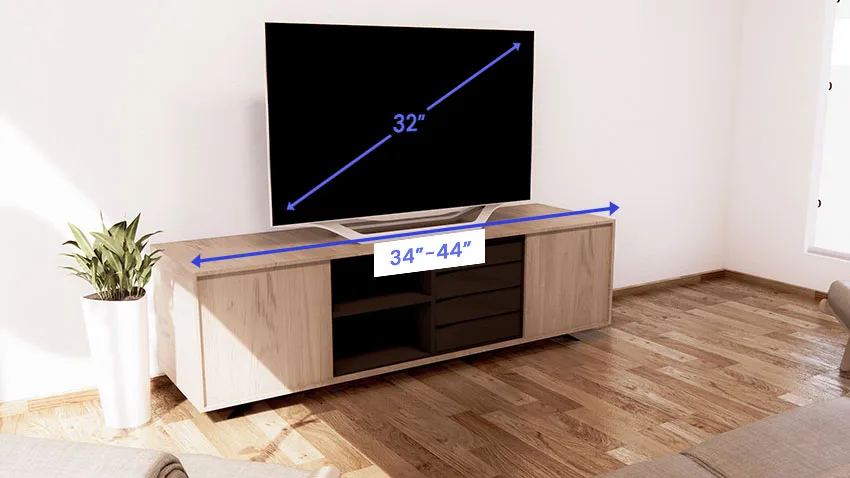 As a common rule of thumb, add three to six inches on the sides of your TV when deciding the width of your TV stand. That width will be enough to keep your TV in the center, and an overhang of about six inches allows for the addition of decorations like picture frames or vases to be displayed on your TV stand.
Since the standard TV size is usually a 32-inch, a table with a total width of 34 inches to 44 inches would be perfect. It will be easy to center the television and would allow for decorations.
TV Stand Height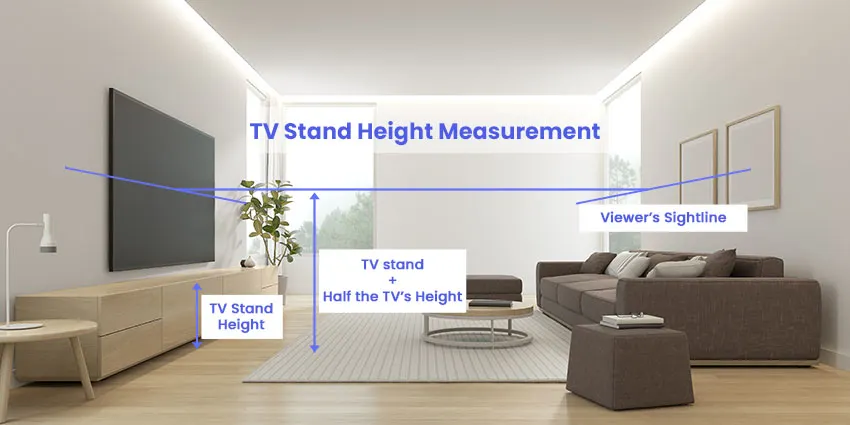 It is important to note that your ideal TV stand height is dependent on the television itself. Typically, it's best to have your eyes looking directly at the middle of the television screen when sitting. To determine the height of your TV stand, a simple measuring is required.
First, you need to determine the distance from the floor to the average sight line of a viewer when seated.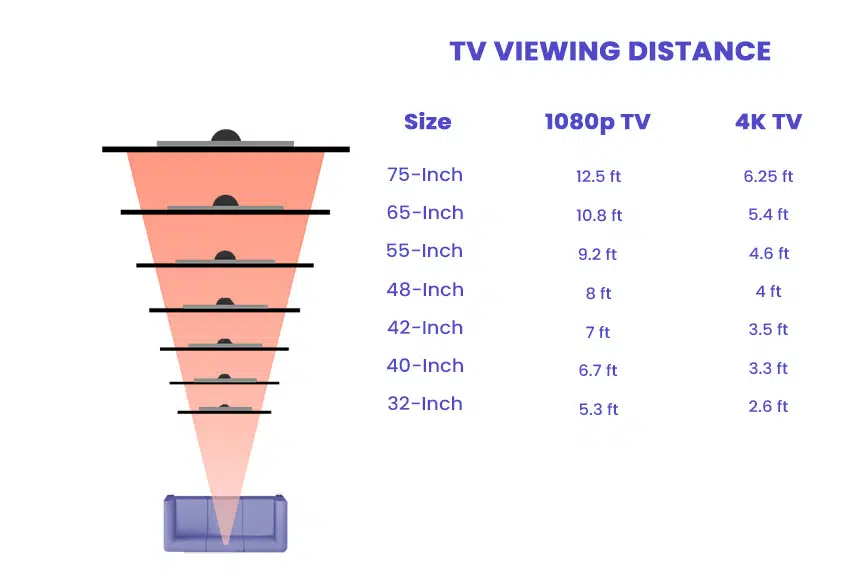 We do this by considering the minimum required distance of the viewer to the TV, depending on the television's size.
Once you have determined the minimum distance and TV size, subtract the distance with half the size of your television's height from top to bottom.
The difference you will get in the end, give or take an inch or two, will be the perfect height for your TV stand.
TV Stand Depth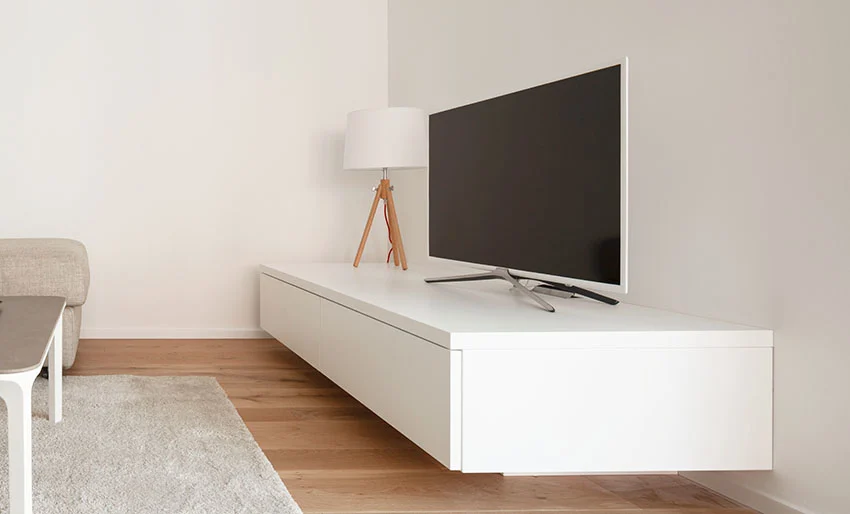 TV stand depth is the measurement from front to back of a TV stand. It is up to the homeowners what they need their TV stand to accommodate, for example a gaming console or a DVD player.
In order to accommodate that need, there are smaller TV stands that have compartments on them, or you could opt for one that has a larger size and a deeper depth.
Smaller TV stands can have a depth of 14 inches or something more extensive, like 20 to 24 inches.
Corner TV Stand Dimensions
Corner TV stands are great if you have smaller space and would want to maximize it. They are pushed into a corner and leave the rest of the area to use as you please.
Sizes of corner TVs are available for any TV size, and it is usually the same as any standard ones. The only difference is there are two angled sides. Read more about living room arrangements with a TV here.

TV Stand Size Guide
What Size TV Stands for 32 Inch TV?
A TV stand size for a 32 inch TV should at least have a width of around 34 inches, but if you want a little space for other decorations, add an extra 3 inches for each side, and a 40 inches width would be perfect.
The height for a 32 inch TV stand should at least be around 40 inches this way, the average person's eyesight will be directly situated in the middle of the television screen when seated.
A 32 inch TV can have a TV stand depth of somewhere between 14 inches or bigger, depending on their needs.
43 inch TV Stand Dimensions
To accommodate a 43 inch TV, both 43 inches to 49 inches TV stand widths would be perfect. At the same time, an eye-level height of 43 inches for your TV stand is advisable. The depth of your TV stand could be anywhere between 15 to 18 inches, and it would have sufficient space for consoles and some other decors.
50 inch TV Stand Dimensions
An ideal TV stand for a 50 inch TV has a width between 40 to 55 inches—a standing height of about 49 inches and a depth anywhere from 15 to 20 inches.
55 inch TV Stand Dimensions
A 55 inch TV would be supported by a TV stand with a width of 53 to 59 inches, a height of about 52 inches, and a depth of 15 inches would fit alright.
Take into consideration the size of your television mount, too, as it tends to have thicker mounds since we are entering the bigger-sized territory in TVs.
60 inch TV Stand Dimensions
More extensive TV stands are also often called entertainment centers. Most TV stands of this size usually have shelving units and cabinets added to them. An entertainment center should have a width, for the TV at least, between 58 to 64 inches.
The usual height for these entertainment centers goes upwards to 59 inches and more. The depth of the TV case should at least be 20 inches and up.
65 inch TV Stand Dimensions
Like the 60 inch TVs, 65 inch TV stands are commonly known as entertainment centers. To accommodate the height and weight of a 65-inch television, entertainment centers with a width of 62 to 68 inches, 62 inches in height, and a depth from front to back of 20 inches or over are perfect.
How Big Should a TV Stand be?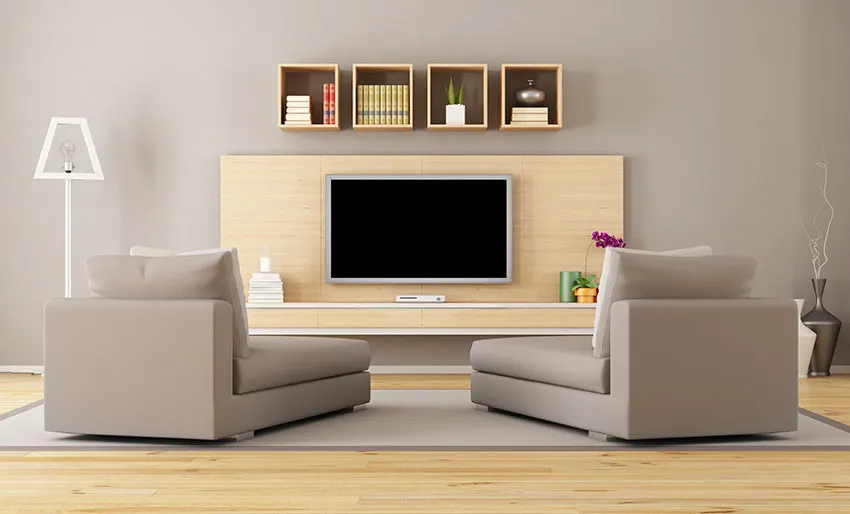 A TV stand would depend on these factors. First is the actual width of your television, including the case.
Second, your comfort and the distance required for comfortable viewing, and ultimately, the last factor is personal preference.
Various factors stem from personal preference, like the size of your room, the decorations on the walls, and many more.
For more related topics, visit our decorating around a TV design guide.