Below we share a variety of creative ways for decorating around a TV so your interior design looks inviting and stylish.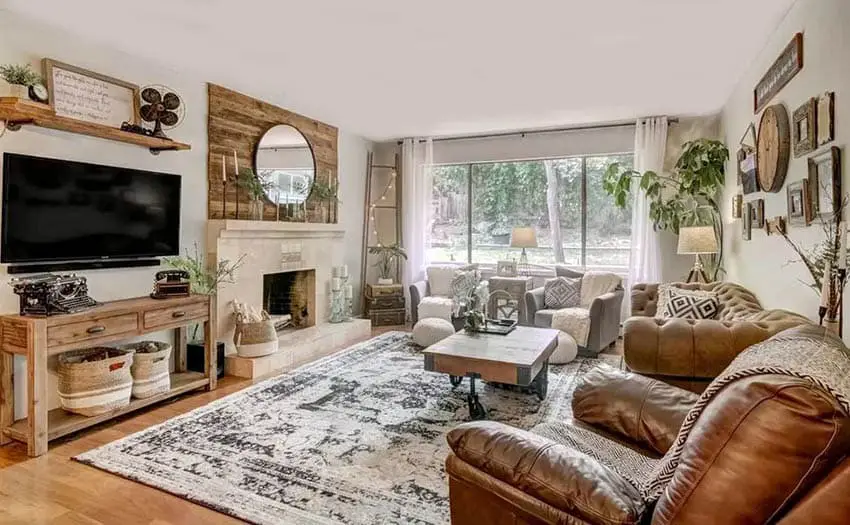 TV's, video game consoles, cables and cords, they pack a ton of entertainment value but little decorative value. Your TV stand is a focal point in your living space, show it a little love, corral the clutter, and you'll have a TV stand worthy of the stars. For more details on living room arrangements with a tv visit here.
How to Decorate a TV Stand
If your tv stand has open shelving, start with some stylish baskets and large, solid-colored photograph boxes. Stash away the video games and controllers in a lidded photograph box on the bottom shelf. Stack some soft throw pillows next to the box to grab and lounge on while playing your favorite video game.
A stack of books next to the pillows will inspire reading and add a homey feel to your space. On the next shelf, place a basket full of blankets, a jar of your favorite seashells or dice, if you play games, and wire basket to hold current issues of your favorite magazine.
Living Room with Different Textures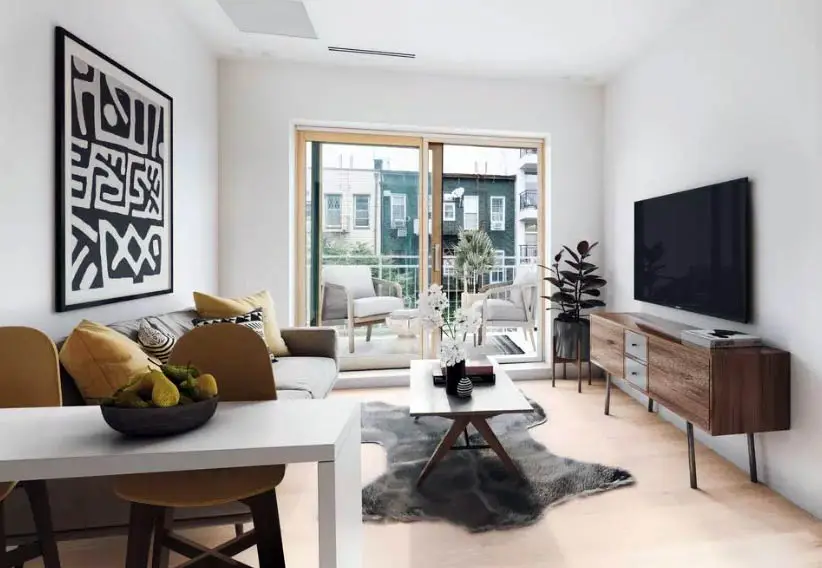 Mix up the textures, use woven jute baskets, wire and wood baskets, and make sure that you have some soft elements in there like the throw pillows or a chenille blanket. You can even pool your cords in a basket or photograph box, just cut out the back of the box and set your excess cord length inside.
TV Stand Between Two Floor Lamps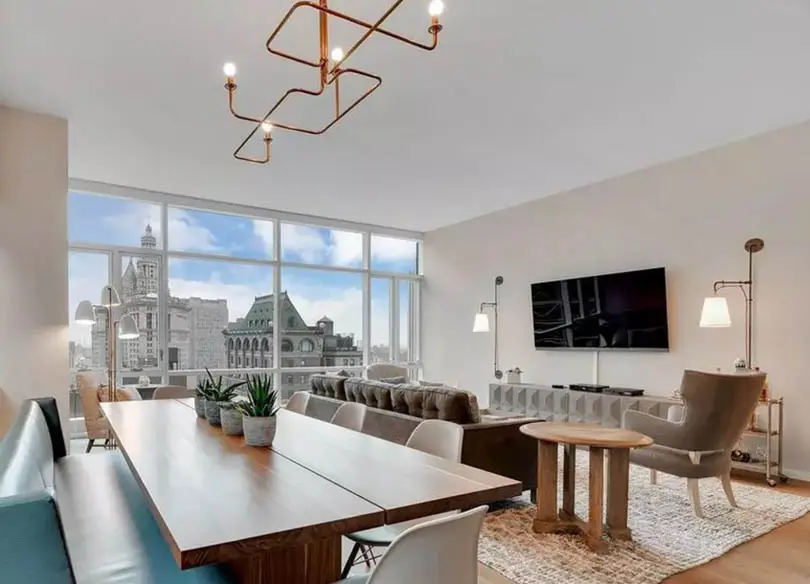 On top of the tv stand, keep it fairly simple and play with varying heights. Flaking the tv with two tall lamps, a tall lamp and a tall floral arrangement or open shelving can look great. Place a couple of framed photos to one side and a small, potted plant on the other side and that's all you need.
TV Stand Between Open Shelving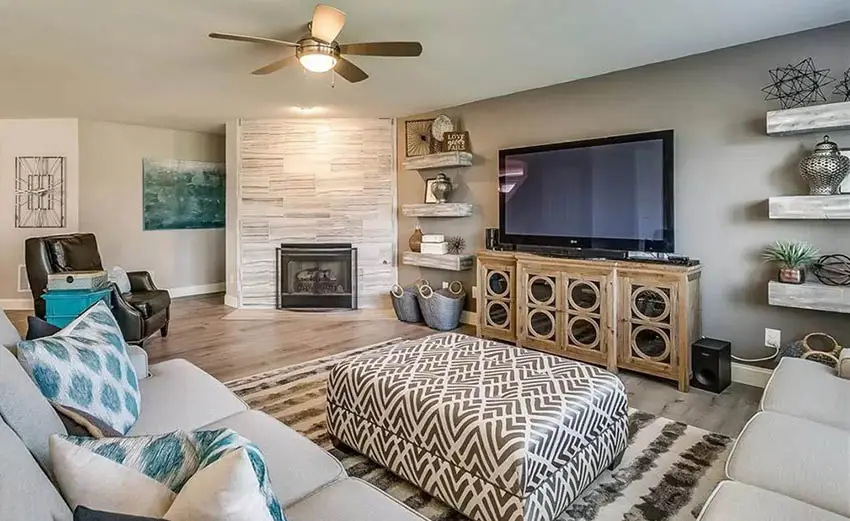 Grab a cool, oversized basket and fill it with cozy blankets and give it a home next to the tv stand, it will add another layer of texture and color and make warming up on a chilly day convenient and easy.
If baskets aren't your thing, choose to hide away your cords and video game items in vintage suitcases, canvas bins, or even galvanized metal buckets. No matter what your style is, there is a storage solution for you. Keep your eye out for items that will look great on your tv stand, hide the clutter, and connect to the design in the rest of the space.
Floating TV Stand with Open Shelving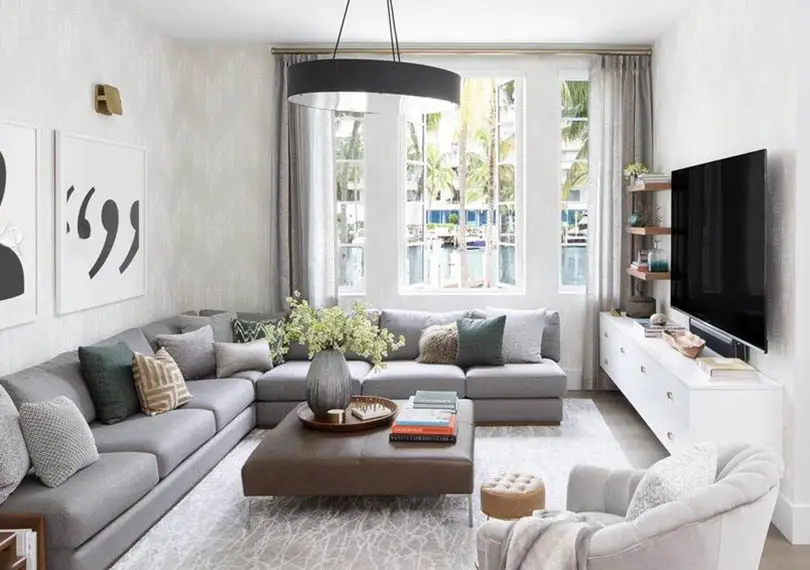 A floating vanity can be used as a stylish furniture piece adorned with minimal decor items. For this design artwork, a plush armchair and a large area rug with white elements are used to coordinate with the white cabinets and overall the design theme.
Perhaps you are using a vintage buffet as a tv stand and have enough storage in the drawers and behind the cabinet doors but want a little extra style. A single, high impact ceramic vase with long-stemmed greenery next to the tv and a small stack of vintage books topped with a framed photo on the other side of the tv are all you really need on the tabletop.
Shelving with Color Coordinated Books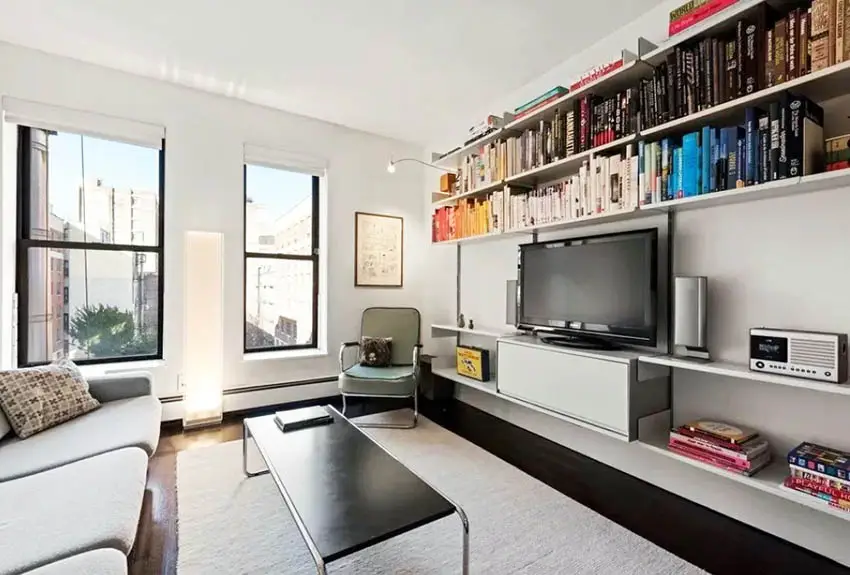 Additional shelving above the tv holding framed photos, books, and a few carefully curated collectables will frame the tv nicely and give the entire area a look of intentional design.
Decorating Ideas for TV Wall
An alternative to shelving is to frame the tv with artwork and framed photos and turn the tv itself into the center of a gallery wall. If there is enough space under the buffet, you can slide two beautifully upholstered ottomans under the tv stand to add a little bit of texture and extra seating. Of course, the classic basket full of blankets and a large potted plant next to the tv stand and across from the couch add even more layers of texture and beauty and do full service to such a large focal point. For more ideas about decorating above a couch see this page.
Wall Paneling and Hanging TV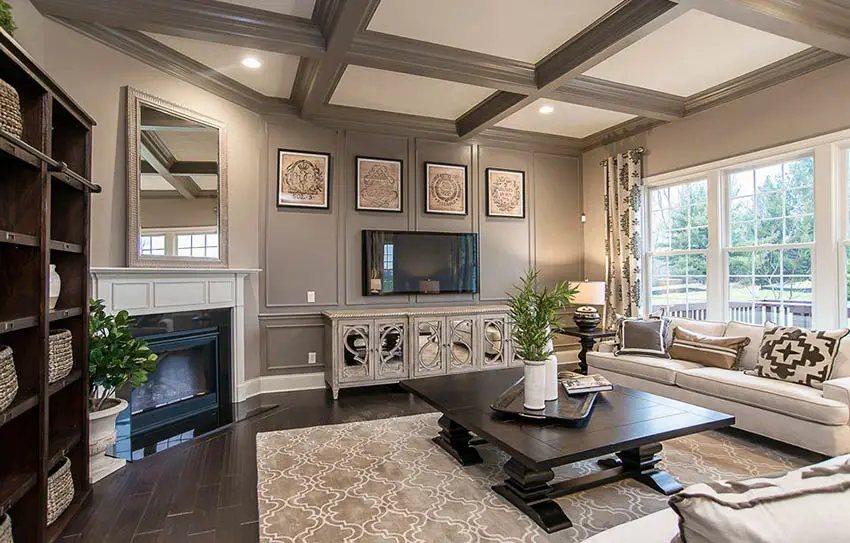 For the design above a painted paneled wall makes an ideal backdrop for the television. Cohesive art work, furniture and decor combines many of the colors used in the room's palette for a pleasing design.
For something a little different, paint the inside if your shelving a different color than the outside of your tv stand. A rough, driftwood colored tv stand with shelving painted the color of sand or muted sea glass green would look amazing in a beach themed space.
Another idea for decorating around a wall mounted tv is to use sisal woven baskets to hide your items, canvas pillows on the shelving, a long bowl of sea glass and shells on top of the stand, and clear glass lamps with shades reminiscent of a sail flanking the tv. If your unit has drawers, you can replace the hardware with hemp rope pulls to really pull the nautical look together.
Stacked Stone Accent Wall with TV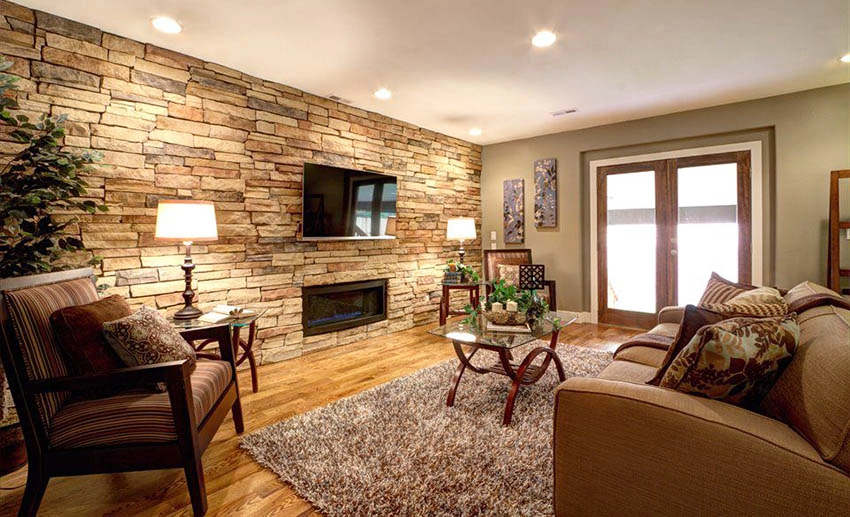 An accent wall whether it is constructed of wood shiplap, stacked stone or painted a contrasting color can add visual interest to the living room.
Minimalist TV Wall with Fireplace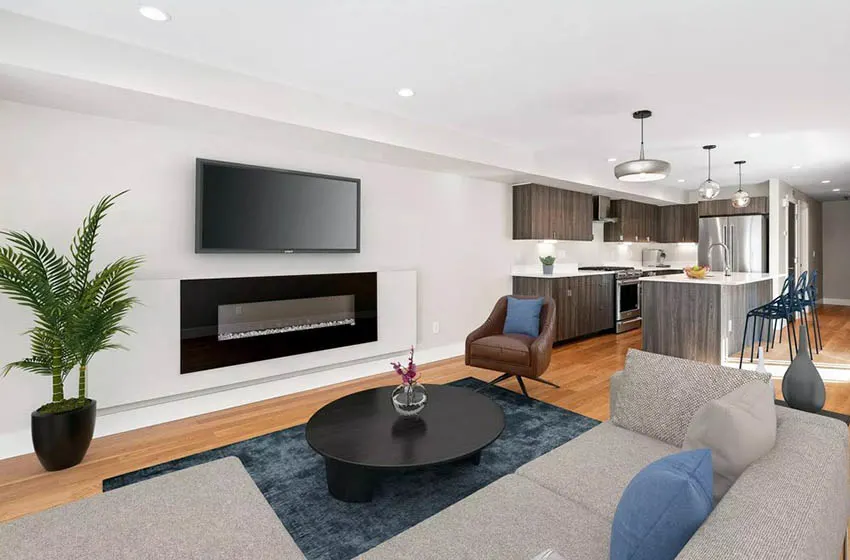 Depending on your taste, sometimes less is more when it comes to room and wall decor. This room layout makes use of that mantra with tastefully appointed details to give it a minimalist approach.
Hidden TV Behind Sliding Barn Doors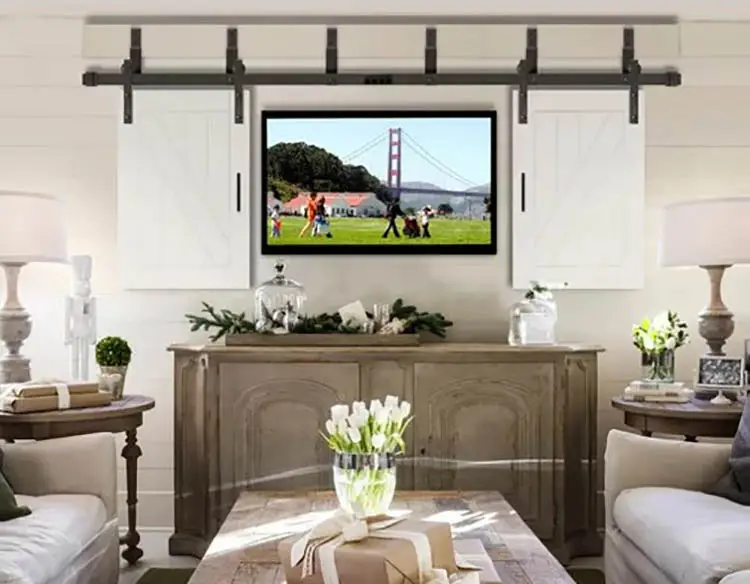 Another approach is to hide your TV altogether behind sliding barn doors. This allows for one to achieve a farmhouse style living room and keep the TV safely tucked away when not in use.
Wood Feature Wall with TV

A wood feature wall is an interesting wall to add visual interest to a room. This design utilizes white-washed shiplap boards laid horizontally to provide the backdrop for its hanging flat screen and cozy armless chairs.
TV on Fireplace Mantel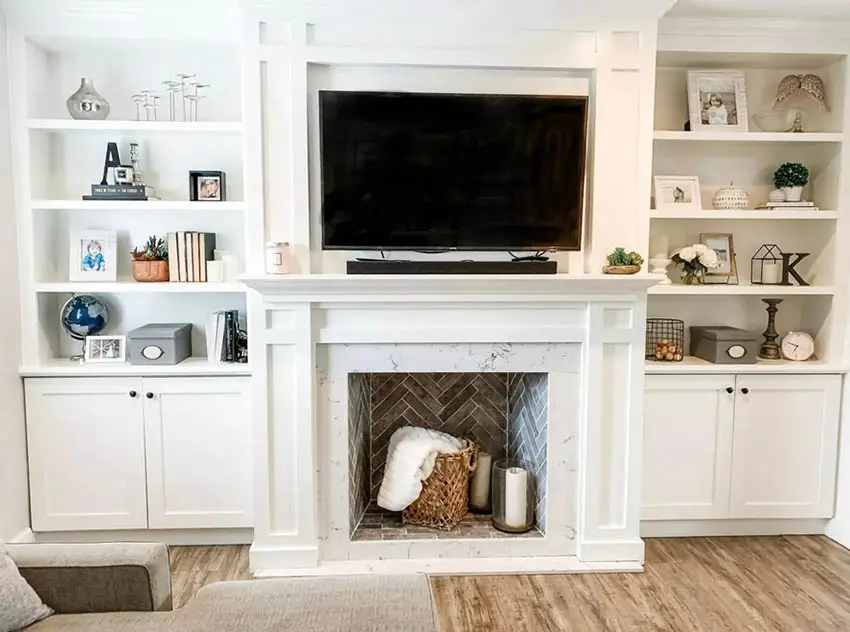 The TV placed on the fireplace mantel works perfectly for this wall with built-in bookshelves and marble fireplace surround.
When your tv is on, you probably don't really notice what the surrounding area looks like. But your tv is an important focal point in your home, and when your tv is off, you want the area to be an intentional part of your design.
Curate your collections carefully and display only a few pieces at a time and provide storage for your games and cords that matches or coordinates with storage in the rest of your space and you will create a look that is pleasing whether the tv is on or off. Visit this page for more living room remodel ideas.