Here are some creative above the couch décor ideas for a variety of design styles & layouts.

You may not think much about the space above the couch, as your back is so often to that wall, and the tv is the main focal point, but the space above your sofa is just as important as any other space in the living area. To design a space means to take the entire space into consideration, each area needs special attention to have an overall cohesive and pleasing look.
When you enter a living room, you often look for seating areas first, which means the space above your couch is the perfect place to showcase your creativity and personality.
Artwork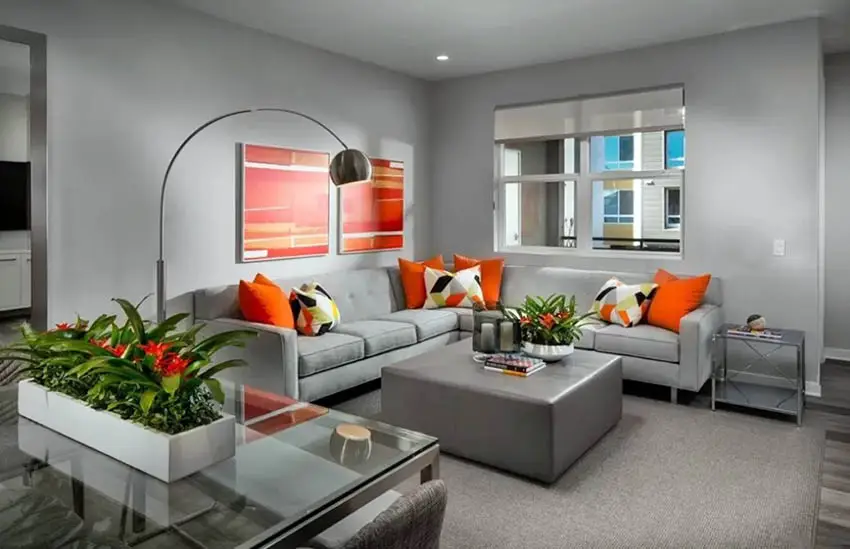 Most people have some type of it, whether it is movie posters for the movie buff, a comic book collection, or paintings and photographs, we all have items that we love to gaze upon. Creating a gallery wall above the couch is a classic way to display the artwork that you love.
If your artwork is large enough to span the width of your couch, chose your two favorite pieces, have them matted and framed in the same color and style, and hang them above your couch. This looks stylish regardless of placement, but especially when your couch is flanked by two windows. Read more about how high to hang pictures here.
Adding decor elements that tie in the artwork is another way to realize a cohesive living room design. This can be done using accent pillows, throws, area rugs and plants to name a few.
Decor Arrangement
The artwork fills the space but doesn't add any clutter. If your artwork or photographs are varying sizes, as most are, then create a more unique arrangement. Create consistency by choosing mattes that are all the same tone, use light colored frames on most work, highlight your favorites with darker tones frames to give a little bit of interest and match window frames and doors. If you have wood accents follow the wood tones in your furnishings to keep the gallery wall cohesive with the rest of the space.
Even books can become art when given the right treatment. A row of 5 matted and framed books, a group of 9, in rows of 3, or a collage of old covers large enough to span the area above the sofa are all great ideas for a book display. You can also keep it sophisticated and grown up by matting book prints with white mats and using black frames. Hang pendant lamps above the artwork for extra lighting and punch.
Table Lamps & End Tables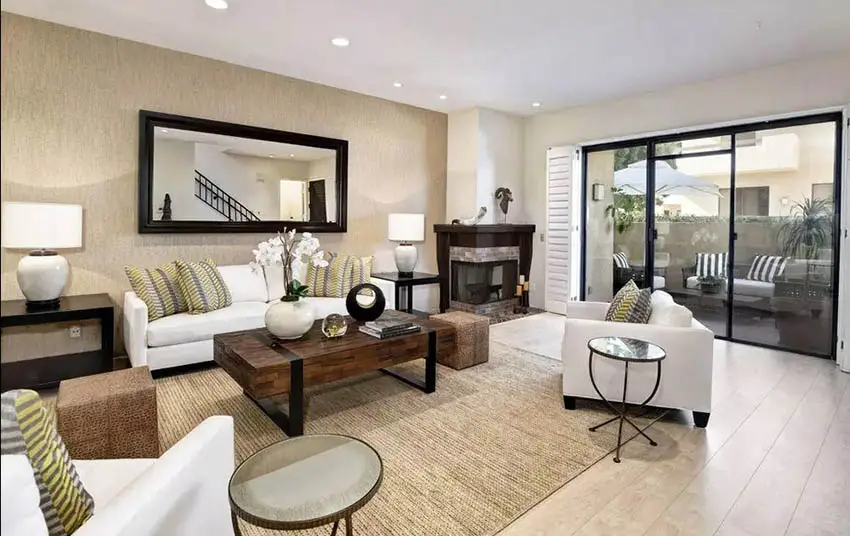 Placing one or two small sofa tables behind or to either side of the couch will give you a great chance to showcase your design skills. For task lighting, add two lamps at each end of the table. Add a stack of books, a couple of framed photos, and a decorative collectible item that ties in with your décor and you have simple, clean design.
Wall Mirrors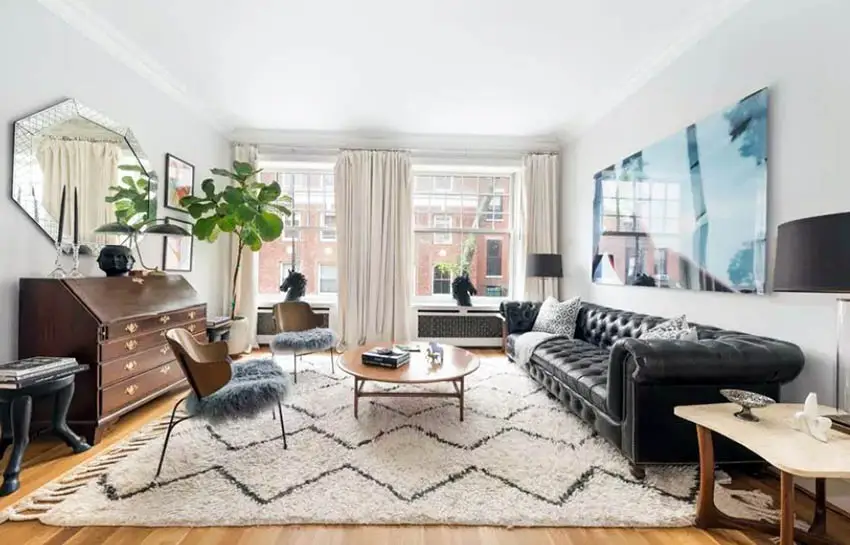 To carry it even further, place a mirror above the sofa table or on the opposite wall, it will bounce the extra light from the lamps around your room, brightening up your space.
Shelf Racks for Decor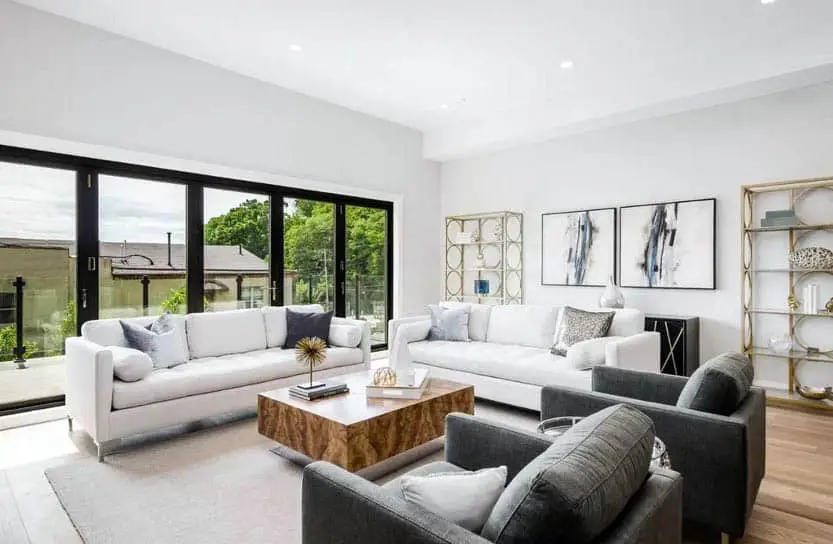 For those of us who need a bit more practical storage for decor, shelf racks behind the sofa are the way to go.
Floating Shelves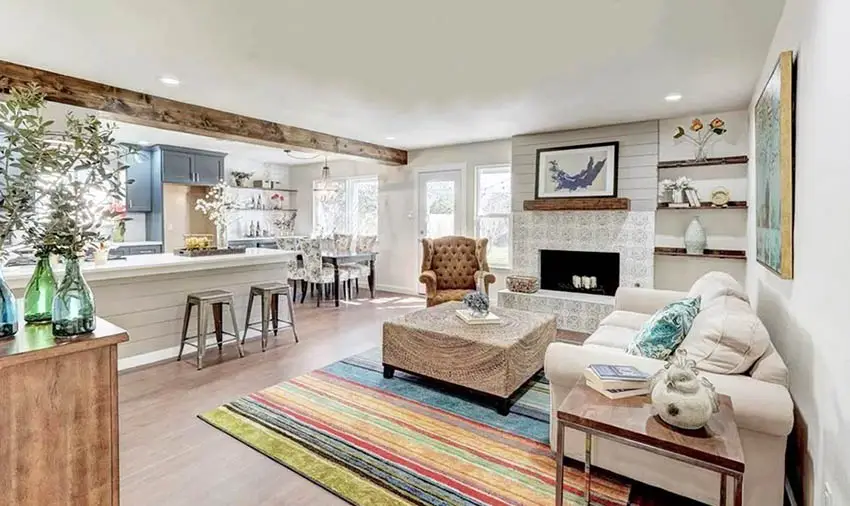 Another alternative to open racks are floating shelves above the couch or to the side. You can use this space to share your favorite decor pieces. Or as an idea put your (not so often read but still loved) books along the top long shelf and framed photos or artwork and decorative collectible items on the middle two shelves. On the bottom shelf, you can place more frequently read books along the shelf.
One way to spice this up is to position the shelving directly above the couch. Use a group of 4 shelves, two the length of the couch, and two about half that length, arranged to have the two longest at top and bottom and two shortest in the middle make for a great base. Place a tall vase filled with long-stemmed greenery nearby for added affect. This will fill the space not occupied by the shorter shelves and is unexpected and lovely to look at.
Picture Ledges for Photos & Decor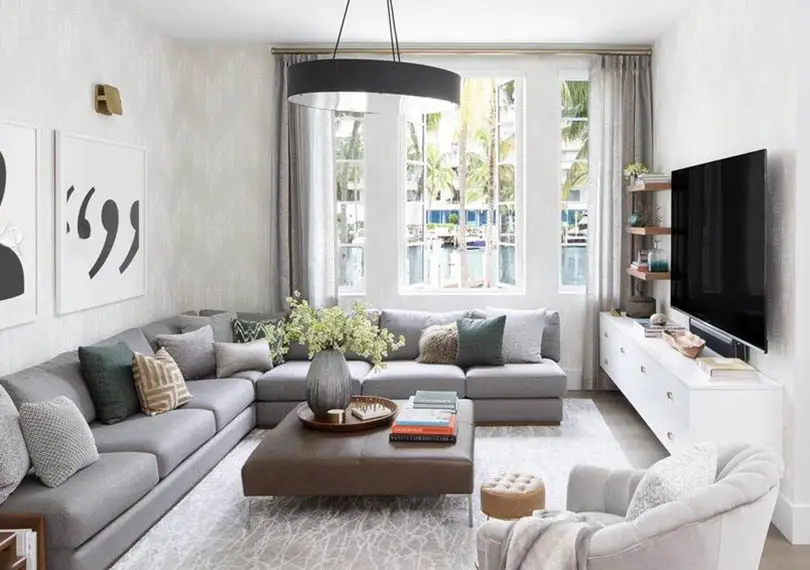 If you like the idea of photos and artwork but change it out often and don't want to deal with a gallery wall, use picture ledges. Grab two long picture ledges, off set them a bit, and start layering your artwork. Keep the mats and frames similar in style and tone but don't be afraid to vary textures.
Pale woods, ceramics, woven materials, and brushed metals are all great frame choices. For a super graphic punch, use all black and white photography and artwork, mat them in white, and place them in black frames. It is a bold, modern look and will become the main focal point in your space.
The couch most often faces the TV and you should consider your decorating around the TV as well as above the couch. When designing your living room, place yourself in someone else's home. When you enter their living space, where do your eyes travel first? More than likely you are looking for where you might sit, and that often means the couch.
Along with the type of couch itself, the wall above the couch are usually the first thing people will really see when they enter your living room space. It is an important part of the living room and a great place to showcase some of your beloved personal items and really let your personality shine through good design.