In this dinner plate size guide you'll see standard, small, medium & large dinner plate dimensions, what size fits in a microwave, and how to measure dinner plates.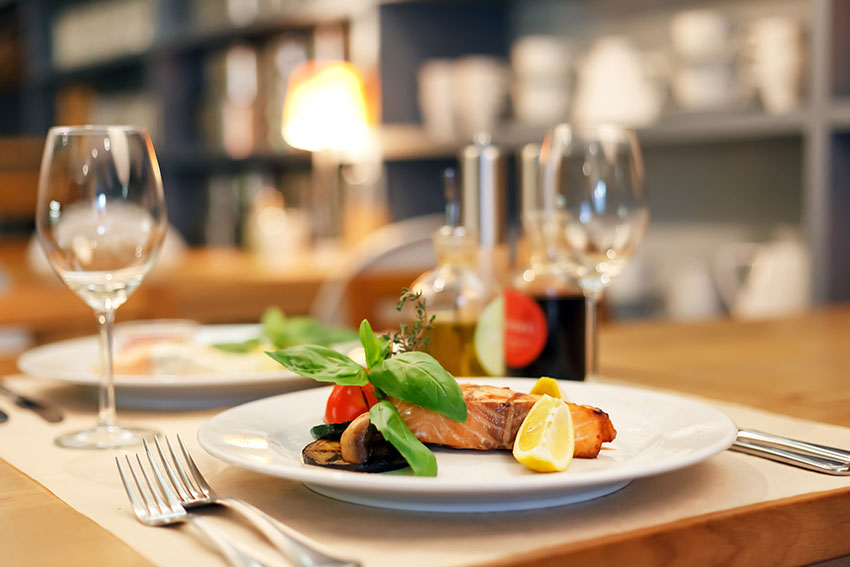 If you have dined in a fine restaurant or have been to grand events like weddings or golden anniversary celebrations you've probably seen food being served on a variety of different plates. In that case, chances are these events made use of many types and styles of cutlery and dinnerware plate sizes.
An important thing to consider are the functions of different dishes and not being embarrassed at these special events where plates will have other roles as a meal progresses. It's also a great idea to know the correct sized plates if you will ever be serving food yourself.
What Size Is A Dinner Plate?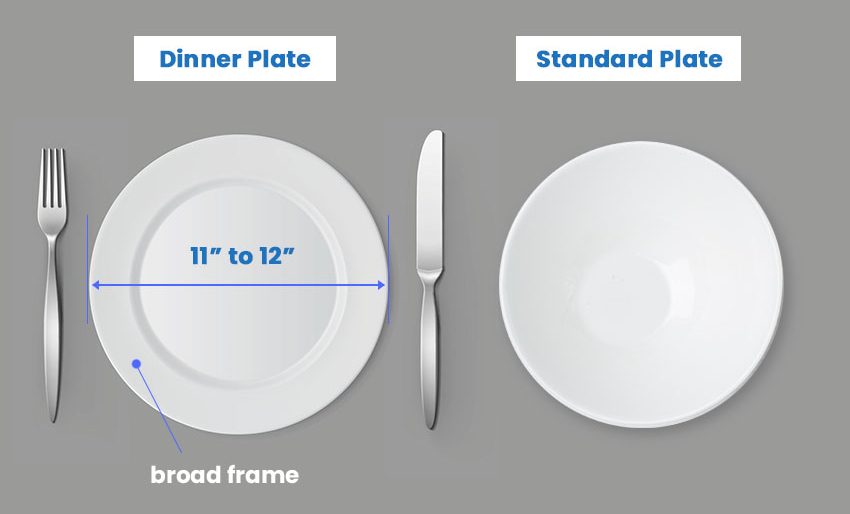 The dinner plate is used to serve the main course. Dinner plates with the main course are usually served after the salad and will rest above a bigger plate known as a charger.
Dinner plates vary in size and are measured according to their diameter. Traditionally, a dinner plate is about 10.5 inches or 27 centimeters in diameter, but that has changed. Most dinner plates now come with a diameter of 11 to 12 inches or about 28 to 30 centimeters.
The main difference between a dinner plate and a standard plate is that dinner plates have a broader frame to account for decorations to make the plate more presentable.
Aside from the aesthetic value, it will give a restaurant dish a better frame and it also helps with the illusion of giving larger portions or servings of a particular dish.
Standard Dinner Plate Size
There are different sizes and shapes available for diner plates, but the standard or average size ranges between 10 to 12 inches or 25 to 30 centimeters.
The dinner plate homeowners usually utilize for their homes measures around 11 to 12 inches or 28 to 30 centimeters across.
This is slightly different from the plates a decade ago that were 7 to 9 inches, or 17 to 23 centimeters. Nine inches or 23 centimeters of dinner plates are found all around Europe.
In comparison, American restaurants are prone to using bigger dinner plates at about 13 inches or 33 centimeters.
Small Size Dinner Plates
The smallest size dinner plate any homeowner can get are appetizer plates. An appetizer plate is often the smallest in a table setting used to serve small appetizers at the beginning of a meal with many courses.
An appetizer plate is available in sizes ranging from 6 to 8 inches or 15 to 20 centimeters across. Big enough to fit a single starter dish.
It is noteworthy that some people consider this small dinner plate as an alternative bread and butter plate used to serve small servings of cheeses and fruits.
Medium Size Dinner Plates
The closest plate to a medium size dinner plate a homeowner can find are salad or dessert plates, slightly larger than the smaller appetizer plate but small enough not to be considered a full-on dinner plate. These plates are interchangeable with dessert plates, perfect for homeowners looking to cut down when it comes to plates.
Sizes for these will usually range from 8 to 10 inches or around 20 to 25 centimeters in diameter. Some dessert plates are also more intricately designed than other plates to make the desserts look twice as appealing.
Big Size Dinner Plates
An enormous plate any homeowner can find outside the decorative charger plates is the average dinner plate that varies in size ranging from 10 to 12 inches or 25 to 30 centimeters in diameter.
In comparison, some dinner plates are also available with dimensions of 13 inches or 33 centimeters across. A giant dinner plate will be sizable enough to house many components of the main dish, including grains, proteins, and a significant amount of vegetables.
Best Size Dinner Plate
Aside from the standard dinner plate at 11 to 12 inches or around 28 to 30 centimeters, the best dinner plate any homeowner can rely on is the 10 inches or 25-centimeters in diameter plate. This dinner plate size will be ideal for casual and everyday dinners.
Since dinner consists of many dishes like grains, vegetables, and any kind of protein, this place size will be big enough to not be too heavy or overwhelming for the user. See more dining room essentials on this page.
Paper Dinner Plate Size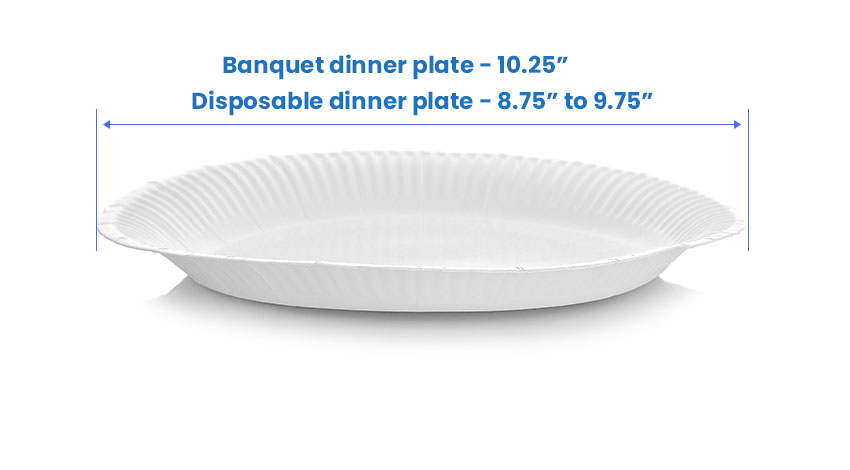 Other than ceramic or porcelain dinner plates, there are paper dinner plates available for outdoor parties or barbecues. Two types of disposable plates come to mind when thinking of a dinner plate: the banquet and the dinner paper plates.
The banquet paper plates are available in a variety of shapes, from circle to octagonal, and they will primarily measure 10.25 inches or 26 centimeters. In comparison, disposable dinner plates vary in size from 8.75 to 9.75 inches or 22 to approximately 25 centimeters.
What Size Microwave Fits A Dinner Plate?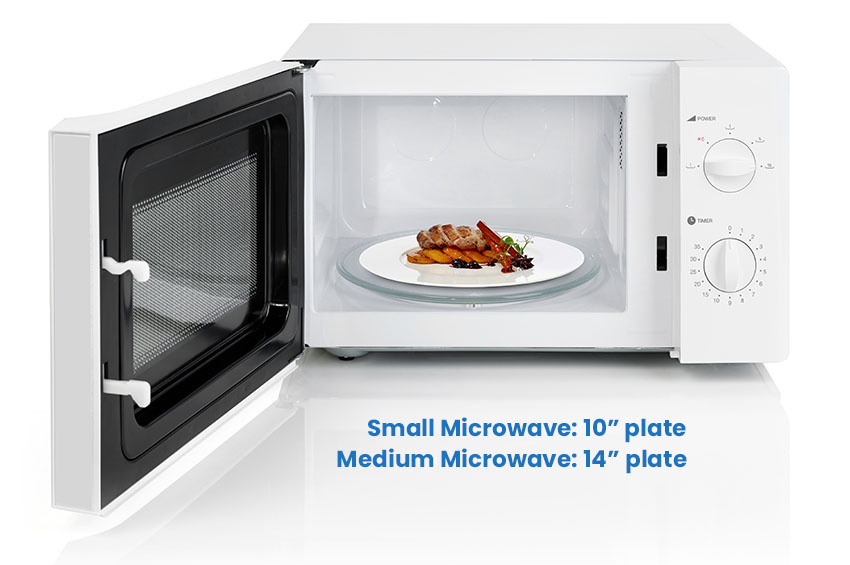 If a homeowner does a lot of microwaving, especially for late-night dinners, one factor that should affect their dinner plate purchase is considering whether the plate will fit in their microwave.
A standard 10 inches or 25 centimeters plate can fit in the smallest and most compact microwave oven available on the market. At the same time, medium-sized microwaves can hold and reheat food in dinner plates at 14 inches or 36 centimeters in diameter. Visit our guide to microwave sizes here.
Salad Plate vs. Dinner Plate Size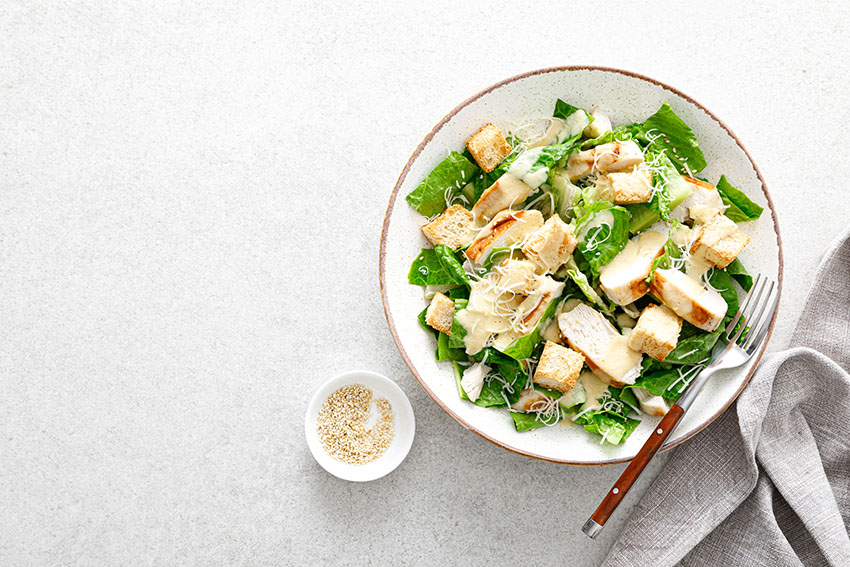 Because a few centimeters is their only difference, a salad or dessert plate and a dinner plate are often confused with one another. While a salad plate can be 8 to 10 inches or 20 to 25 centimeters, a dinner plate ranges in size from just 10 to 12 inches or about 25 to 30 centimeters in diameter.
The two-inch difference makes them perfect for any homeowners looking for a smaller or a larger dinner plate to use a home.
How To Measure Dinner Plate Size?
To measure a dinner plate, use a ruler or a tape measure to point from one end to the other across a point in a circular dinner shape. Since most dinner plates are circular, this is what to do but if a homeowner is looking to buy a square or a rectangular dinner plate, measure all sides to come up with the dinner plate's exact dimensions.
See more related content in our article about the different types of plates on this page.