Find out all about stone look floor tile including what it is, different types, designs, sizes, cost, and differences compared to natural stone tile flooring.

As one steps into a room, the floor is the first physical contact a person has with the interior space. In contrast, visually, the floor's color and texture strongly interact with its surrounding elements.
This influences one's experience and perspective of a room, which is the feel and ambiance projected by the amalgamated elements. Indeed, a room's flooring material is a significant investment, and a well-thought design goes a long way in creating the ideal space for one's lifestyle.
Stone-look floor tile is only one of the many flooring options in the market. However, relatively new stone look floor tiles have become one of the most popular floor materials today.
With today's cutting-edge production process, durable, affordable, and readily available materials can mimic the favored stone materials. The cost-effective porcelain tile, for instance, lends its impermeability while looking good as a marble or travertine tile.
There are many variations of stone look floor tiles, and it is not hard to find the perfect surface material to match one's preference, whether installing an indoor or outdoor floor tile.
Highly resistant to weather or temperature changes, they are recommended for outdoor flooring, especially for porcelain and ceramic stone look tiles.
What Is Stone Look Tile Flooring?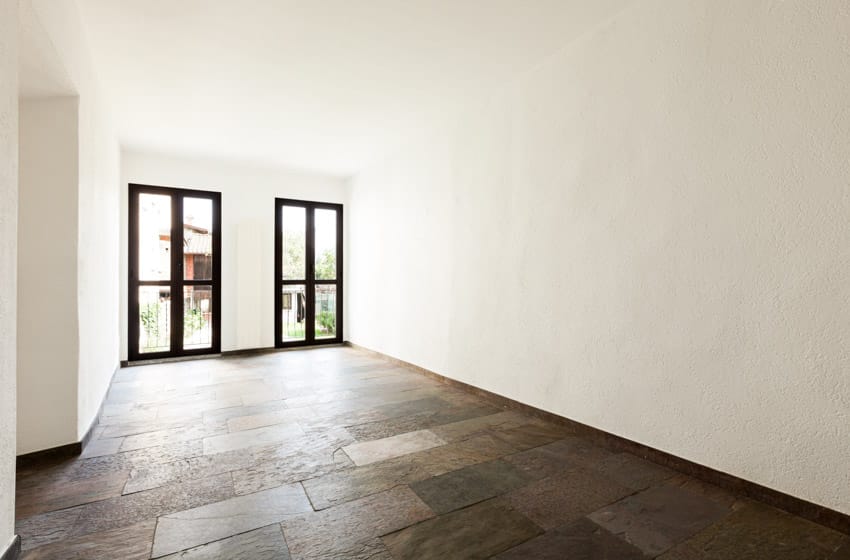 Stone look types of tile flooring are a man-made material that are manufactured to retain the materials' properties while having the look and feel of genuine quarried stone.
Stone look floor tiles are made with similar standard sizes, such as the typical 12 x 12, 12 x 24 inches tiles, and large formats like 48 x 110 inches. You'll also find specialty shapes for the stone look-alike, such as mosaics, hexagons, or subway tiles.
The stone look tile will typically mimic the exact appearance and feel of a genuine stone, having the veining, graining, and other natural nuances of stone. At face value, a stone look tile can pass easily as a genuine stone tile.
The most common flooring materials that are made into stone look floor tiles are porcelain, ceramic, and vinyl. They come in a variety of finishes and formats, simulating the look of marble, terracotta, travertine, and slate.
A trending design option is the porcelain tile that looks like Carrara marble. Another term associated with stone look floor tiling is stone-effect tiles. Aside from the stone look floor tiles, another trending material is the 3D natural stone mosaic called split tiles, which have natural stone cuts and linear strips laid out to create a 3D surface effect.
Adding natural textures to your home interior, particularly your kitchen, adds character and can break any thematic monotony in your home if the rest of your house goes with a different theme, such as minimalism or traditional.
However, the beauty of stone texture is not only limited to your kitchen. Anything from living rooms to bedrooms to professional studios can accommodate a more natural look.
You can also incorporate stone tiles in a more distributed manner to spread the natural aesthetic throughout the home without overwhelming a single spot or room.
The stone tiles incorporate a 3D effect and thus can improve your home's artistic aesthetic, adding character to the rest of the house. Aside from aesthetics, the material can also add warmth and provide a durable material as an alternative to ceramic tiles.
Types Of Stone Look Floor Tile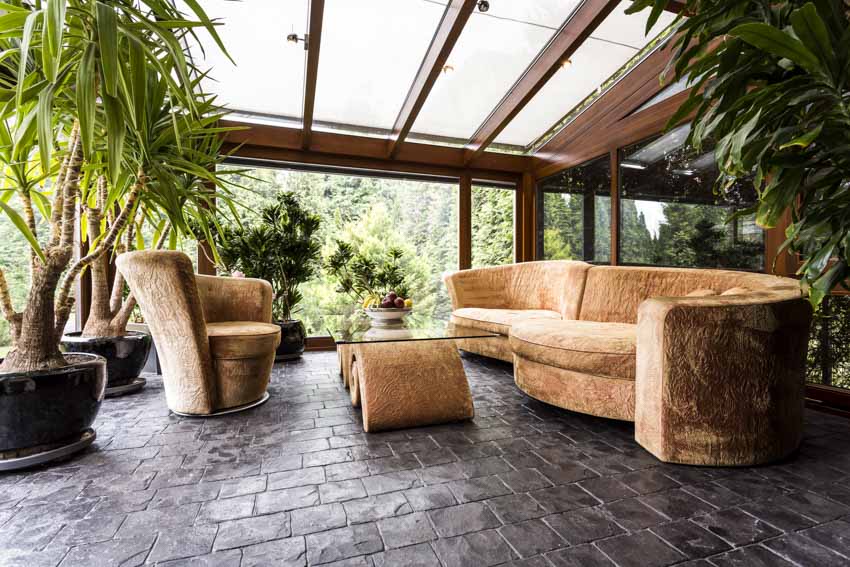 There are many man-made floor tiles that are manufactured to simulate the look of true stone, as aside from the standard tiles, a concrete mix can be made to mimic a stone cladding.
Three-dimensional panels that look like stone cladding are also available, but the following types of stone-look floor tiles focus on the standard tiles that are made to look like genuine stones. These include ceramic, porcelain, vinyl, laminate, rubber, peel, and stick materials.
Stone Look Ceramic Floor Tile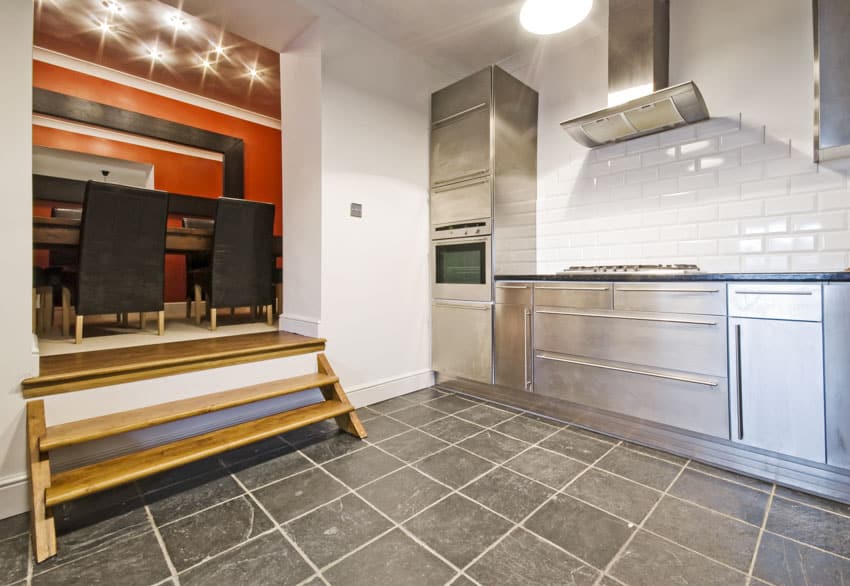 Along with the benefits of ceramic tiles, a stone look ceramic floor tile gives you the advantage of having an affordable tile option while having a natural-looking stone surface for your floors. While ceramic floor tiles are less dense and impervious than the porcelain version, stone look ceramic floor tiles are easier to work with as it is easier to cut and install.
The affordability and option of having a stone-look ceramic floor tile installation as a DIY project make it the best choice for low-traffic areas such as a bedroom or ensuite bathroom. There are high-quality ceramic floor tiles that work well in medium-traffic areas.
As it is not an impervious surface, you may reconsider ceramic tile flooring for highly damp areas such as the kitchen. Ceramic floor tiles also lessen the build-up of allergens as the surface does not attract mites or dirt, unlike having a carpet.
With the wide range of attractive designs, you'll get the cozy ambiance you require while not having to deal with pollen, animal hair, and other allergens caught on your flooring surface. When it comes to designs, there are more options and availability in local shops when it comes to stone look ceramic floor tiles compared to porcelain.
Stone Look Porcelain Floor Tile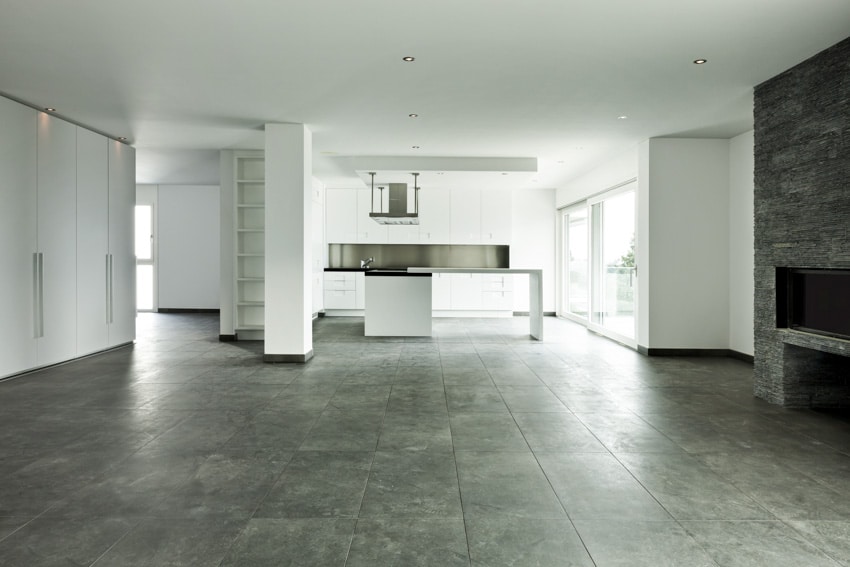 While genuine stone floor tiles are unmatched with their organic aesthetics, installing a new flooring surface, especially in high-traffic areas, requires a tougher material and minor maintenance. A stone look porcelain floor tile outperforms quarried stone when it comes to these two requirements.
Porcelain is known to be impervious to water and easy to maintain, making the stone look like porcelain floor tile an excellent choice for kitchens, laundry areas, and bathrooms. Porcelain floors that look like stone also perform well in the outdoor environment as they are highly hard-wearing and with virtually no pores, no water is absorbed.
Slate, travertine, limestone, marble, and porcelain tiles can be made to look like these common outdoor paving stone materials. Expansion and contraction due to moisture or water entering a tile will weaken the material and eventually cause cracks or damage. On top of its resistance to weather conditions, porcelain tiles are fire-resistant, another reason to make it a top choice for the kitchen.
Stone-look porcelain floor tiles are versatile and can be used in almost any room type or outdoor use. With the many advantages of porcelain tile in general, engineered tile is a popular option for commercial spaces.
Stone Look Luxury Vinyl Tile Flooring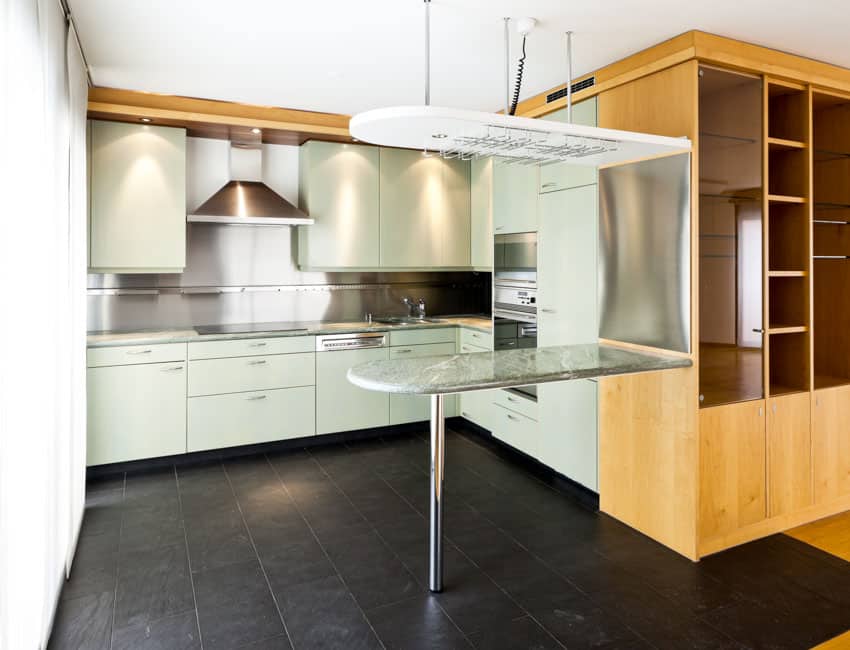 One of the many concerns of homeowners when it comes to stone tiles is the weight. Stone-look luxury vinyl tile flooring gives you the gorgeous look and feel of authentic stone tiling while not having to deal with the tricky process of transporting and installing a heavy material.
Luxury vinyl flooring can look expensive with the right design. Since vinyl tiles floors are easy and fast to manufacture, there are a lot of designs to choose from. The thin but versatile floor tiling is readily available in many Home Depot shops, and if one tile is damaged, you can easily find a matching design to fix your flooring surface.
Another great advantage of vinyl tiles is their impervious surface which means they are virtually waterproof. Newer versions of vinyl tiles are 100 percent polymer materials. A stone look luxury vinyl flooring is an excellent option when you need a quick update on your room's interior. It is also very affordable compared to other flooring solutions.
Stone Look Laminate Tile Flooring
Often interchanged with your vinyl floor tiles, laminate tiles are made differently as they have a core made of wood byproducts bonded with resins. The wood content only means that it is prone to warping once wood. A stone look laminate tile flooring will be 6mm to 12mm.
The significant advantage of laminate tile flooring is its built-in underlayment that levels out uneven surfaces. A stone-look laminate tile flooring is a versatile option for upper floors not exposed to moisture.
The top is infused with transparent plastic wear that covers your stone design, and with a thickness of 6mm to 12mm, they are durable enough for low-traffic areas.
Peel And Stick Floor Tile That Looks Like Stone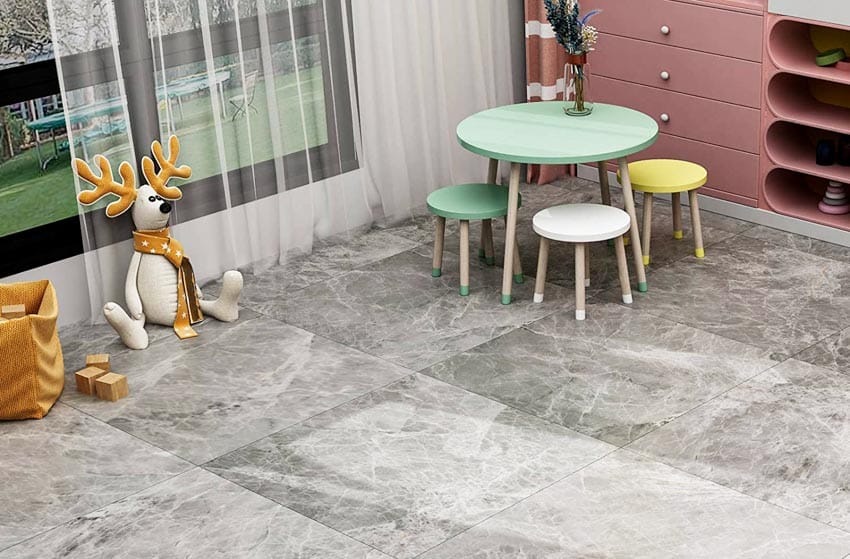 See this peel and stick stone floor tile set at Amazon [sponsored link]
Investing in a temporary home often takes a hard and long discerning but with a peel and stick floor tile that looks like stone, a tenant has the freedom to update the interior look on a budget.
As the term implies, the flooring tile mimics the look of natural stone, while installation requires an easy peel-and-stick process. Hard-worn surfaces can be easily updated within a few hours.
Repositionable or removable versions of peel stick floor tiles are also available in the market, which do not leave behind residue when removed. This makes it easy to update dorm rooms or any other temporary occupancy without worrying about damage.
Rubber Floor Tiles That Look Like Stone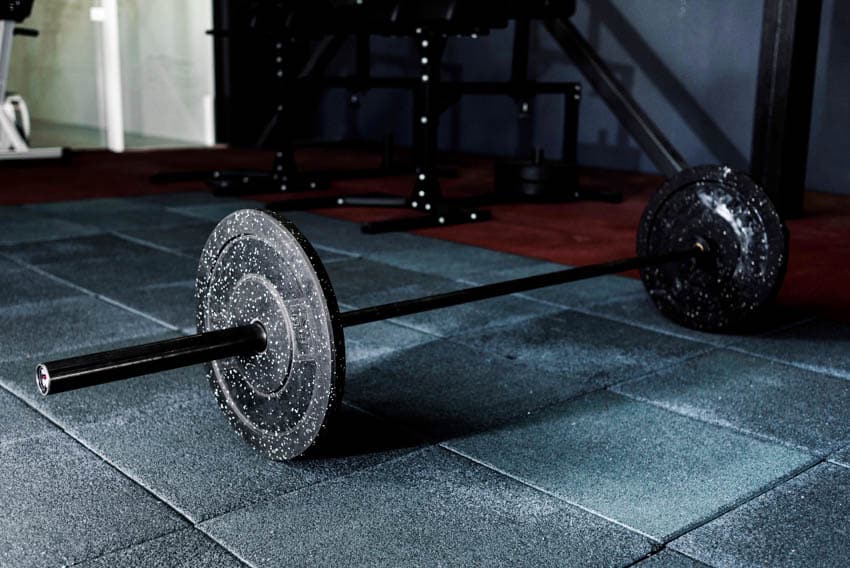 Rubber floors have been used primarily for gyms and industrial projects, but thanks to advanced manufacturing processes, cozy and organic-looking designs are available for home interiors.
Rubber floor tiles that look like stone are perfect for homeowners who need a surface floor that can absorb impact and is warmer to the touch compared to the cold surface of stone materials.
They are relatively easy to install, even over a wood material. You'll need a paper underlayment to protect the wood floors as rubber floor tiles can have seams where water can seep through.
Interlocking rubber floor tiles that look like stone are also available. A rubber tile will have groves and ridges that will easily snap with the adjacent rubber tiles, creating a seamless connection.
Stone Look Tile Sizes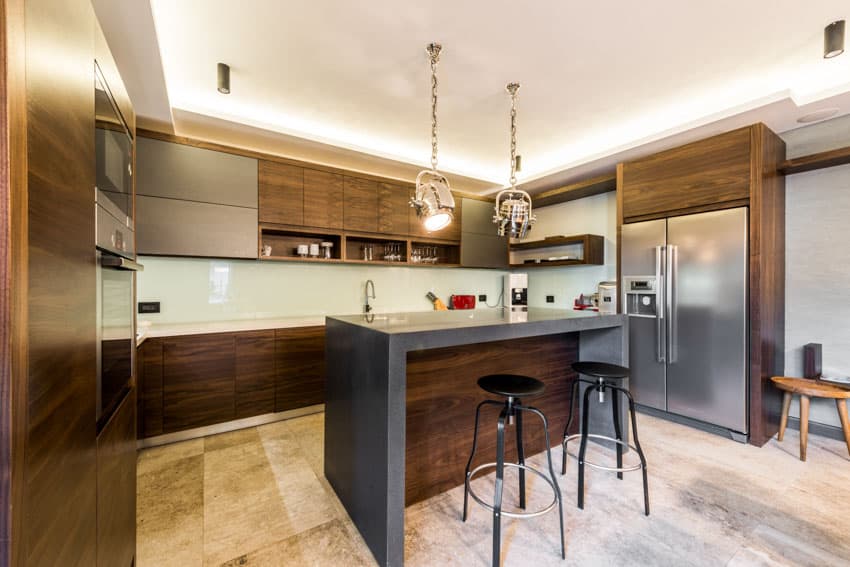 The availability of stone look tile sizes depends on your tile supplier but generally, stone look tiles sizes come with the same standard tile sizing just like typical stone tiles.
Generally, tiles come are made into squares and rectangles such as 12″ x 12″, 18″ x 18″ and 24″ x 24″, 12″ x 24″, 12″ x 18″, and 12″ x 24″ which are commonly used for floor tiling. Smaller sizing is common for small bathrooms which include a 4″ x 4″, 6″ x 6″, 8″ x 8″ and mosaic tiles as small as 2″ x 2″.
Common Floor Tile Sizes:
• Ceramic stone look tile: 12″ x 12″, 16″ x 16″, 24″ x 24″
• Porcelain stone look tile: 12" x 12", 16" x 16", 24" x 24", 24" x 48" and 48" x 96"
• Luxury Vinyl stone look tile: 12″ x 12″, 12″ x 24″, 18″ x 18″, 24″ x 24″, 18″ x 36″
Larger formats reduce the grout lines and make it look more modern and seamless. Large format tile floors come with the common 30″ x 60″, 36″ x 36″ and 48″ x 48″. Remember that large format tiles need a 5% wastage for your stone look. Standard tiles such as your 12″ x 12″ will need the 10% common wastage factor.
Remember that it is impossible to have the exact tile size and nominal dimensions with so many flooring options. For instance, a 48″ long tile will have an actual length of 47-3/4 or 48-1/8.
Stone Look Tile Cost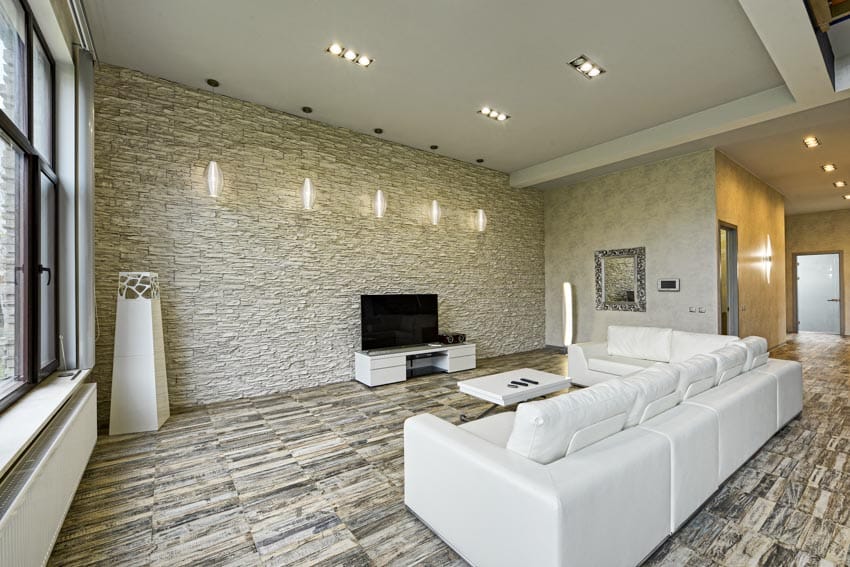 Stone look tiles are considerably less expensive than real stone tiles. For instance a natural marble tile floor will cost about $5 to $10 per square foot while stone look porcelain tile range from $2.50 to $7.00.
Cost for natural stone will vary depending on the size and grade. Another important consideration is installation cost which will be much higher with real stone. Natural stone floor installation is labor intensive and requires time consuming cutting and placement where stone look tile is easier to handle.
A significant factor in why stone tiles costs are high in some vendors is due to transportation. Fuel is expensive, especially these days, and thus the cost of transportation goes up. Add to that the additional cost of labor to cut the natural stone to its proper shape and size.
Stone Look Vs Natural Stone Tile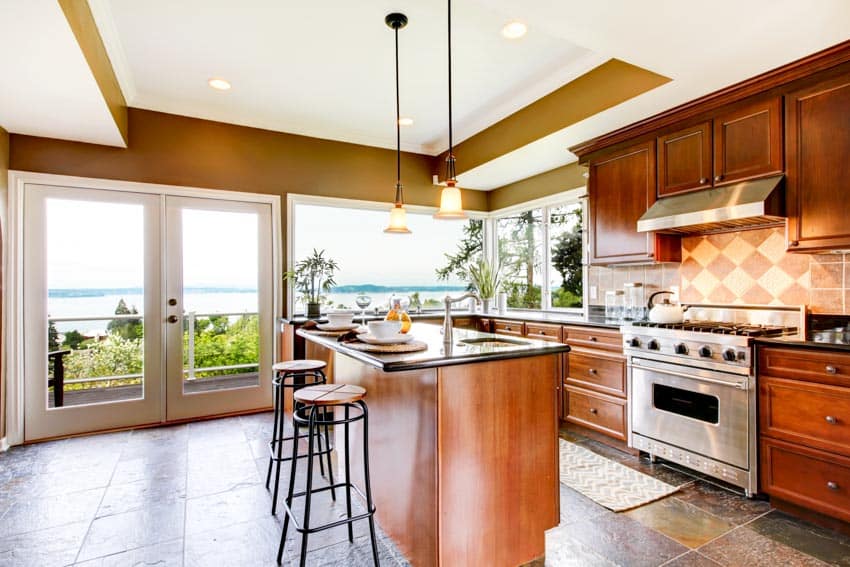 Appearance: Today's advanced technology in manufacturing stone look tiles makes distinguishing between a simulated look and a genuine stone challenging. However, upon closer inspection, you can identify some pixels evident from the printing process of the design. Another way to determine a stone look tile is that the color and structure differ when seen on the sides and its backing.
Most stone look tiles will have a noticeable tile finish, unlike natural stone tiles that usually come with their natural finish. Matte, fully polished, glossy, or semi-gloss tile finishes are all available for stone look tiles.
Surface Protection: One of the most significant advantages of stone look tiles is that, unlike natural stone, there is no need for a sealing process once installed. For ceramic and porcelain, mimicking the look of stone will have a glazed finish and thus does not require sealing.
Moreover, the porcelain, ceramic, vinyl, and laminate have an impervious surface, meaning it has no pores for water or moisture to seep through. Once installed, you can already use your floor surface. Natural stone, especially marble flooring, will need surface sealants to prevent staining and seepage. Annual sealant protection is also needed once the sealing layer has worn out.
Performance: Durability and other features will depend on the base material. Among the stone floor tiles, porcelain is the most resilient and durable because of how the tile is made. Porcelain tiles that look like a stone have the properties of your standard porcelain tiles, which means they look higher quality, do not expand or contract, are waterproof, and can withstand high traffic use.
Ceramic tiles that look like stone are almost like the porcelain version, though they are slightly less durable than porcelain. However, there is more variety of designs available for ceramic stone look than porcelain stone look. Both are easily maintained and do not require sealing.
Laminate and vinyl stone floors are both easy to install and come with a wide range of designs that mimic the natural look of different stone floors. Though less durable, they can withstand low to medium traffic use. Luxury vinyl stone tiles are a higher grade of vinyl tile and can work well in medium-traffic areas, and the stone design is indistinguishable from genuine stone.
Versatility and Availability: One of the many concerns of homeowners when it comes to floor tiles is the availability of the design, as natural stones are quarried outside the country; typically, it's hard to source a particular stone you need.
The great thing about stone look tile is that there are suppliers who are willing to accept customized designs no matter how intricate or rare your stone tiling design is. This is most advantageous for homeowners who are searching for a replacement for their floor tiles, whether may it be a simulated stone or a genuine one.
Ancient cobblestone, for instance, can be simulated, capturing the old historical charm and weathered look. These imperfections make the ordinary tile embody aesthetic qualities.
Since stone look floor tiles are scratch and stain-resistant, they are easily cleaned and are hygienic, making them great for any functional room.
Maintenance and Cleaning: Not all detergents or cleaning agents are safe to be applied on a natural stone as the acidic content can scrape or damage the surface. Staining is another concern for natural stone. With a stone look floor tile, you can have a gorgeous tile without the annual sealing or other maintenance measures.
See more related content in our article about vinyl flooring with attached underlayment on this page.