In this gallery of wood slat wall designs you'll see the different types, wall ideas, materials needed, installation process, and best wood to use.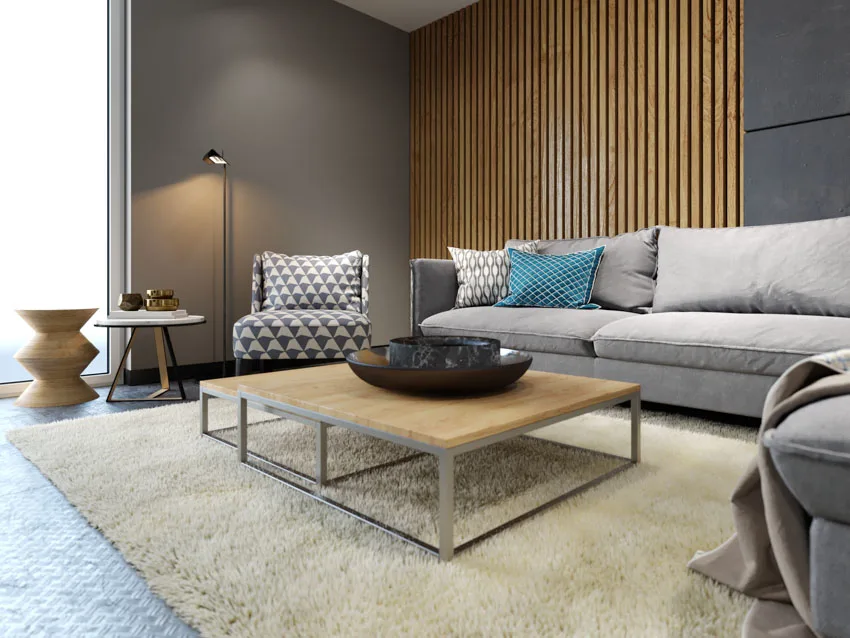 More than an extension of our love of nature, studies show that seeing or touching wood induces physiological relaxation making the natural material an ideal addition to any home.
If you're running out of ideas to incorporate wood into your living space, then adding a wood slat wall might be just what you need to spruce up the look of your interiors.
What Is A Wood Slat Wall?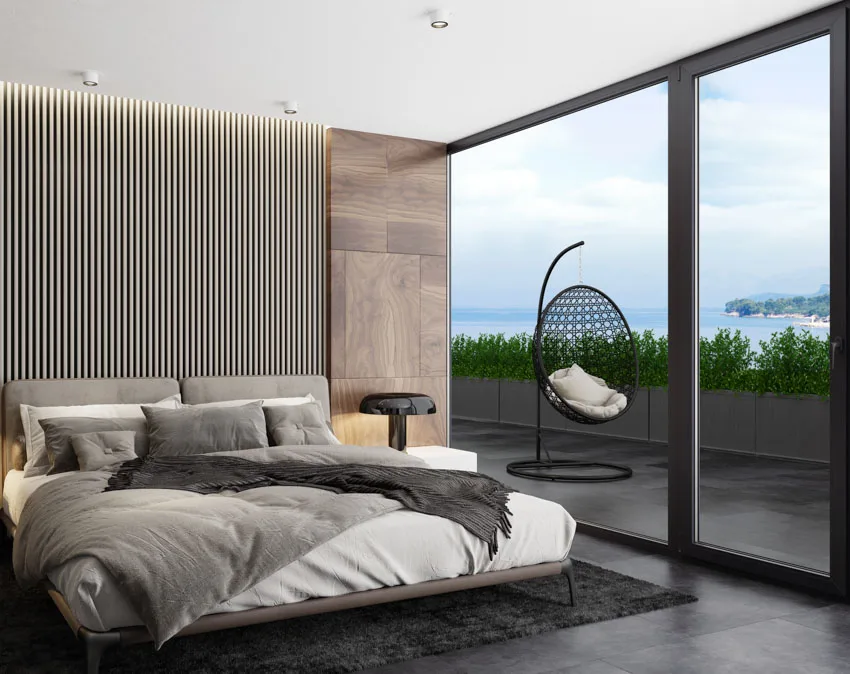 A wood slat wall is a non-bearing architectural or interior feature that is composed of a series of vertical or horizontal strips of wood, usually with a uniform width. These wood strips stretch from the floor to the ceiling, typically ½ to 2 inches in width. 2 x 2 pine wood.
A wood slat wall is used both as exterior and interior finish. Aside from being a wall accent, a wood slat wall can act as a divider between two adjacent spaces without a full obstruction of views, light, and ventilation.
This semi-privacy is an excellent decorative and functional feature for open plans in both homes and commercial use.
Types of Wood Slat Walls
Here's some different types of wood slat wall designs for ideas and inspiration.
Slatted Wood Wall Panels

When you need fast Installation with minimal need for structural supports, a slatted wood wall panel is an ideal choice.
Typically made from veneer slatted wood panels come in various sizes with usual lengths of 2.4 or 3 meters in length were 12 to 15 slats on each panel depending on the width of your slats.
Most manufacturers will have 27mm wide and 12 mm deep with 9mm deep backing for their slat wood wall panels with a coverage of 1.44 square meters.
Choosing a panel instead of individual slats makes installing and preventing uneven spacing and wiggling. Using certain types of wood veneer also decreases the chances of buckling or shrinking of the material as each panel has a uniform material composition.
Vertical Wood Slat Wall

Also termed as a fluted wall, this vertical orientation of your slats is effective in creating an illusion of vertical space, making tight spaces look visually higher.
It is relatively easier to install full height from floor to ceiling compared to horizontal orientation since you can conveniently fasten them on your existing structural elements, regardless of the width or wall coverage.
Fluting or vertical wood slats have been a trend in recent years, not only on walls but on furniture and base counters because of their contemporary style while injecting an organic surface to interiors.
Horizontal Wood Slat Wall

Orienting your wood slats horizontally is suitable for wall accents or if you have large columns to fasten them to. This contrasting of lines make your horizontal wood slat wall stand out while ensuring a structurally stable architectural feature.
You can leave the top and bottom 1 foot or a few inches free from wood slats for a room divider to create a floating effect.
Wood slat walls without gaps can be an opportunity to combine different colors or textures of wood to create an abstract or defined design.
Wood Slat Accent Wall

Your wood slat wall doesn't necessarily need to cover the entire wall. You can install them whatever width or height you prefer and use them as a backdrop for another feature wall décor such as a painting or embossed lettering.
This is among the wood accent wall ideas that are typically seen in commercial establishments with additional backlighting to draw onlookers to their brand name or logo.
At home, you can use it as a backdrop or have it a stand-alone piece on a wall without any additional décor or design to create a minimalistic o.
Black Wood Slat Wall

The black wood slat wall lends a contemporary and moody ambiance to any space making it the perfect addition to any contemporist homeowner.
Whether installed with or without spacing in-between, the black accent wall creates texture and rhythm, especially when designed with light and shadows in mind.
Choose a black wood slat wall that still showcases the graining through the surface as it creates an interesting façade or divider to a room. Dark accent wall colors are great for bedrooms or media rooms.
White Wood Slat Wall

It may not be as popular as the black version, but the white wood slat wall in horizontal orientation is a fitting backdrop for both contemporary and traditional interiors.
You can add a distressed version or highly grained white wood slat walls for a farmhouse or any other rustic-inspired home.
Whitewood slat walls add texture and dynamic to a room, making it an ideal wall feature if you love the clean look of white but want to add more life and interest to your interior.
Exterior Wood Slat Wall

The earliest architectural structures have been using wood slats on the exterior. The first use of wood panels in a series or rhythmic pattern has been used particularly in Nordic and Japanese homes.
The Japanese Kurashiki, for instance, is a traditional wooden slatted window and balcony installed on a white plaster wall and has the lower part covered in wooden boards. Usually, wood slat walls are attached to furring strips to elevate them from the ground.
Modern Wood Slat Accent Wall

Wood slat wall features are associated with the modern style, and you'll find from hip to high-end commercial spaces.
You can use endless design ideas for your modern wood slat accent walls, and aside from having them in straight rows, you can also have warped or curved ones to add a dynamic look.
Add varying curves in one panel for an interesting collage of wood strips. This sculptural accent wall can be a beautiful backdrop for artwork or your TV console. See more geometric accent wall ideas here.

DIY Wood Slat Wall

From a corner feature to an exterior wall finish, anyone with relative experience in carpentry can manage a DIY project.
For faster Installation, you can use wood slat wall panels. There are also wood slat wall kits available in the market that comes with all the necessary supports, screws, hardware, and semi-assembled wood slats.
Wood Slat Wall Ideas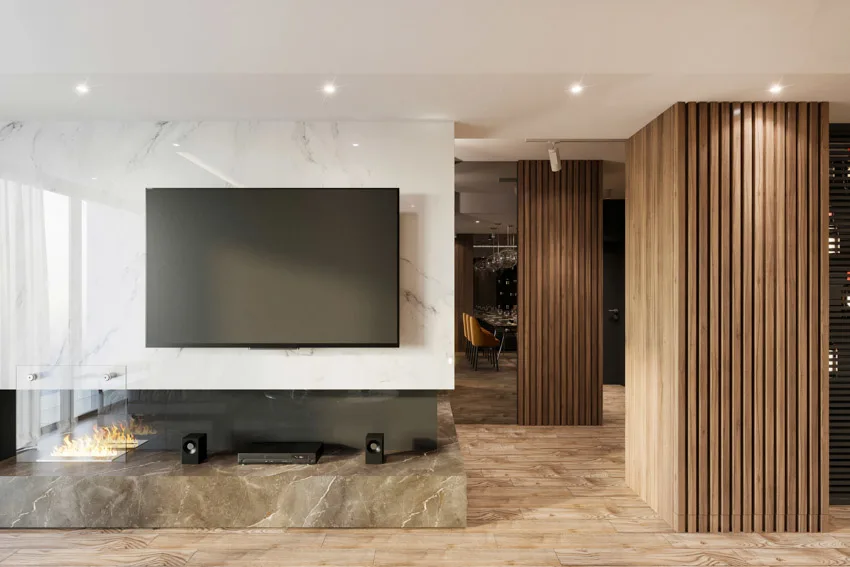 While wood slat walls are a continuous trend in many high-end restaurants and hotels, it's a relatively easy and affordable DIY project with versatile design options.
From a minimalist wall feature to incorporating LED lights, the wood slat wall surely impacts an interior or façade. Here are some wood slat wall ideas you can take inspiration from for this new project.
Wood Slat TV Wall

Give visual balance to your media rooms with wood slat walls. Wood slats are an ideal backdrop for your flatscreens as it creates a contrast on your cold surfaces, adding a more homely feel to the look.
The vertical orientation of your wood slat walls stretched from floor to ceiling is a popular design as it juxtaposes the TV dimensions.
You can also orient your wood slats horizontally, especially if you have a long TV console and want to go along with a low profile.
Wood Slat Wall Texture

Add interest in your contemporary home with varying or wood slat wall texture, and if you plan to make it a feature wall, you'll need to choose the wood grain and texture that' cohesive with your overall look. See wood species down the article for reference.
Wood Slat Wall Divider

Converting open spaces into semi-private areas is always a challenge, especially if you still want to have a continuous flow of spaces.
Wood slat wall divider is a practical choice when you want an effective divider that's easy to disassemble any time you decide to. Wood slat wall dividers can be easily incorporated even with existing columns or other architectural features.
Wood Slat Enclosure

Wood slats are excellent ways to hide away HVAC systems and electrical wiring or systems while still allowing ventilation and access to these mechanical systems.
Always check with your local contractor or engineer with regards to the safety of installing wood with your HVAC and electrical systems.
How To Make A Wood Slat Wall?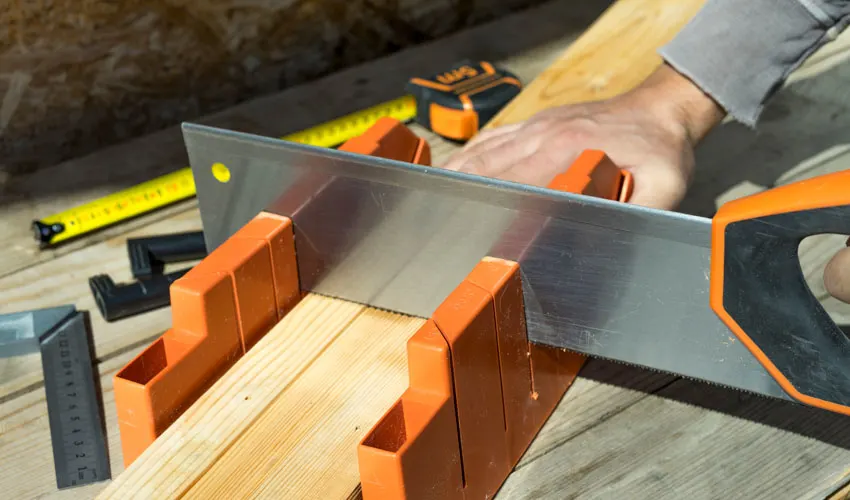 Power tools are required to construct a wood slat wall, so make sure to read your tools' instruction manuals as well as our DIY Safety Tips before starting.
Keep your space well ventilated, lay down a protective sheet to protect your flooring, and use masking tape to cover all switches and sockets.
Typical materials used for installation:
• Thin wooden slats
• Sandpaper
• Wood stain/ paint
• Wall paint
• Liquid nails
• Brad nails
• 2 screws (for the spacer)
• Wood glue
Tools:
• Tape measure
• Sander
• Mitre Saw
• Jigsaw
• Brad gun
• Spirit level
• Paint rollers and tray
• Paintbrushes
• Floor covering
• Safety goggles
• Face mask
Process:
1. Choose the type of wood. Choose the type of wood, color, and texture.
2. Measure the length of your walls.
3. Determine the number of your slats. Here is a computation sample you can use:
• 1 ½ in(wood width) + ¾ inch spacing = Sum
• Sum divide it by the length of the wall = Number of Slats.
• Add 20% to 30% material wastage.
4. Prep your wooden slats.
• Cut your slats according to the measurements you need.
• Sand every piece of wood before painting or staining, which is probably the longest prep process.
Note: You will only need to sand three sides if you plan to install it on a wall, as these are the only sides that are exposed. But if you plan to have it freestanding, you'll need to sand all sides.
Sanding is important to even out the surface and reduces imperfections as they can show up even when painted, especially when you use back-lighting or any type of lighting on your slat walls.
5. Cut according to the required dimensions.
6. Stain or paint your slats. However, be sure to test the paint or stain color in the room where you plan to install it before painting all the rest of the slats.
7. Install Supports. If you plan to have it installed directly on your wall, you don't need any extra support. When you prefer to have a gap between your slats and your wall, you'll need to add supports.
8. Attach the Wood Slat Wall. For non-bearing walls and when installing on a flat surface, you can use regular wood glue which works best with a wood-to-wood surface.
You can also use epoxy, which is best for strength and filling in gaps. It is also waterproof if you are concerned with moisture. Polyurethane glue is a completely waterproof glue and works well with metal in some plastics.
Note: Use waterproof wood glue when installing wood slat walls on exterior locations.
What Type Of Wood Is Used For Slat Walls?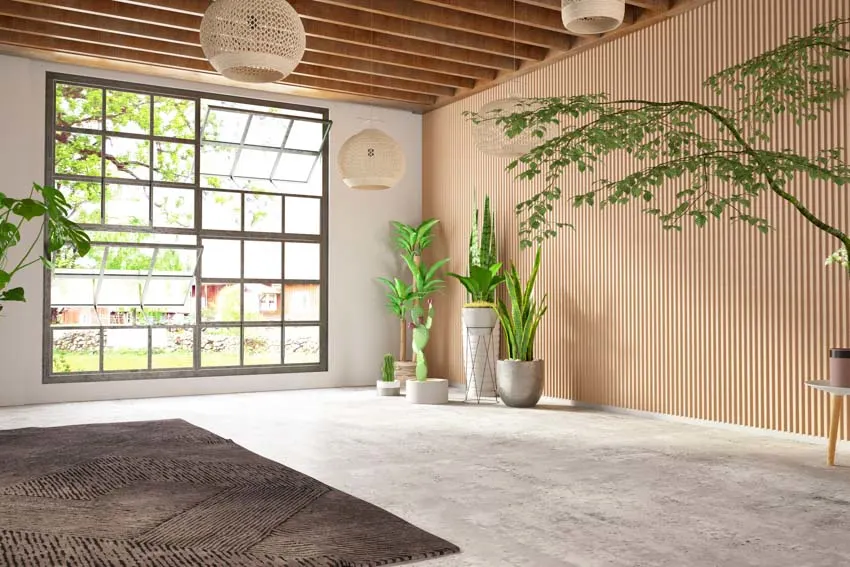 A wood slat wall is an opportunity to add the texture, color, graining, or whatever design you choose, and you can virtually use any type of wood for your slat walls. But from the myriad of wood species available, what are the best wood species to use for this type of wall?
1. Cheap and Widely Available: Wood slat walls are striking interior features that are affordable and easy to install.
• Pinewood: Use pine wood as it is widely available and inexpensive. You can also choose reclaimed pine for simple projects. Pinewood wood grain usually shows dents and has an orange tint to the wood.
• Plywood: Plywood is an affordable choice if you plan to have a thinner profile for your wood slat wall. There are ready-cut plywood strips you can buy from manufacturers where you just simply cut on the length to accommodate your requirements.
• Poplar Wood: A hardwood but softer than many hardwood species, it is an affordable wood type that shows varying rich brown graining and knots.
• Reclaimed Wood: For partial coverage on your wall, wood slats made from reclaimed wood are an excellent choice as you get interesting wood graining and textures while helping the environment.
2. Less Warping and Cracking: Warping and cracking are one of the main concerns when installing slat walls since these are thin strips of wood with extended lengths. If you plan to place your slat walls as wall dividers, these are the best wood species to specify:
• Redwood: This material has among the straightest types of wood grain patterns and is less likely to warp since it contains a natural chemical that prevents moisture buildup.
• Cedar: A proper structural system should be used for wood slat wall installs such as hanging a flatscreen on your and other uses that are load-bearing. When it comes to durability, Cedar species is a good choice as it is one of the densest wood types, which means it is unlikely to crack.
• Fir: Once its moisture content reaches its balanced water content with the relative moisture of the surrounding air, fir is very stable. Fir shrinks and warps very little at equilibrium or when the wood is seasoned.
3. Richest Colors: What makes a wood slat wall an appealing interior décor project is the display of wood textures. These are some of the popular wood species.
• Walnut Wood: For a rich brownish hue, walnut wood is an ideal wall accent. Although, the downside is the price and availability.
• Alder Wood: For a soft golden hue and texture, alder wood is ideal for a bright and warm look.
• Larch Wood: The texture and grain patterns of larch wood are distinctive. Larch wood, both moisture-resistant and vigorous, looks attractive and luxurious in modern interior design.
4. Veneers and Composites: WPC boards, as well as plywood, are the best alternatives to natural wood. WPC Boards are a solution to the entire problem with plywood. WPC boards have more internal strength, weight, and, most importantly, they are made without the use of trees.
In terms of percentage, the long-form of WPC is wood plastic composite boards, which contain 70% virgin polymer, 15% wood powder, and the remaining 15% additive-chemical.
See more related content in our article about the cheap ways to cover walls on this page.