Welcome to our porcelain wood tile pros and cons and design guide including answers to popular questions regarding this flooring style.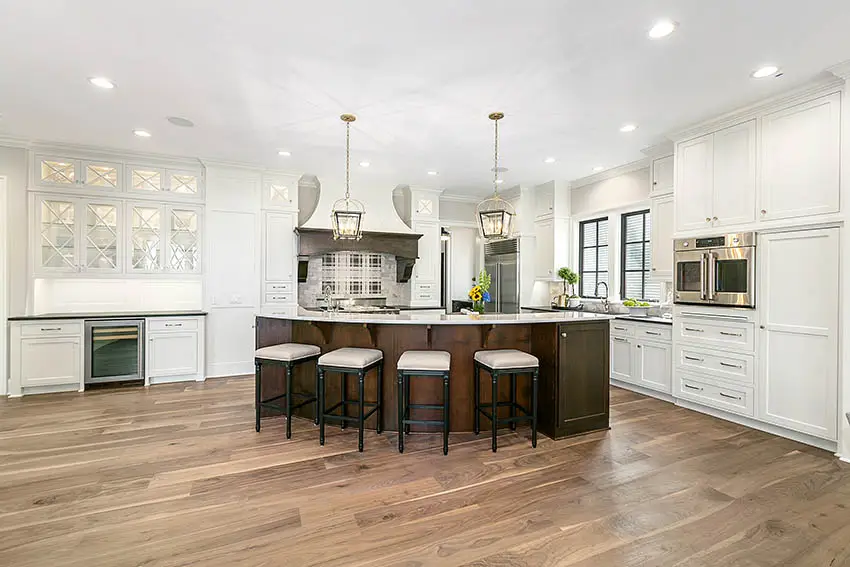 With so many technological advancements today it's no longer impossible to have building materials that provide long-lasting durability. Though despite these developments, natural materials are still a much-loved preference because of their unmatched beauty.
What if you can have a gorgeous organic look while enjoying a high-performance material? Porcelain wood tiles exactly provide these qualities without the disadvantages of natural wood.
Resistant to water, stain, rot, fire deformation, and UV resistance, porcelain wood tiles are a cost-effective alternative to your hardwood. With its realistic wood look, this type of tile flooring can be used in kitchens, living rooms and bathrooms with great results.
What is Porcelain Wood Tile?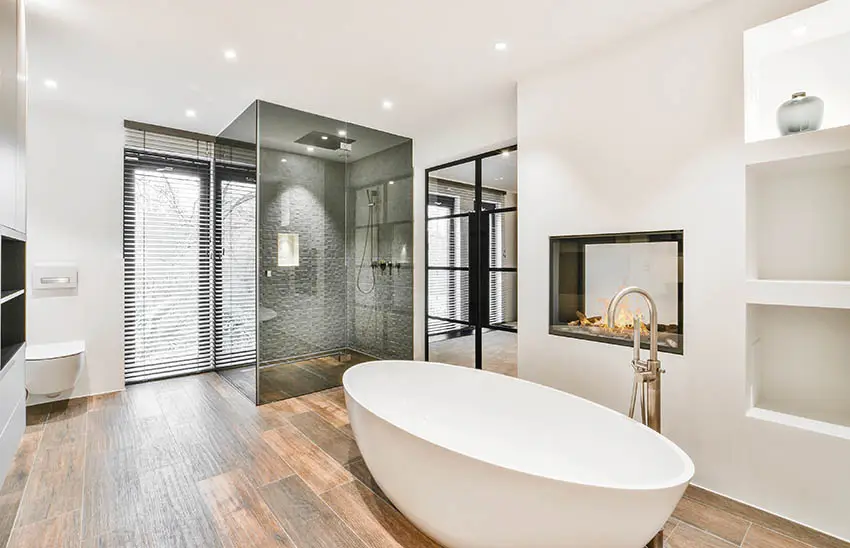 Like any type of porcelain tile, porcelain wood tiles are made from refined clay or feldspar that is dried and pressed to the shaped under incredibly high pressure and baked up to 2500 Fahrenheit.
The process leaves the tile less porous and removes moisture and water from the material. Since it is less porosity it is impervious to water and moisture damage.
Porcelain wood tiles have the usual properties of porcelain but simulate the look of the natural beauty of wooden tiles.
Porcelain tiles that look like wood are gorgeous and durable and are popular for both residential and commercial spaces. The hardwearing feature of porcelain and the wide design choices makes it a more versatile choice for any flooring tile patterns and styles owners are aiming for.
There are porcelain wood tiles that can even be used outdoors such as in swimming pools or gardens but make sure to check with the manufacturer for your porcelain tile suitability.
Although some manufacturers have their own non-standard sizes, most square tiles come in the following sizes: 2, 3, 4, 6, 8, 12, 16, 18, and 24 inches; most tiles made specifically for floors have 6 Larger sizes of inches and above.
If you're evaluating whether porcelain wood tiles are a viable option for your home or business, then its best to understand its following benefits and drawbacks. Here are the porcelain wood tile pros and cons starting with the pros.
Porcelain Wood Tile Pros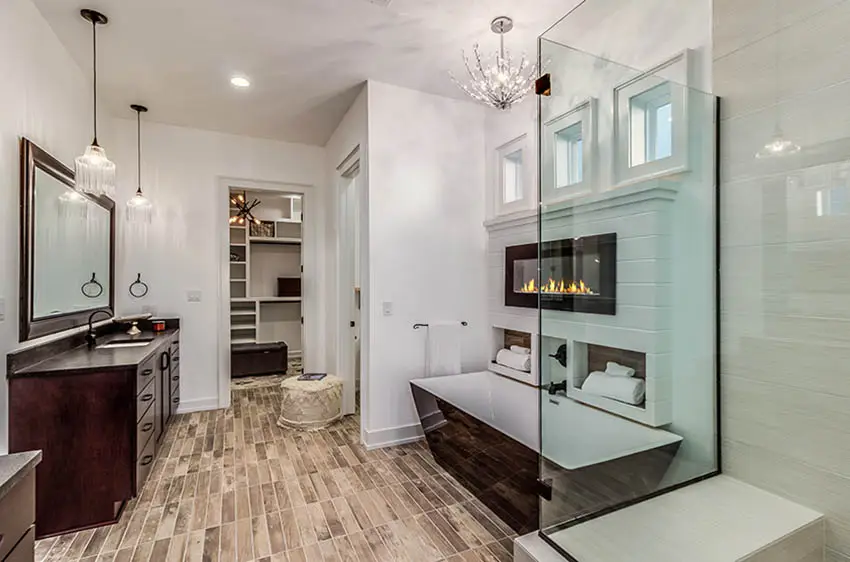 Tougher than most floor surfaces. Quality tiles that are treated and installed correctly can last on an average of 50 years and even more in a residential setting. Premium porcelain wood tiles can last as much as 75 to 100 years with proper installation.
Ideal for pet owners. Since porcelain tiles that look like wood are basically man-made stones you don't have to worry about splinters and other debris that can cause injury to your pets.
Better indoor air quality. Off-gassing from hardwood treatments can cause respiratory problems to occupants. With porcelain wooden tiles and with a low VOC content grouting you'll never have problems with air contaminants.
In addition, porcelain tiles do not harbor mold and are virtually easy to clean preventing dust build-up on your floors.
Wide range of flooring design options. There are many sizes and designs to choose from to match your desired look and you'll find that porcelain tiles are readily available locally.
Aside from color and size, you can choose the different degrees of gloss for your porcelain wood tile. Matte, glossy, semi-gloss, or high-gloss are the general types of surface finish for stone tiles.
Gorgeous and luxurious appeal. Wood floors have that unmatched appeal giving a warm and comfortable ambiance to space, and porcelain wood tiles capture that natural look.
Moreover, newly improved designs can give you more variations and natural-looking porcelain tiles that you may never be able to tell the difference between hardwood and porcelain wood tiles. Read more about the types of hardwood flooring here.
Tile that can be used outdoors. Ceramic and most other stone tiles can crack during freezing temperatures and other extreme conditions while Porcelain's impervious surface and with less porosity preventing water from seeping through.
For this reason, you'll find some manufacturers that provide porcelain wall tiles for outdoor use which can be installed on patios and swimming pool areas. Be sure to check with your manufacturer's specifications before deciding to install porcelain wooden tiles outdoors.
Low maintenance flooring. Regular maintenance of porcelain tile is easy by simply mopping and sweeping off the dirt. And unlike hardwood floors, you don't need the costly refinishing of your stone tiles to maintain their sheen.
You can also vacuum the tiles without any issues and is not sensitive to detergents and cleaning agents. But be sure to ask for cleaning and maintenance instructions from your supplier as not all porcelain tile products are equal.
Resistant to staining. High-quality and newly improved porcelain wood tile surfaces are virtually stain-resistant. This makes it ideal as a flooring material for kitchens and bathrooms. See more types of kitchen floor tiles here.
Cost-effective for homes & commercial spaces. Porcelain tiles may be costlier to install than other floor surfaces but it's a worthwhile investment especially for large commercial spaces. It's so easy to maintain and clean and can withstand high-traffic areas because of its high durability. And reduces the need for periodic resurfacing of floors.
Achieve a cohesive design. One of the problems with natural wood flooring is that you can't install them in bathrooms and other high-moisture areas. With porcelain wooden tiles you can install them virtually anywhere creating a more cohesive and unified flooring material. See more bathroom floor tile ideas here.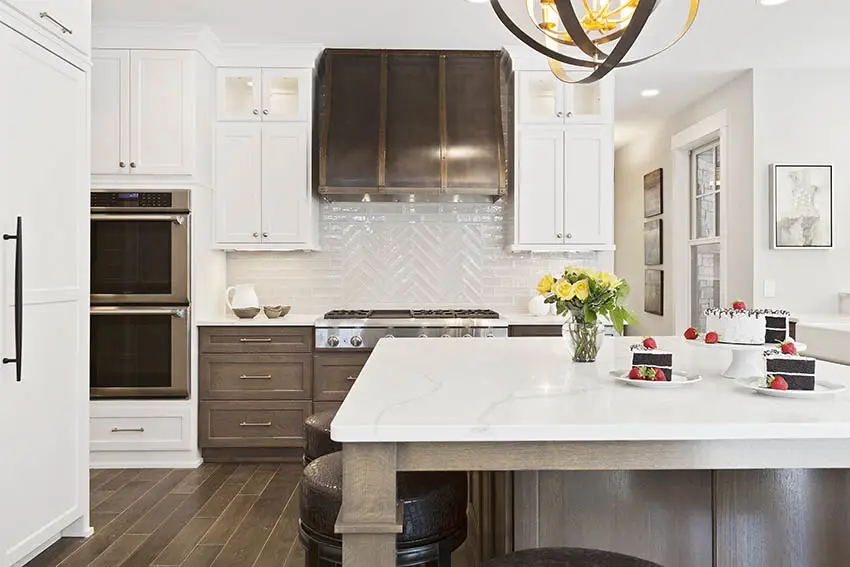 Porcelain Type Wood Tile Cons
Hard to replace tile once chipped. Though very durable, extreme circumstances will cause your porcelain wood tiles might chip off.
If this happens, it can be hard to fix the damaged tile especially if you had your porcelain tiles for many years as the same design or style may no longer be available. Unlike marble or granite where you can spot treat the damage.
Can be costly and hard to install. One of the porcelain wood tile pros and cons it can be relatively inexpensive to purchase but labor intensive to install and thus costlier. Unlike ceramic tiles, porcelain tiles, in general, are heavy and require special mortars and tools during installation.
Expect to have a labor-intensive and time-consuming installation. On top of these, you'll the labor cost can be higher than installing ceramic tiles.
Notoriously cold flooring. This is a number concern for homeowners as tiles will feel cold on bare feet and will also heat up quickly when subjected to direct sunlight.
Consider installing floor heating, not only does it keep your floors comfortably warm it also saves you from energy costs in the long run especially during winter.
Slippery surface. A downside of having a smooth surface is that it can get slippery especially when wet. To prevent this, consider adding tile glazing or anti-slip adhesive treads on trafficked areas.
You may also place area rugs on your porcelain tiles such as areas with changed levels or floor surfaces that are prone to having spills.
Tile grout can be stained. While porcelain wood tiles are stain-resistant, your grout in between the tiles is not immune to staining and chipping off. Best to use anti-stain additives on your grout to prevent unwanted stains.
Higher initial flooring costs. Expect to pay 60 to 70 percent more on material cost than ceramic tiles when installing porcelain wood tiles and on top of it are the higher labor cost for installation.
How Durable is Porcelain Type Tile That Looks Like Wood?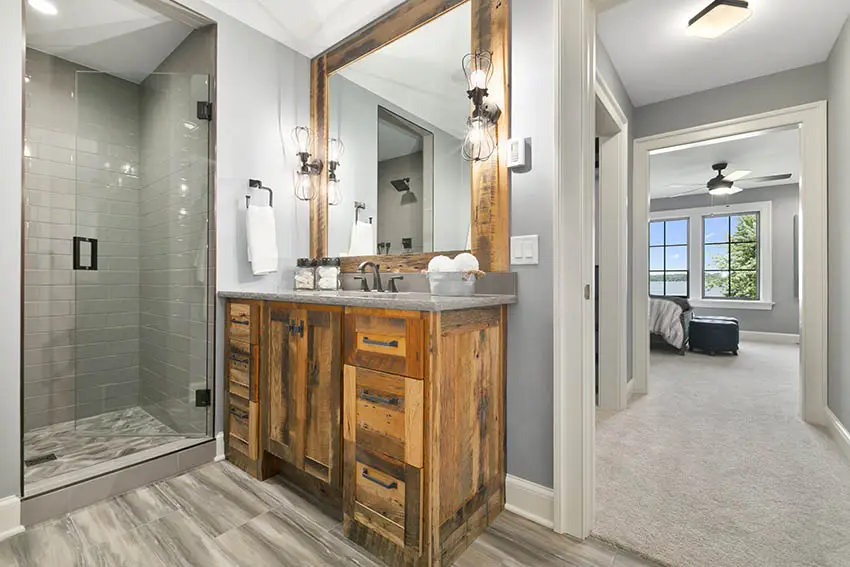 Porcelain wood tile is a tough and hard-wearing flooring because of its material makeup and manufacturing process due to its high density and reduced porosity.
Porcelain wood tiles are not only favorable for residential use but are also used in commercial applications with medium to high traffic areas.
As not all porcelain wood tiles are made equal, find a reputable line of porcelain tiles that have the PEI (Porcelain Enamel Institute) rating. A test recommended by the ASTM (American Society for Testing and Materials)
The rate ranges from Group 0 to Group 5 or PEI 5 starts from Group 0 which has the lowest rating and Group 5 has the highest durability rating.
Take note though that the following ratings only measure the tiles' strength and application and do not define the overall quality of the porcelain tile.
Does Porcelain Wood Tile Scratch?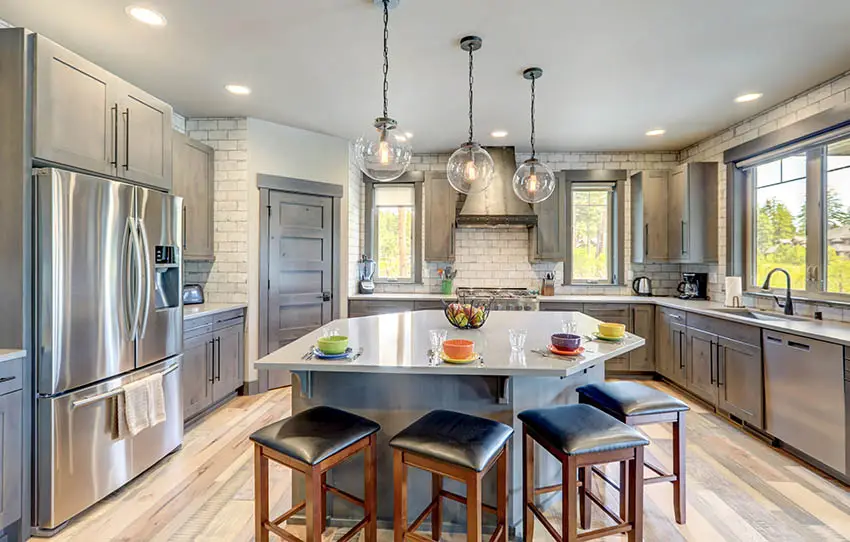 Compared to marble, ceramic, and granite, porcelain wood has one of the hardest surfaces because of its high density and heat-pressured manufacturing process. This makes a porcelain tile surface even more superior to granite which is one of the hardest materials.
Granite's Moh's hardness test shows the tile having around 6 to 6.5, while porcelain wooden tiles received a 7 to 8 average rating.
Another advantage of porcelain tiles is that you have a uniform color all throughout your tiles which even when scratched it won't match noticeable.
Does Porcelain Tile Crack Easily?
Porcelain wooden tiles is a very tough flooring material and it is unlikely to crack easily even under high traffic areas. But if cracks have suddenly shown on your flooring it may be a case of other underlying issues.
The most common reason for tile cracking is poor workmanship and substandard installation practices. Porcelain tile cracking can also be caused by extreme temperature changes as well as weak or unstable substrates.
Loading too much weight on your porcelain wood tiles can also cause hairline cracks on your porcelain tiles.
Which is Better Ceramic or Porcelain Wood Look Tile?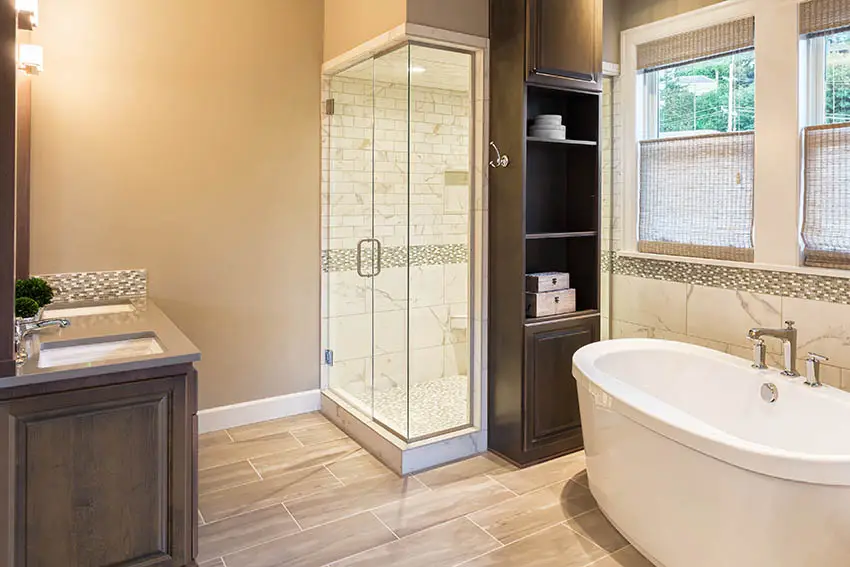 Ceramic and porcelain wood tiles can look similar on the onset and both offer a durable surface as long as the tile is glazed.
The advantage of porcelain over ceramic tiles is that it is denser, water-resistant, and does not show imperfections easily as the surface color is similar underneath the tile. The advantage though of ceramic tiles is that they are more affordable than porcelain.
Both porcelain and ceramic wood tiles are more affordable compared to most tiling materials but since pricing depends heavily on the density of material porcelain is more expensive than ceramic. You'll spend around 60 to 70 percent less if you choose ceramic tiles over porcelain.
What do you think of these porcelain wood tile pros and cons? Is there anything we missed, If so let us know in the comments. For another related article visit our types of bathroom tiles gallery.