Here are the backsplash to ceiling guide pros and cons with different design styles, benefits for kitchens and bathrooms, best tile ideas, and materials to use.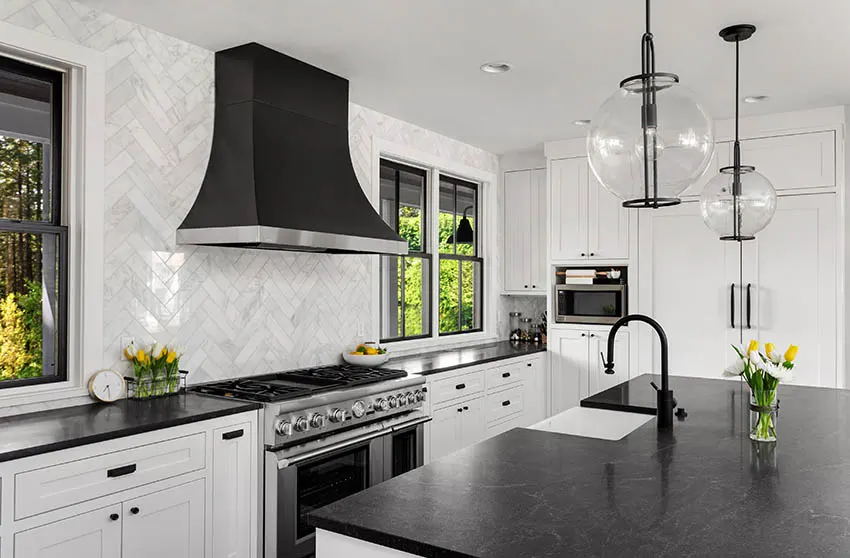 A backsplash, a panel behind your kitchen stove or sink, is an important part of any kitchen design – be it traditional or modern. One modern and popular design trend for kitchen backsplashes, however, is a backsplash to ceiling.
A backsplash is a swath of material, usually tile, that covers the area behind a kitchen stove or sink. The purpose of a backsplash is to provide an easy-to-clean surface so that any splatters or splashes, be they from cooking oil or soapy water, hit the backsplash and not mark or mar your kitchen wallpaper or paint.
Though backsplashes are commonly found in a kitchen, you may find some homes with backsplashes in the bathroom as well. Bathroom backsplashes are usually over the sink or countertop area.
In this post, we're going to talk about the pros and cons of having a backsplash to ceiling, why is this type of backsplash popular and help you determine if this is the backsplash type that you need in your kitchen or bathroom.
Should My Backsplash Go To The Ceiling?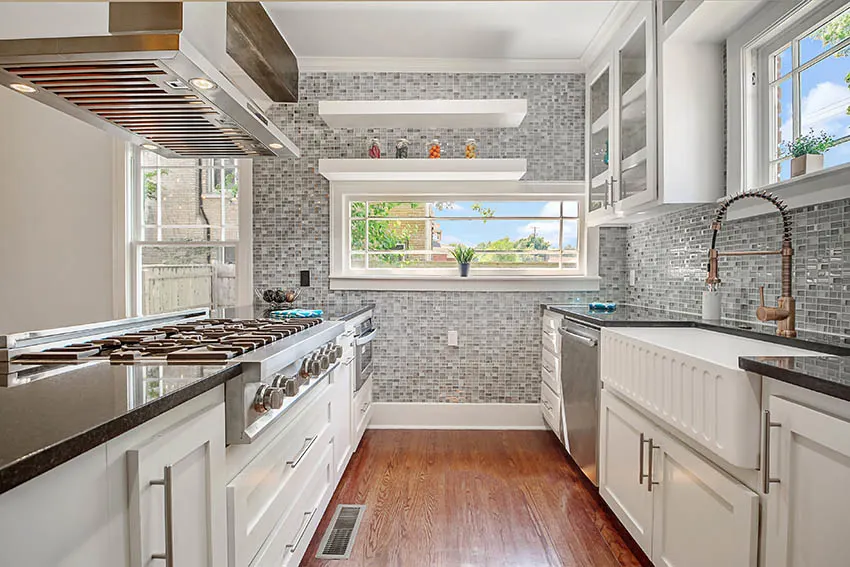 Most backsplashes don't go to the ceiling, they usually extend only about 4-inches or a few feet at the most. So, you might be wondering then, should my backsplash go to the ceiling?
A backsplash connecting to most ceiling design types is when you extend the backsplash material to reach the ceiling. A backsplash doesn't have to go to the ceiling, but it can. In most cases, a backsplash that extends that high is a decorative element that can draw the eye.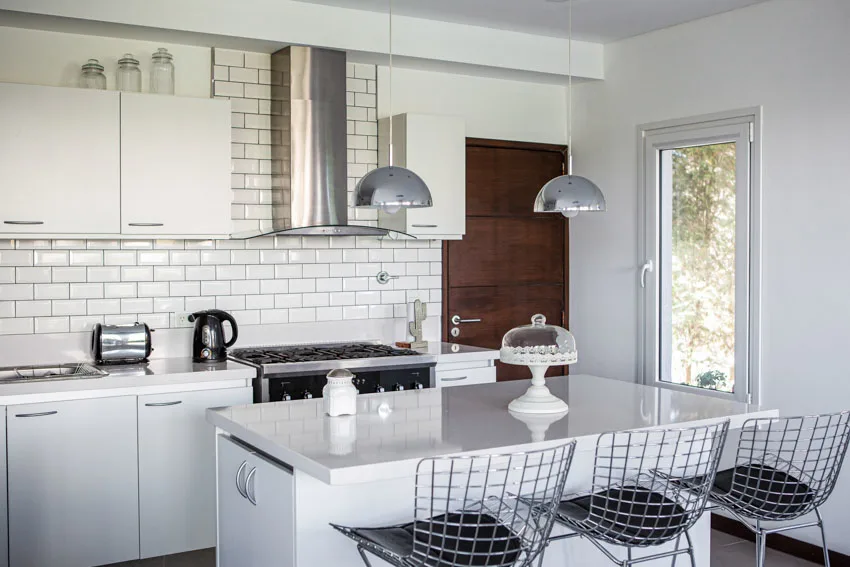 Should your backsplash go to the ceiling? If you have the space and the budget for it, why not. It's not really necessary to protect your kitchen or bathroom walls but it will provide you with a unique and memorable looking space.
Pros Of Backsplash To Ceiling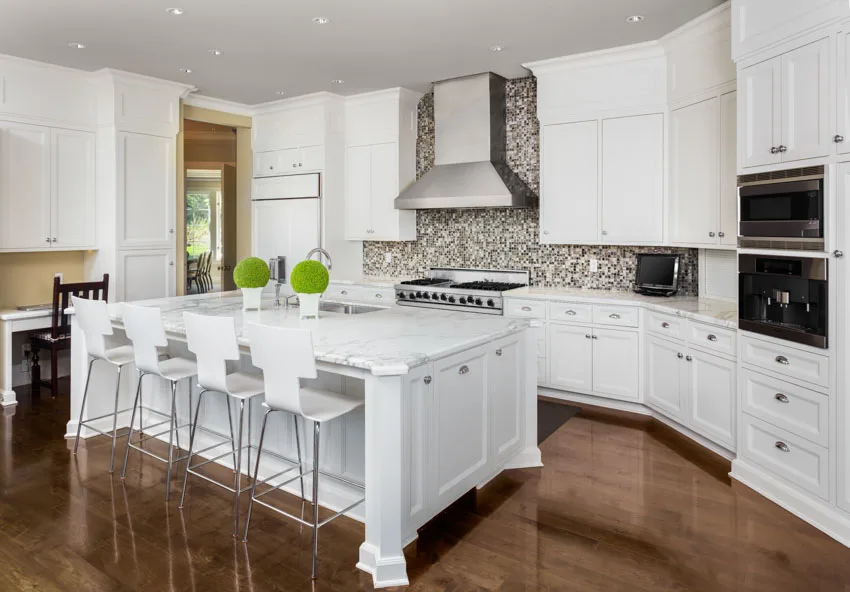 Here we share the pros of installing a backsplash that goes all the way to the ceiling.
• Adds a focal point: The biggest pro of a backsplash to ceiling is that it makes the space look more interesting. A backsplash to the ceiling is a nice decorative piece that can draw the eye and serve as a memorable focal piece for visitors entering your kitchen or bathroom.
• Make the space look larger: Having a backsplash to ceiling can also make your kitchen or bathroom look and feel roomier.
• Make the ceiling feel higher:– A tall backsplash can draw eyes up to the wall and make the entire room seem taller. It's a great way to either maximize the effect of a high ceiling or create the illusion of a high ceiling to make the space look lighter and airier.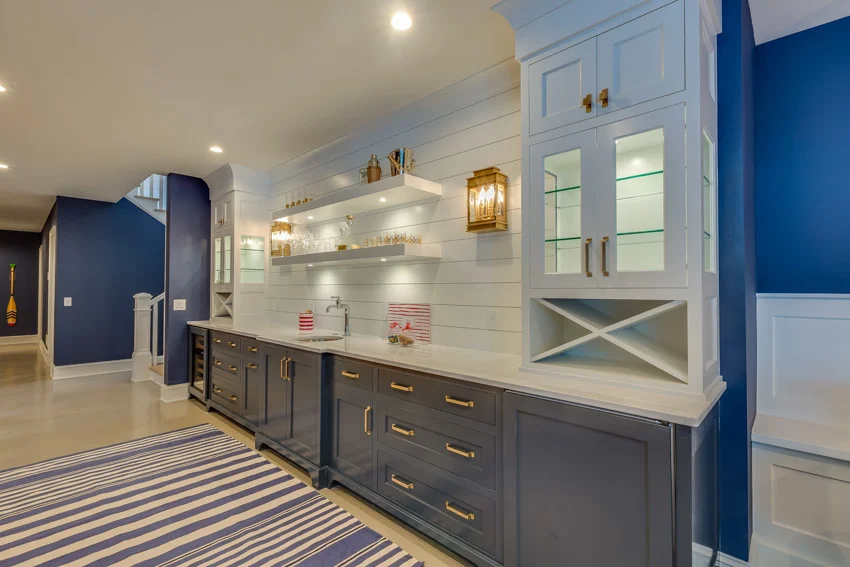 • Can protect the walls and make cleaning easier: A backsplash behind a stove or sink that gets a lot of food or grease splashes can benefit from higher tile layout. This can cut down on cleaning time and save the walls from staining and extra maintenance.
• Visually interesting design feature: The extended space afforded by a backsplash to ceiling can allow you to really get creative. It gives you more space to play around with decorative touches such as tiles with intricate patterns or textures.
If you want to create a mosaic tile backsplash, the space afforded by a backsplash to ceiling will allow you to create a truly arresting design.
Cons Of Backsplash To Ceiling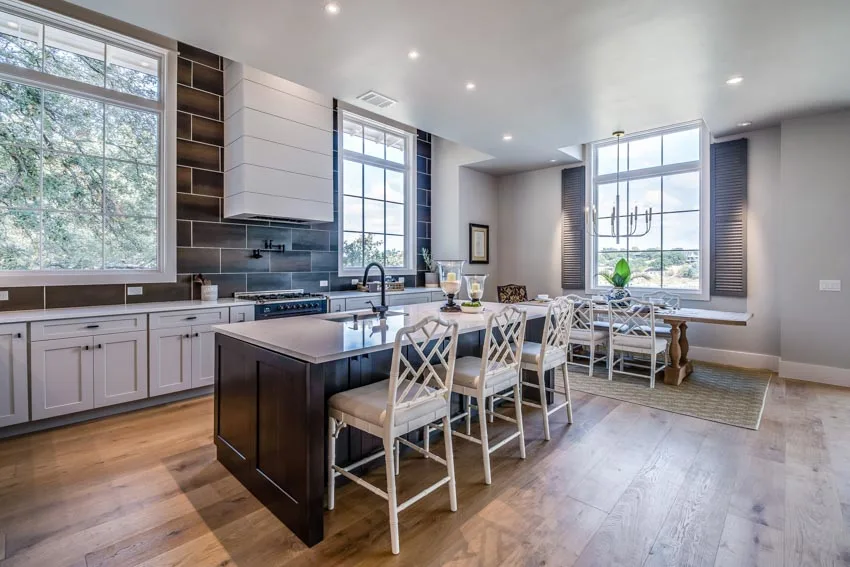 There are two major cons of the backsplash to ceilings. First, it can make a space seem small or cramped and, secondly, it could bring up the cost of your kitchen or bathroom renovation project.
• May make a small kitchen feel cramped: Not every kitchen or bathroom wall will have enough space for it to make sense to extend your backsplash to your ceiling.
Also, if you have low ceilings, extending your backsplash to meet it might make the space seem more cramped. Especially if you want an elaborately patterned backsplash.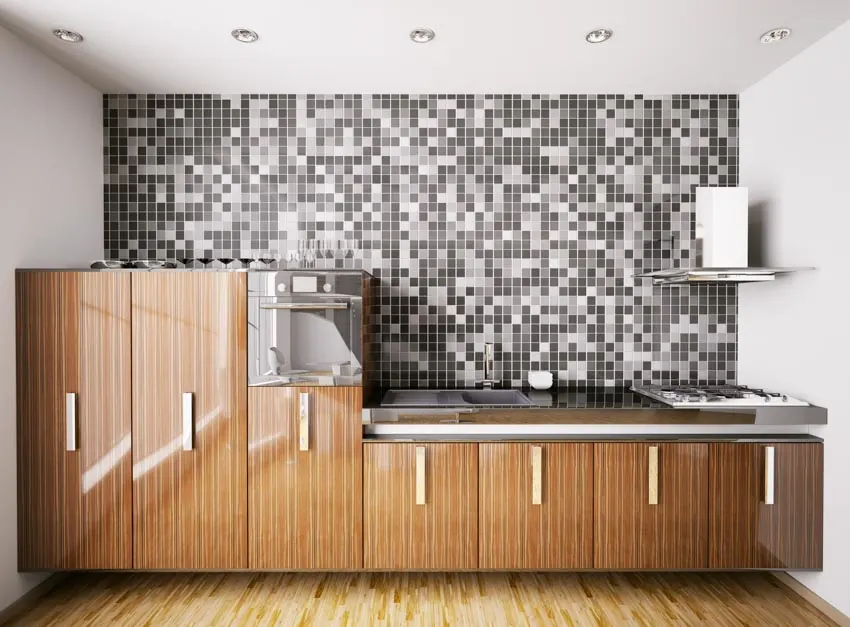 • Requires more tiles or materials: Extending a backsplash to the ceiling, as opposed to just a few feet over the counter, will also require more tiles or other backsplash material.
Because more square foot of wall needs to be covered to create a backsplash to ceiling, it will require more material and labor. This means that backsplashes that extend to a ceiling are really a bit more expensive to install.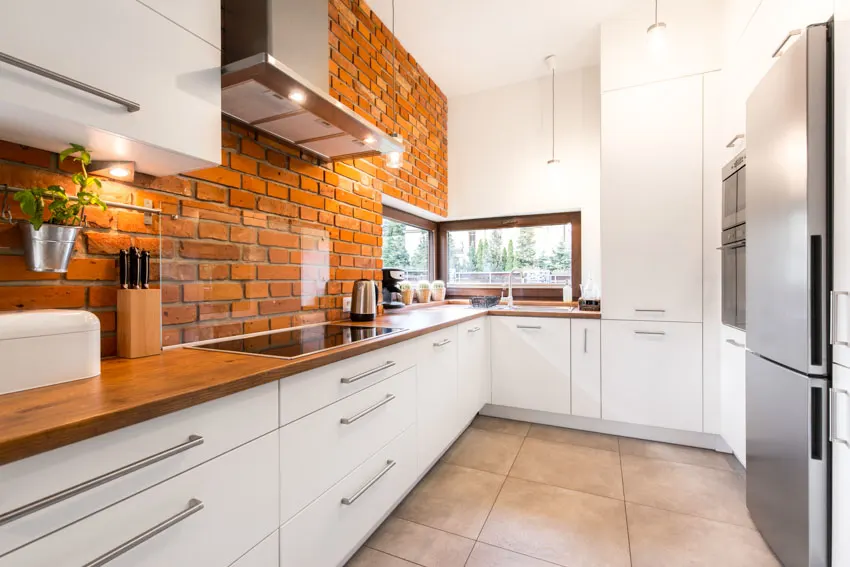 • More surface area to clean: Finally, you need to consider the fact that, since a backsplash to ceiling covers a bigger area, it also is a bigger cleaning job. You are going to have to spend more time, and use more cleaning materials to wipe down this backsplash.
Depending on the height of your wall, you might even need to utilize a step ladder if you truly want to get your backsplash clean.
Should You Tile To The Ceiling In A Kitchen?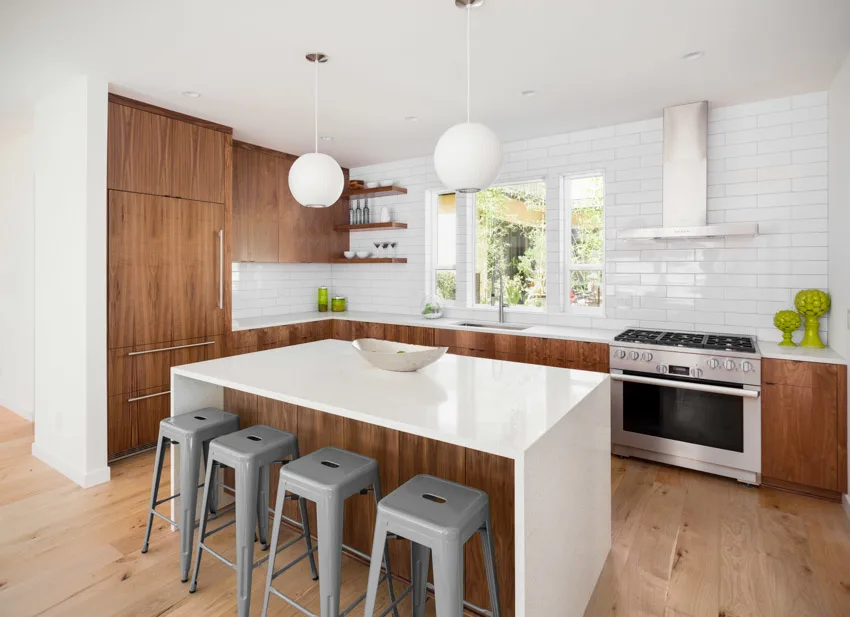 Given the pros and cons of the backsplash to ceiling, you might be wondering then, should you tile to the ceiling in a kitchen?
One of the biggest reasons to go for these types of kitchen backsplash is also one of the biggest pros to tiling to the ceiling in a kitchen – it provides a surface that is easy to clean from grease and oil splatter. It protects your kitchen wallpaper or wall paint from damage.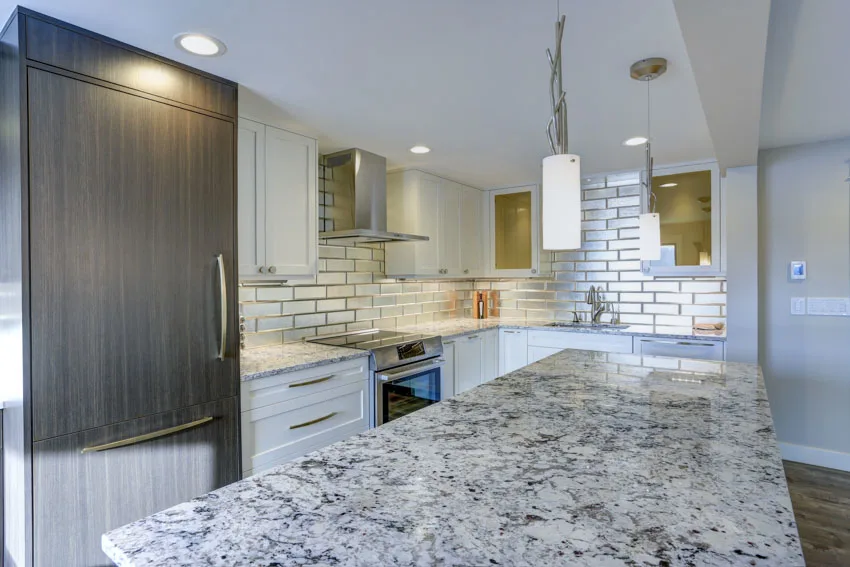 Another reason to tile the ceiling in a kitchen is to add height and depth to the room. It can also highlight certain architectural features, provide a nice contrast and make them stand out.
Adding different color grout in between the tile can also add contrast and visual interest. The kitchen above features gray grout subway tile for the ceiling backsplash.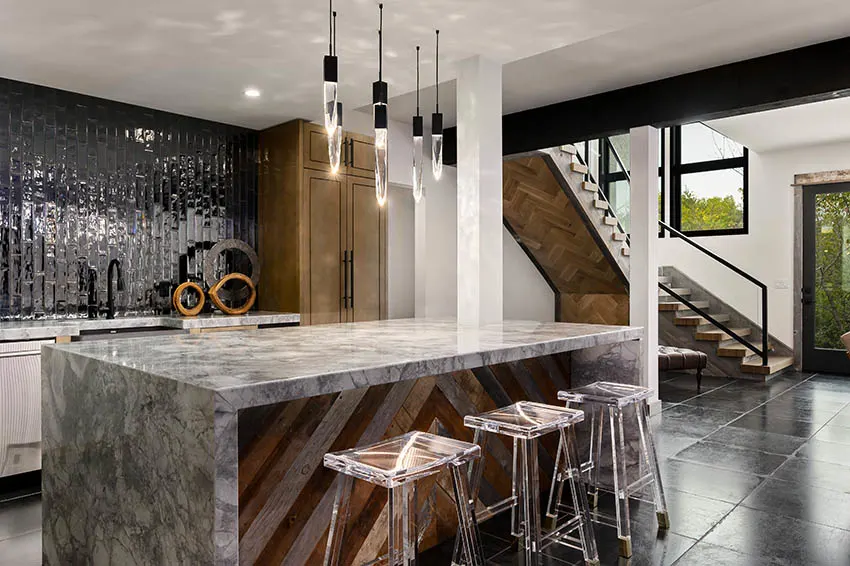 The color of the tile in a backsplash that extends to the ceiling can also help you create the mood you want for your kitchen. If you use a dark tile color, it will add depth to the room, while a light-colored tile increases the natural light in the room.
Changing the orientation of your tile can also have an effect on the look and feel of the design. A vertical tile layout can help the ceiling appear higher than it is.
Should You Tile To The Ceiling In A Bathroom?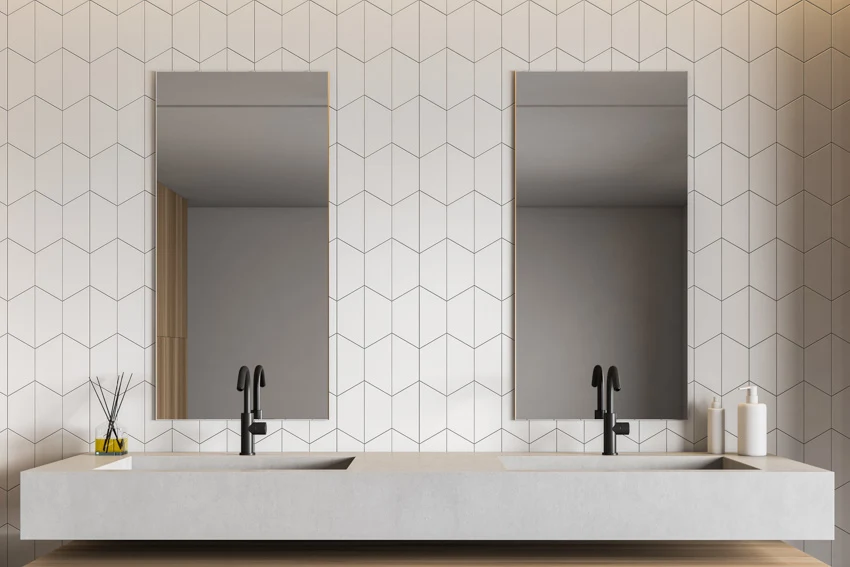 Backsplashes can also be a nice decorative touch to add to the bathroom, and you might also be wondering, should you tile to the ceiling in a bathroom?
It depends on your bathroom and the effect that you want to create. In a small bathroom, a backsplash to the ceiling can add height to your walls and make the area feel roomier. It can also serve as a point of interest that can spruce up an otherwise plain bathroom and make it feel special.
A bathroom tile backsplash also protects your walls from moisture and can prevent watermarks. So a backsplash to the ceiling can be advantageous in a high-traffic bathroom. See more fully tiled bathroom wall ideas here.

Should Subway Tile Go All The Way To Ceiling?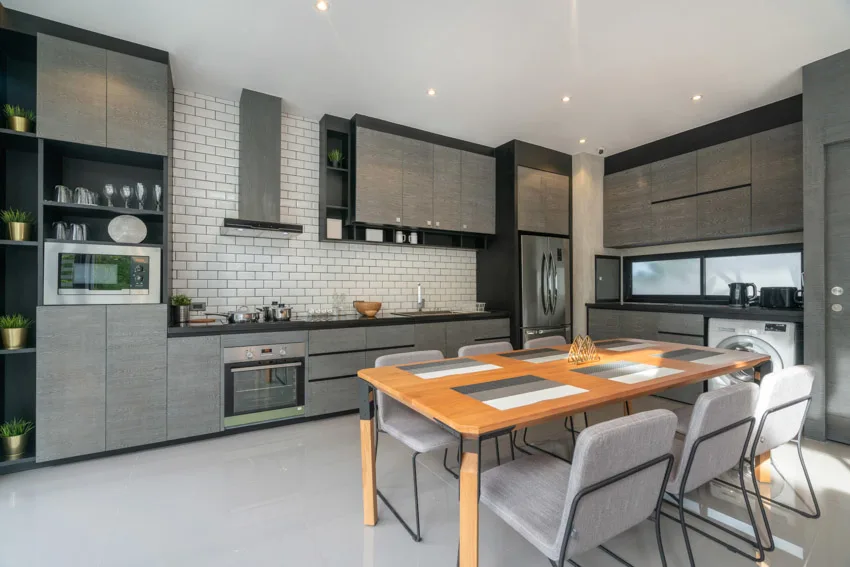 Subway tile is a type of rectangular, ceramic tile, that you can use to create a kitchen or bathroom backsplash. These tiles are very versatile and will go well in almost any room design style.
You can easily find and install subway tile bathroom or kitchen backsplash. You might be wondering, should subway tile go all the way to the ceiling? The answer is, yes. Subway tile can easily be used to create a backsplash to ceiling.
What Are The Best Materials For A Full Wall Backsplash?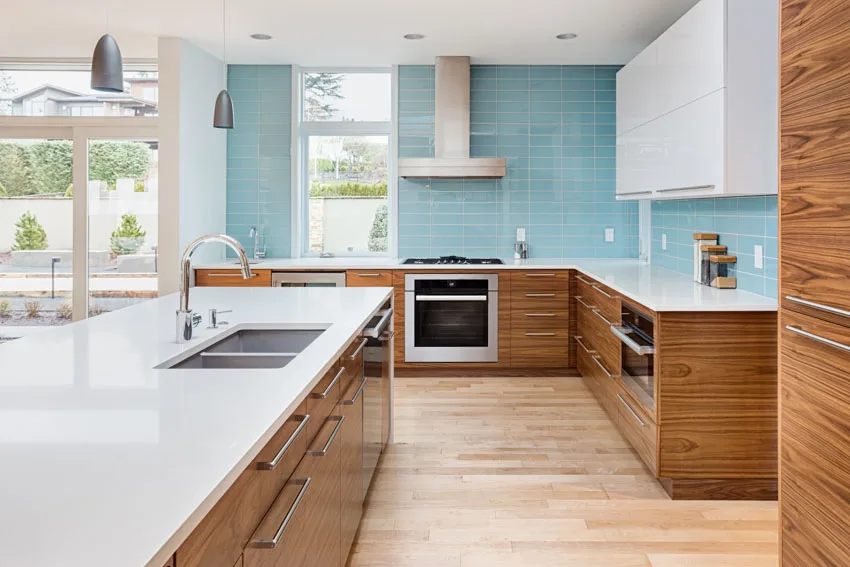 The best material for a full wall backsplash is one that is water-resistant and easy to clean. Ideally, your backsplash protects your wall from water damage and is easy to wipe clean. It should also be relatively lightweight and easy to install.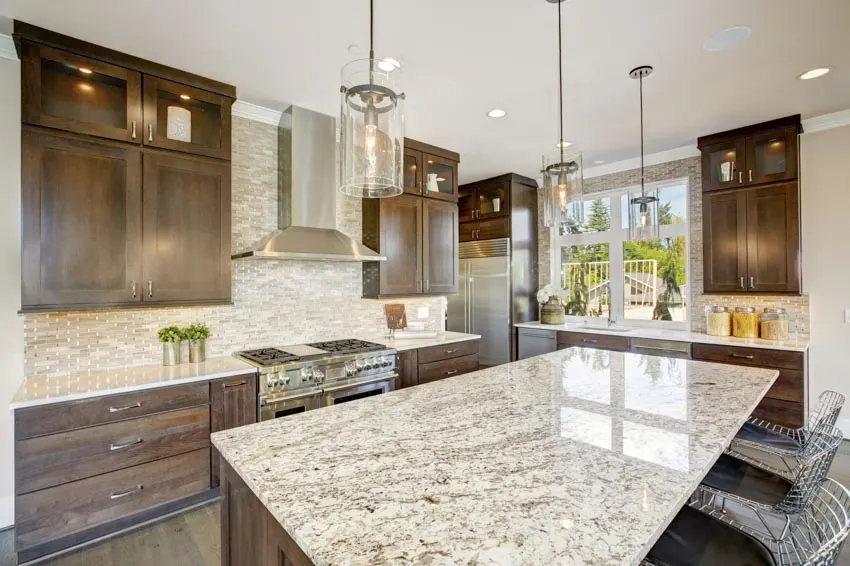 Ceramic and porcelain are common yet attractive options that come in a variety of colors, patterns, and even textures. Most backsplashes are made of ceramic or porcelain tile, but you have a whole range of tile materials you can choose from.
Stone materials such as granite, quartz, slate, and marble are popular choices that look beautiful and are durable.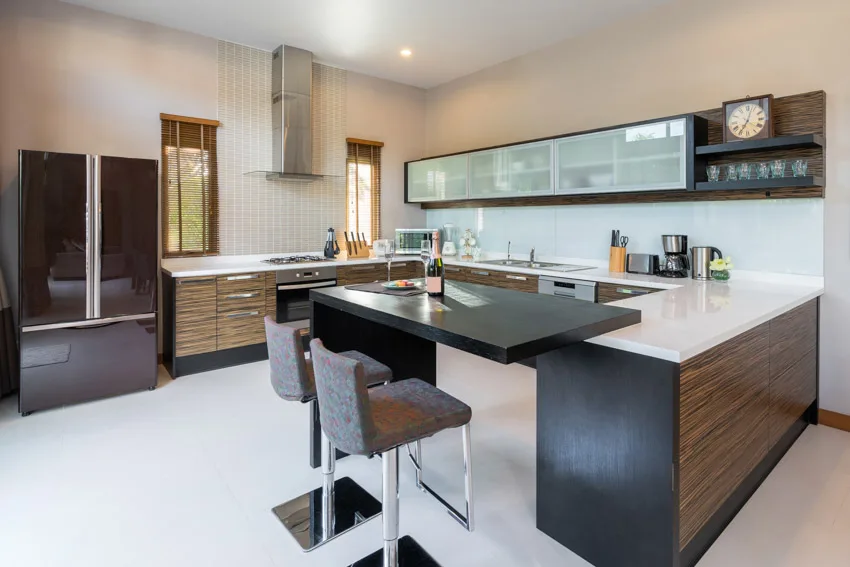 Glass and metal tiles are also growing in popularity for modern kitchen or bathroom designs. See the most popular types of bathroom tiles here.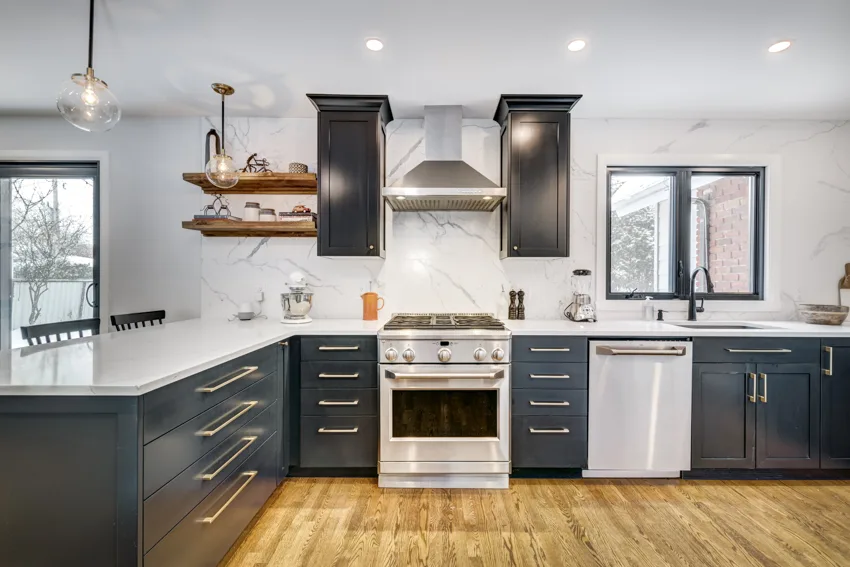 Natural stone, such as marble, is also sometimes used for backsplashes, however, this heavy material might be difficult to work with for a full wall backsplash.
They might also be difficult to maintain as they are porous. You will want to make sure they are sealed and have them resealed regularly to prevent staining.
You can also use laminate countertop materials to create a backsplash. One advantage to this type of backsplash material is, they are seamless, which makes them easier to keep clean. They are also very cheap and easy to install.
See more related content in our article about full height quartz backsplash on this page.