Here's our fully tiled bathroom walls guide with their pros and cons, cost and differences between full and halfway tiled bathroom walls to help you choose the best design for your home.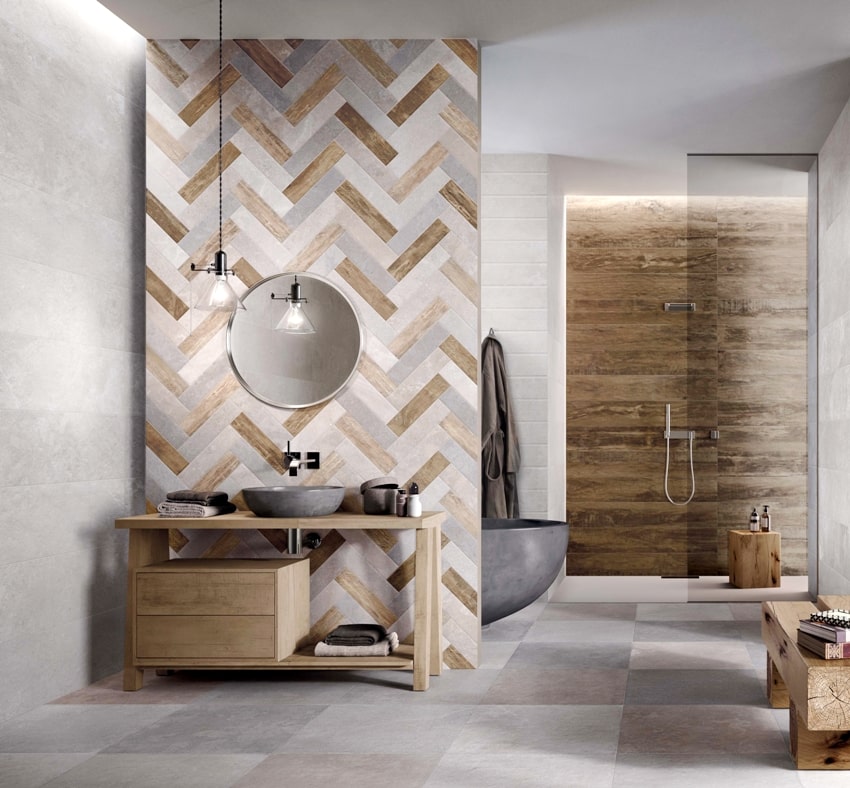 Tiled bathrooms are regarded as classic and it's not a surprise considering it makes the bathroom looks cleaner and lighter. There are different kinds of tiles you can try out, as well as a variety of designs to choose from.
It can be stressful if you have to start with zero knowledge of tiled bathrooms. This is the chance to know more about a full tile wall design.
Tile Entire Bathroom Pros and Cons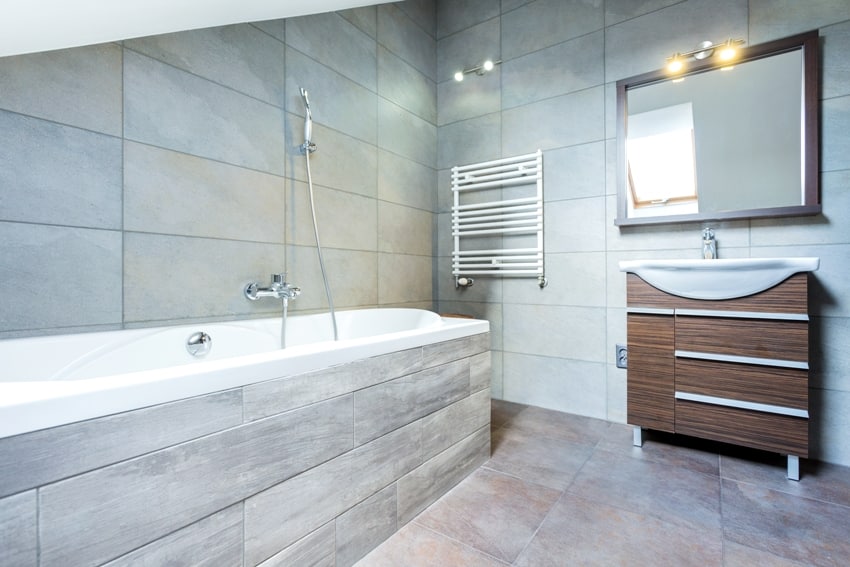 Are you planning to get your bathroom walls tiled but you don't know if it's the right thing to do? One thing that can help you make a decision is by weighing its pros and cons.
In knowing the benefits you can get and the possible problems you may encounter, you will have a better grasp of what you need and can handle.
Here are the pros and cons you can expect from choosing to fully tile your bathroom walls.
Pros of Fully Tiled Bathroom Walls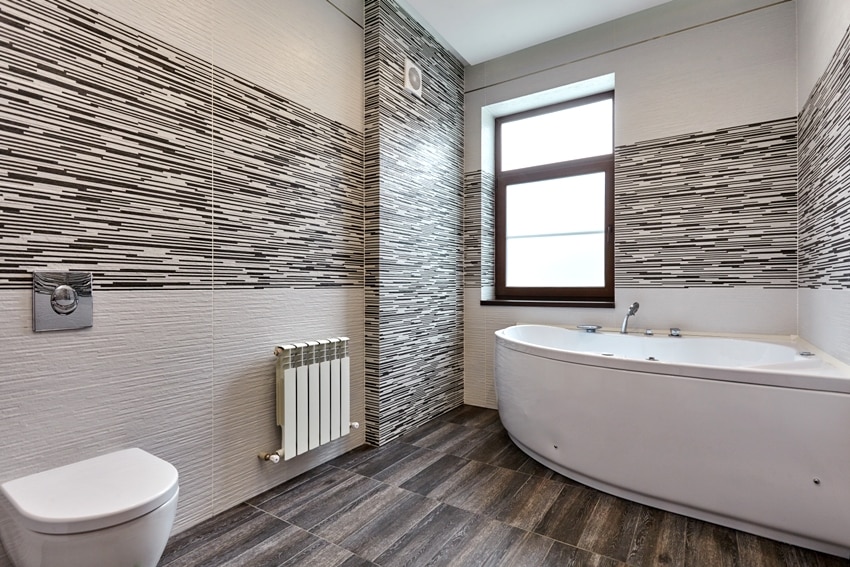 Fully tiled bathroom walls have several advantages you can benefit from. Here are some of these benefits:
Durable – tiles are durable and when you use a good quality one with an excellent quality installation and good maintenance, your tiled walls can last up to 20 years.
Cost-effective – tiling is an affordable option you can have for your bathroom wall, especially since it is cheaper than hardwood flooring. There are also cheaper materials available you can use and you can save money on other costs like skimming and painting.
Water-resistant – tiles are water-resistant, which makes them perfect to be used in your bathroom walls.
Flexible and Unique Designs – there are abundant tile designs available for your picking, as well as tiles with different shapes, textures, and colors! Check our gallery of modern bathroom design ideas.
Makes the room look spacious – bathrooms are smaller than other rooms in the home so installing something that will make it feel bigger is always a good option. Read more about small bathroom ideas here.
Easy Maintenance – tiles are easy to clean and maintain so if you have fully tiled bathroom walls, you won't have to spend too much or exert effort on them. A vacuum, wet cloth, and a broom will do.
Cons of Fully tiled Bathroom Walls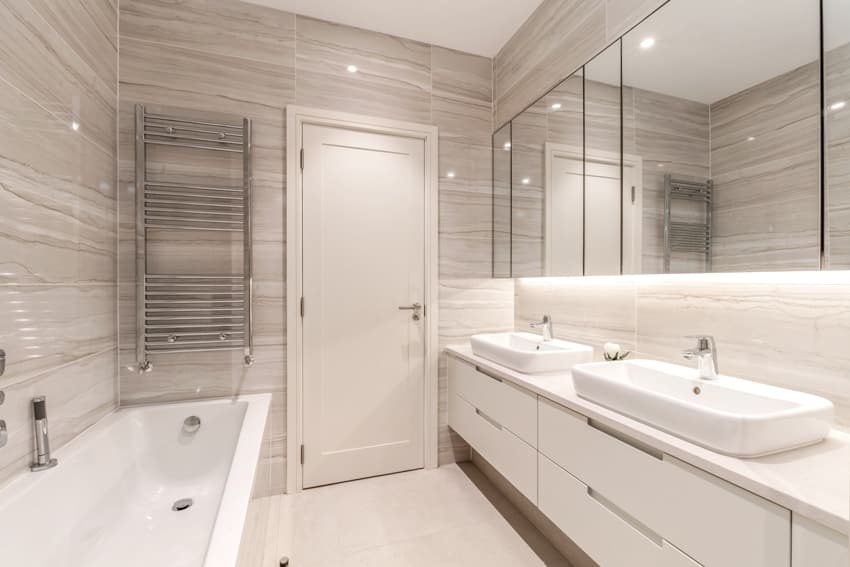 Once you choose to have fully tiled bathroom walls, there are some of the disadvantages you can expect.
Cold – tiles do not hold onto heat well so during winter it can be quite cold. This won't be that much of a problem if you choose to have fully tiled bathroom floors rather than tiled flooring.
Imbalance – when not properly installed, the tiling job can be easily imbalanced in certain areas so it's important to make sure that everything is in place.
Hard and Slippery – tiles are naturally hard and they can get slippery when you stand on tiled flooring. With fully tiled bathroom walls, this won't be much of a problem.
Heavy – if your bathroom is on the upper floors, make sure that the structure can handle the weight of the tiles you're about to install. Tiles are heavy and so can put extra stress on the structure.
Expensive Overhaul – renovating will require you to take out and replace everything, and this can be very expensive.
Why Tile Bathroom Walls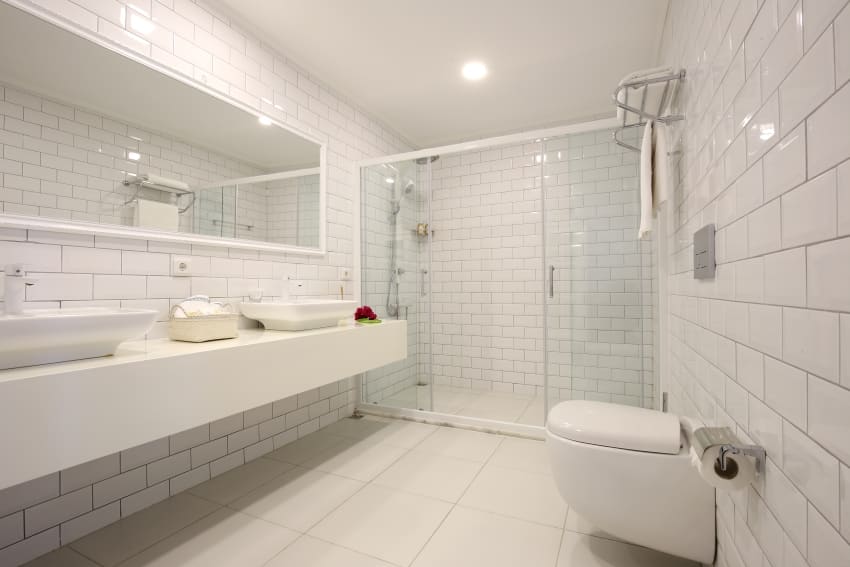 After learning more about the pros and cons you can get from choosing fully tiled bathroom walls, have you decided on what to do? If you're still unsure about choosing tile bathroom walls, here are the reasons you can also consider.
1. Tiles allow light to bounce, which will make your bathroom look brighter and wider
2. Choosing fully tiled bathroom walls means cutting material cost if you choose other wall options
3. Partially tiled bathroom walls normally have mold problems, which you won't have to experience with fully tiled bathroom walls. And this can be an annoying problem considering bathrooms are almost always wet and moist.
Fully Tiled Bathroom Designs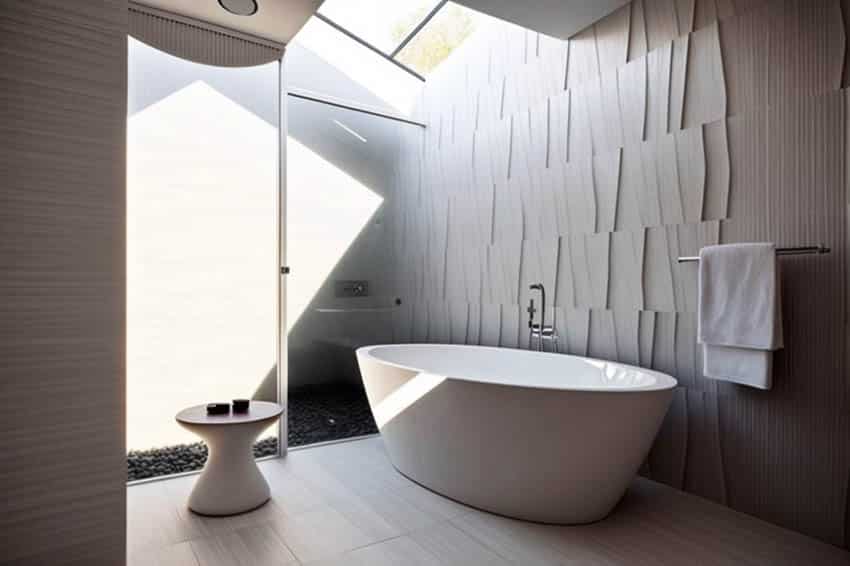 Tiles are a timeless choice for bathroom designs not only because they are much more water-resistant than drywall or plaster, but tiling your bathroom makes a dramatic statement. Deciding whether a bathroom should be fully tiled is a personal style preference.
A fully tiled bathroom is a contemporary trend found mostly in luxury homes and homeowners love the cohesive look of fully tiled walls.
Some of the key benefits of having fully tiled bathroom walls are that tiles have water-resistant qualities which create a waterproof barrier and protect the drywall from moisture.
The surface of tiles is easy to clean and maintain in wet environments such as the bathroom where mold and mildew can grow easily.
Tiles conduct heat much better and retain heat more than other materials making them a perfect match for radiant heating. Ceramic and stone tiles are ideal for radiant heating since it keeps cool in the summer and warm in the winter.
If maintained properly, ceramic tiles can last for 75 years or more while stone tiles can last for over a hundred years because tiles are exceptionally durable and extremely hard material.
A fully tiled bathroom offers a high cost-effectiveness since you actually pay less over time because tiles last longer and don't need to be replaced often. Using natural ceramic and stone tiles doesn't give off VOCs that can pollute the air and can be harmful to health.
Since tiles come in a wide variety of colors and styles, the possibility of creating modern customized designs is limitless. The seamless finish that tiles bring adds an aesthetic appeal to the bathroom and incorporating a unique blend of tiles is like having a work of art in your home.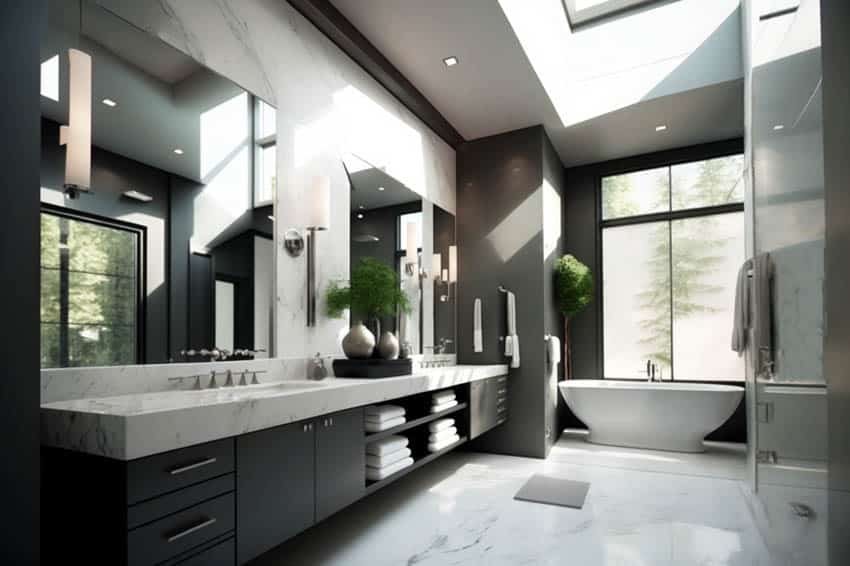 While full tiles offer an exquisite aesthetic to the bathroom, there are also some significant disadvantages.
The first factor is the cost implication of having a full-tiled bathroom, tile installation requires a lot of work preparations, the cost of tile product, and all other additional materials needed in the installation.
As mentioned, it's easy to wipe down and clean the surface of the tiles; however, since the grout is porous cleaning is tedious and requires extra maintenance.
Moisture, soap scum, and mineral deposits get trapped in the grout and molds begin to grow which eventually causes stains and damage. To avoid this, the grout must be sealed once or twice every year which costs more time and money.
Bathroom walls must be completely leveled before tiles can be installed, otherwise, it can be difficult to repair any breakage and there is a possibility that you might have to replace an entire section. Also, keep in mind that tiles are fragile and lightweight materials that easily break upon impact.
On the other hand, decorating a half-tiled bathroom will be more economical since there are fewer tiles needed and installation will take less time which means less labor cost.
Also, since a half-tiled bathroom covers a smaller area, you can choose premium tiles that create a focal point. Choosing half-tiled bathroom walls would mean having more upper wall space to decorate and hang mirrors and other accessories such as shelves and rails.
There will also be lesser grout to keep clean and maintain. The half-tiled bathroom is a timeless décor option that gives you more room to express creativity by incorporating other finishing options such as combining tiles with paint colors, wallpaper, and other cladding materials.
Fully Tiled Bathroom Cost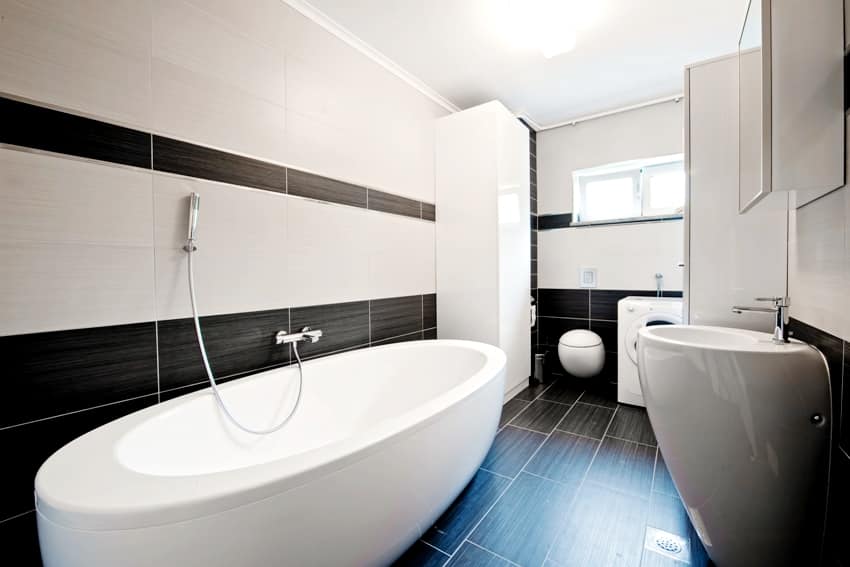 Another element that should be discussed before you dive in deep to fully tiled bathroom walls is cost.
Tiles can be affordable but like all project materials, the cost is highly affected by the specific materials used. If you choose tiles with higher quality, expect higher cost.
If you choose lower-end tiles, expect lower cost. See the popular types of bathroom tiles here.
The good thing is that there's always a middle ground. Find the material that fits your budget and your vision of what you want your bathroom walls to be.
To be specific with the cost though, the average cost is $12.50 per square foot (including the materials and the labor). The entire project can range from $450 to $10,000.
This can change depending on how big your bathroom is, what tile you choose to install, and how long it took to complete the tiling.
The cost of the labor is between $600 and $800 so if you know how to install the tiles, this can save you a lot of money.
Whatever you decide on though, make sure you have enough budget before you start the project. And don't forget to shop for prices of the different tiles to help you budget your money!
A Fully Tiled Bathroom Wall Vs Half Way Tiled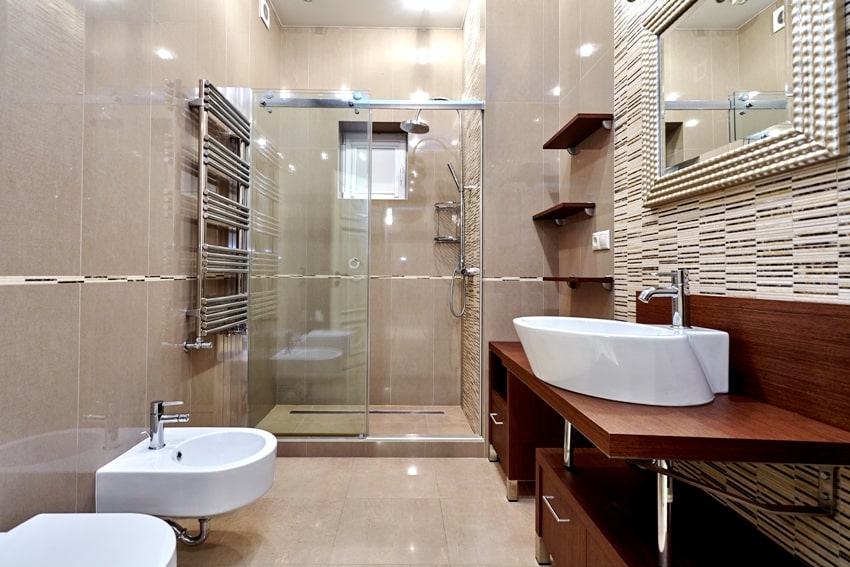 Before you start shopping for tiles, make sure that your decision is final. It will be a lot harder if you're already in the middle of the project and you suddenly decide to just go for halfway tiled bathroom walls.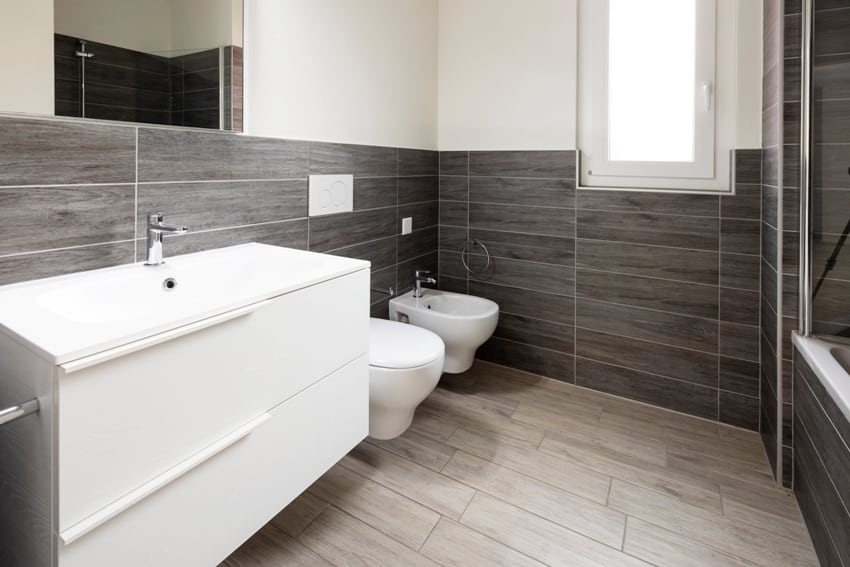 Here are the differences between a fully tiled bathroom wall and a halfway tile bathroom wall. Hopefully, this can help you make up your mind.
| | |
| --- | --- |
| Fully Tiled Bathroom Walls | Halfway Tiled Bathroom Walls |
| Easy Maintenance | Possible Mold Problem |
| Restricted to Choice of tiles | Flexible Decoration Options |
| Less Material Cost (Painting, skirting, etc.) | Skirting Boards Required |
| Expensive Overhaul | Affordable/Inexpensive Renovation |
| No Decorations Needed except Tiling | Possible Imbalanced Design & Style |
| Difficult to Fit Shelves | Flexible to Accommodate Decor/Accessories |
| Increased Tiling Costs | Option to Choose Premium Tiles (Smaller Area Coverage |
| Creates Spacious Feel | Bathroom Size As Is |
In conclusion, whether you opt for a fully-tiled or half-tiled bathroom, tiles are the best finishing material due to their wide variety of colors and textures which makes any design possible. Tiles are durable and long-lasting as well as environmentally friendly, moisture-resistant, and clean up easily.
Choosing whether to have fully tiled or halfway tiled bathroom walls depends on you. With this information at hand though, it won't be as stressful as not knowing anything at all.
Make sure to weigh your options and consider all elements that can help you! You can also visit our guide to the best tile for shower walls for more ideas.