Here we share double shower ideas (his and her showers) including design tips, materials to use, and things to consider when you decide to install a large walk-in shower.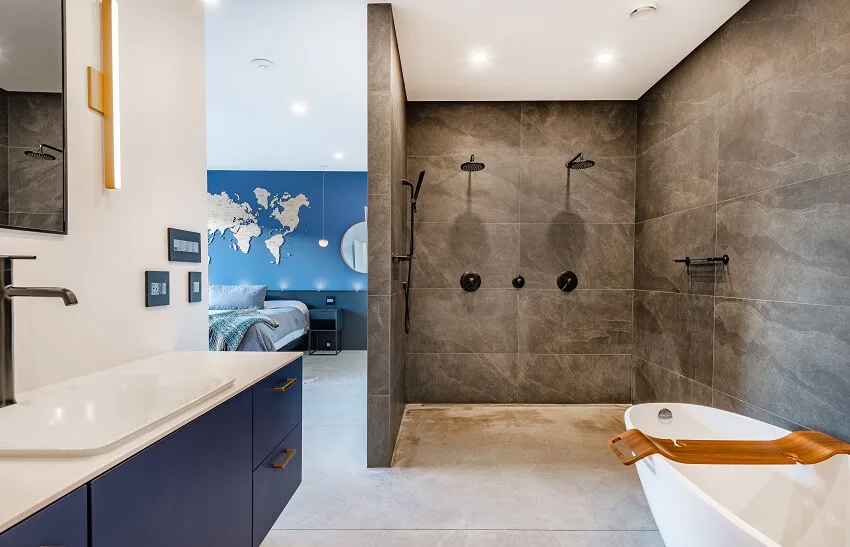 Have you ever been in a rush to prepare for the day, shower, and go to work but your significant other is still using the bath? We've all been there! Waiting for him (or her!) to go out so that you can take your turn that you end up getting late or getting annoyed. The solution to this problem is a double shower.
If you are in the process of re-decorating your bathroom, installing a double shower is a good idea to consider. The vital thing about choosing a double shower is to be sure that both you and your partner prefer a shower to a bathtub, especially if you don't have enough space in your bathroom to have 2 showers and a tub. If your bathroom is spacious enough then this won't be a problem.
Let's start with defining what double bathroom showers are. From there, we'll provide a selection of ideas you can choose from.
What Is A Double Shower Bathroom?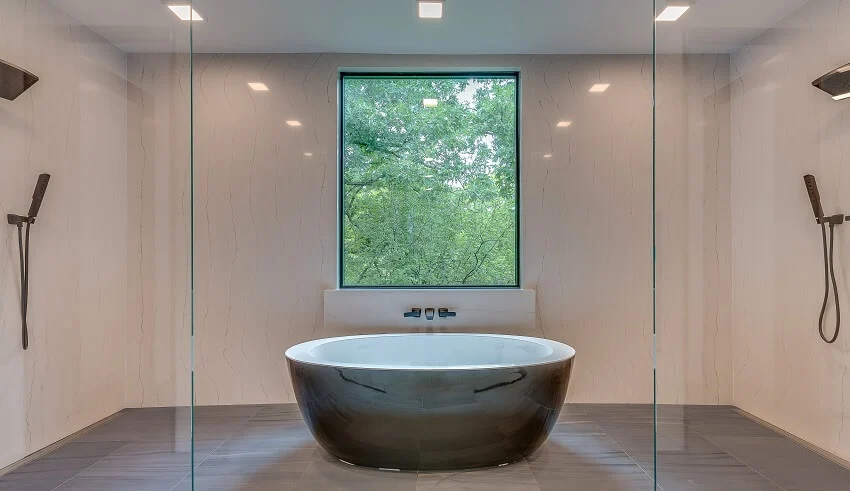 A double shower bathroom simply refers to a bathroom with two showers, plain and simple. It offers enough space for two people to take a shower at the same time or whenever they feel like it. More than that, it can also add to the bathroom's aesthetics.
If you want your own double shower bathroom, it's either you are just starting its construction or you would have to conduct a full bathroom renovation just to make it feasible.
The size of the bathroom is a priority with a double shower concept, considering you would have to integrate two shower heads and allow enough space to accommodate 2 people showering at the same time.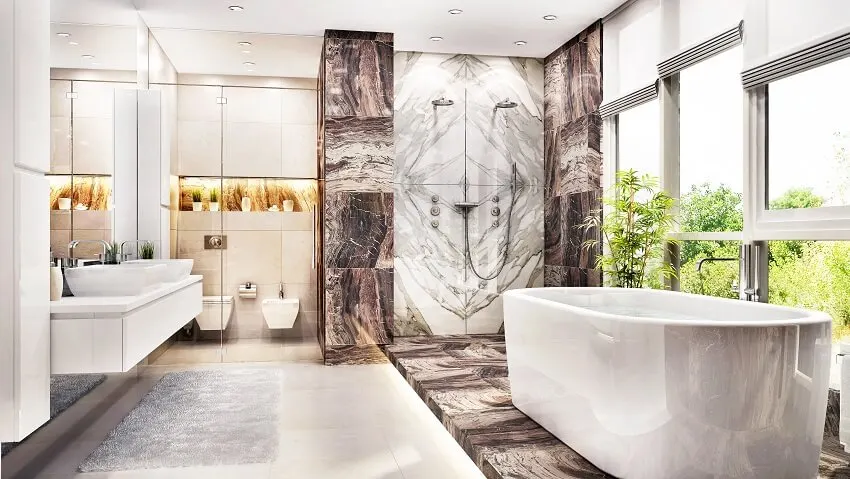 Designs and features of one double shower bathroom can differ from another one, depending on size, style, and preference.
You can choose a ceiling shower head with a handheld spray that has multiple spray options and height and preference adjustments.
But you can also choose a shower with hot and cold options. This is where you would need to consider who will use the bathroom and their preferences.
Double Shower Heads For Couples
In designing double shower heads for couples, there is a variety of factors to take note of and elements to consider. Space and size are two factors incredibly important for this bathroom style. And a bathtub is an element that you can still consider if you have enough space and budget for it.
To help you with your renovation though, here are some bathroom design tips you can try out.
1. Classic always goes a long way – Go for a classic and timeless look with shining marble flooring and mosaic border tile.
2. Try something different with a modern design – You can incorporate a modern and futuristic capsule design in the double shower bathroom you're building.
3. Invest in a wet room – In case you can't decide on a lounge or a shower, a bathroom wet room provides you with both choices.
4. Design a narrow double shower – You can save space (which is very important with double shower bathrooms) by choosing a narrow corridor compared to a large corner, where the shower will be installed in.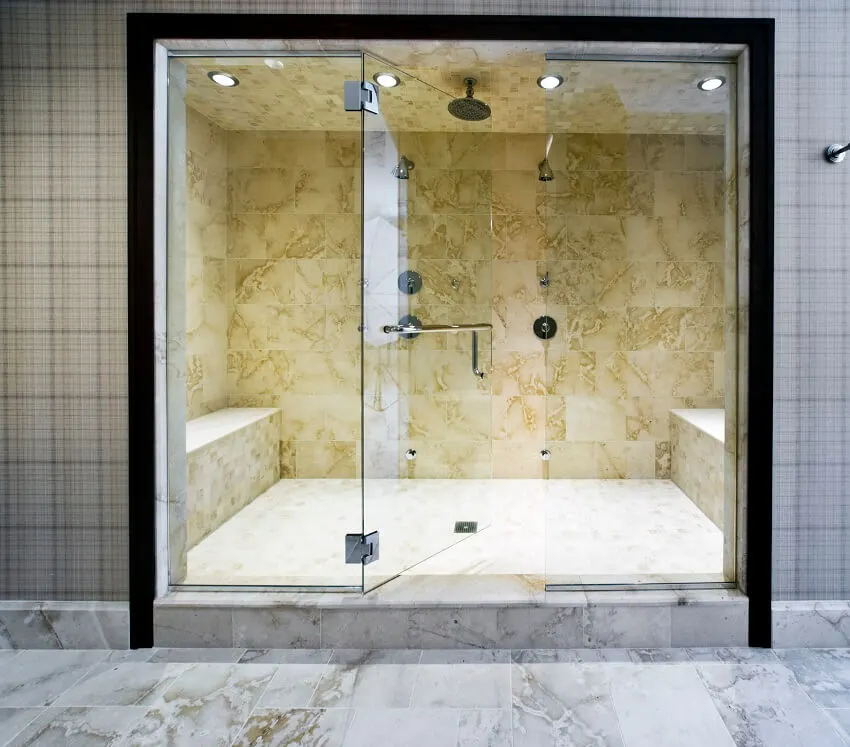 5. Incorporate a bench – Add a built-in shower bench in the middle of the bathroom, for shaving and other rituals you may have without slipping risk.
6. Install double doors – If you want privacy between the two shower stations, you can install shower doors on each side instead.
7. Choose frosted glass – For more privacy and additional light, frosted glass provides a more airy sense and expansive space. See more types of glass shower doors here.

8. Try out a minimalist design – Enjoy the joy of minimal distraction, monochrome palette, and straight edges in your bathroom.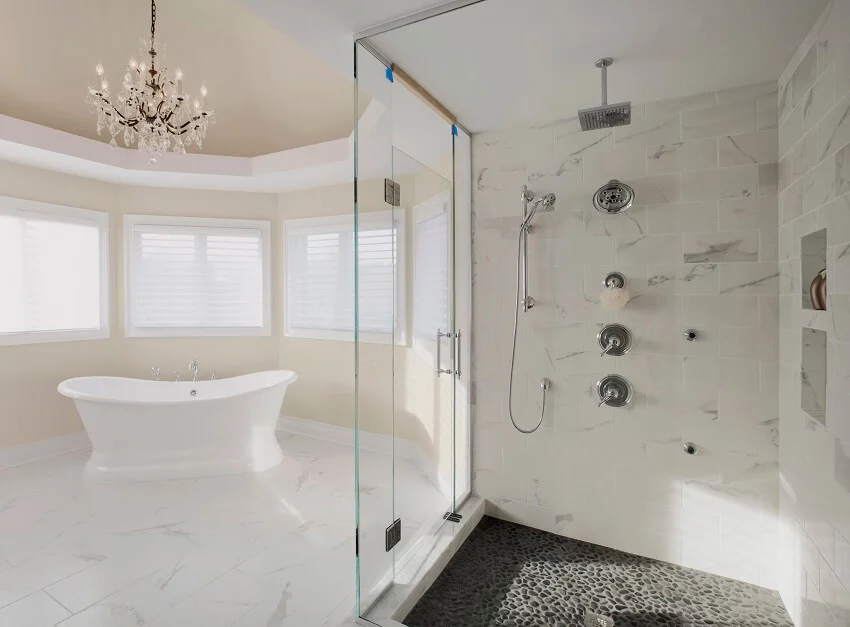 9. Choose the material that will match your bathroom and home's vibe – Some of the materials you can choose from are the following.
a. Subway tile
b. Limestone
c. Marble
d. Quartz
e. Mosaic Tile
f. Accent tiles
g. Corian
10. Use multiple types of shower heads. By installing a detachable shower nozzle and rainfall shower heads you can maximize your enjoyment and create a spa-like ambiance.
Double Shower Heads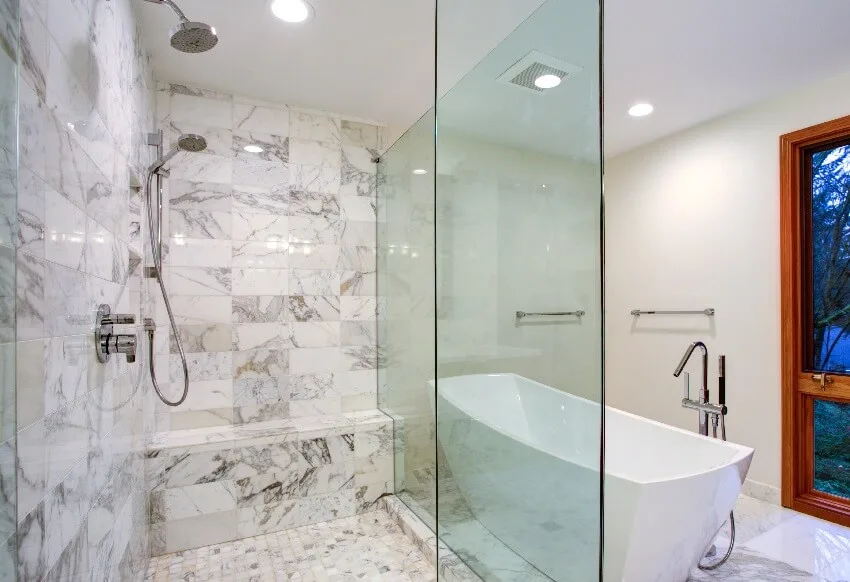 If you've finally decided on building a double shower bathroom, there are different designs, styles, and layouts you can consider.
There are many elements to consider in the process but to help you have different options, here are some styles you can adopt for your bathroom.
His And Hers Shower Heads
When choosing to install double shower heads in your bathroom, one thing you can do is to set apart one shower head from another by installing two different types of shower heads. This is a great way to differentiate his and hers shower heads.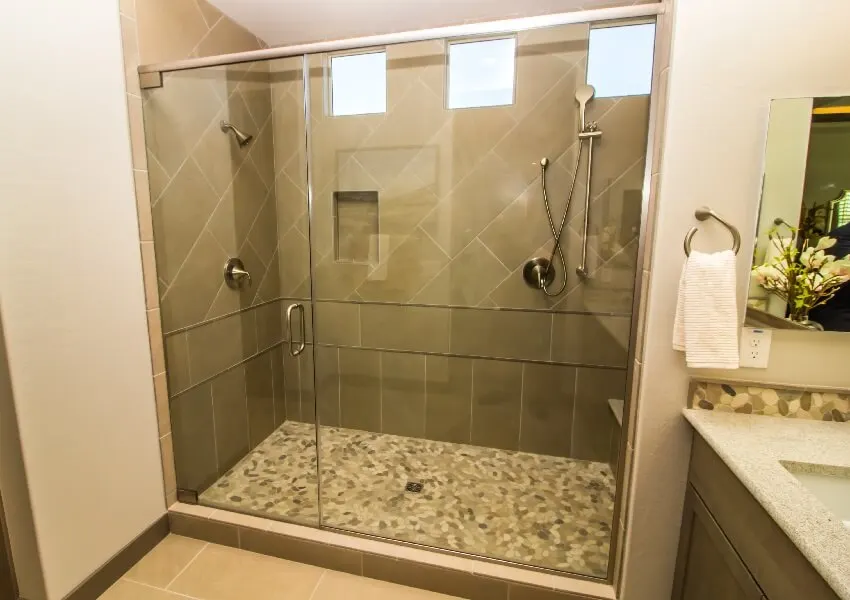 In this bathroom, there are two different shower heads installed, a fixed shower head and a handheld shower head. The bathroom is cleanly bordered with grey geometric tiles and a glass door. It also has elegant mosaic tile flooring.
Walk In Double Shower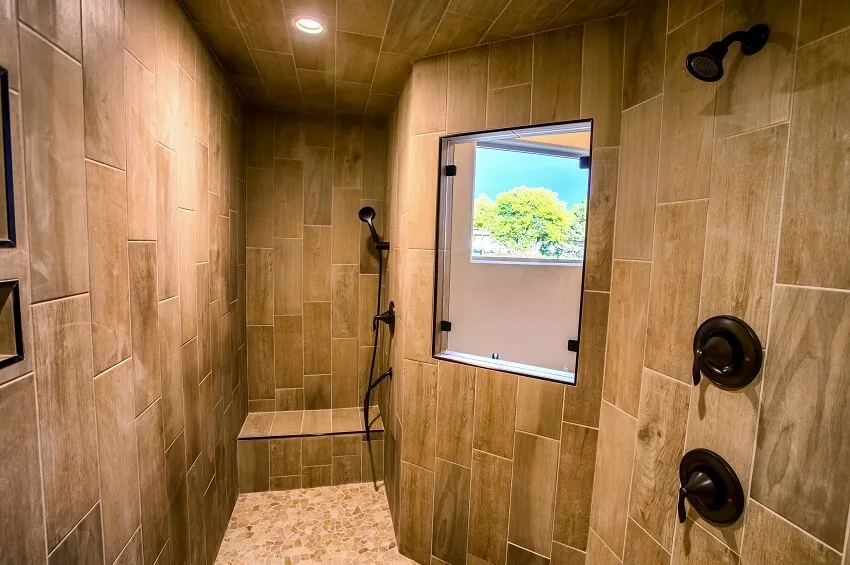 Double Sliding Shower Door
A double sliding shower door will work wonderfully for a bathroom with two shower heads. It will also be ideal for bathrooms with a bathtub installed so as to separate the area with the shower and the one with the tub.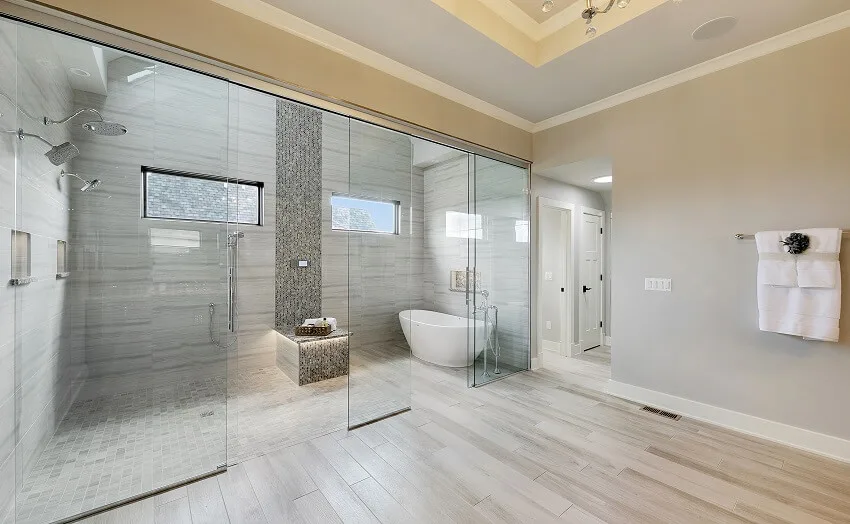 This trendy and contemporary bathroom sports multiple shower heads and a freestanding tub. The shower area and bathtub area are divided by a bench at the center of the bathroom.
The whole bathroom is enclosed in glass, with both areas having their own sliding door to enter the respective areas. These double sliding doors offer privacy to the users of both areas.
Is A Shower With Two Shower Heads Worth It?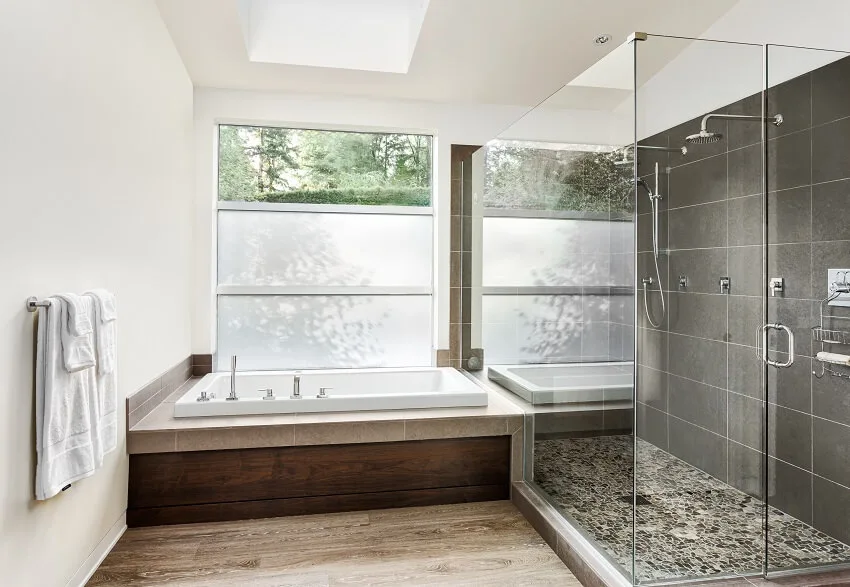 In answering whether having two shower heads is worth it or not, answer this question first, "Do you really need two shower heads in your bathroom?"
If you're living alone, you may not want to waste your time and resources building one (except if you want to somehow feel a bit luxurious).
Reasons to Install a Large His and Her Walk-in Shower
And if you are trying to find reasons to install one, here are some you can consider: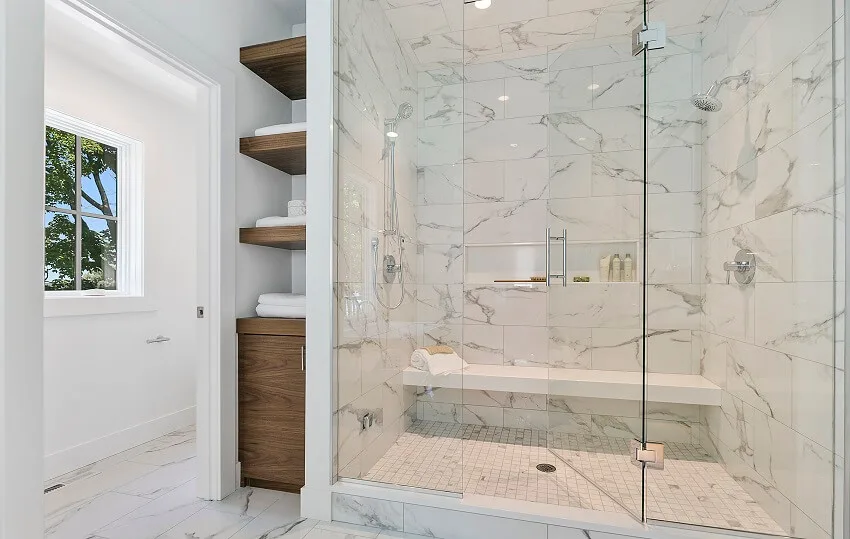 1. It offers more flexibility in terms of your shower experience – With two shower heads, especially if they are two different types of shower heads, you can decide which shower to use depending on your needs (E.g. use the hand-held shower in case you want to wash your body but not your hair.
2. It delivers practicality in bathroom usage – A double shower bathroom is practical for couples who always have a busy morning in preparation for work.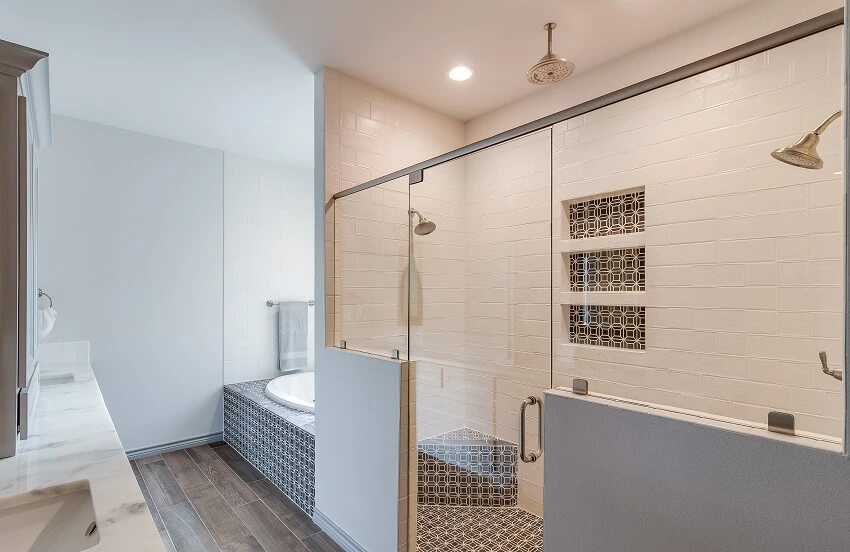 3. It offers an opportunity to be creative in designs – While a double shower leans more on the practical side, it can also be used to add aesthetic value to the bathroom.
From a traditional-looking bathroom to a Victorian design or a contemporary style, you can always integrate these styles in your double shower bathroom.
4. It provides you with a luxurious experience similar to being in a spa – Having two shower heads in your bathroom may be considered a luxury and it's actually one of the benefits of installing a double shower in your home.
You can bring the spa to your home and experience a body massage in specific parts of your body with a hand-held shower head.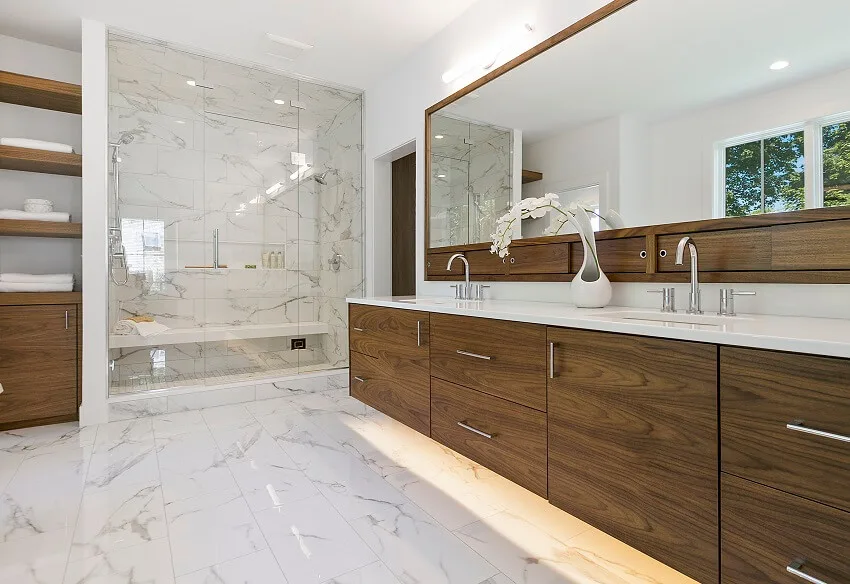 These are only a few benefits you can get from a double shower bathroom. There are other possible reasons you can have to install a double shower. The important thing though is that there is a need or want for it to be installed in your bathroom.
Visit our gallery of walk-In shower designs for more related ideas.