Here's our types of shower heads guide including what they are, different kinds, fitting options, their pros and cons, and important bathroom shower head considerations.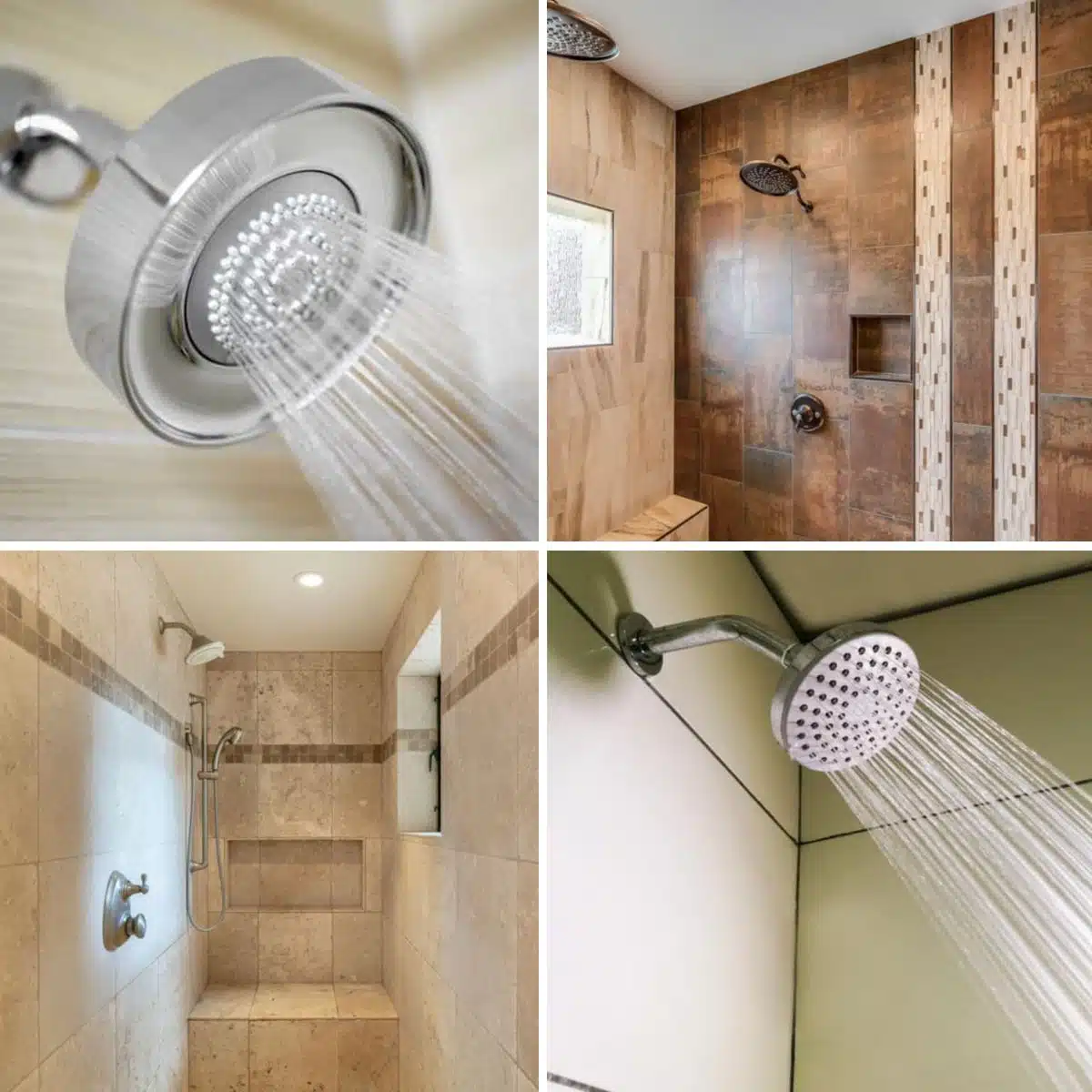 Searching for the most ideal shower heads might seem extremely easy. However, with so many various alternatives commercially available, this procedure could be quite challenging.
Not only should you consider what you want to get out of your shower before you go shopping, but you must also consider your budget, how your shower is installed, and where you are prepared to make adjustments.
Do you want to replace your shower head but have no idea where to begin? Well, by reading this article, you will learn what plumbing specialists want you to know about the various types of shower heads.
What Is A Shower Head?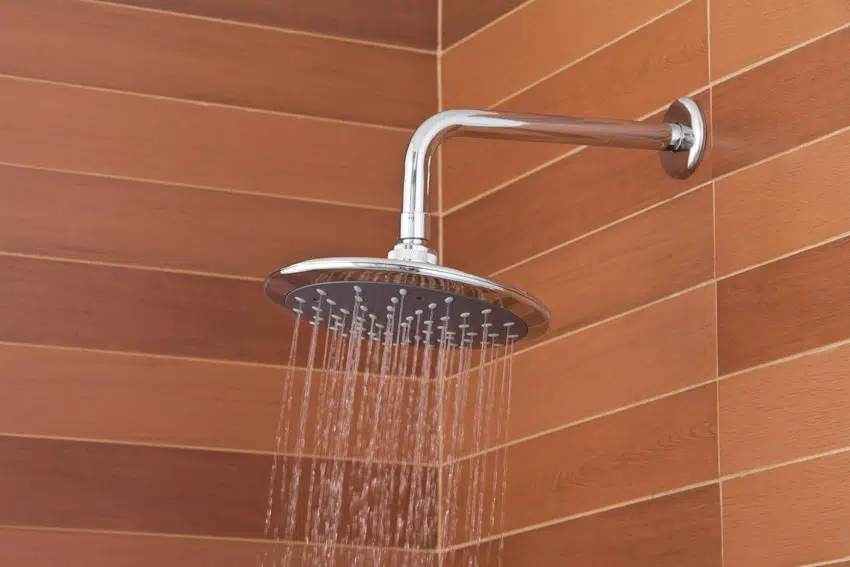 A shower head is a device used in a bathroom shower to control the stream of water. Shower heads, shower fittings, bathtub faucets, and shower faucets are all parts of a shower set.
Whenever you switch on the shower, the water will flow out of the shower head. Shower faucets include the shower head as well as the valve that regulates the stream and temperature of the water.
Shower Heads
Here's the most popular types of shower heads including some of their primary uses, features and pros and cons.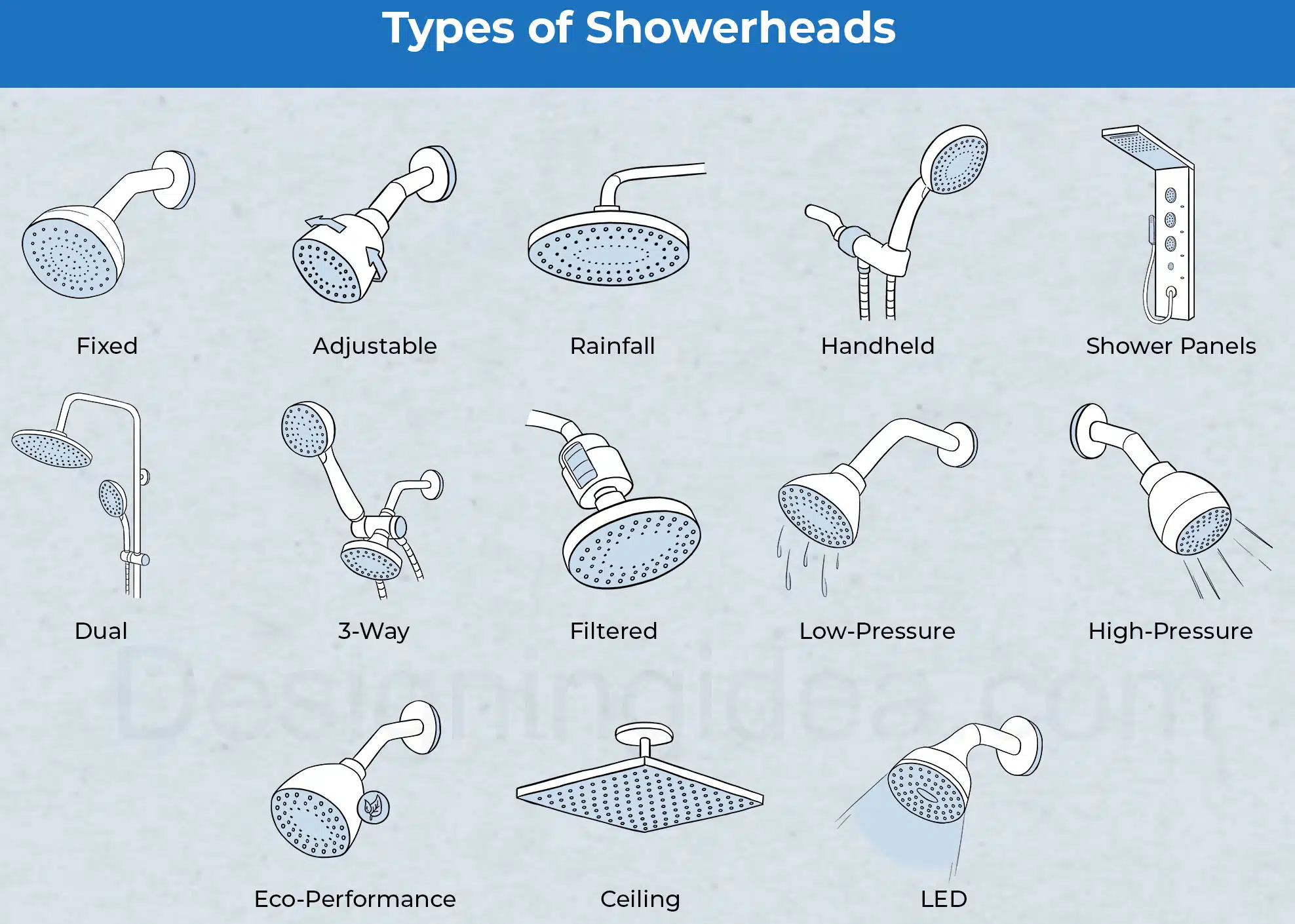 Types of shower heads and their uses:
| Types of Shower Heads | Primary Use |
| --- | --- |
| Fixed | Regular showering |
| Adjustable | Customizing the shower spray |
| Rainfall | Luxurious shower experience |
| Handheld | Bathing while sitting, pet bathing |
| Shower Panels | Multiple shower features |
| Dual | Seated showering with the stability of a fixed head |
| 3-Way | Toggling between three outputs |
| Filtered | Filtering hard water and chemicals dangerous to skin and hair |
| Low-Pressure | Water conservation, low water cost |
| High-Pressure | Massaging and relaxing shower experience |
| Eco-Performance | Water conservation |
| Ceiling | Providing necessary elevation and versatility |
| LED | Shower rooms with poor illumination |
Now we'll cover each shower head type in more detail to help you find the best one for your needs.
Fixed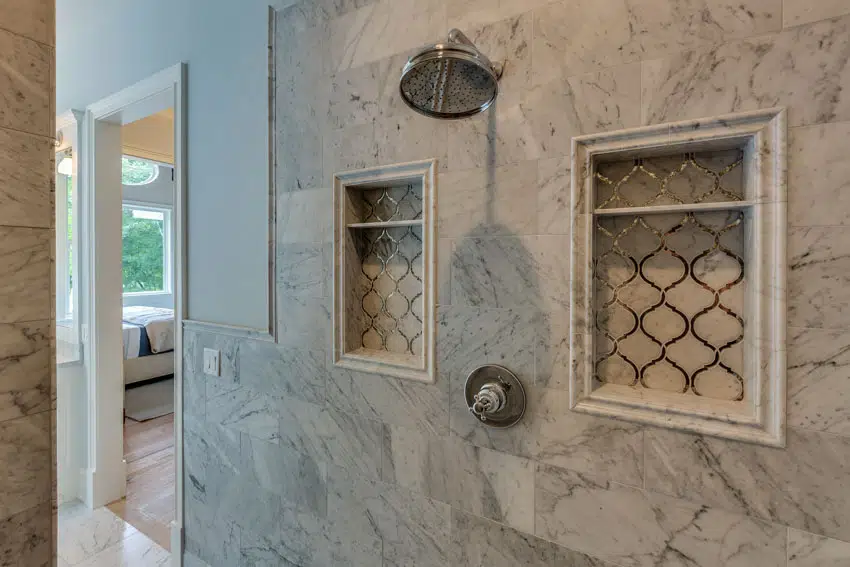 This is perhaps the most popular type of shower head and is what typically comes to mind when you think of this bathroom fixture. The shower head's neck does not move; it remains stationary and fastened to the wall at all periods.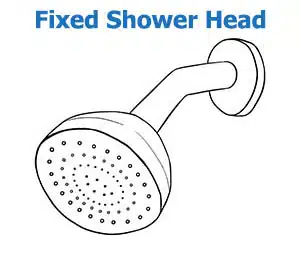 Normally, the shower head can swivel up and down and side to side somewhat, but not that much.
Fixed shower heads are quite simple to install since most bathrooms are already wired for them. All you have to do is remove your old shower head and replace it with your new one.
If you wish to grab a fixed shower head, you will simply be buying the head just by itself, which makes it quite inexpensive and simple to obtain.
Moreover, one of the best aspects about such shower heads is that they come in a variety of styles with a multitude of stream options for the different types of bathroom showers.
Pros:
• Extremely popular
• Simple to set up
• Numerous styles and stream options
Cons:
• Not that movable
Adjustable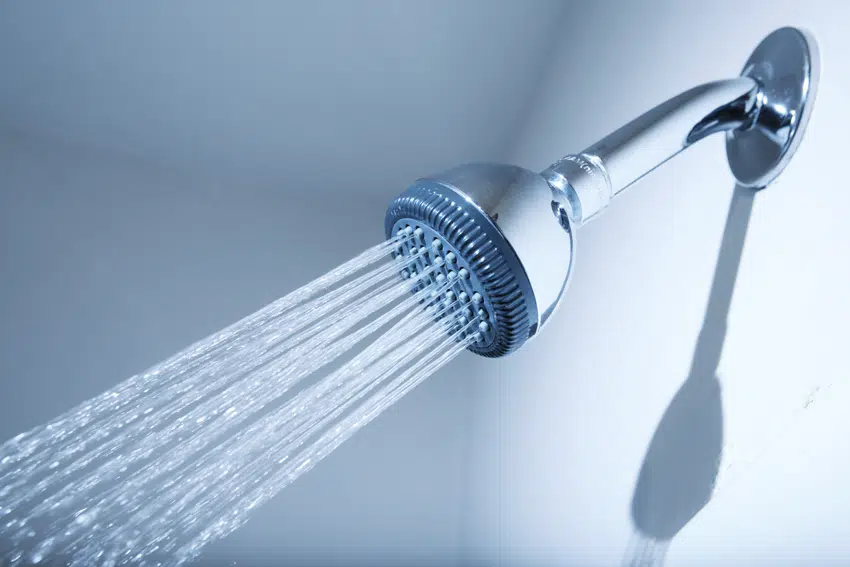 Shower heads with adjustable settings allow you to easily put the shower spray wherever you want it, enabling you to modify the shower position in seconds and target certain areas.
It's ideal for supporting tall and short persons, as well as adapting for low or high shower pipes or arms.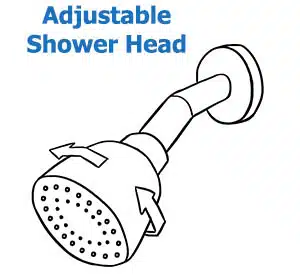 This shower head features a flexible neck that integrates a shower arm that can be adjusted to practically any direction.
Simply raise the shower head to increase height; lower it to accommodate shorter individuals or youngsters, and change the angle.
The disadvantage, on the other hand, is that adjustable shower heads have a greater tendency to get damaged compared to fixed shower heads, particularly if it is constantly adjusted.
Pros:
• You can easily direct the shower spray wherever you want.
• Multiple spray settings are available.
• Simple-to-clean anti-clog nozzles
• Easy installation
Cons:
• Tends to get damaged more easily than a fixed shower head, especially when constantly adjusted
Rainfall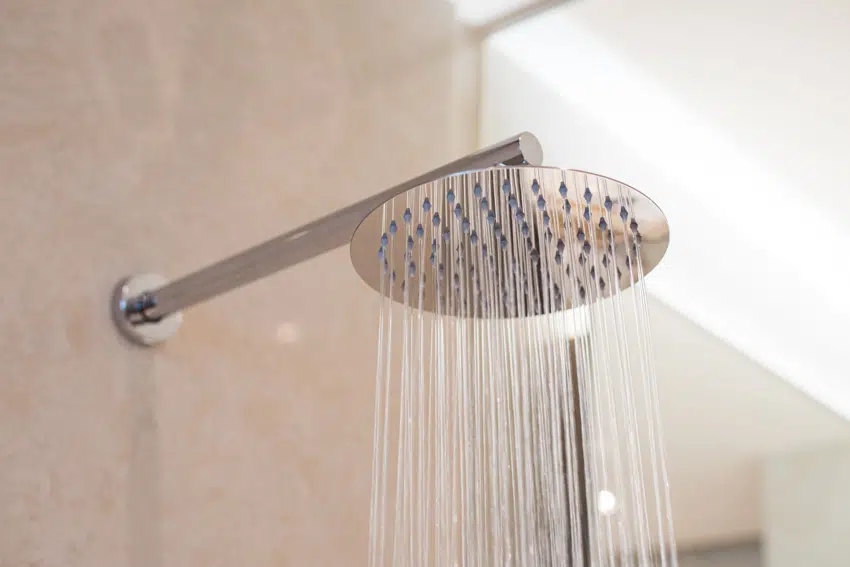 The rainfall shower head has just one setting. This type is designed to be quite big, with several water streams that provide the effect of a soothing waterfall.
Since they resemble rain, these models are often known as rainfall shower heads. It boasts a luxurious design that can truly complement your shower room.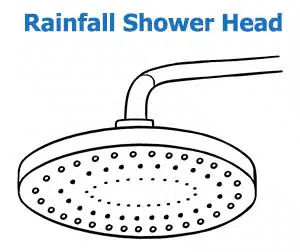 However, these shower heads are not particularly water-efficient due to the enormous volume of water required to imitate rain.
However, if you don't like the intense hammering that other shower settings may provide, these types are ideal. Rainfall shower fixtures are often installed on the ceiling, although they are also available in a wall-mount setting.
The arm stretches 12-16 inches, which could even be longer than the length of the shower head itself. For a wonderful shower experience, you may select between a directed spray and a multifunctional spray.
Therefore, before installing rainfall shower heads, consider the water flow and the scale of your shower room.
Rainfall shower heads, on the other hand, are often quite costly and will necessitate the hiring of an expert to perform the setup.
Pros:
• Produces a soothing rain-like stream
• Various mounting options
• Exquisite design
Cons:
• Expensive
• Poor water efficiency
Read more about rain shower head pros and cons here.
Handheld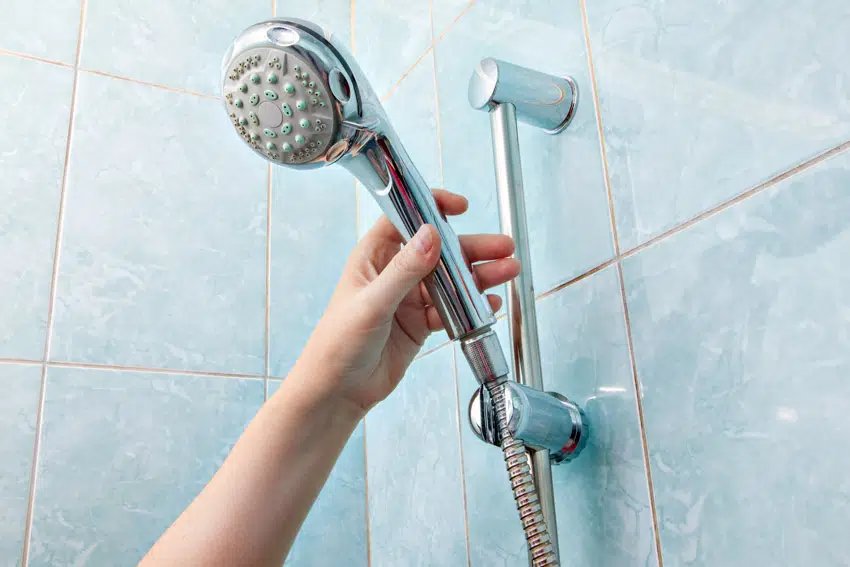 The name pretty much says it all; handheld shower heads are tied to the waterline through a hose, allowing you to remove them from their position and move them anywhere.
If you have mobility limitations or prefer to sit while showering, a handheld shower head would be an excellent choice. It enables you to adjust the shower head around to place it where you want it.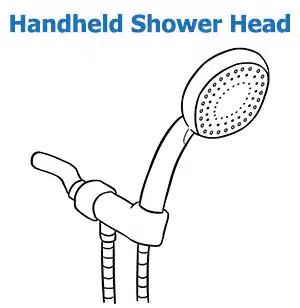 Moreover, they are very useful if you have dogs that require to be bathed in the bathtub. As someone who has cleaned dogs in a tub without one of these, I can guarantee you that this will make your life much simpler.
If spray from the showerhead is uneven, clean the spray holes. The outlet or inlet holes of the showerhead may get clogged with mineral deposits. – Black and Decker Here's How…Plumbing, Editors of CPi
This variety is also especially ideal for the elderly and handicapped, giving showering a more convenient experience.
They also range in price from affordable for simple models with one or more spray configurations to very costly models with several bells and whistles.
Furthermore, they commonly come with a wall mount and a flexible plastic or metal hose. It is also cost-effective since metal hoses are long-lasting, and you may buy the shower head if you currently have the mounting and hose.
The same element that makes this type so appealing is also the source of its underlying drawback. Because of the flexible hose and numerous connections, this style of the shower head can be prone to leakage.
Pros:
• Ideal for bathing while sitting
• Various settings available
• Very simple to use
• Ideal for pet-owning homes
Cons:
• Susceptible to leaks
Shower Panels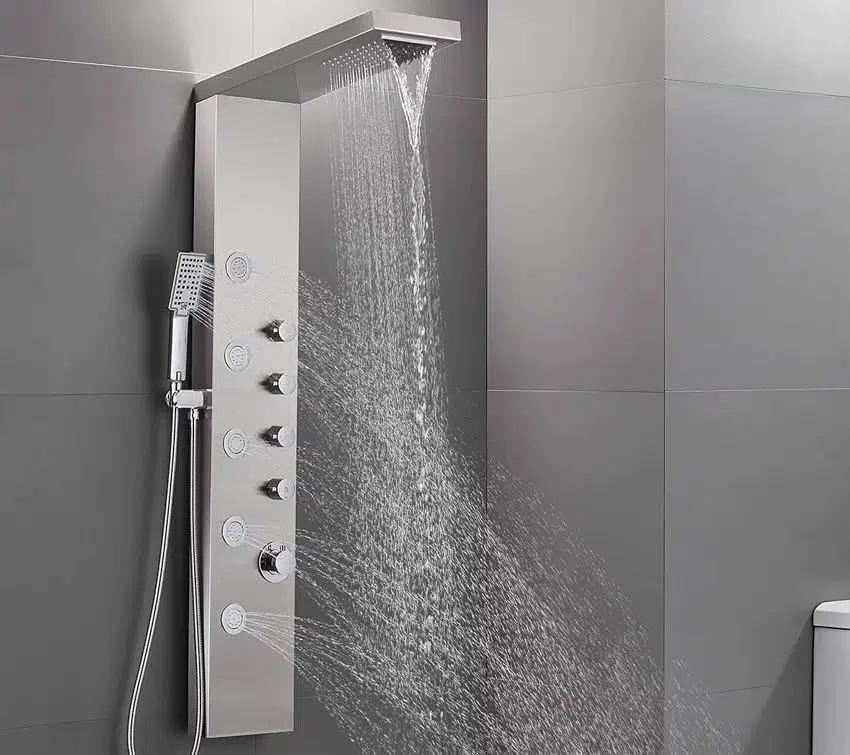 See this multi-function shower panel at Amazon [sponsored link]
Shower panels, sometimes termed shower towers, are very modern and are just now gaining momentum. Aside from appearing like a Sci-Fi shower, these shower heads offer multiple fantastic functions.
They include a waterfall shower head, a handheld shower head, adjustable body sprayers, and, in certain cases, an embedded full-body spray panel that washes your back.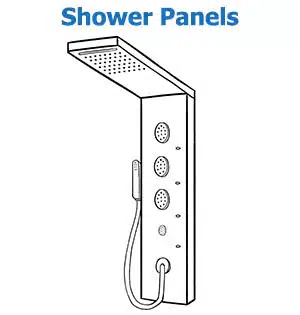 They not only appear very amazing and futuristic, but they are also jam-packed with incredible capabilities such as temperature regulation, water pouring randomly from multiple directions, LED screens, and so on.
They also offer a really sleek design that complements a recently renovated sophisticated bathroom. If you're looking for modern bathroom remodel ideas, you can truly keep these shower panels in mind.
Given all of those wonderful bells and whistles, there are a few drawbacks. To begin with, with all of those panels, you would see how inefficient the water usage is. Furthermore, the more functions you activate at the same time, the lower your water pressure will be.
The expensive price is a major reason why not many people have them. Because it is an all-in-one shower, you must pay for all of the functions.
Pros:
• Very modern look
• Offers multiple shower features
Cons:
• Low water-efficiency
• Extremely costly
Dual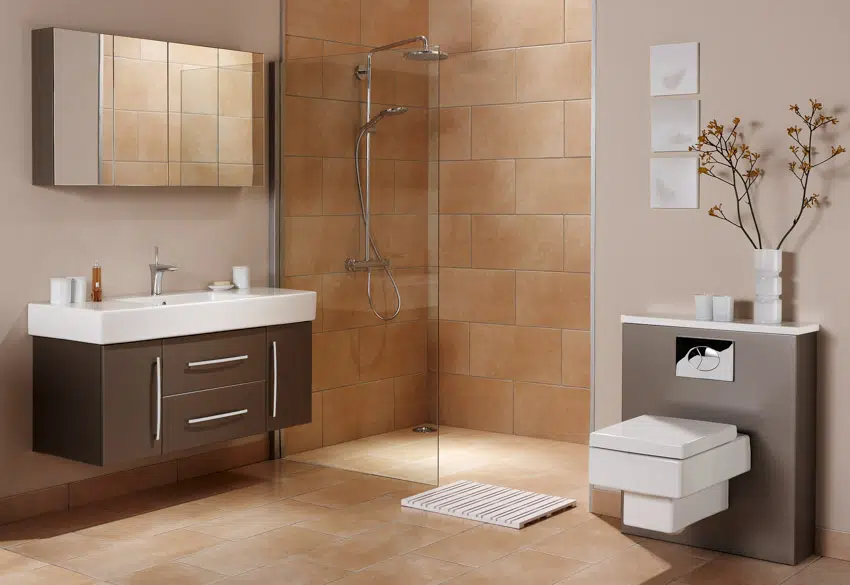 A dual shower head is among the shower head options that allow you to experience the best of both worlds. It has a stationary head as well as a portable head, giving you the mobility of a handheld as well as the steadiness of a fixed head.
It combines two shower heads into a single device. The water will be supplied by two separate sources. Hence, it provides a unique feeling, and many individuals love this manner of shower experience.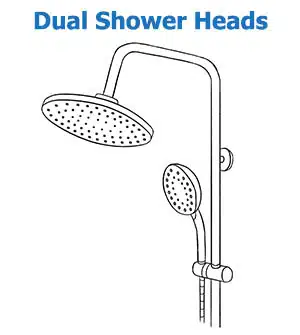 Certain dual shower heads let you use both the fixed head and the handheld simultaneously, while others only let you use one at a moment.
This shower head is particularly useful if you have physical limitations or need to sit while showering because it allows you to adjust one head while still having a standard shower head.
Nevertheless, since you're receiving two shower heads in one, it might be a little more expensive than regular shower heads.
Pros:
• Excellent for seated showering
• Highly multifunctional
Cons:
• Very costly
3-Way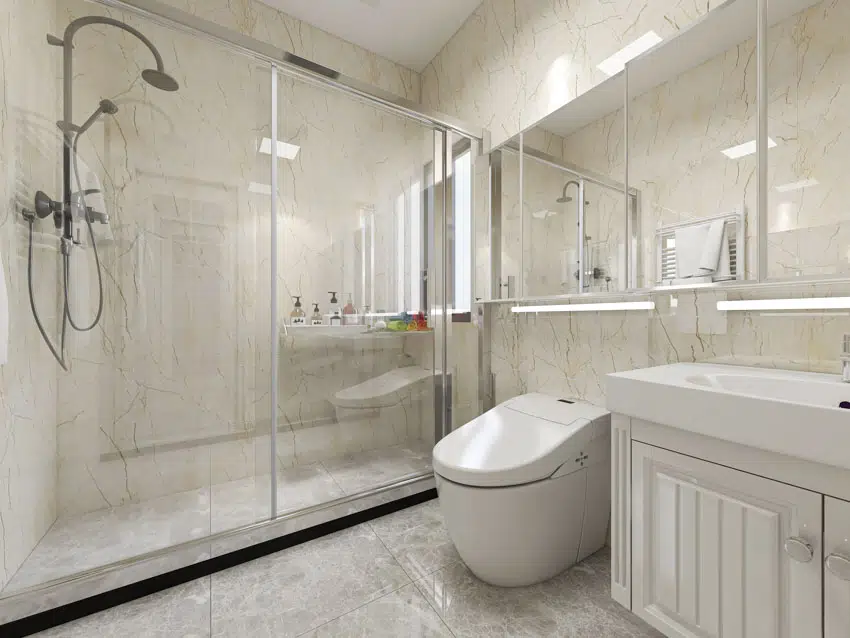 A 3-way shower head lets you control water flow between three separate sources. You can, for example, alternate between a bathtub faucet, a regular shower head, and a handheld.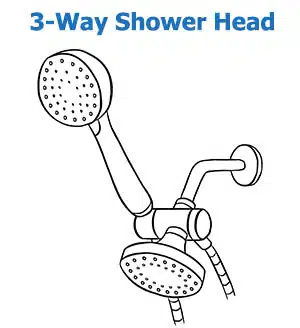 A three-way diverter valve or shower wand handle will have various pause positions, enabling you to redirect the flow in a variety of ways.
Furthermore, you may direct all of the water to a single outlet, such as the shower head.
However, you might deliver water to two distinct locations at the same time, like the regular shower head and the handheld.
Pros:
• Sturdily built into the wall
• It is possible to toggle between three outputs
Cons:
• Quite difficult to install
Filtered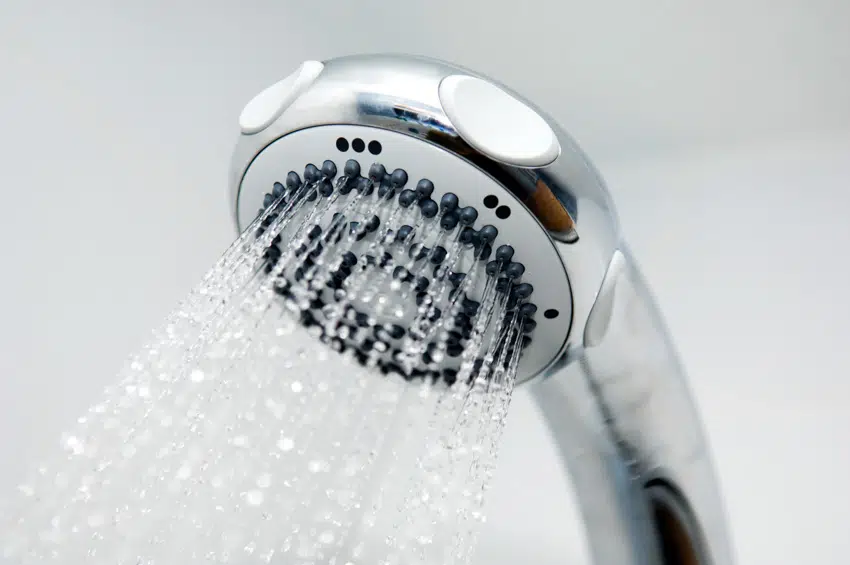 It's basically what it sounds like: a filtered shower head. This type is constructed with a built-in filter that filters the water as it departs the nozzle.
Such shower heads are principally designed to remove excess chlorine from water. Too much chlorine in your water can cause your hair and skin to become very dry.
They purify and filter calcium, active carbon, toxic substances, compounds, and minerals in conjunction with chlorine. The cost of shower head filters is determined by the filter.
Make sure to thoroughly study the descriptions to ensure that your shower head will filter what you require.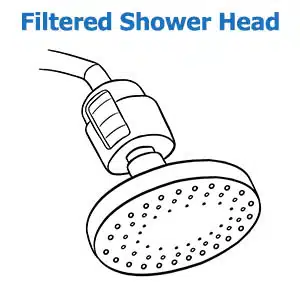 Filtered shower heads are available in the fixed head, portable, and dual shower head configurations, making them extremely adaptable.
The quickest solution to fight harsh water in your shower is by using a filtered shower head. You'll also have better skin and hair if you use this type.
One disadvantage of a filtered shower head is that the filter must be changed regularly. According to research, the filter should be replaced every 6 months, based on how frequently you use your shower.
The need to replace the filter raises the price of these shower heads slightly, but if you have hard water or contaminants in your water, it may be worthwhile.
Pros:
• Filters out hard water
• Filters out chemicals that are dangerous to your skin and hair
Cons:
• You have to regularly replace filters, which may increase the cost
Low-Pressure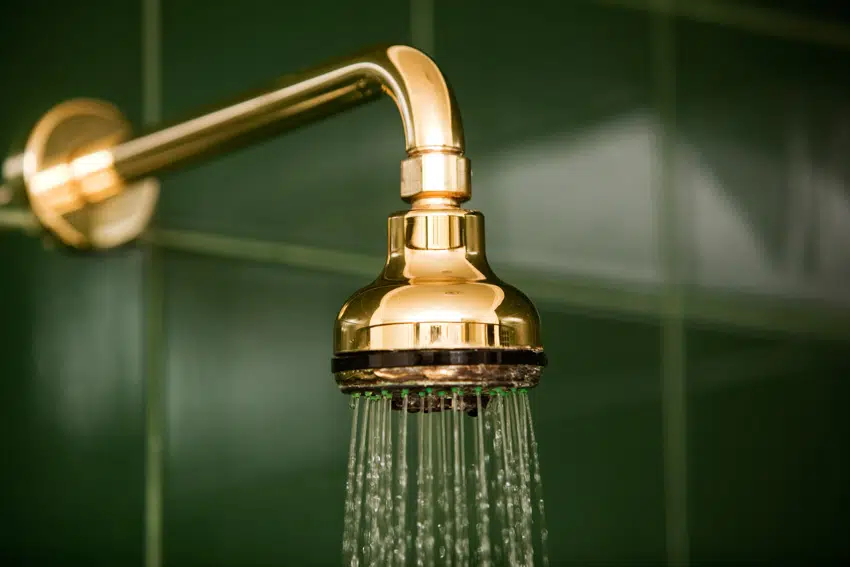 Low-pressure shower heads are an excellent choice if you want to be more environmentally conscious or reduce your water cost. When shopping for low-pressure or low-flow shower heads, check for the GPM symbol, which stands for gallons per minute.
This is the quantity of water used by a shower head for every minute it is turned on.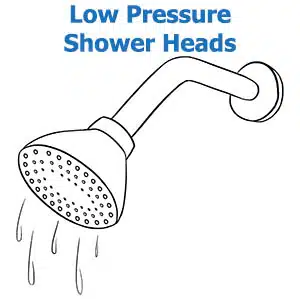 The average shower head consumes roughly 2.1 GP<, however, older showers may use more. When shopping for a low-pressure shower head, you can choose from 2.0, 1.5, and 1.25 GPM.
Nevertheless, the lower your GPM, the weaker your water pressure could be. A decent low-pressure shower head will not drastically influence the water pressure in your shower.
When you go from a 2.1-GPM model to a 1.5-GPM shower head, you will consume approximately 28% less water every moment you shower. This can have a significant impact on both your water cost and the environment.
Pros:
• Extremely high water-efficiency
• Very economical
Cons:
• Offers only one setting
• Could have lower water pressure
High-Pressure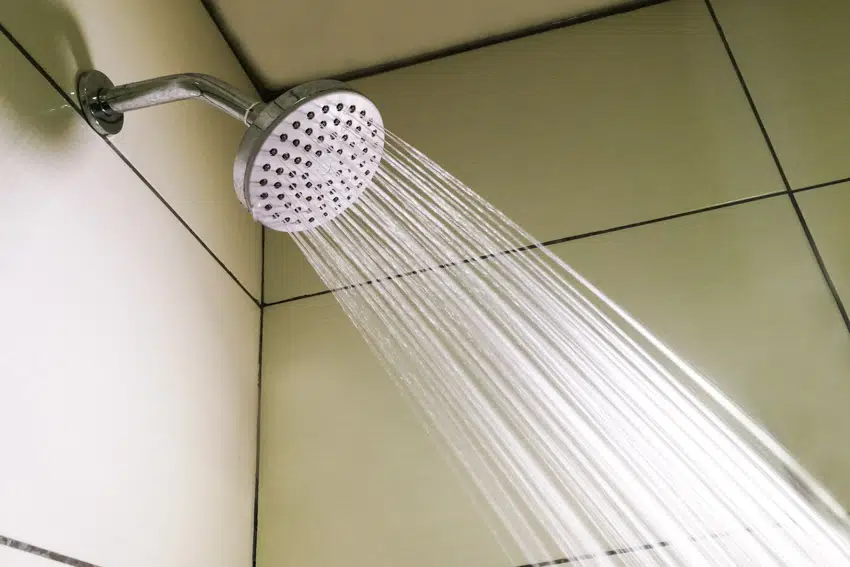 Nothing beats a shower with strong water pressure. If you have low water pressure in your home or apartment and there is nothing you can do about it, consider purchasing a high-pressure shower head.
This type concentrates the water flowing through your pipes so that it can be delivered at a higher pressure.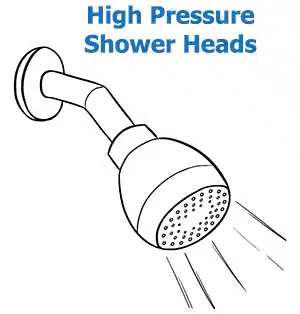 Using this kind of shower head will soothe you in the evening after a hard day of work and energize you in the morning before you head out to work.
These varieties deliver a constant stream of pressurized water that may be used to massage away any aches. Unfortunately, there are a few drawbacks to this selection.
For example, increased pressure means you'll be consuming more water, which means your water bill will increase. Because of the high-pressure water, your shower head will most likely need to be changed more frequently than other varieties.
Moreover, some versions do enable you to adjust the spray pattern, but they are extremely costly.
Pros:
• Massaging high-water pressure
• Helps in relaxing aching muscles
Cons:
• Low water efficiency; high water bill
• Some versions are costly
Eco-Performance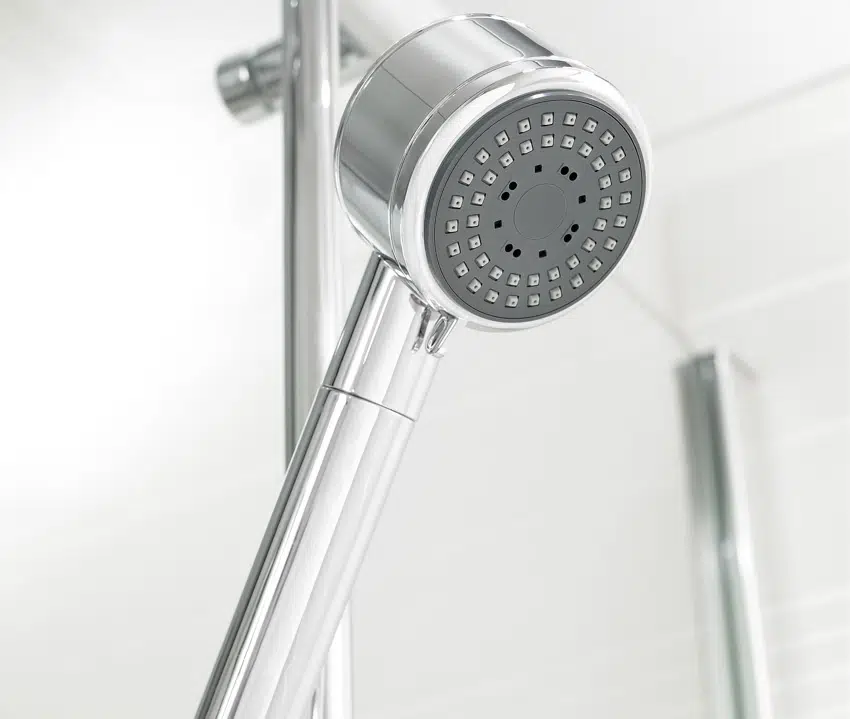 The eco-performance shower head is pragmatically designed for classic and modern bathrooms and fulfills EPA WaterSense guidelines to save water without compromising performance, allowing you to conserve both water and expenses.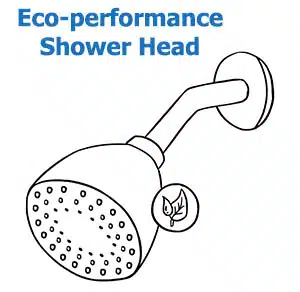 WaterSense is an Environmental Protection Agency (EPA) initiative that promotes water conservation and efficiency.
The fixed mount spray head version has a single complete spray function. Certain models have a highly reflecting chrome finish for a mirror-like appearance that complements any décor style.
Shower heads of this type are often available in brushed nickel, refined brass, and polished chrome. The only downside of this model is its expensive price.
Pros:
• Helps you to conserve water
• Modern appearance
Cons:
• Expensive
Ceiling Head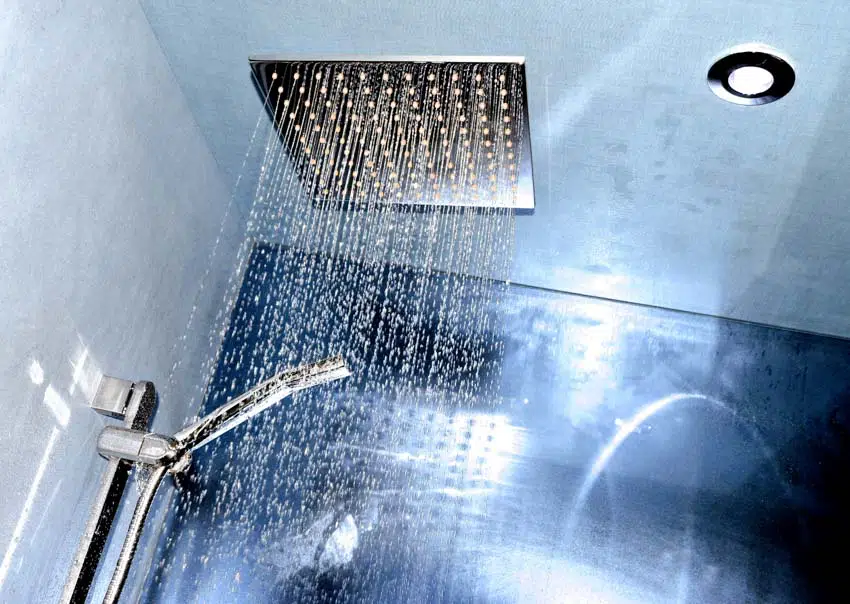 This type of shower head is installed on the ceiling, as the name implies. It gives you the sensation of a downpour. One may be purchased for less than a hundred dollars.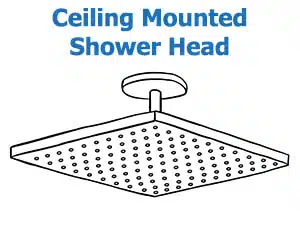 Ceiling-mounted shower heads necessitate the installation of pipes in your ceiling, which can be pricey. This type indeed provides additional elevation and versatility.
Unless you're completely remodeling your bathroom, it's generally not worth it to convert your shower to a ceiling mount if your previous one is in a different setup, otherwise, the installation may require a complicated process and huge money.
Another disadvantage of this kind is that it has low water pressure.
Pros:
• Provides necessary elevation and versatility
• Gives the sensation of a satisfying downpour
Cons:
• Can be difficult to install if your bathroom is not prepared for ceiling-mount showerheads
• Low water pressure
LED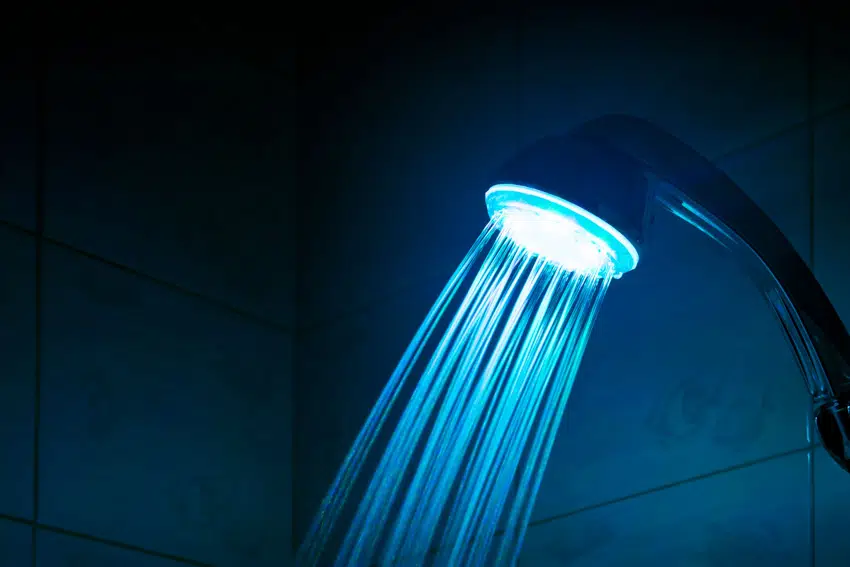 LED lights surround the water jets in these shower heads. They function in a handful of unique ways.
Certain LED shower heads fade from one hue to another in a predetermined pattern, whilst others can detect the temperature of the water and adjust accordingly. That is quite amazing, right?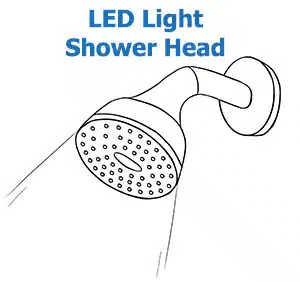 Another interesting feature is that the LED types of lighting fixtures in these models are powered by water pressure, so no batteries are necessary. Furthermore, if your bathroom has low lighting and you can't see in the shower, these types can be a very ideal selection.
It would also be an excellent technique to persuade children who dislike bathing to take a shower.
Nonetheless, the quality and function of this model are just the same as a conventional shower head. The only thing that makes this distinct is its LED lights.
Pros:
• Great for shower rooms with poor illumination
• No batteries needed
Cons:
• Quality and function are the same as conventional shower heads
Head Options For Showers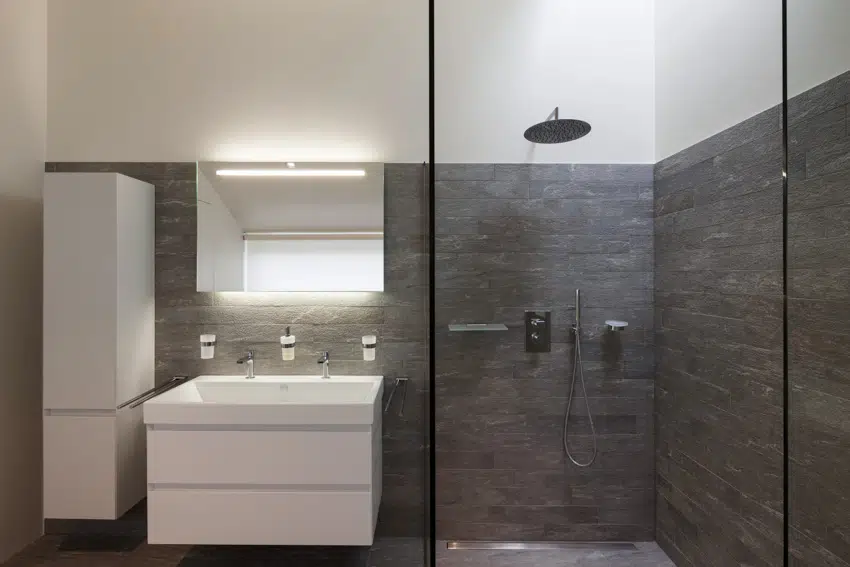 These are the available shower head options in the market nowadays:
• Adjustable Shower Head
• Water-Saving Shower Head
• Rainfall Shower Head
• Low-Pressure Shower Head
• High-Pressure Shower Head
• Dual Shower Head
• Outdoor Shower Head
• Waterfall Shower Head
• Filtered Shower Head
• Steam Showers (Read more about steam shower designs here)
Fitting Types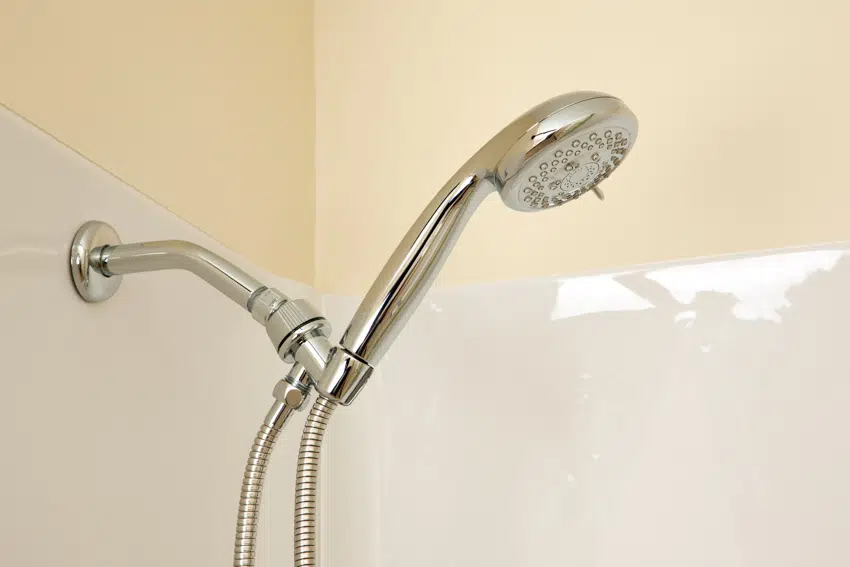 • Arm: The arm of a shower head is a short piece of metal tubing that begins in the water pipes and continues through the wall into the shower head, acting as a conduit through which water flows.
These shower head wands are available in a multitude of designs, and they can provide a theatrical touch to even the most ordinary shower. Shower heads with adjustable arms are also readily available and can give a rapid shower remodel.
• Escutcheons: Escutcheons or flanges are placed above the location where the arm meets the wall. The escutcheon is mostly ornamental and intended to conceal the shower arm's aperture. It also helps to keep the shower head's arm in position.
• Thread: A pipe's thread is the ending section of the pipe with circular grooves. When a 'male end' and a 'female end' of 2 pipes with the same thread size are placed together and rotated clockwise, the threads grasp into each other and draw the two pipes together. As a result, a seal is formed between the two pipes.
• Male End: The male end of a pipe is the pipe's ending section with visible threads that fits into a matching female end of a pipe with the same thread size.
• Female End: The female end of a pipe is bigger than the male end and contains non-exposed threading; it allows a male-ended pipe to be fitted within it, hence joining two pipes.
Are All Heads For Showers Universal?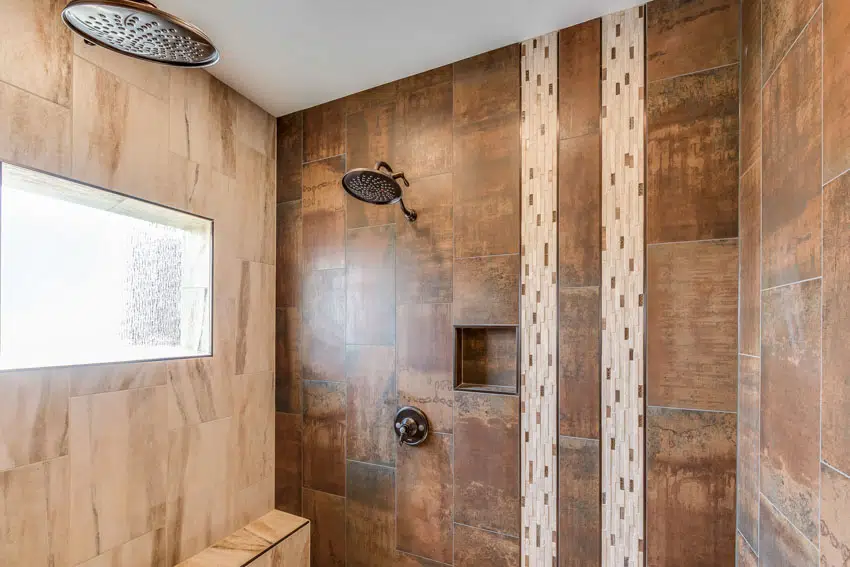 Shower heads in the United States and Canada use a universal thread size of 0.5-inch NPT. If you buy a shower head with a 0.5-inch NPT thread, therefore, it must fit the plumbing system in your bathroom.
Nevertheless, as long as the shower arm piping is coming from the ceiling or the wall, you may select whatever shower head you like and put it wherever you want.
How Far Does A Showerhead Spray?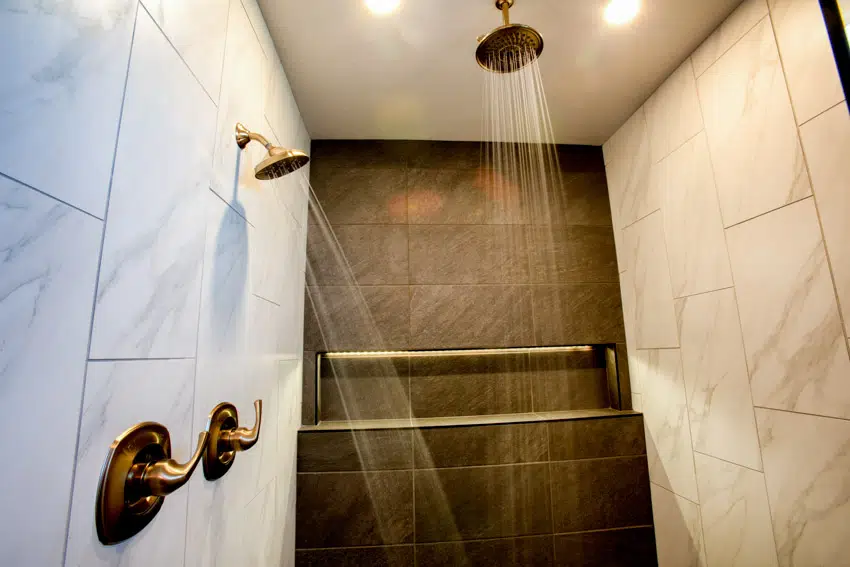 The shower nozzle must be situated around waist level or 36 inches from the shower floor. So, the distance between the shower nozzle and the splashing area is approximately 36 inches as well.
What Type Is The Best?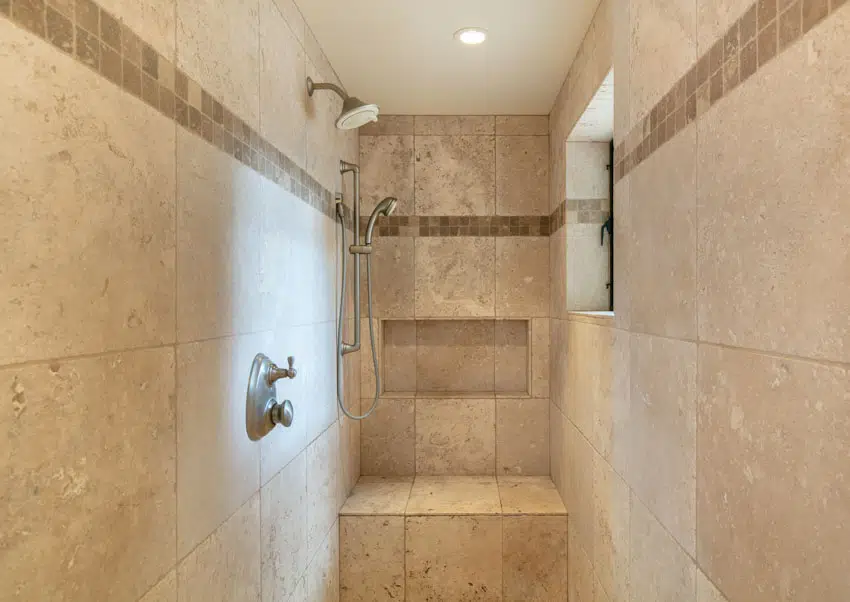 The most ideal shower head for you is determined by what you intend your nozzle to deliver regarding water spray and pressure.

Nonetheless, generally speaking, a handheld or dual shower head with multiple stream options is often the best versatile model. However, other choices can also go with your needs and preferences.
How To Choose This Shower Fixture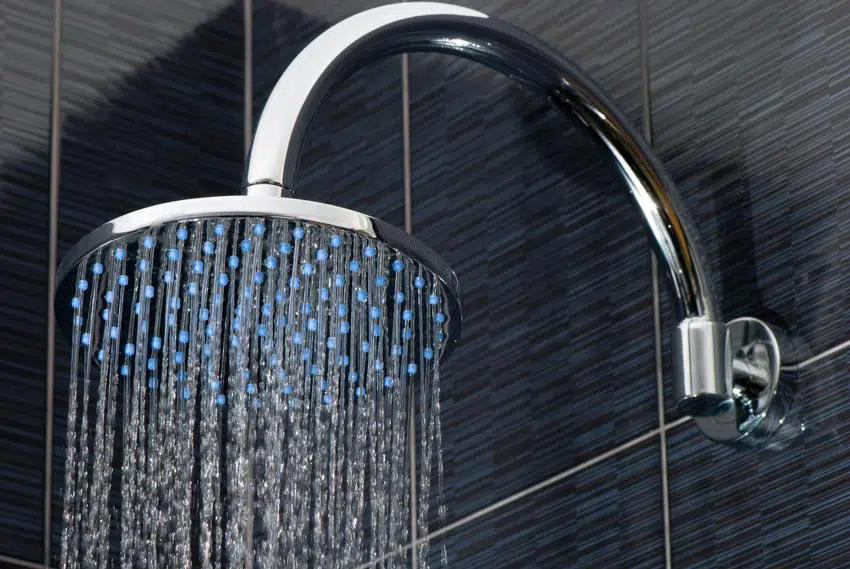 • Choose the spray pattern option that you find appealing. Shower heads may wash your whole body, simulate genuine rainfall, aim a focused stream of water, emit a soothing mist, spray water pulses, or any combination of the above.
Certain fixtures also include a pause function that lowers the flow of water to conserve water while you bathe.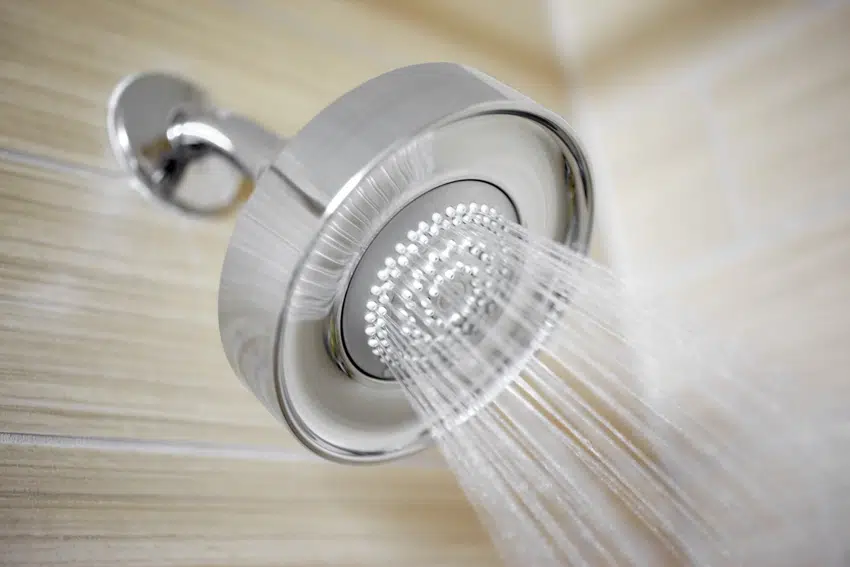 • Pick a shower head that complements all of your preferences. Choose a finish that complements the design of your bathroom. Inquire whether the fixture you've chosen comes with a filter to decrease chemical pollutants in the water.
• Opt for WaterSense-labeled shower heads to conserve water and money. Low-pressure shower heads utilize less water than regular models.
No shower head should have a water flow rate of more than 2.5 gallons, according to regulatory regulations. Otherwise, it would give you a high water bill and not be environmentally friendly.
• Make sure the shower head when mounted is high enough to accommodate your height. In addition check that the nozzle spray has the proper water spread for your shower size.
• It's best to search for a unit with an easily adjustable spray pattern. It should produce a broad coverage that feels like drenching rain and is suitable for daily usage.
That drenching water stream should be sufficient for removing the shampoo from your hair and soap from your body.
Furthermore, it must have a specific pattern that provides a powerful yet relaxing spray to alleviate sore muscles.
• If your bathroom has insufficient lighting, go for shower heads with LED lights. They can add better illumination while you are taking a shower.
See more related content in our article about the different bathroom skyllight ideas on this page.