Below we answer the popular question of what is an ensuite bedroom design including its size, costs, and how does an ensuite differentiates from a master bathroom.

When you hear the word ensuite, for sure you can imagine something fancy. And it might have to do with the term sounding fancy or with movies showing extreme luxury whenever the term is somehow mentioned.
Understanding this term is absolutely necessary if you are planning to engage in real estate or you are in search of a new home to purchase. And yes, it's not just referring to a room in a luxury hotel. An ensuite can also be found in your new home. But what does it really mean and can you even afford one?
What Does Master Ensuite Mean?
Ensuite or "en suite" literally means following or afterward in French. It can also mean "in the room" or "connected" when the French term was adapted to the English language. In the 1950s, the term "en suite" became popular in the real estate industry to mean attached bath. And the term just kept on evolving from there.
Today, the term is used to refer to a room where a bathroom is directly connected to a bedroom that is almost in the room itself. And it became popular primarily due to privacy and the convenience of the bathroom's proximity to the bedroom.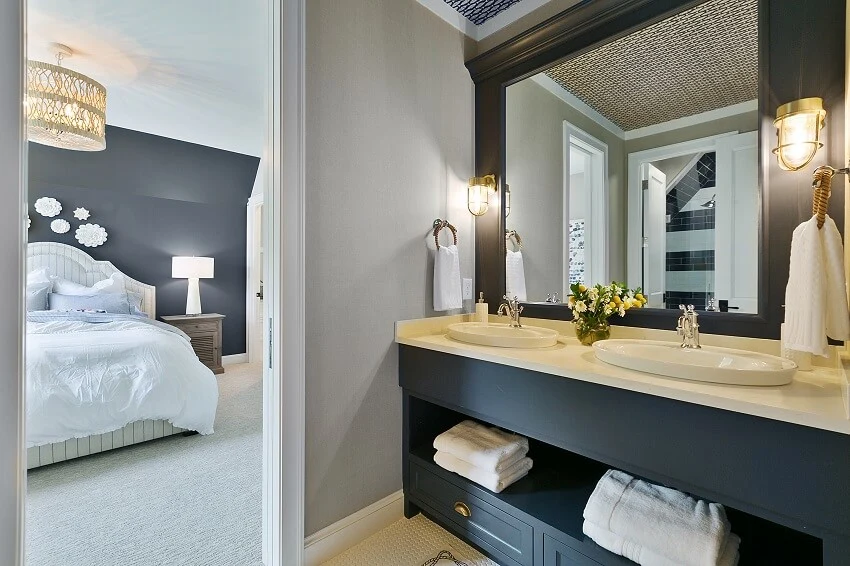 A master ensuite simply means that a master bedroom is directly connected to a bathroom, without needing to walk to the common area and hallways.
Does Ensuite Mean Private Bathroom?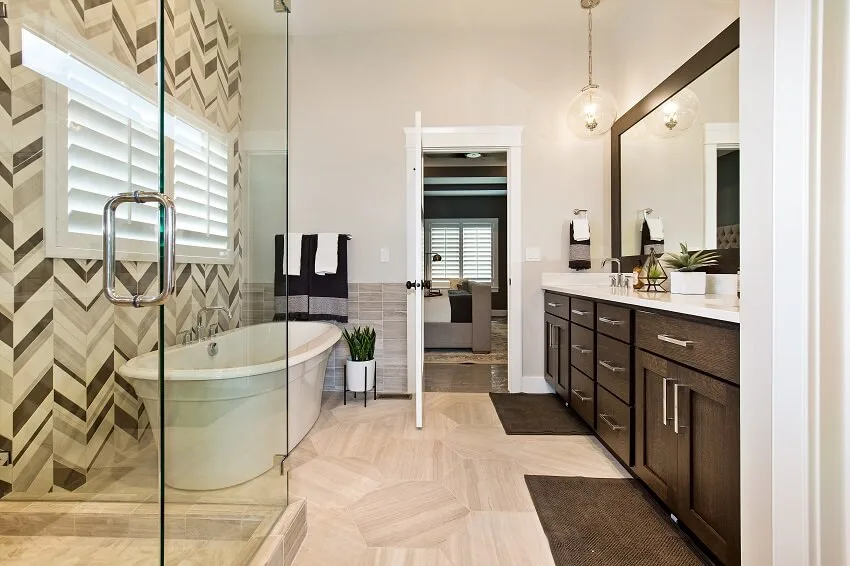 An ensuite does not immediately refer to a private bathroom. They have their similarities and differences though. With their similarities, both are bathrooms that can have a toilet and shower.
The big difference is that while the ensuite is located inside the bedroom and can really offer privacy, a private bathroom on the other hand can be accessed from a common area. This may mean that you can use this bathroom through the kitchen or a hallway.
This is the ironic thing about it since the ensuite offers more privacy than a private bathroom.
Does Ensuite Have A Shower?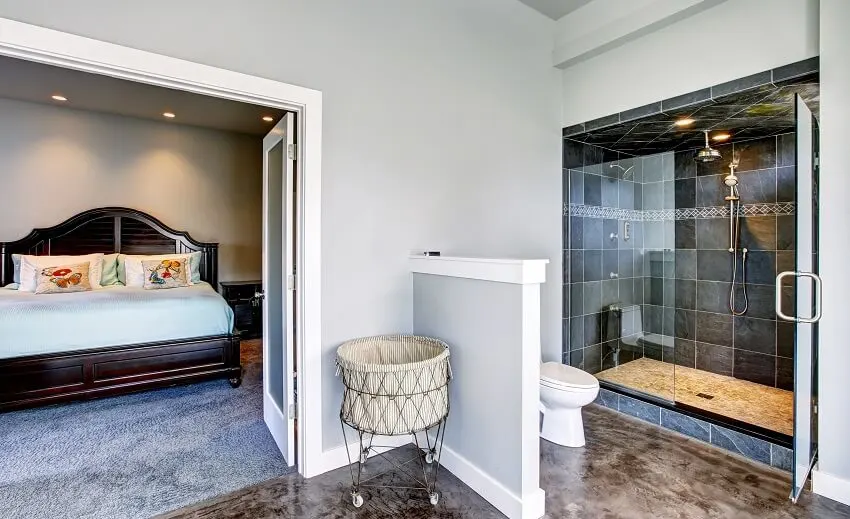 Ensuites are bathrooms directly connected to a bedroom or located inside the room then and there. They were never built to be accessible from common areas like the kitchen, living room, or hallway. And the features or amenities in the bathroom can range from simple plumbing fixtures to a complete full bathroom installed with a jacuzzi.
Most ensuites that are connected to master bedrooms are full bathrooms with a shower. Some of the small ensuites though may just be half bathroom without a shower. This is because some of them have been converted from a large closet to an ensuite.
Do Ensuite Bathrooms Have Doors?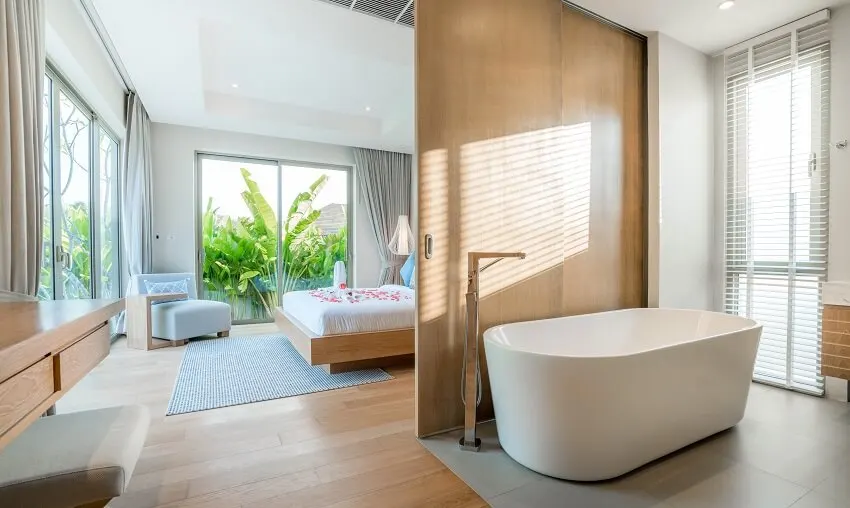 Do ensuite bathrooms have doors? They can have doors but they don't need them.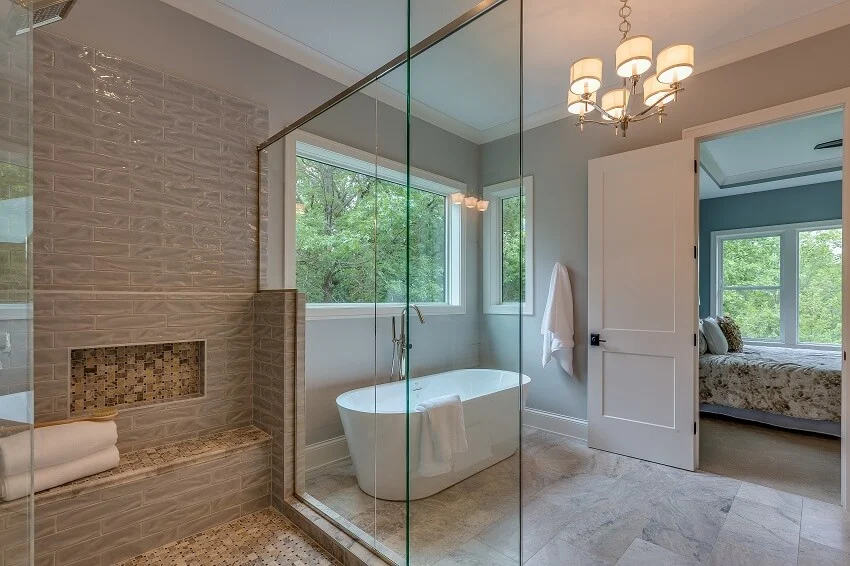 You can put doors in ensuite bathrooms but they don't really need them in the first place. Since ensuites are found inside the bedroom, privacy is already achieved inside the room. The ensuite is not meant to be shared with other people living in the house.
What Is The Difference Between A Master Bathroom And An Ensuite?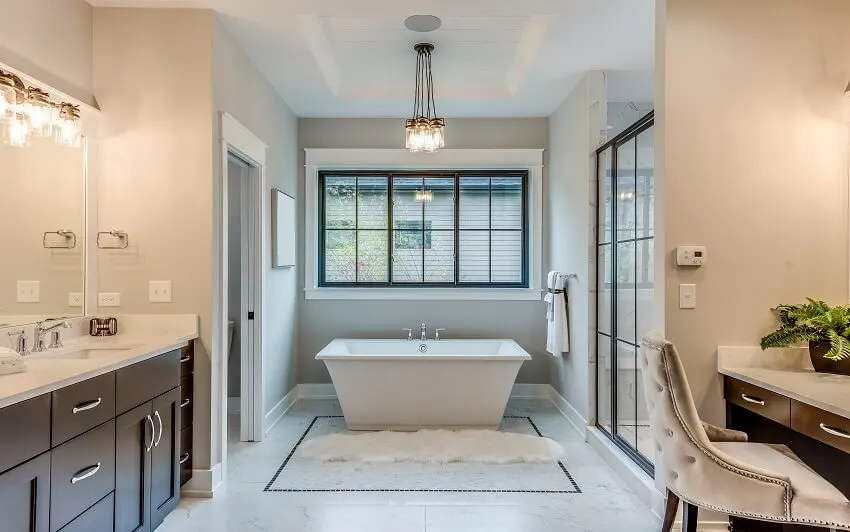 A master bedroom is usually an ensuite, where the bathroom is connected to the room or in the room itself. An ensuite on the other hand does not necessarily mean it has to be in the master bedroom.
The thing is though is that in a home, the master bedroom is usually the largest room in the home, and most of the time, it is the room that has a bathroom in it- yes, an ensuite.
Ensuites in the master bedroom (or also called the master bathroom) tend to have complete amenities of a full bathroom. Those connected to other smaller bedrooms though have fewer amenities.
What Is The Average Size Of An Ensuite?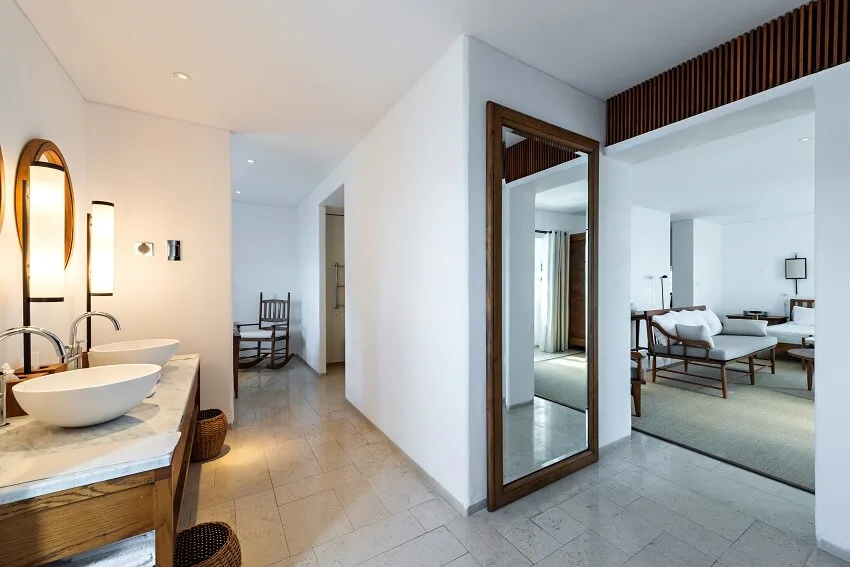 The average size of the ensuite varies depending on the size of the room they are connected to. Small homes and apartments have ensuites the size of between 36 and 40 square feet. And they are complete with a toilet, a sink, a shower, and a bath.
For larger homes though, the average size of ensuites ranges between 40 and 100 square feet.
If you are in the process of building your home and wondering how big you can build your design, it would really be up to you. Even with a small space, you can include more amenities with careful planning. See our list of bathroom remodel software for help determining your home layout.

Yes, you can just keep the bathroom functional or you can improve it to even have a jacuzzi. Make sure not to force it through that everything feels tight in the result.
You can fit a toilet and a sink in a 15 square feet ensuite. For your bathroom layout to have a shower though, you should have at least 30 square feet to be able to accommodate it.
If you're planning a full bathroom with a bathtub and a shower, your ensuite should at least be 40 square feet. Read more about bathroom sizes here.
What Is A Good Size Master Suite?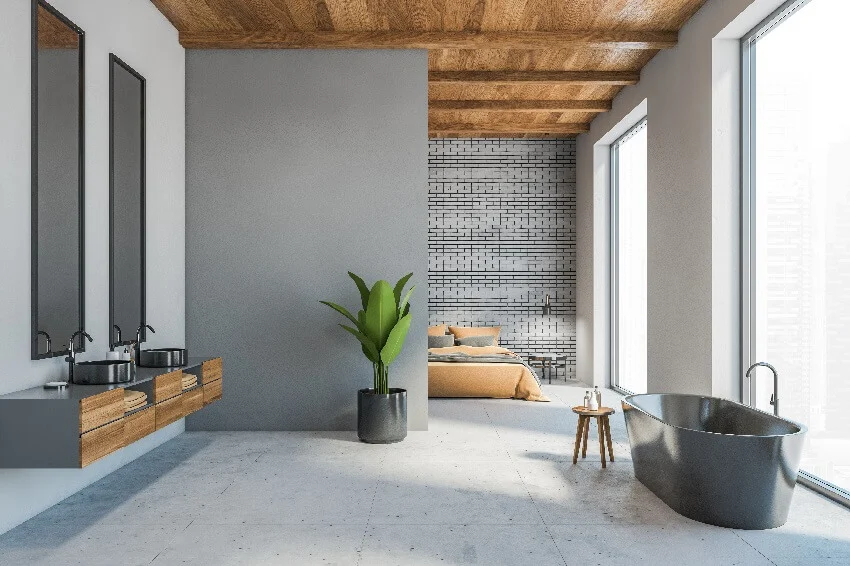 When it comes to the size of a master suite, this depends on the size of the master bedroom in the first place. A master suite is connected to a master bedroom, which is why it will be dependent on the size of that room.
For a small master bedroom, its ensuite will be at 40 square feet, which can accommodate a shower in it. A large master bedroom on the other hand can have a 100 square feet ensuite, installed with both a shower and a bathtub,
How Much Does It Cost To Add A Master Bedroom With Ensuite?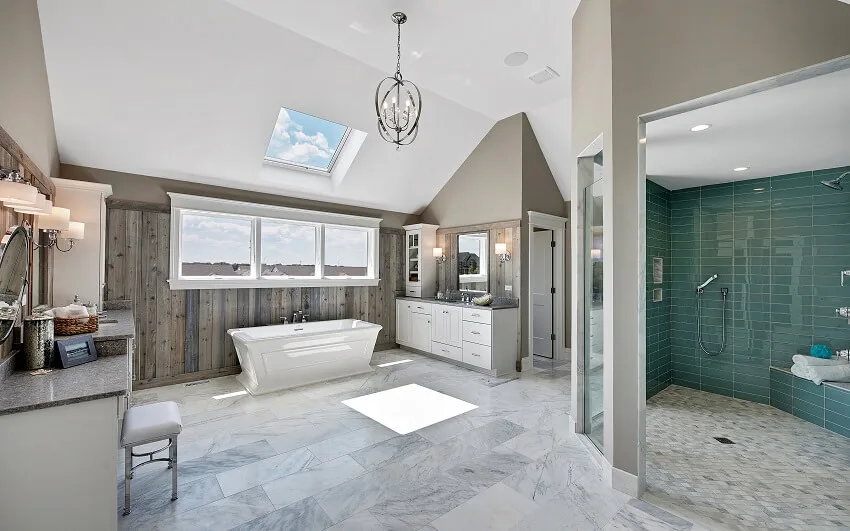 Adding a master bedroom with an ensuite is not a cheap project to take on. There are several factors that can affect the cost you will need for it, including the following:
• Size of the master bedroom and its connecting bathroom
• Amenities you want your bedroom and ensuite to have
• Materials you will use for the construction
You could spend any cost between $25,000 and $100,000, depending on these factors. To be more accurate though, you might spend an average of $140 per square foot so it will depend on the size of the master bedroom you are building.
Does An Ensuite Add Value?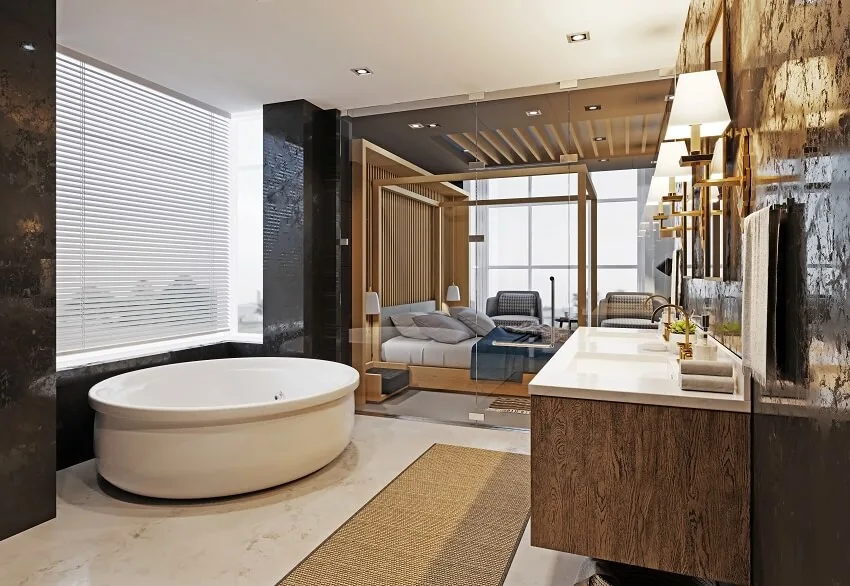 An ensuite definitely adds value to a home, especially since simply hearing the word ensuite somehow automatically adds some sophistication and luxury to the property.
Ensuites are popular in real estate, because of the convenience and additional privacy they offer. Considering they have become popular, they are additional amenities that home and property can be proud of.
For more related content visit our guide to the best bathroom layouts and design ideas.