Here's our guide to bathroom sizes including our dimensions guide for master bathroom size, half bathroom size, small bathroom size and ADA bathroom sizes.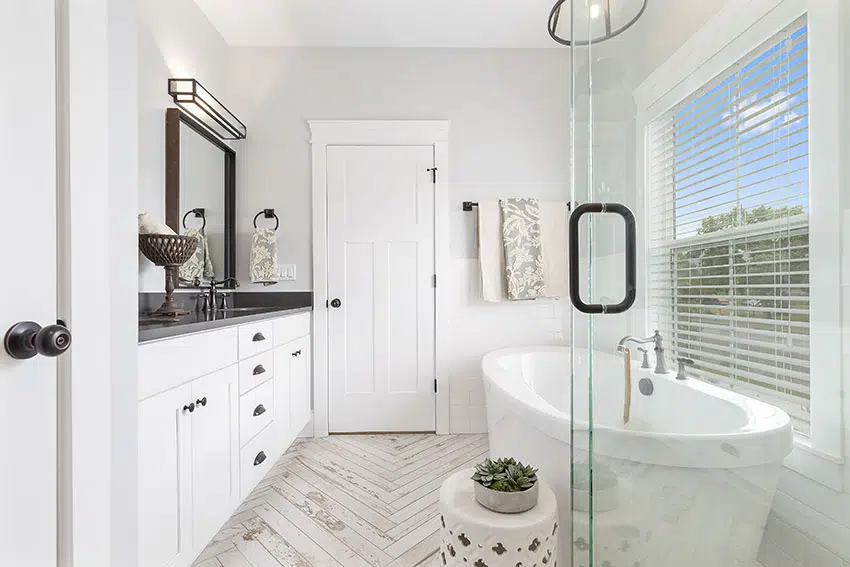 American homeowners have an undeniable obsession with bathrooms. With the average residential property measuring approximately 2,301 square feet, most homes in the US are equipped with two full bathrooms.
So, how big are the bathrooms? Bathroom sizes vary. It can be as small as 12 square feet or as large as a one-bedroom apartment. The latter is found in luxury properties.
Ultimately, your property's size and the intended bathroom's layout dictate how big your bathroom should be.
A bathroom's layout is either a full, three-quarters, half, or quarter bathroom. Fitting your home with several mixes of bathroom sizes and layouts gives convenience to the guests and homeowners. It also increases the value of your property.
Average Bathroom Size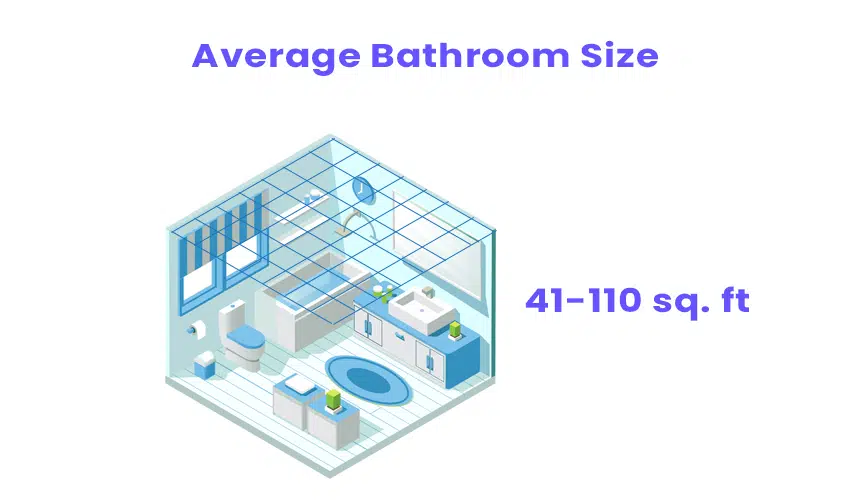 Bathrooms with complete plumbing fixtures average from 41 to 110 square feet. Of course, the bigger your home, the larger your bathrooms will be.

An average full bathroom consists of a bathtub, shower, sink, and toilet. Add to that the storage space for towels and toiletries. Others opt for the bathtub-shower combo to save space.
Minimum Bathroom Size
So, how small can you go with a bathroom? The answer to this is mainly determined by the bathroom's layout as well as the overall dimensions of your house.
The minimum size for a full bathroom with four main plumbing fixtures is 36 to 40 square feet.

The bare minimum for a quarter bathroom is 12 square feet. However, this would offer extremely tight clearances. The minimum size of a half bath is 18 square feet.
Master Bathroom Size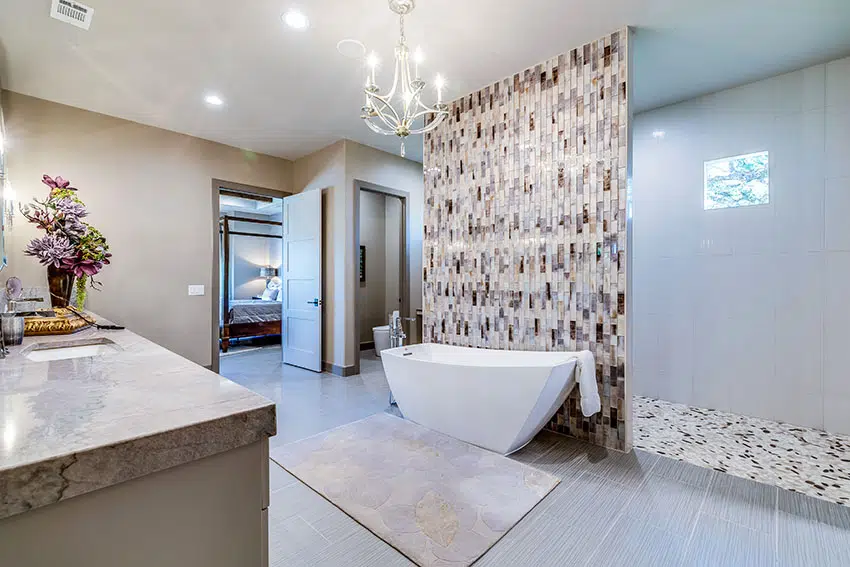 The master bathroom is a large full bathroom attached to the master bedroom and can typically be used by two people simultaneously. Just as the master bedroom is the largest in the house, the master bathroom is also the biggest in your residence.
A master bathroom can be as small as 40 square feet or as big as 150 square feet and beyond. Again, the size will depend on your master bedroom's total space.
A luxury master suite bathroom can fit elements like double walk-in showers, a seating area, a connected walk-in closet, and bay view windows, to name a few.
Average Master Bathroom Size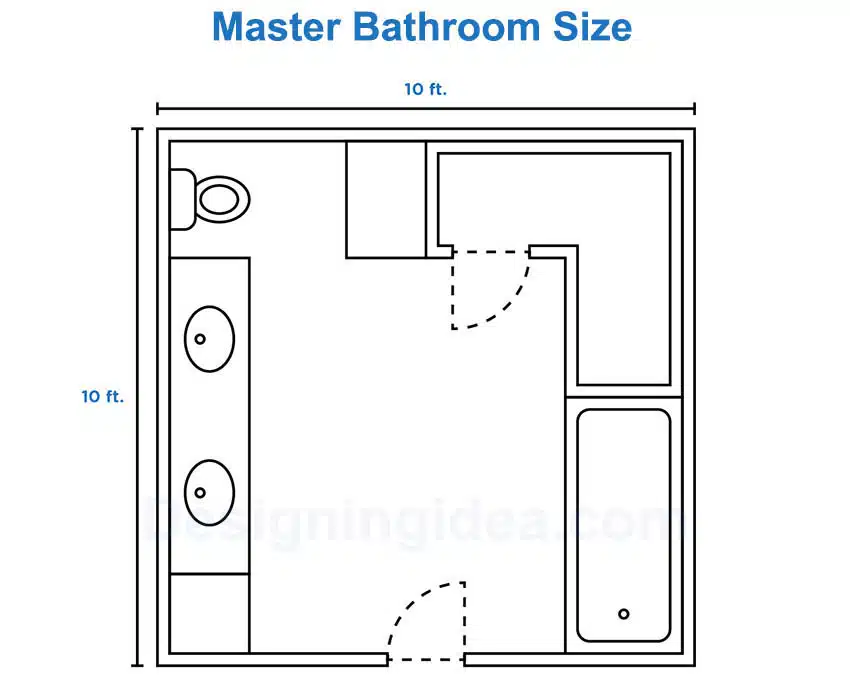 In a sizable home, the average master bathroom is between 60 and 100 square feet. With this amount of space, you can fit a lot of things, including the following:
• Shower Enclosure: A walk-in shower measures 36 x 48 inches, on average. The size may vary according to the layout of the shower enclosure.

• Bathtub: The external dimensions of an average alcove bathtub are 60 x 32 inches.

• Double Vanity: The double vanity should allow enough elbow space for two people to use simultaneously at the sinks. This vanity set should be at least 60 inches wide. A narrow vanity has a depth of 18″, while the average is 20″ to 21″ deep.
• Toilets: There should be at least 15′ on either side of the toilet from the wall or vanity and 24″ directly in front.
• Storage Space: A storage space for linens, towels, and other toiletries is always great and is highly customizable in size.
Half Bathroom Size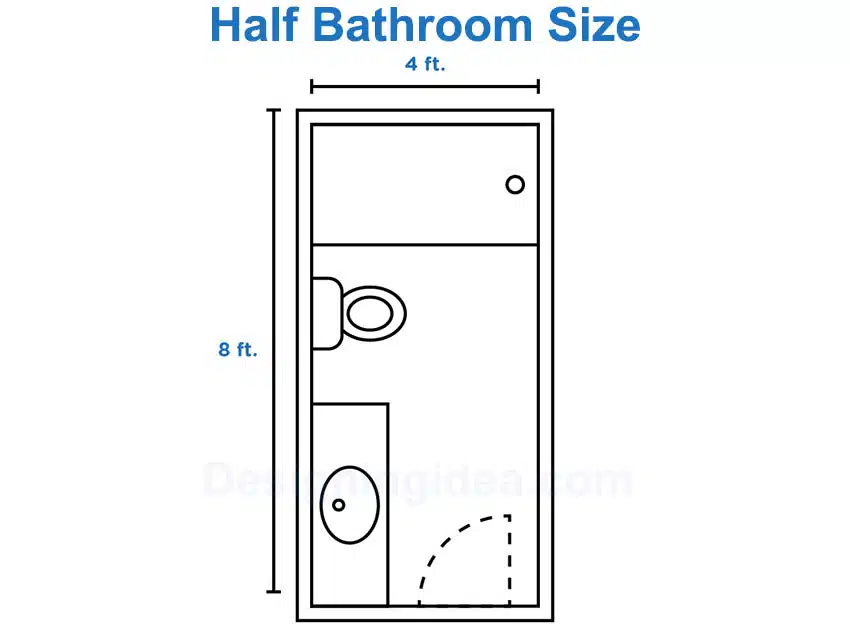 A small half bathroom size is 6 to 8 feet long and 3 to 4 feet wide.
Compared to the master bathroom, a half bathroom or a powder room only has two plumbing fixtures. Typically, a half bath has a toilet and a sink and therefore doesn't require too much space for extra functionality.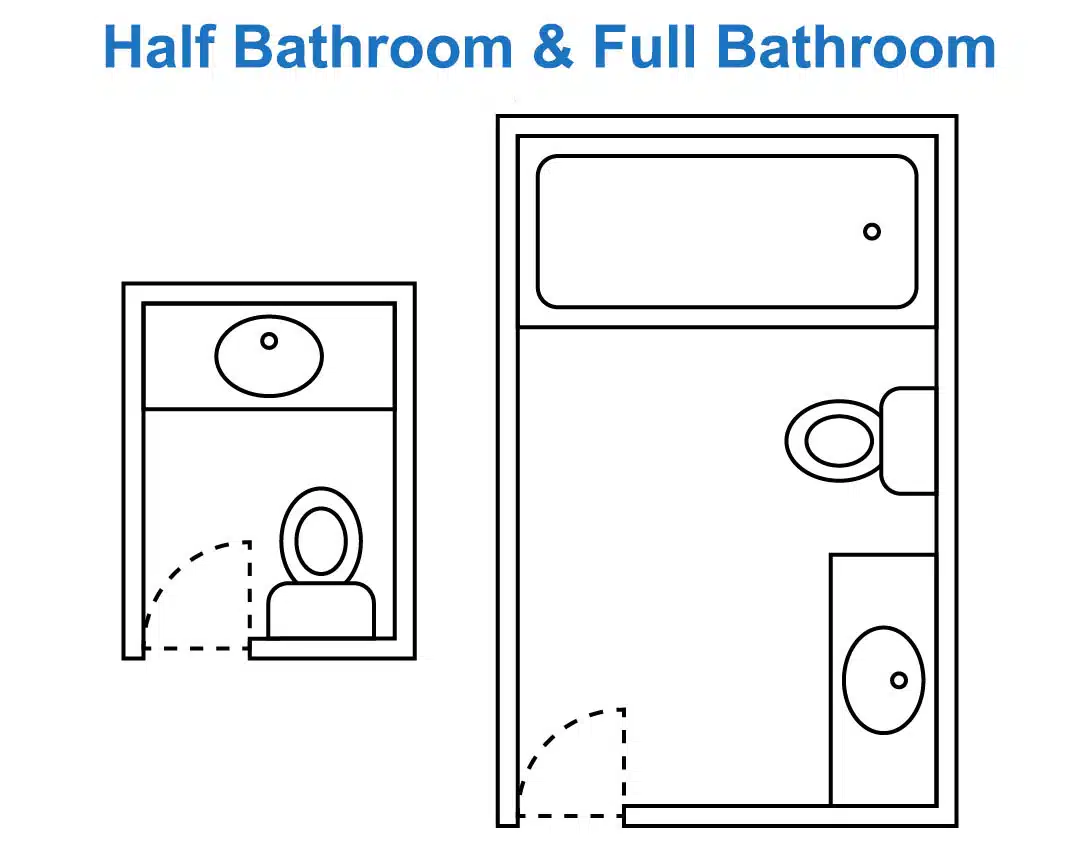 Of course, fixtures may vary. Some half baths have a shower and a sink, or a tub and a toilet.
Minimum Half Bathroom Size
The minimum size for a half bathroom is 3 x 6 feet or 18 square feet. While admittedly small, a half bathroom of such dimensions will be able to fit a sink, toilet, and extra storage space with a little bit of creativity.
A half bathroom is most efficient if you only need the standard functions of a bathroom. That's why half bathrooms can ideally be placed in the hallway or anywhere on the ground floor of your house for easy access to guests.
Building your bathroom near existing plumbing is also convenient.
Small Bathroom Size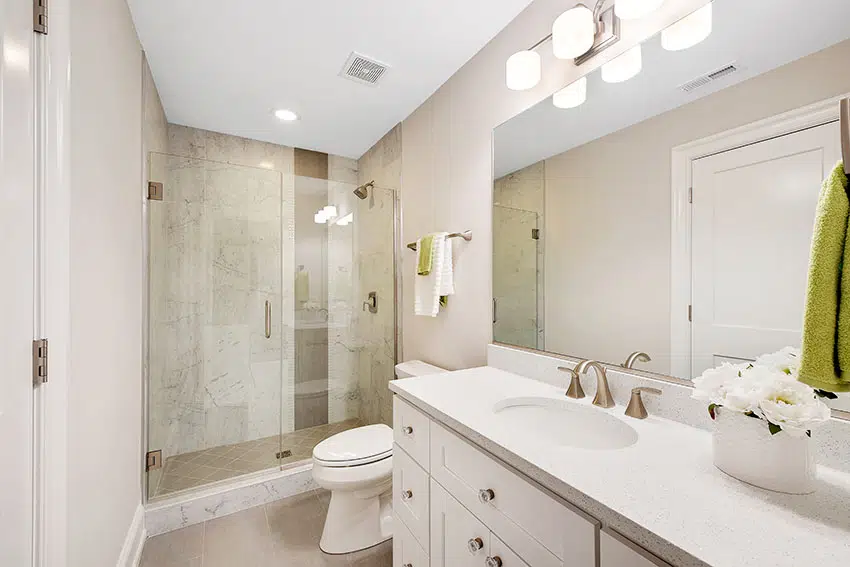 There are smaller bathrooms than full and three-quarter bathrooms: the half bathroom (powder room) and the quarter bath.
A three-quarter bathroom is slightly smaller than a full bath. Unlike a full bathroom layout, three-quarter baths only have three plumbing fixtures – the sink, toilet, and shower.
Homes with two bathrooms would have two full bathrooms, one full bath, and one three-quarter bath. The three-quarter bath is also a popular choice among residents of smaller apartments and homes as well as those who prefer to fit a large shower instead of a bathtub.
Finally, the smallest among the bathrooms is a quarter bath. Quarter baths have only one function. It could only have a shower or a toilet.
Quarter baths are rare and usually located outside the house, like a shower room by the pool, for example. Although small bathrooms like this may be difficult to design, there are many creative solutions that you can easily do to make them usable.
ADA Bathroom Size
Bathrooms should be accessible to everyone. That's why the American Disabilities Act (ADA) has set guidelines for handicapped bathrooms accessible to people with disabilities.
While you'd usually encounter these bathrooms in business establishments and industrial facilities, integrating one into your home is worth considering. This can be particularly helpful if you have an aging or disabled loved one who visits or stays in your home.
Follow the guidelines when fitting ADA bathrooms. Make sure to have abundant space for moving. You must also install relatively low fixtures and sturdy grab bars.
An ADA compliant half bath with no bathing facilities starts at 38 square feet. compliance

Minimum ADA Bathroom Size
ADA bathrooms do not have minimum size requirements, although they should have at least 60 inches diameter for clearance.
Having this much space would allow wheelchairs to turn and move around. You also have to consider the space around each fixture.
Minimum Toilet Area:

56 x 56 inches plus a 60 inches diameter of clearance



Minimum Sink Area:

30 x 48 inches plus 48 inches clearance



Minimum Bathtub Area:

60 x 30-inch clearance plus a special seat inside the bathtub.



Minimum Shower Area:

A 36 x 36-inch shower needs a 46 x 36-inch space for moving.

A 30 x 60-inch shower needs a 36 x 60-inch space for moving.



Minimum Door Size:

at least 32 inches door width
Source: Access-board.gov Besides the ADA, make sure also to check the local building requirements in your area.
Have you enjoyed this article on the guide to bathroom sizes? Visit this page on best paint finish for bathrooms for more related content.