Here we discuss the best bathroom layouts and design ideas, including where to place the vanity, sink, shower & bathtub. These bathroom layout ideas provide inspiration for maximizing floor space and creating beautiful bathroom designs in any size room.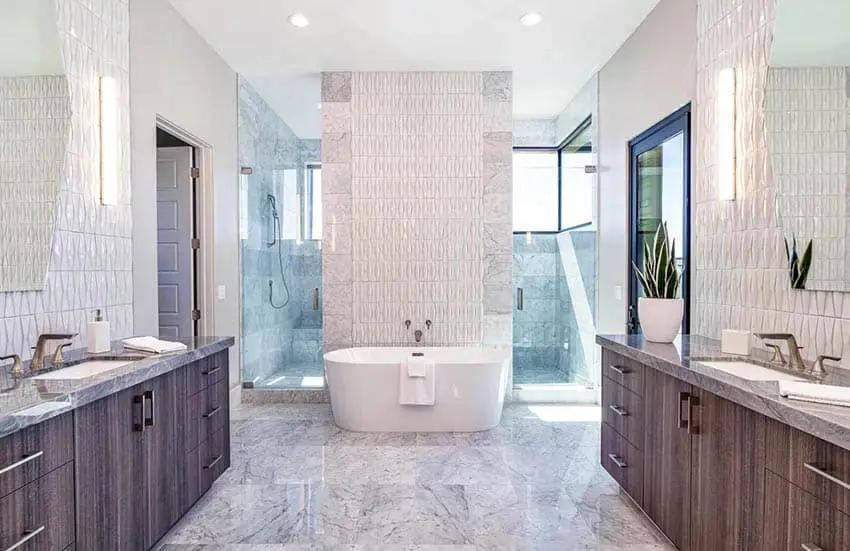 Whether you're planning a luxurious master suite, a powder room or searching for bathroom ideas that work well in a small space, finding the right arrangement is important.
With so much use every day, it's important to have a bathroom that's both functional and comfortable. The best way to ensure utility in your bathroom is by having it laid out such that it can serve your needs while remaining stylish.
Considering bathroom ideas for window placements and different tubs might give your bathroom space an extra sense of personality and functionality.
Whether you're looking to remodel your entire bathroom or just one aspect, it can be difficult to know where to start. Tackling the entire bathroom remodel as a whole can be overwhelming.
So here are a few tips on how to create the layout of your dream bathroom, from bathroom design to specific bathroom layout ideas or options that cater to your needs.
Bathroom Layout Tips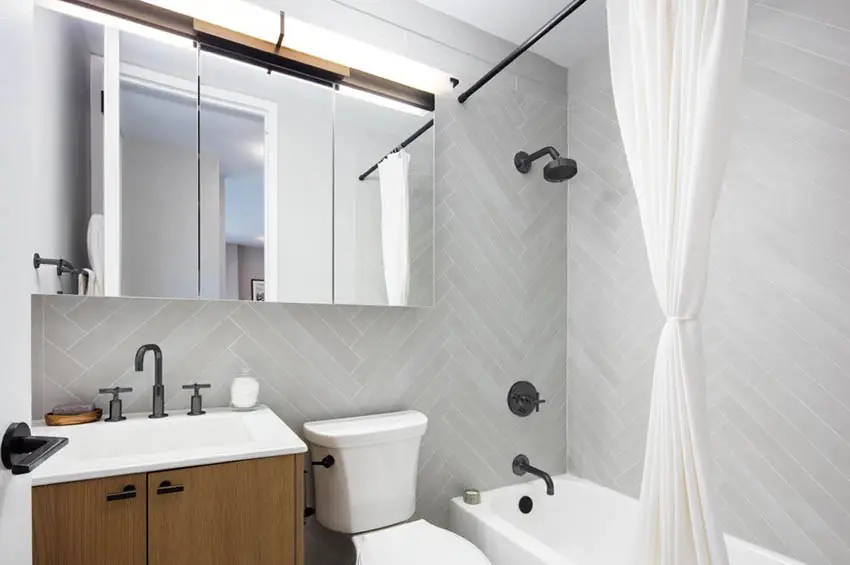 This bathroom layout uses a 5ft by 8ft plan that makes good use of every inch of available space.
A full bathroom layout will contain four parts which are a sink, toilet, tub and shower. A 3/4 bathroom layout will contain a sink, toilet and tub. A half bath will only have a sink and a toilet.
A full bathroom requires a minimum of 36 to 40 square feet of space. The standard size for a guest bathroom or a small master bath is 5ft by 8ft.
Vanity & Sink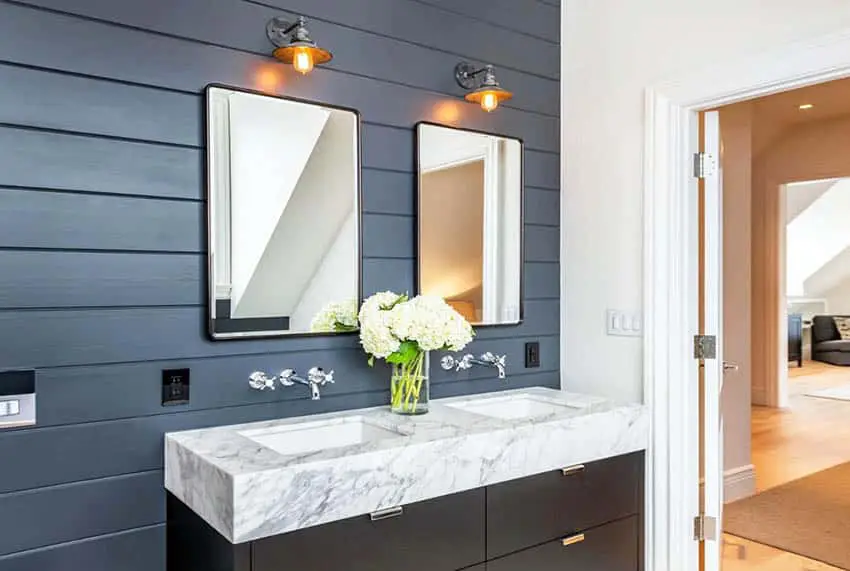 Determining the best vanity layout requires you to think about how many people will use this bathroom to get ready for work, school, or events. If there are two or more people using this space to get ready every day, it might be worth having a two sink vanity instead of one. Read more about bathroom sinks here.
This would give everyone a bit more space and would cut down on wait times to use the mirror. This does create more space to clean, however, so it's important to weigh that in when making your decision.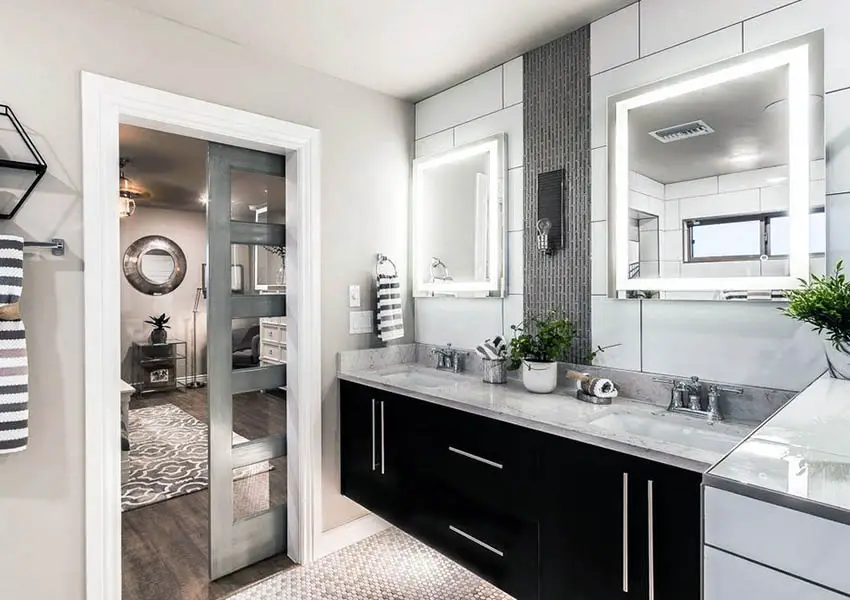 Another aspect to consider with the vanity is that this is where the primary lighting in the bathroom will be located. Because the vanity is often where people groom themselves, quality lighting is incredibly important. Many people are tempted to use overhead lighting, but this can cast shadows that make it difficult to apply makeup or shave.
It can be helpful to avoid overhead lighting entirely, instead opting for lighting along the sides of the vanity mirror. This will provide adequate lighting, while also preventing those shadows that can cause a problem when you're trying to get ready.
If you have a bathroom with no windows there are several things you can do to maximize the brightness in the space. You can improve the amount of lighting by installing light fixtures with brighter output. Another idea is to paint the room in lighter colors that better reflect light.
Also you can consider putting in bathroom flooring in lighter shades. Finally, try installing a glazed panel door with can provide extra light from outside.
Privacy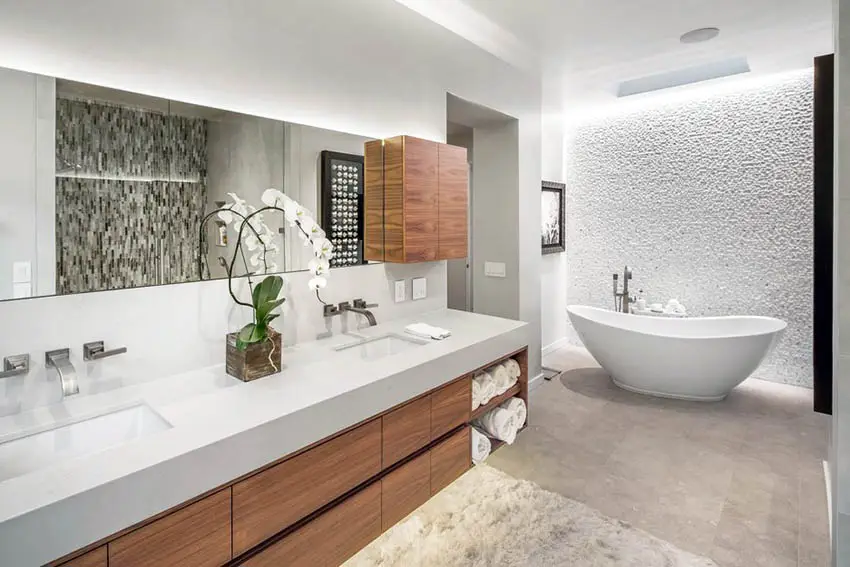 The bathroom is one of the areas in the house that requires the most privacy. There are a few ways to promote privacy in the bathroom, many of which revolve around how the toilet is placed in the layout.
Bathroom floor plans, taking into account the square footage and shape of the space, can ensure efficient use of space while incorporating privacy solutions.
Having the toilet so that it is out-of-sight of the door is possibly the easiest way to achieve some extra privacy. You could also take it a step further, by adding in a privacy panel.
Made of tempered glass and these panels are opaque enough to limit visibility on either side. These panels are also thin enough to conserve space as well so they won't completely alter the bathroom layout.
Additionally, incorporating products such as water-saving options and look-enhancing accessories can improve the overall design and functionality of the bathroom.
The ultimate way to achieve privacy in a bathroom, though, is to have a separate toilet compartment. This involves having a door that completely separates the toilet from the rest of the room. With a variety of available door options, it's easy to find one that complements the rest of the bathroom decor.
With this setup, one person could be using the toilet compartment, while another could be using the rest of the bathroom. The toilet itself should be placed at least 15 inches from its center to the vanity, side walls or partition. The toilet paper holder height and distance from the actual toilet is another consideration.
While these setups provide the ultimate level of privacy, they do reduce the amount of usable floor space and room for extra items. Because of this, toilet compartments should only be installed in larger bathrooms.
Shower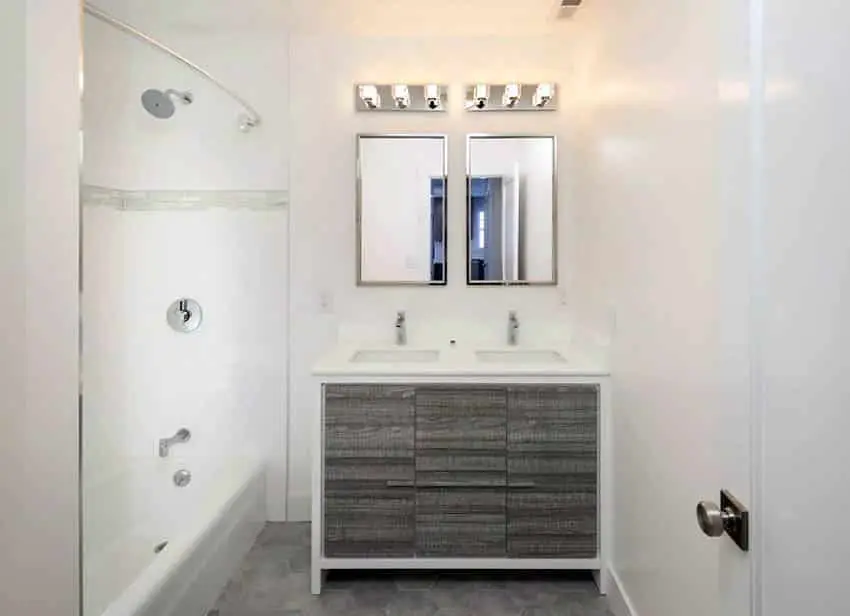 With so much time spent in the shower, it's important to make sure this area is a comfortable space with plenty of storage. For those who are focused mostly on utility, a bathtub/shower combination may be enough.
For those who aren't into soaking in the bathtub, you could also choose to forgo one entirely. Most realtors agree that a home only needs one bathtub, and the home won't lose any value if a second one is removed in the form of a half bath. Removing the bathtub can significantly open up the layout, making more space available for a larger bathroom shower.
A walk-in style makes it easier to enter and exit the shower, which is good for people with limited mobility. A bench can also be added into walk-in showers, which can serve either as seating or shelving.
A number of shower heads can be chosen, including ones that are detachable or have various speeds. Some even opt for a rain shower, in which the shower head is located directly above the user.
The size of your layout will determine whether you have room for a walk-in shower. The minimum size for a shower is 30 inches by 30 inches with shower doors having at least 24 inches of an opening. For smaller rooms a tub/shower combo can be used.
Bathtub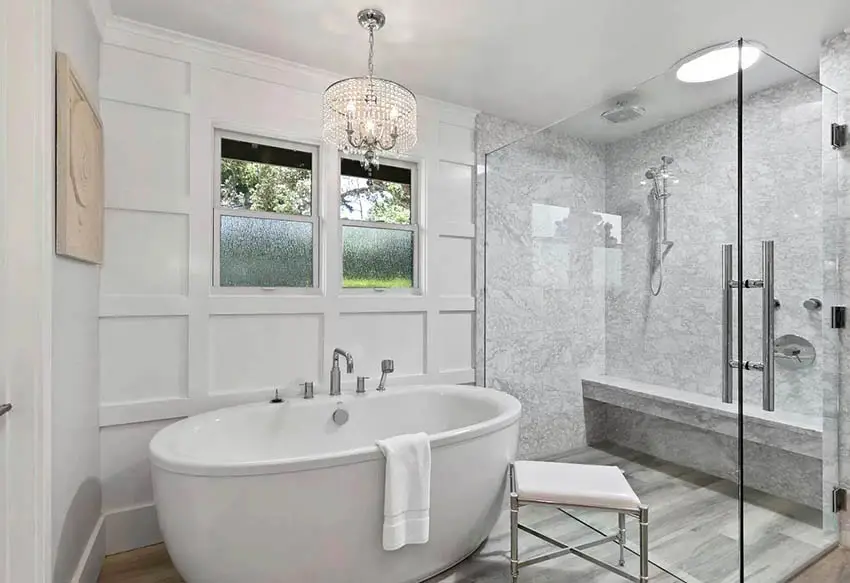 However much stock you put in your bathtub is entirely dependent on how much you or the others that use the bathroom enjoy bathing. If one of you really enjoys soaking in the tub, having a separate unit would be worth the cost.
The bathtub can be bumped out to give it more of a nook within the bathroom such as what's used for an alcove bathtub, providing a unique choice for those who appreciate a personalized experience.
On the contrary, the bathtub can be bumped in, making it more of a central feature for the room. In this case, keeping details in mind, the surrounding area would function as counter and storage space for the rest of the features in the space, including material for showers and other elements.
The amount of space you need for the bathtub is generally at least 60 inches long [which is the length of a standard tub] and 30 inches wide. There are various sizes available to suit different styles and preferences. Read more about bathtub dimensions, including additional information on color options and sizes, here.
A clawfoot bathtub is a classic choice, and is large enough for most people. Some tub designs offer bonuses such as whirlpool jets, which can provide relief for those suffering from pain or sore muscles.
Those suffering from these conditions may also benefit from a walk-in bathtub that accommodates mobility issues. Bathtubs with jets and other features can be costly, though, so it's important to weigh this element carefully against your budget.
Plumbing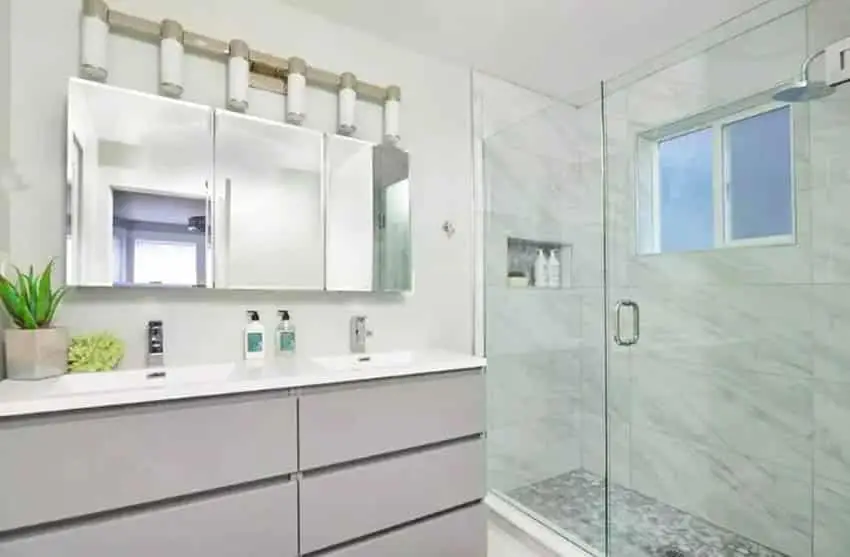 Unfortunately, unless you're building your home, the best bathroom layouts will largely depend on the space that's already there. Changing plumbing that's already installed is not only difficult and time-consuming, but it's also quite expensive.
This is especially true when multiple renovations are done on separate occasions and plumbing must be changed numerous times. If plumbing renovations are to be made, they should be done all at once by a licensed plumber.
In general, it's easiest to keep the new bathroom layout as similar to the old one as possible, bearing in mind practical functionality. You should also try to stack bathrooms whenever possible when you're working with a home with multiple floors, as this allows them to use adjacent pipes. This will cut down on the costs associated with significant plumbing alterations.
Consolidating plumbing to one "wet wall" is another good strategy for a plumbing layout. This makes it easier for the plumber to access all pipes without having to take out multiple walls to do so. If one "wet wall" isn't possible given the layout of the bathroom, having two adjacent "wet walls" also works well.
To create and visualize your layouts there are a variety of bathroom remodel software programs that can help. These will allow you to try out different placement, materials and finishes to see your designs before hiring a contractor who can provide more details and information about your plan.
5 x 8 Bathroom Layout With Shower
These floor plans show several different ways to create your 5′ by 8′ bathroom layouts with a shower.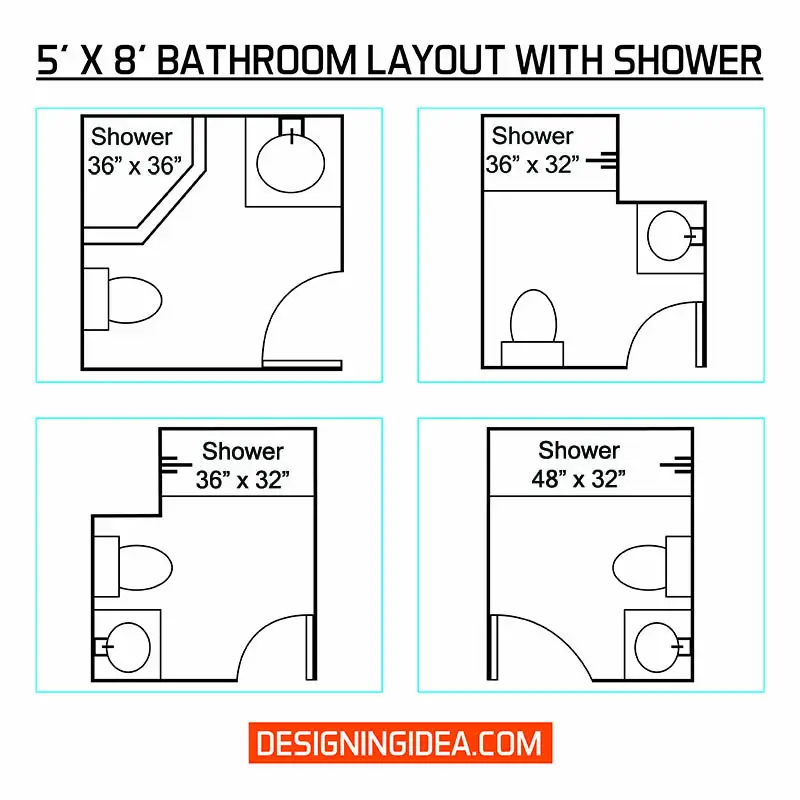 5 x 8 Bathroom Layout With Tub
These bathroom layouts show the most effective ways to position your bathtub for a 5′ by 8′ floor plan which you can use to create different styles.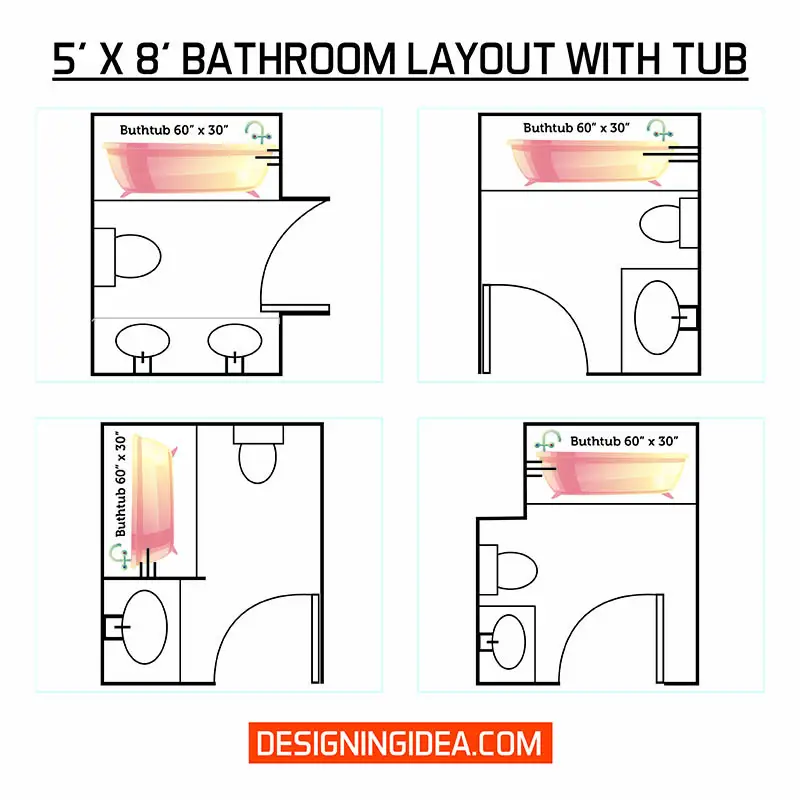 Bathroom Layout Plan
Here's a bathroom layout plan info-graphic that describes some of the best design sizes and ideas: