Here we share our bathtub dimensions size guide for alcove, drop-in, walk-in, corner, round, small, rough & freestanding tubs.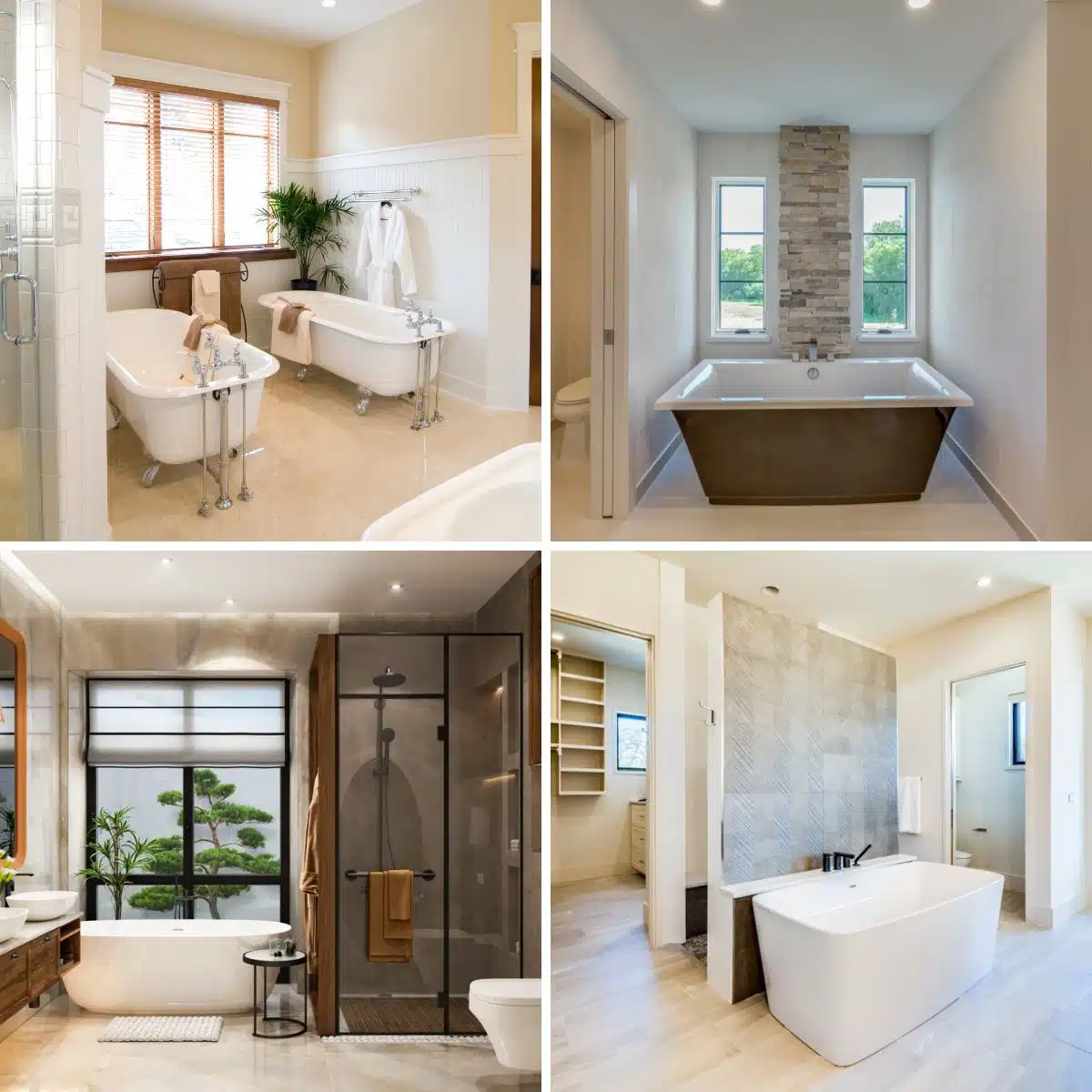 Bathrooms are multipurpose areas that are guaranteed to get heavy use. A well-laid-out, streamlined, and attractive bathroom is an asset to any home. Whether you are creating a new bathroom from scratch or renovating an existing space, the lay out is one of the most important considerations.
However, bathrooms are generally the smallest room in the house. Cramming in a toilet, sink, shower, or tub with appropriate storage, clearance, and ventilation is not an easy job. When the further complication of plumbing is added, it's no wonder they are so difficult to get right.
The largest portion of your bathroom footprint will be devoted to your bathtub. To plan the space appropriately and avoid problems down the line, it is important to know the dimensions of popular bathtub styles.
Standard Bathtub Sizes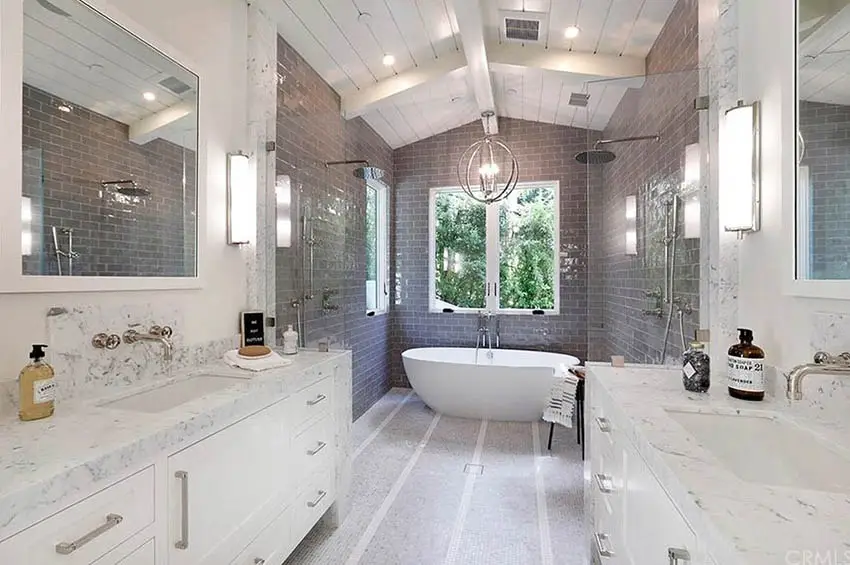 This article addresses the most common sizes for different styles of bathtubs. However, a word of warning: standardization only goes so far. There are no laws or regulations governing bathtub sizes.
It would be best to never choose a tub without consulting the manufacturer's specifications and measuring your space (at least twice!) to ensure that the tub you invest in will be easy to install.
Alcove Tub Dimensions
They generally measure 60 inches long and are 30 to 32 inches wide. The depth is less standard — anywhere between 14 and 20 inches.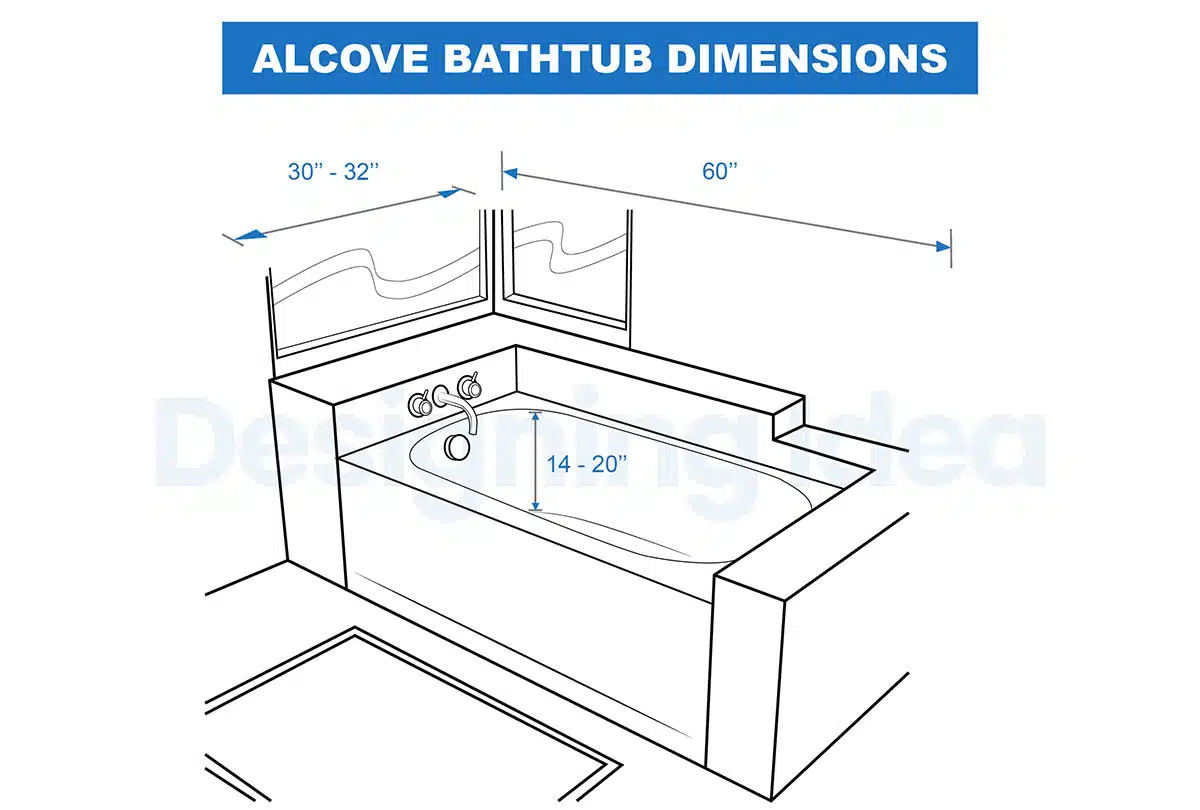 An alcove bathtub is usually incorporated with a shower. It is surrounded on three sides by walls, with the showerhead and tap in the same wall.
Most homes are equipped with an alcove tub (usually 60 inches long) that includes a tub surround and shower. Combining the tub and the shower in one fixture is a way to conserve precious bathroom floorspace and simplify the initial installation. – Black and Decker The Complete Guide to Plumbing Updated 8th Edition, Editors of Cool Springs Press, Chris Peterson
Most often, an alcove bathtub uses a shower curtain rather than a door. Standard for a reason: they are cost-effective and can be used for various purposes.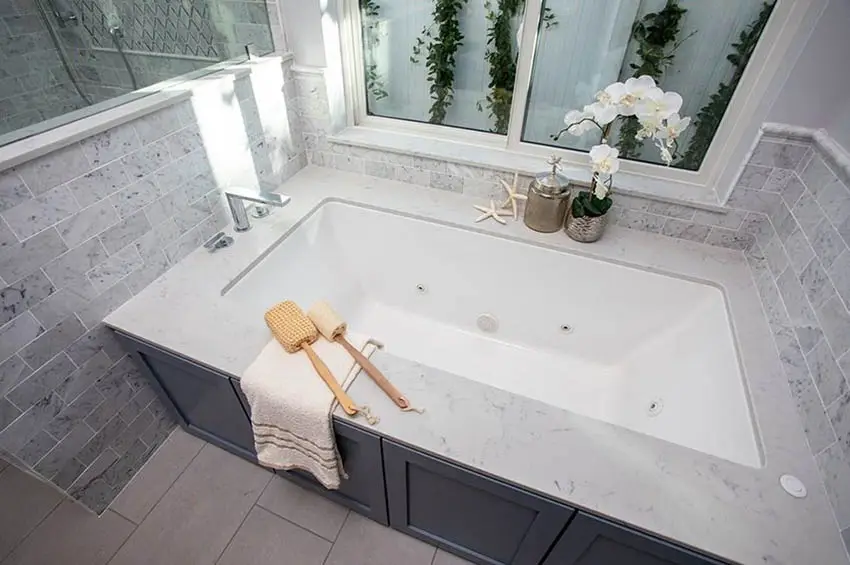 Example of a rectangular alcove tub with stainless steel fixtures, decor accessories, and pony wall shower enclosure. A shower tub combo usually has a minimum capacity of 60 to 100 gallons when filled to the overflow level.
Bathtub Rough In Dimensions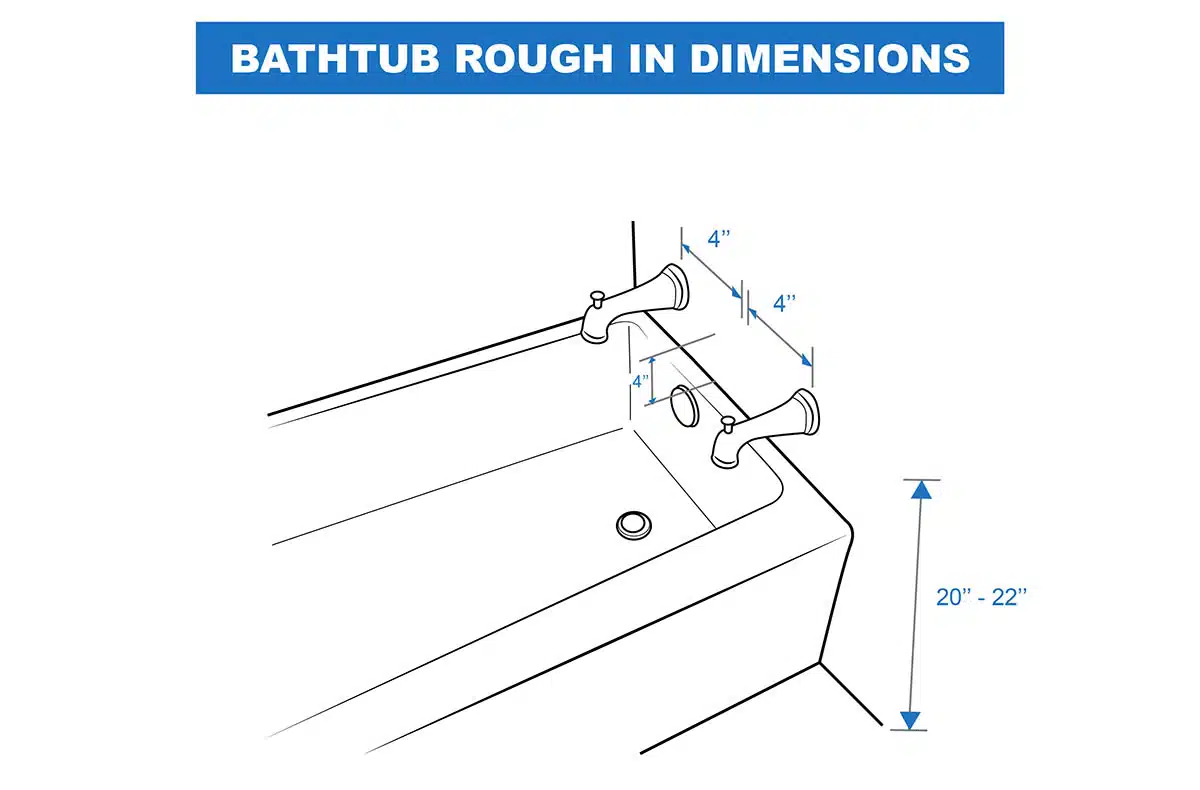 'Rough in' is a phase of construction. During this phase, all the connections are laid out in the house, including electrical, mechanical, and of course, plumbing.
Getting this right is a crucial step to a successful construction project — if done well, installation of hardware and finishes will go in easily.
The placement of the holes for pipes needs to line up with the tap for the front of the bathtub. The standard placement for the faucet valves is 20 to 22 inches above the floor.
Faucets should generally be 4 inches to the right and left of the centerline (an imaginary vertical line extending up from the center of the drain.)
The tub spout should be placed 4 inches above the rim of the tub. Of course, while these measurements are the most common, any tub could have different requirements. It is important to check the specifications of the particular model being installed.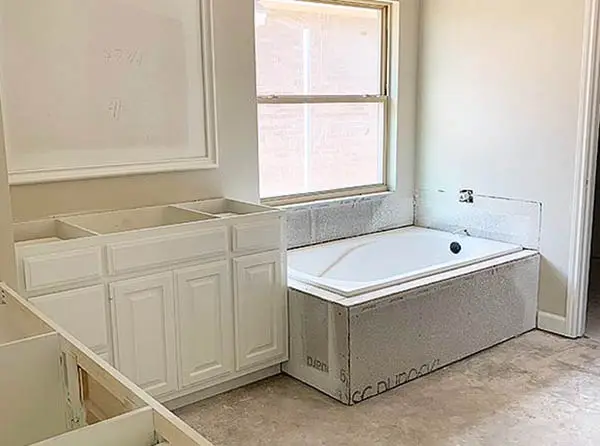 You can use one of the many types of bathroom remodel software programs to create and visualize your bathroom layout design to ensure it fits perfectly in your home floor plan.
Freestanding Tub Sizes
The smallest size freestanding bathtubs are generally 55 inches long, 27 inches wide, and 15 inches deep. An average-sized freestanding bathtub is similar to an alcove design — about 60 inches long, 30 inches wide, and 19 inches deep.
Larger freestanding tubs can be longer than the average adult, starting at 72 inches long or a whopping 6 feet! Their width is usually a larger size, such as 32 inches, and the depth is generally 20 inches. Standard freestanding bathtubs generally hold about 80 to 100 gallons or water.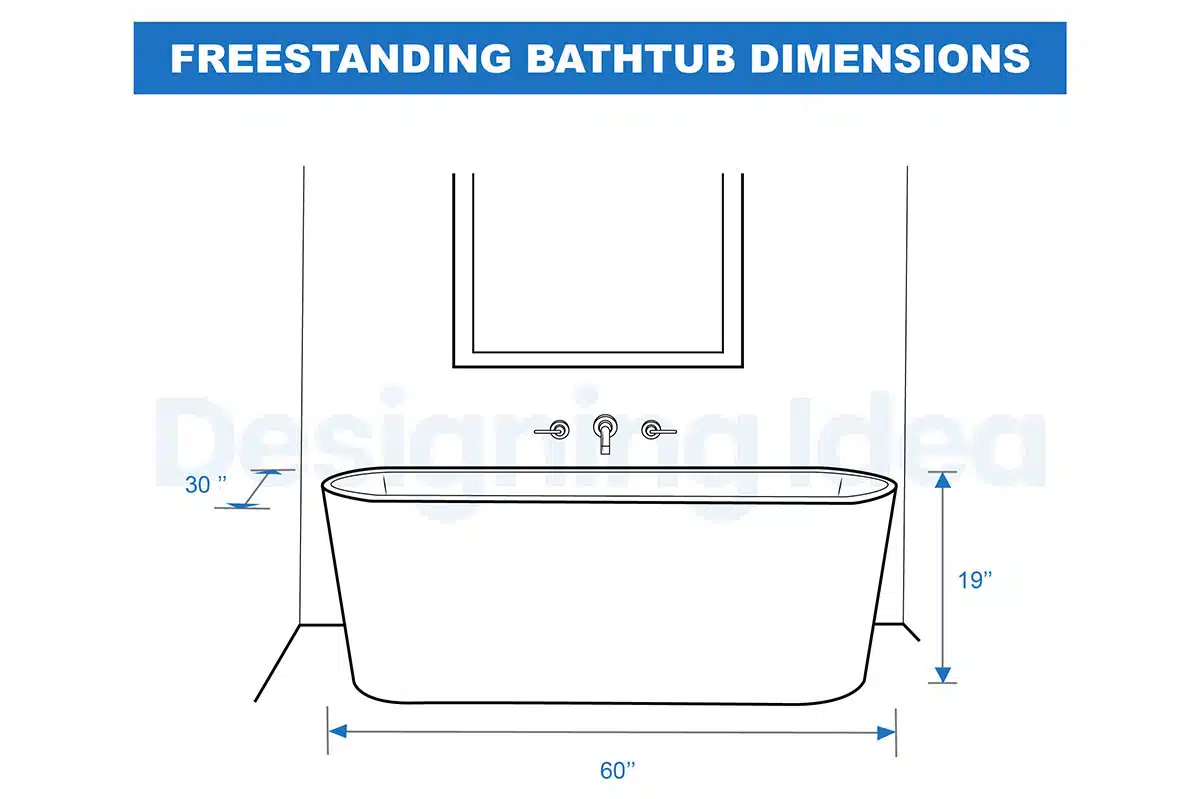 The most important feature of a freestanding tub design is that it's not attached to any wall. The plumbing is connected directly through the floor. They are elegant and attractive, as well as being easy to maneuver around.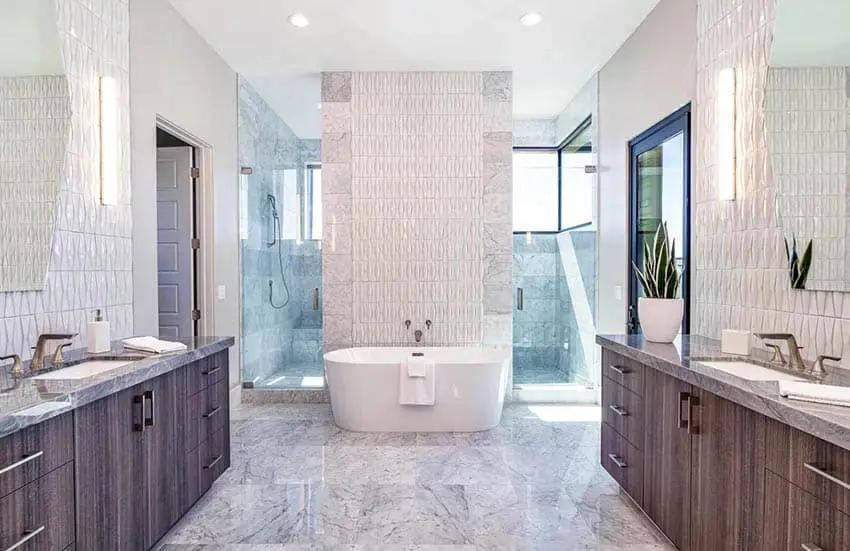 Here's a picture of a freestanding bathtub with a tile accent wall and double vanity cabinets. There are many different material options for freestanding tubs, such as acrylic, stone resin, fiberglass, solid surface, copper, wood, and cast iron.
In addition to the materials and colors, there are a wide variety of design features. Popular tub designs include a double slipper with both sides raised, a pedestal tub, Japanese round soaking, rectangular, extra deep, and clawfoot tubs.
Small Bathtub Measurements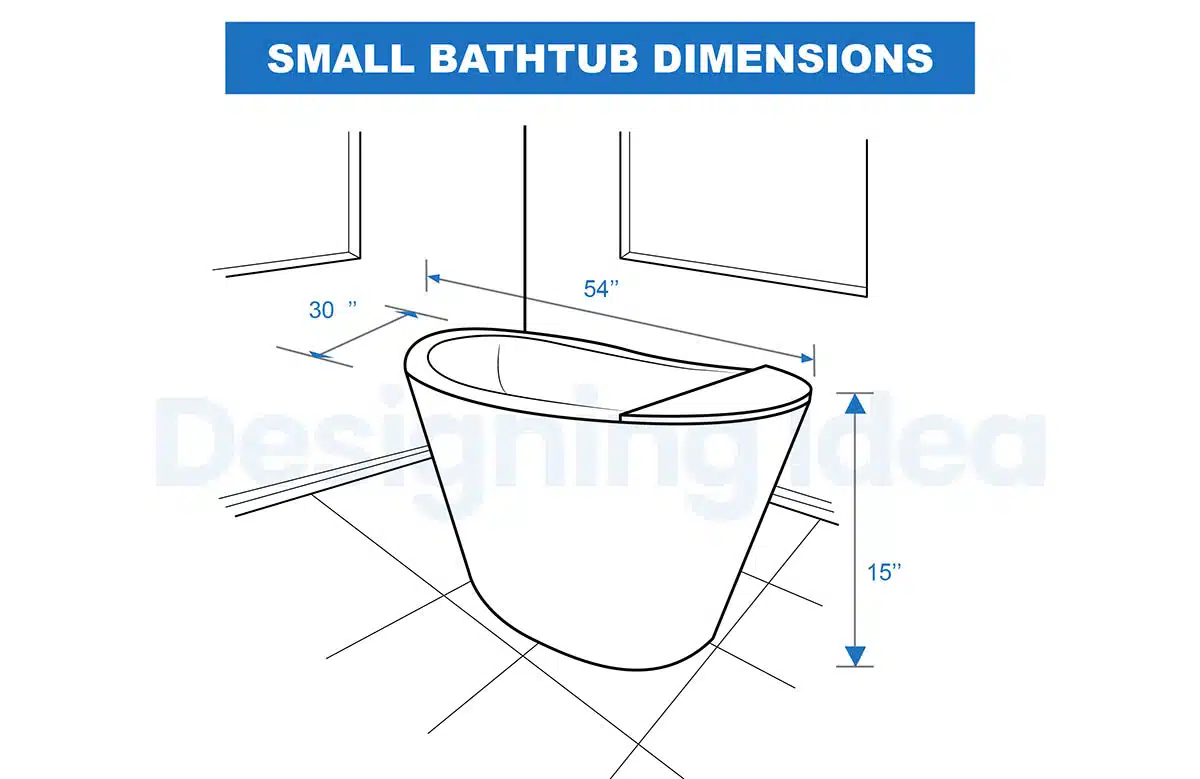 The smallest available alcove bathtub is 54 inches long, 30 inches wide, and 15 inches. This is a great option if you need to bathe small children or animals.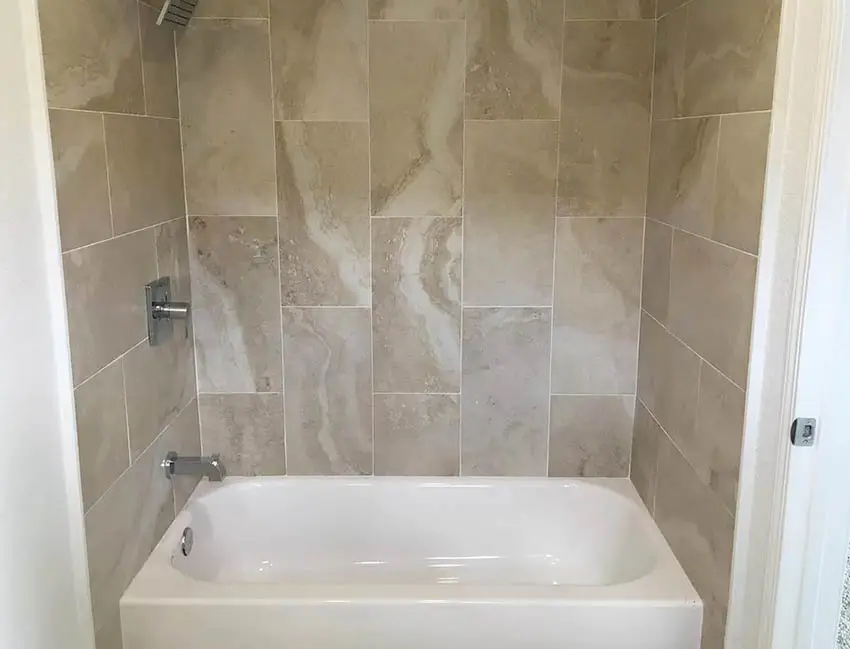 For all but the shortest adults, this bathtub will be frustrating to bathe in. Many adults are already used to choosing between submerging their legs or torsos in the bath. With the smallest sizes of alcove tubs, neither is possible.
Small tubs also hold the least amount of water of the different types, with a 40-gallon capacity.
Corner Bathtub Dimensions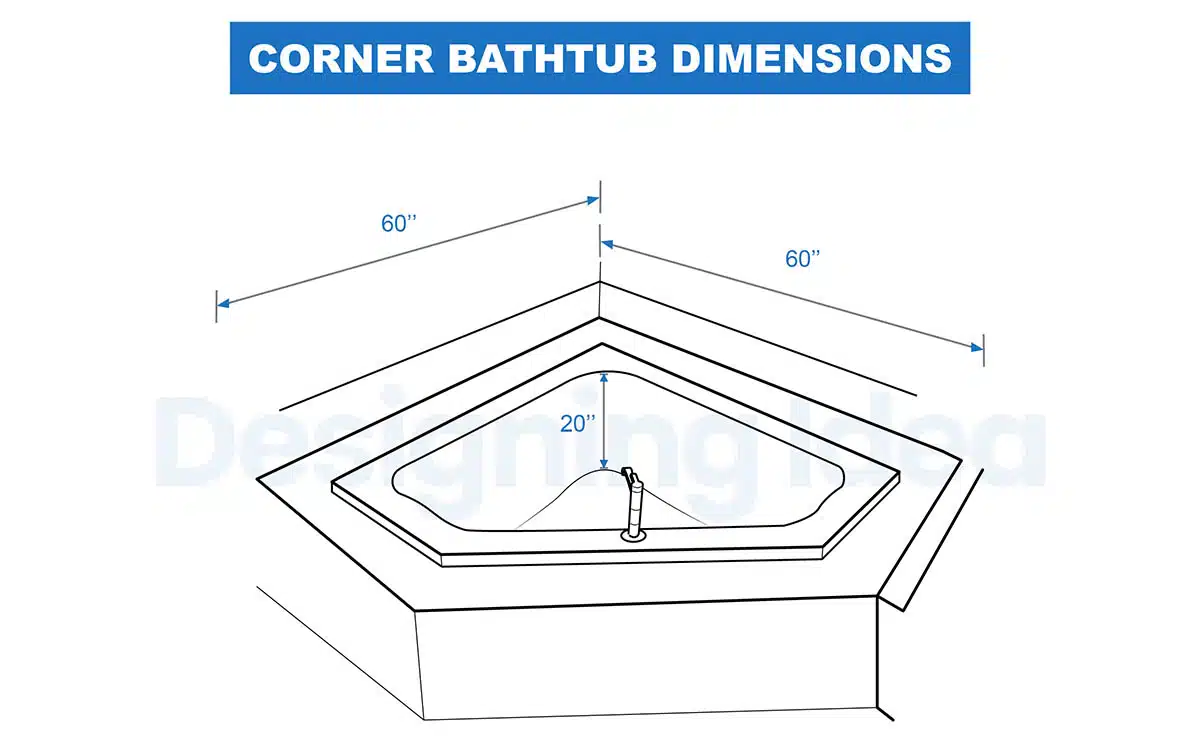 Corner bathtubs are most often seen in master bathrooms. They are intended for long, luxurious soaks. They are often square or somewhat triangular in shape.
A small corner bathtub would likely measure 4 feet by 4 feet (48×48".)
An average corner bathtub is generally five feet by five feet (60×60") with a depth of 20″.
Larger-sized corner tubs measure six feet by six feet. (72×72").

The image shows a soaking corner tub with a rounded design. Most corner tubs have a water capacity amount of 40 to 60 gallons.
Round Tub (Japanese Style) Dimensions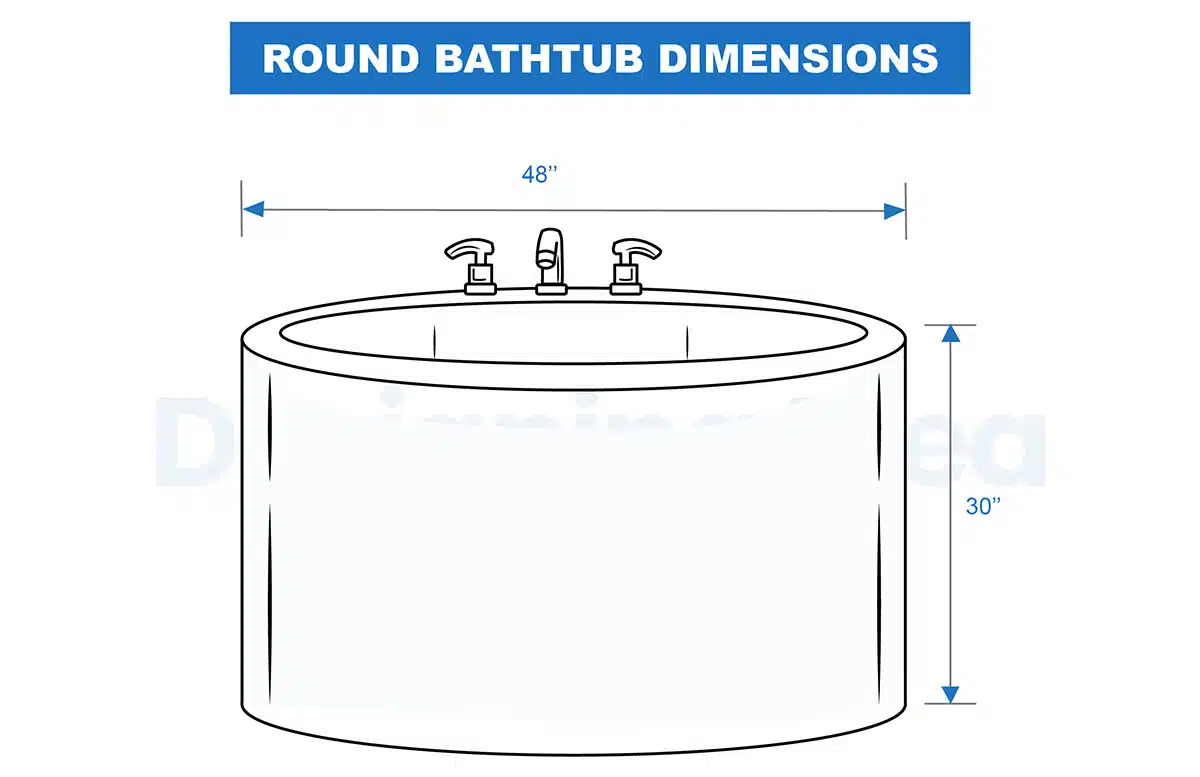 An unusual choice for a bathroom, at least outside of Japan, is a round bathtub. They go by several names: soaking tubs, Japanese bathtubs, or, in the original Japanese, ofuro. These are usually free-standing, but not always.
A round tub usually does not include a shower. They can be made of wood or ceramic. A typical size for a one-person tub would be 48 inches in diameter and 30 inches deep. This allows for a much deeper soak than a traditional tub.
Tubs appropriate for two people are also available, but they become oval in shape — 65 inches long and 30 inches wide at the largest part — while still retaining a depth of 30 inches.

Picture of a smooth finish, round copper tub.
Drop-in Bathtub Dimensions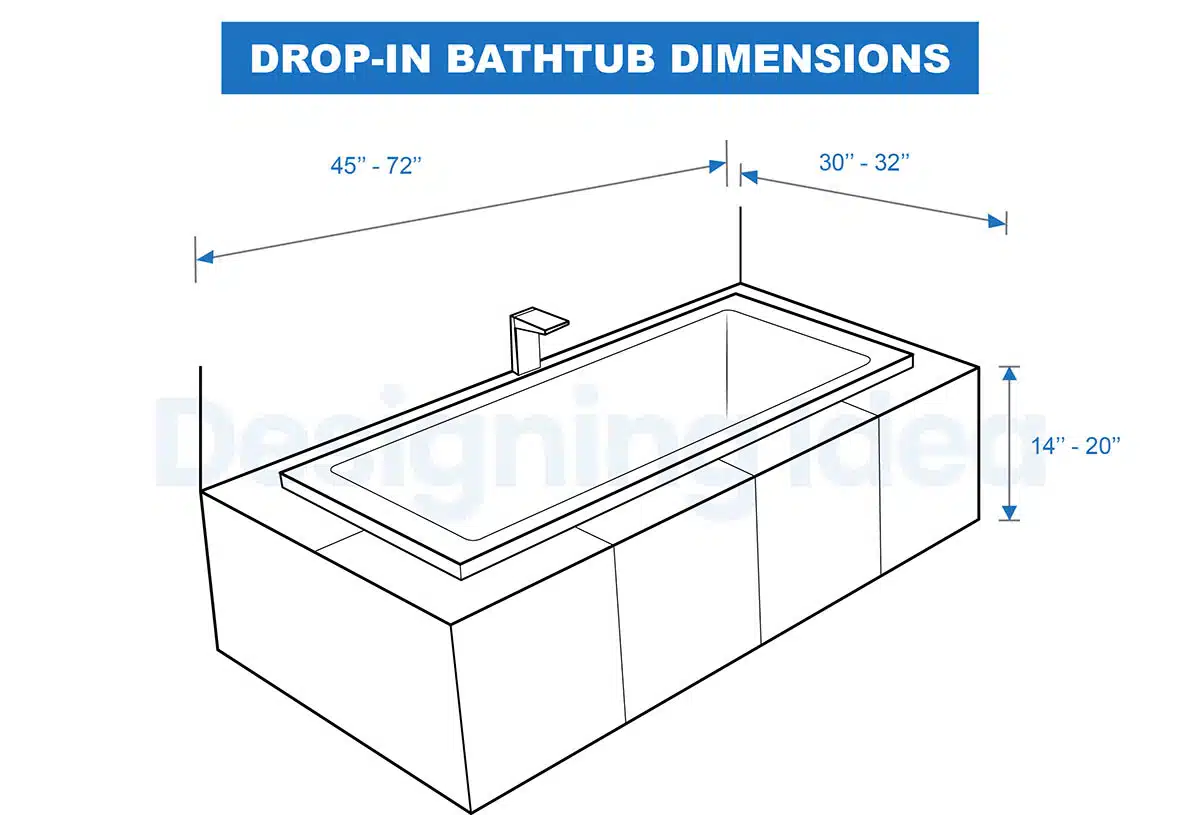 To create a drop-in bathtub, a deck is built, and a simple shell (with no sides or supports built-in) is placed inside it. Then, the deck is covered with tile.
It's standard procedure to leave at least 6 inches of completely flat space all around the tub. This means you must carefully plan for the additional space around the rim. This style is very striking and luxurious when paired with a large two-person tub.
The length of a larger tub can be between 45 and 72 inches, plus an additional foot for the deck. The width is usually between 30 and 32 inches with, again, an extra foot of deck added for installation calculations. The height is the same as that of a standard tub, 14 to 20 inches.
Drop-in tubs made of an acrylic material typically hold 60 to 80 gallons of water.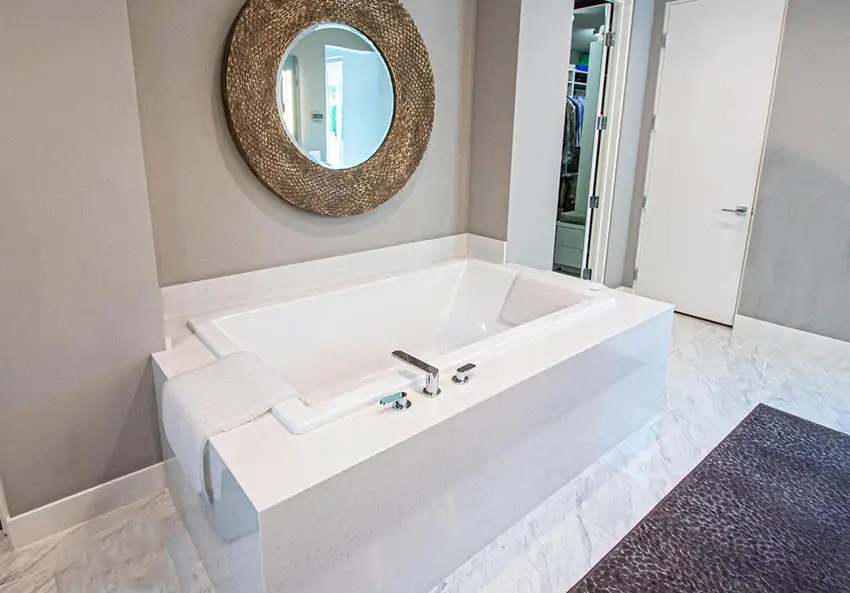 Example of a drop-in bathtub with a wall niche and waterfall faucet.
Walk-in Bathtub Dimensions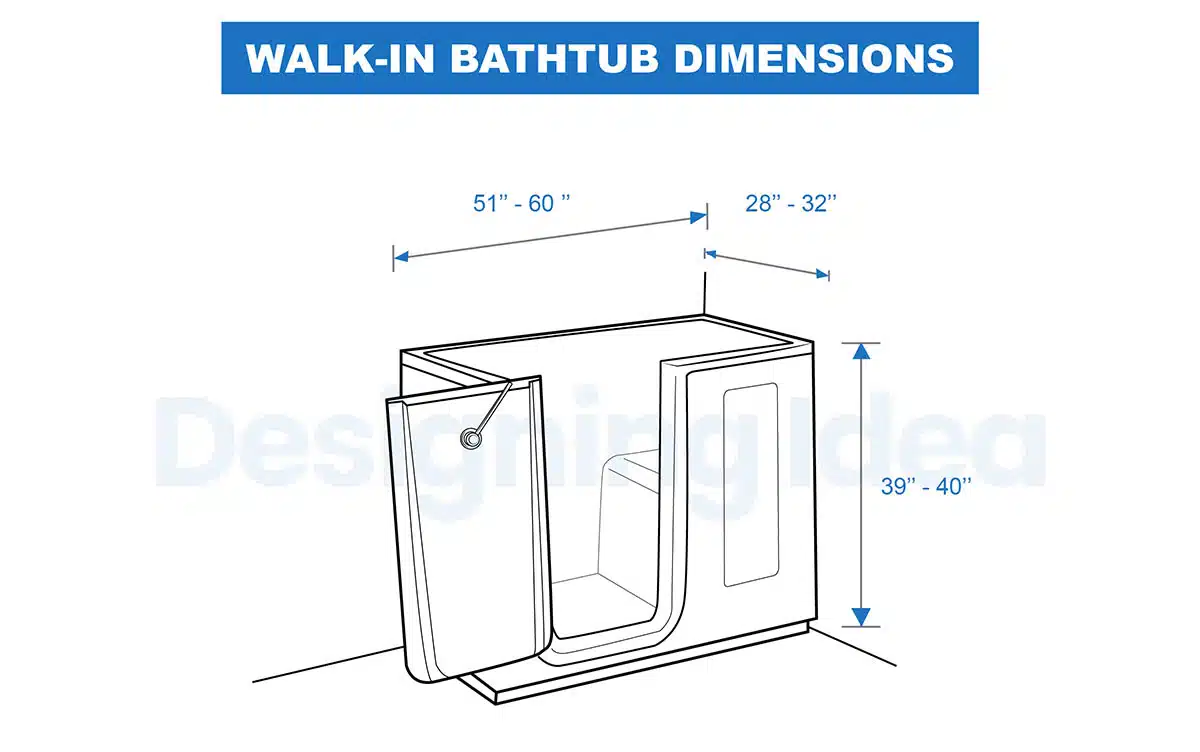 If you are renovating or building a bathroom and want it to be accessible to people with mobility difficulties, you may be considering a walk-in bathtub.
These tubs are constructed with a door in the side so the user can enter and exit without raising their leg over a tall rim.
A walk-in tub is typically from 51″ to 60″ in length by 28″ to 32″ wide and around 39″ to 40″ in height. You can find smaller units. However, they may pose issues with comfort, entry, and exit. There are smaller squarish-shaped walk-in tubs that measure 31.5″ wide, 37.5″ in length, and 38.5″ in height.
The main difference in size is depth. Where the average bathtub has a depth of 14-20 inches, a walk-in tub is closer to 30 inches on average.

Measure twice, cut once, and before you know it, you'll enjoy a long soak in your perfect bathtub. Enjoy! For more related content, visit our guide on how to choose a bathtub.