Here's our utility sink dimensions guide including measurements for standard basins, models with cabinets, wall-mounted, freestanding, and drop-in utility sink sizes.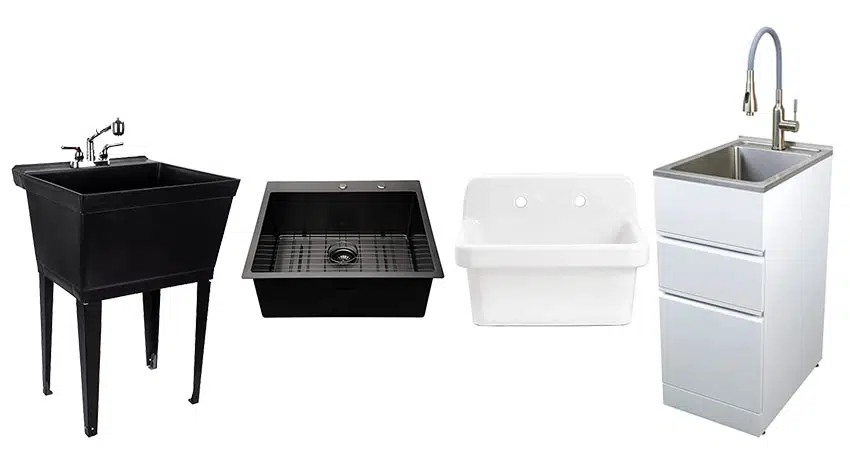 If you are searching for the workhorse of sinks, then utility sinks are for you. These watering holes can be used in many things and are not just limited to doing your laundry.
Compared to bathroom and kitchen sinks, utility sinks are less on the aesthetic and more on function and durability. Most of them are made of metal, making them mainly resistant to stains and heat, so messier tasks like handling mud, etc., will be more manageable with utility sinks.
Most of the time, utility sinks can be found in garages, mudrooms, basements, and sometimes even the outdoors. There are a variety of sinks available, and choosing the best one for your home is easy if you know what you need.
Standard Utility Sink Dimensions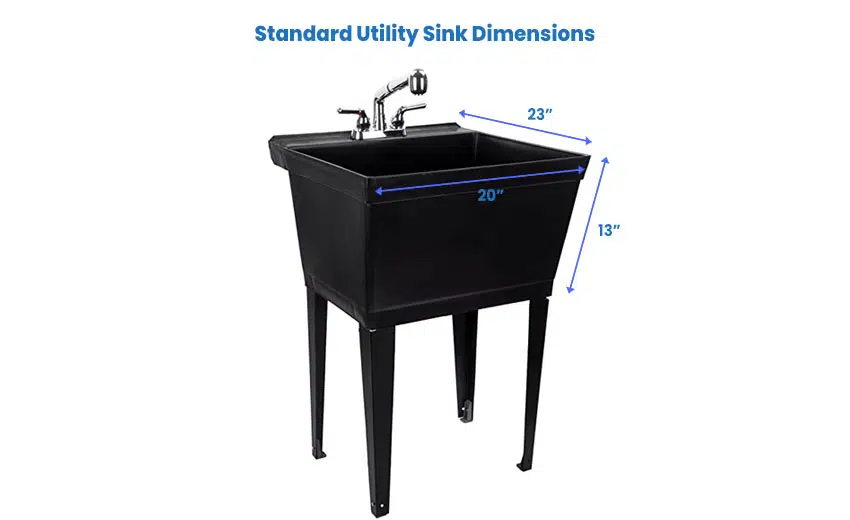 Utility sinks come in different sizes, so choosing one for your laundry room or anywhere else is possible no matter how big or how small you need them. There are a number of factors to consider, but the main thing is making sure that it is big enough for its designated use and small enough that it fits in the space provided for it.
Utility sinks are usually rectangular in shape, and it is deeper and also more expansive than any other sinks.
On average, most standard utility sinks will come in sizes of 23 inches or 58 centimeters in width. They will have a total length of 20 inches or 51 centimeters, and they will be 13 inches or 33 centimeters deep.
Consider the use and the available space before installing a sink for the room. Once these factors are considered, it will be easy to know how big a sink you will need.
Laundry Room Utility Sink Dimensions
There are a lot of styles of utility sinks every homeowner can use in their laundry room, and choosing one will mostly depend on how much space is available. If one is renovating to allow for utility sinks, then it is a cost-effective upgrade seeing as it won't take a lot of work and remodeling to install.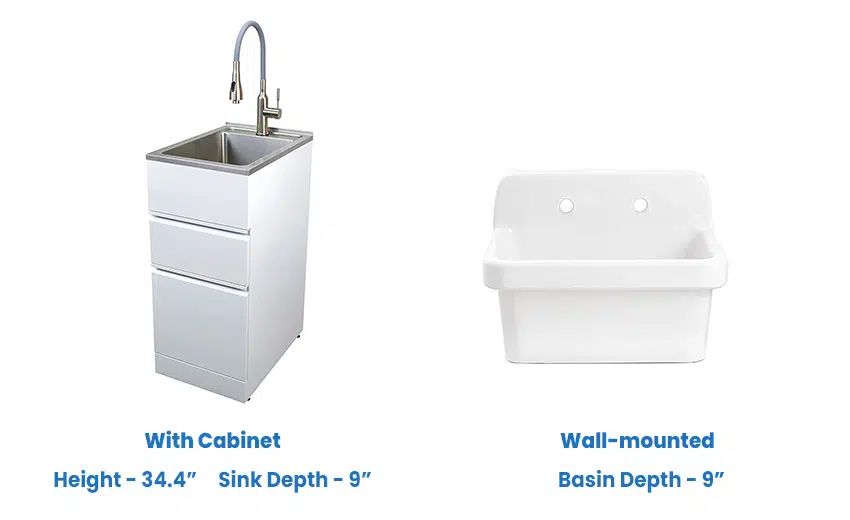 See these sinks at Amazon [with cabinet] / [wall-mounted] [sponsored link]
There are utility sinks attached to a cabinet that you can easily purchase as it is. They will usually have an overall height from top to bottom of 34.6 inches or 88 centimeters, with a sink depth of 9 inches or about 23 centimeters.
If you lack space in your laundry room but would still want a utility sink, a wall-mounted utility sink is a good idea. These sinks are attached to a wall, and the space beneath is usually free, so you are open to doing anything you want with it.
A wall-mounted utility sink will usually have an internal basin dimension of 13.25 inches or 34 centimeters in depth. Read more about standard laundry room dimensions here.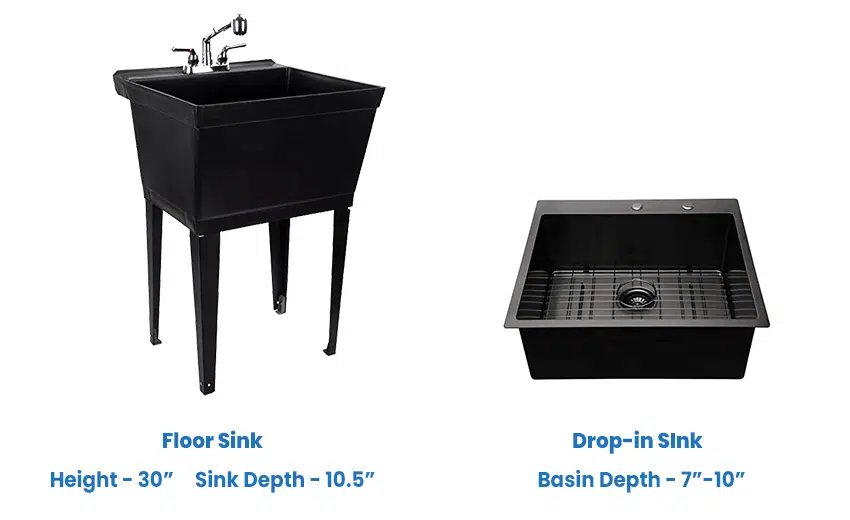 See these sinks at Amazon [floor sink] / [drop-in sink] [sponsored link]
There are also floor-mounted utility sinks that are usually found in many restaurants. These sinks have legs to support the basin but will also come with an attachment to the walls for a secure installation. Floor mount sinks will usually be as tall as 30 inches or 76 centimeters, with a 10.5 inches or 27 centimeters basin depth.
The last kind you can use for your laundry rooms are the drop-in or the under-mount utility sinks, which are installed on existing countertop sinks or base cabinets. If you want a single drop-in sink, it will usually have a depth of 7 to 10 inches or 18 to 25 centimeters.
There are also many spacious ones with a length from side to side of 25 inches or 64 centimeters and a basin depth of 12 inches or 30 centimeters.
How Deep Is A Laundry Sink?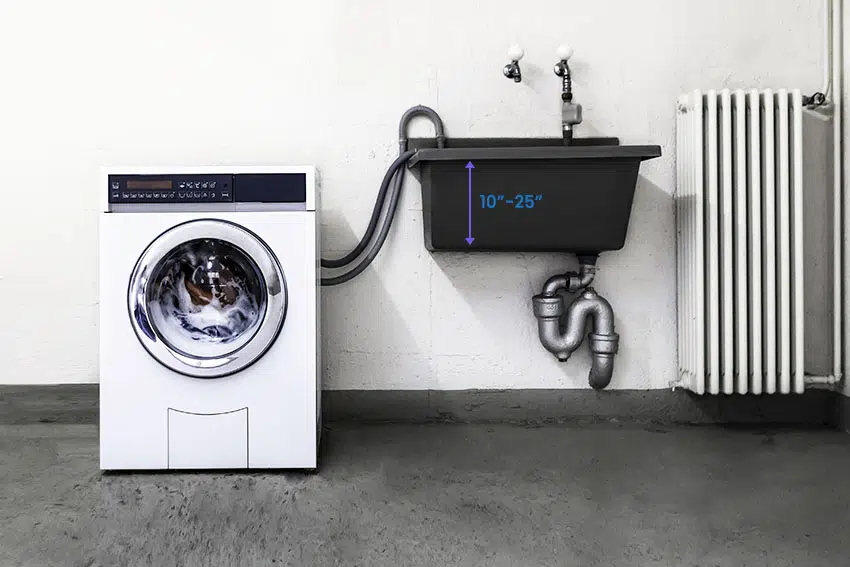 One of the many unique things about utility sinks is their more extensive depths. You can use them to give your pets a bath. They accommodate larger pans and pots when washing the dishes, and they can be deep enough that there will be no problem presoaking curtains or even comforters overnight.
So, how deep are laundry or utility sinks? Utility sinks can have depths that range between the smaller 10 inches or 25 centimeters to the much deeper 25 inches or about 64 centimeters deep.
A deeper basin is useful because it allows you to do many things in comparison to the standard bathroom sink size that only measures 8 inches or 20 centimeters deep.
The extra depth of these sinks will allow minimum splashing, especially if you are working on it. If you plan to do laundry on the sink for more than five persons, choosing a laundry sink with a sizable depth is much more advisable.
Small Utility Sink Dimensions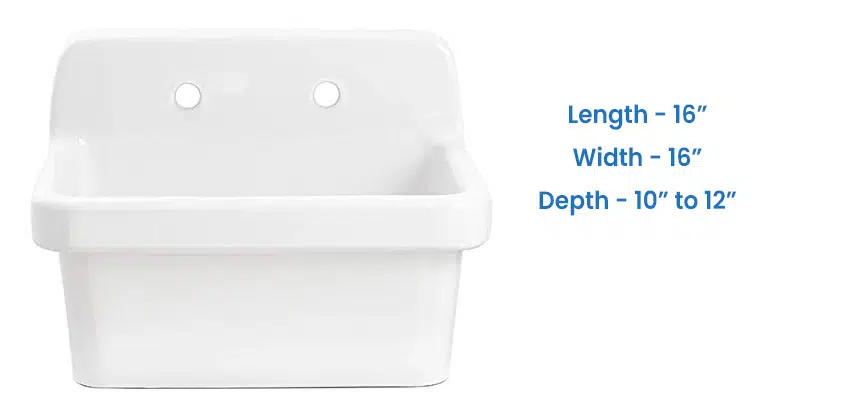 Some of the smallest utility sinks you can use for your home are cabinet-mounted or freestanding laundry sinks. They will usually be square in size and have a length and width of 16 inches or 41 centimeters.
On the other hand, the inside basin will usually range in depth from 10 to 12 inches or 25 to 30 centimeters.
This is the best size you can use for smaller laundry rooms and mudroom measurements that will not require that much space but still allow for a variety of use because of its sizable depth.
Double Utility Sink Dimensions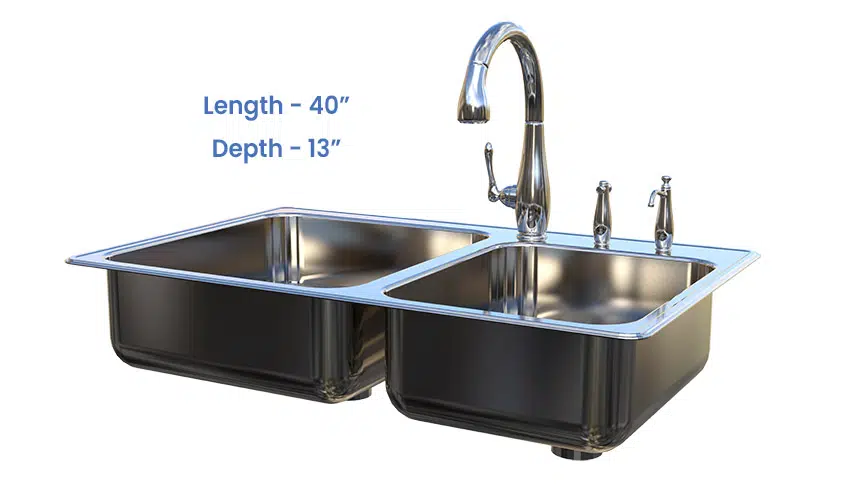 If you have a sizable laundry room and the budget, the smartest thing to use for your utility sink is opting for a double bowl laundry sink. A double bowl laundry sink will allow for more use and organization, especially if you will be utilizing the sink for laundry to food preparations.
A double bowl laundry sink will usually measure from one side to the other at 40 inches or 102 centimeters with an internal basin depth of 13 inches or 33 centimeters.
Drop In Utility Sink Dimensions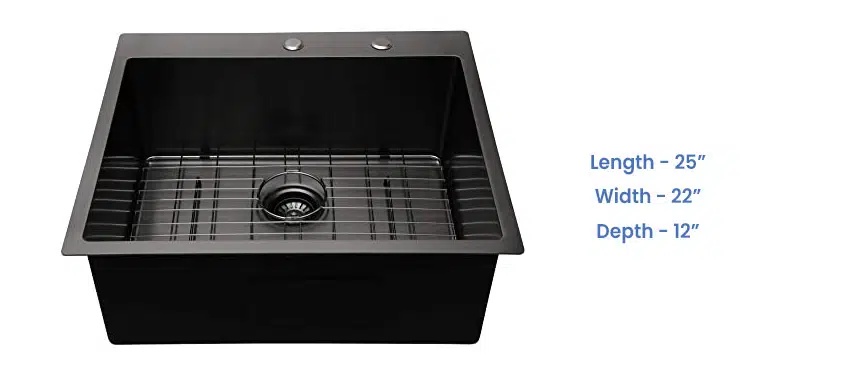 A metal drop-in or under mount utility sink will look great on any interior since they are stain proof and often more durable. This type of utility sink will usually be rectangular with a length of 25 inches or 64 centimeters and a width of 22 inches or about 56 centimeters. They will usually have a basin depth of 12 inches or 30 centimeters.
For more related content visit our guide to the types of kitchen sinks on this page.