In this makeup vanity dimensions guide you'll see the standard, built-in and double vanity sizes for the perfect makeup vanity furniture measurements.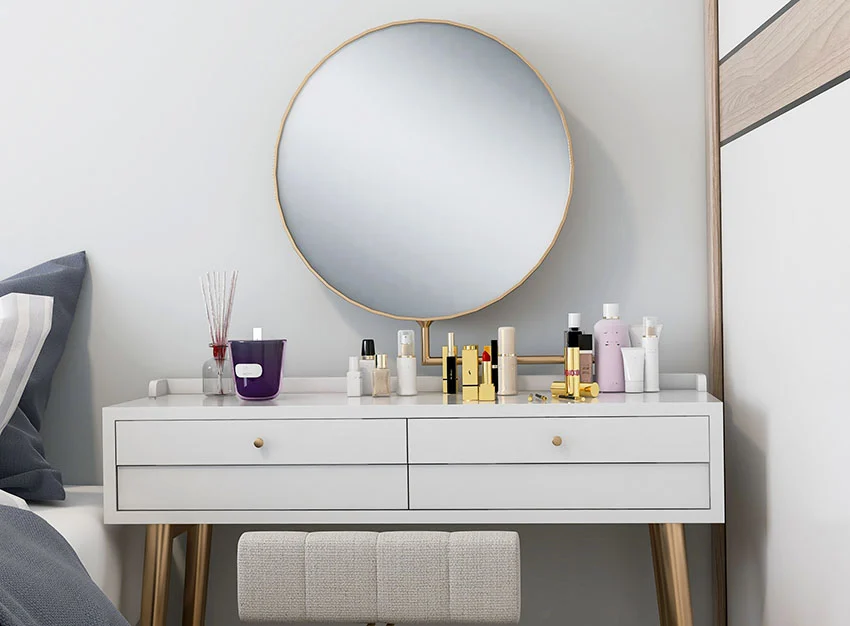 Applying makeup and skincare for women, men, and everyone in between on our vanity is self-care. The few minutes we take to ourselves can set the mood for the day or night we will be having. The perfect vanity for setting the air should have LED lighting, the ideal mirror height, and lots of storage to store our products in.
Now that we have those requirements out of the way, it's time to talk about the size and measurement for the perfect makeup vanity. [toc}
Standard Makeup Vanity Size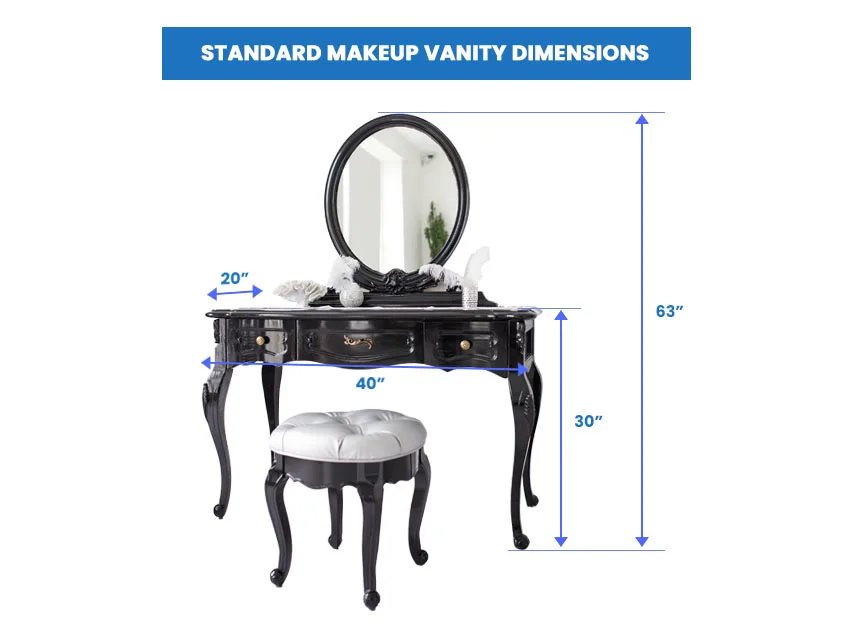 A makeup vanity took cues from the French and British dressing tables of the time. This small table comes either built-in with a mirror and some small capacity drawers to store makeup, perfumes, and skincare products.
There are ready-made vanity tables all over the market, although there are also units where you can have built-in vanities on walls for your bedroom or bathrooms. A standard vanity will sit one person using the vanity table, and it could also act as a working desk if one chooses to do so.
A traditional vanity table has a height of 63 inches or 160 centimeters from the floor up to the tip of the oval mirror. In comparison, the tabletop height is an average of 30 inches or 76 centimeters. It has a table width of 40 inches or 102 centimeters and a depth of 20 inches or 51 centimeters.
Makeup Vanity Height
As demonstrated above, there are two ways to measure vanity table height. The first one measures from the floor up to the tip of the built-in mirror, and the other is measuring down the floor up to the working tabletop.
Measuring the first one will depend on what mirror your vanity will come in, but the average size for the latter is between 29 to 32 inches or 74 to 81 centimeters.
Knowing the height of your vanity table is essential for stool and other seating shopping, especially if it doesn't already come with a seating option.
How High Should a Makeup Vanity Be?
There is no would be end-all vanity table height size, and it could be flexible enough to fit whatever your need is, especially if you are looking for it to be built custom. However, for a person of average size, the tabletop height should at least be 29 to 32 inches or 74 to 81 centimeters high.
This will make it possible for a standard stool or chair height to be used in the vanity with the person using it at eye-level with the vanity mirror.
Built-in Makeup Vanity Dimensions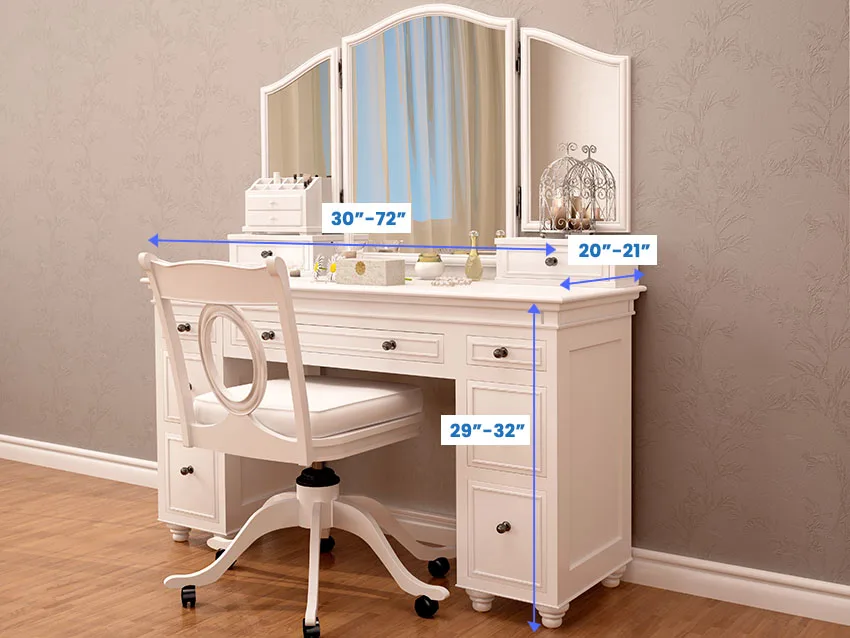 The first rule to building a built-in makeup vanity is measuring the available space you have available. This will mean measuring your bedroom or bathroom dimensions to determine what will fit. Once you have that, you now have the parameters to develop your makeup vanity.
The widths could range anywhere between 30 to 72 inches or 76 to 183 centimeters. The depth for the cabinets included in your vanity would reach anywhere between 20 to 21 inches or 51 to 53 centimeters.
However, you can go narrower until 18 inches or 46 centimeters if space is an issue. The height is still 29 to 32 inches or 74 to 81 centimeters, the average for makeup vanities.
Double Vanity with Makeup Area Dimensions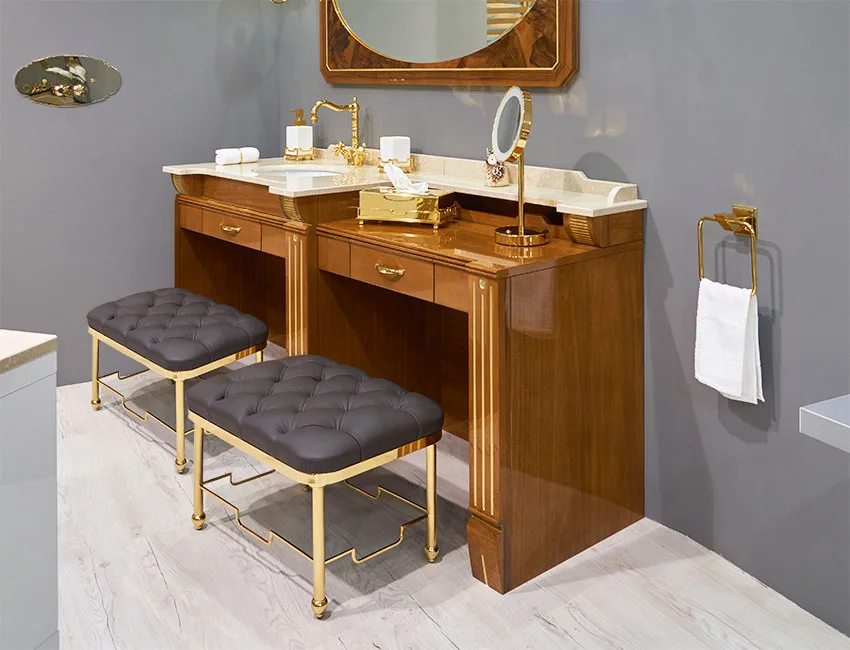 A great way to upgrade a big bathroom is to include a double vanity with a makeup area for you and your partner. It would complete the whole look of your bathroom but will also be highly functional with the various storage spaces.
Double vanity with a makeup area has a height from the tabletop to the floor of 35 inches or 89 centimeters. It will have a width from side to side of 72 inches or 183 centimeters; this will give 22 inches or 56 centimeters of space for the sink and the makeup area. As for the depth, it would be 20 inches 51 centimeters.
How Big Should a Makeup Vanity Mirror Be?
A vanity mirror for a makeup vanity should at least be several inches or centimeters short of the vanity tabletop or the sink area.
To illustrate, if you have a standard 40 inches or 102 centimeters makeup vanity tabletop, the mirror should be anywhere between 36 inches or 91 centimeters wide and below. This rule will make everything look proportional and add to the room's overall appeal, whether a bedroom or a bathroom.
As per the mirror height, it will depend on the ceiling height and your eye level when seated on a stool or a chair. However, the standard measurement for a makeup vanity mirror is usually between 28 to 34 inches or 71 or 86 centimeters high. See the popular types of mirrors here.

Should Mirror Be Same Size as Vanity?
Generally, a vanity mirror should not be wider than the makeup vanity table. At the same time, if hanging a wall on a vanity table in the bathroom which usually has a sink, the mirror should be wider than the bathroom sink size.
What Is The Height Of a Vanity Chair?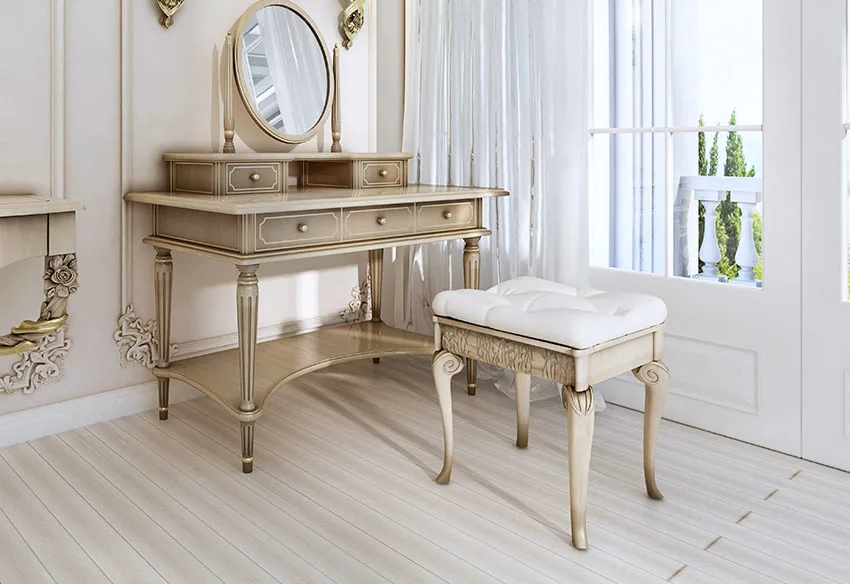 For a vanity table with a tabletop height of 30 inches, a stool or any chair with a height of 18 to 19 inches or 46 or 48 centimeters will be the perfect chair.
This will allow the average person sitting on the stool to be eye level with the makeup vanity mirror. This stool will still give the person enough leg space under the table.
Aside from a stool, it would be great to use a desk chair for your makeup vanity, especially if you are planning to use it as a writing desk. For a desk chair, anything with a chair height of 18 to 19 inches will be perfect.
What is Comfort Height Vanity?
Comfort height vanities are vanities that are 36 inches or 91 centimeters in height. This height for vanities has grown in popularity in recent years to account for the taller population for the past 100 years.
The extra inches on comfort height vanities make accessibility easier and also cause less strain on the back from being hunched over on the table.
For more related content visit our bathroom vanity sizes guide here.