Here's our light switch cover dimensions guide including standard & different switch plate sizes and how to measure for a light switch cover.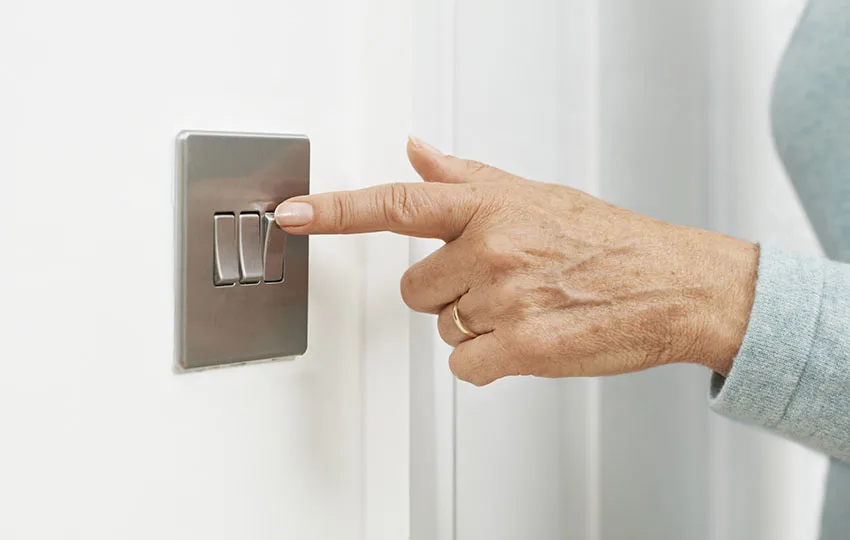 Light switch cover or wall switches, as some might call them, are cover outlets and other switches on walls. Sometimes they can also be found on kitchen islands and many types of cabinetry that need them.
A light switch's principal function is to ensure that the user will be protected from the wiring to prevent accidental electrocution.
There are many types of light switches with covers for toggle wall switch plates that turn the light on and off with a flip of a switch up and down. In addition, there are combination switches that can house both a toggle switch and one or more outlets.
You can also find light switch covers that allow for USB and many other data jacks, which many use for charging. They are usually connected to the walls on their bedside tables.
Standard Light Switch Cover Dimensions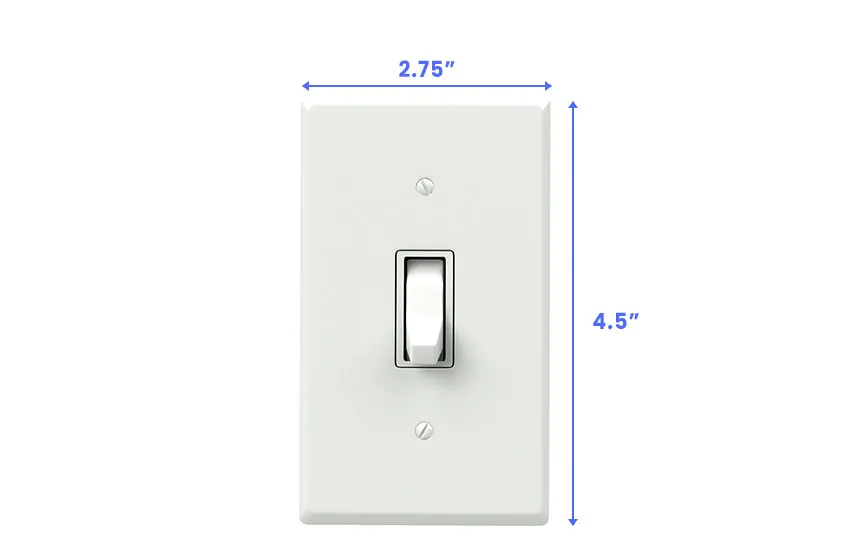 The standard light switch cover plate is the most common type of light switch cover plate. It is the one most used in basic construction, whether for residential or commercial buildings.
If you see a light switch in many homes, chances are it will be the standard single light switch cover.
For a standard light switch cover plate, it will usually come in sizes of 2.75 inches or about 7 centimeters for the width with a length of 4.5 inches or 11 centimeters.
Sometimes there might be imperfections in the drilling of the hole, and in order to disguise the imperfections, a homeowner should go for a larger or more oversized light switch plate.
Midway/Mid Size Outlet Cover Size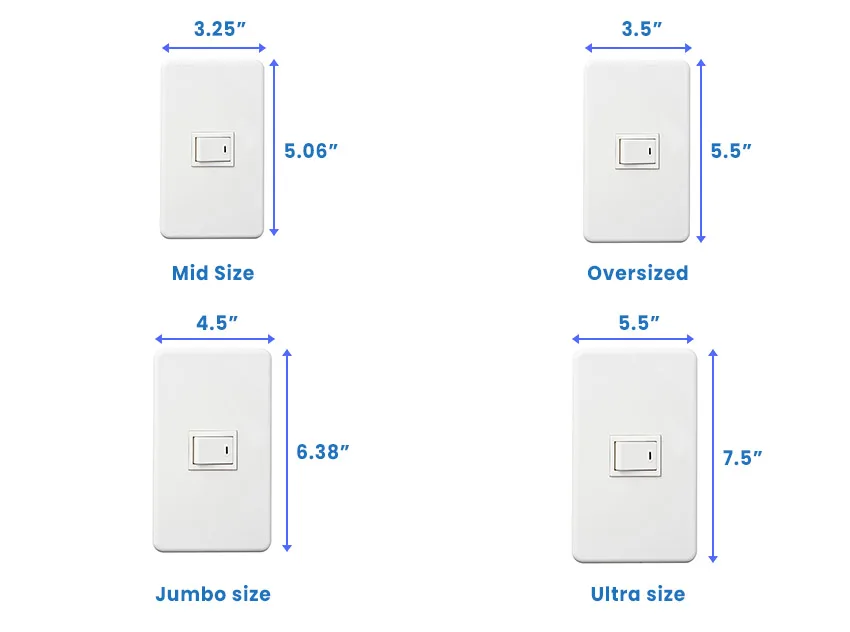 A midway or mid-sized light switch cover is bigger than your standard light switch cover by a few centimeters. You can get a toggle mid-size wall switch plate or a duplex outlet wall switch cover or even wall plates for cables and phones.
If you want a light switch cover a little bigger than a standard light switch plate, then go for a midway light switch cover. This light switch cover is a little more extensive, with a length of 5.06 inches or approximately 13 centimeters and a width from side to side of 3.25 inches or about 8 centimeters.
Oversized Outlet Cover Size
An oversized outlet cover can be used to cover larger holes and more mistakes that are made in the construction. An oversized outlet covers more wall surfaces, so the edges of the holes will be covered. No patching, painting, or sanding is needed if there is a mistake in construction.
An oversized outlet cover will measure to have a length from up and down of 5.5 inches or about 14 centimeters. It has a width side to side of 3.5 inches or approximately 9 centimeters. It is just a little bigger than the midway or the midsized light switch cover.
Jumbo Outlet Cover Size
The same goes for a jumbo light and outlet switch cover you can use instead to save you time and effort in patching or painting the drywall if there are problems with the construction.
Jumbo light switch covers have a dimension of 6.38 inches or about 16 centimeters for the length with a width side to side of around 4.5 inches or 11 centimeters.
Ultra Outlet Cover Size
Another oversized light switch cover is the ultra light switch cover. Whether you are looking for a toggle light switch or an outlet cover, this is the biggest size of switch cover you can find anywhere. This will be convenient when repairs are needed, so no delays will happen.
For an ultra light switch cover, it will have a length of 7.5 inches from top to bottom or around 19 centimeters and a width from side to side of 5.5 inches or approximately 14 centimeters.
Combination Wall Plate Dimensions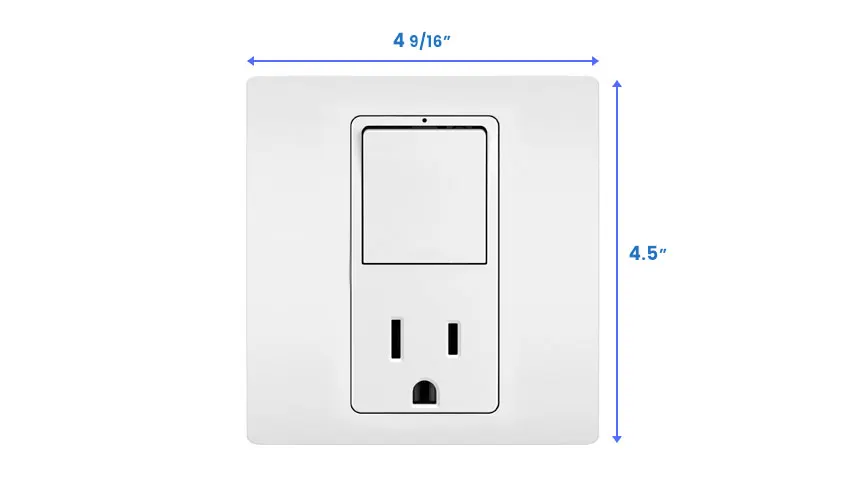 Other than the light switch cover, there are also combination wall plates that combine a toggle switch cover with an outlet either for a USB or for a telephone outlet. There are also combination wall plates with a rocker wall switch that will work for dimmers or tap switches.
Combination wall plates will come with different toggle or outlet combinations, but they will always usually have the same housing cover dimensions.
A combo of toggles and a single round outlet cover plate will measure to have a width of 4 9/16 inches or about 12 centimeter. It will have a length from top to bottom of 4.5 inches or 11 centimeters.
You can have combination cover plates either on the standard white plastic cover plates to the stainless steel or even an antique brass cover plate.
How Do You Measure A Light Switch Cover?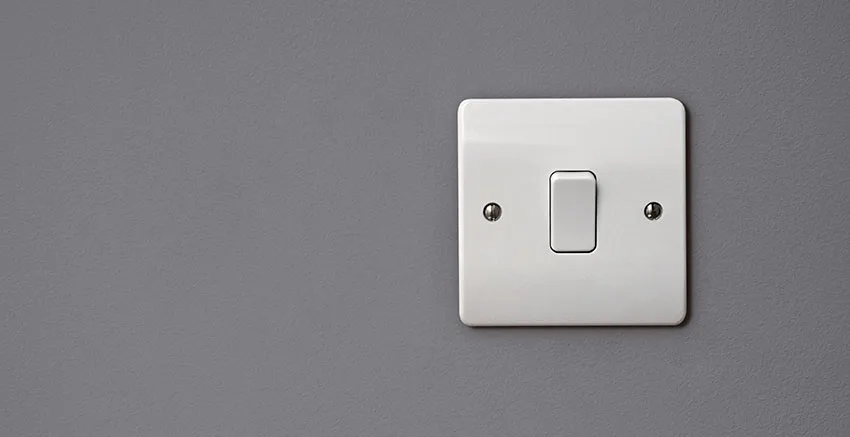 One of the most important things to do to ensure that the light switch cover will be exact is making sure that the spacing on the wall switch plate is exact, especially if you are using a standard-sized light switch.
So how do you measure the screw spacing, and how do you know what light cover switch you will be needing?
To ensure that you have the correct size of light switch, measure that it will be able to cover the electrical box. If there is no problem with any cover-ups needed for the drywall, then a standard light switch cover will be all you need for your space.
The foremost thing you need to do to ensure that the screw hole spacing will be correct is to measure from one hole center to the other, from the top of one screw hole to the other screw hole at the bottom.
Some will have a strap mount or the device mount, and all you need to ensure that they are exact is to do the same measuring from top to bottom of each screw hole. After all that, you are all set to screw your new and improved light switch cover.
Are Light Switch Wall Plates Universal?
No, light switches are not universal. They come in various sizes, from the standard to the more oversized ultra light switch covers.
See more related content in our article about the types of light fixtures on this page.