Get horseshoe pit size ideas including the regulation dimensions, recommended small, medium and large sizes for backyards, ideal depth of sand to use, and suggested stake color.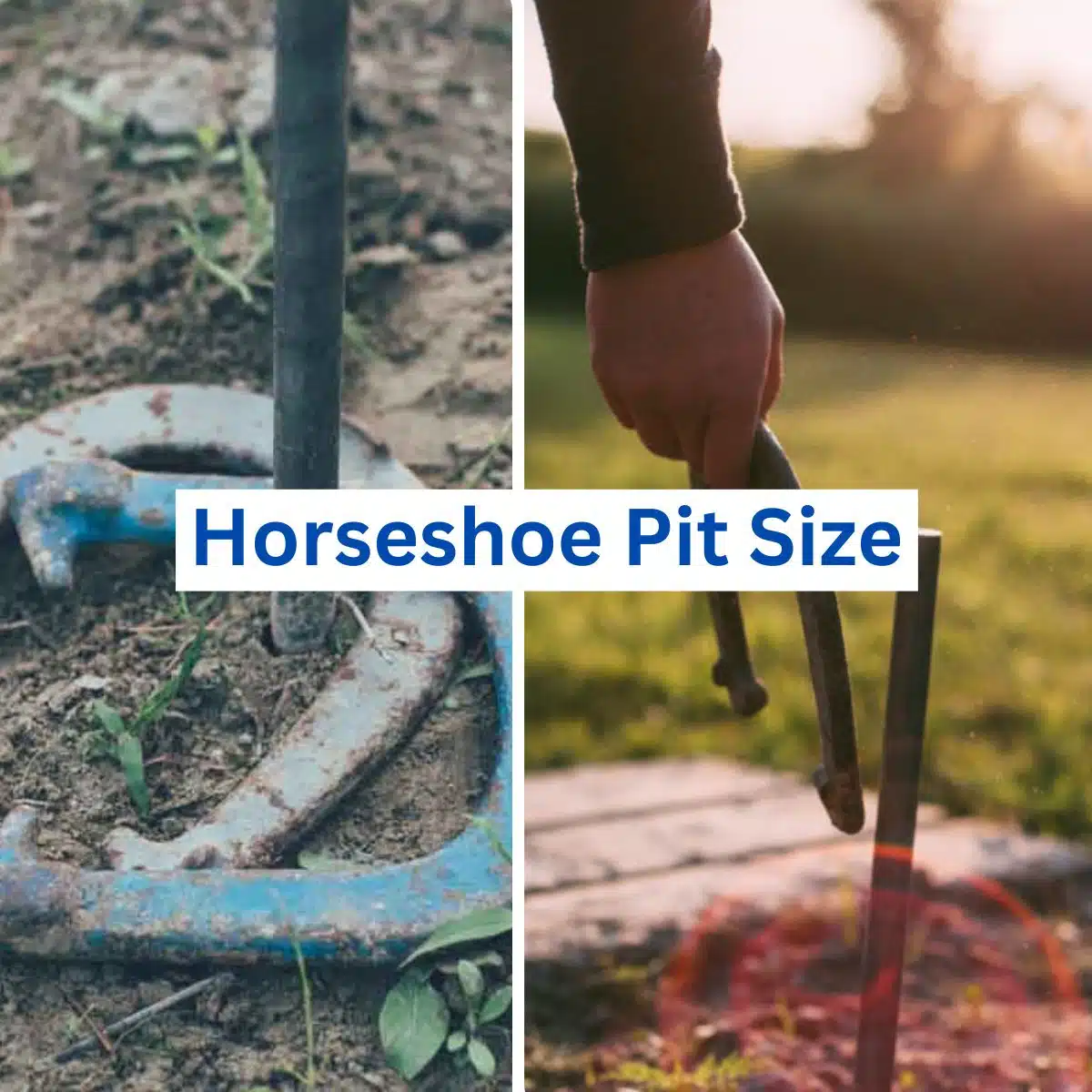 Adding a fun recreational activity into one's backyard is a goal of many homeowners across the US. While horseshoes are almost exclusive to cattle ranchers and horse owners, other families are creating backyard games using these shoes that can elevate ordinary house parties, children's gatherings, and other social activities to the next level.
Creating a horseshoe court in the backyard is easy if one knows the standard horseshoe pit size. This article addresses this concern while offering homeowners and families invaluable insights into setting up a fun and engaging backyard horseshoe pit.
Regulation Horseshoe Pit Dimensions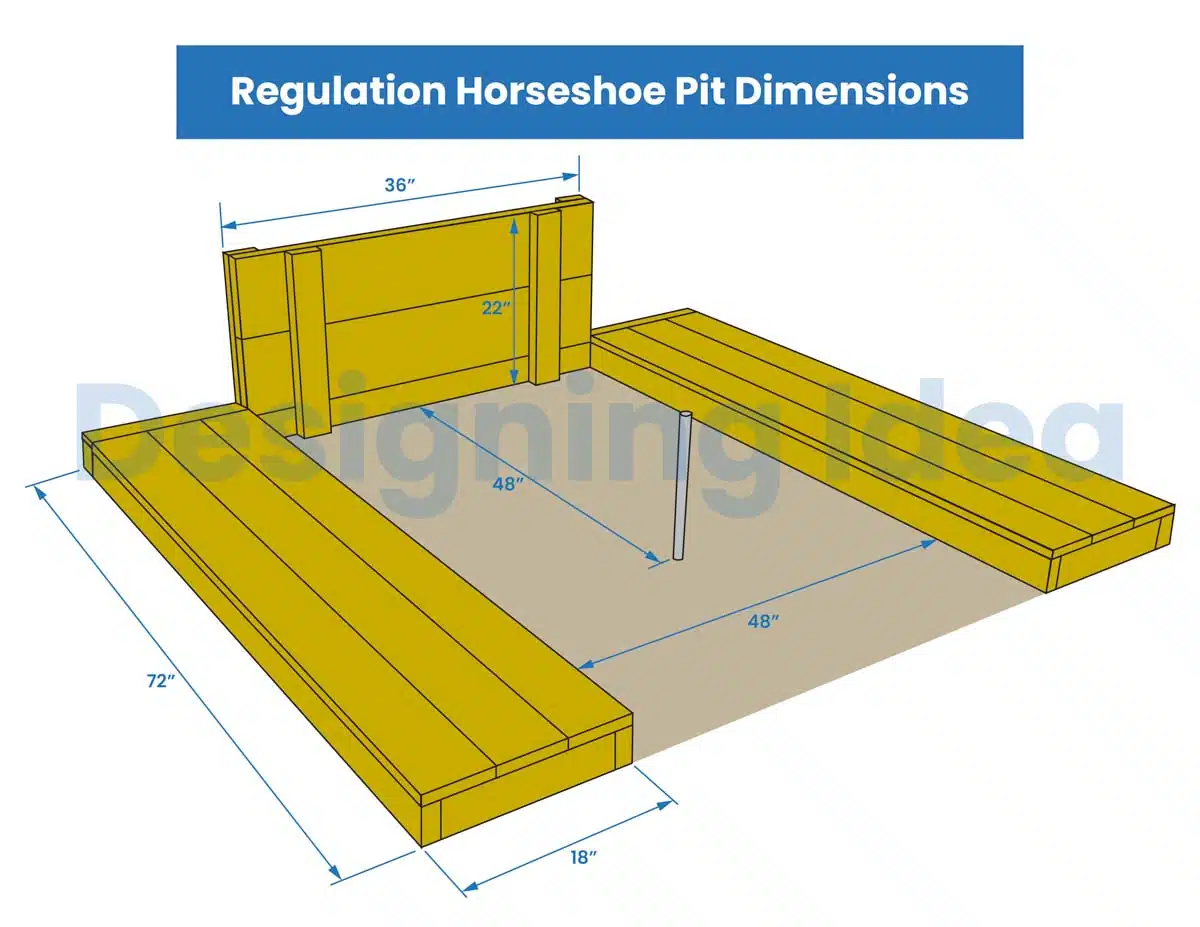 Just because a horseshoe is as rustic as any Cowboy and Cowgirl game does not automatically mean it has no rules. On the contrary, the National Horseshoe Pitchers Association (NHPA) has specific regulations about horseshoe court dimensions.
Homeowners must realize the measurements of these outdoor structures are not fixed. For example, the horseshoe pit can span 30 to 36 inches from one side to the next. Hence, they have 6 inches of leeway, allowing them to customize the "court" for their needs.
Regulation horseshoe pits are 40 feet apart, stake to stake, so select an area with plenty of room for the game and space for onlookers too. – Grounds for Improvement 40 Great Landscaping & Gardening Projects, Dean Hill, Jackie Taylor
Meanwhile, the horseshoe court's depth or front-to-back dimensions can be as "shallow" as 43 inches or as deep as 72 inches. Children will benefit more from a horseshoe pit with smaller sizes, while adult players will find pits with maximum measurements more ideal for competition.
The following dimensions reflect a regulation horseshoe court's requirements.
The Court: The horseshoe court differs from the pit. It is like a basketball court or soccer field with opposing goals representing the horseshoe pits. Regulation horseshoe requires a rectangular court spanning 50 feet deep and 10 feet wide. It features a playing zone and a safety-oriented buffer.
Each horseshoe player has a playing zone measuring 46 feet front-to-back and 6 feet across. Two feet on all four sides of the horseshoe court form the buffer zone.
The Pitcher's Box: Horseshoe pitchers or players stay inside a 6 x 6 feet box that also accommodates the pitching platform and the horseshoe pit.
The Pitching Platform: Each horseshoe pit has a pitching platform on the side, extending about 6 feet (for full-distance throws) or 10 feet (for short-distance throws) into the horseshoe court. These non-slippery platforms range in width from as narrow as 18 inches (for kids) and as wide as 20.5 inches (for adults).
Stakes: One-inch-thick stakes must stick 14 to 15 inches from the ground, tilted at a 3-inch angle facing the opposing side. These "markers" are at the pitcher's box's center and must be 40 feet apart.
Foul Lines: Twenty feet from either stake must be the first foul line. A second line for children, women, and older players (used as a reference point) exists 27 feet from the opposing side's stake. A third one is at 37 feet.
Backstop: This regulation fixture prevents the horseshoe from going beyond the court. The backstop is at least a foot high and as wide as the horseshoe court, although positioned at least 3 feet behind the horseshoe stakes.
Protective Barrier: This element protects spectators from potential injuries from a stray horseshoe, although backyard games do not require such a fixture. Competitions need the protective barrier to be at least 4 feet tall and 8 feet behind the stakes.
Horseshoe Backyard Pit Dimensions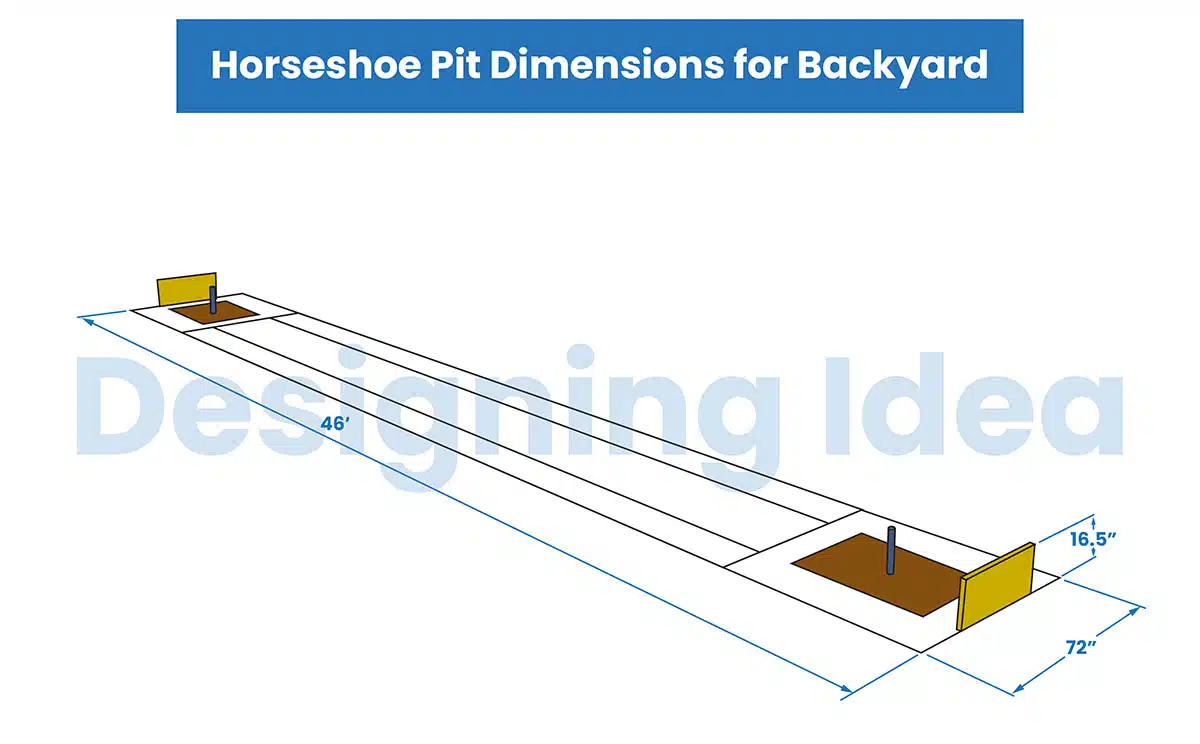 Creating a backyard horseshoe pit is as straightforward as building an outdoor fire pit for a weekend barbecue. However, because this playing area becomes a permanent fixture in one's garden, homeowners might want to plan their horseshoe pits well.
Backyard horseshoe pits are not space-hungry additions to the landscape. An area 36 inches wide and 48 inches long (or deep) is more than adequate to play a friendly (and fun) game of throwing horseshoes on stakes.
As for the horseshoe court, most property owners find a 6-by-48-foot area adequate for two pitcher's boxes – one for pitching the horseshoe and another for the stakes. Moreover, experts recommend a north-south horseshoe pit orientation to avoid unnecessary glare from the sun, ensuring a more enjoyable horseshoe pitching experience.
Easy Horsehow Game Pit Size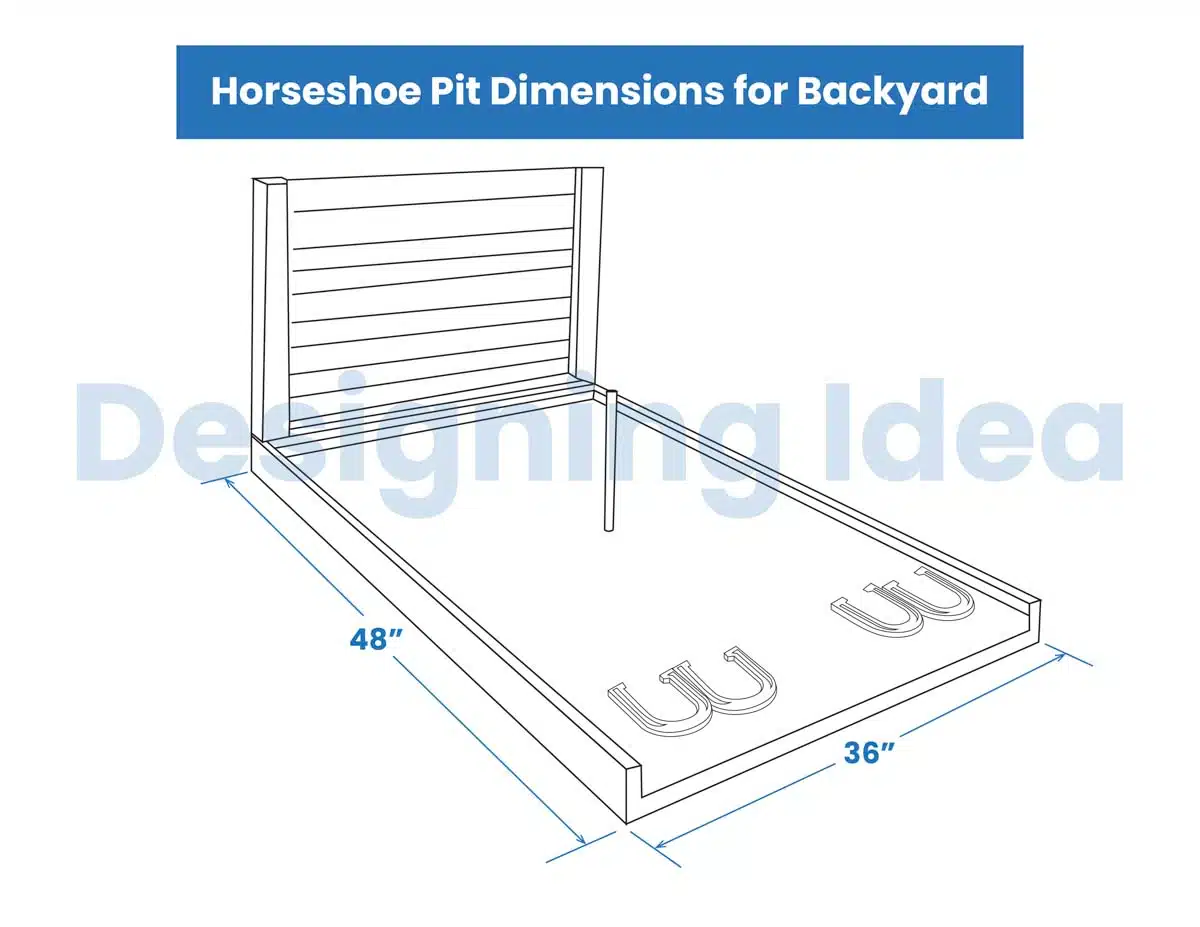 An easy horseshoe pit size is relative to the environment and skill levels of the players. A family's backyard horseshoe court might be sufficient for their fun and entertainment needs, but another household might find the dimensions inadequate.
Hence, families must devote considerable time planning their horseshoe pit size, considering available backyard space. A 48-by-36-inch horseshoe pit is always a good starting point. Homeowners can adjust the specifications according to their needs.
Families with expansive backyards can opt for regulation-sized horseshoe pits and courts. Two 36-by-72-inch horseshoe pits on a 10-by-50-foot (500-square-foot) court allow families to host friendly matches with neighbors, visiting relatives and friends, and party guests in a backyard or garden.
How Deep Should the Sand Be in a Pit?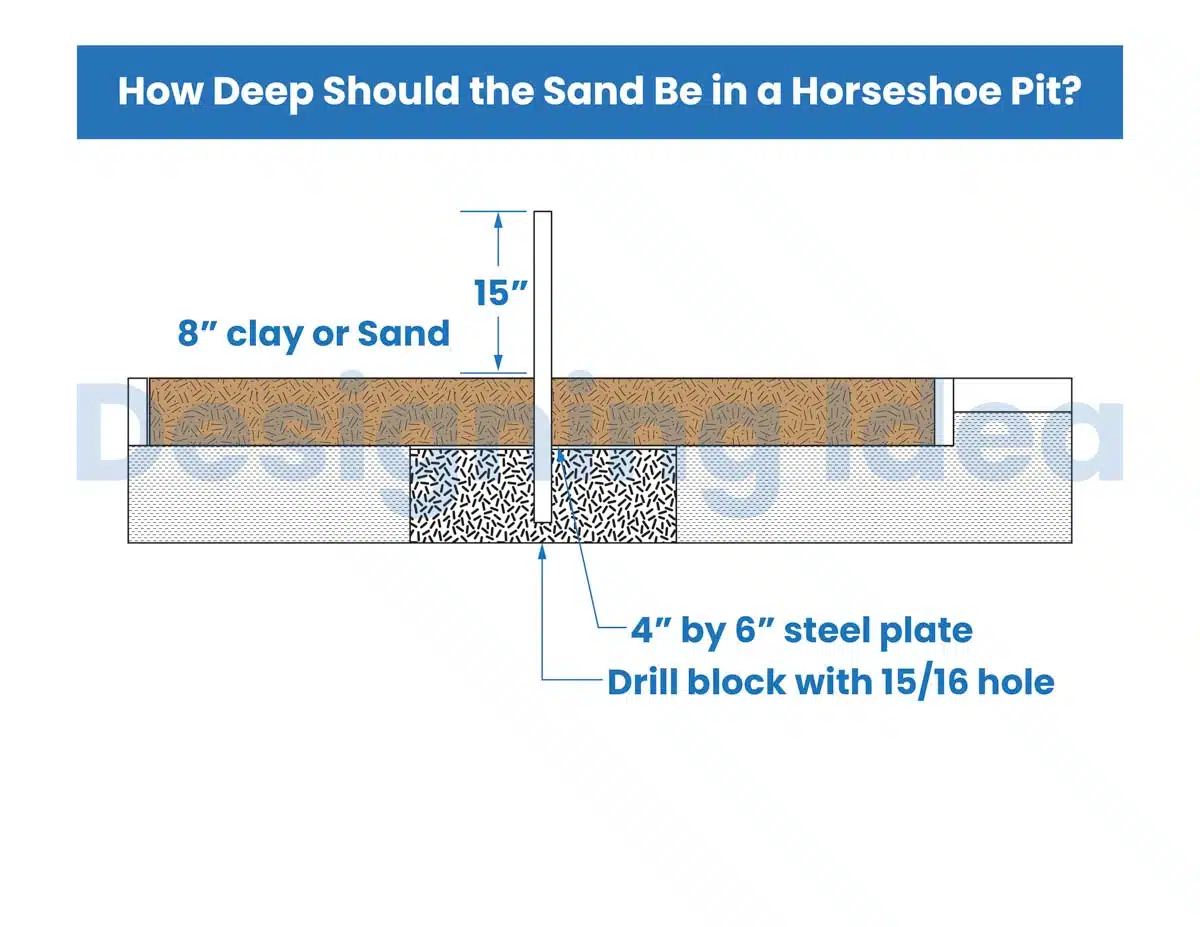 Nobody wants to play backyard horseshoe where these objects bounce off the ground surface like a ball. Although one could install a backstop and protective barrier to prevent horseshoes from going astray, a better solution would be to fill the horseshoe pit with as much filler as possible. Mulch can also serve as a great ingredient to help dampen the bounce level outside the pitch area.
The National Horseshoe Pitchers Association recommends a minimum horseshoe pit filler depth of 4 inches, sufficient to minimize horseshoe bounce. However, power players often find this sand depth insufficient, requiring the addition of more sand or other filling material to increase the depth to 8 inches.
Families who play the game for fun can opt for the 4-inch minimum sand depth. However, aspiring competitive players should pack in as much sand or any filler into the horseshoe pit – as much as 8 inches deep – to bring the game pitch close to regulation standards.
Additional materials to enhance the design and the maintenance of the playing area, such as landscape fabric, mulch, and wood for the backboard may be necessary depending on your conditions and environment.
What Color Should Horseshoe Stakes Be?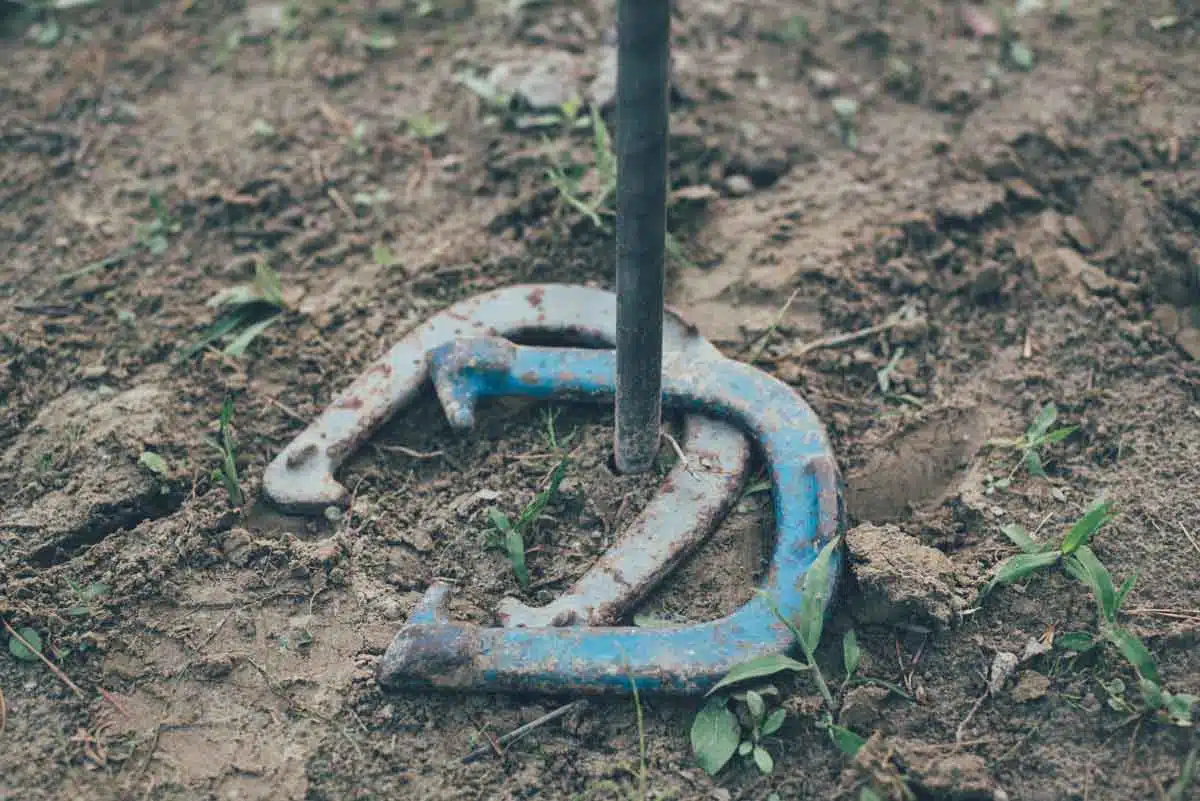 Competition or regulation horseshoe games often have white stakes, allowing them to ensure better contrast against the dark sand or clay filling in the horseshoe pit.
However, non-competition or backyard horseshoe pits have more leeway in the stakes' colors. For example, children playing a horseshoe game will find stakes in neon colors more fun than plain white. Families can also paint the stakes in other attractive hues, even rainbow ones, to make the game more engaging.
Families can also use commercially available colored plastic stakes to eliminate the need for painting. It is more convenient, allowing families and their children to enjoy the horseshoe throwing sport as soon as the pit is complete.
See more related content in our article about the different dog-friendly backyard ideas with no grass on this page.