We've put together a gallery of must have kitchen cabinet features showcasing deep drawers, pull-outs, pantry drawers, and pet bowl storage, among others.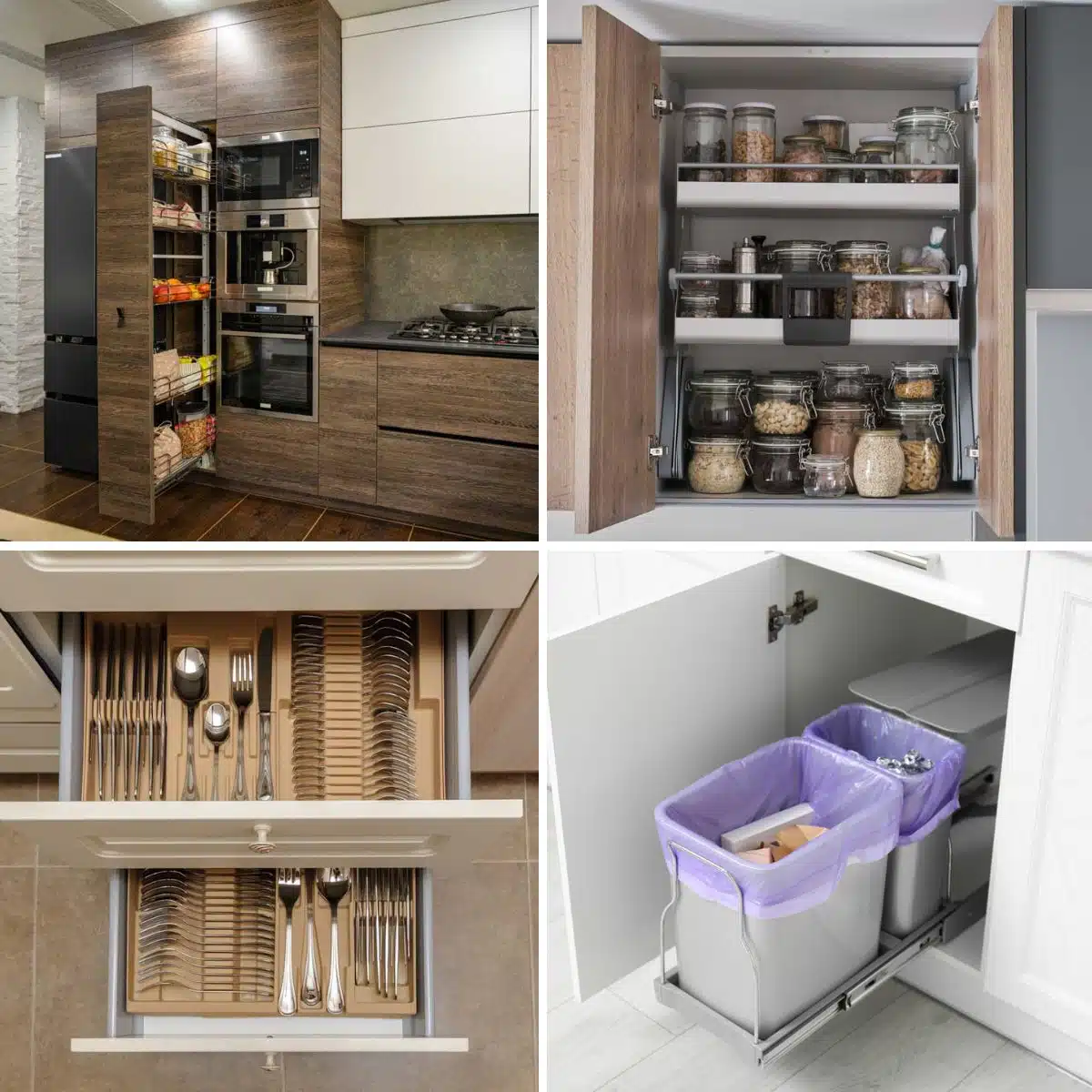 The kitchen is one of the most essential parts of the home. Although it is often cliched as "the heart of the home," it has so much more to offer than just that. Of course, it has its core purpose, which is as an area where you can prepare meals for yourself and the rest of the household. But there are plenty of ways to optimize this space.
One of the main challenges of creating a high-functioning and efficient kitchen space is that not all kitchen cabinets can create an environment that marries design with functionality. Well-designed kitchen cabinets with functional features offer everything from storage solutions to design seamlessness; you'll soon wonder how you missed out on these features.
Here are some of the best kitchen cabinet features to install in your home.
Deep Drawers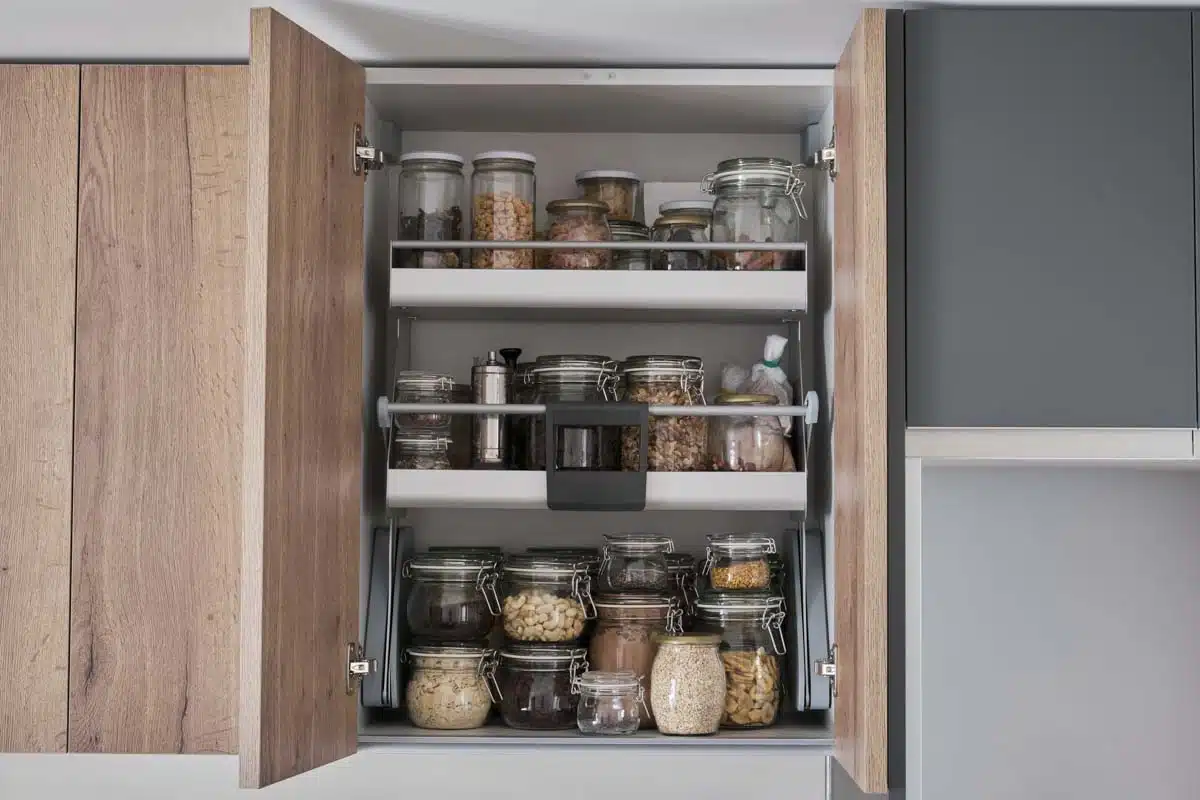 Kitchen cabinets with deep drawers create better storage spaces, allowing you to store bigger items. The traditional drawers you're used to are great for small tools, utensils, and the like, but they may not work well for larger items.
They offer more height and width, allowing you to organize and store bulkier items that are typically impossible to store in drawers. The main strength of deep drawers is that they're built to maximize vertical height. It makes them load-bearing and able to move quickly and smoothly even if they're fully laden with different items.
You can organize kitchen cabinets with deep drawers further by using drawer organizers to separate different areas while you're at it. You can stack items on each other or have little areas for specific items. You can customize and design the insides of these drawers in whatever way you like.
Pull-outs for Herbs, Spices, and Oils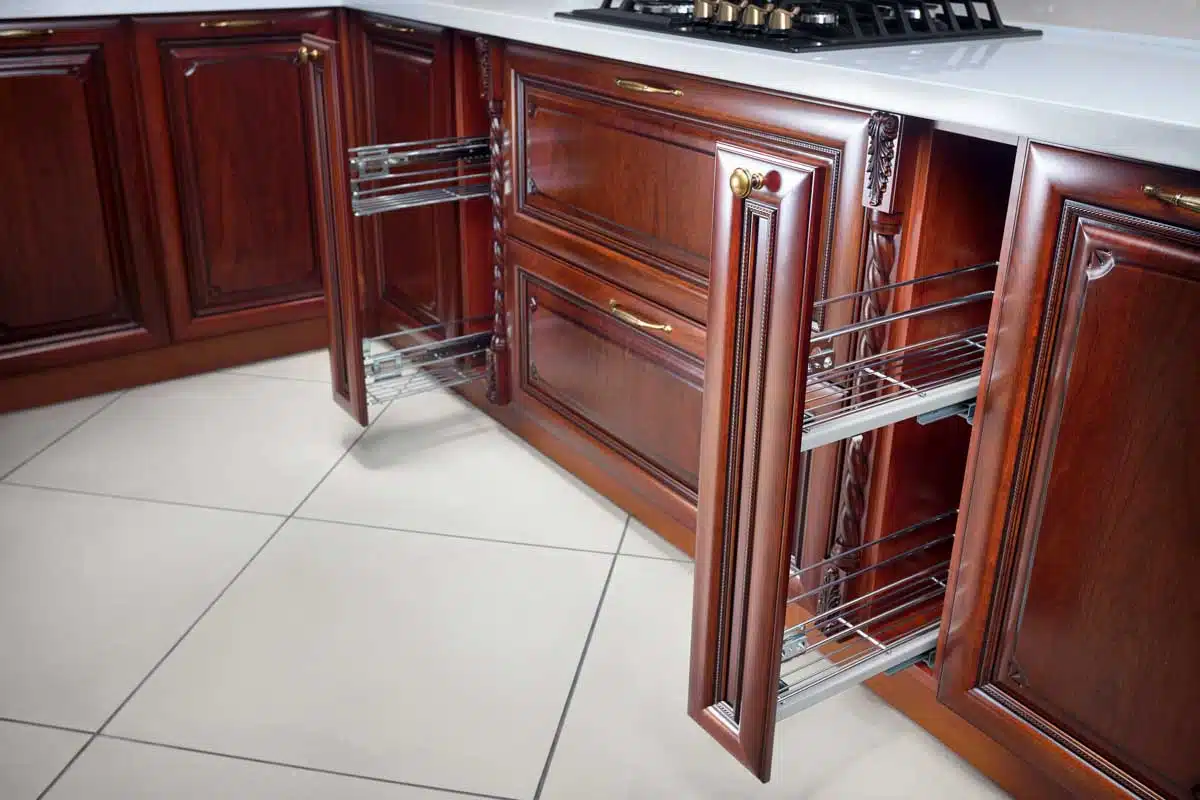 The concept of pull-outs is having the means to integrate different shelves and compartments seamlessly within the kitchen cabinets. As the name goes, the design concept is all about the capacity of getting pulled out easily.
As a user, it will enable you to easily access the assortment of herbs and spices in the drawer without wasting time rummaging through a cluttered space. Having a well-organized and strategic solution like this for your kitchen cabinets will save you tons of time and effort, something that every home chef will genuinely appreciate at the end of the day.
Extending Pantry Drawers
The best offering of pull-out pantry drawers is that they turn regular kitchen cabinets and shelves into brilliant engineering marvels of storage. These drawers manifest that instead of requiring you to reach in so that you can get the items you need, they adjust for you by smoothly extending themselves out so that you don't have to do it anymore.
This concept and movement function is simple but revolutionizes drawer functions altogether. Now, you can reach for the items in the back of the drawer without rummaging through the items near the front.
It optimizes your use of vertical space because you get the contents brought to you instead of vice versa. Your visibility is enhanced, so you always keep sight of the items you technically have in the back. It also means that cleaning and maintenance will be easy because you don't have to take everything off, clean it, and have to put it back for you to maintain it.
Pet Bowl Storage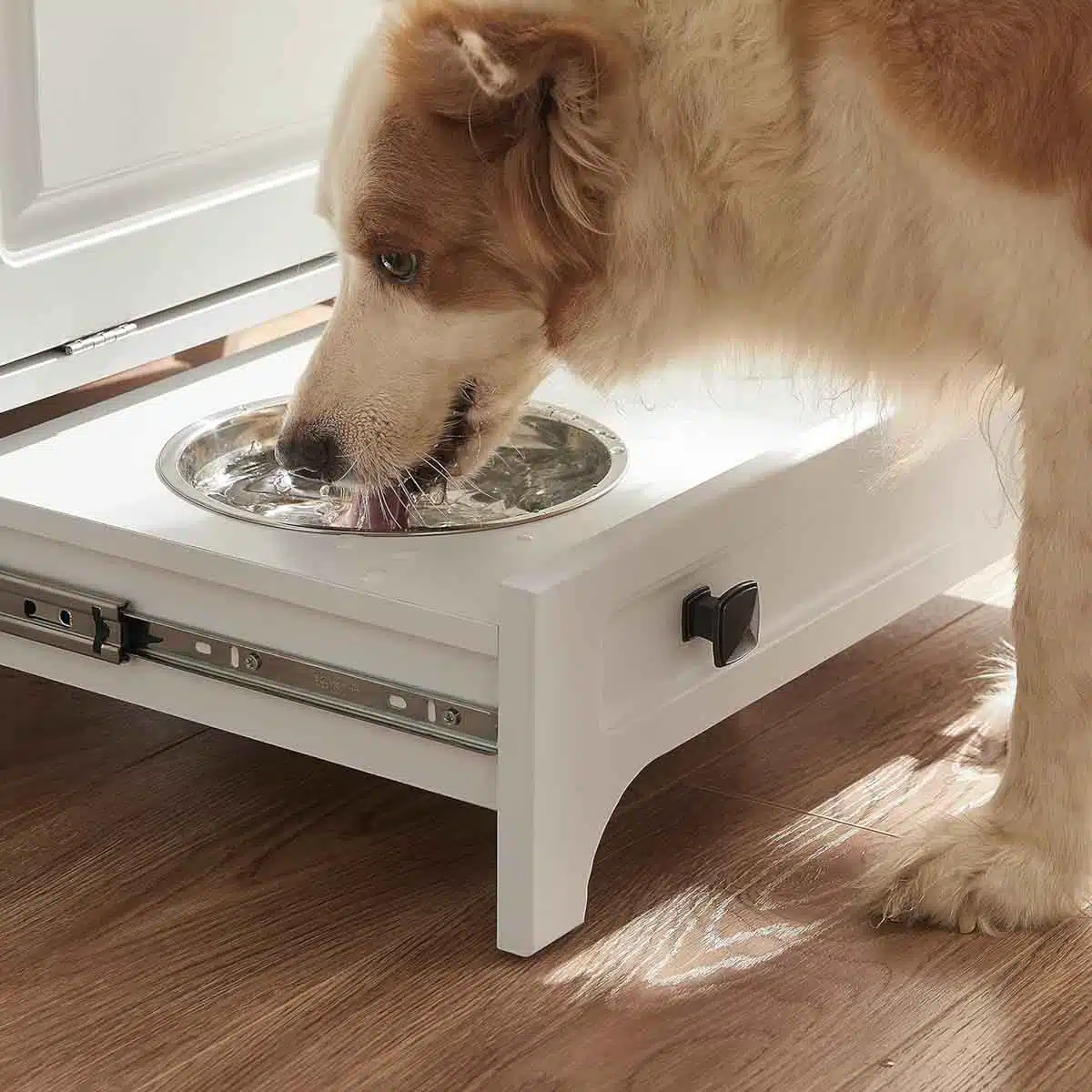 See this pet bowl storage at Amazon [sponsored link]
If you keep pets in the house, a pet bowl storage addition for your kitchen cabinetry can be a practical and aesthetic addition to your home. This feature can provide you with a wide variety of solutions.
However, its main one would be to keep your pet's feeding bowls, water, supplies, and other similar items handy and seamlessly incorporated into your cabinets. It can help you optimize vertical space while you're at it.
It keeps things organized, hygienic, and convenient. It is also an excellent way for you to go ahead and establish great mealtime training for your pets, knowing where to take their meals, how to take them, and even identify which specific areas of the house will work best for this function.
Removable Cutting Board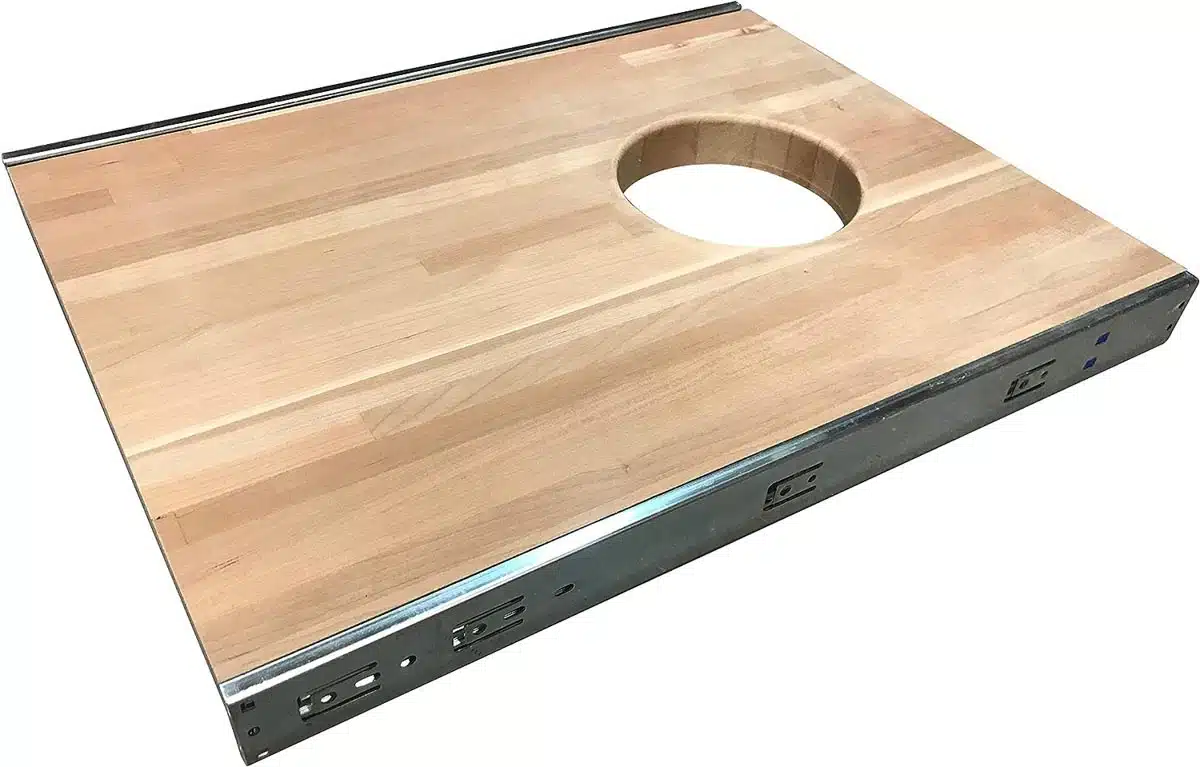 See this pull-out cutting board set at Amazon [sponsored link]
Installing a pull-out cutting board is a practical addition and a clever one. It can elevate your kitchen into something more modern and space-saving, all within the confines of your kitchen cabinetry. Kitchen countertops are often overused and can take up a lot of space.
A good cutting board is indispensable in the preparation of food and essential if you are to develop good knife skills. – Kitchen Knife Skills: Techniques For Carving Boning Slicing Chopping Dicing Mincing Filleting, Marianne Lumb
On the other hand, drawers should be more utilized for this purpose. A pull-out cutting board can fix that. This feature means you can slide your cutting board area in and out.
You pull it out only when you need it, tuck it in, and slide it away when you have no use. It ensures that you get to maintain a countertop area that's clean, free from clutter, and seamless all across the board.
You must install a primary pull-out mechanism to accommodate such a feature in your kitchen cabinetry. It involves attaching side rails, which will equip your cutting board to slide in and out as needed quickly.
Baking Sheet & Platter Storage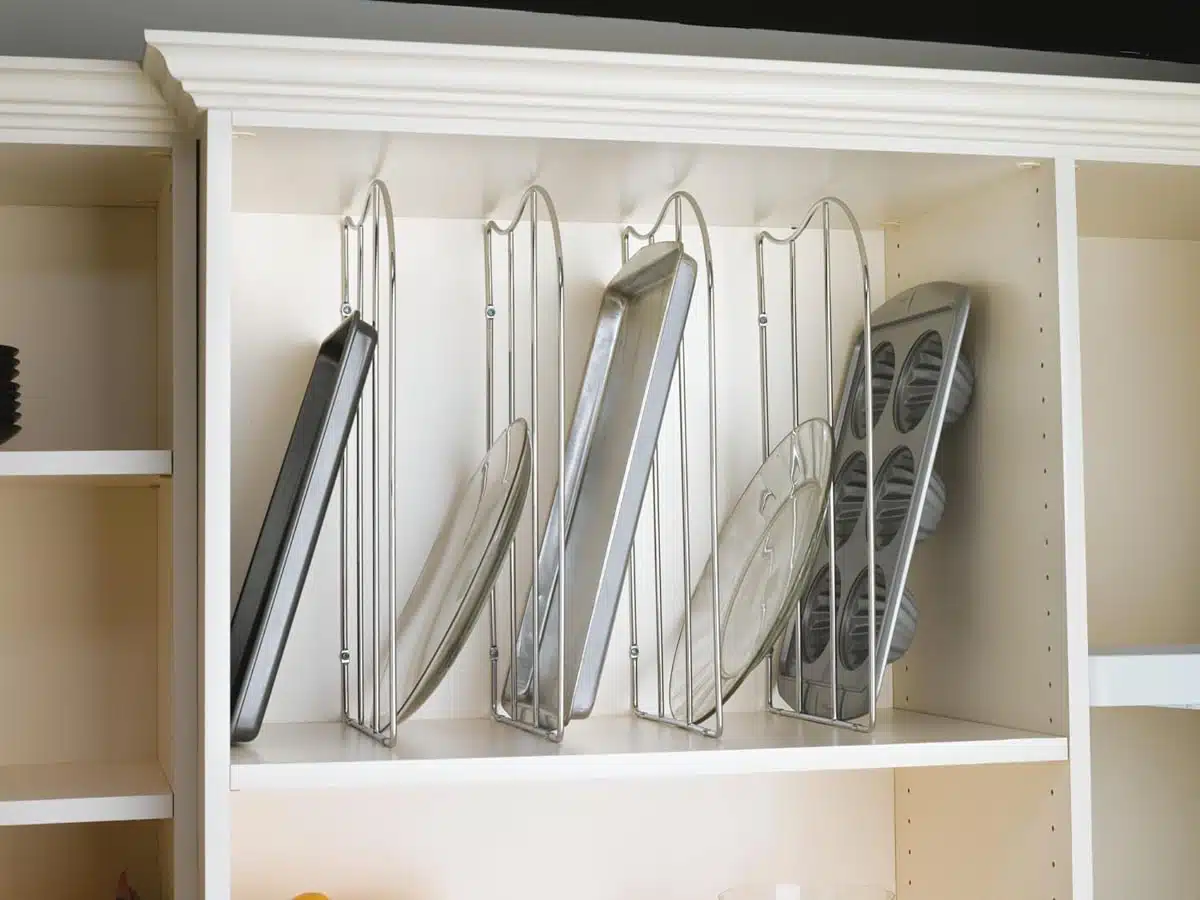 See this baking sheet storage set at Amazon [sponsored link]
A baking sheet and platter storage feature is a rather thoughtful feature to add to your kitchen space cabinetry. It addresses the need for storage solutions for larger flat items such as cutting boards, trays, baking sheets, flat platters, etc. This solution is quite strategic as it optimizes the accessibility of your large and flat kitchen items with ease and accessibility.
You will need a thorough evaluation of your kitchen cabinetry's layout to complete this. You will need to adjust your cabinet shelves to modify them and install your flat items vertically, right on top of each other. The key is in effectively creating dividers and individual slots for them. It will keep them from leaning on each other, minimizing clutter and damage.
Built-in Silverware Caddies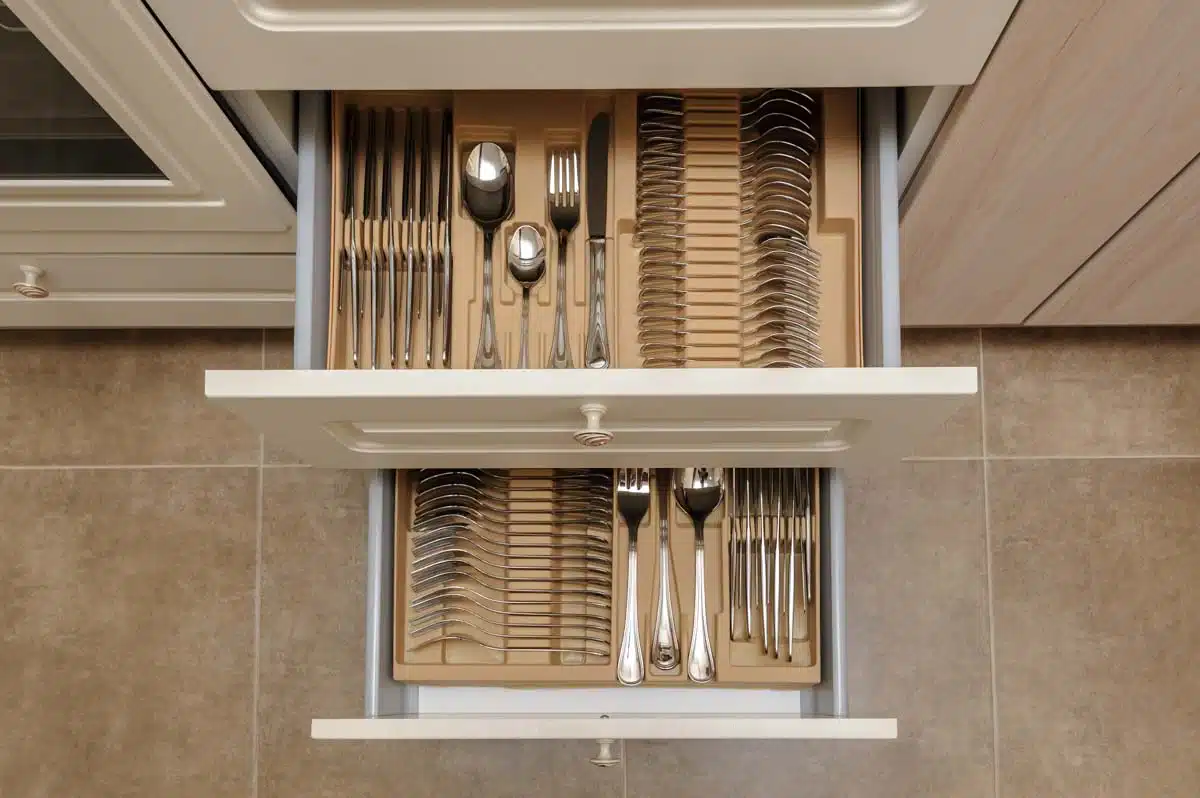 Another witty and aesthetic addition to your kitchen cabinetry is a section for built-in silverware caddies. It will allow you to keep your silverware organized, efficiently, and neatly stored, mainly accessible or easily within reach at the end of the day.
It gives specific utensils designated spaces so that you can quickly grab what you need when you need it without having to rummage through a cacophony of the other items inside the drawers.
The key to successfully incorporating caddies in your drawers is to ensure that the compartments you put in are right-sized for your specific utensils. It would be best to make it a point to ensure that the built-in caddies are fully concealed within the drawers or cabinets when closed.
Hidden Trash and Recycling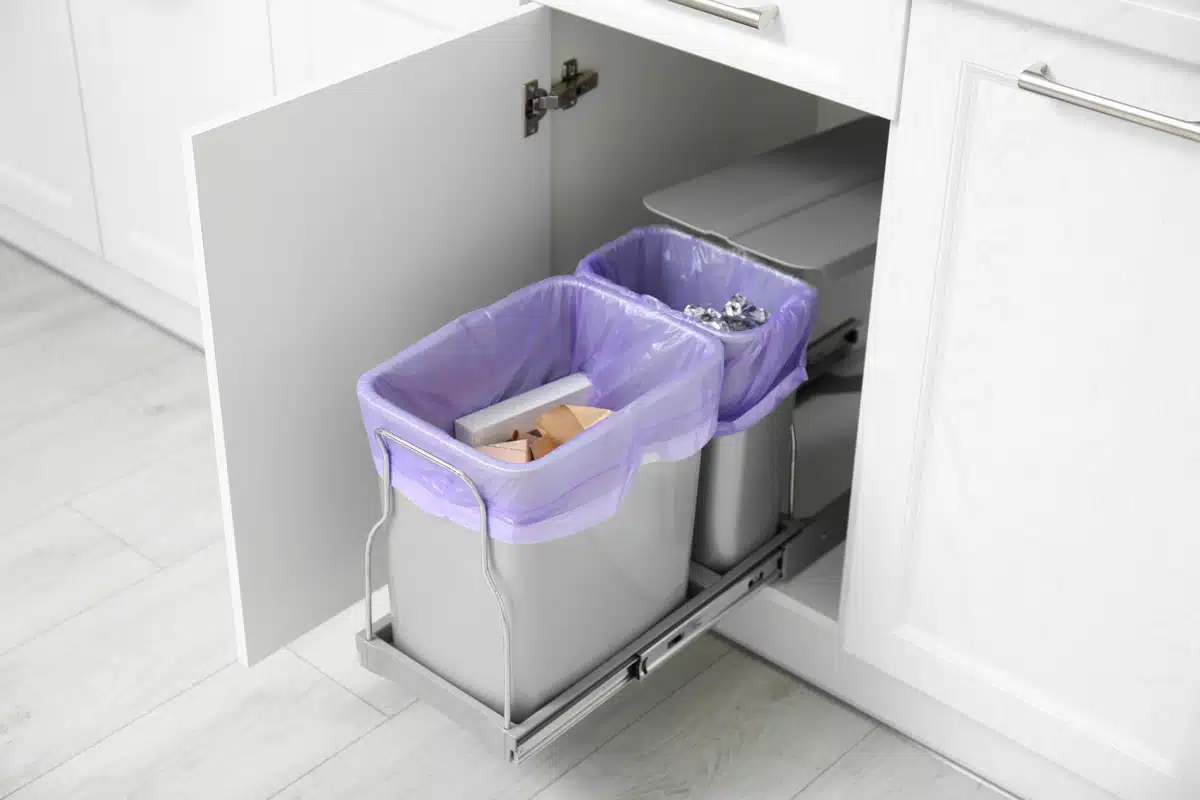 Trash and recycling are as critical to a kitchen space as the other more functional requirements. A great cabinetry addition to think about is how you can hide it. It is a rather innovative addition that will allow you to integrate your waste disposal solutions into your kitchen, keeping it clean and hygienic at all times.
More often than not, hidden trash and recycling solutions inside the cabinetry have been shown to contain odor and bacteria efficiently. Their hidden location helps keep bacteria, odors, and unpleasant smells from wafting in the air from your kitchen and eventually throughout your home.
Full Extension Drawers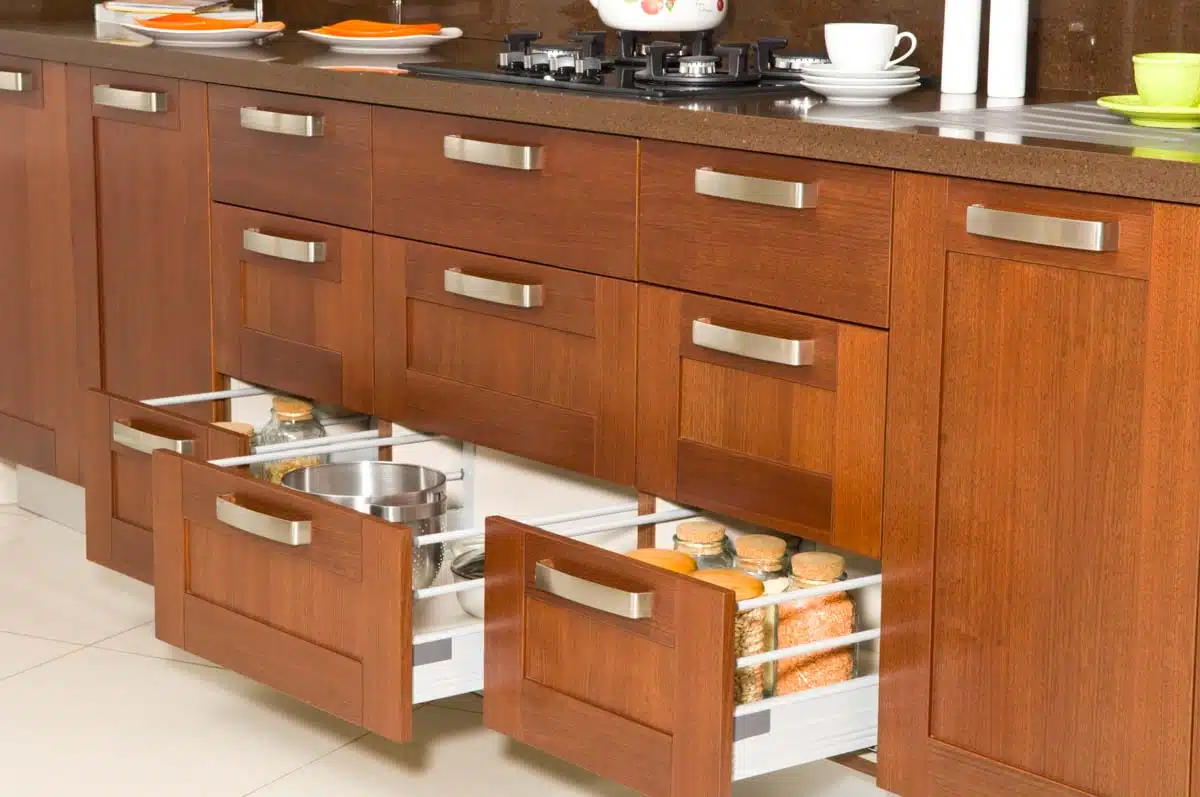 Full extension drawers are engineering marvels you can incorporate into your kitchen cabinetry. Compared to the typical kitchen drawers you're used to seeing, they extend fully, as the name suggests.
Traditional drawers only extend partially. Such a setup can, sometimes, hinder access to the drawer's contents. This feature will technically allow you to streamline how you retrieve specific items from these drawers.
It is a valuable feature that you can add to your kitchen cabinetry. Consider it if you are all about storage maximization and an ultimately more organized and clutter-free kitchen.
Warming Drawer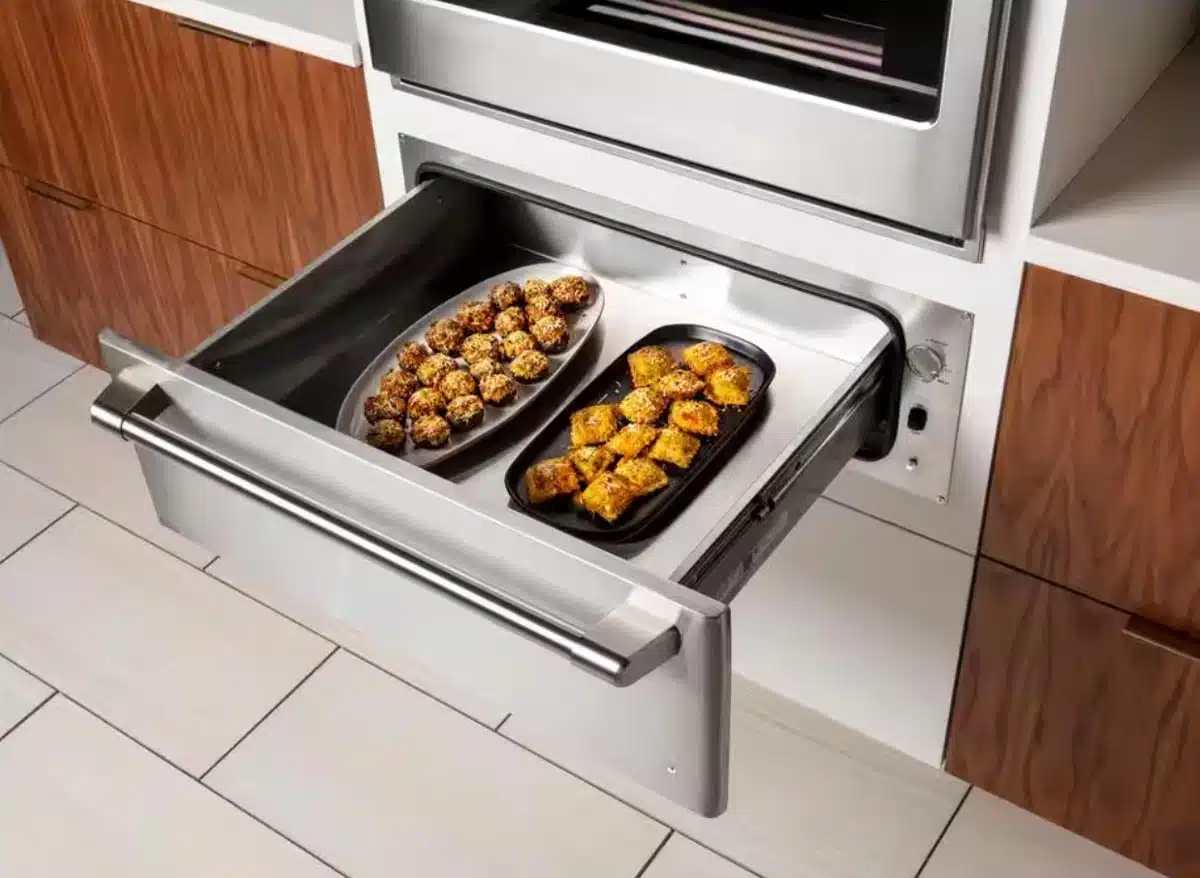 See this warming drawer at Home Depot [sponsored link]
A warming drawer is a kitchen cabinetry feature that is quite specialized and usually requires specific customization. It helps ensure that your cooked food's temperature is kept or maintained warm until it is eventually ready to be served during mealtimes.
What it does is that it creates an excellent environment for holding your food in, preventing it from going cold, drying out, or overcooking. It's not a necessary feature, but it's a nifty one at the end of the day.
Aside from both temperature and moisture control for your cooked food items in the kitchen, you will also gain access to timer options. It is a particular addition that will allow you to set the duration of the food warming process precisely.
Once the timer setting has elapsed, the warming drawer will automatically turn off. It's also great for other culinary functions such as defrosting, melting chocolates, or even proofing bread dough.
Glass Doors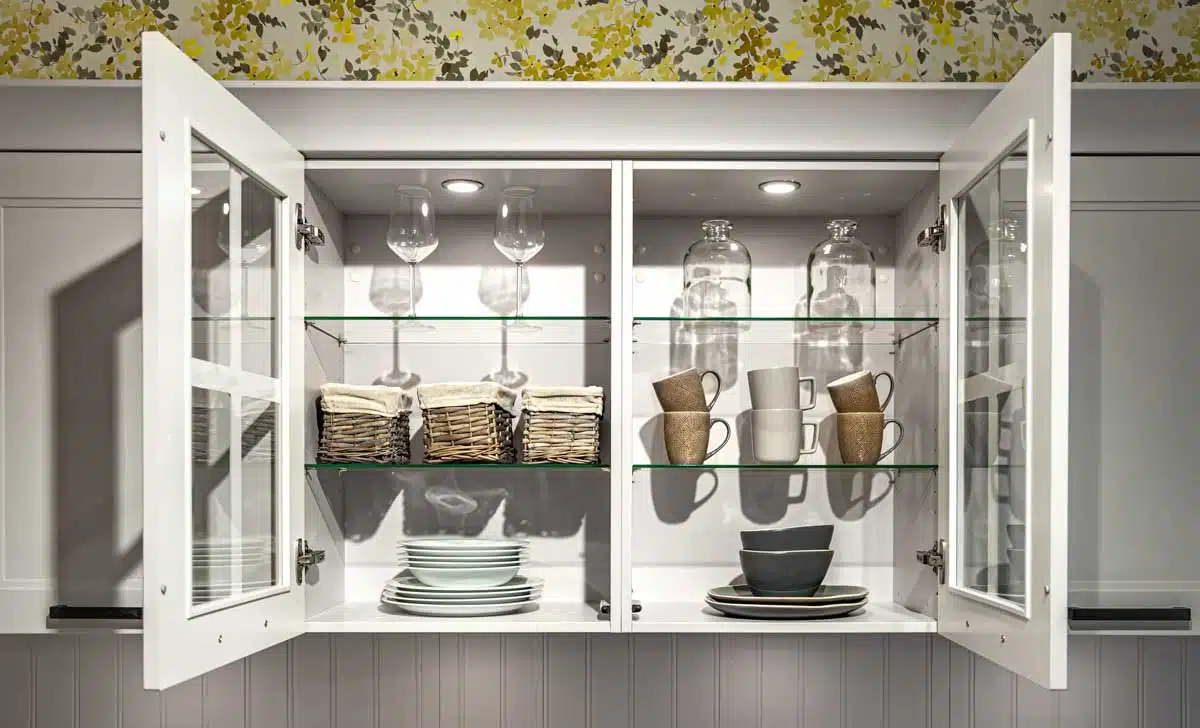 If the goal is for you to add more style to your kitchen cabinetry, you can quickly get this done by adding glass doors. Kitchen cabinets with glass doors are innately modern-looking and seamless. It effectively adds a touch of sophistication and elegance to your kitchen area.
Glass panels in your kitchen doors will allow you to see what's inside your kitchen cabinets. And because you get visibility of the cabinet contents, you get to have an unobstructed view of all of your kitchenware, from the dishes cookware to utensils, or even to put up decorative pieces you may want on there.
There are also variations to glass panels, from clear glass, frosted glass, mullion glass, which have metal or wooden strips in between them, and leaded glass, which offers decorative designs and patterns. Another upside to getting glass doors for your kitchen cabinets is that they open your kitchen up and make it appear bigger and brighter.
Soft-Close Doors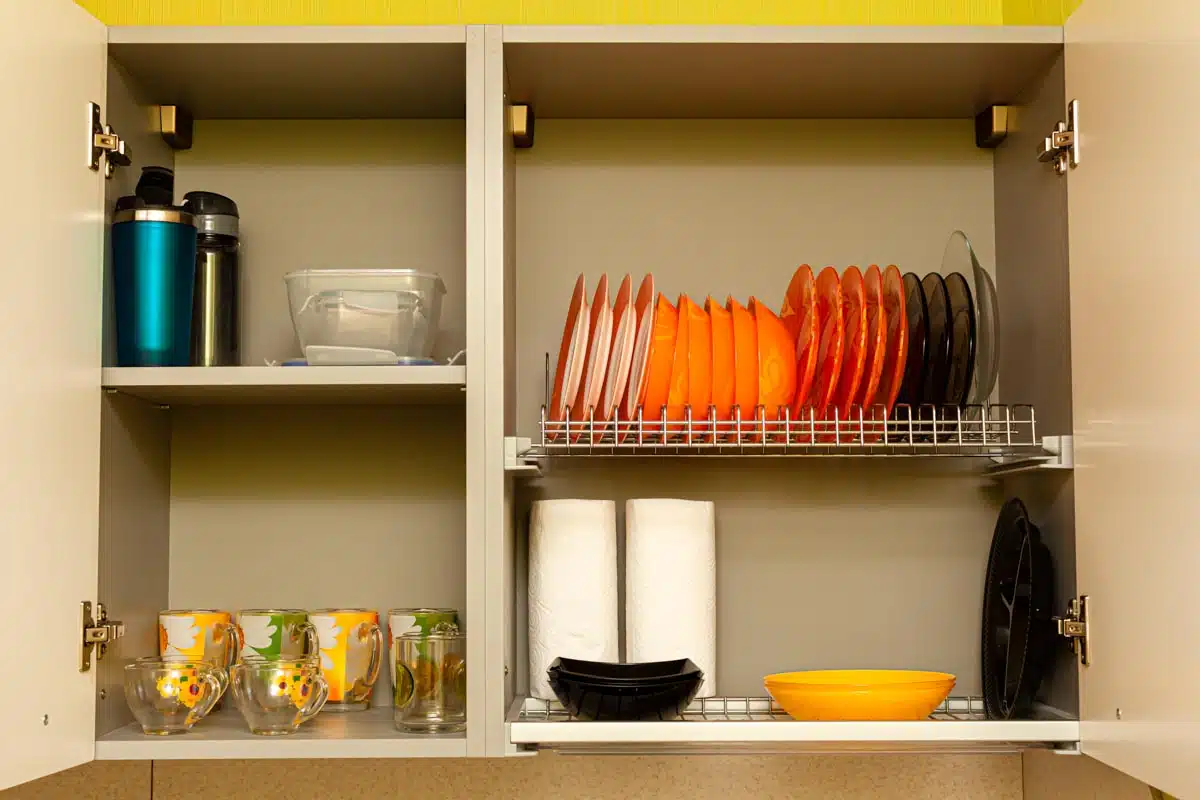 Soft-close doors are another marvel of kitchen aesthetics and ingenuity. They have unique mechanisms or hinges. What those things do is that they guide the cabinet doors gently and quietly. It ensures a smooth and noise-free closure of those doors. It eliminates the noisy inconvenience of getting them slammed unexpectedly.
The mechanisms that run soft-close doors are often attributed to pneumatic or hydraulic mechanisms embedded within the kitchen cabinet hinges. This functionality is activated by softly pushing the cabinet doors, activating the mechanism, and ultimately controlling the speed and intensity with which the cabinet doors are being closed.
Range Hood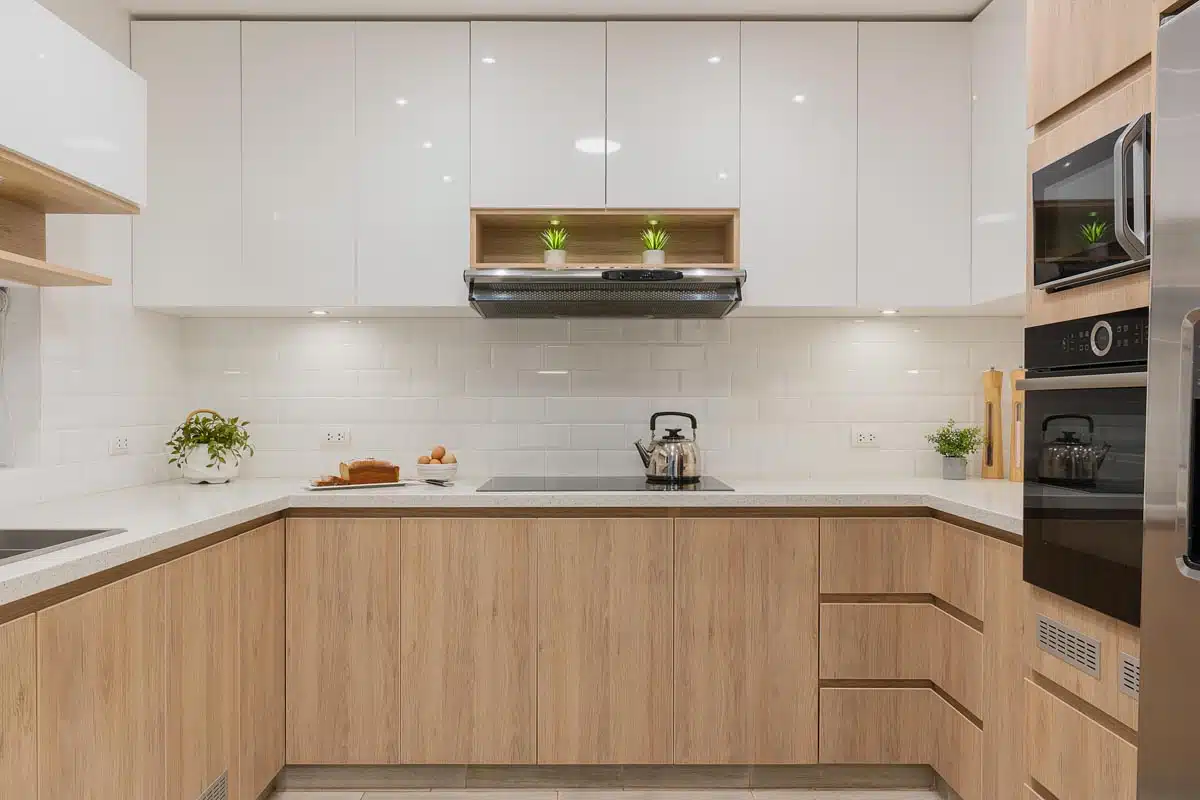 A range hood is an exhaust hood, usually on top of the stove range. Although it technically isn't part of your kitchen cabinetry, it can be built into it, giving it a seamless overall look.
If you want to accomplish a modern kitchen function and aesthetic, a range hood will serve you well at the end of the day. It's an excellent appliance for ventilation and is meant to remove grease, steam, smoke, and all the other odors that may waft through your kitchen air.
As the name suggests, it takes on a hood or canopy structure. It is usually equipped with a filtration system with an exhaust fan. Cooking usually expels fumes, particles, and other things into the air, which the range hood will capture.
Range kitchen hoods recirculate clean air back into the air, ensuring cleaner and healthier breathing air all across the board. It also helps keep your kitchen counters clean because you limit the accumulation of greases and other types of odors with a range hood built into your kitchen setup.
Pull Out Step Stool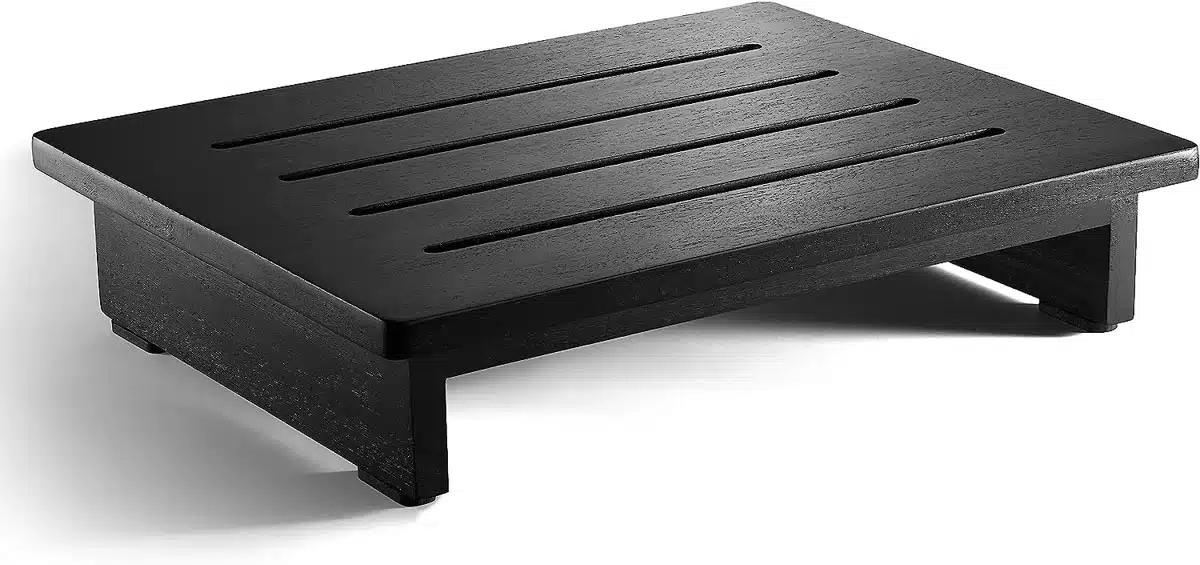 See this pull-out step stool at Amazon [sponsored link]
A pull-out step stool is a feature that can make your kitchen space more efficient and practical. It is a feature that will allow you to access your higher-level kitchen shelves safely, the upper levels of your cabinets, and all of the other general upper areas of your kitchen. Although it isn't technically a part of the cabinet, you can have it built in. It's a compact step stool that integrates well with your kitchen cabinetry.
A base cabinet usually houses this pull-out step stool. A sliding mechanism holds it in and allows it to slide in and out. This way, whenever you need it, you can pull out that step stool and use a sturdy and stable platform to step on. A feature like this is beneficial if you have elderly members of the household who may need safer alternatives instead of standing on ladders or chairs.
Under Sink Cleaning Storage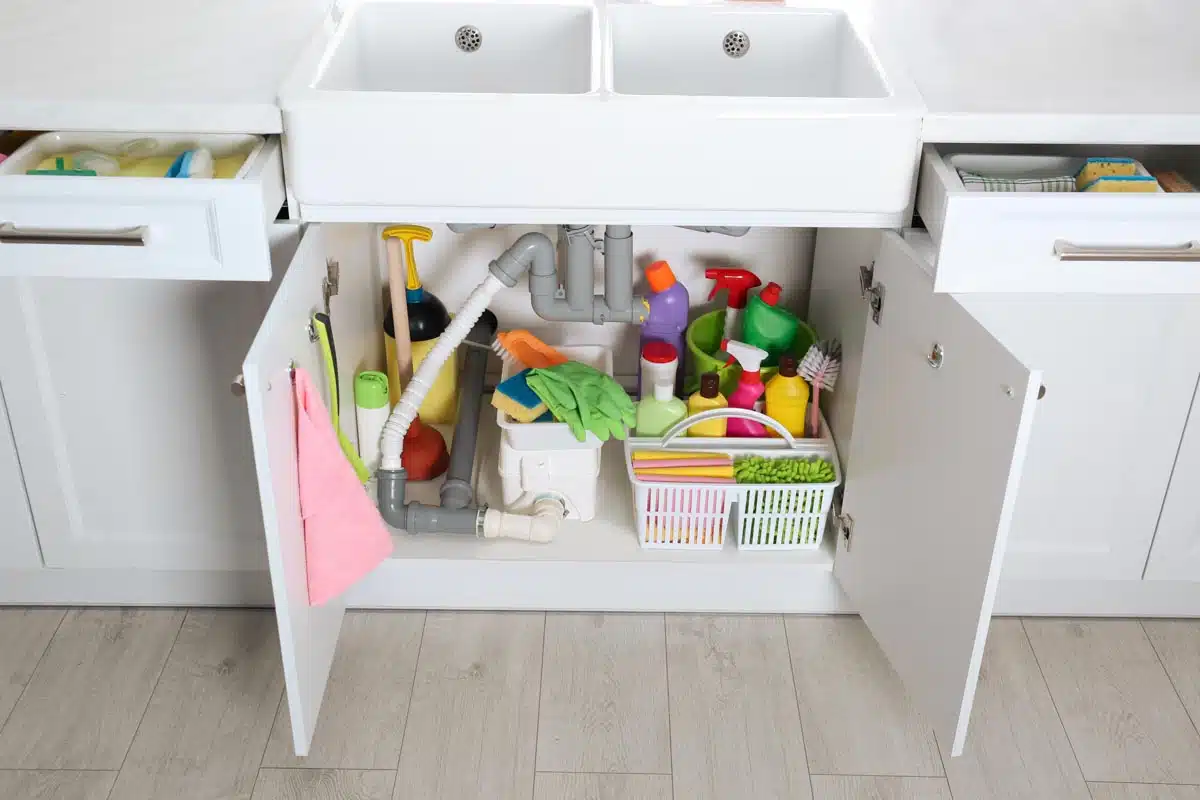 An under-sink cleaning storage feature in your kitchen cabinets can help you keep your kitchen items and other supplies easily accessible and, at the same time, neatly and safely stowed away.
We can't stress enough how important it is to err on safety and ensure that cleaning supplies are stored separately from food items. This feature can also come in handy if you have kids in the house. Kids are naturally curious; accidentally playing with or ingesting cleaning supplies could be extremely dangerous.
The under-sink area often needs to be more utilized, so compartmentalizing a designated space to keep your cleaning supplies in neatly is vital to keeping your kitchen area clutter-free. Although they are neatly stowed away and well away from sight, you can conveniently reach out for any of those items under the sink.
It makes cleaning an easy and convenient task. And because you're maximizing the sink space, an area that doesn't typically have much use for anything else, you are also maximizing storage solutions and space in the process.
You can incorporate other attachments, such as holders and hooks, to hang items such as spray cleaners, gloves, brushes, and rugs. You can also use pull-out bins or trays to slide your contents in and out without having to rummage through your cabinets.
Please note that under-sink areas are notorious for the moisture and humidity they have, so while setting it up, think of waterproofing solutions so that you keep the mold and mildew out as well. It's also wise to periodically check on the state of the area and watch for any signs of water damage or leaks that contaminate your cleaning supplies.
Lazy Susan Corner Storage
A lazy Susan corner storage is another innovative solution for your kitchen cabinets. For that matter, the corners of the kitchen and any other space in the house should be more utilized.
How a lazy Susan corner storage solves this is that it has a turntable mechanism that rotates. It will give you access to all of the cabinet's contents regardless of how they're positioned because you can shift their placement anytime with the help of the turntable.
These shelves are typically circular, with a pole in the middle that attaches them. You will have the option to get the shelves rotated separately or independently. It means that you can get to the items in the back of the cabinet without having to reach out too much or disrupt the placement of the items upfront.
Corner cabinets are often considered dead spaces because they don't provide a lot of mobility clearance for the user, but this is a problem that a lazy susan solves right off the bat. It makes it easier for you to locate all of your kitchen items stored there, helps keep them organized, and helps you save a lot of time, especially while you're busy making a meal for the family or cleaning up after one.
Kitchen cabinetry has evolved a lot, and you now have these practical and innovative features to consider and play around with as you design the kitchen of your dreams. You can customize them according to your preferences or how your kitchen has been set up.
The kitchen area goes far beyond just your countertop space and the appliances that you have on there. Think about the features that will work harmoniously with each other, the flow of how you would like your kitchen to work or look, and how all these features will make your personality and preferences in design and functionality shine through.
What must have kitchen cabinet features do you like best? Please share your favorite organization ideas below for our readers. See more related content in our article about mismatched kitchen cabinets on this page.