Here you'll find different types of plywood kitchen cabinets including plywood grades and thickness, best plywood for cabinets, and comparison between particle board vs plywood.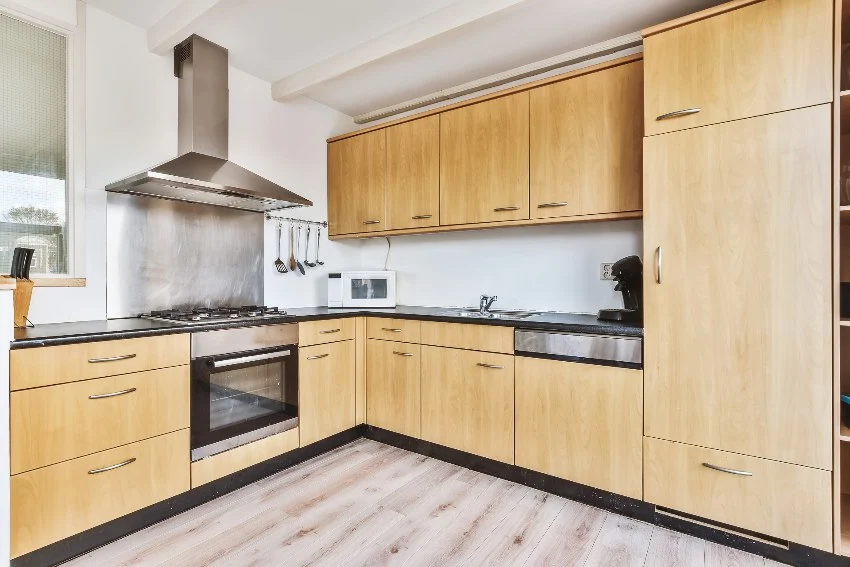 When investing in new kitchen cabinetry, homeowners will expect to enjoy their latest installation for at least 20 to 30 years before replacing them. Since kitchens are exposed to moisture all year round, particularly cabinets around sinks, you'll need a material that can withstand rotting, warping, and other water-related damages.
Moreover, the potential of fire accidents in a kitchen is high, which means it's advantageous to have good fire-rated material, especially if you plan on using wood for your cabinets. It's a bonus to have good-looking kitchen cabinets that are timeless and easy to work with, so you can achieve any preferred design in mind.
Plywood kitchen cabinets with the right grade and installation are durable, versatile, and lightweight and have been tried and tested since the 1920s. Despite the rise of MDF sheets, plywood remains a popular choice as plywood is stronger per pound of material compared to that MDF.
Like any other product, it pays to know more about plywood kitchen cabinets, especially the types of plywood and the available grades and thickness that are used for kitchen cabinets.
What Are Plywood Cabinets?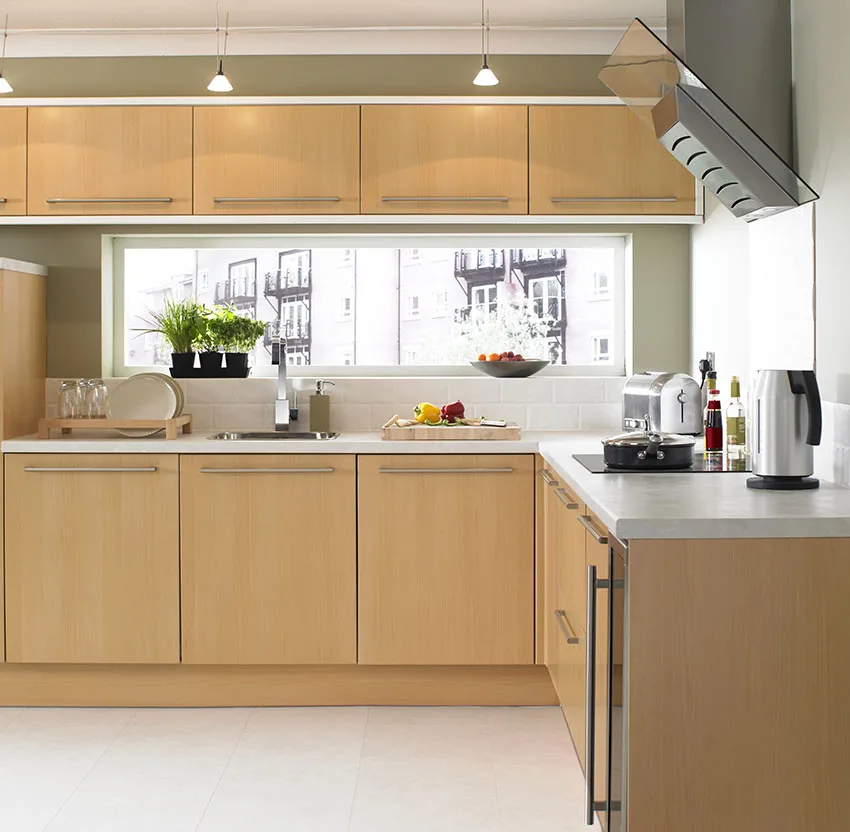 A plywood cabinet is a type of storage or display furniture made primarily of plywood sheets. Plywood is a type of building material made from hardwood or softwood lumber that is cut and treated to create 4 x 8 thin sheets.
These thin veneers or plies are then glued together with their wood grain rotated to 90 degrees against each other to improve strength. A typical wood specie used in making plywood is Douglas fir, but you'll also find different types of plywood products made from oak, mahogany, maple, redwood, pine, and cedar.
Naked kitchens with a bare or clear protective coating and installing a new plywood kitchen cabinet is a perfect option as it is versatile and has good quality front and back veneers. From Scandi-inspired kitchens to your old country-themed interiors, plywood's good workability and durability make the engineered cabinets a practical choice.
Types Of Plywood For Cabinets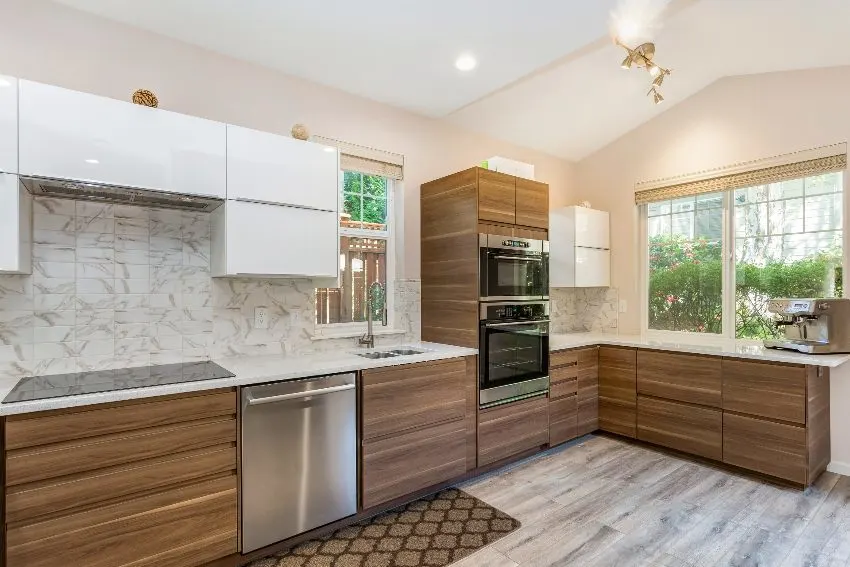 Here's the types of plywood grades typically used for cabinets:
Hardwood Plywood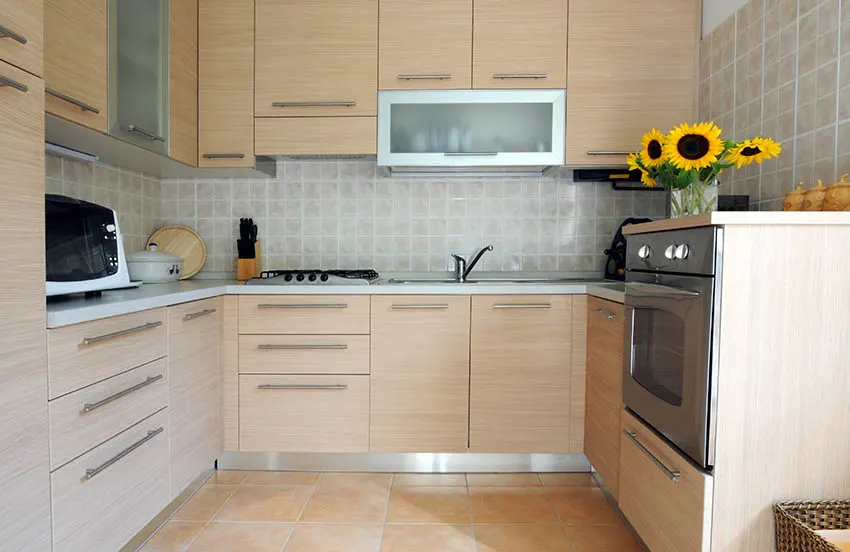 Since cabinet doors are subjected to a lot of wear and are visually exposed, plywood with a smooth and durable surface is recommended. Hardwood plywood made from dense types of wood grains such as birch, oak, maple, and walnut can withstand constant banging when closing and opening.
Choose hardwood plywood with Grade A as defects are filled with synthetic fillers, so you have a sleek surface that's easy to paint on. Hardwood plywood is excellent for both painted or left kitchen cabinets with a natural finish.
Hardwood plywood typically comes with 3 to 7 wood plies that are angled 90 degrees to create a solid construction.
Softwood Plywood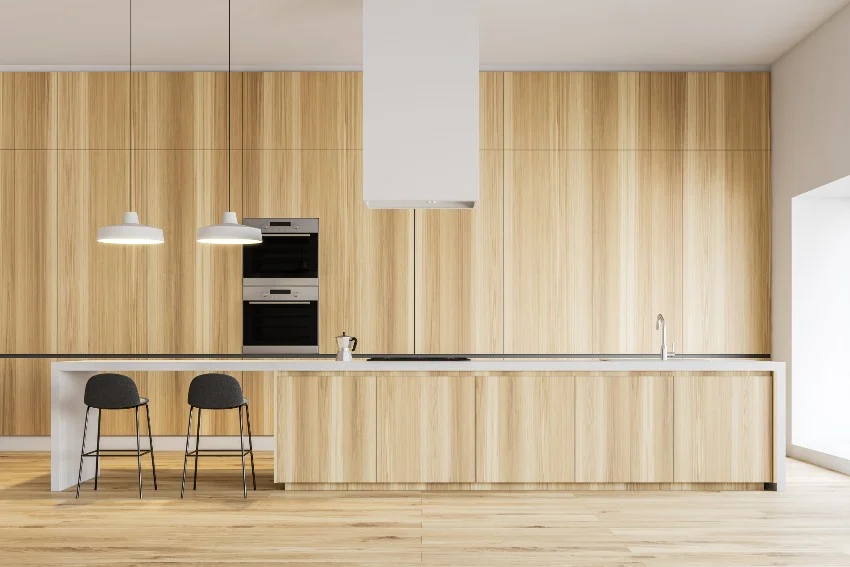 Unlike plywood made from hardwood, softwood plywood is lighter in weight, making it suitable for high vertical open shelving. They are typically made from spruce, cedar, or pine but are not advisable for base cabinets or other cabinets close to the water sink. See pictures of pine kitchen cabinets here.

Decorative Veneers
Regarding doorless cabinets, decorative veneers provide a unique appeal where you can leave the edges exposed. The surface is covered with a thin slice of 3mm wood veneer of around 1.6mm to 3mm or back veneers ensuring a smooth and sleek surface.
Structural Plywood
Also termed sheathing, plywood is typical with a C or D grade and is an inexpensive option for plywood with a strong and stable structure. With an unfinished surface, they are more suitable for use for cabinet framings.
Plywood Grades For Cabinets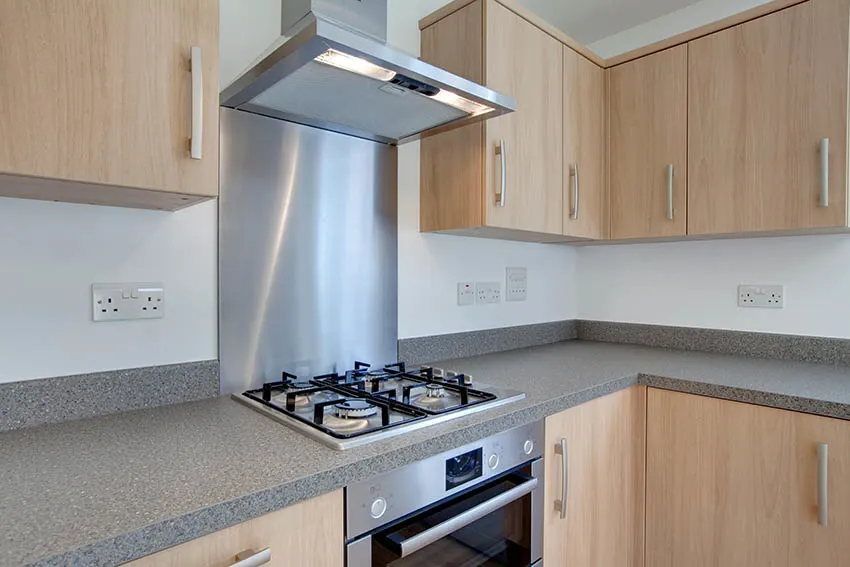 Regarding plywood, there are two major types of grades to consider when assembling your kitchen cabinets. One is the front veneer, and the second is the back veneer.
Front Veneer
Grade A. Considered the best plywood grade due to its cross-banded layering and smooth surface. With a cross-banded layer, the veneers can resist bowing or arching. This makes it a durable material for long-span shelves, given that enough supports are still made.
While grade A plywood is mainly sourced from high-quality veneers, there will be a few minor defects, which are then filled with synthetic fillers to ensure a smooth finish.
Grade A plywood is suitable for cabinets that need to be painted or are treated with a natural finish. Grade A birch plywood is a popular option as the hardwood is very durable and excellent in holding up against bowing or warping. With good support and cabinet design, the grade A birch plywood is a perfect choice for long-span open shelves.
Though, the wood specie can be affected by constant humidity. When planning to use it for your kitchen cabinets, make sure to apply additional treatments or avoid using them on very damp areas in your kitchen, such as the base cabinets or near the sink area.
Grade B. is Slightly less smooth than Grade A and will have minor defects not more significant than an inch, such as tiny visible knots. Grade B plywood can have a similar sanded surface and smooth surface when repairing these few defects before use.
Grade C. There are few visible defects, but the knots are around 1.5 inches in diameter.
Grade D. The most affordable among the plywood grades are not advisable for kitchen cabinets. The knots and flaws are prominent and can be as large as 2.5 inches in diameter. These defects have not been filled or repaired after purchase.
Back Veneer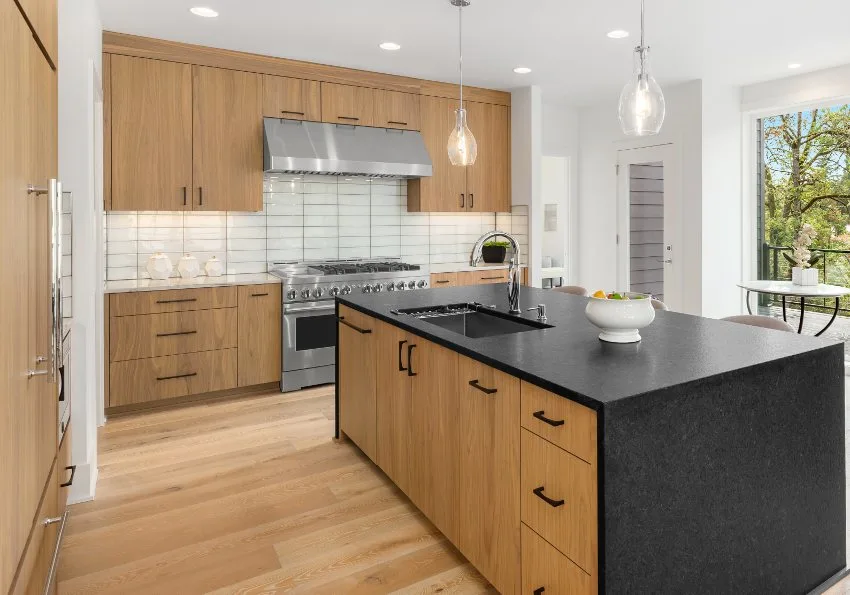 Grade 1. There are no combined holes or repaired knots on the plywood surface. If you plan to show the back of your cabinets, such as using it as a divider, the smooth and clean back surface with Grade A is recommended.
Grades 2 and 3. They are considered mid-range grades with a few knotholes and repaired knots on the plywood surface. It can be a practical option for your kitchen cabinet's back or structural parts.
Grade 4. Classified as the reject grade were there a lot of combined knotholes and repaired knots on the plywood surface.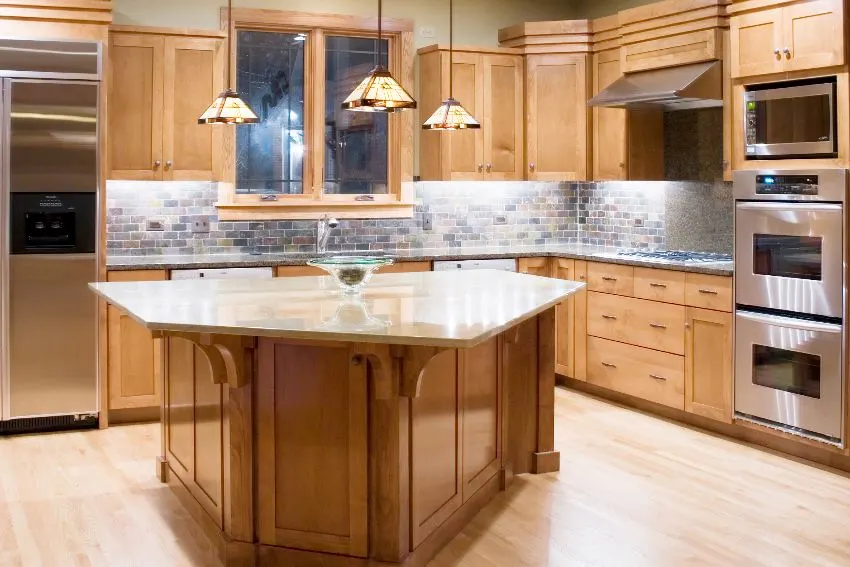 BWP Grade. A waterproofed type of plywood which means it is entirely water resistant. BWP is the acronym for Boiling Water Proof. Similar to your marine-grade, it is an excellent choice for a plywood kitchen cabinet and other furniture located in wet or damp locations.
BWR Grade. Made from 10% melamine UF resin. It is resistant to water soaking due to its melamine content which gives the color of pale brownish green hue. The melamine resin ensures that the plywood can withstand being submerged in water for at least 8 hours.
It is advisable to choose BWP or marine grade plywood, which can resist 72 hours in boiling water if your cabinet is next to a gas stove. All of this ensures that your kitchen cabinets are strong, resilient, and long-lasting.
Firewall Plywood. An excellent choice for cabinets above or near stove or range as it is less flammable and burns slowly. The delayed fire spread means you have time to put out the fire or escape safety.
Cabinet Grade Plywood Thickness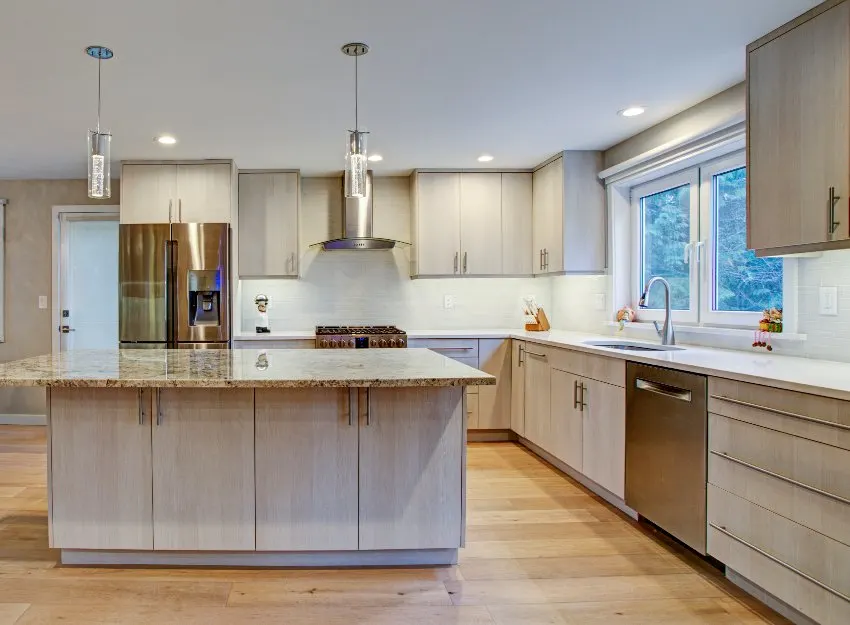 1/2 inch Plywood for Cabinets. Primarily used for drawer sides and when you need a light wood material. While thickness is a factor in ensuring durability with your plywood kitchen cabinets, there are cabinet builders today that go for ½-inch plywood due to easier workability and lower cost.
In addition, the difference between ½-inch and ¾-inch plywood these days is quite negligible, particularly if you have just 50% more thickness. The ½ plywood is practical for small kitchen cabinets not subjected to heavy storage.
In general, you can use them for short to medium-span shelves and side drawers.
5/8 Plywood Cabinets. Usually, 5/8 plywood is of construction grade and is suitable for base cabinets or horizontal crosspiece braces. Due to its thickness, it's a good option for stabilizing cabinet sides. Hardwood 5/8″ plywood works well for assembling sturdy drawer boxes or long-span shelves where the material will become less likely to warp or bend.
3/4 Cabinet Grade Plywood. A ¾ cabinet grade plywood is considered cost-efficient with just the right thickness and is just 20% heavier than 5/8″ plywood. Most kitchen cabinet makers use the 3/4″ cabinet grade plywood in most of the cabinet structures.
5/8 vs. 3/4 plywood cabinets. When it comes to doors, ¾" plywood is recommended as it is thicker than your 5/8″ plywood, making it able to withstand constant slamming or opening of your cabinet doors. When using 5/8″ plywood, you can protect the edges by using wood around the door.
Best Plywood For Cabinets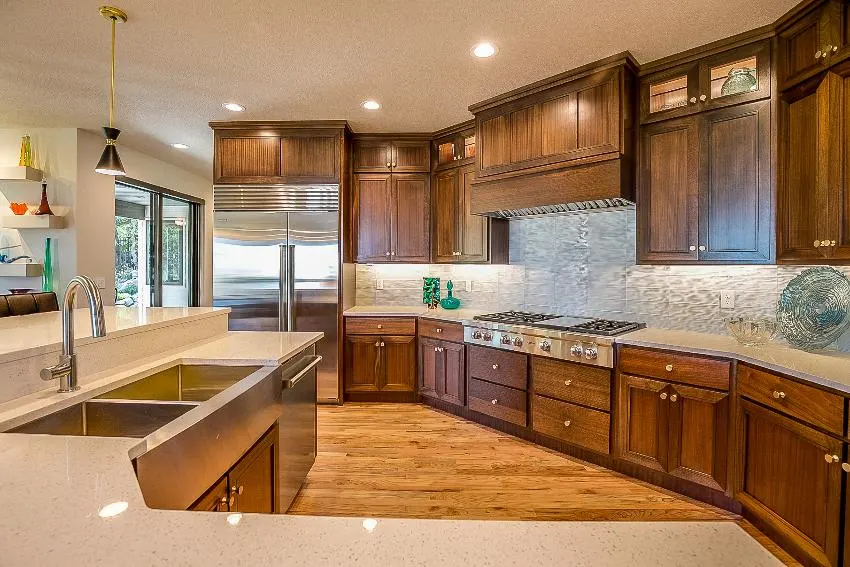 Generally, plywood with grade A for the front face and number 1 for the back face is the best criteria to use for cabinets. Hardwoods are the best plywood options as they are more durable than your softwoods. However, you'll need to choose the right hardwood species that works well with your finishing, especially if you plan to pain or leave a varnish that exposes your front veneers.
Not all hardwood can take paint or varnish well, particularly for plywood that has open graining, such as oak. When painted plywood, oak's graining can be visible under paint, so you might want to consider a different type of plywood.
When it comes to plywood thickness, your plywood kitchen cabinet will usually compose of different thickness sizes for a more cost-efficient construction of your furniture. ¼-inch plywood is best for cabinet backing unless the backing needs to carry or support your shelves.
If this is the case, use ½-inch plywood instead. ½-inch plywood is best for drawer sides, backs and sides. To keep the weight of your drawer's contents, 3/8-inch plywood is used.
Plywood Cabinet Doors
¾-inch plywood is recommended as it has just the right thickness to maintain a straight section of your door as this thickness won't bend or warp easily. Most of these panels do not need any bracing or nailing on the backs or sides for support.
You'll also find banded edges if you want to conceal the edges. These bands come with matching wood specie for a seamless cabinet door.
Since cabinet plywood comes in various sizes, a lot of fabricators recommend domestic ANSI HP-1 because of its nominal three-quarter-inch panels. You can install these panels without bracing or nailing on the back or sides of the kitchen cabinet.
Particle Board Vs. Plywood Cabinets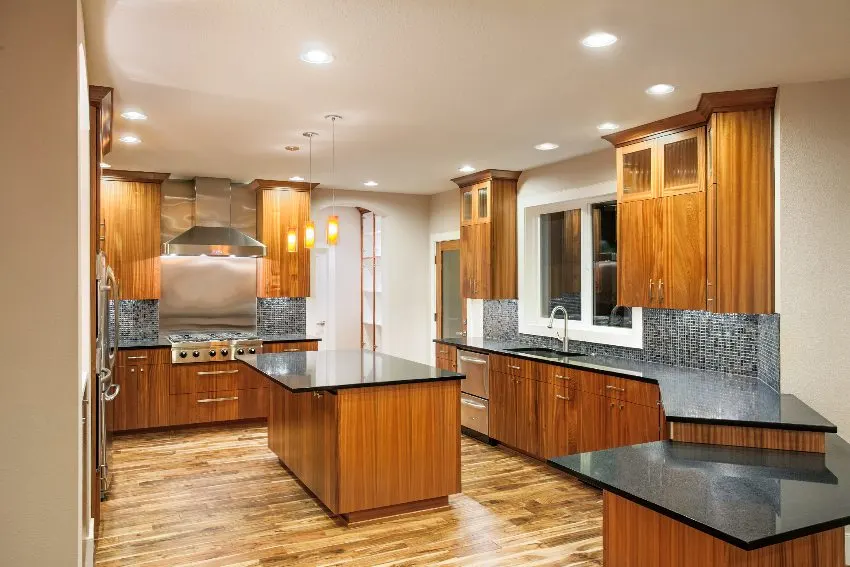 Particle board and plywood are popular materials for cabinets with both having their own benefits and limitations.
Composition and Strength
Plywood is made with layers of wood pilings and then covered with a veneer, while particle boards are made from wood chips bonded together with resin and then pressed and extruded. Like plywood, particle boards also come in standard 4′ x 8′ boards with different densities.
Plywood has the upper hand when choosing between these engineered boards because of its cross-grain texture and stronger adhesives. Plywood has a very durable structure making it a more sensible option for your kitchen cabinets that are subjected to wear and tear with frequent use.
Workability and Construction
The durable piles glued together make it possible to assemble your kitchen cabinets using nails, screws, or glue providing your cabinet makers the design flexibility. For particle boards, its composition makes it unlikely to warp easily but is not as good as plywood in being glued or nailed.
Cost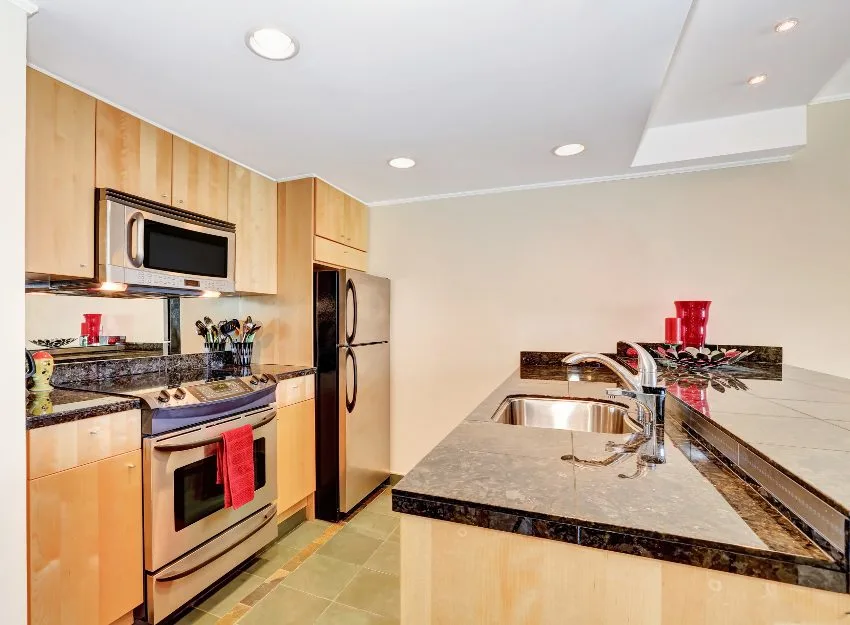 Plywood is generally more expensive than particle boards but more durable and attractive than particle boards.
Moisture
Plywood is generally very moisture resistant. It doesn't stand up well to long-term exposure to water, but it will maintain structural integrity for a long period of time with minimal water exposure.
Particle board is very susceptible to damage from moisture and will swell if it is sitting in water for an extended period of time. This means it makes a good short-term solution but won't stand up well in areas that experience a lot of standing water.
Use
Particle board makes a great quick fix for kitchens and is very low cost, so it's a good solution for when you are trying to keep costs down.
Plywood is an excellent option in almost all kitchen cabinetry situations if you are not concerned with cost and if you want cabinets that will stand the test of time.
Visit our guide on different types of kitchen cabinet materials for more aesthetic kitchen cabinet ideas.