See what color countertops go with maple cabinets including the ideal shades for light and dark stained cabinets and recommended colors for kitchen countertops.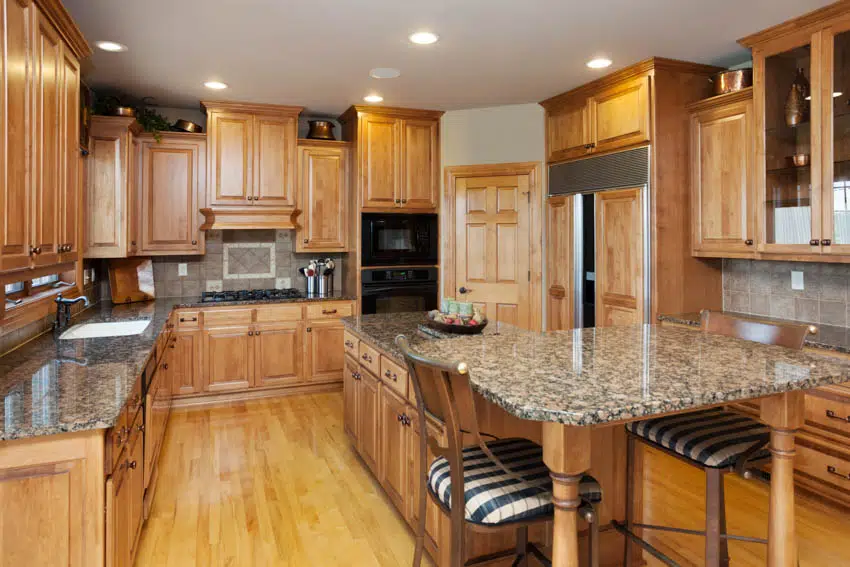 Maple cabinets are still popular in homes all across the world mainly because they're durable and they lend an old-world charm to your kitchen space.
Although not impossible, maple cabinets are hard to pair with the perfect countertops because their colors are so distinct. It basically depends on how they're stained; whether you have light-colored or dark-colored maple cabinets.
There are different guidelines for both. The rule of thumb is that warmer toned maple shouldn't be paired with blacks, whites, brushed metal, or gray as they'll end up clashing with the undertones of your cabinets.
It's not an easy task and making the wrong choices could require you to come up with pricey fixes for them. But not to worry, we have a guide for you down below.
What Color Countertops Go With Light Maple Cabinets
The most popular colors to match with light stained maple cabinets are white, brown, black, slate grey, and medium grey.
Light beige is a little risky to pair with light maple cabinets but they can work really well in bringing out the rosy undertones in light maple. Make sure that you opt for a true neutral beige.
What this means is that it shouldn't lean too much on the yellow or red tones. Go for something that more closely resembles the color of sand. This way, it doesn't look too overwhelming when paired with your light maple cabinets.
Other colors and materials that work with light stained maple cabinets are:
Stainless Steel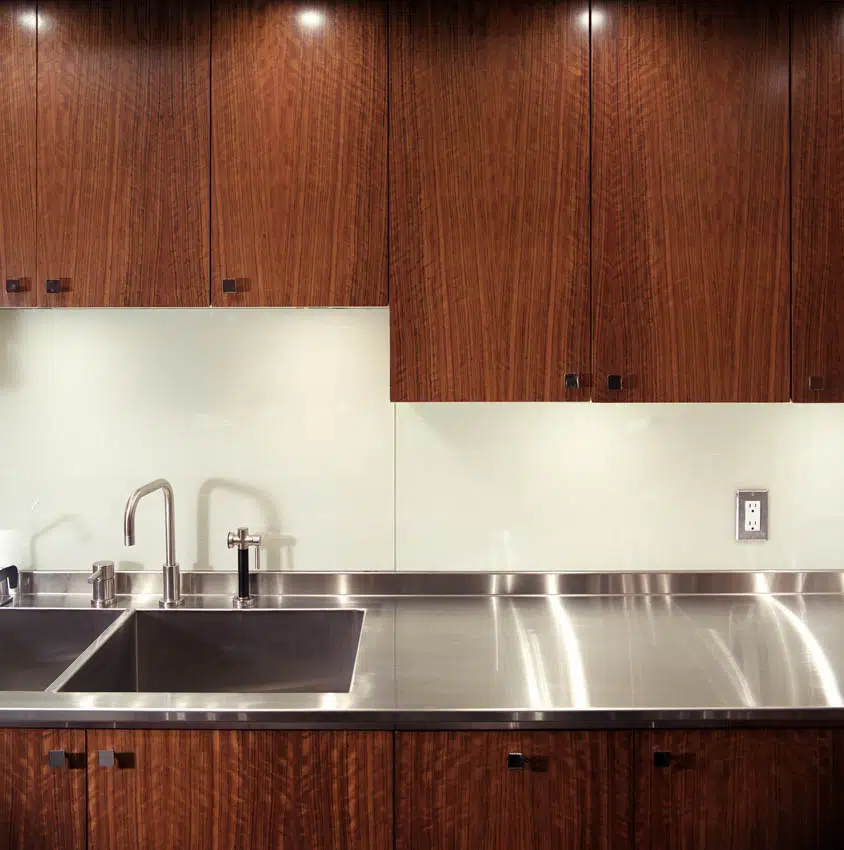 A stainless steel countertop is a great way to bring in that modern vibe to your kitchen and they sport a very similar look to light gray granite. This is a great option to go for especially if it matches your other kitchen appliances such as your fridge, and other elements.
There's a reason why stainless steel countertops are the go-to choice for professional kitchens. It's because they're easy to maintain, clean on the eyes and easy to clean, and basically safer for food prep compared to say, concrete.
Poured Concrete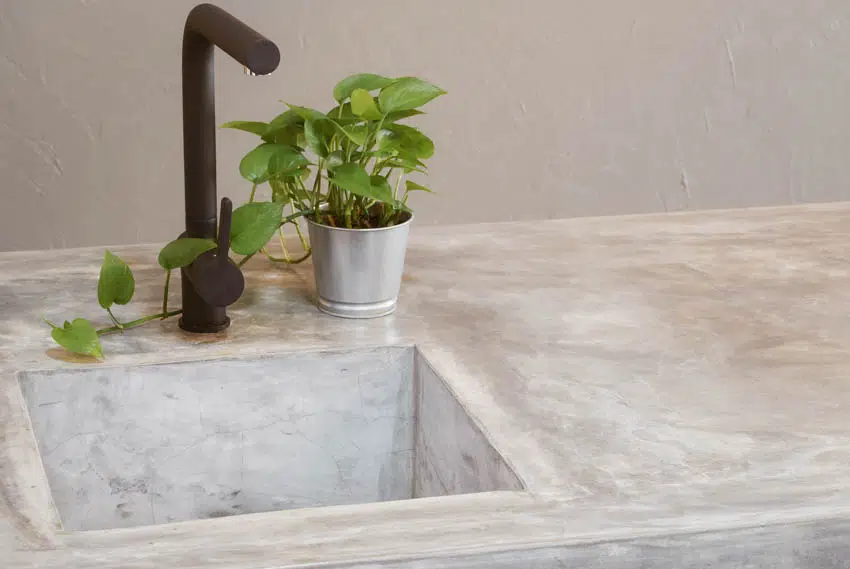 A poured concrete countertop is an excellent choice to pair with both light and dark colored maple cabinets as you have complete control over its texture and color.
When picking out a color to paint the countertop with, go with the general rule of sticking to the same undertones so that the vibe is cohesive.
Warmer-colored maple should be paired with warm-colored paints and cool ones with cool colored paints.
What Color Countertops Go With Dark Maple Cabinets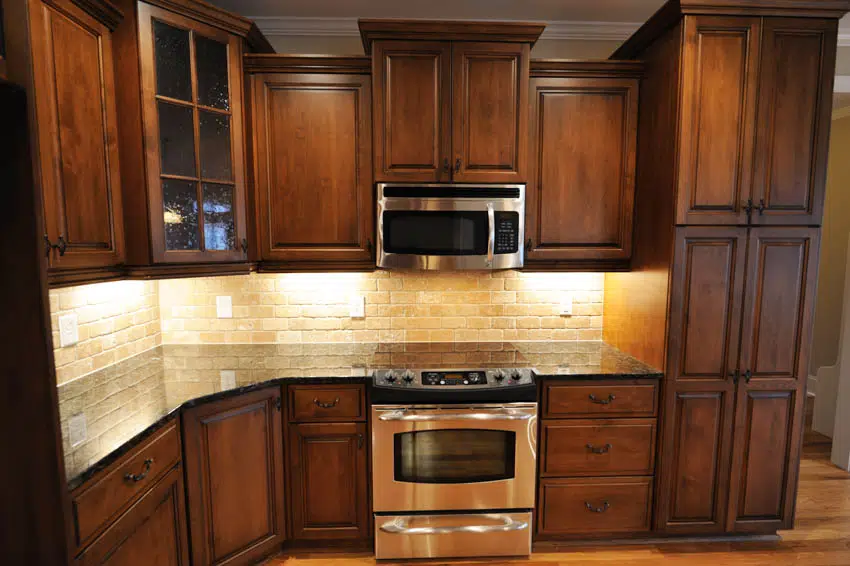 Here we share the different colors of countertops that go with dark maple cabinets.
Maple cabinets exposed to sunlight can darken the wood color. For these darker woods use neutral colors such as white and light gray to brighten the atmosphere and look modern & updated at the same time. – interior designer Ellen Siloy
White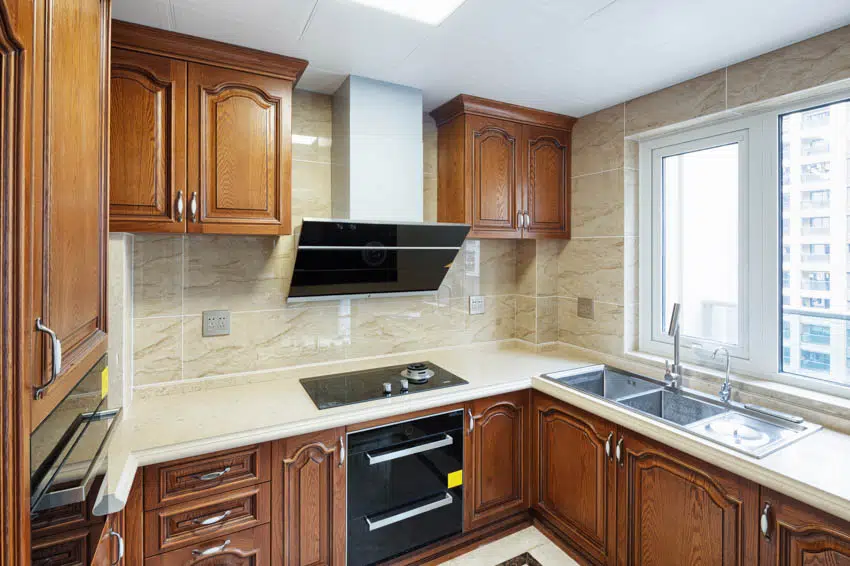 White countertops can be considered as universal options with any type of cabinetry, really. However, they do pair extremely well with dark-colored maple cabinets.
White countertops can brighten up your kitchen area and make the space look bigger than it actually is. It acts as the perfect balance for an otherwise heavy-looking dark maple set of cabinets.
A white countertop delivers a look that's crisp and clean and this is why they're so beloved in homes all over the world. You can get them in granite, concrete, marble, or even laminate.
Quartz and quartzite countertops can also work here as they tend to border more on the whiter side of the spectrum.
Dark Grey Granite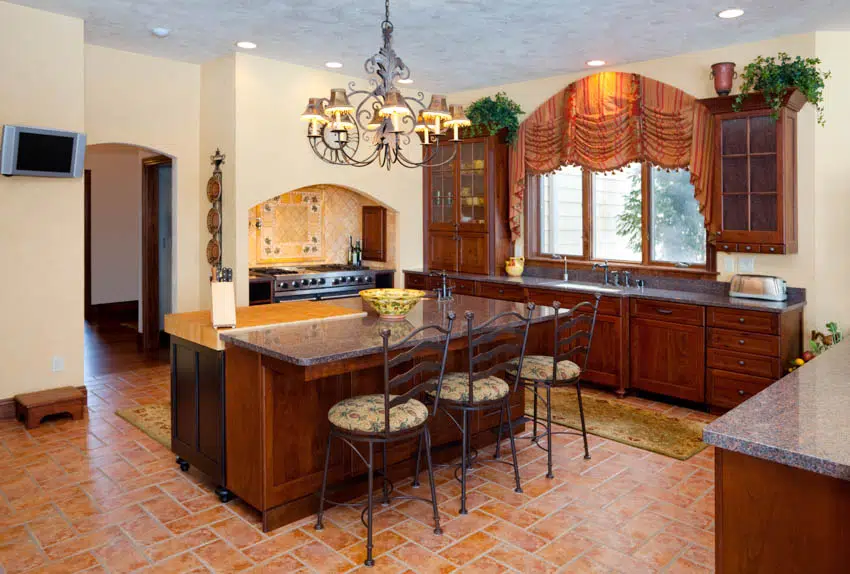 This is the perfect countertop to go for if you want to bring in some sense of style to the kitchen without necessarily making it appear fully bright. Dark stained maple has some spotted sunny hues in its grain and dark gray can offer the perfect contrast for that.
Granite is also characteristic and distinct with its variety of patterns so overall, you'll also be able to achieve a textured and sophisticated look to your countertops. It's a good balance of colors even if the undertones contrast a little.
Black Granite Or Black Marble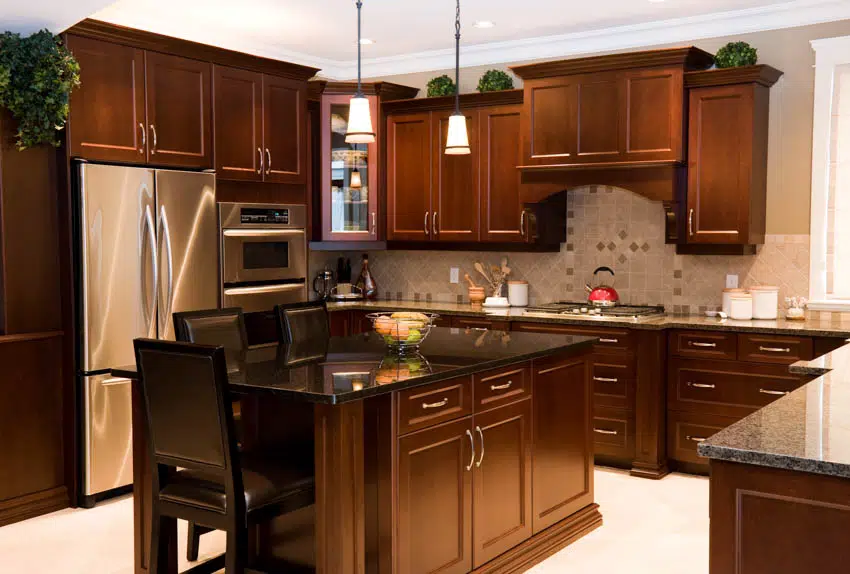 If you want to go all out and go bold with your kitchen countertop, black granite or black marble are definitely the candidates to beat.
They look great on your maple cabinets depending on how dark the stain is. They're impressively dynamic and versatile that in reality, they can work with any type of wood.
A black countertop serves as a great contrast to maple's golden grains and hues at times and it can give your kitchen space a special kind of edge that's bold and somewhat sophisticated.
It is definitely the perfect color to complement darker colored maple cabinets because it can pair well with the overall look of the wood. It can provide a look that no other countertop color or texture can.
A word of caution though, if you have a smaller kitchen, this may not be the best countertop to go for as it can make the space look congested.
Granite Colors For Maple Cabinets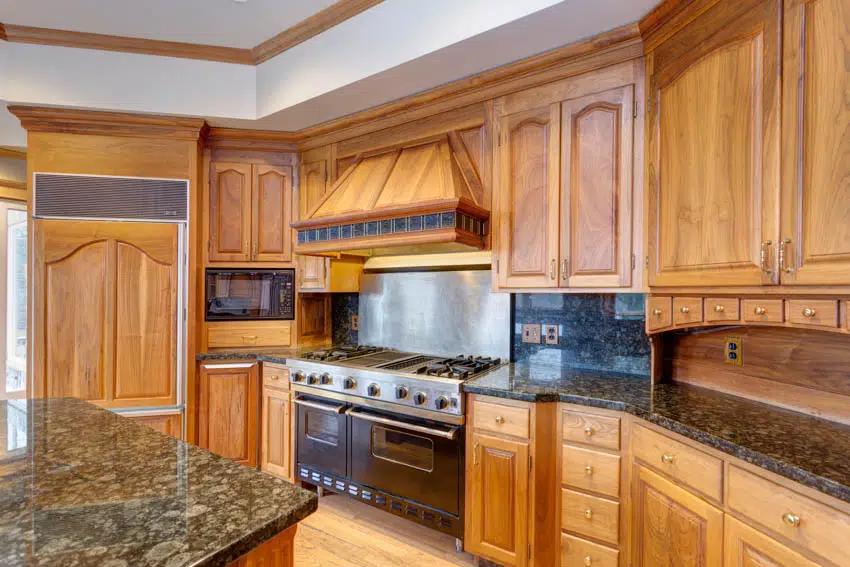 There are over a thousand granite color combinations to choose from but picking the ones that would pair best with your maple cabinets will be easier if you follow a few basic and simple interior designing guidelines.
Take note of the color cues, and it certainly wouldn't hurt to take home a few samples so you can directly see how they pair with your cabinets. Consider the deliberate design that you're going for; whether you're opting for contemporary or traditional or if you're going for a little bit of both.
Lastly, consider the color of your appliances as well. Darker granites are usually best for stainless steel appliances whereas lighter granites pair well with white or light-colored ones.
Here are some of our basic recommendations for both stains:
Light Stained Maple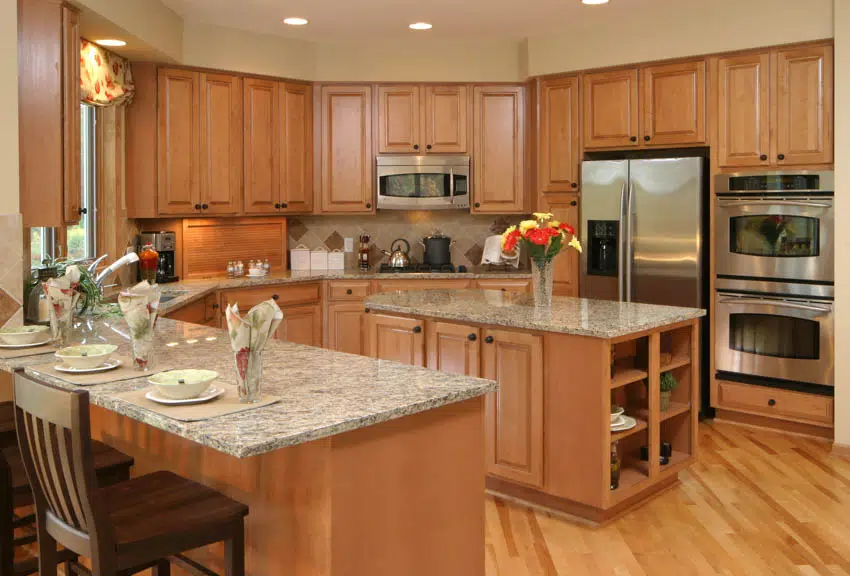 Slate gray: It provides a great contrast but offers a softer and less stark look so it doesn't end up bring a bit of an eyesore when paired with light maples.
Medium gray: This is perfect if you're going for a rustic or even traditional look in your kitchen. Medium gray works best with light wood, doesn't clash with any appliance colors, and doesn't weigh the room down by darkening it too much.
Brown: A dark brown countertop is perfect with light maples because they can offset its darker hues. If you want to make a large space cozier, go for a darker brown shade. If you want to make a smaller space larger, go for a lighter brown one.
Dark Stained Maple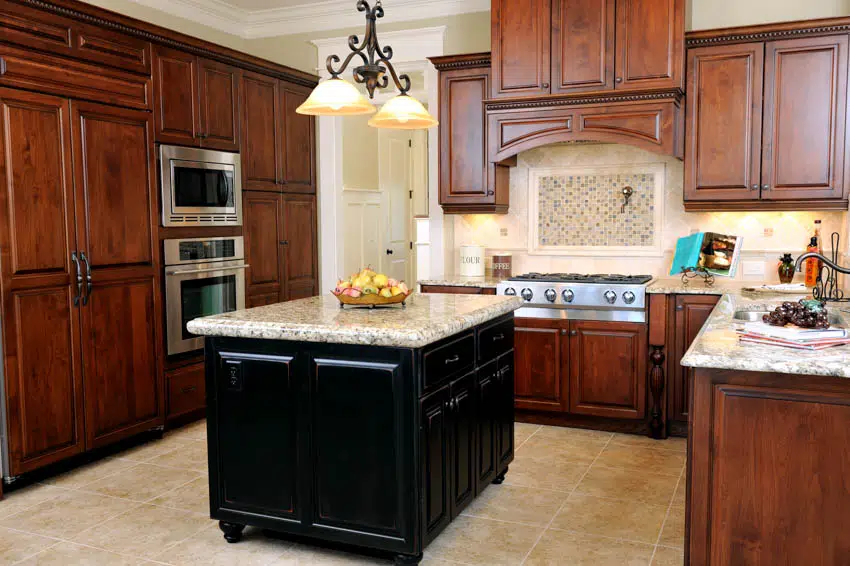 White: White is perfect for smaller kitchens as it brings in an illusion of space. This is the perfect way to offset the otherwise overwhelming presence of dark maple cabinets. It's great for striking out a balance with the element of negative space it brings in.
Black: It's perfect for dark maples as it can provide a contrast without it ending up being too stark.
Slate Gray: If you don't want the harshness of full-on black countertops, slate gray can be a softer option. It certainly makes the kitchen look more welcoming and warmer compared to black.
Just watch out for white appliances as it might bring in a contrast that isn't too aesthetically pleasing.
Cream or Tan: This color is less stark and more traditional compared to a white countertop. They're perfect for lightening up a room which is why they pair best with dark colored maples.
What Color Quartz Countertops Go With Maple Cabinets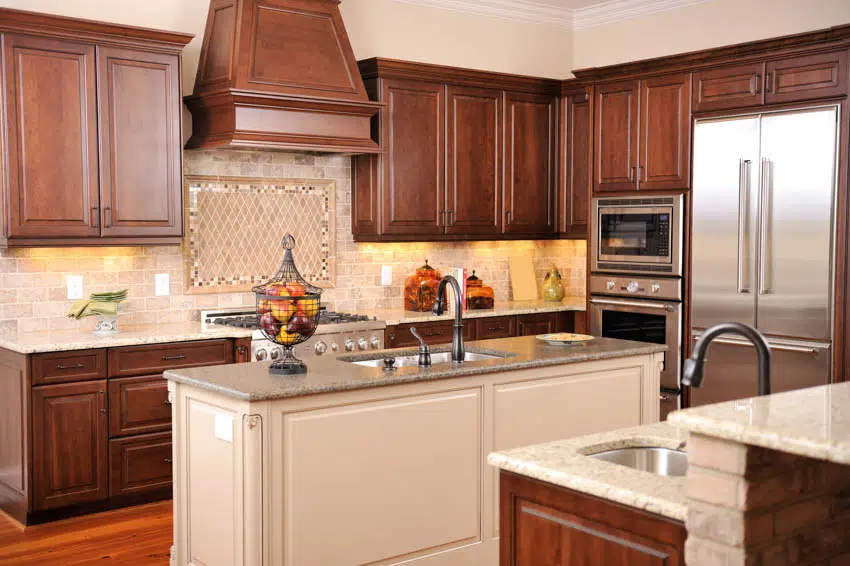 The best quartz colors for countertops paired with maple cabinets would have to be white or gray, and a mix of light browns.
Always start off by identifying the undertone of your maple cabinets because it makes the choices pretty easy from there on out.
You can either go for complementary colors such as dark with light but the best rule to apply is to go tone on tone so that you can at least keep both your cabinets and countertops within the same color family.
See more related content at our article about the most durable kitchen countertops on this page.