Here we share our handleless kitchen cabinets guide including different styles, cost, ideas and if they're the best types of cabinets to put in your kitchen.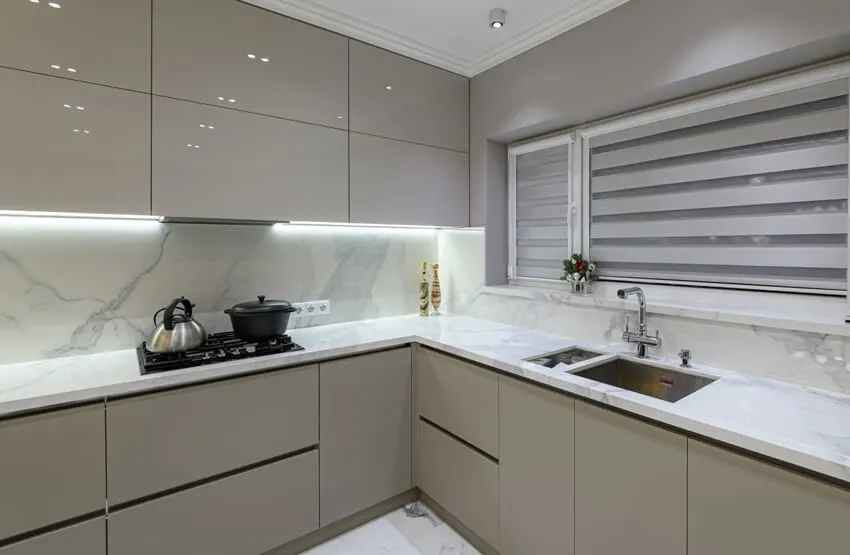 Once molded into exuberant designs, kitchen cabinet handles have nowadays become more of an option than a necessity. The absence of the hardware promises both beauty and efficiency.
It creates seamless contemporary furniture sought after by designers and homeowners today.
Nonetheless, there are still practicalities to consider regarding cabinet handles – or lack thereof! Your choice of interior design style, for instance, will influence the rest of the furniture and storage.
With that said, this article explores frequently asked questions when deciding on handleless cabinets for your kitchen.
What Are Handleless Kitchen Cabinets?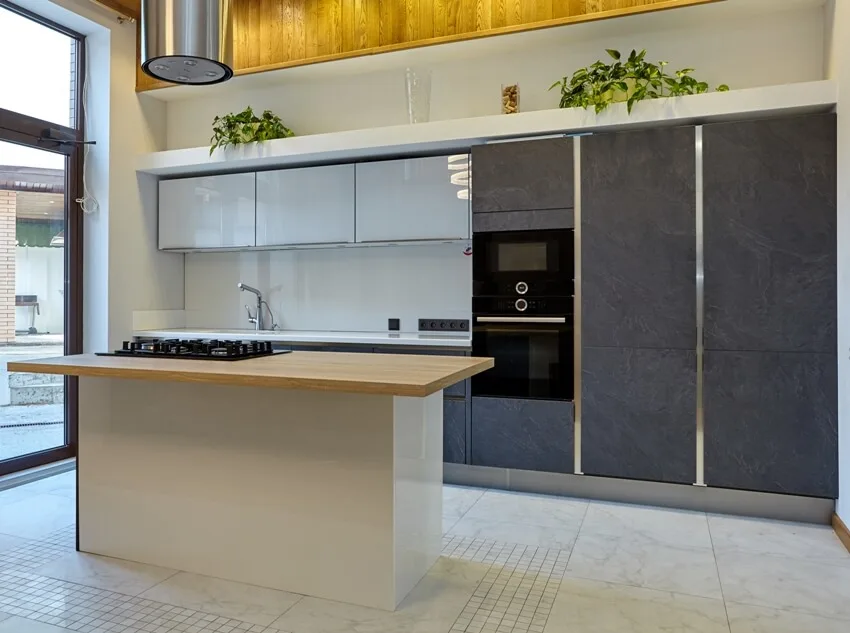 Handleless cabinets are exactly what their name suggests – cupboards without the traditional hardware like knobs or pulls used to open and close them. These types of cabinets don't have any protruding knobs or handles installed on the doors.
Instead, they have grooves, sometimes called channels, that are used to control the cabinet doors.
These grooves are integrated at the top surface edge of the cabinet door. You'll find a narrow gap underneath a countertop (or another drawer) that's just enough to curl your fingers around to pull it open.
You'll find handleless cabinets in your kitchen counters, installed as horizontal grooves. They can also be integrated vertically for hanging cupboards, free-standing cabinets, or tall built-in cabinet units – wherever the unhinged side of the cabinet door is.
What Are Handleless Kitchens Called?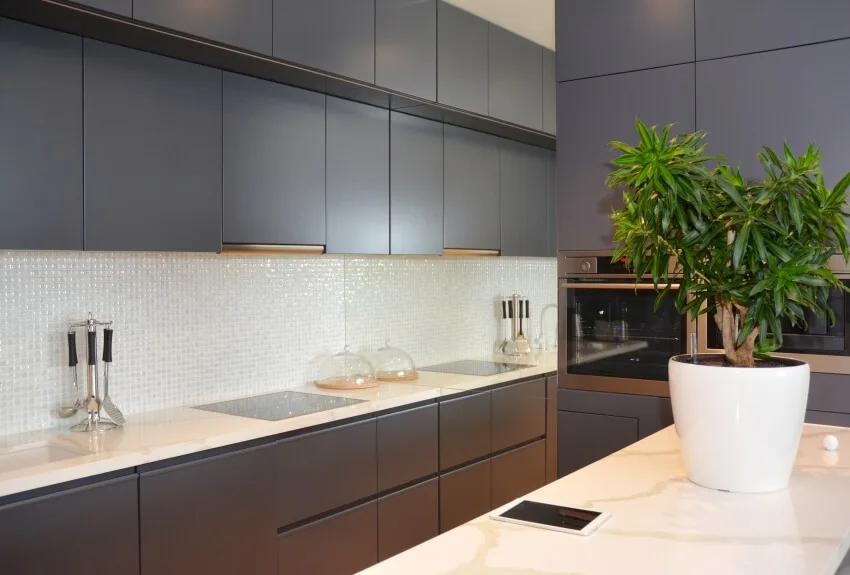 If you visit hardware stores, you'll find different types and designs of kitchen handles. But now that you're eliminating them, you may think you don't have to choose over anything anymore. However, handleless kitchen cabinets still come with a few variations.
J-Pull Kitchen Cabinets
What designers call j-pull cabinets are cabinetry that has no hardware at all, except for necessary door hinges.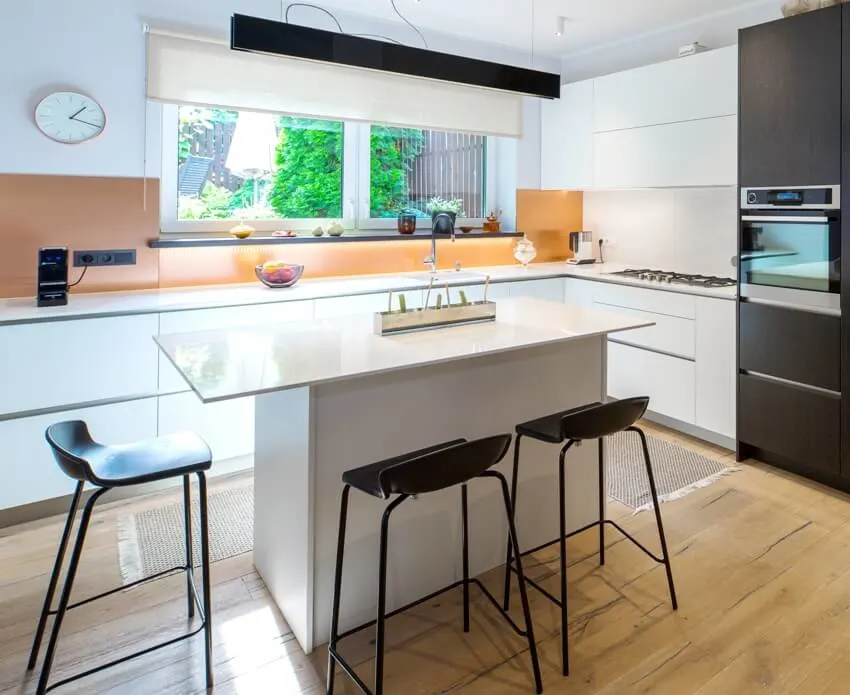 At the top of its drawer units (or bottom or side for integrated units), there is a J-shaped recession cut into the door. It is shaped in such a way to form a gap where you can put your hand to pull the cabinet door.
J-pull or j-groove systems are the most popular handleless cabinets used in many modern kitchens. They are affordable options but may require more frequent cleaning. Due to its shape, it tends to collect crumbs, dust, or splashes from spills.
True Handleless Cabinets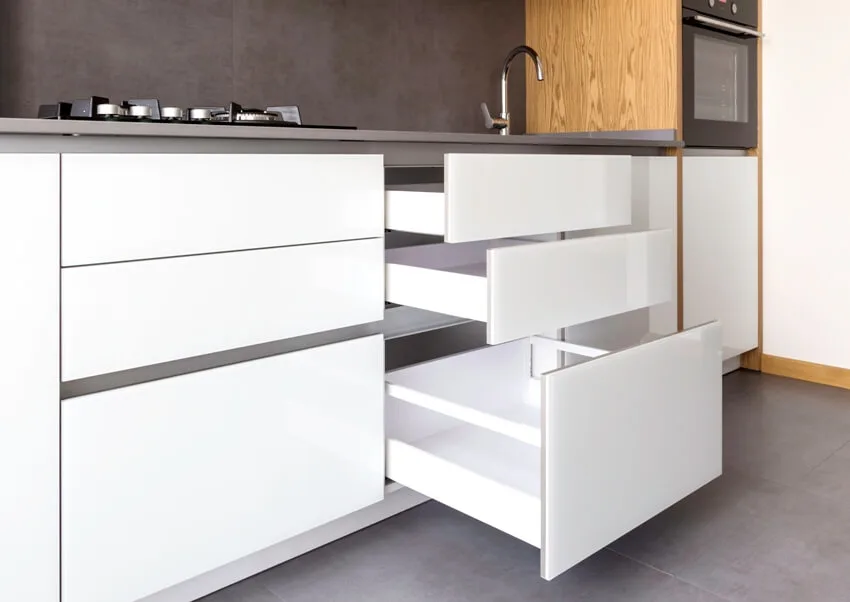 The true handleless cabinet is another popular no-handle system in kitchens. Just like J-pull, it features a recessed space between drawers for your hand.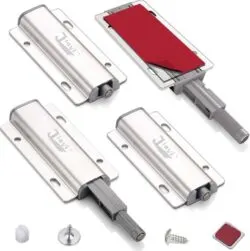 See these magnetic push latches for cabinets at Amazon [sponsored link]
Instead of a curved shape, however, this space is cut out to accept a rail (usually metallic) and create a gap. The small gap allows you to put your hand behind a cabinet door and pull it.
Push-to-Open Cabinets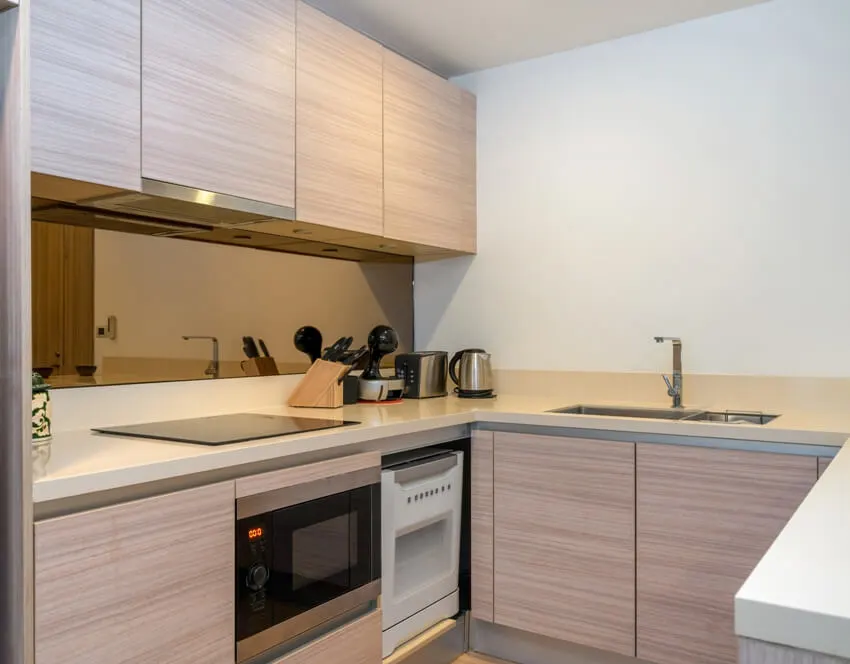 Push-to-open cabinets are so-called because of push latches installed on the hidden side of its cabinet doors. You can simply push the doors with minimal effort to trigger a mechanical or magnetic device that will spring it open.
Electric-Driven Systems
Some homeowners go as far as featuring electronic opening systems in their kitchen cabinets. These modern systems are as easy as touch-to-open, where you tap a cabinet door and it will lift or slide open.
Are Kitchen Cabinets Without Handles A Good Idea?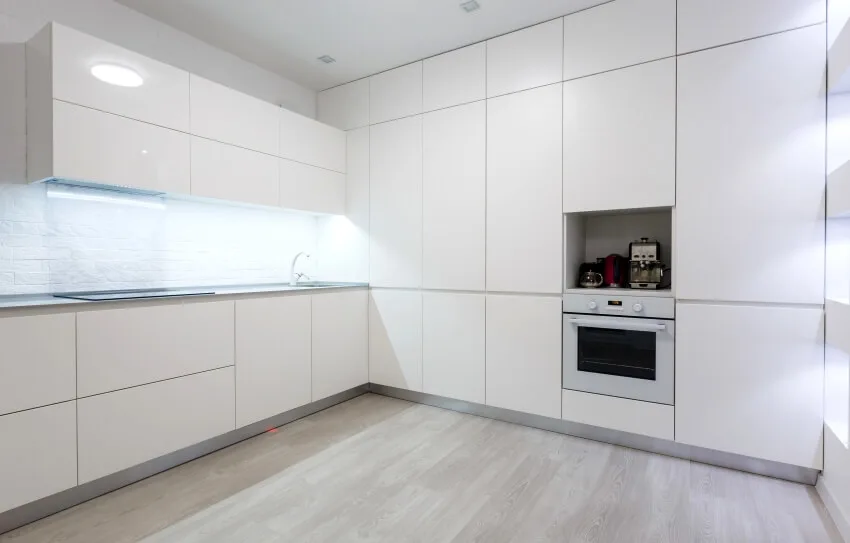 Handleless cabinets have become enduring design trends for a reason – or many reasons, that is.
Surely you've experienced your clothing or apron getting caught up in cabinet handles, potentially causing minor accidents. Others bump into them and hurt their hips.
Another important thing to think about is little children running into these handles which may injure them.
Handleless cabinets eliminate issues on safety and hindrances on efficiency. You'll have much clearer kitchen walkways and work more safely between counters and islands.
If you're putting on child safety locks, handleless cabinets will be much harder for kids to open.
The absence of traditional handles creates a clutter-free look as well, so they are a great idea for small kitchens. Both visually and physically, it streamlines kitchen activity and maximizes space.
Are Handleless Kitchens More Expensive?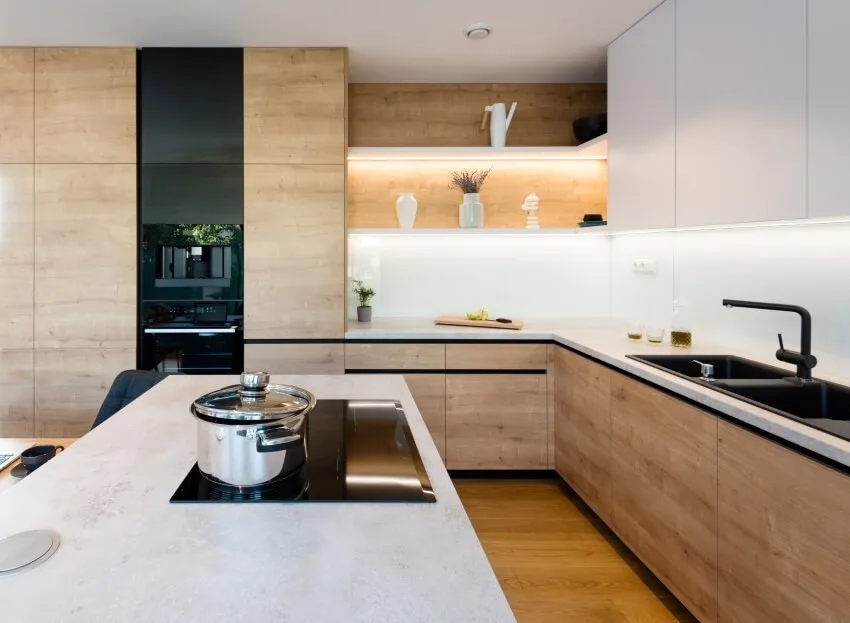 While it mostly depends on how large your kitchen is, handleless cabinets may cost a little more than your traditional handle-on-door cupboards.
In general, handleless cabinets cost around 10% more than traditional-made cabinets. Read more about traditional kitchen cabinets for more ideas.
There is distinct craftsmanship on handleless doors, whether it's a J-shaped cut or embedding a rail – more so with electric mechanisms. These systems have special fabrication and installation procedures that add to the total cost.
The material used for cabinet door fronts should be given special consideration as well. They are being touched constantly as this is how they operate.
So in addition to being sturdy, the color and finish should be resistant to stain or at least very easy to clean. Low-sheen finish, dark colors, and wood and steel material are good low-maintenance choices.
Are Handleless Kitchens In Style?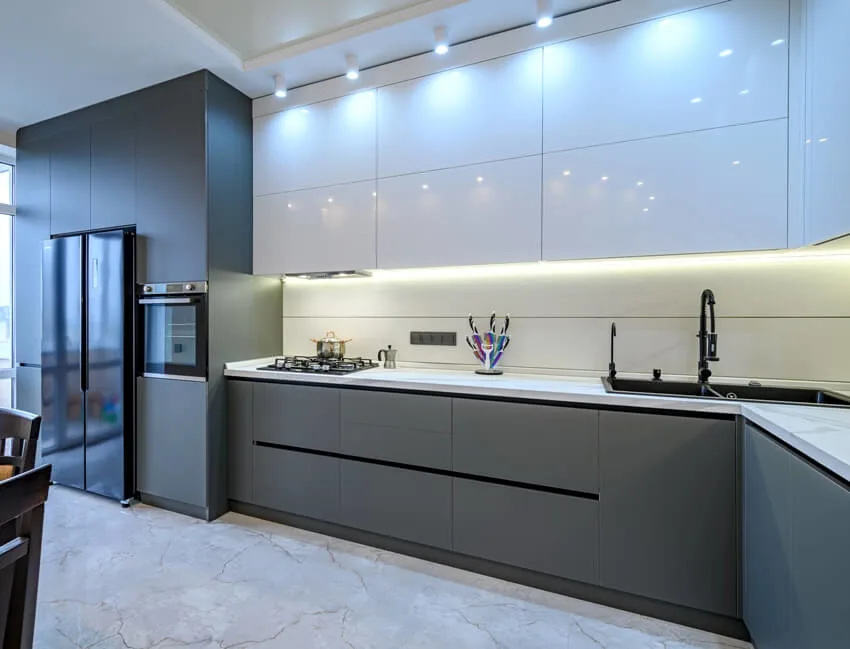 Handless kitchen cabinets are definitely in style, especially with the increasing demand for minimalist themes and contemporary looks. In fact, you'll be surprised how long ago this design style was introduced. See more kitchen cabinet styles here.
Sleek, minimal designs such as this are reminiscent of the Bauhaus movement in the early 20th century. The simplicity of its design has adapted through the years of fast-changing interior design trends and managed to keep up with industrial innovations.
Handleless kitchens blend perfectly with today's kitchen appliances. You'll have a consistent modern look when you match plain cabinet-fronts with the polished look of your fridge, stove, oven, or coffee maker. Check out our guide on what color cabinets go with white appliances here.
What Style Of Kitchen Looks Best With Cabinets Without Handles?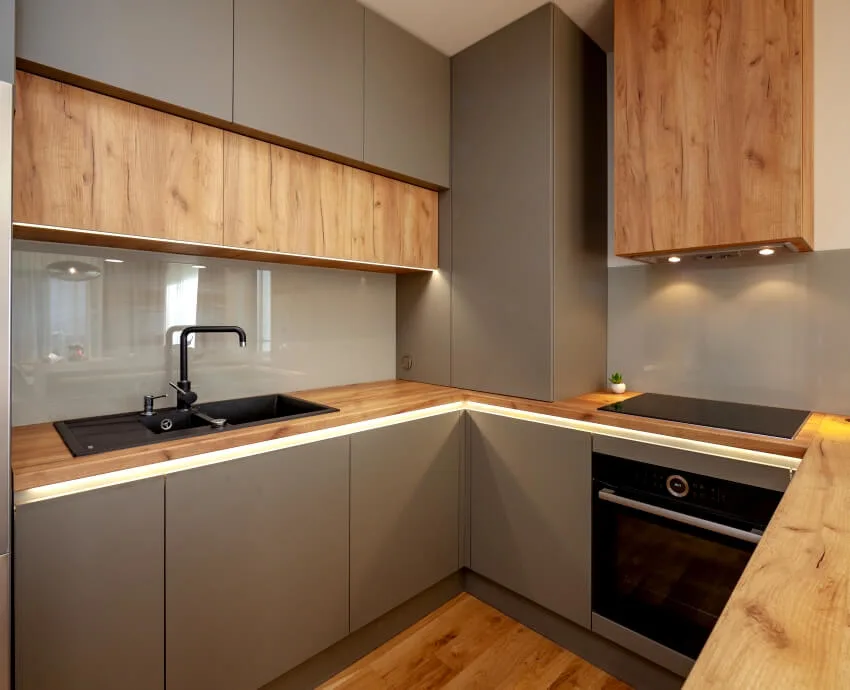 Handleless kitchens are proven to be timeless, versatile, and functional. Surely, many kitchen styles go with them, such as the ones below:
Minimalist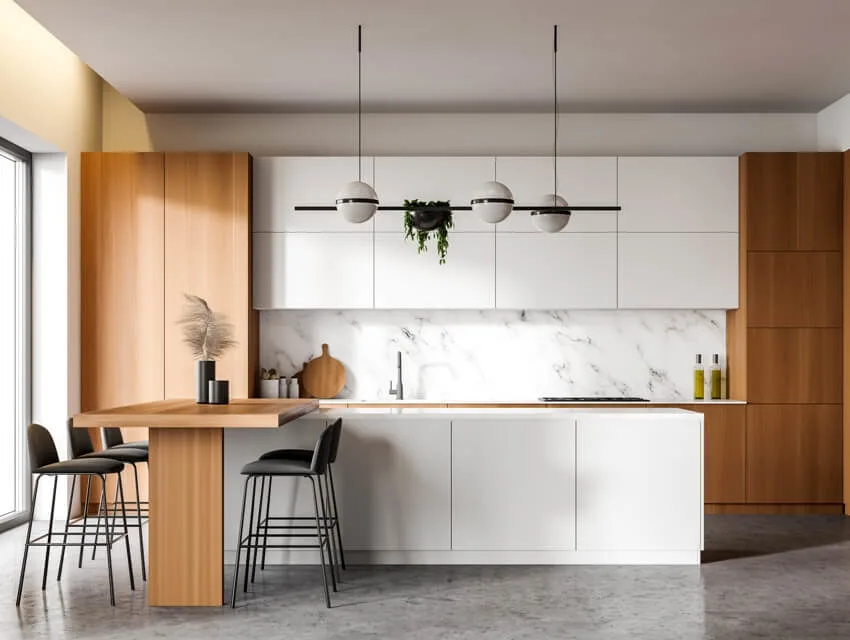 There is nothing more minimal than no visible hardware. Less is more, after all! Handleless kitchens are almost synonymous with minimalist kitchen styles since they are a prerequisite in every minimalist home renovation.
Scandinavian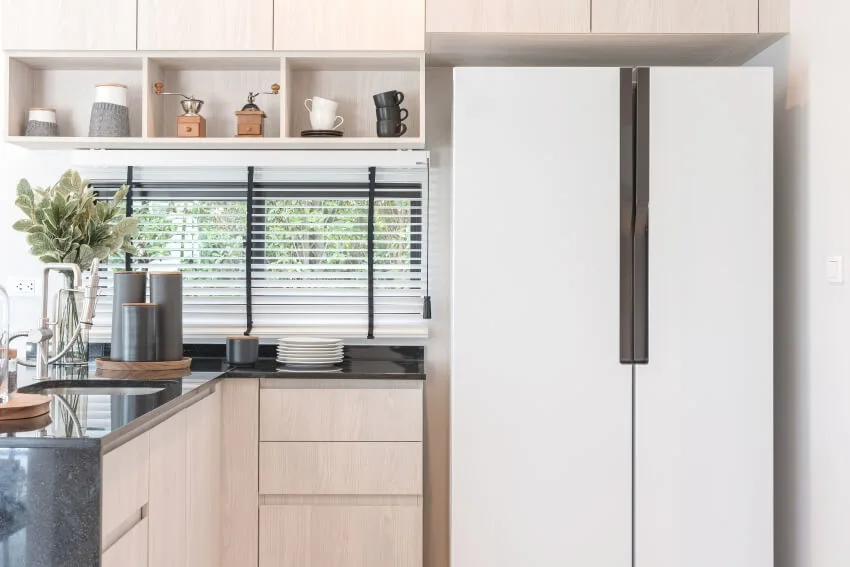 Not too far from minimalism is the Scandinavian-inspired kitchen style. It focuses on simplicity and functionality so that rooms in this style always look bright and clean.
Scandinavian-inspired cabinetry has a neutral palette and usually flat panels without ornamentation. That's why handleless cabinets compliment this theme.
Contemporary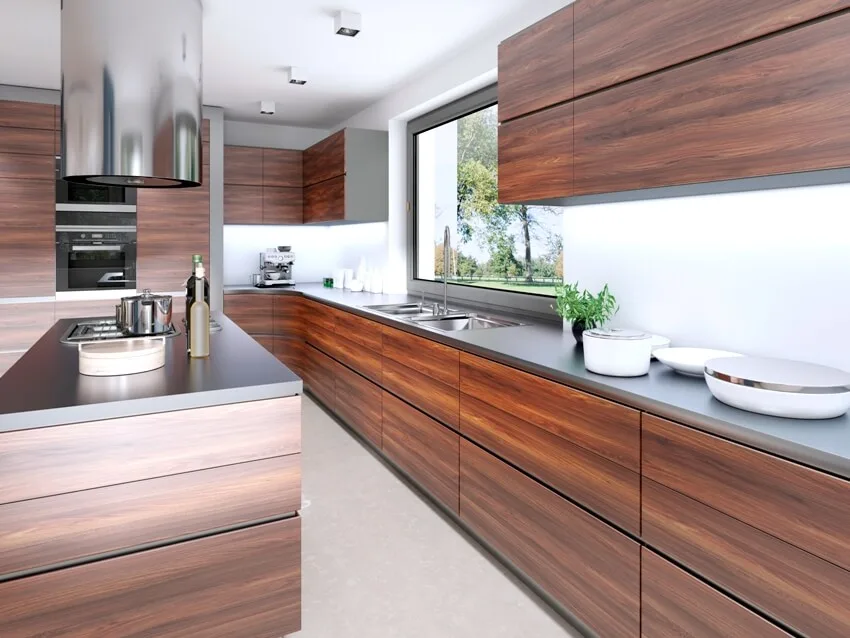 Contemporary kitchens reflect global trends, which means they should be simple, efficient, and eco-friendly while still full of character. Flat-front cabinets contribute to an overall pragmatic style and thus, work towards these principles, too.
Visit our gallery of contemporary kitchen cabinets page for more designs.