Here we share what color cabinets go with white appliances including several kitchen cabinet tips and paint ideas for a beautiful kitchen design.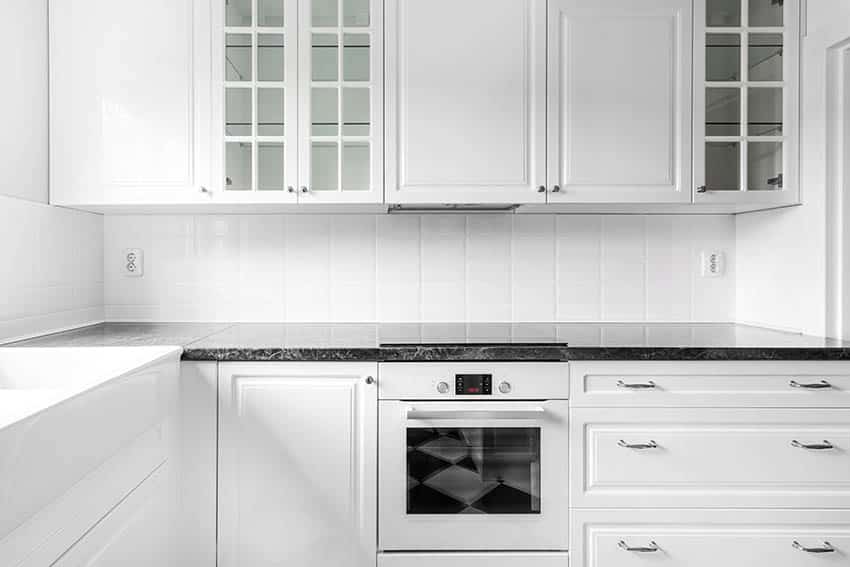 Cabinets may either make or break your kitchen. Whether you like a traditional or more modern look, there are kitchen cabinet design ideas that go well beyond plain-old cupboards. They enable you to spice up your kitchen storage areas with beautiful colors, finishes, and hardware.
In kitchen design, no detail is too tiny for faucets, lighting, and décor. While there are many minor details to notice in your kitchen, do not ignore a significant feature: your kitchen cabinets.
Best Color For Kitchen Cabinets With White Appliances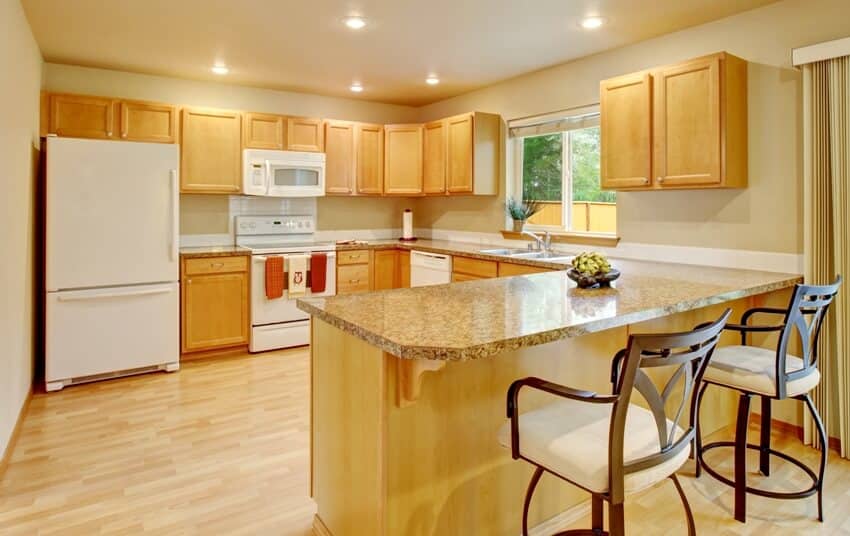 White is the epitome of light neutrals and is incredibly adaptable. Though there are no strict rules on which colors go with white appliances, there are several popular color choices that other homeowners and experts recommend.
These are some of the best color cabinets that go with white appliances:

• White
• Gray
• Green
• Turquoise
• Mint
• Black and white
• Brown and blue
• Neutral-colored
• Natural light wood
• Natural dark wood
White Cabinets With White Appliances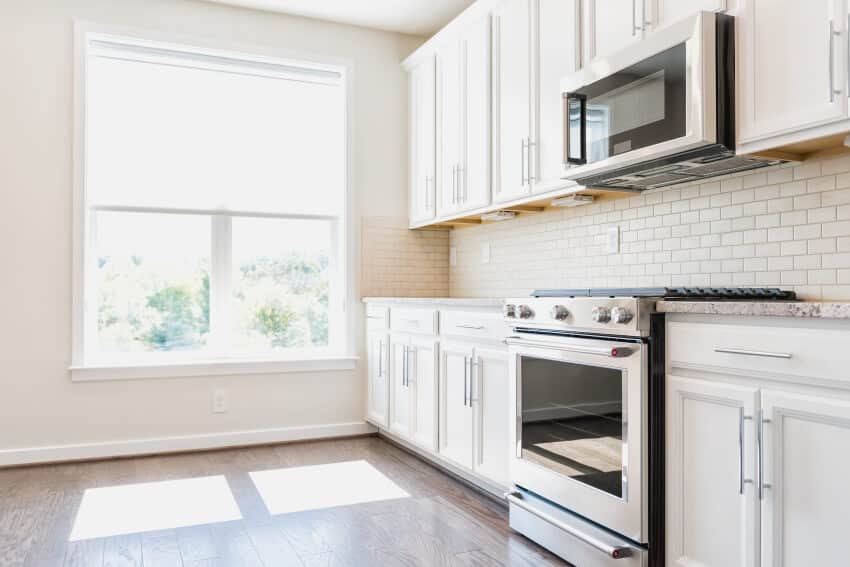 White cabinets with white appliances are straightforward. The aesthetic will even be referred to as an "apartment kitchen" by interior designers
White is a timeless color and has recently become a significant style in kitchen design. The timeless yet modern, clean, and simple look of all-white kitchens is trendy.
With white being the original color choice for developing the first refrigerator in 1927, a white appliance would quickly make any kitchen feel established. It is a time-honored choice that works with a variety of home décor styles.
Dark Cabinets With White Appliances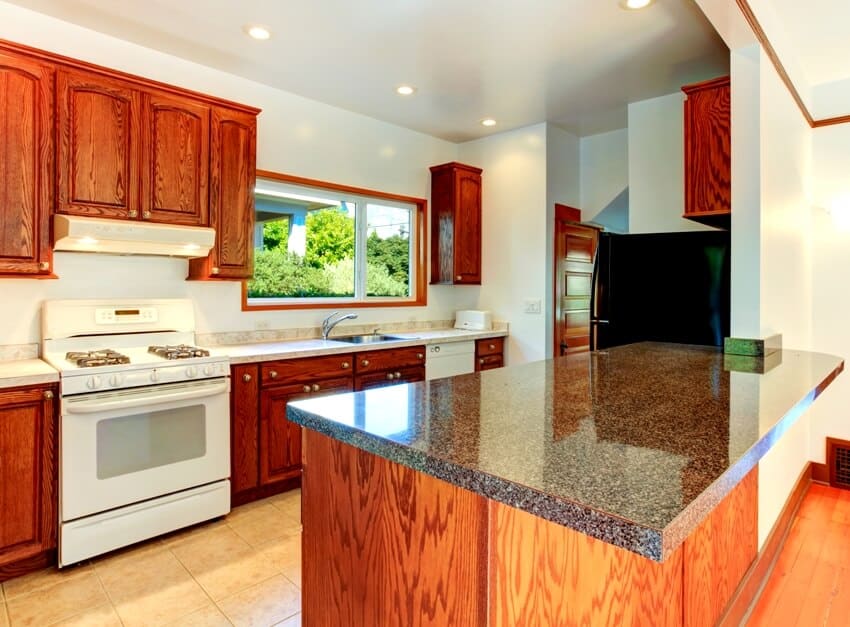 White appliances and dark kitchen cabinetry can work together in a traditional black-and-white kitchen.Check our gallery that showcases black kitchen cabinets here.
If you want to go this approach, make the black blend in with the rest of the kitchen by using black or deeper gray worktops and black kitchen cabinet hardware.
There is no other color combination that compares to black and white. This combination is stunning and dramatic, yet conventional and timeless, as it is a bold contrast of two opposite neutrals.
Deep natural tones can give your space a warm, woodsy impression. Dark colors, both powerful and elegant, may instill confidence and lend a rich tone to your area.
The deep traditional chocolate brown colored cabinets contrast starkly with the white appliances for a classic traditional style. See our gallery featuring beautiful traditional kitchen cabinets here.
Kitchen Cabinet Ideas With White Appliances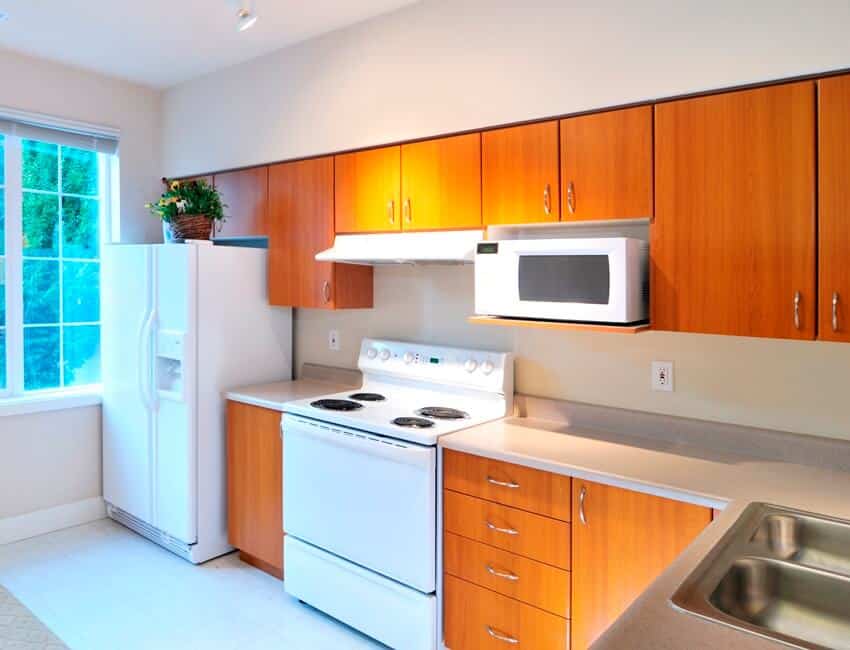 We prefer white appliances (especially the newer modern styles) because of their low contrast and fresh look. On the other hand, white appliances can be more challenging to decorate with because the cabinet and countertop colors are limited.
Tip #1: Opt for darker counters
Your countertops will help to ground the room and provide a solid landing spot for your gaze. It will also give contrast to the whites, breaking up the monotony.
Tip #2: Bring in the Llama of Visual Drama
If you don't like darker countertops, white cabinets, white appliances, and white countertops will add some visual punch. Use a stunning backsplash to add some contrast to the space.
Tip #3: Don't Forget the Accents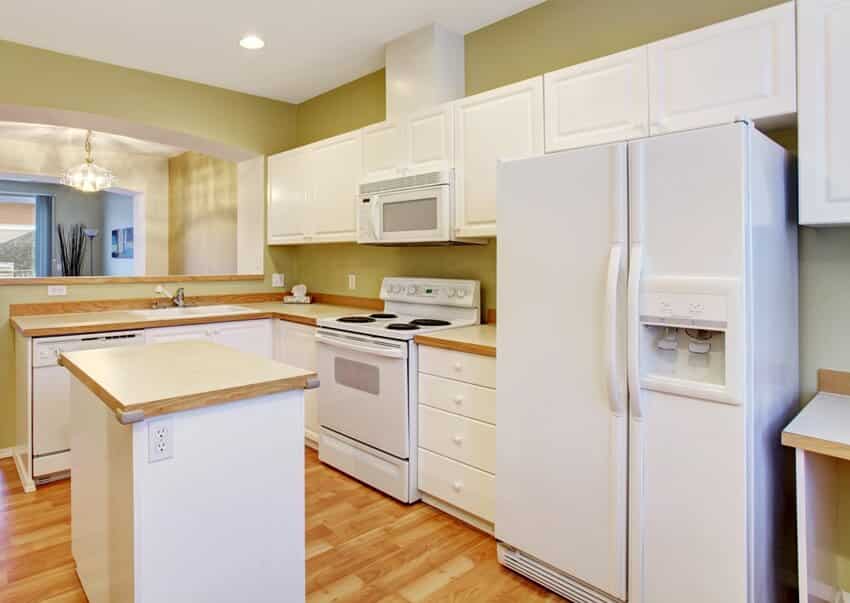 You can easily incorporate your white appliances with the imaginative use of artwork, pottery, and everyday dishware – all of which have a lot of white on them!
If your kitchen has the most white, consider adding warm tones and textures to balance things out.
Wood flooring and butcher block countertops are a natural way to bring warmth and texture to a space without overpowering the color scheme.
Neutral Cabinets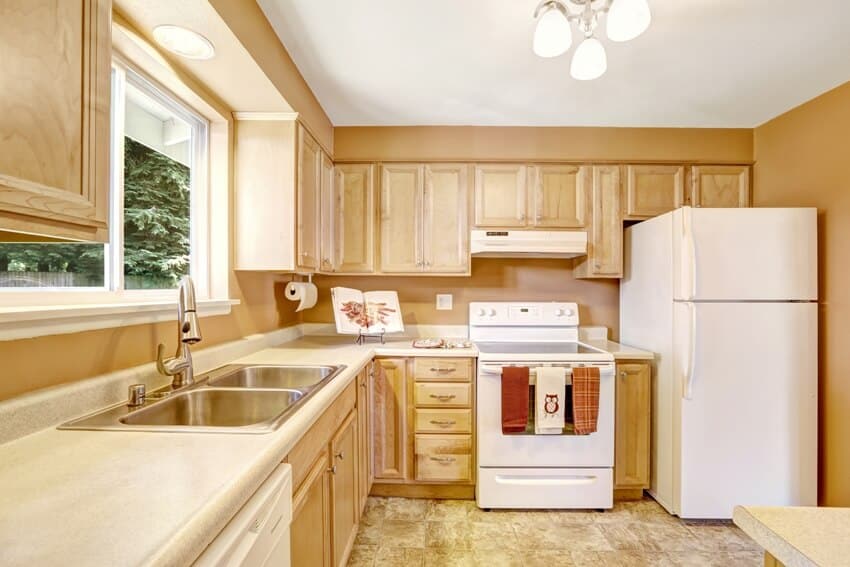 Kitchens, unlike bedrooms or living rooms, are the easiest to keep neutral. With complimentary black, cream, brass, and beige, this color combination maintains the white fridge appearing fresh.
Furthermore, the wood cabinets add a natural element to the design that would otherwise be missing in such a modern setting.
Neutral tones, slightly warmer than white, can provide a subtle yet intriguing contrast to pure white tones. The beautiful creamy backdrop of the neutral-toned walls and cabinetry pleasantly contrasts the white appliances and trim.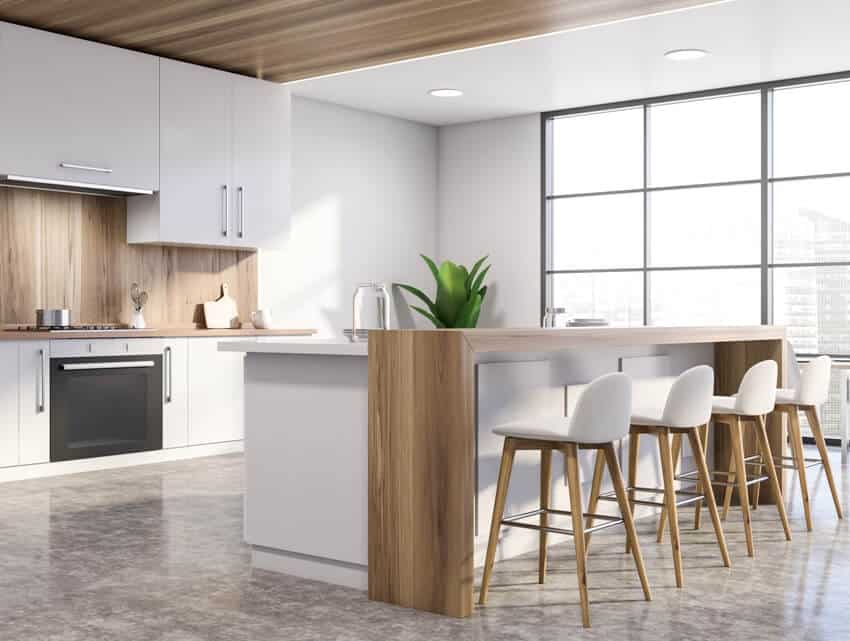 Pale neutrals with slightly darker undertones than off-white create a warm ambiance, and white appliances highlight their mild undertones.
Gray Cabinets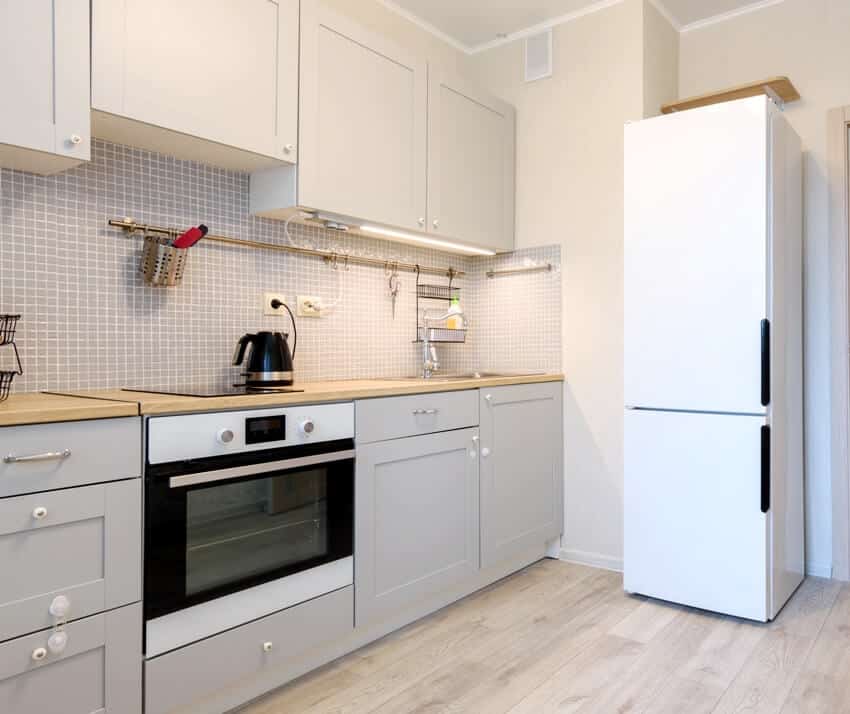 Gray, like two-toned cabinets, is becoming increasingly trendy in home decor. For a more modern design and three-dimensional cabinetry, two-toned grey and white are a good option.
A dark smokey gray will also look great with black. A dark stone feature counter will also compliment your cabinetry.
Just be sure you add additional under-cabinet LEDs to compensate for the light absorbed by the surfaces. Read our guide to gray kitchen cabinets color psychology to get more ideas.
Green Cabinets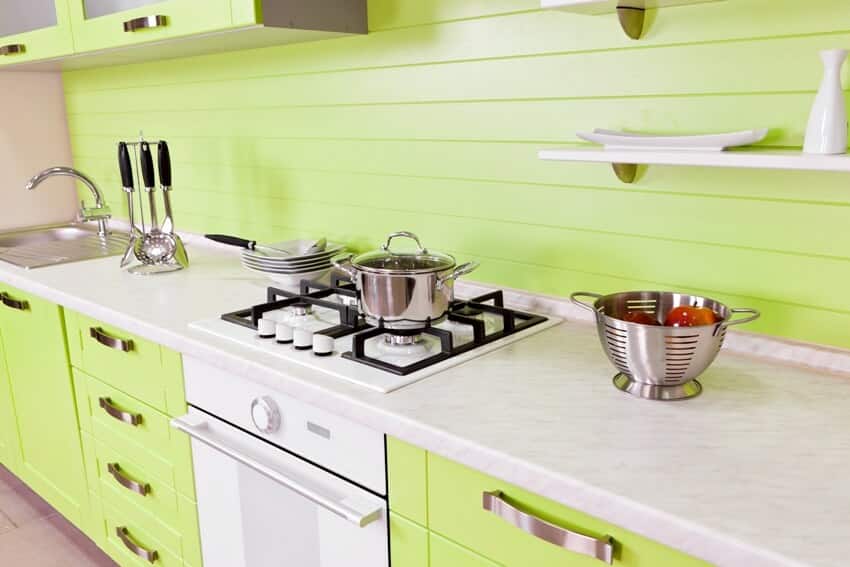 Green is having a moment in home décor right now, but it is more adaptable than you might think. The hue works nicely in various kitchen types, whether you're going for a more modern or classic aesthetic. Green is a gorgeous, powerful but soothing color.
Using this hue for your kitchen cabinets brings a little touch of the outside and gives your place an airy, fresh atmosphere. The grass green cabinets provide a refreshing contrast to the white appliances and upper cabinets.
Use a glossy emerald green cabinet paint in your kitchen to make a statement. With brass hardware and white appliances, green cabinets look fantastic.
It is sometimes difficult to picture kitchen color schemes that aren't neutral, especially when dealing with white appliances. Bright colors, particularly on cabinetry and walls, can be as effective. A soft sage green color is ideal for recreating the look of a countryside house.
Mint Cabinets
You can go for a more subtle appearance with mint and white if you don't like the sharp contrast of white and navy.
Mint is a fresh cool shade to match with white appliances for a muted version of turquoise. Mint is an excellent pastel color that can help you relax and unwind.
The multi-colored rug complements the mint and white tones while also adding some additional pops of color. And if you're searching for a neutral that still has a little personality, mint green is a good option.
Kitchen Paint Ideas With White Appliances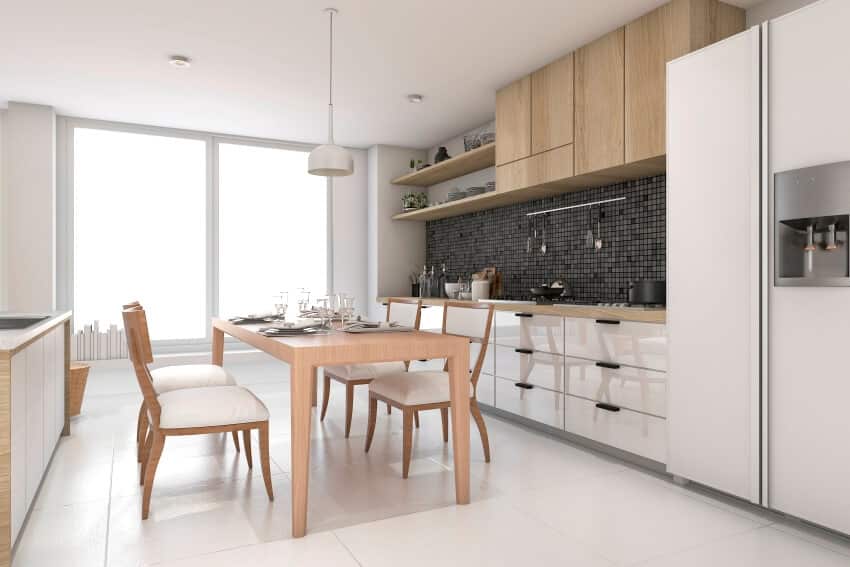 When it comes to painting your kitchen, remember that you have the full-color wheel at your disposal. Popular kitchen colors include neutrals, whites, and grays, which come in a variety of shades.
Before deciding, experts recommend looking at popular choices and expanding your horizons to include hues outside those categories.
Neutrals go with anything. Darker tones are sleek and refined, while lighter hues are vibrant and airy. Kitchen walls, islands, cabinets, and accents are all excellent places to use it. It is best to reflect the style and tastes of your family in the kitchen decor.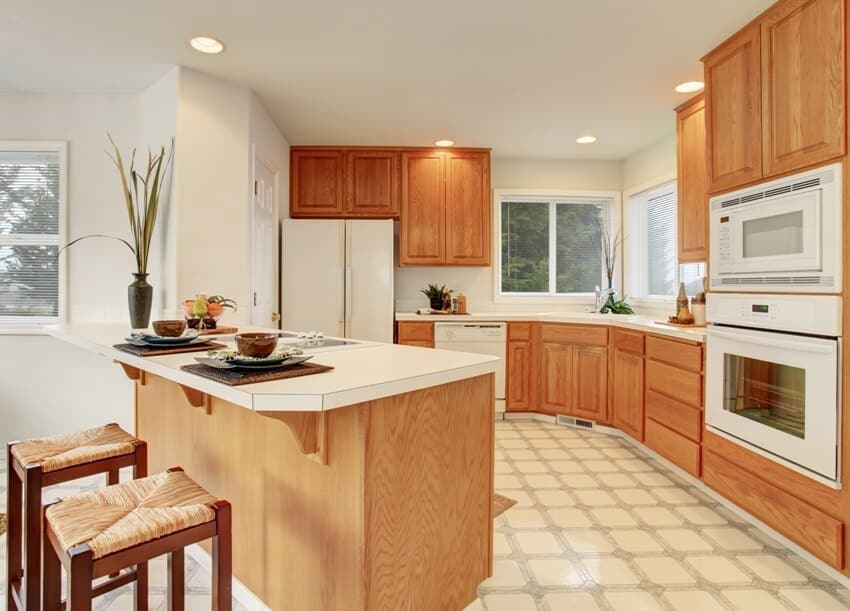 We hope that the kitchen cabinet selection helps you narrow down your options.
Although stainless steel appliances are unlikely to disappear anytime soon, new high-end white ones have emerged as solid challengers. Whether they are classic or more modern in appearance, there are plenty of ways to style white appliances to get a kitchen design you adore!
For more related ideas visit our kitchen cabinet styles page.