Here we share our gallery of gray bathroom ideas including the recommended matching colors and the ideal shades that go with light, dark, and small gray bath spaces.

Gray bathrooms have continued to be popular in contemporary bathroom designs because of their versatility. If you're not a fan of the all-white aesthetic and can't get on with the darker bathroom looks either, gray bathrooms are a good "in-between" providing the best of both worlds.
However, just like any other space, there are many different ways you can design it, with a multitude of color combinations to help make it more lively and more personal.
Gray is considered a neutral color or an achromatic color; this makes it relatively easy to pair with any accent color, whether they're muted or vibrant.
Gray, however, also comes in different shades and tones, so you can experiment with accent colors that best suit the shade of gray you are using.
What Color Goes With Gray In A Bathroom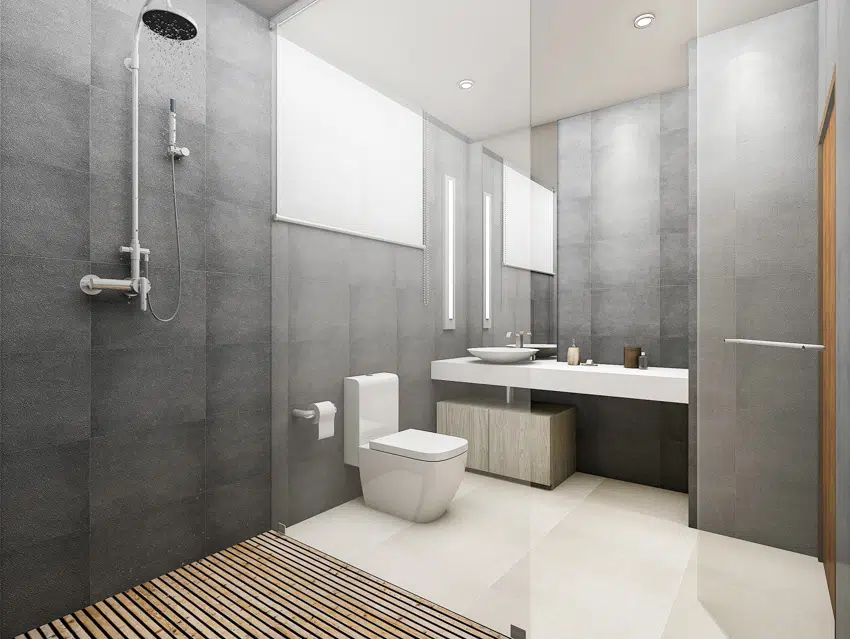 If you are specifically looking for specific colors that look best with gray bathrooms, there is no one answer to this. As previously mentioned, this depends on which shade and tone of gray you are using.
But in general, gray is a neutral color, so it should go well with any color of your choice. If anything, it is the accent color/s you probably need to coordinate — if you have accent-color curtains, make sure it coordinates with the towels and the rugs you use in the bathroom.
Light Gray Bathroom
Light gray bathrooms are easy to style, as they work well with almost any color. What's important is to determine if the gray tones of the bathroom lean towards warm or cool.
This will make it easier for you to decide which accent color to use.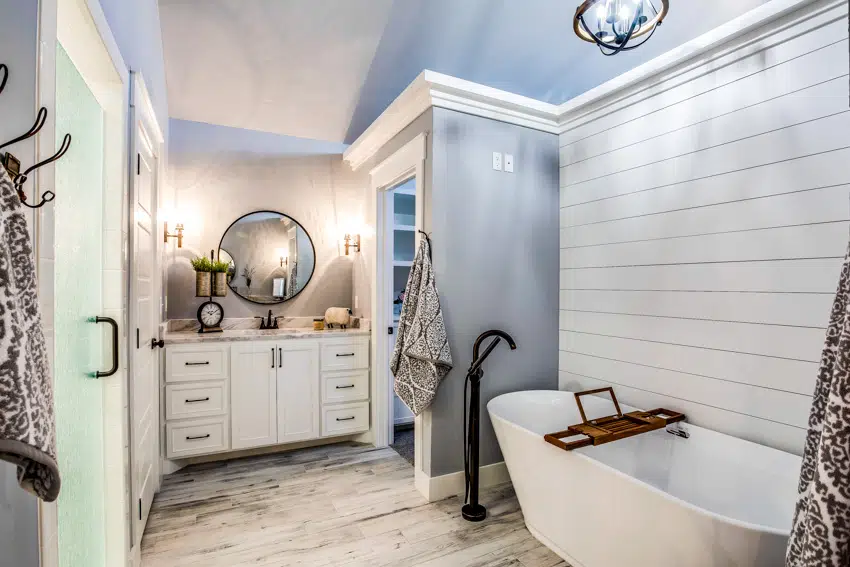 This bathroom uses a cool gray paint as its main color, with a subtle cool green accent color used on the glass door. Most of the other elements in the bathroom are white to help keep it look light and balanced.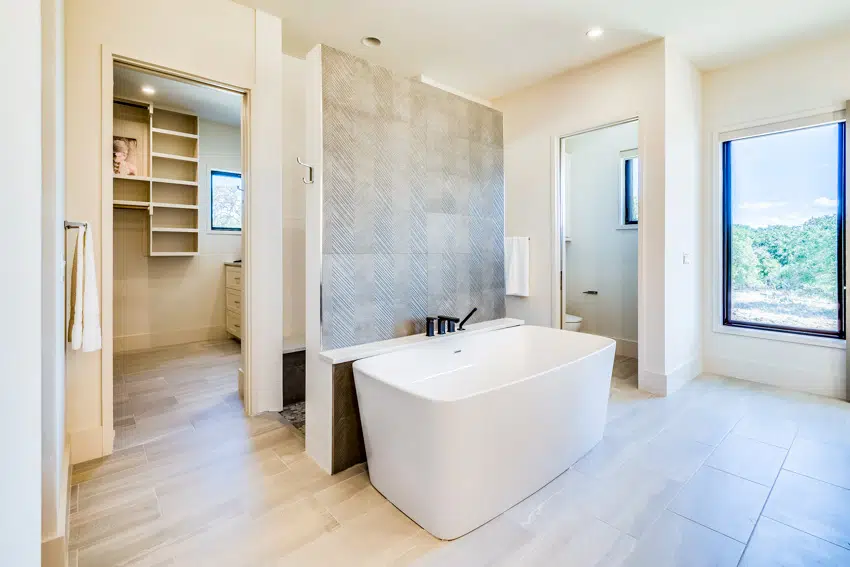 For this bathroom, you will see that a very muted cream color is actually the main color of the bathroom, with light gray tiles as the accent.
But as it is the darkest color in the space, and is placed at the center, it definitely draws attention and makes it the focal point of the space.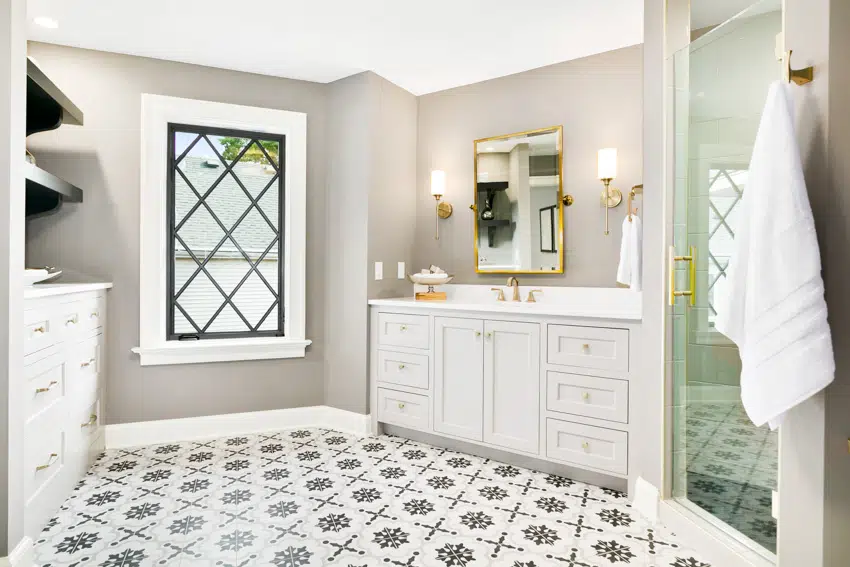 Another color that works really well with light gray is gold. Subtle gold accents give a more elegant look to any contemporary bathroom.
The addition of hand-painted floor tiles also adds a fun element to the space, adding more texture and dimension.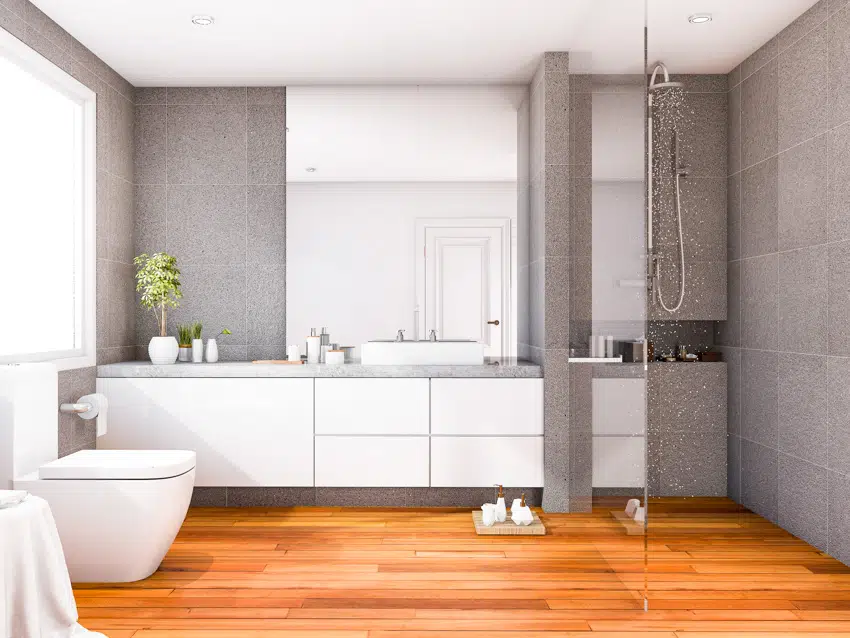 Color is not the only important element you need to pay attention to when selecting materials for any space. Texture also plays a major role in designing spaces.
The rough texture of the gray wall tiles is balanced out by the plain white cabinet doors, as well as the smooth wooden tiles used for the flooring.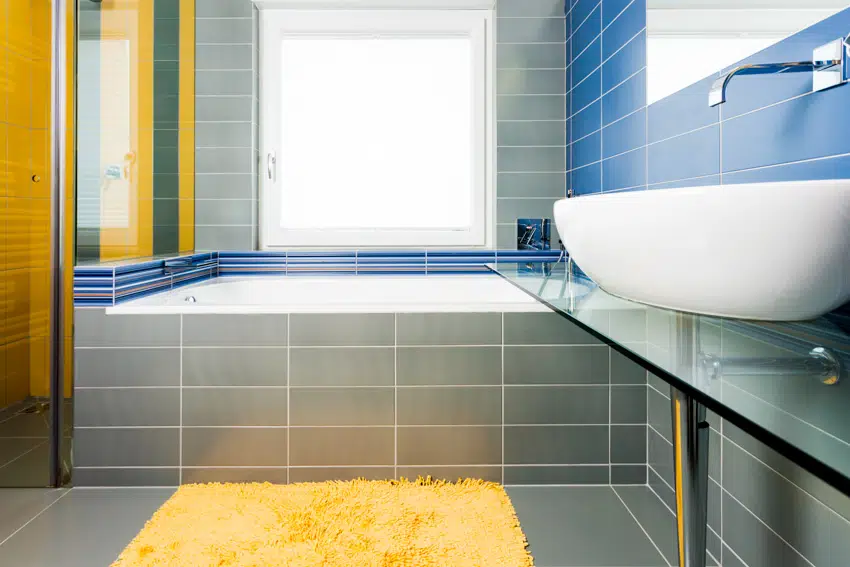 The color combinations used in this bathroom are reminiscent of De Stijl colors. The light gray tiles are accented with bright yellow and vibrant blue, creating a really bold & fun look.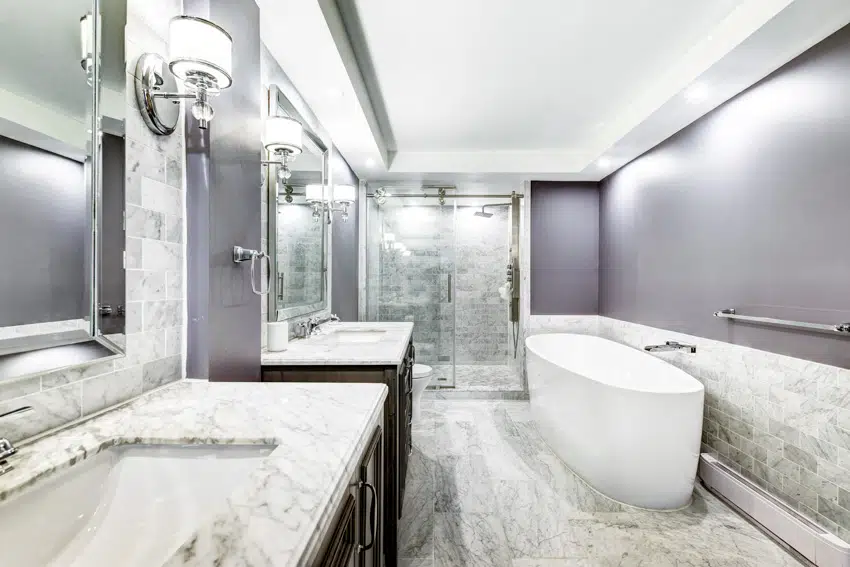 White marble, especially types like Carrara that has bold grains, is a really nice and easy way to add subtle gray tones in any bathroom design.
In this particular design, the highlight of the bathroom design is the elegant Carrara marble used in the walls, flooring, and countertop.
By using mostly white and silver fixtures and a dark wenge wood for the vanity, it helps keep the attention of your eyes to the elegant material used.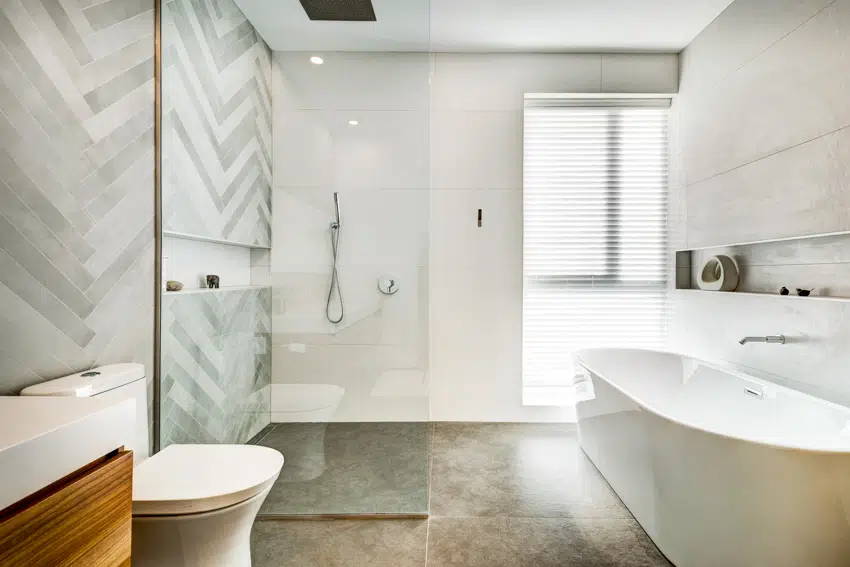 This bathroom only has the walnut cabinet as the accent color. But what makes this among the interesting gray bathroom ideas is the use of pattern in it.
By using a chevron pattern to layout the wall tiles give it more texture and dimension, bringing your attention to the surface of the wall.
Dark Gray Bathroom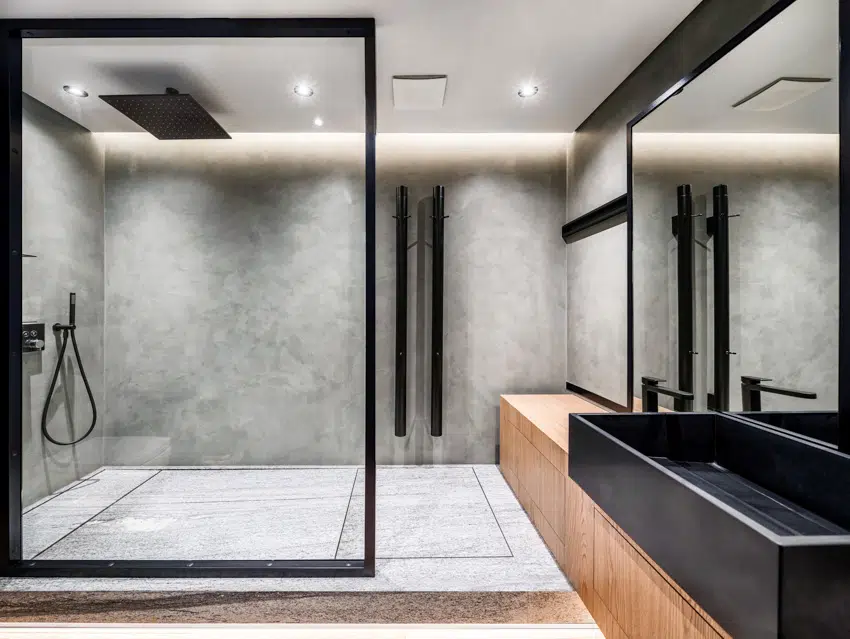 Concrete wall finish or plaster wall finish has seen a surge in popularity in recent years. If you like the raw, industrial vibe it gives, this is perfect when combined with black fixtures, and some wood elements for added warmth.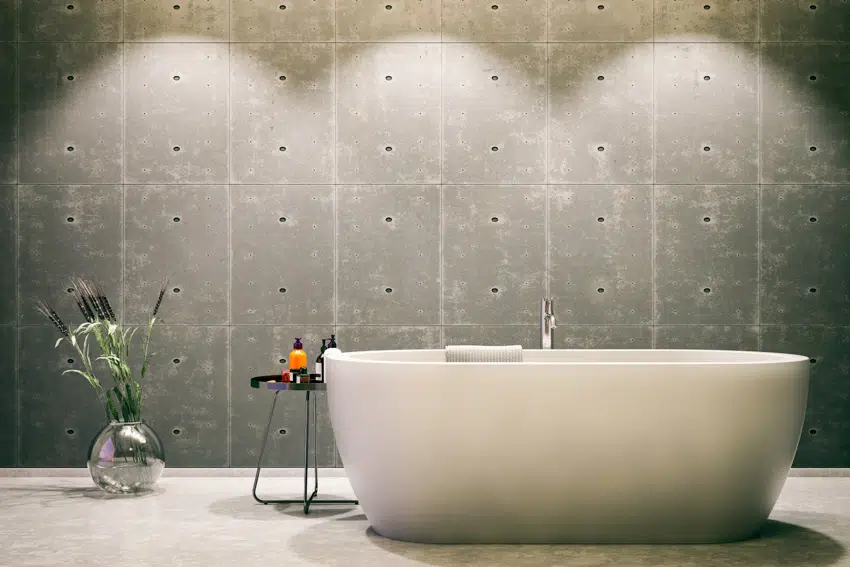 Prefab concrete wall panels can be left in their natural finish to give a very raw & industrial feel to your bathroom. Pair with a smooth porcelain tile flooring for a little shine and to contrast with the rough wall finish.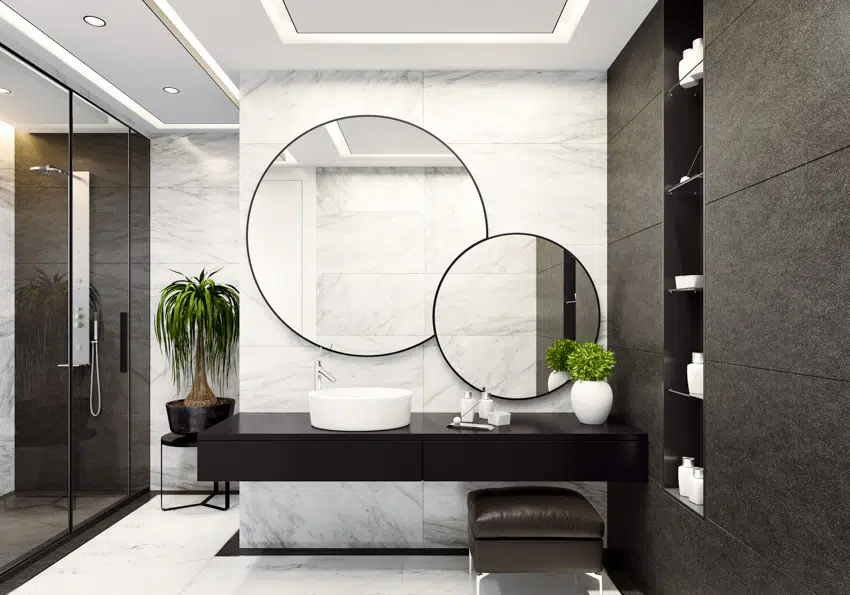 You can use dark gray finishes in your bathroom without actually making the whole space dark. Use dark tiles in combination with white marble for a nice contrast.
The massive mirrors at the vanity area also help make the space look brighter by reflecting the light throughout the space. Because of the achromatic scheme, the addition of plants makes the bathroom look more lively.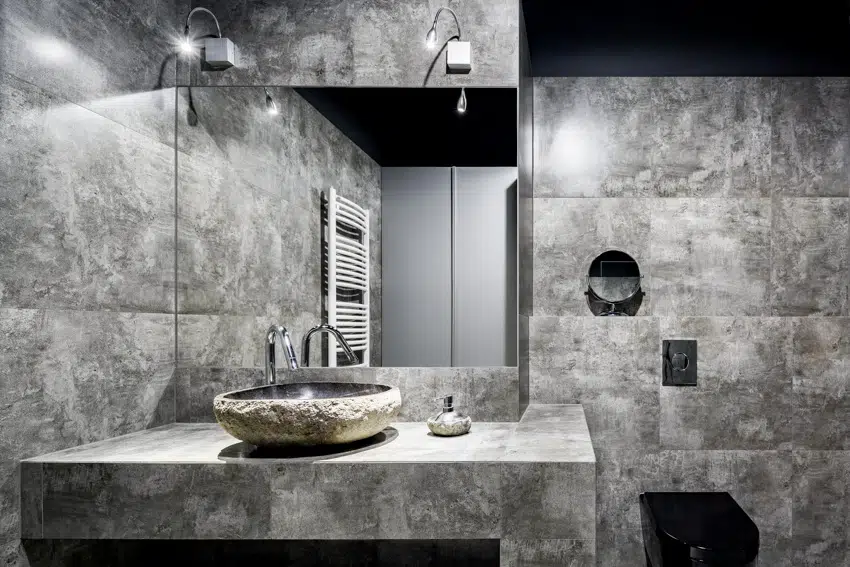 When you use a lot of the same material in your bathroom – in this case, the tiles on the walls and the counters – try adding other textures to the space for variety.
In this design, the smooth chromed metal finish, smooth mirror, and the unique limestone sink help add a good variety of textures to this contemporary bathroom design.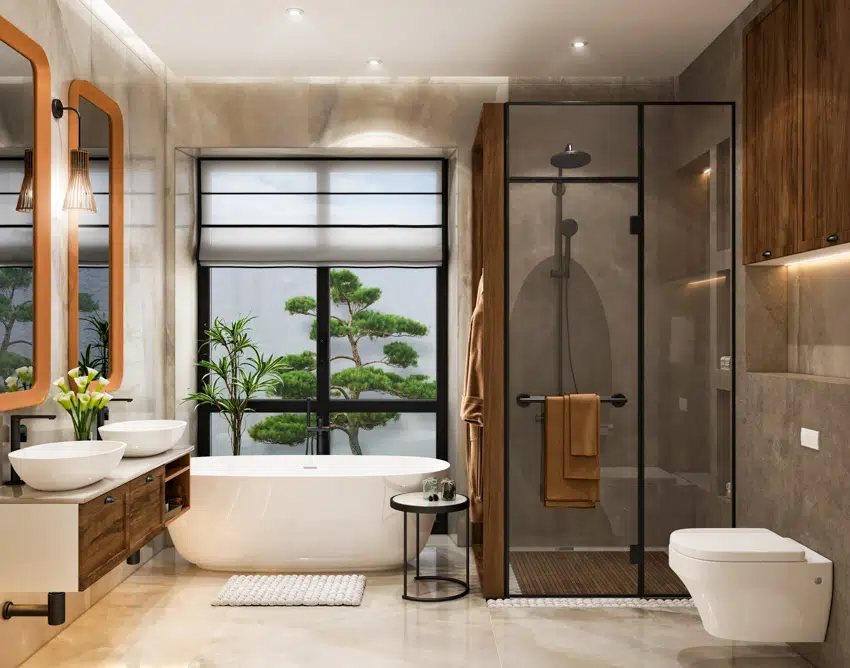 This is among the gray bathroom ideas that give a totally contemporary rustic vibe. It has a nice combination of concrete finishes, dark gray tiles, wood finishes, black trims, as well as dark brown accents to make it elegant. See more pictures of bathroom concrete countertops here.

The addition of plants and greens to the space also adds to its natural and relaxing vibe.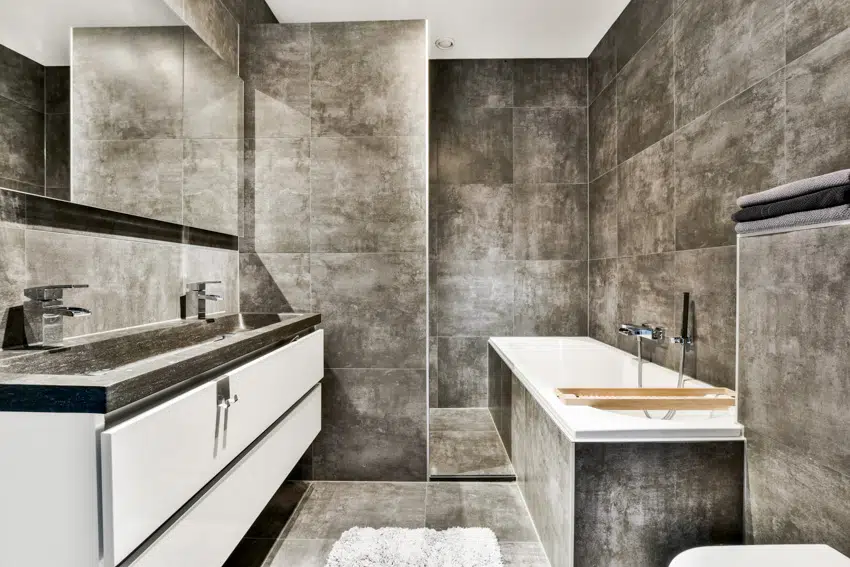 The unique grungy texture of the dark gray tiles used in this bathroom, combined with smooth white finishes, gives this space a unique modern urban look.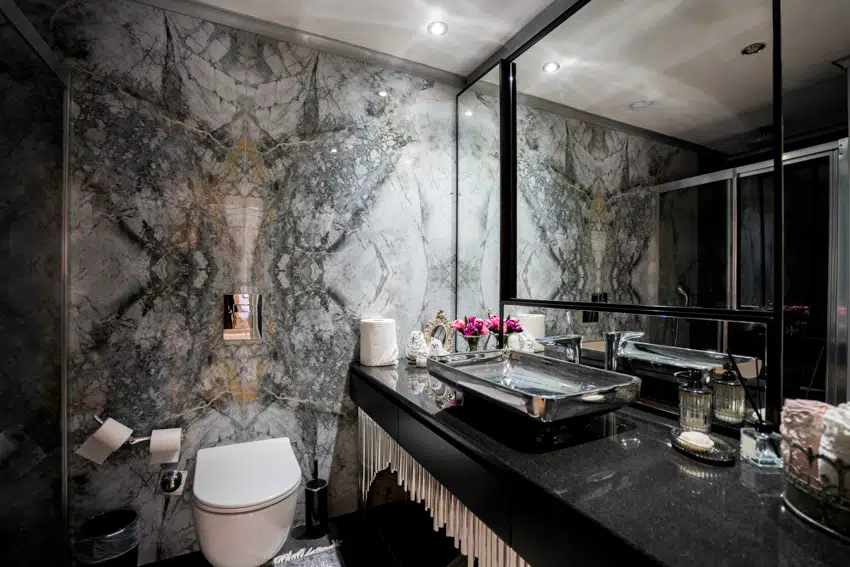 The dark gray marble tiles used on the wall of this bathroom screams luxury and elegance. The gold grains on the natural stone are really gorgeous, and placing it in this location really gives justice to its beauty.
Combined with black galaxy counters and black flooring, this modern bathroom design has a mysterious appeal.
Small Gray Bathroom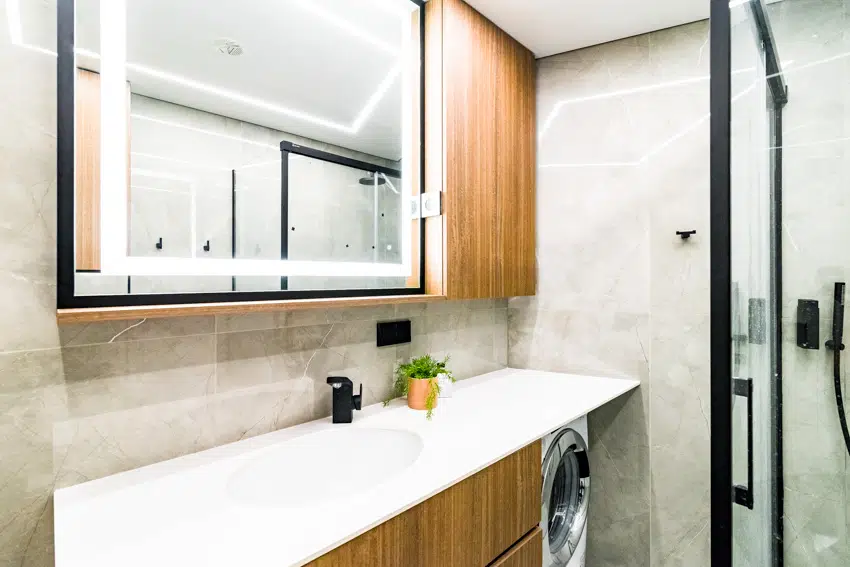 The warm tone of the light gray tiles used in this bathroom complements the warm tones of the wood used in the vanity.
If you worry about making your small bathroom look smaller, but you like the look of dark gray, consider applying this finish to your vanity cabinet. This is a nice and easy way to introduce the color to your bathroom.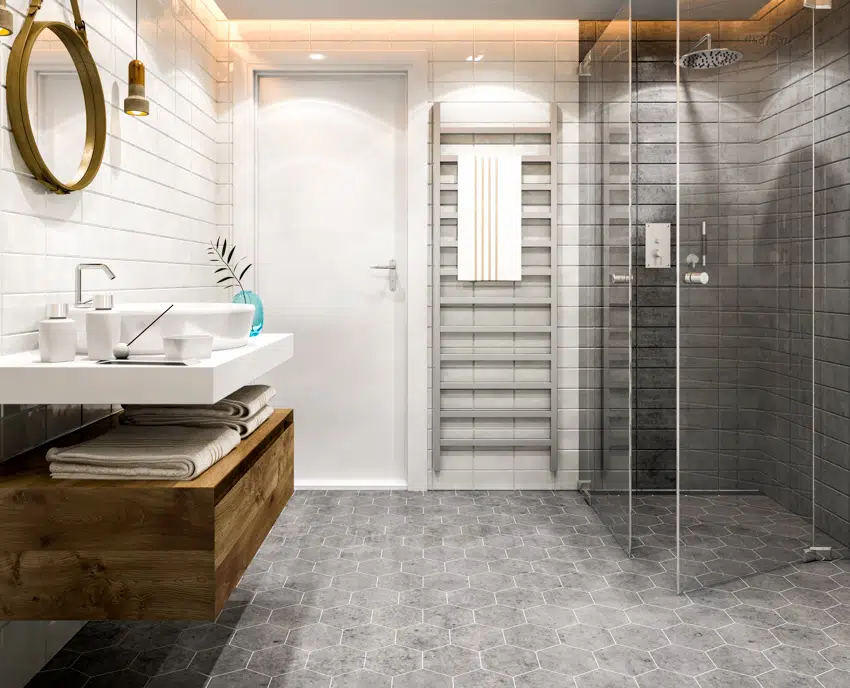 The use of dark gray hexagonal floor tiles, combined with gray and white subway tiles on the wall makes this look very modern and unique.
The lines and patterns help make this small bathroom look bigger. These details are among the modern and stylish gray bathroom ideas that can be used. Read more about bathroom vanity sizes here.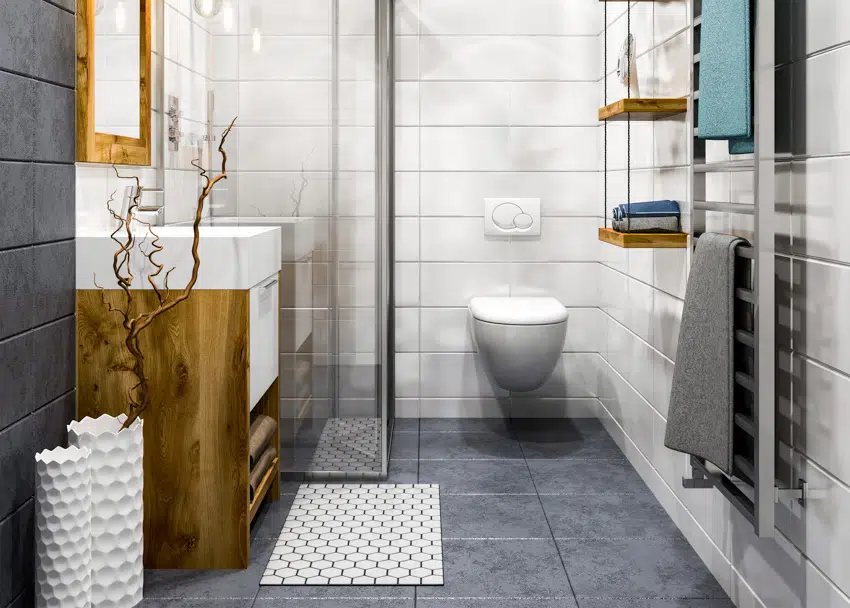 This small bathroom design features a nice combination of cool gray, whites, with some blue accents and wood elements to add a homier vibe to the space.
The layout is planned well, so it feels extra spacious, yet also provides enough storage space.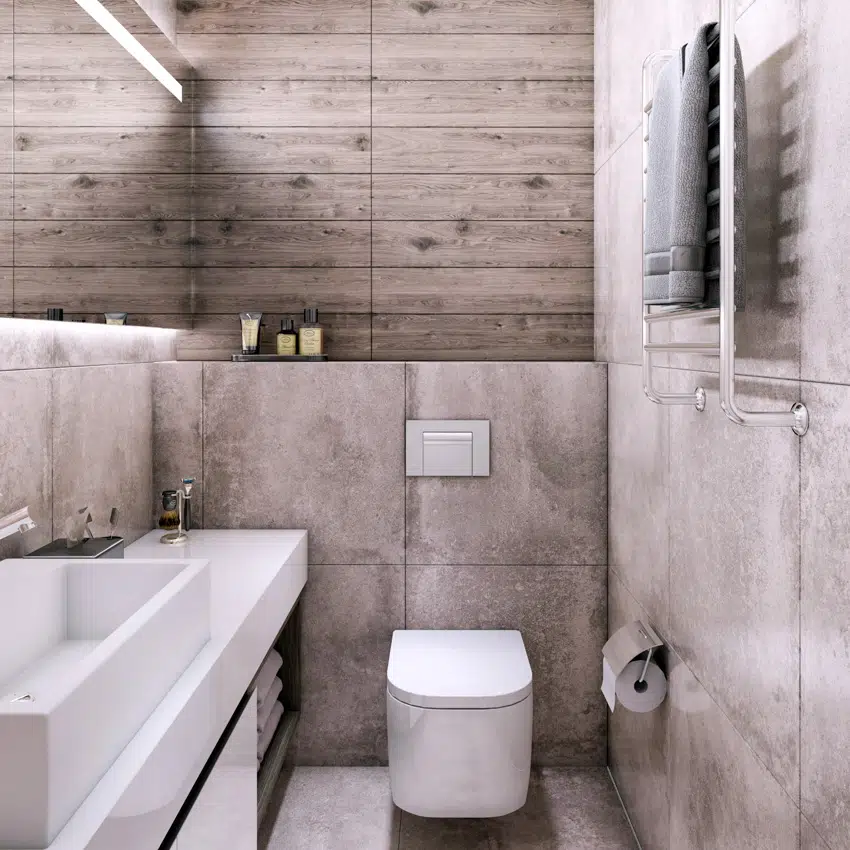 For this small bathroom design, the use of a concealed wall-mounted water closet works perfectly. The small space uses a combination of warm gray ceramic tiles with a concrete texture and rustic wood finish wall tiles.
To make the space look and feel bigger, a massive mirror was also added to run along the length of the small room.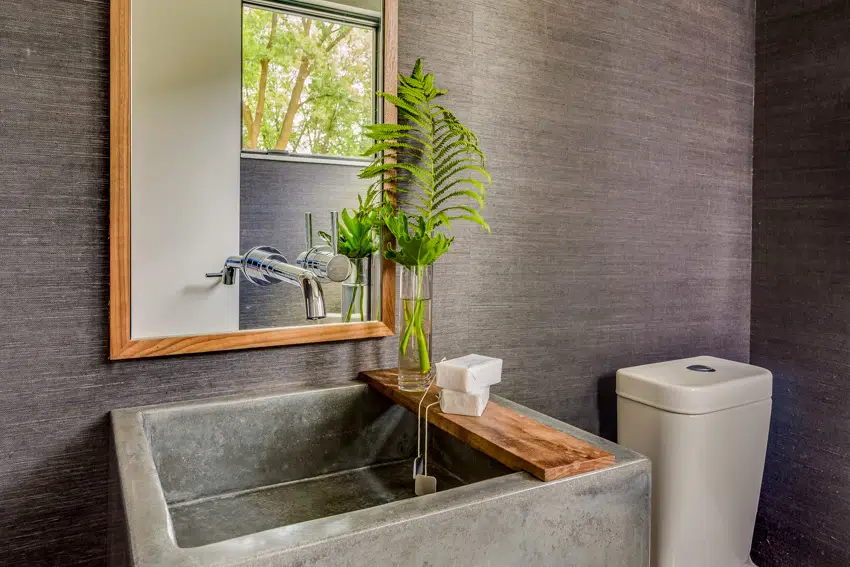 If you have a small powder room like this, consider using Grasscloth wallpaper instead. They usually have a wide variety of colors and textures you can use, and creates a very gorgeous backdrop for any small powder room space.
Concrete sinks combined with solid teak are also trendy right now, so this combination will definitely impress your guests. See more related content at our article about the different types of bathroom sinks on this page.