Below is our guide to floating bathroom countertops with ideas on how to support & install this bathroom vanity style, and the best types of materials to use for floating countertop designs.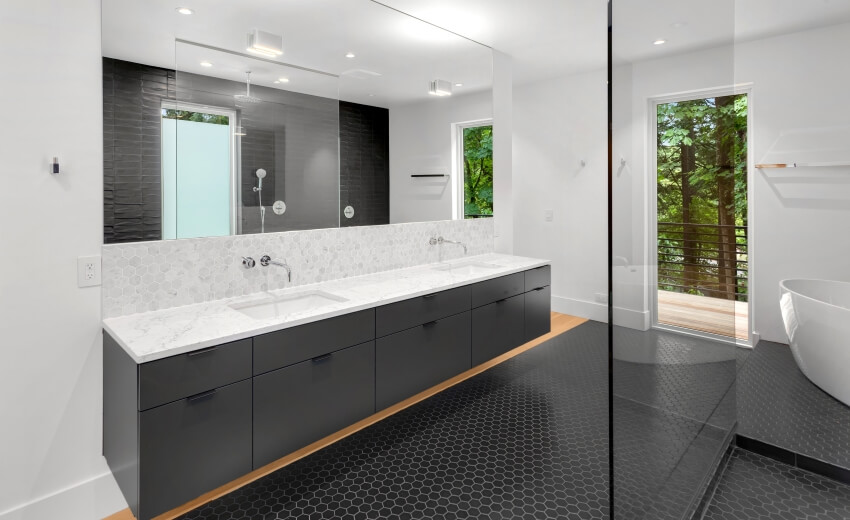 A floating bathroom countertop is a trendy and unique addition that can enhance the look of your home. And many homeowners are considering this design for their bathroom to bring a unique style in to the mix.
If you are also curious about installing one too, lets look at some factors to consider if a floating bathroom countertop is a good option for your space.
Can You Have A Floating Countertop?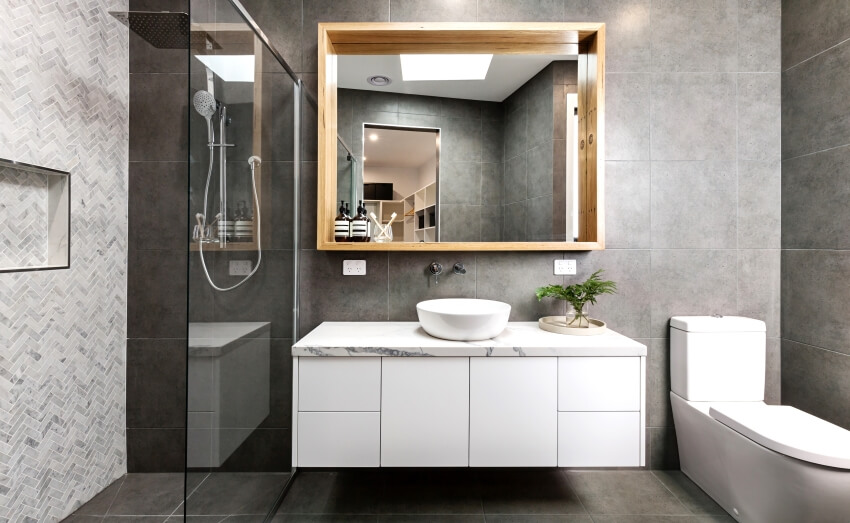 Floating countertops are both stylish and space-saving. Two factors can dictate whether you can or cannot have a floating countertop for your bathroom, and these are the following:
Budget – Whether you are renovating your entire bathroom or just installing a countertop to add a bit of an accent to the area, you need to have a budget for it.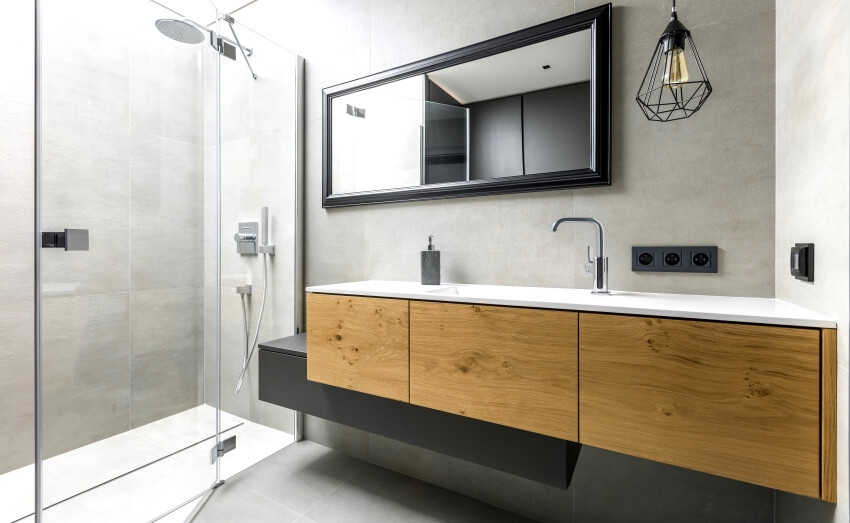 Space – Floating countertops usually rely on vanity cabinets or walls for support so if you have enough space at home near walls and cabinets then you might consider it.
They can easily attach to walls so they are convenient to have. It can even be a folding floating countertop, saving you space for your bathroom when it's not in use.
Style – A floating countertop needs to match the style you have going in your bathroom. It's not a good idea to just add in your bathroom despite giving off a completely different feel.
Floating Bathroom Countertop Ideas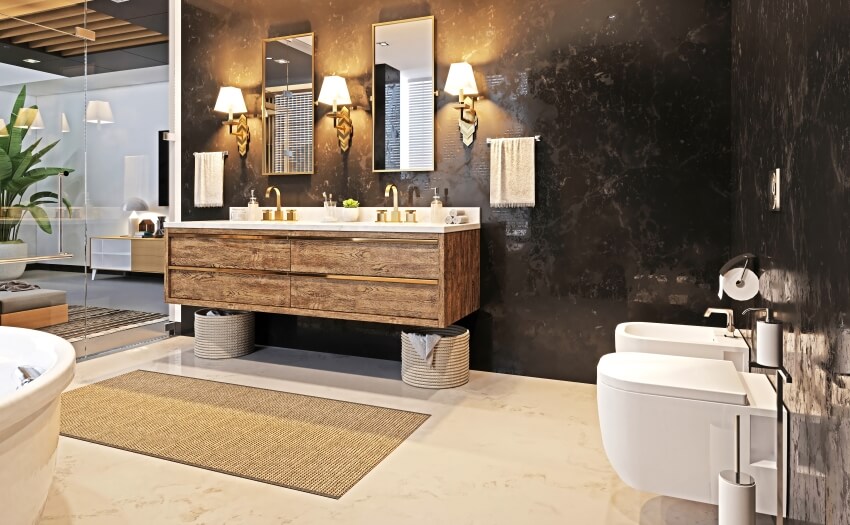 If you want to install a floating countertop in your bathroom but don't have any finalized plan, explore the different types of floating countertop materials you can consider.
Butcher Block Counter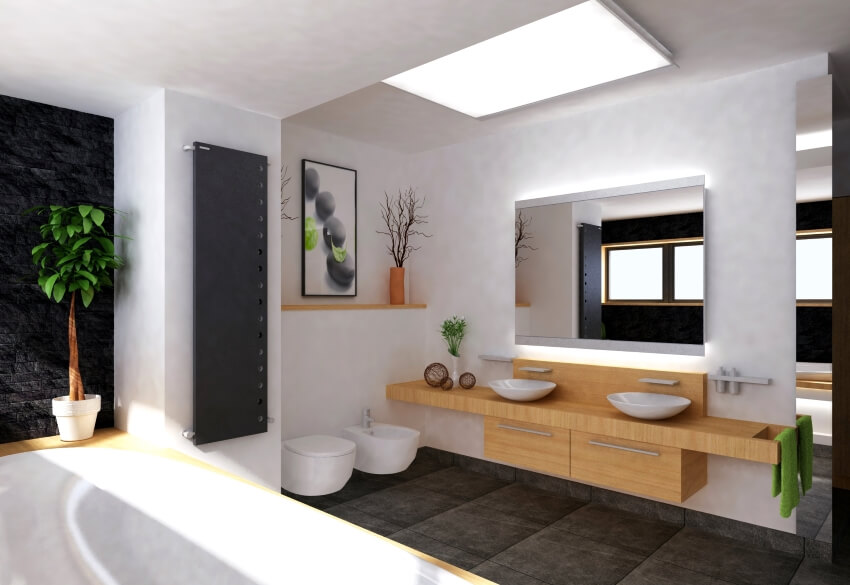 Butcher block screams a warm and rustic vibe, teleporting you to a country-style bathroom. A floating butcher block countertop is made from wooden strips joined together to create a sleek slab. It has a style that's considered trendy yet timeless at the same time. And here are some benefits you can make the most of.
Affordability
A floating butcher block countertop is one of the most affordable options you can consider. On average, you can get a butcher block countertop for $20 to $60 per square foot, which is more affordable than stainless steel, glass, concrete, and marble which can cost you up to $75 or even $150 per square foot.
Wide Choice of Hardwood & Grain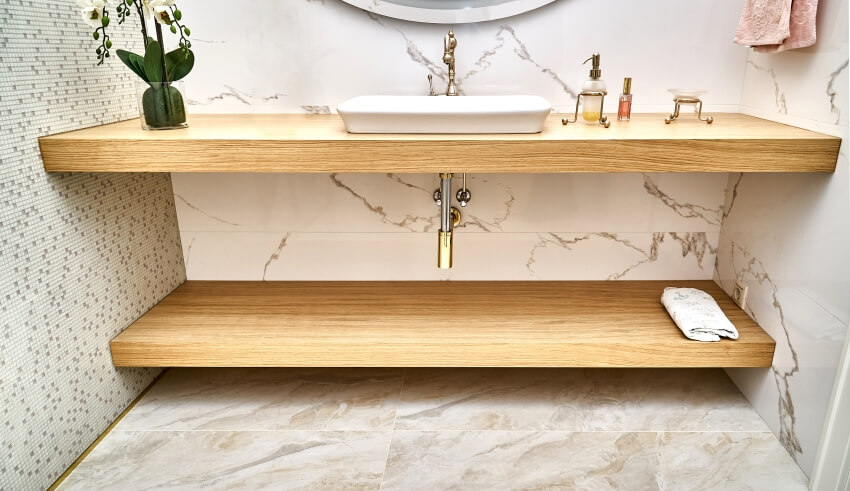 You can choose from a wide selection of wood and grain, as well as its hue and pattern, compared to just choosing stainless steel or glass. Selecting the hardwood and grain that can contribute to your bathroom's overall theme is easier.
Different Available Styles
With your choice in the kind of wood comes the style and design it can offer. You can choose cherry wood for a dramatic effect on your floating countertop. If you have a modern sustainable home, a blonde bamboo countertop may be the best option for you.
Tip: You can use water-resistant mineral oil to coat the surface of the butcher block to help protect it from moisture.
Granite Countertop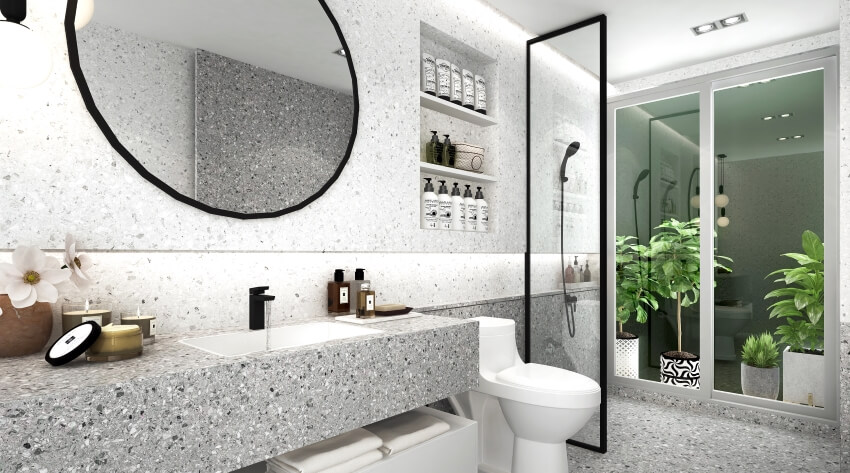 A floating granite bathroom countertop needs to be one and a quarter inches and have an overhang of around 8 to 10 inches.
Proper support is absolutely necessary since it can get dangerous if it, unfortunately, falls to the ground, especially if there are people around.
A granite countertop is a heavy countertop and one way to ensure its support is to add an underlayment like plywood. While it can complicate the installation, some believe it to be necessary. A plywood underlayment can prevent cracks on a thin piece of granite and even prolong its life.
Cultured Marble Countertop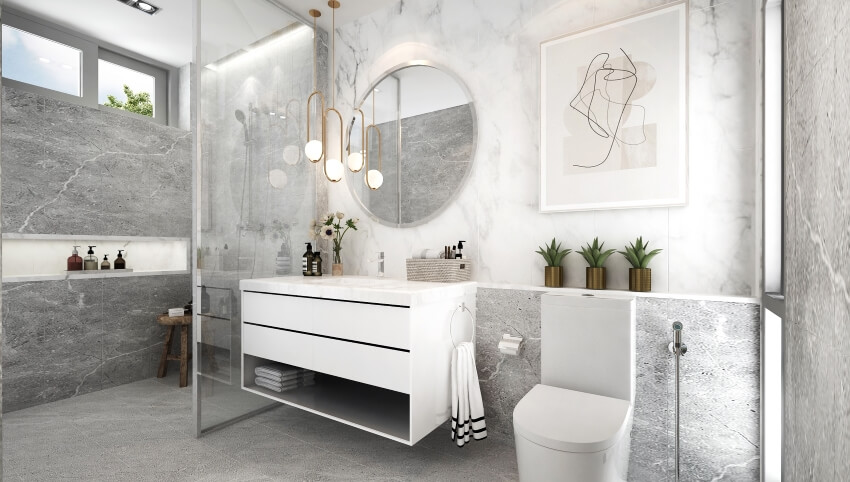 Cultured marble is a man-mad e durable material that is lighter weight than many other materials making it a good candidate for a floating countertop. Its surface is nonporous which can help minimize staining and cleanup. Read more about cultured marble showers here.
Quartz Countertop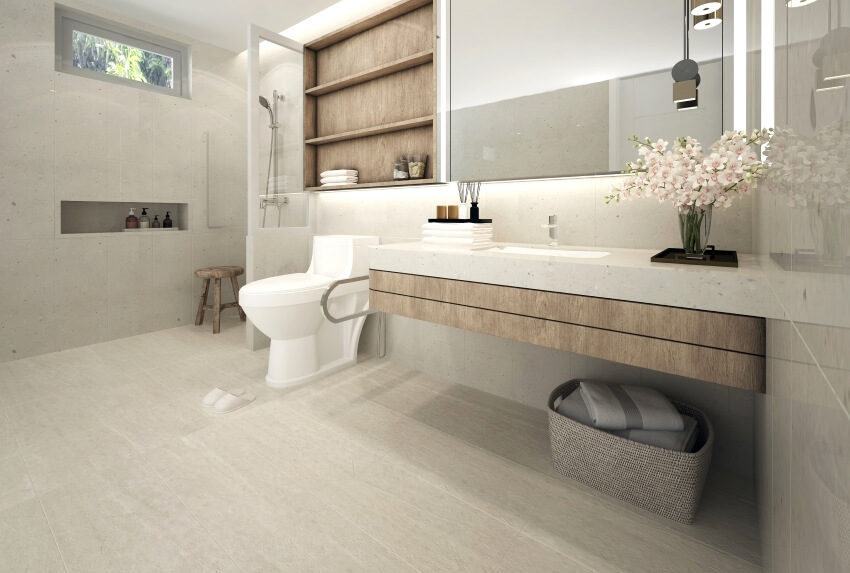 Quartz-engineered stone is a countertop material that looks beautiful in the bathroom. It is also nonporous and lower maintenance, making it a good choice for a variety of bathroom finishes.
Since quartz is a premium product, adding them to a bathroom can help homeowners recover much of their investment in resale value.
How To Support A Floating Countertop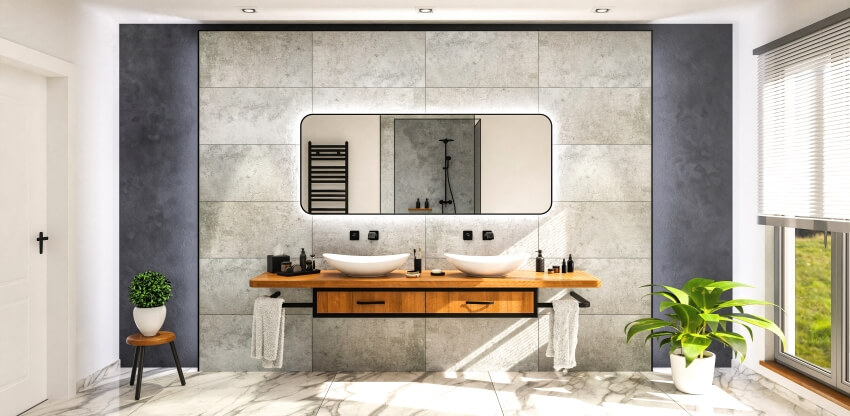 Floating bathroom countertops are new and chic, but if you want one installed in your home, you need to make sure that it won't budge and remains immovable despite how heavy it is. A little bit of instability can cause the countertop to become uneven and worse, fall.
Depending on how heavy it is, it can damage the surrounding area and any person near it when it falls. This is how important properly installing a floating countertop is.
A floating countertop needs solid but creative support since "floating" is just for appearances. Floating countertops can appear to float because they are mounted on a flat vertical surface.
This vertical surface can be on one of your bathroom vanities or a free empty wall, whatever location can accommodate the countertop.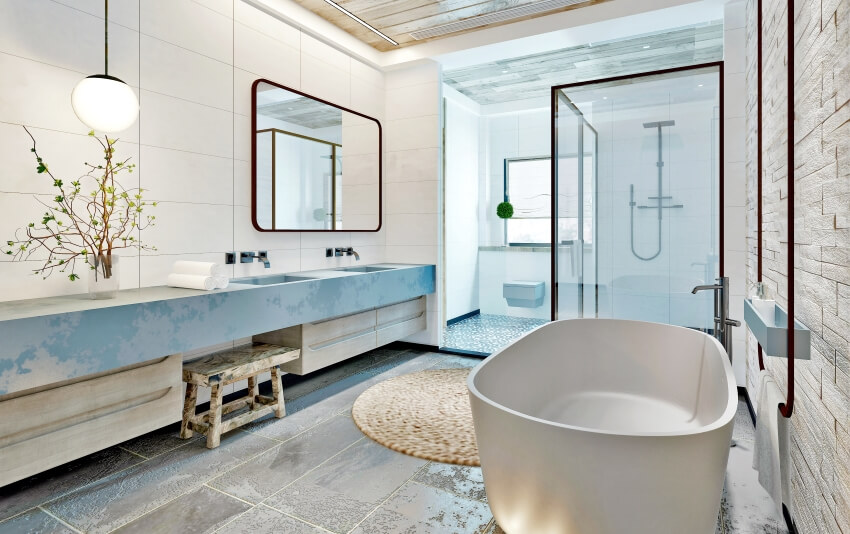 Silicone caulk and adhesive are only two of the ways you can support a floating countertop. And depending on the material your countertop is made of, the installation will be different.
A wooden countertop will have countersunk holes and screws while a stone countertop will need more support and might require more than both adhesive and brackets.
When installing your floating countertops, here are easy steps to follow:
1. Divide your countertops in sections and mark them with equal spaces from each other.
2. Move the brackets closer or in the opposite direction whenever necessary and if the spacing is not right (The spacing will help you install the countertop evenly on the wall. If not, your countertop will tilt or even slide)
3. Find the nearest stud with a stud detector so that the bracket will be secure when mounted.
4. Once you have the right spacing, secure the brackets to the wall.
5. When the brackets have been attached to the wall, attach the other end of the brackets to the vanity countertop.
6. Brackets can be attached to the countertop's underside using silicone caulking or construction adhesive and make sure that the brackets are secure.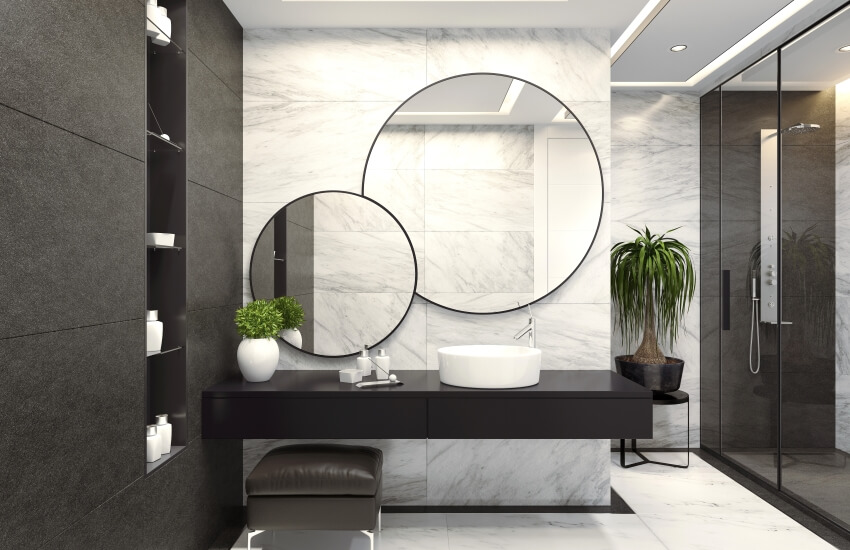 Here are some tips for installing your floating countertops:
1. Get precise measurements of your countertops.

2. Ensure that the bathroom sink you choose can fit. This includes measuring the clearance for bathroom faucets and pipes to ensure there is enough room.

Make sure that after installation, your countertop is secure enough and won't slide around (whether you use a special adhesive or silicone caulking).
3. Use a level bar to make sure that your countertop is properly aligned and leveled before you secure it on the wall or cabinet.
Floating Countertop Support Brackets
Brackets are the most popular support that floating bathroom countertops have. They have a perfect 90-degree angle that mounts the floating countertops on the wall. They can be as small as 7 inches or as big as 24 inches.
Your choice on this depends on the size of the countertops you are installing. You can use more than two brackets, whatever your preference may be. Just make sure that they're solidly attached to the countertop and the wall. Read more about standard bathroom vanity sizes at this guide.
Visit our guide to the bathroom remodel software for programs that can help with designing your space.