Here we share our types of futons guide including how it works, sofa & bed design elements, the different styles, materials, and the best futon mattress to use.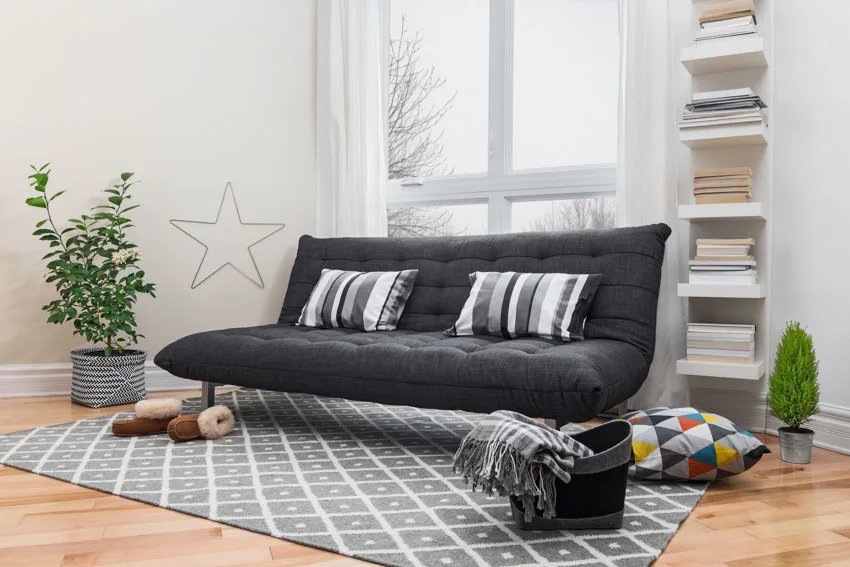 Futons are a practical and smart solution you can use when you randomly have guests over. Known for their versatility, they offer a range of functions you can make the most of, considering you get a bed and a sofa all in one compact package.
Installing one in your home adds both comfort and convenience because you get to prepare a make-shift bed for your guest without allotting an entire room for it, saving space as a result.
What Is A Futon Bed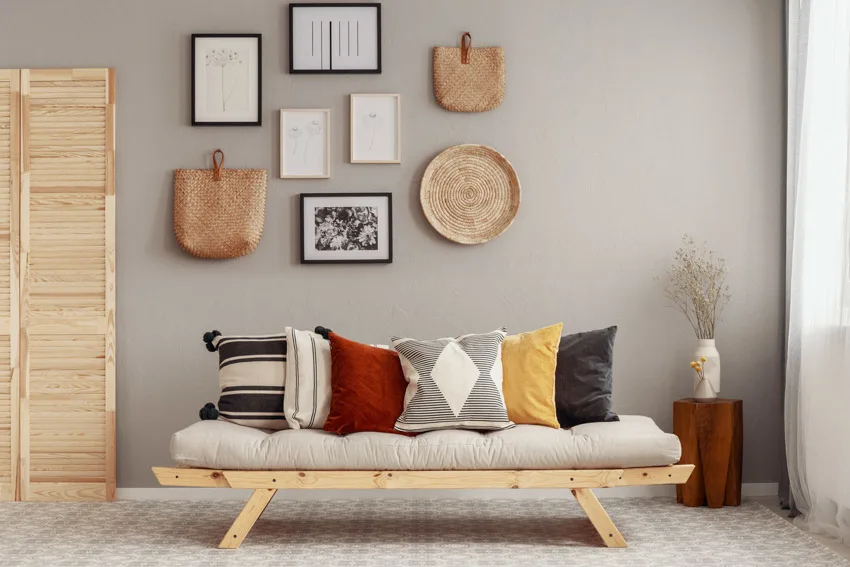 A futon bed is a piece of fold-and-slide furniture that originates from Japan. "Futon" refers to the system used in the bed and not the actual furniture.
This piece of furniture can make a sofa or a bed, with a mattress inside for its padding and a wooden or metal frame for sofa arms or bed frames.
When it folds out, the futon (which originally looks like a sofa) transforms into a bed. This saves you space when not in use and becomes a convenient emergency bed when necessary (like when guests come over unexpectedly).
The futon is a traditional Japanese bedding system. It includes the shikibuton (floor mat) on which a person sleeps and the kakebuton (duvet/comforter) that covers the body. – Furniture Design, James Christopher Postell and Jim Postell
Futons became popular because of their portability and space-saving storage option. And in the early 70s, they started being offered in the US market, mostly as an affordable sofa option rather than an extra bed.
The futons offered in the 70s are uncomfortable but that changed throughout the years. Today, futons are incredibly comfortable and offer a wide range of options in terms of sizes, materials, and designs.
And they are now more commonly known as sofa beds, delivering both the functions of a sofa and a bed. They are ideal for places with limited spaces, including dormitories and small apartments.
Here are some of the benefits you can enjoy and make you consider buying a futon:
• Adds a modern style to your room
• Easily customizable with patterned covers and stylish throw pillows
• Cheaper than either sofas or beds
• Simple and direct construction and so can easily be manipulated (assemble, disassemble, and even rearrange)
• Its aesthetic can fit any type of style and room
Futon Design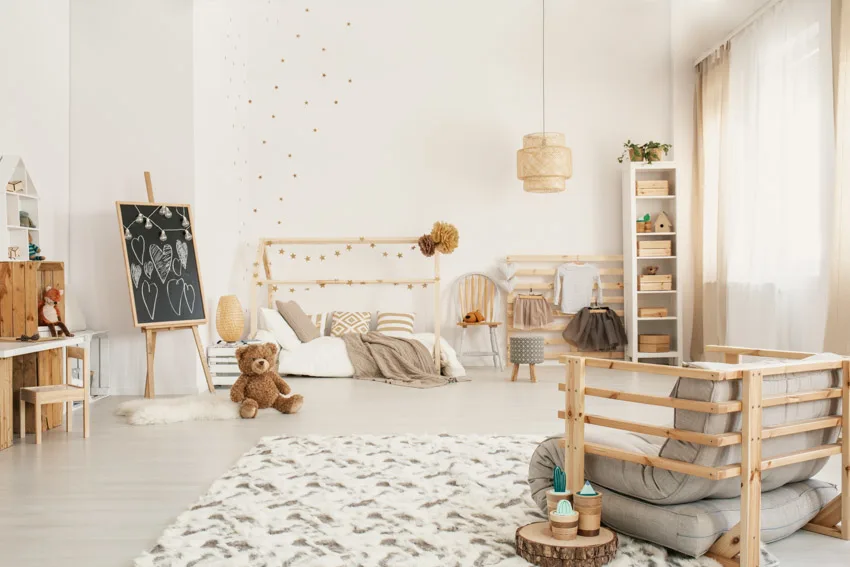 There is a variety of sizes, styles, and colors offered in the market when it comes to a futon. With its mechanism and design though, there are three main elements always involved, including the frame, mattress, and frame cover.
Frame: The frame is considered to be the foundation and base of the futon. A high-quality frame can ensure that the futon will be stable and durable enough to take the pressure of converting it from a sofa to a bed and vice versa.
A poor quality frame on the other hand can break and come loose on the hinges. This is the reason why a high-quality wooden frame can only be made of hardwood like oak or walnut.
Mattress: When it comes to the comfort offered by a futon, it's all about the mattress that cushions for sitting and sleeping. A high-quality mattress offers more than comfort and years of usage, without getting flattened easily. This means straying away from polyester and simple cotton and going for coil springs and pressurized foam.
Futons in the traditional Japanese sense started with mattresses filled with either horsehair or rice straw. Today's futons though are more durable and comfortable, dominated by foam and cotton.
The foam offers soft yet firm support while the cotton and its layers offer maximum padding. And the modernized version of today's futons comes in the form of latex and polyester mattresses, which are considered more comfortable than foam.
There are even futon mattresses with inner interlocking springs, offering more flexibility and comfort. They are heavier though compared to other types of mattresses, as well as more expensive.
And while they were popular when they were introduced to the market, they have been overshadowed by foam upon its introduction.
Choosing a mattress for your futon is an important decision since it will decide the comfort you can enjoy from using the futon. Along with the frame, the quality of the mattress will also dictate the lifespan of the futon. And besides your general preference, you also need to consider the climate where your home stands.
The combination of cotton and foam is popular because they are lighter and more breathable, offering comfort even if the weather is quite hot. If you live in a location where it's often cold, a cotton and wool futon mattress works wonderfully for cold weather.
Wool offers warmth and support while cotton offers comfort. And while a pure wool mattress is also possible, it weighs thrice compared to a cotton mattress and may be less comfortable and flexible.
Futon Cover: A futon cover is the final element in a futon's design and mechanism and is considered the most apparent and visible part of the futon. It adds protection to the futon, from spills, dirt, and other elements that can affect the aesthetic of the cover.
It is also removable and so is more manageable and easy to clean in the process. This also means you can have a collection of futon covers and change it every now and then, depending on the season and your whim.
The futon cover you choose needs to be compatible with your futon in general though and it should fit the frame. And it is the element you can use to add aesthetics to the futon and match the style of the living room or any room where it's installed in.
Futon Styles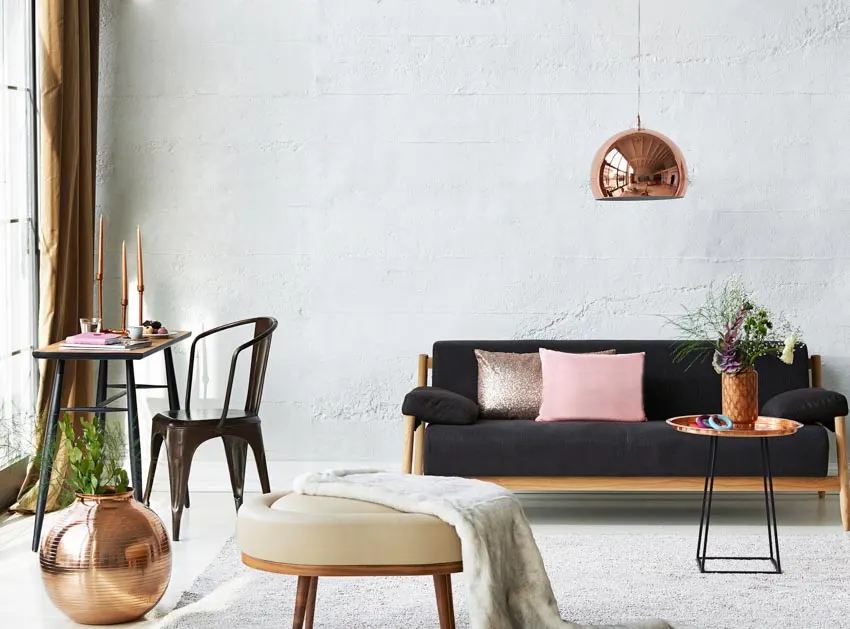 The traditional Japanese futon offers a minimalist style with a simple foldable mechanism and straw or horsehair mattress.
From then, the styles improved and developed throughout the years to different styles with different frames, mattresses, and even major constructions and mechanisms.
With a variety of futon styles to choose from, make sure you consider your reason for purchasing it, the space you have in your home allotted for it, as well as the current style in the room to match with.
Bifold Futon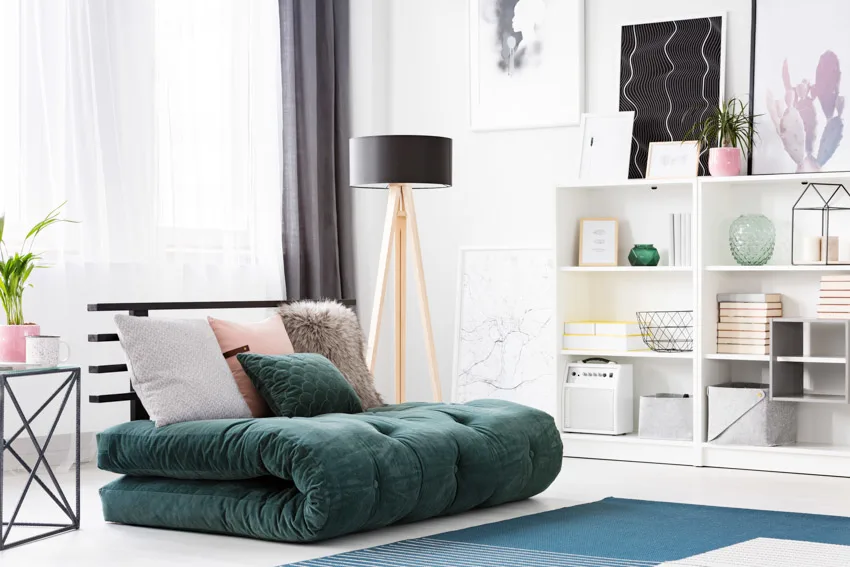 A bifold futon uses the basic mechanism of a folding mattress in half. It has a crease at the center of the futon, separating the seat and back deck which is considered as the two sections of the bifold futon.
This crease helps the futon to easily fold up or down. So when the bifold futon is up, it serves as a sofa. But you can also fold down and flatten the frame to turn it into a bed. This frame has eight slats in its frame, providing full support to the user of the futon.
Known to have the most common futon frame, this type can easily be converted from a couch to a bed. It also has high availability in the market and is very easy to find.
And they are available in full and queen sizes, as well as smaller chair sizes. It is ideal for small studio apartments and dormitories, where you can conveniently set it up as a sofa during the day and as a bed at night.
Bifold futons can range in size from 77 inches to 80 inches in length, which is the minimum measurement of the space you need to accommodate the futon when it is folded in. Make sure you have enough wall space to accommodate it.
Trifold Futon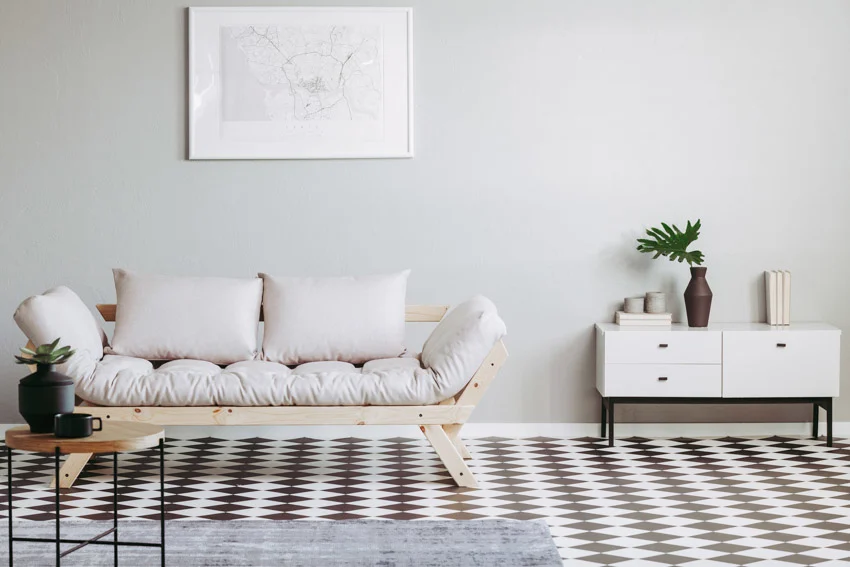 Compared to a bifold futon, a trifold futon saves space better since it folds into a smaller size with three sections, the back, seat, and the lower part. The mattress covers the two sections and the frame covers the third section.
And since there are three sections, it is a bit more difficult to convert from sofa to bed and vice versa. And since the futon is folded in more parts, thin materials are needed to make this possible, or else you won't be able to fold it into thirds.
While the trifold futon is more space-saving when considering the walls, it uses up more of the floor space though and unfurls longer. Its measurement in width ranges from 55 inches to 60 inches. Some trifold futons can save space by having a separate ottoman.
The problem with the trifold futon lies with its mattress and the right kind of support. You need to choose a mattress that can provide comfort and help you avoid back pain despite the weird divisions in the futon.
Loveseat Futon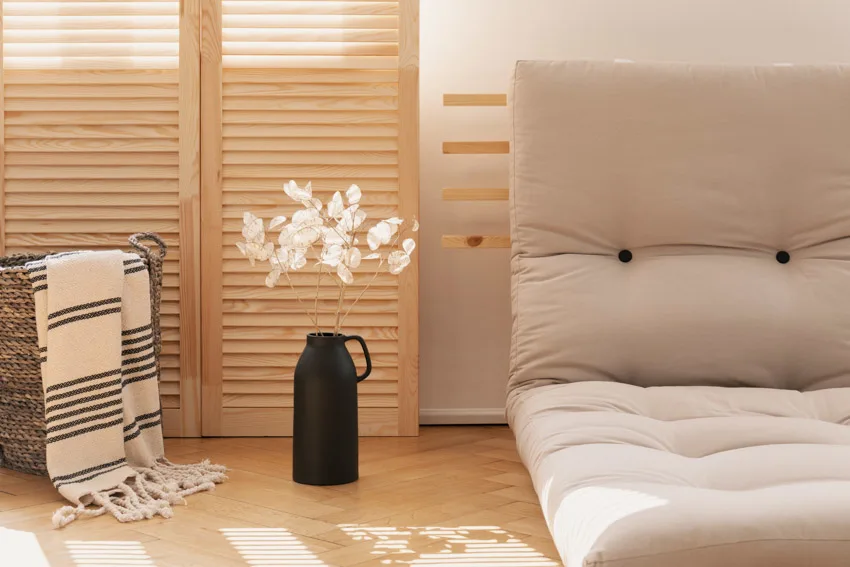 A loveseat futon uses a frame similar to a sofa but smaller and saves more space. It uses with 2 mattresses, with a size that can fit either a full-size or a twin bed. When you lay out the mattress and turn the futon into a bed, it can accommodate two kids to sleep on it.
The loveseat frame is compact and comfortable to sit on, making it one of the ideal types of furniture styles for rooms with limited size, as well as home offices and small guest rooms.
It may be considered to be the type of futon that has the most comfortable frame. The frame is also stylish and with a shape that's aesthetically pleasing to look at.
Wallhugger Futon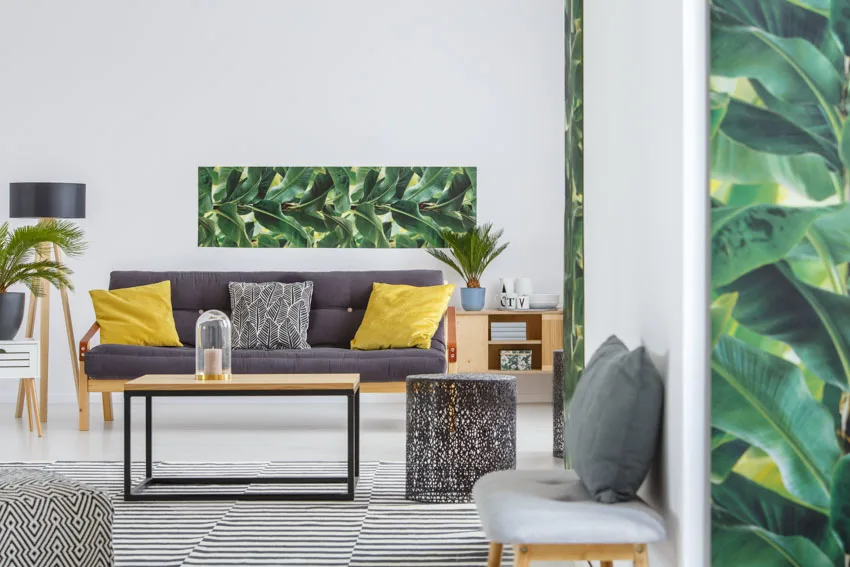 A wallhugger futon uses an innovative, convenient, and practical design for its frame that can easily be converted to a sofa, a lounger, or a bed, depending on what "mode" you currently want to use.
And you don't have to move the frame away physically from the wall just to use this futon. The conversion can be done even while the legs remain stationary.
Traditional futon frames usually require moving the entire frame away from the wall just to convert it from a sofa to a bed. With a wallhugger structure, frames are connected directly on the wall and conversion is possible even without moving the futon away from the wall.
A wallhugger futon also has adjustable arms compared to bifold and trifold futons. You can easily adjust the arm to recline up or down as a headrest, for better comfort and convenience. This is why it is a great option for short naps.
Armless Futon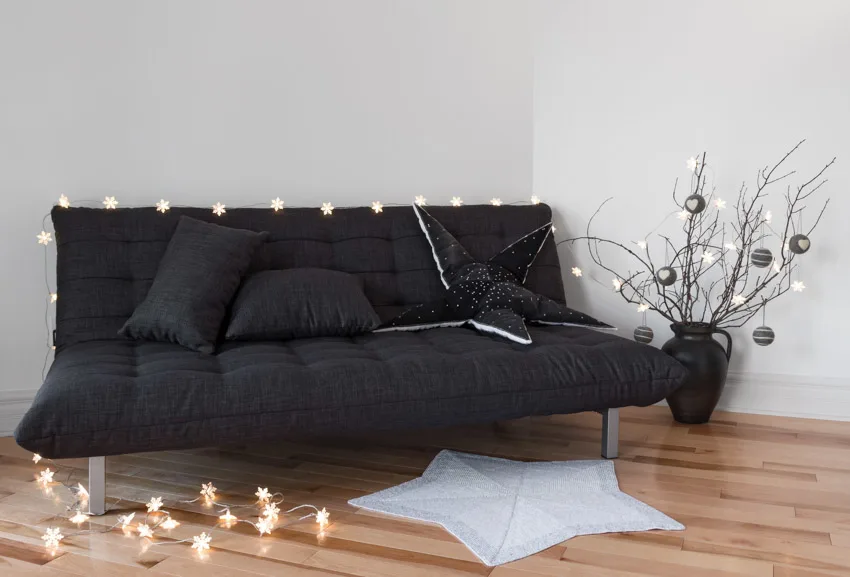 An armless futon is structured without an armrest, making it easy to convert to a bed since you won't have to adjust the arms. This futon supports your sleeping posture better and is also ideal for tall persons and those who twist and turn while asleep. And since the armrest is not in the way, more people can fit in this type of futon.
An armless futon is the closest in terms of its similarities in appearance with a traditional bed. It offers several sitting configurations too and offers an elegant and sleek design you can match with your room. It's practical in its setup and has easy mechanisms for set-up so if you prioritize convenience, this is a great option for you.
Bunk Bed With Futon
See this bunk bed with futon couch at Amazon [sponsored link]
A futon has a minimalist style and can easily be matched with anything. And one of the best things you can do with a futon is to combine it with a bunk bed. A bunk bed with a futon is ideal for children and can accommodate two full beds in the space.
You can also use this type of futon in other rooms with compact spaces, including university halls and dormitories. The futon is usually installed in the lower bunk, where it can transform into a full bed to accommodate two persons, adding more capacity to the bunk bed.
Futon With Ottoman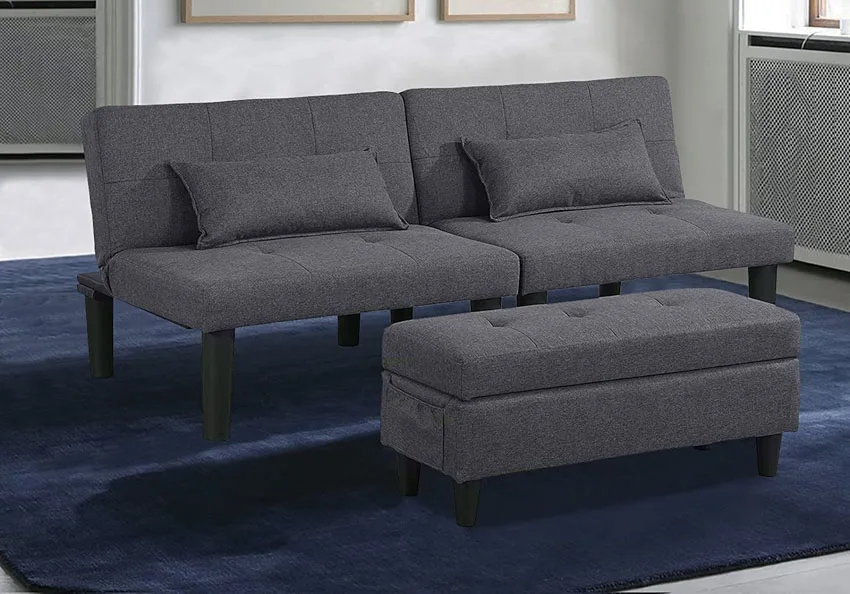 See this futon couch with ottoman set at Amazon [sponsored link]
A futon with an ottoman is popular with the trifold group. It is an option you can choose when considering a trifold type of futon. Since trifold futons have three sections, adding an ottoman in the foot portion of the futon.
The ottoman is separate from the futon, saving more wall space in the process compared to the trifold futon with the foot portion attached to it. The separate ottoman offers more comfort for seating and more sleeping surface.
Chaise Lounge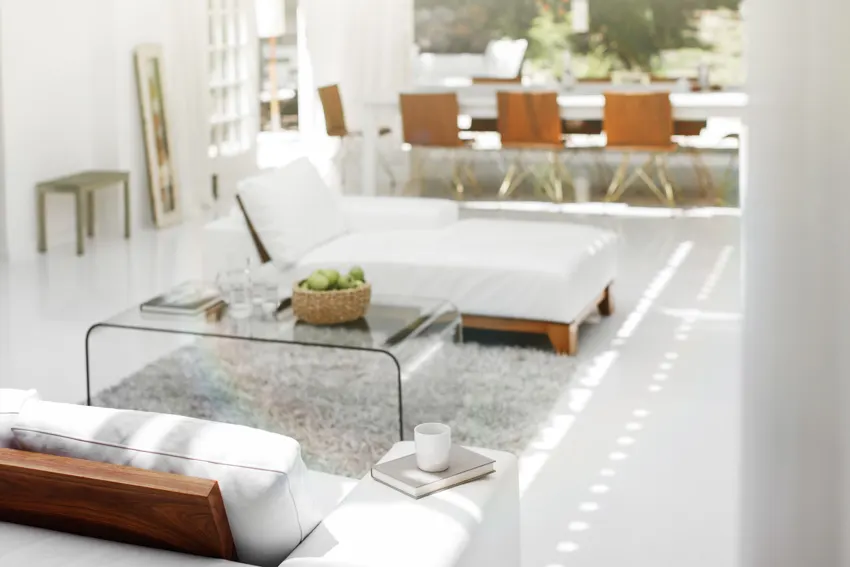 A chaise lounge or lounge futon offers more relaxation considering it's designed precisely for lounging. It usually comes pre-assembled as a bed but is somehow halfway between a sofa and a bed. It has an armrest on one side, where you can place your arm or prop your leg for a better position while lounging.
Lighter in weight, this chaise lounge is designed with multiple notches (with varying increments from upright to fully flat) that you can change from one to another to get the recline you feel comfortable to lounge on.
This is why it is somehow similar to a recliner. A chaise lounge is popular for a doctor's office used by professionals to create a more comfortable environment for their patients.
Outdoor Convertible Futon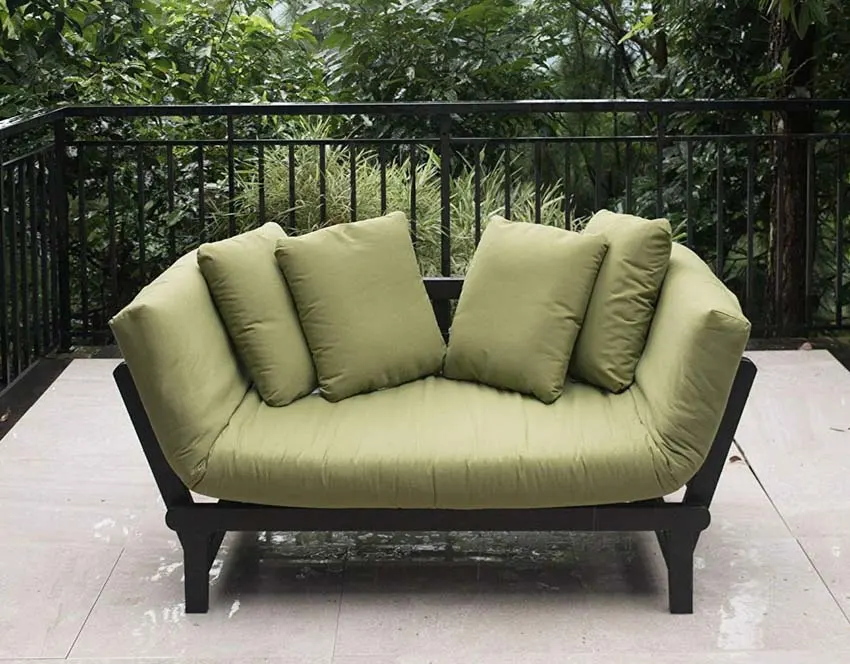 See this outdoor futon couch set at Amazon [sponsored link]
An outdoor convertible futon is a compact piece of furniture that has a smaller frame and so can easily be moved around compared to other futons. It is comfortable, foldable, and also has a waterproof cover, which makes it one of the most excellent types of outdoor furniture.
You can set up an outdoor convertible futon on your outdoor seating area in your garden or porch, or inside your house if you need an extra bed for an unexpected guest.
Futon Materials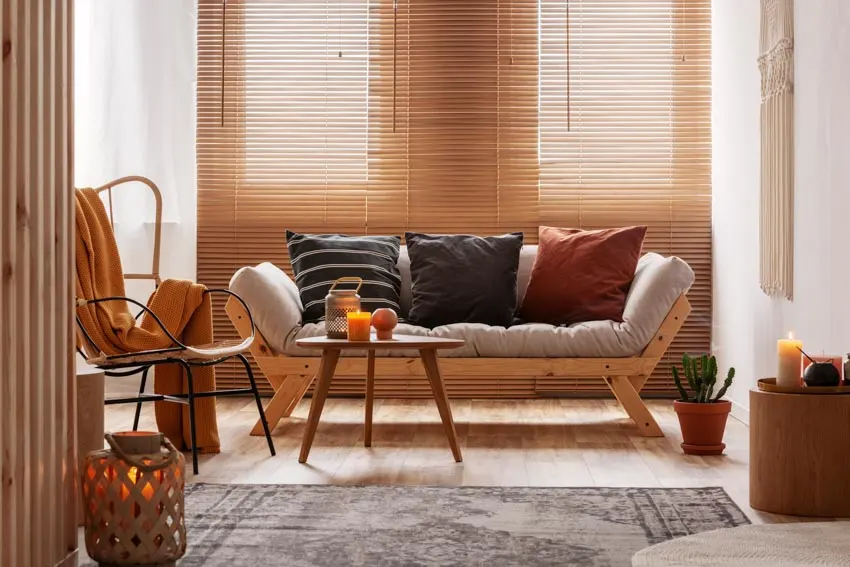 There are also different materials used to build futons and when it comes to its frames there are two particular materials that come to mind – wood and metal.
Wood Framed: Most futons use wood frames in their constructions, delivering stability and durability to support the entire ensemble. Hardwood offers more than just a stable base but also classic and stunning aesthetics.
And whether you use the futon as a sofa or a bed, hardwood frames have the flexibility that can withstand the conversions.
A wooden frame also can also be customized with different storage options underneath the futon if you want to. Its appearance can easily match the interior decor and designs of any room.
The downside though is that it is heavy and so may be difficult to reposition from a sofa to bed and vice versa or move from one place to another.
Metal Frame: Futons with metal frames are considered lighter compared to wooden frames, making them more portable and easier to reposition and move around.
They are flexible because of the metal locks and mechanisms that allow changes and molds with more ease. This means that you can reposition the frame based on what you're most comfortable with.
The downside with metal frames is that they don't have the classic and rustic look that wooden frames offer. They also don't have a longer lifespan and can be less sturdy. And if you live somewhere coastal, humidity can destroy the metal frame with rust especially if it's connected to an outdoor futon.
How Much Do Futons Weigh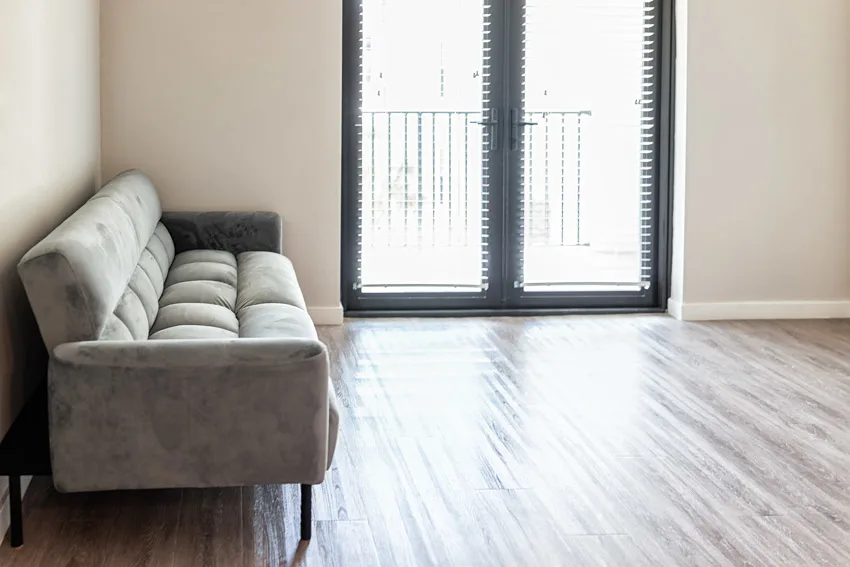 When considering the weight of futons, you would need to consider the materials they are made of. For frames, wooden frames are guaranteed to be heavier than futons with metal frames. In addition to that, if you see any wool, it is definitely heavier compared to foam and cotton.
In general though and on average, a futon weighs around 350 to 400 lbs. There are convertible futons though that weigh less than 100 lbs while bunk bed futons weigh 200 lbs.
How Long Is A Futon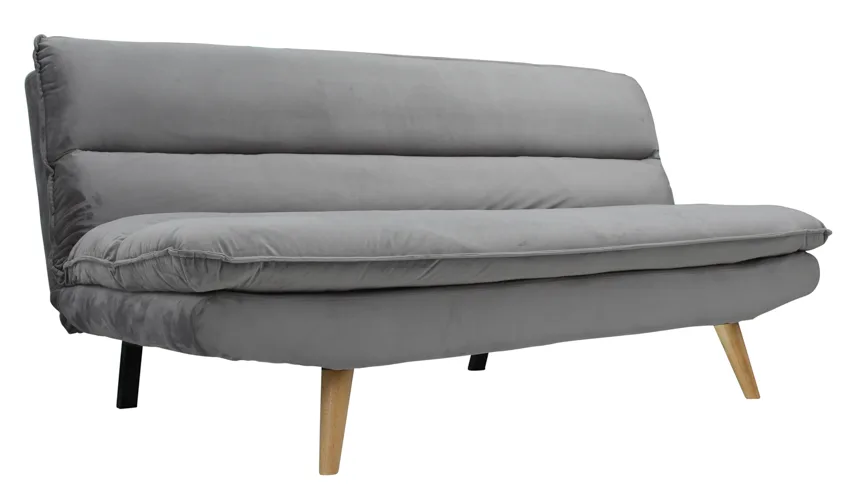 Futons are offered in different sizes based on their frames and mattresses. They measure around 75 inches to 80 inches if you're considering a full-size futon. The size would hugely depend though on the size of the mattress used and you can check out the following sizes in length:
| | | |
| --- | --- | --- |
| Size of Mattress | Length As A Sofa | Length As A Bed |
| Standard | 54 inches | 75 inches |
| Twin | 54 inches | 75 inches |
| Twin Extra | | 80 inches |
| Queen | 60 inches | 80 inches |
| Full/Double | 54 inches | 75 inches |
| Extra Long Full/Double | | 80 inches |
| California | | 84 inches |
| Standard King/Eastern | | 80 inches |
Make sure that you consider the space you have allotted for the futon when choosing the futon sizes you want to purchase.
How Much Does A Futon Cost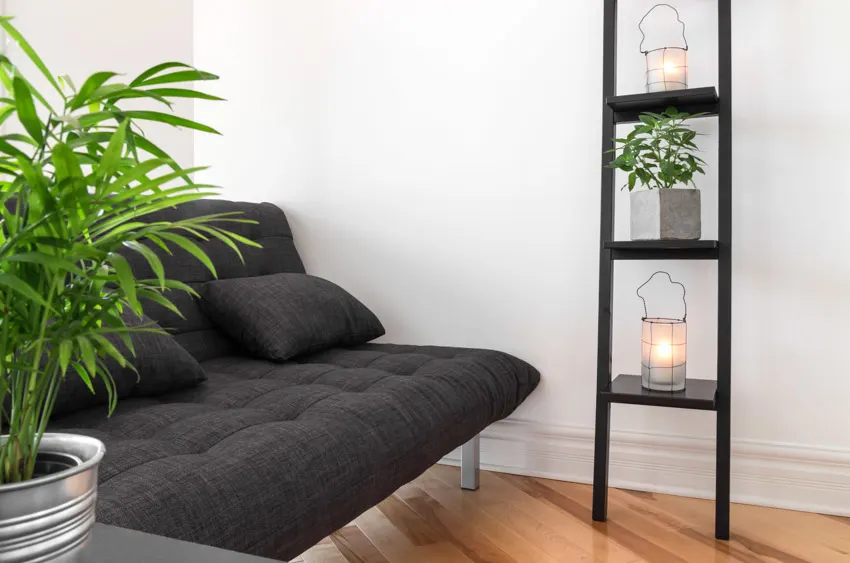 When shopping for a futon, make sure you have enough budget for it. The price of a futon depends on the materials that make up its frame, mattress, and futon cover.
Metal frames are cheaper than hardwood frames while a memory foam mattress is significantly more expensive than the standard foam and cotton types of mattresses.
Futons with metals frames can only cost around $300 while those with hardwood frames can set you back as much as $1000.
If you're looking for a mid-level quality of futons with a mid-range price, make sure you have around $500 to $700 for a good enough futon to take home.
How Does A Futon Bed Work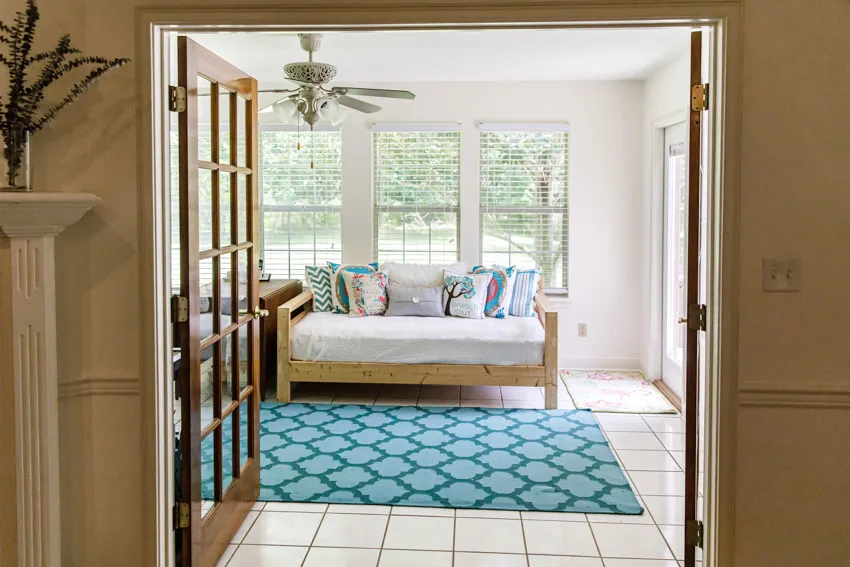 A futon bed works in a variety of ways, depending on the type and style of futon you use. Many futons use mechanisms like bolt and ladder hinges, moveable backrests, and even metal sliders.
The ladder hinges for a futon bed, help to easily convert the frame of the futon from a sofa to a bed. They operate in one direction, so that when the futon is pulled, it will turn into a bed using a groove in the slatted rack.
Other designs use a frame with three slatted racks and a bolt with a hinge point. And there's also a mechanism that allows the futon to turn into a bed without being moved away from the wall.
Opening and closing the futon also works differently, depending on the type of futon.
Bifold Futon: With a bifold futon, it pulls open from the seat so you need to stand facing the futon and either grab the base, handle, or bar under the seat and tug hard. If the bifold futon uses a latch, make sure it's unlatched first before pulling it towards you. Step back until the futon mattress is flat on the ground.
Closing it will require you to grab, lift up the end of the bed, and push it towards the base of the futon. It is expected to glide and close but make sure it's free from any bedding or blanket and to lock it if there's a latch.
Trifold Futon: With a trifold futon, unlock the hidden deck first by lifting its seat. Since the mattress is folded in three, unfold it first and lay it on the lower part. Tug on the third deck and check out if the legs need to be manually adjusted.
Place the mattress over the third deck push down the backrest to lay flat but make sure that you lift and release the braces first before you lay it flat.
Close the trifold futon by adjusting the braces and rungs (if available) and pull the backrest vertically to slide and lock into place.
Are Futons Comfortable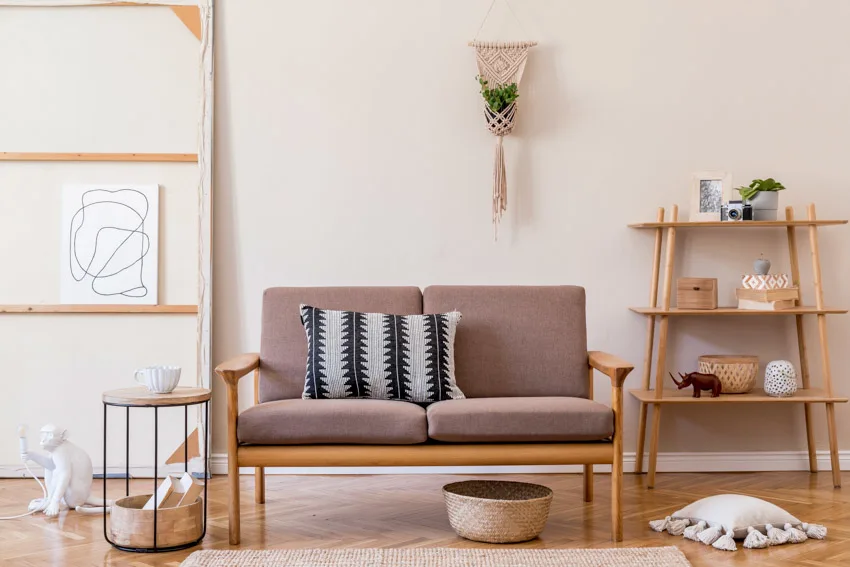 Futons are generally comfortable to use and depending on the mattress they are installed in, the level of comfort can either improve or lessen.
A high-quality mattress is guaranteed to be thick and comfortable to sit on, ensuring you won't sink and lose balance while on it. There is a possibility to slip though, especially if the mattress is thick.
Are Futons Comfortable To Sleep On
Futons transform from a sofa to a bed and vice versa but this mechanism is also the main reason why sleeping on it is not as comfortable as sleeping on a normal bed. Yes, it's because some of these futons are not perfectly flat once they convert from a sofa to a bed.
Futons with cheap mattresses are uncomfortable to sleep in. Those with expensive mattresses though can be comfortable.This rule also goes for sleeper sofas. Read more in our comparison of a futon vs sleeper sofa here.

Despite this though, sleeping on the futon every night may be a bad idea. While there are no lumps, the mattress can be uneven, which can be uncomfortable and even cause back pain in the process.
Can You Use A Memory Foam Mattress On A Futon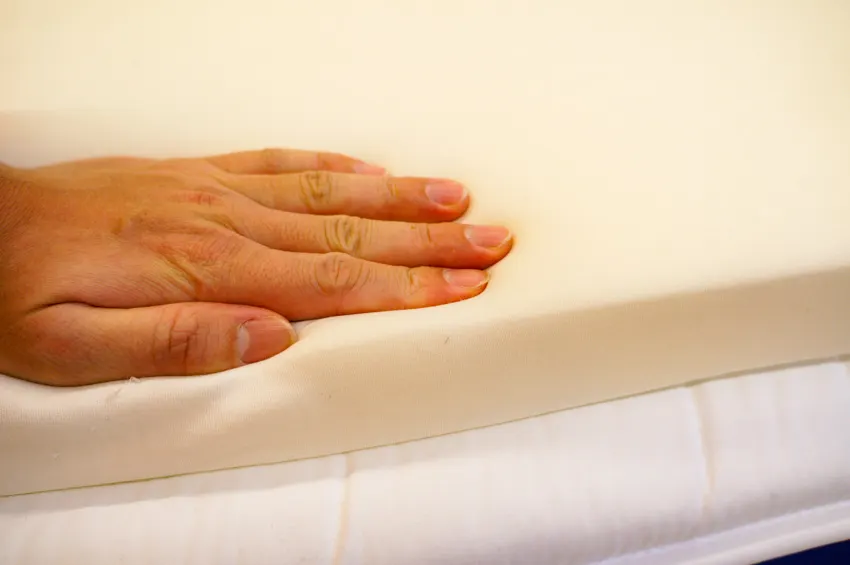 You can definitely use a memory foam mattress on a futon and it's actually an incredible option to consider. Using this mattress can help you sleep better since it fits perfectly into your body when you lay and sleep on it.
Here are the advantages and disadvantages of using a memory foam mattress on a futon you can weigh in to make an informed decision.
| | |
| --- | --- |
| Advantages | Disadvantages |
| Portable (Can be easily moved around) | Less comfortable than sleeping on a bed |
| High resilient material (Used on either side) | Retains body heat – not suited during the warm seasons |
| Firm (No sinkage and sag-free) | Not ideal for heavyweight sleepers on a futon |
| Conforms to your body (Ideal for all sleeping positions and avoids back and neck pain) | Faster wear and tear due to frequent folding and unfolding |
| Easy maintenance | |
Best Type Of Futon Mattress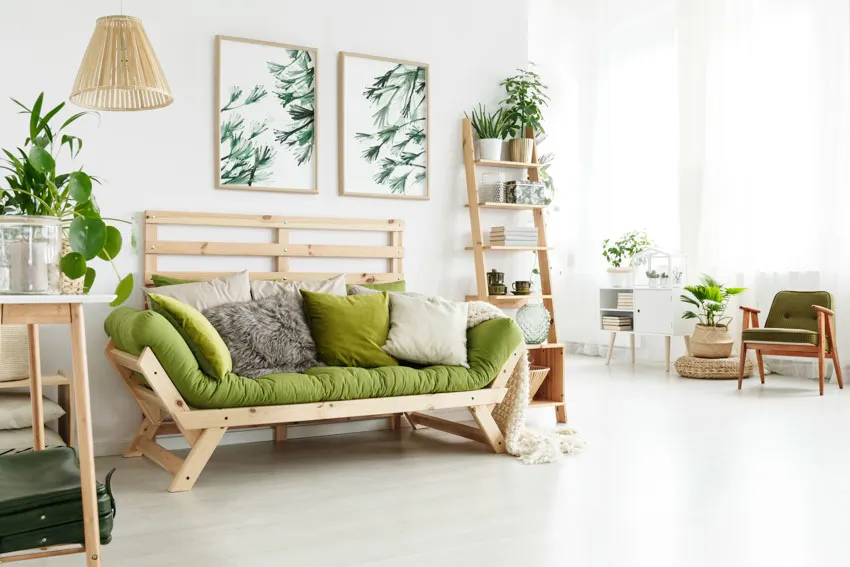 The best type of futon mattress depends on many factors, from its versatility and lifespan to stunning styles and flexible configurations. You need to take into account your priorities first, as well as your preferences.
Match your budget with your needs and preferences, and choose a happy middle among all those three factors.
Three of the top contenders that have a good price, comfort, and durability are the Classic Brands 8" futon mattress, the Mozaic 12" thick futon mattress, and D&D's cotton foam/fiber futon.
Of course, the mattress must fit in the frame you have for the futon. Consider the materials and quality of the mattress too, as well as the mattress' design and usage.
Do Futons Come With The Mattress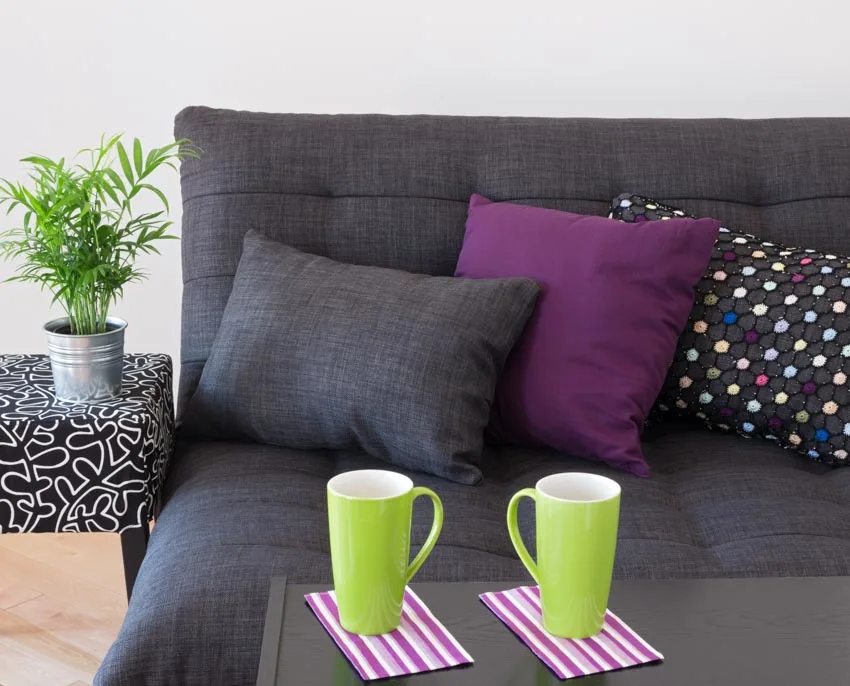 Yes, futons do come with the mattress. Futons are an all-in-one package with 3 elements involved, including a frame, a mattress, and a futon cover. While you always have the option of choosing a better mattress to pair with the frame, futons are offered in the market as a package.
Where To Buy A Futon Mattress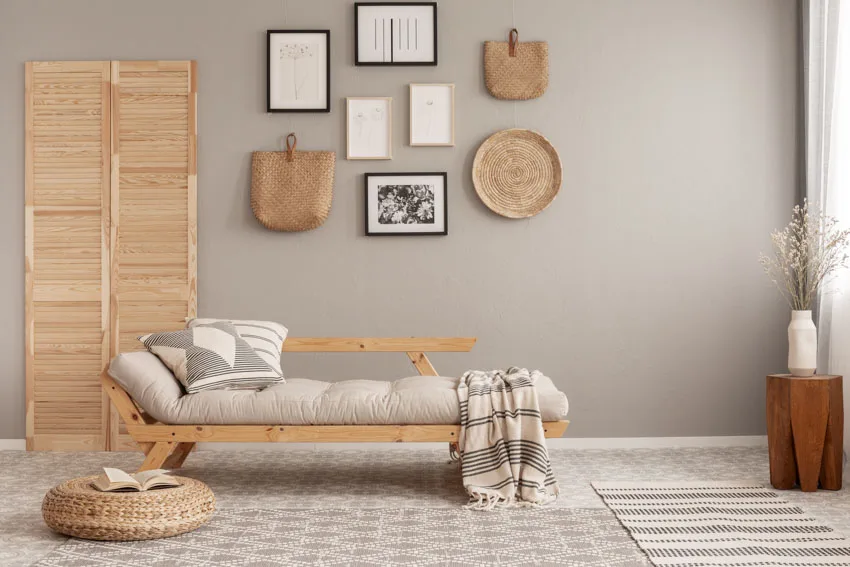 Buy your futon mattress, along with the entire futon package, in your local stores that sell furniture and similar items. Target, Lowe's, and Walmart sell futons.
You can even search futon mattress options online and have them delivered to your home from online platforms like Amazon, Wayfair, Overstock and similar stores like that.
Read more related furniture content in our guide to the types of sectional sofas here.