Here's our vinyl siding sizes guide including different exterior siding types, clapboard, Dutch lap and J-channel dimensions, and how to measure vinyl siding panels.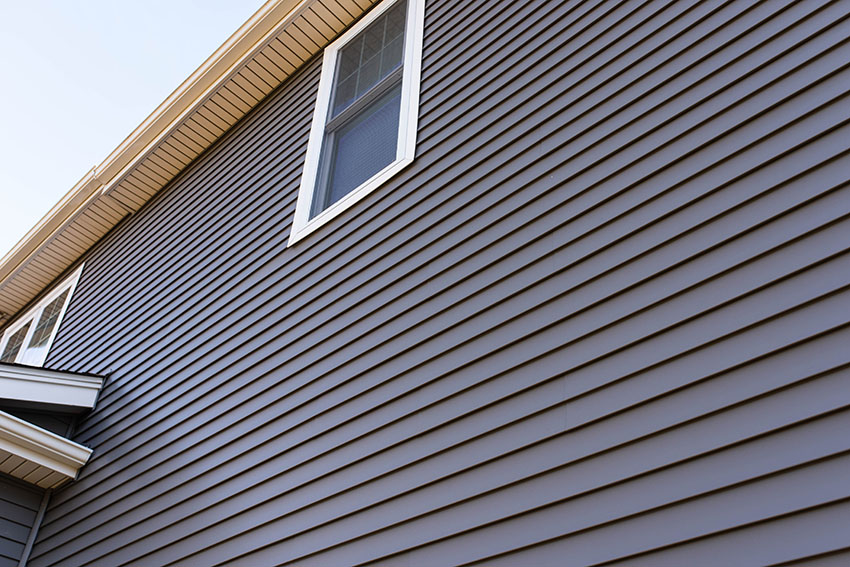 If you feel like the exterior of your home needs a little sprucing up, an easy and significant change of look to consider is opting to decorate with vinyl siding. They are available in many types and finishes as well as sizes for options to choose from.
Standard Vinyl Siding Dimensions
Different sizes of vinyl siding will differ according to the manufacturer. There is a wide variety of lengths and widths for vinyl siding on the market, and the same design for vinyl siding can differ in size from one producer to the other.
Although this is the issue, there are still standard sizes that will depend on the design or the type. On that note, here are the most standard horizontal vinyl siding and its dimensions.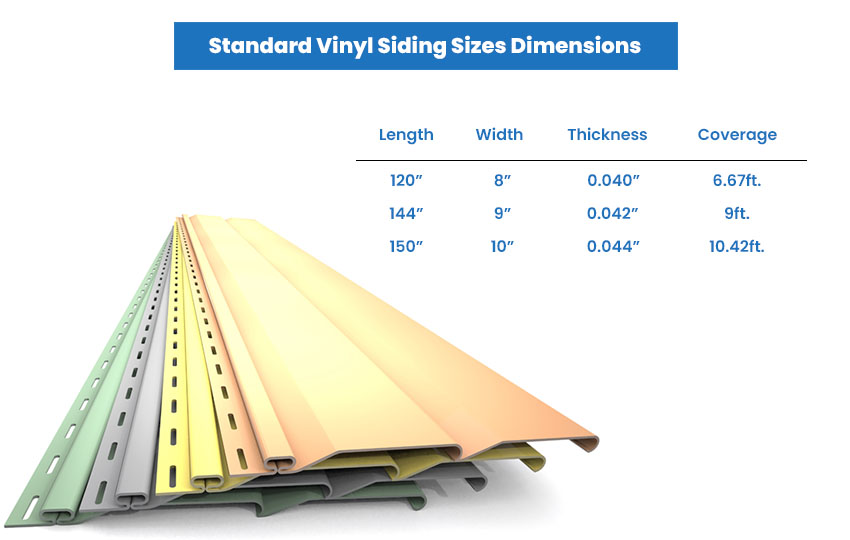 The first horizontal panel has a width of 8 inches or 20 centimeters; it is 120 inches or 305 centimeters long and has a thickness of 0.040 inches or 1.02 millimeters. This panel can cover at least 6.67 feet or 0.62 meters of wall space.
The second most common horizontal vinyl siding has a width of 9 inches or 23 centimeters, a length of 144 inches or 366 centimeters, and a thickness of 0.042 inches or 1.07 millimeters. This siding panel can cover approximately 9 feet or 0.84 meters of wall space.
The last vinyl siding has a width of 10 inches or 25 centimeters, and it is 150 inches or 381 centimeters long with a thickness of 0.044 inches or 1.12 millimeters. This vinyl siding will cover at least 10.42 feet or .97 meters of space.
4 Inch vs 5 Inch Vinyl Siding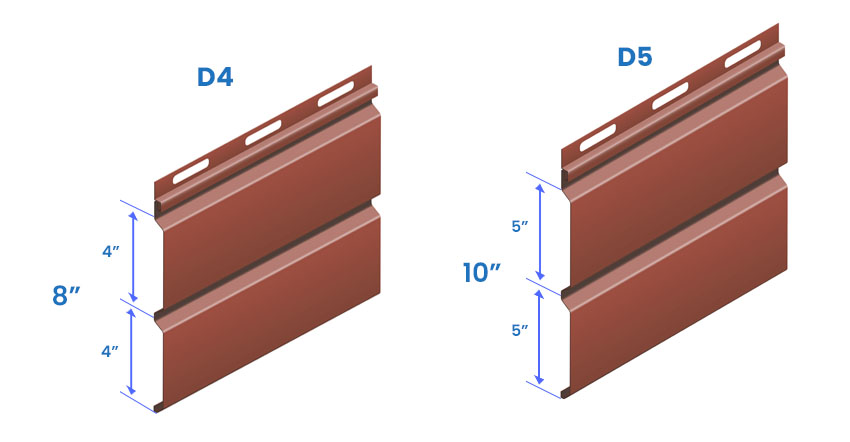 The 4 inches and 5 inches options for vinyl siding are different compared to the others because they both come with a double option, or they have two courses or edges on a single panel. If you would like to utilize a double for your home, look for the D4 or D5 label on your local hardware store.
Four inches or D4 vinyl siding is 8 inches or 20 centimeters wide, while a double 5 inches or D5 is 10 inches or 26 centimeters wide. In terms of the comparison to the size, there is no relevant difference between the two aside from an inch of size between in the width of the vinyl siding.
For the price, siding is usually valued by its width, and since there is only an inch difference, there will be no significant savings by opting for one or the other.
Clapboard Vinyl Siding Sizes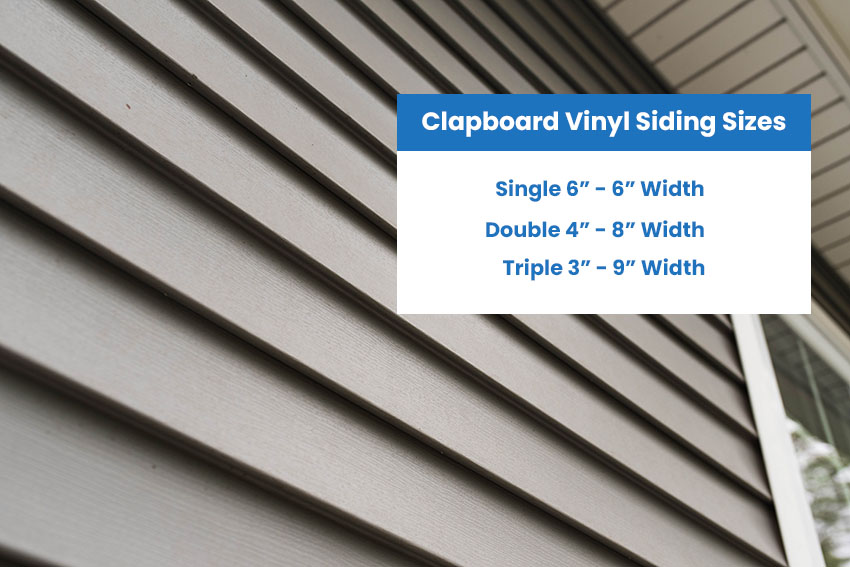 An option you could go for when choosing a vinyl siding for your home is opting for a Clapboard sider. Clapboard siding is the material that mimics wood the most, and they come with crisp edges and a straight face.
The most common Clapboard siding sizes are the single six inches, the double four inches, and the triple three inches. The "triple" or the "single" before each size refers to the number of edges or courses each Clapboard vinyl siding has.
The single 6 inches Clapboard siding will have a width of 6 inches or 15 centimeters, and the double 4 inches one will be 8 inches or 21 centimeters in width. In comparison, the triple 3 inches will have a width of 9 inches or 23 centimeters.
Dutch Lap Vinyl Siding Sizes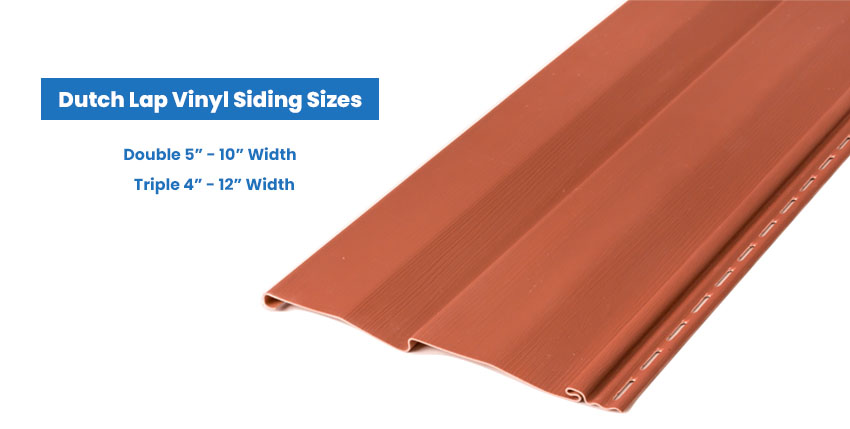 Another type of vinyl siding is the Dutch Lap vinyl siding, characterized by the shadow lines produced because of the curved top of each course or edge. This was popularized in Northern Europe and was brought to America by the early days of the first settlers.
Like Clapboard, a Dutch Lap siding is numbered according to how many edges or courses they have. The popular sizes are the double 4 inches, the double 5, the double 6, the triple 3 inches, and the triple 4 inches.
Like the Clapboard, they are also sized by multiplying the numbers. For a double 5 inches, Dutch Lap vinyl siding, the size will be 10 inches or 25.5 centimeters, while a triple 4 inches will have a size of 12 inches or 31 centimeters. Go to our Dutch lap vs clapboard siding comparison guide here.
How To Measure Vinyl Siding Size?
Like any other siding type to be utilized for homes, vinyl siding is measured by its length and width. More often than not, measuring the width will include measuring the nailing hem to fasten the siding to any external surface of a home.
Sizing is probably the most critical factor in choosing your vinyl siding. When matching one for an exterior surface, measuring from the panel's bottom to the first lap, course, or edge is critical.
Typically this will measure around 4 to 5 inches or 10 to 13 centimeters for a single edge/course but could double or triple depending on the number of edges or courses.
What Size J-channel For Vinyl Siding?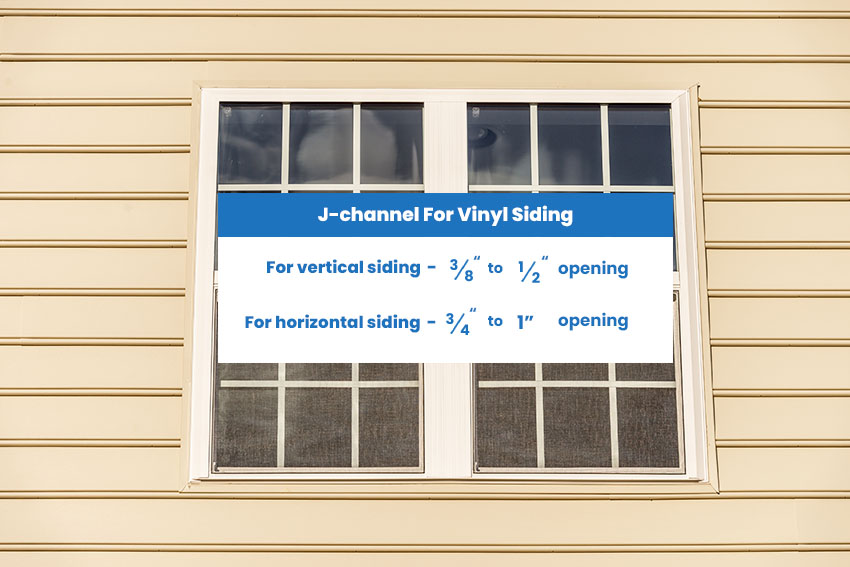 A J-channel trimming is where the vinyl siding will be installed. When done correctly with the proper sizing for both the vinyl siding and the J-channel, your siding at the exterior of your home will look seamless and installed by a professional.
Manufacturers for vinyl sidings commonly produce three sizes of J-channel to do the work. If you install vertical sidings, J-channels utilized for those will have an opening of ⅜ to a half-inch. At the same time, J-channels with an opening of ¾ to 1 inch are most commonly used for horizontal sidings.
Each of these J-channels should be nailed tight against the exterior surface to ensure that it will be sturdy enough to hold each vinyl siding panel.
What Size Nails For Vinyl Siding?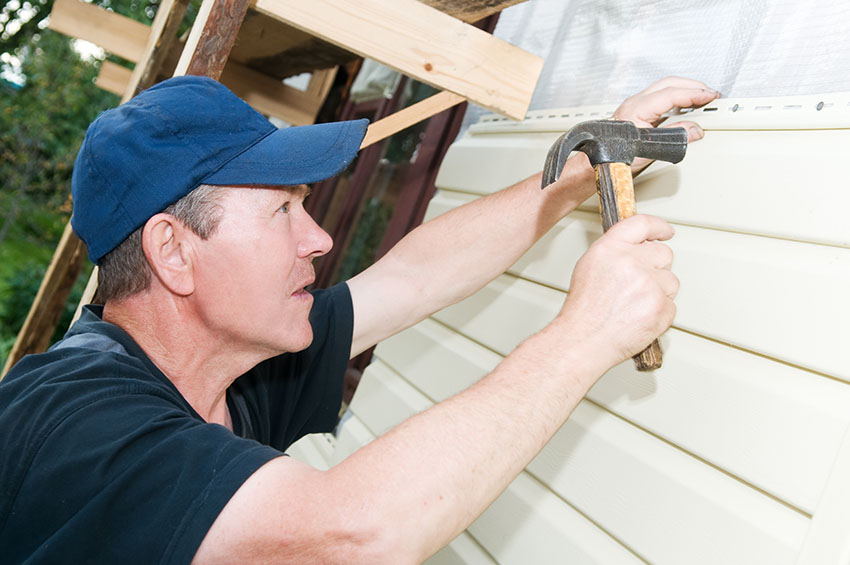 Installing vinyl sidings on your own will be reasonably easy if you are handy with different power tools, but if you are not, it is better to leave the work to professionals.
The nails you should use in this project should be aluminum roofing or hot-dipped galvanized steel nails.
Any of those two will be strong enough to withstand the weight of each vinyl siding as well as the J-channels. For roofing type nails, the size you should use is the ones with a ⅛ inches diameter with a head of ⅜ inches or even bigger.
See more related content in our article about the types of house siding here.