Here's our laundry basket dimensions guide, including different designs, height & weight, and the best bin sizes to use for your laundry room.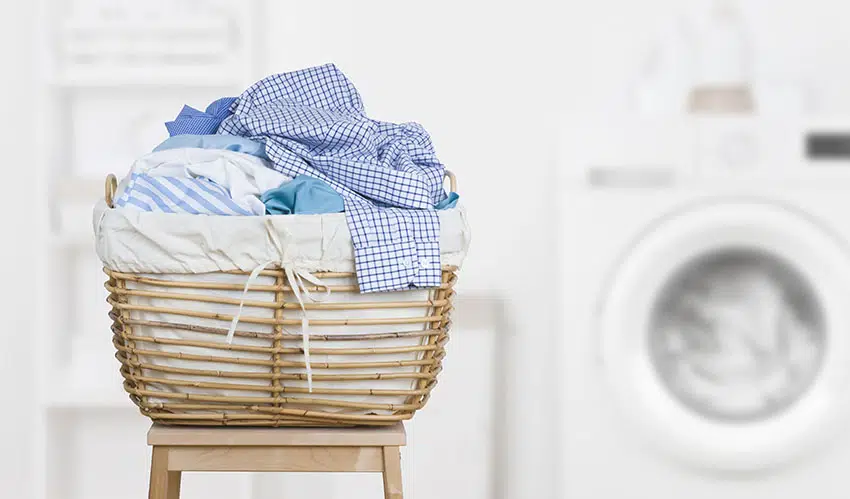 Doing laundry is one of the bigger household chores many of us do once or twice a week. Thankfully, there are washing machines and dryers to do the washing and drying for most of us, so the real work comes after when we are folding and sorting the clothes, and this task would call for various baskets.
There are many factors in deciding what clothing basket would work for your home. Factors include available space, how many baskets you need, and how much clothing you wash in a week. Once all these factors are considered, choosing the right one for you will be easy.
Standard Laundry Clothing Basket Size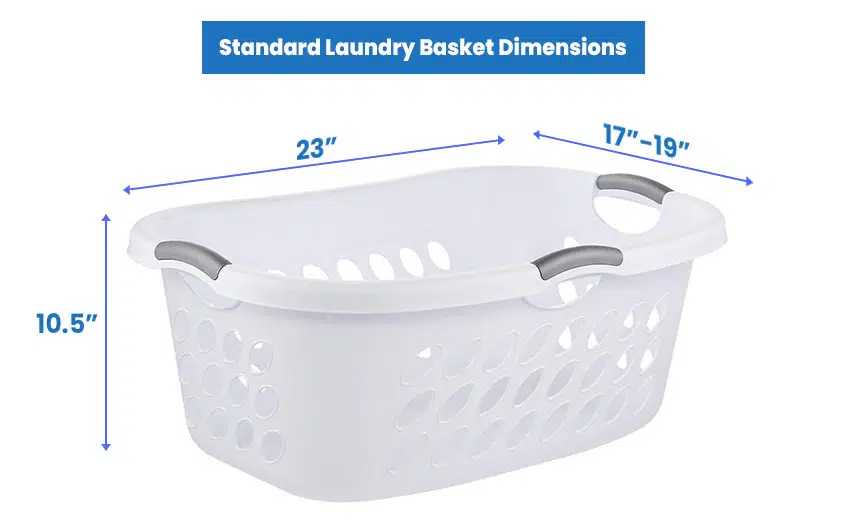 Laundry baskets, also known as clothes hampers, come in an array of shapes, styles, and sizes. A household would probably need more than one, especially for a home with many inhabitants.
Most clothing containers come in the plastic-made variety, and a standard plastic basket would typically have these dimensions. It will be 23 inches or 58 centimeters in length; it will either be 17 to 19 inches or 43 to 48 centimeters wide, with a height of 10.5 inches or roughly 27 centimeters.
There are more undersized and oversized clothing baskets available since there is no set size across each material used, whether you want a widely produced plastic product available in many stores or a more specialized woven rattan one.
Tall Basket Dimensions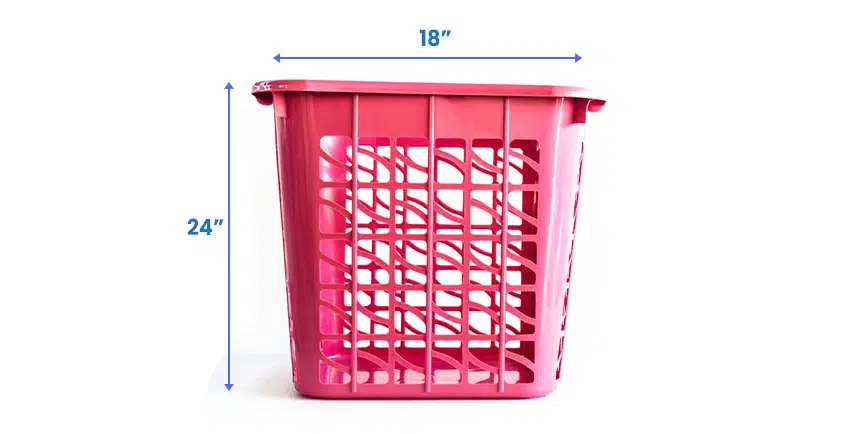 If the standard size for a laundry basket is not enough for your bigger household, opting for a taller one can be beneficial. There are extra-large ones available for your use.
Suppose most bins can only hold a dirty laundry capacity of 72 liters or about 2 bushels. In that case, larger ones will hold up to 96 liters or an estimated 3 bushels of dirty clothes.
Extra tall baskets will usually have a dimension of 24 inches or 61 centimeters in height from the floor up and be at least 18 inches wide or about 46 centimeters from side to side.
Collapsible Basket Measurements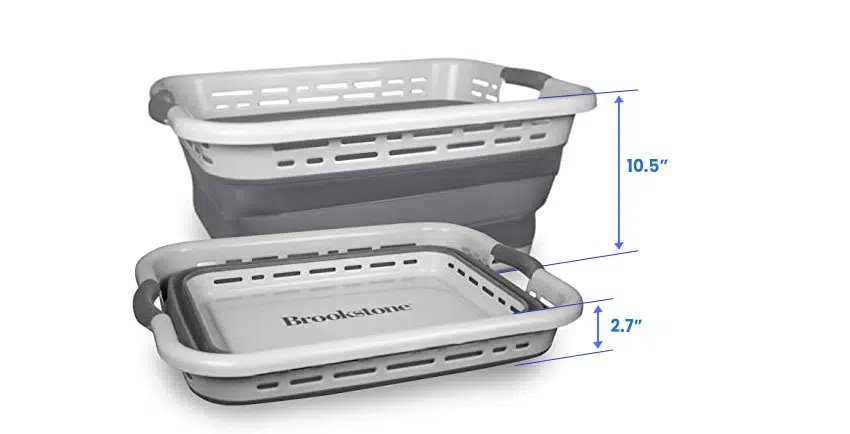 See this Collapsible bin at Amazon [sponsored link]
For smaller homes and apartments where every real estate space is valuable, opt for collapsible baskets instead of bulkier ones. Collapsible baskets are available in a wide variety of sizes, styles, and designs.
The typical collapsible bin will share the dimensions of a standard clothing basket when opened and expanded. Still, the difference will come when the basket is collapsed, and the regular height of 10.5 inches, or an estimated 27 centimeters is reduced to 2.7 inches or about 7 centimeters.
With this height, it will be easy to store it after every use, and hanging it on the walls or the backs of the doors will be possible.
If you want a taller collapsible basket for bigger homes, the wire-frame and fabric hybrid hampers are the way. They will have a dimension of 13.7 inches or 35 centimeters in diameter with a height of 17.7 inches or about 45 centimeters. This size is known to hold much clothing and weigh even less than a pound.
Rolling Hamper Size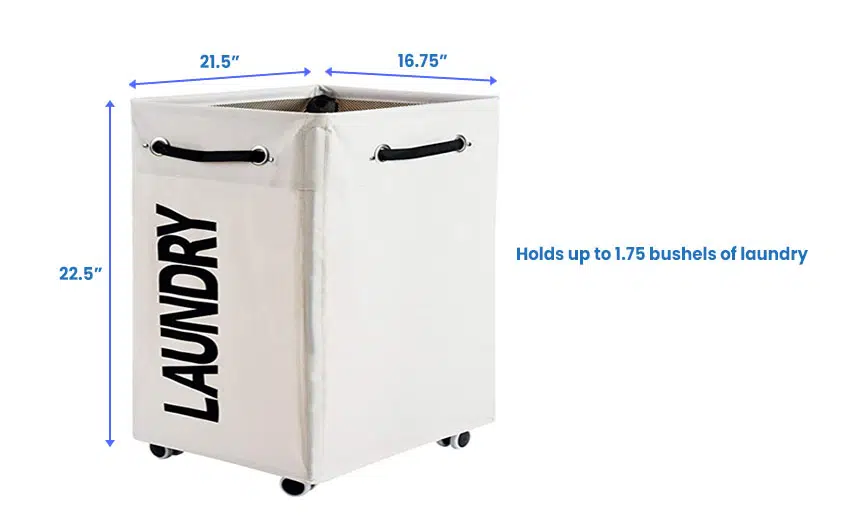 See this rolling hamper at Amazon [sponsored link]
An easy fix to the effort of carrying clothing containers during laundry days is acquiring rolling baskets for your home to make the work easier and give you extra time to do other chores needed around the house. A rolling clothes hamper would also take the strain out of your body from lugging heavy, dirty clothes.
A rolling clothing hamper is made with wheels and a pull handle, just like suitcases, and they are best for larger loads of clothing and are typically seen in laundromats.
The standard rolling basket has dimensions of 22.5 inches or 57 centimeters for the height, a width of 21.5 or 55 centimeters, and a basket depth of 16.75 inches or about 43 centimeters. For this size, it can hold up to 1.75 bushels of laundry.
Best Laundry Container Size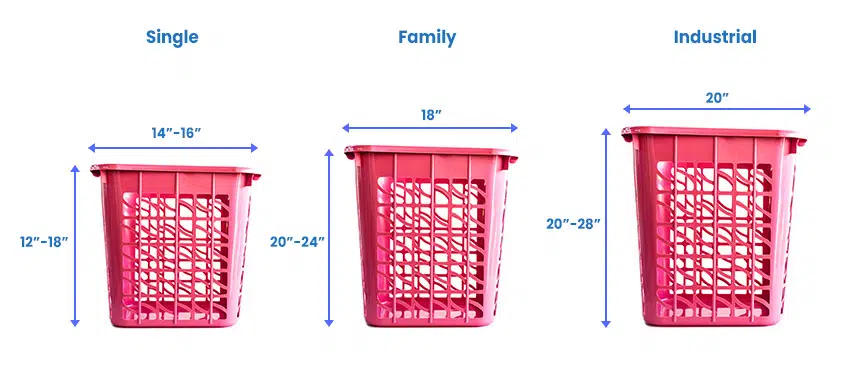 The best laundry basket size for your home will depend on what you need. A single-size basket is the best fit for a single person who wouldn't need a bigger container. For these, sizes usually range from 12 to 18 inches or 30 to 46 centimeters in height and a width of 14 to 16 inches or 36 to 41 centimeters.
I love the aesthetic of a good basket and I know it might sound crazy but if you buy one that you love, subconsciously you will not hate looking at your laundry basket, even if it is overflowing! – Live, Laugh, Laundry, Laura Mountford
If you are a part of a couple living together or a small family with a few children, the family-sized basket is more appropriate for you. This basket size will usually range from 20 to 24 inches or 51 to 61 centimeters in height, with a width of 18 inches or 46 centimeters.
Using an industrial-size container for bigger families and even businesses like bed and breakfasts or small hotels or motels will be more efficient for easy hauling. This will range in height from 20 to 28 inches or 51 to 71 centimeters and a width of 20 inches or about 51 centimeters.
Laundry Holder Dimensions
See this clothing holder at Amazon [sponsored link]
A laundry basket holder can be anything from a full DIY-ed basket cabinet to steel frames. They are utilized to organize dirty clothes for easy sorting during laundry-day. Most of the clothing sorters will hold huge load capacity, so businesses and larger households will have a lot of use for them.
You can sort whites, colored, or intimates for a three-section laundry sorter. It will usually have dimensions of 30 inches or 76 centimeters in length, with a width of 17 inches or 43 centimeters and a height of 32 inches or 81 centimeters.
How Many Baskets Do You Need for Laundry?
How many laundry baskets you will need will depend on how many times you wash your clothing in a span of a week. Typically, most baskets will hold 14 gallons to 20 gallons or 1.5 to 2.2 bushels of dirty clothes. However, if you are an average-sized adult living alone, 15 gallons or 1.6 bushels bins that are good for a couple of loads will be more than enough to hold a week's worth of dirty clothes.
If you wash clothing every week, this size will be enough. Still, if you wear different clothes daily, like uniforms, day clothes, and workout clothes in the afternoon, you need something more extensive than the 14 gallon or 1.5 bushels capacity.
How Much Does A Basket Of Laundry Weigh?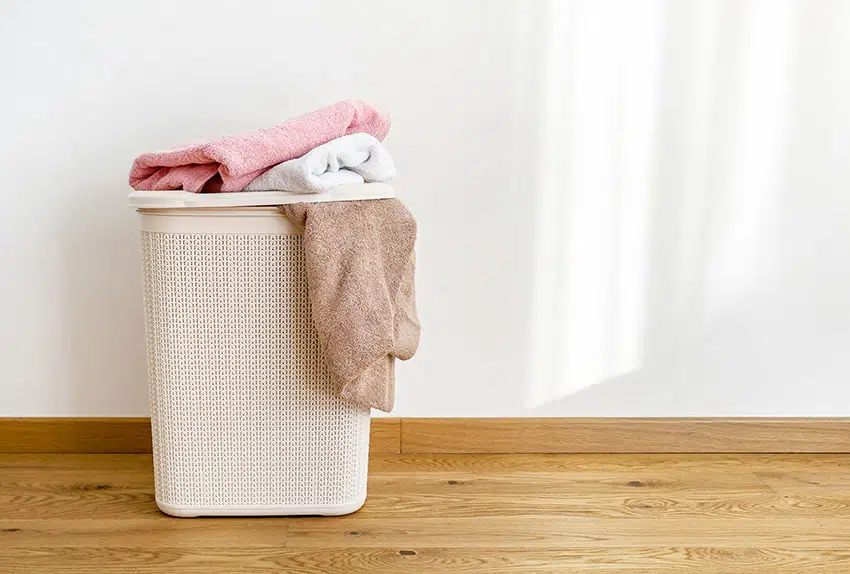 A standard laundry basket filled to the brim with clothing will depend on the size of the container and the type of clothes you usually wear.
Of course, people who live in much colder places wear thicker clothes, which are much heavier than thin clothes and pants for people living in more temperate and hot climates. However, a full basket will more or less weigh at least 10 to 25 pounds or roughly 5 to 11 kilos.
Why Are There Holes In Baskets for Laundry?
If you have ever wondered why there are holes in a standard laundry basket. There are two reasons for this phenomenon.
First, the holes in baskets make the container itself easier to carry. This would mean a person can carry a basket full of clothes with less strain on their body.
The second reason is that the holes prevent moisture from being trapped in the basket. Most dirty clothes tend to be moist because of sweat or wetness from the outdoors, and holes are there to air the clothes to prevent mold and mildew.
Visit our laundry room essentials for more related content.