Here we share our drywall alternatives design guide, including what they are, why choose one, and the different types to choose from.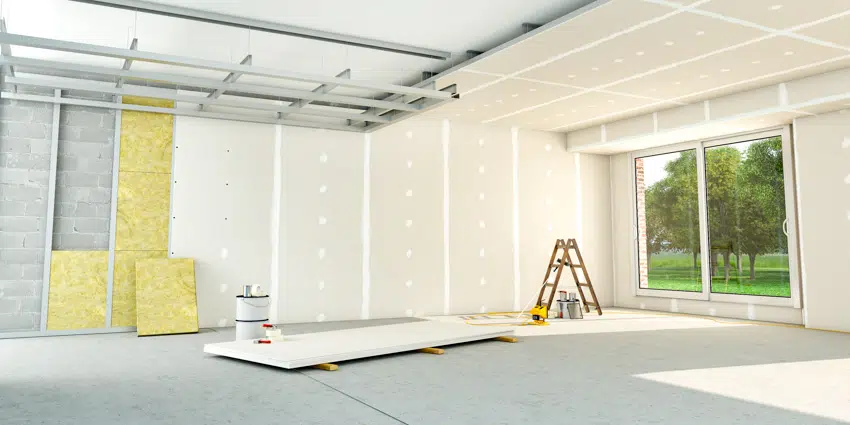 Drywall panels are one of the most popular materials used for interior partitions today, projected to grow at a positive rate in the forecast period of 2021-2026.
This continuous growth goes down to drywall's fast installation, affordability, and being readily available in the market, attractive features for DIYers and professional installers.
Drywall, also known as wallboard, is a versatile material mainly used for interior partitions and other architectural applications. Wallboards are used across residential, commercial, and industrial sectors.
While drywall has become the go-to material for wall and ceiling applications, its limitations and disadvantages have also been an ongoing concern for consumers.
Dents and holes are the least of your worries with drywall, but mold and mildew formation. Toxic substances from imported drywall products have also been seen in recent years as the demand for drywall materials has increased globally.
In addition, you will also need an experienced installer to prevent issues on your drywall, such as gaps showing on the wall and using the wrong plastering process. Moreover, not all drywalls are made equal.
Regular drywall products are generally combustible, have poor insulation and soundproofing properties. It is viable to seek alternatives since there are newer materials available today that can compete or even outperform the said conventional drywall.
What are other alternatives to drywall? We've brought together both traditional and modern walling products that you can opt for your next renovation project.
What Is Drywall?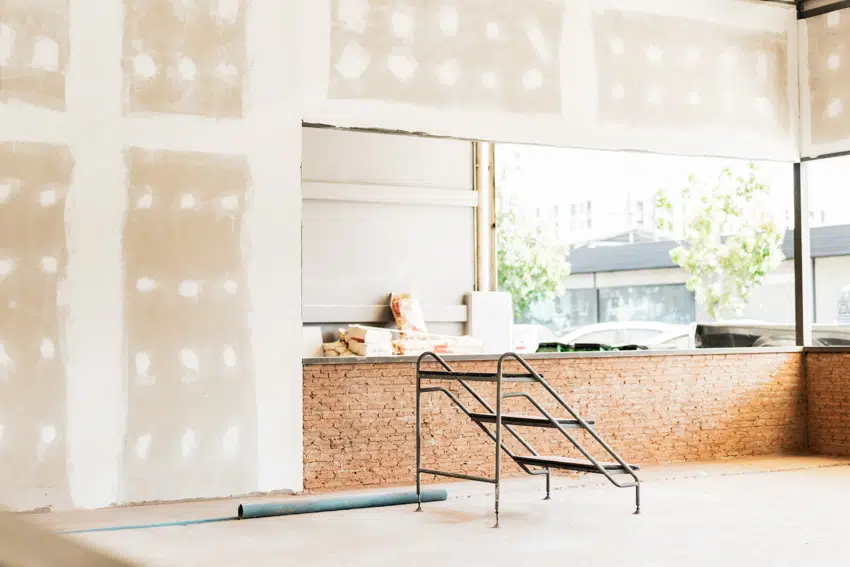 Drywall is a construction material used mainly on walls and ceilings but can also be used to construct arches, eaves, and other architectural components. Drywall is used to wrap columns or hide steel beams and top off masonry walls above ceilings.
The panels usually come in 4' x 8' panels that consist of two paper boards that sandwich the gypsum panel. The core is a mixture of gypsum, paper fiber, fiberglass, foaming agent, plasticizer, and other agents that help to reduce mold build-up and flammability.
The popular walling material has a smooth surface but will need to be sanded, taped, and mudded before a primer paint is applied. For new drywall, you can use a premium acrylic latex primer.
If you are painting over drywall painted before, a stain-blocking primer is recommended as it removes scratches and other imperfections present. After priming your drywall apply acrylic latex paint.

You can have other textures aside from a smooth finish on your drywall. Some of these include comb drywall, popcorn finish, or Venetian drywall finish. Moreover, you will need a skilled mason to achieve a seamless look.
Drywall is also known as plasterboard, wallboard, gypsum panel, gypsum board, or just plain 'rock'. The most popular drywall brand is Sheetrock by USG Boral.
Types of Alternative Materials to Drywall
Here are the most popular types of drywall alternatives you can use.
Veneer Plaster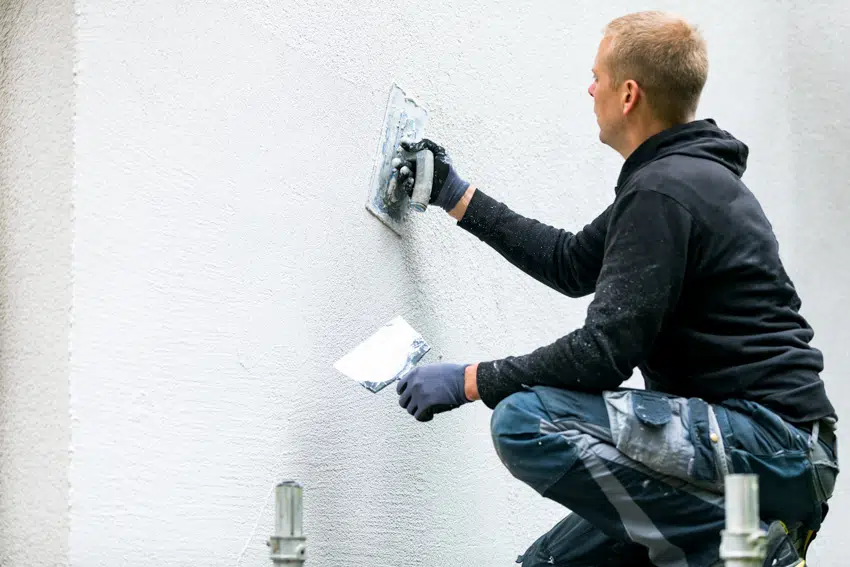 This new finishing technique offers a more durable surface and is faster to install than drywall since no finishing is required. Veneer plaster uses a blue board with a thin layer of drywall where a 1/8-inch thin layer is applied on top.
There are two basic types of veneer plasters which are the residential and the commercial types. The commercial or institutional type is a very hard and dense surface used in busy areas such as schools and hospitals.
For the residential type, the veneer plaster is less dense, but still much harder than the conventional drywall.
If you want to renovate your home without the need to rip off walls, the plaster veneer is among drywall alternatives to choose from, especially for older homes with existing lath and plaster walls. This will cut your renovations costs and will have a faster turnover.
Timing and good trowel skills are needed to have a smooth even veneer plaster. You'll need to hire experienced tradesmen.
Veneer plaster is 25 percent more expensive compared to drywall. But as it continues to become popular, prices will eventually decrease.
Textured Wall Panels
When you need a quick make-over, the textured wall panel is a practical option that offers a wide range of designs. It can add character and visual interest to your home. There is also no need for major renovations as you can easily install the textured wall panels on top of your existing wall.
Textured wall panels are usually made from composite or synthetic materials such as polyurethane or MDF but you will also find recycled and eco-friendly options. Sizes vary such as 25" x 30", 38" x 20", or 6" x 45" depending on the design you choose.
Since the advent of 3D printing, there are no impossible designs when it comes to textured wall panels. You can simulate the look of natural brick or a stucco finish.
Aside from its versatility, you can easily remove and replace your textured wall panels with another design. They are also practical for properties for rent as there are 3D panels that can be removed without damaging the walls behind.
The only downside of textured wall panels is that they can be difficult to clean and maintain making it more practical as a feature wall instead of having all 4 sides of your wall with the textured finish.
Wood Planks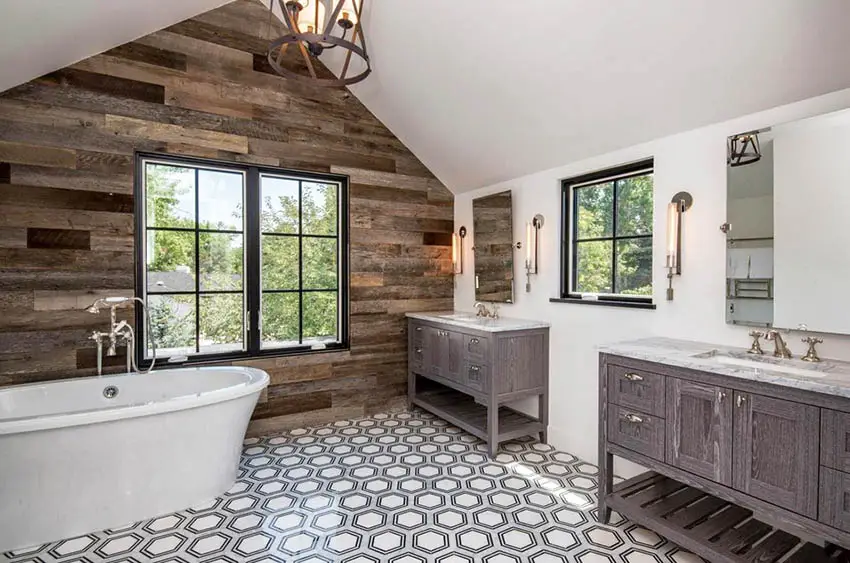 The age-old aesthetic appeal and longevity of wood planks make them one of the good drywall alternatives. It is also suitable for that rustic or country-style vibe in your home.
A lacquer finish on your wood planks will protect it from the elements and insects while keeping it dry. It will also prevent rot and insect infestation.
Wood planks can be installed directly on your existing wall, usually in a horizontal position. They can be fastened using an air gun or an adhesive.
When building a new wall, you can use wall studs as structural members to hold the wood planks. They are usually held together with wood haven clips and drywall studs.
There are an array of colors and graining to choose from when it comes to wood planks. The only limitation of wood plank walling is that it generally does not work well with modern homes because of its rustic appearance.
Real Wood Paneling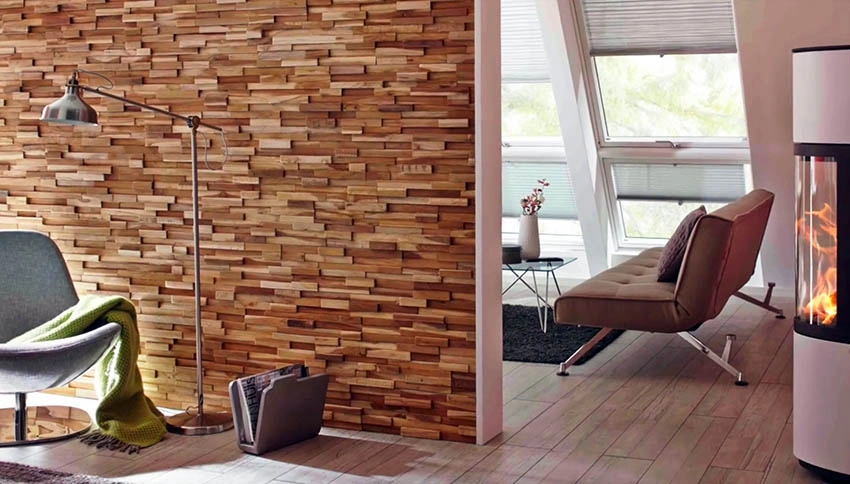 Adding texture and richness to your existing wall is easy and cost-efficient by using real wood paneling. In contrast to faux wood panels, the real wood paneling is typically made from reclaimed wood as solid wood is a rare find, and that would cost more per panel.
There are modern real wood panels that do use a combination of veneers from classic teak, mahogany, or zebrawood that create the topmost 1/100th of an inch layer. This inclusion of veneers will significantly cut costs on its manufacturing and source material.
Like any wood material, wood panels can harbor bacteria and insects. You can protect your wood paneling from insects and rot with lacquer coatings.
Pegboard Panels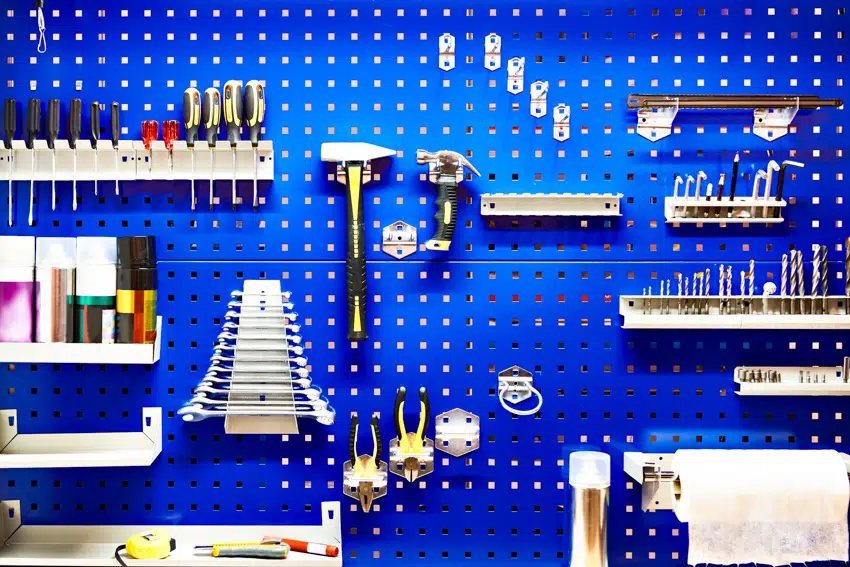 When you want more from your walls, a pegboard panel is a great wall surface to add. It has holes in a grid layout where you can hang items on your wall.
Pegboard panels are so easy to install, and you can screw the panel on any existing wall surface. It is easy to install on any surface as you only need to locate the studs on the covered wall.
Pegboard panels are primarily for utilitarian use but offer more attractive designs with a good range of colors. These panels are usually installed in workshops, garages, kitchens, and other craft areas in a home.
They can also be installed in other unusual areas such as beside a bathroom mirror or on an entire wall. Pegboards can also be used as room dividers for semi-privacy. You can customize a foldable pegboard divider with caster wheels for mobility.
Pegboard panels are inexpensive and are readily available and different sizes and pegboard hook distances. You'll also find wood textured pegboard panels that can be feature walls for living rooms or an attractive divider for children's rooms.
Plastic Panels

Also known as vinyl sidings, plastic panels are widely used for exterior applications due to their ability to withstand weather and moisture damage. Though one of the less cited forms of drywall alternatives, it is a viable option for open-air areas, such as in patios or garage areas
These panels are easy and fast to install due to their tongue and groove joinery. Any homeowner can install plastic panels with the use of modest tools and a smooth and even underlayment.
While it has a simple installation process, it is also easy to remove or replace. In addition, the smooth, water-proof surface is easy to clean.
You don't need to paint on your plastic panels because there are colors to choose from. You can also get more attractive designs and textures with thermal printing or thermotranslation that transfers hand-drawn designs to your plastic panel.
PVC is one of the more popular wall paneling that you can find and it usually comes in 10" x 120" and has a thickness from 7mm to 9mm.
OSB & Plywood
OSB or Oriented Strand Board is an engineered wood panel similar to particle board where wood flakes or strands are compressed in a cross-oriented layer forming wide mats. The wooden strips comprise 95% wood and 5% wax and synthetic resins.
OSB is similar to plywood but differs in composition and manufacturing process. OSB is more durable with more layers than plywood and less expensive than plywood.
Just like plywood and drywall, you can install OSB on both metal or wood studs. Due to its large mat sizes, you can have a consistent quality and cut easily to any needed shape.
The engineered board has a striking warm appearance. For a smooth surface and in a different color, you'll need a heavy primer before painting your OSB panel.
OSB is an engineered wood, but unlike the OSB, plywood comprises thin layers of wood veneers. Plywood has been around longer than drywall and is readily available and cheaper than most wallboards.
Plaster & Lath
The plaster and lath system has been the popular walling process before the advent of plasterboard and drywall. It is similar to the veneer plaster, where the narrow strips of wood are laid horizontally between the studs are coated with plaster. This process is much like the traditional wattle and daub.
The long process of plaster and lath made it virtually obsolete. It can still be useful, especially if you have curved walls.
This process would be difficult to achieve, if not impossible, for a drywalling system. Plaster and lath can also be a great way to achieve a textured surface that is durable and organic looking.
Brick & Masonry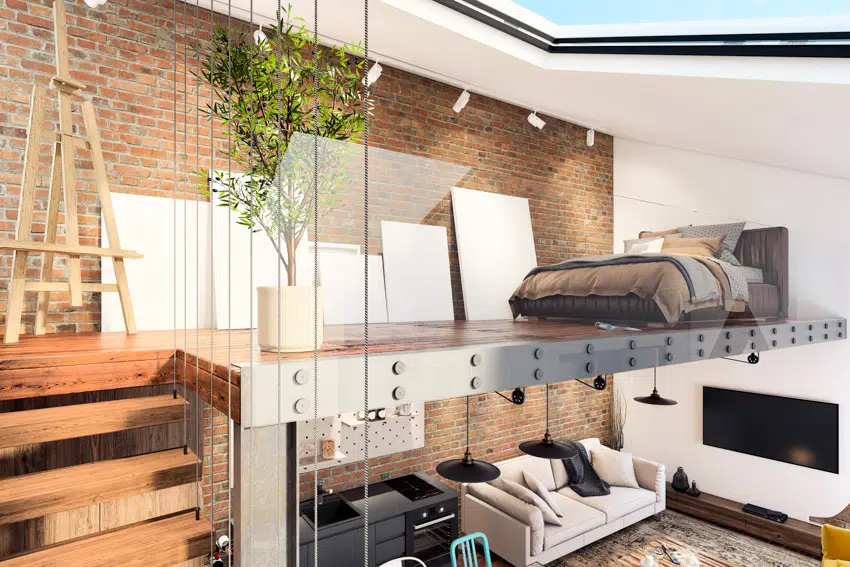 Nothing beats the old charm of masonry walls that can add a curb appeal to any home. From the traditional red brick to the sleek look of a whitewashed stone marble, you will always find a stone or brick design as one of the better drywall alternatives.
The versatile walling can last for decades. That's because it can resist insects, mold, and mildew.
Aside from being water-proof, brick and stone walls have a fire-resistance rating of 2 hours and 4 hours when the hollow core is completely filled with perlite. Moreover, you'll have a wall that keeps cool during the daytime while keeping in the heat during the colder months.
Though more expensive than your drywall, the benefits overshadow the initial costs.
Wahoo Walls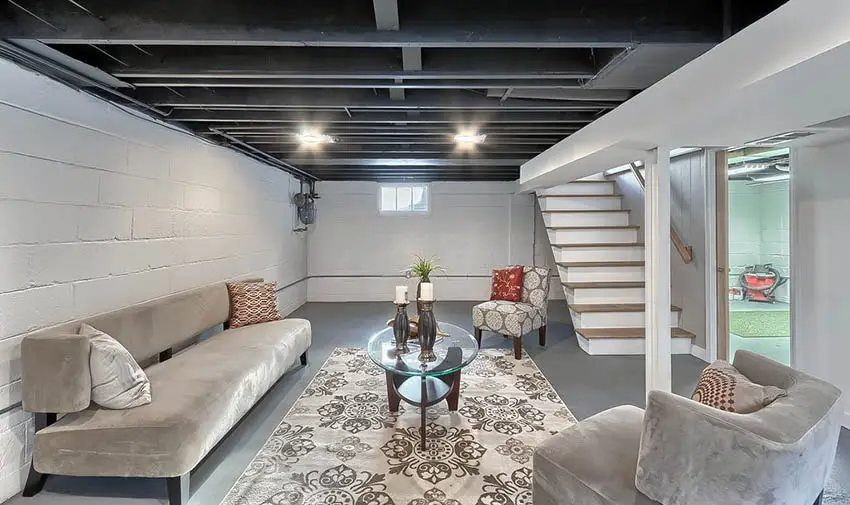 If you're looking for an excellent walling product for your basement, then go for the Wahoo Walls brand name. It is fast and easy to install that a homeowner or a contractor can set up in just a few hours. The said core panels will be ready for painting after that time.
Wahoo Walls has an impressive structure where the outer skin on both sides from magnesium oxide, a moisture-resistant layer. The strong bond between the magnesium and oxygen atoms makes the surface resistant to dents and won't easily damage against impact.
The skins sandwich a 3 ½ expanded polystyrene core. The event of constant exposure causes water to be released immediately. This prevents water from staying within the wall system.
The core panels use an interlocking system using a spline that seamlessly joins the panels together. You can get either the textured panels or the smooth panels at a competitive price against drywall and cement boards.
Finishing Systems For Alternative Basement Drywall
Here are some materials substitutes that can take the place of drywall in an unfinished basement.
Corrugated Metal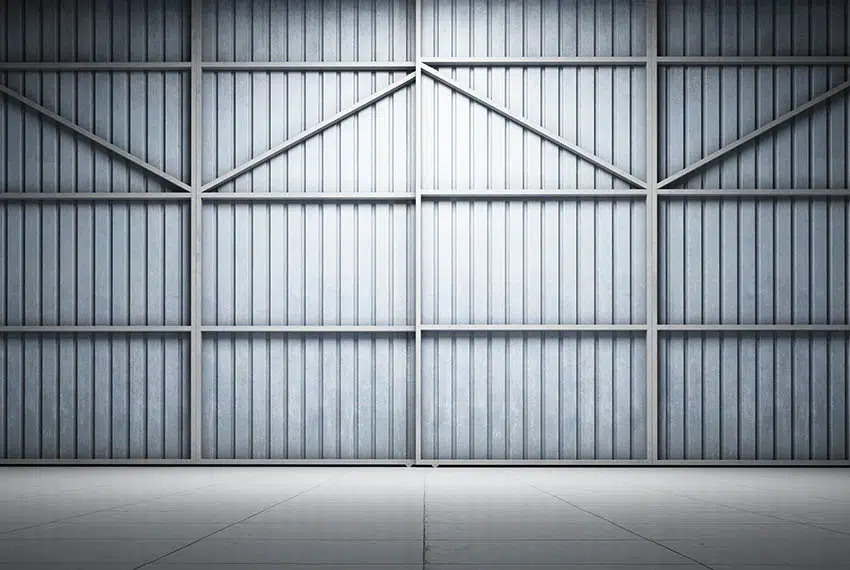 A corrugated wall finish is a striking addition to your basement. Though not ideal to be placed on all your wall sides, the corrugated wall can be a great feature wall offering a rustic appeal to space.
You can either buy new or go with an aged or reclaimed corrugated metal. If you want to add that vintage look to your new corrugated metal you can age the sheet through stain, plaster, and paint to achieve the look.
Galvanized roof sheets are affordable, fire-resistant, and recyclable making them an environmentally friendly option. If you don't want the rustic look, you can always go with a factory-painted option that offers a variety of colors.
As a DIY project, it can be a challenge to cut the panels to size, you will need metal shears, a table saw, and a specialized blade to cut the roof panels.
Vinyl Siding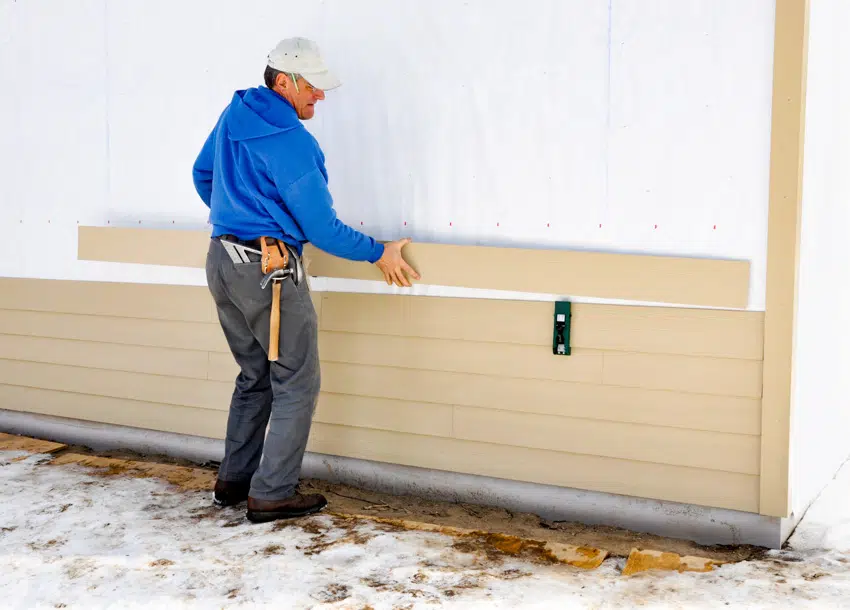 Vinyl siding is your best option if your basement walls are starting to look flat, but you don't want to remove existing masonry. It works for those in need of suitable drywall alternatives in their basement.
They can add character without adding thickness to your walls. It is also waterproof and easy to clean due to its impervious surface.
With vinyl sidings, you can get the natural look of a stone wall without the intensive labor that goes along with it. Other designs such as wood planks, shiplap, and other textured walls are available with vinyl sidings.
Aside from their versatility, vinyl sidings are inexpensive. You can change the look whenever you want and are easily removed, making them a perfect option for renters.
Concrete Walls
Concrete is a widely used construction material that's affordable and easy to construct. It is durable and fire-resistant. Together with proper waterproofing treatment concrete walls make a viable option for your basement area.
Concrete's ability to follow the shape and size of any design allows the formation of even the most complex of shapes. This makes it a practical option for curved arched or punctured basement wall designs.
With or without paint, concrete walls are visually appealing where it is more suitable when you're aiming for a modern or industrial look. Although you can shape your concrete walls even with elaborate architectural features when you want a more traditional look.
You can either choose one wall as a feature wall or have the entire basement walling system made of concrete. It is easy to maintain, and you can construct over it if you decide to add vinyl, brick, tile, wood planks, or any other finishing in the future.
Exposed Concrete Block
Like concrete walls, exposed concrete blocks offer a more industrial or rustic look. You'll need rebar reinforcements, especially for load-bearing walls.
The textured surface will look fabulous in your basement, especially when paired with wood plank flooring and a white ceiling finish. To achieve the modern look, be sure to use complementary elements to avoid an unfinished look.
The walls should also be treated with waterproofing paint since basements are prone to "sweating." In other words, they get damp more often.
The typical thickness of non-load bearing concrete blocks is 4", 6", and 8" for the block dimensions, you can check local hardware on the available sizes but the typical size is 400 x 200 x 200 mm or 16" x 8" x 8" which is the A1. Sizes are designated as A1 to A24 with a different number of holes and designs.
Cement Board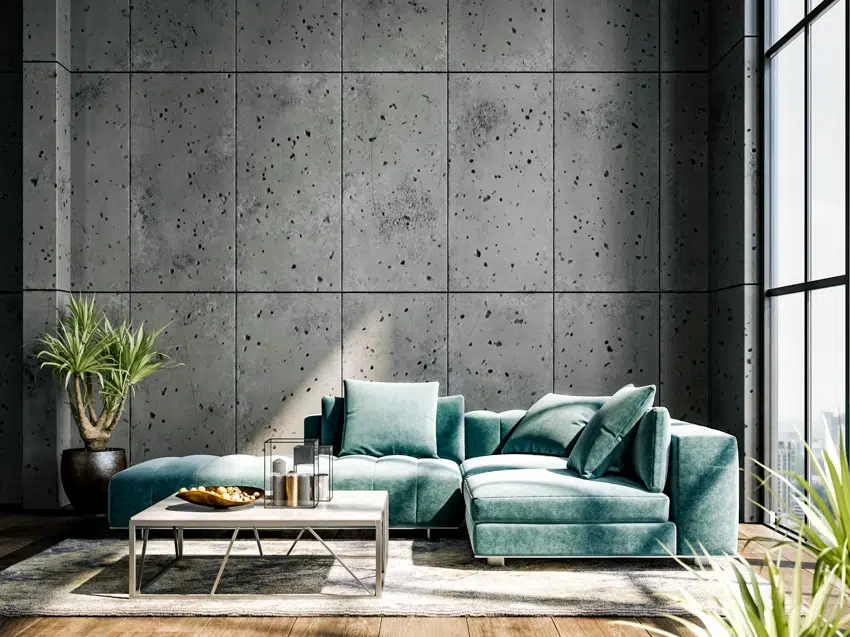 If you live in a humid area, a cement board is included in the ideal drywall alternatives because it allows your basement wall to breathe. It also quickly dries off water and moisture.
While it prevents mold and mildew build-up, cement board also has lower thermal conductivity and better heat insulation. In addition, cement boards are fire-resistant, and most manufactured brands boast an A1 Fire Rating. It means it is classified as non-combustible.
Medium-quality cement boards, meanwhile, usually have a fire rating of A2. This means it has limited combustibility and very limited contribution to fire.
One of the downsides of drywall is that it is heavier than drywall, where at least two people are needed to lift one panel during installation. Cement boards typically come in 3 x 5-foot sheets and a thickness that ranges from ¼ inch to 5/8 inch.
If you want to finish your basement walls with drywall, cement boards are an excellent backing against your basement foundation walls. They will prevent moisture and dampness from seeping through your drywall panels.
Glass Mat Gypsum Panels
Glass mat gypsum panels combine the bond strength of a cement board and the ease of installation of a gypsum board. Made from a moisture-resistant and non-combustible fiberglass reinforced gypsum core and covered with a fiberglass mat facer, you are sure to have a strong walling that won't scratch or dent easily.
Premium glass mat gypsum panels are made with an enhanced tile bond that makes tiles and other finishing materials adhere to the surface easily. This makes the panel suitable for high-moisture exposure, such as spas and steam rooms.
For basements, glass mat gypsum panels are a practical choice as it won't harbor mold and mildew and is a very sturdy backing when you plan to add a tiled or panel finish. They are available in ½" and 5/8" thickness and in a typical 4' x 8' panel size.
Fiberglass Reinforced Panels (FRP)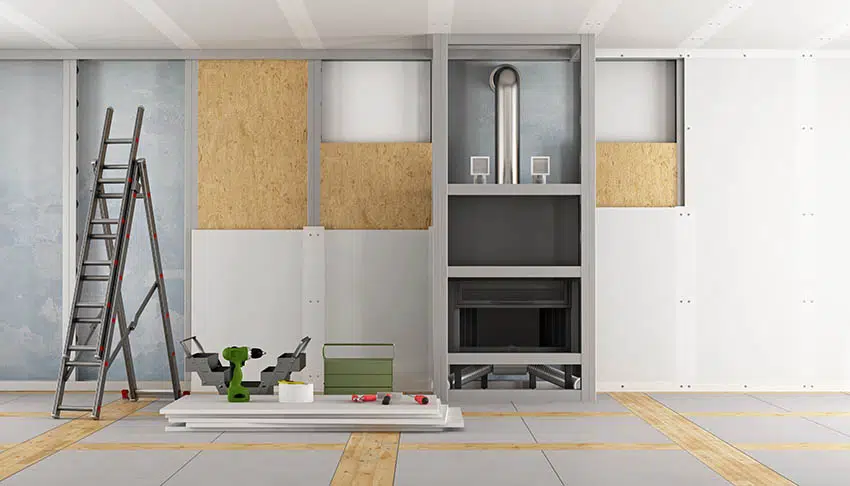 Commercial grade has antimicrobial properties. FRP or Fiberglass Reinforced Panels are some of the best drywall alternatives. It functions like drywall, but with its durable structure, these panels are scratch-resistant and installed directly on an existing wall.
FRP is made up of a polymer matrix and a reinforcing agent which has glass and carbon components that create a very durable surface. In addition, FRP panels contain aramid, which is a class of heat-resistant and strong synthetic fibers making each panel with a reinforcing function.
This system is cleanable like stainless steel. It also inhibits bacterial growth due to the panel's patented antimicrobial additives.
Aside from its impressive properties, there are FRP products that provide surface designs that can create a 3D layer on your basement walls.
When it comes to price, FRP has a steeper price compared to drywall. It offers more advantages that other conventional boards and panels cannot offer. It is also a basement walling system with a lower overall cost of ownership.
Woodchip Clay Walls
For an excellent acoustic performance, woodchips clay walling is among the best drywall alternatives as the organic infill system reduces noise travel. It offers a naturally healthy and monolithic walling that combines the lath framing with bark-free wood chips and clay.
Wood chip clay walling is made by mixing different sizes of wood chips and quality clay in a cement mixer. When the mixture is ready, it is then poured together with a clay slip and then, is poured into the wall forms.
The main challenge with woodchip clay walling is that it can be labor-intensive while it takes longer to dry, making a longer turnaround time.
Why Choose Alternative For Drywall?
Readily available and affordable, drywall is the first thing we think about renovation or constructing wall partitions.
The widespread technical know-how from contractors and DIYers also helps in the continuing popularity of drywall systems. At the same time, drywall has proven to have weak points and limited features.
With the advancement of manufacturing processes and the rediscovery of traditional techniques, homeowners are given other drywall alternatives that are better suitable for their specific needs.
One of the main concerns of drywall is being prone to water damage, which limits its use in areas with high humidity or moisture.
At the onset, drywall is definitely more economical and faster to construct than most walling materials. But as water is a deteriorating agent in construction, drywall becomes a less cost-effective material for properties that seek longevity and less maintenance cost.
Mold and bacteria build-up is a result of the high moisture absorption of drywall. These microbes are one of the major causes of respiratory problems and allergies.
Aside from being a potential breeding ground for insects and bacteria, drywall is prone to damage from dents and scratches due to its weak surface. You will also find installing the wall panel to be labor-intensive.
You need to sand, mud, and tape the surface in preparation for painting. This process takes skill and experience from reputable installers.
Weak points on drywall surface or substandard installation can lead to damage when not attended immediately, thus leading to major renovations and repair.
Drywall panels in general are combustible, making them a fire hazard material for areas such as a kitchen or near fireplaces.
Aside from its functionality, drywall can offer little design features in a room and can look dull and lifeless in a large space. There are drywall alternatives that offer more depth, character, and texture, adding the needed curb appeal for home interiors.
Going with better high-performing alternatives not only saves you money but can be a healthier and environmentally friendly option.
Dust and toxic substances from substandard products have reportedly been found in most imported drywall products. This makes it practical to go with the more traditional methods instead if time is not an issue.
See more related content in our article about how to choose an accent wall in the living room on this page.