In this guide we share the difference between renovation vs. remodel including which costs more and which is best for your home design.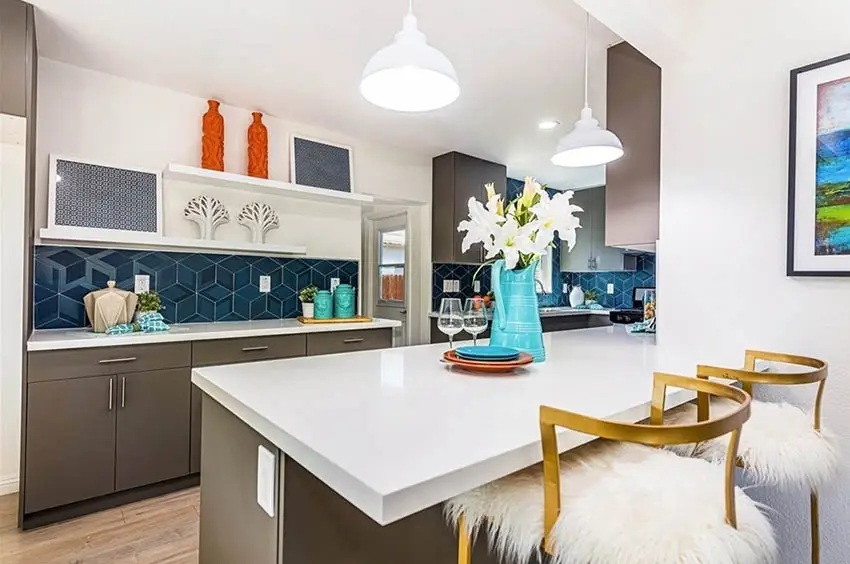 Although a renovation project is often thought of as the same thing as a remodeling job, the two are very different. Both processes improve and update the living space in your home, but contractors know the distinguishing factors that separate the two. It will help if you know the differences yourself when hiring contractors for home improvements.
This informative guide will identify the kind of work that separates a renovation versus a remodel, so you'll know what kind of contractors to hire for your home project.
Difference Between Renovation and Remodel
The definition of renovate is to restore something to a good condition, to make new or as if new, and to repair. It's a matter of reviving or invigorating your living space. When it comes to home construction, renovate means projects such as repainting, refinishing cabinets, installing new lighting, or replacing kitchen cabinets. The original structure of a home is not replaced or changed; it's updated to reflect new designs, décor, or style.
A remodel means to alter the actual structure of something or to remake it. When you need a project done to your home that changes the layout, wall placement, and style, it's determined to be a remodel. Anything that alters your floor plan, such as combining a kitchen and dining room to create one shared area, adding on a sunroom at the back of the home, or adding a third garage, is a remodel.
When you plan an upgrade in your home and know the types of jobs you need to be done, it's essential you communicate with contractors and use the term renovate or remodel properly. These professionals understand the possible tasks included with a renovation or a remodel and use the information to plan the work accordingly. The key is to know how much construction is involved versus cosmetic upgrades.
Examples of Renovations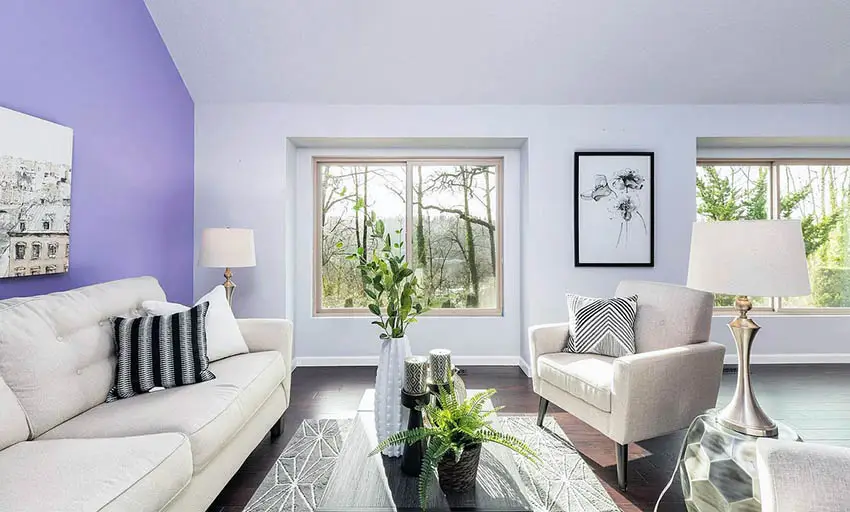 Renovations involve changes that not only improve the function of a room or area, but they also make it more attractive and expressive of your taste and style. Renovations can also provide more comfort and functionality. Renovations don't usually require a building permit. Below are examples of renovations:
• Painting walls and trim
• Refinishing or replacing cabinets
• Installing new lighting
• Replacing windows
• Updating kitchen appliances
• Changing flooring
• Installing shelving
• Installing new carpeting
Smaller, less expensive alterations to living spaces not only create a pleasing interior design, but they also help increase the chance of selling your home for the asking price. A bathroom with a new sink, toilet, and new tile is more attractive to buyers. As long as plumbing, electrical systems, and walls aren't changed, it's still considered a renovation.
A kitchen renovation usually involves new or refinished cabinets, new appliances, and new lighting. These changes improve the look and feel of the room without changing the structure. Top it off with new pull knobs, faucets, and countertops, and the kitchen takes on a complete transformation. But it's still a kitchen. Renovations mean the room's purpose remains essentially the same. The only structural changes made during a renovation are if rotted wood or water damage requires a wall, ceilings, or subfloors to be replaced.
Examples of Remodels
During a remodeling job, the frame of a home, layout, plumbing, and electrical are some of the major systems that are altered or replaced. At times, a remodel means tearing down a wall or extending a roof line. These types of changes likely require a building permit. Below are examples of remodels:
• Combining two rooms in to one, or the opposite
• Installing a kitchen island with plumbing and electric installed
• Removing or moving walls
• Raising ceilings
• Changing the layout of a room
• Adding a room where a patio was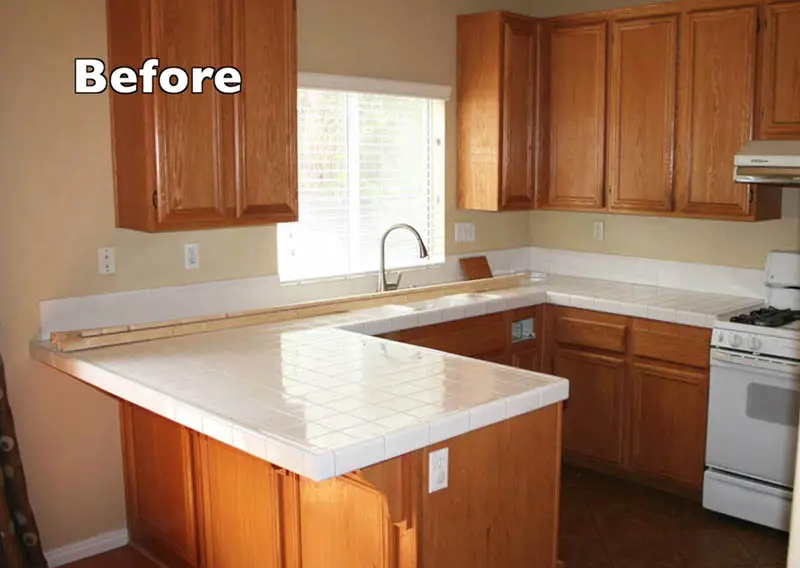 Kitchen remodel before picture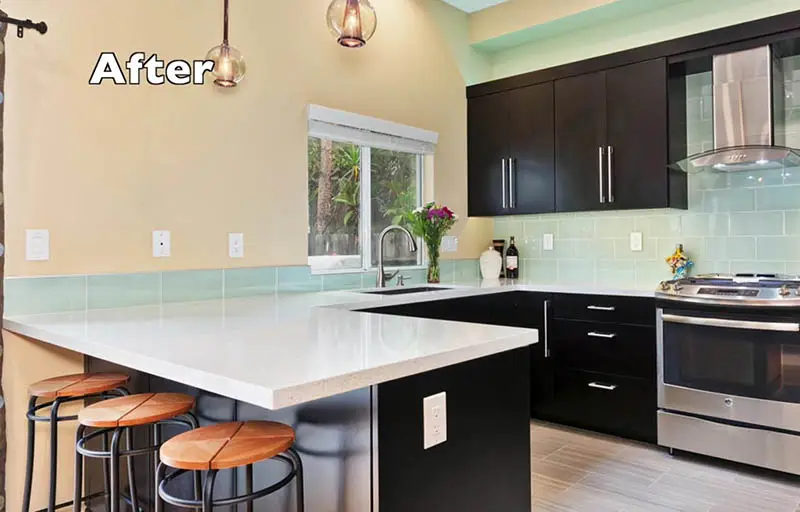 Remodel kitchen after picture
Remodels are targeted to improve or change a home's layout or construction. A bathroom with a leaky sink may need a new floor and plumbing, but while the work is being done, a shower or bathtub can be installed where there wasn't one. That requires installing plumbing lines. If the bathroom is too small for the changes, a wall can be extended out.
If you'd like an eat-in kitchen, adding a small breakfast nook may mean tearing down the outside wall creating new walls, moving or adding electrical lines, and putting in a window. This type of remodel changes the actual form of the kitchen. A remodel breathes new life into an area of the home and provides an entirely new look and layout.
Which Costs More, Renovating or Remodeling?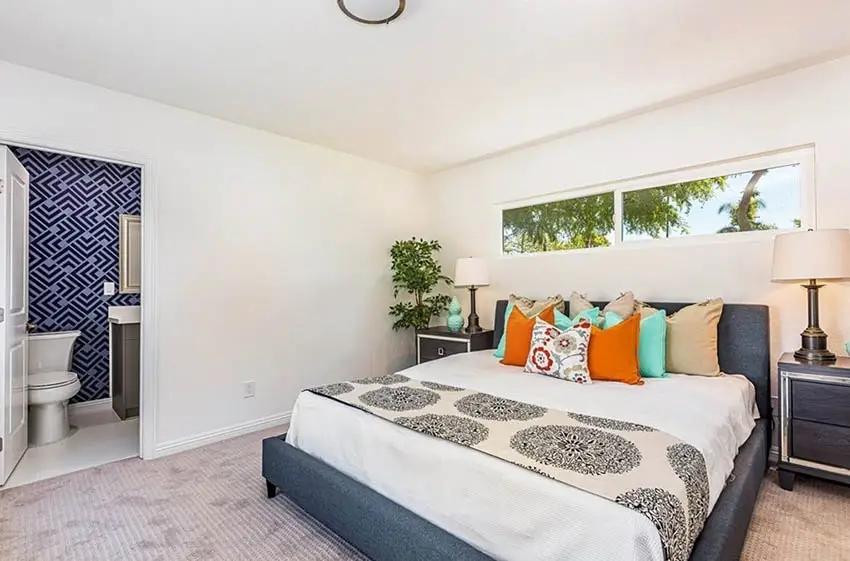 Bedroom after remodel
Renovations are usually less expensive because the alterations only include surface changes and updating elements of the home's interior. The materials needed are not as expensive as a remodel and labor costs are lower. Many homeowners can perform renovations themselves, and because the projects have limited need for construction changes, there are fewer surprises to contend with when performing the work.
Because remodel work includes larger modifications to the structure and configuration of a home, the material costs are higher, and labor may include professionals for framing, wiring, plumbing, ductwork, and more. Homeowners typically don't have the skills to do a remodel on their own. When permits are needed, the cost increases as much as $500 to $1,000 and higher.
The following are some of the more common costs for both a renovation or remodel:
• Materials such as lumber, flooring, paint, etc.
• Professional labor costs
• Architectural consultation
• Appliances, fixtures, hardware, etc.
• Permits
• Equipment and/or dumpster rental
• The square footage of the home being remodeled
• The amount of damage or age of the home
Which offers a better ROI? (Return on Investment)
Living room after remodel – Read more about living room remodel ideas.
Whether you plan on renovating your home or want to do a remodel, it makes sense to figure out the potential return on investment (ROI). If you plan on staying in the home at least five years or longer, the costs aren't as important as the enjoyment you get from the upgrades. If your goal is to sell your home, the improvements may increase the property value.
Smaller renovations can offer a better ROI. Renovating costs less, can be done by the homeowner, and involve updating or repairing basic features of a home. Items such as adding loose-fill fiberglass insulation to an attic are cost-effective and can bring an ROI of up to 108%, paying back more than you invested. Replacing an original entry door with a more durable steel door can produce an ROI of 91%.
Remodels such as adding a full bathroom may only bring an ROI of 54% when the home is sold, and a master bedroom remodel that creates a master suite may only bring a 64% ROI. Get more bathroom remodel ideas here.
Remodeling Magazine creates a Cost vs. Value Report each year and on average, the home projects that offer the best ROI are as follows:
• New garage door – 97% average ROI
• Stone veneer siding – 96% average ROI
• Minor kitchen remodel – 81% average ROI
• Wood deck addition – 76% average ROI
• New siding – 76% average ROI
• Vinyl windows – 75% average ROI
• Composite deck addition – 69% average ROI
Renovation vs. remodel? Armed with the information you need means you can make the best decision for your home and budget. For more related content visit our kitchen remodel cost guide.