Here we share modern craftsman style house designs including exterior and interior ideas.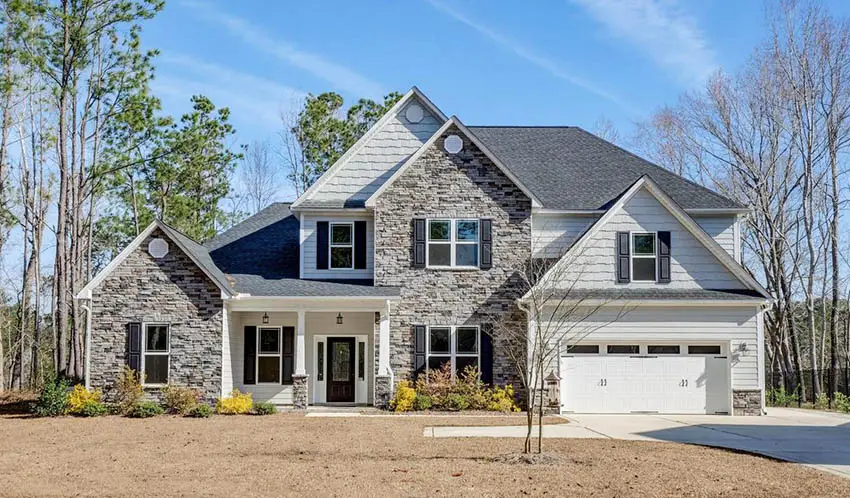 Eclectic and charming, these modern craftsman style houses draw inspiration from traditional craftsman and modern contemporary style to create a perfect fusion that celebrates the arts and crafts movement whilst modernizing the interior layout.
This style seems to heavily gain momentum throughout the United States as it's preserved charming look intervenes with the timeless simplicity of the design. This house style tends to entice everyone who admires to have a walk throughout the house or in most cases, build one.
In respect to other design styles, modern craftsman shares similarities with the modern farmhouse house style, due to a sense of alignment in their design principles and a feel of revival from the past. To name a few features, let's have a look below!
Modern Craftsman Style vs Modern Farmhouse Style
Both of these styles are incredibly unique in their own ways – classic and curated! However, a few noteworthy features unite them into a single entity that appears to be similar and interrelated. If you picture both the houses together, it might get difficult to identify unless you're focused on the exterior façade covering, the roof slope and the dynamic character of the house. To make it simpler, let's elaborate on a few characteristics.
1. Color Palettes: Modern farmhouse style is mostly painted in black and white hued accents for the door and window frames however, the modern craftsman style can be observed in striking neutral shades.
2. Grand Porches: There is absolutely no doubt how both of these styles manage to showcase a grand look with the use of their great, massive porches.
3. Stone wainscotting: Modern craftsman style displays natural stone cladding on its column and roofs. Meanwhile, the farmhouse style uses vertical sidings and metal accents to make their façade look dramatic.
4. Interiors: Modern contemporary is the similarity. An airy and subtle neutral palette highlights the simplicity in both these design styles which dates them back to 19th CE while modernizing the architectural elements.
Modern Crafts Era House Exterior Design Elements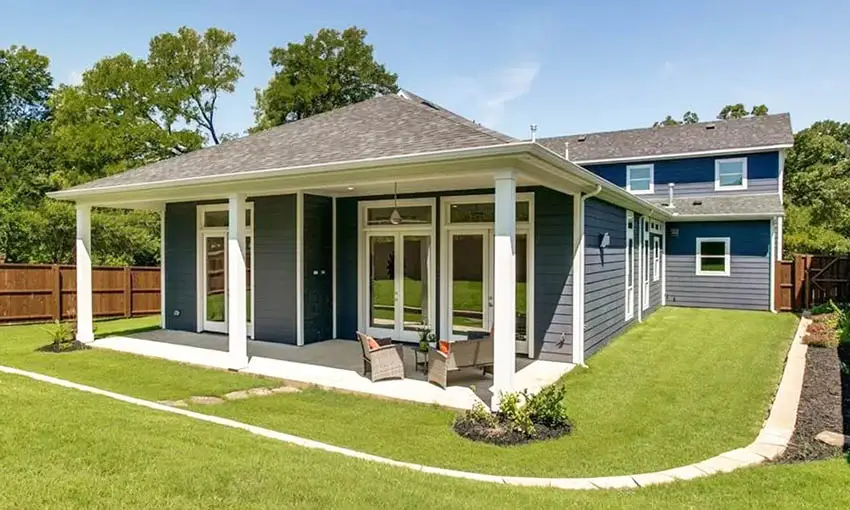 Due to the historical significance of these homes, more and more Americans are looking for modern craftsman houses. Their eye-catchy profile and noteworthy features make them a very suitable option across the country. Similar to the traditional craftsman homes, these features remain on the façade of the homes with some minor modern alterations that are as follows:
1. Grand Covered Porches
2. Tapered Columns on stone wainscoted pedestals
3. Natural materials as façade coverings
4. Low-pitched roofs
5. Wide eave overhangs
6. Exposed roof rafters
7. Decorative beams and braces under gables
8. Patterned windowpanes
9. Muted earthy tones as the exterior color palette
10. No ornamentations or decorative motifs
Colors Associated with Modern Mission Style Home Exterior
Built-in exposed natural materials like wood, stones and bricks, modern craftsman homes embrace the authenticity and natural beauty of the materials. Enlightening this theory, they are mostly embellished in earthy, natural tones like shades of greens, browns, tans, and taupe. You would even observe exterior walls completely cladded in natural stone to give it a warm and cottage-like feel. Yes! It's beautiful and thoughtful.
Modern Arts and Crafts Style Interiors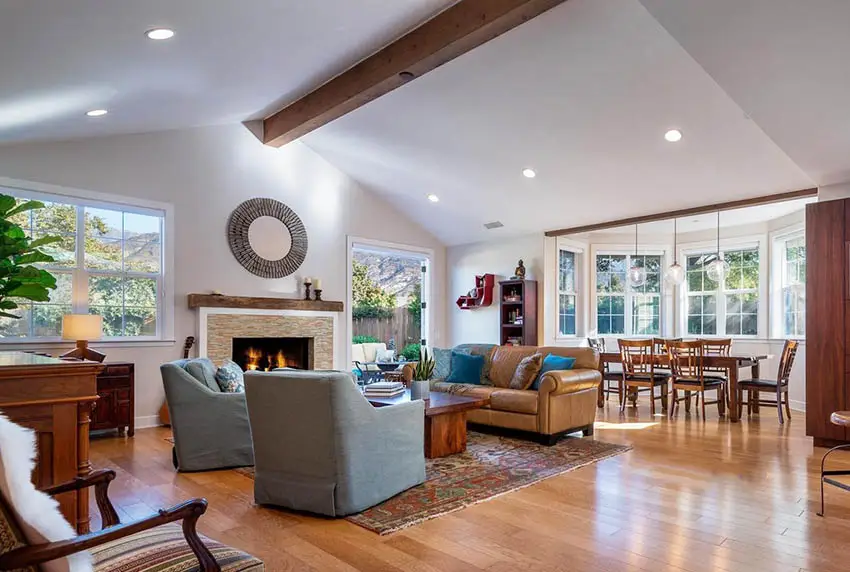 First and foremost, the modern craftsman interiors are highly inspired by the principles of contemporary and minimalist styles. Unlike the old-school type, these designs tend to be more airy and welcoming with a flexible circulation within the house. Also, to preserve the elements from the Arts and Crafts Movement, some heavy craftsman work and intricate details can be observed with minimal decoration. To have a comparative analysis on the then and now, let's have a more in-depth look:
1. Modern craftsman house possesses an open floor plan living that allows a smooth flow between the various zones in the house. Whereas the traditional craftsman homes followed a practical floor plan with fewer walls to partition.
2. Back in the 1900s, it was a much cheaper concept to build lower ceilings that were easy to maintain and build, but in the present era, these traditional ceilings are being replaced with modernized high ceilings with exposed beams.
3. Space utilization is maximized through nooks, window seats and built-in storage
4. Large, spacious rooms
5. Neutral color palette highlighting subtle hues
6. Centrally located fireplace
7. Beaded built-in lighting
8. Hardwood natural Floors
9. Biophilia Connectivity: Ample of indoor plants and natural lighting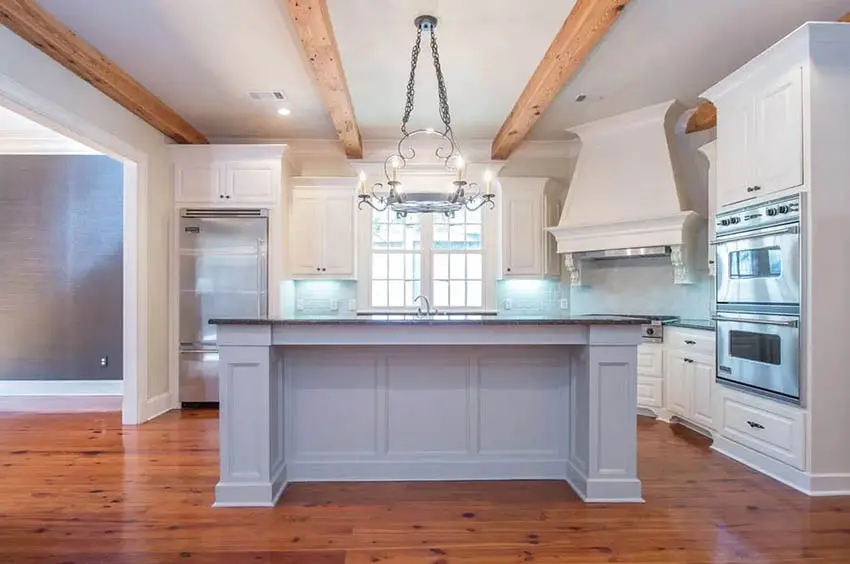 Modern craftsman kitchen with wood beams, wood flooring, white cabinets and large chandelier. See more craftsman kitchen cabinets here.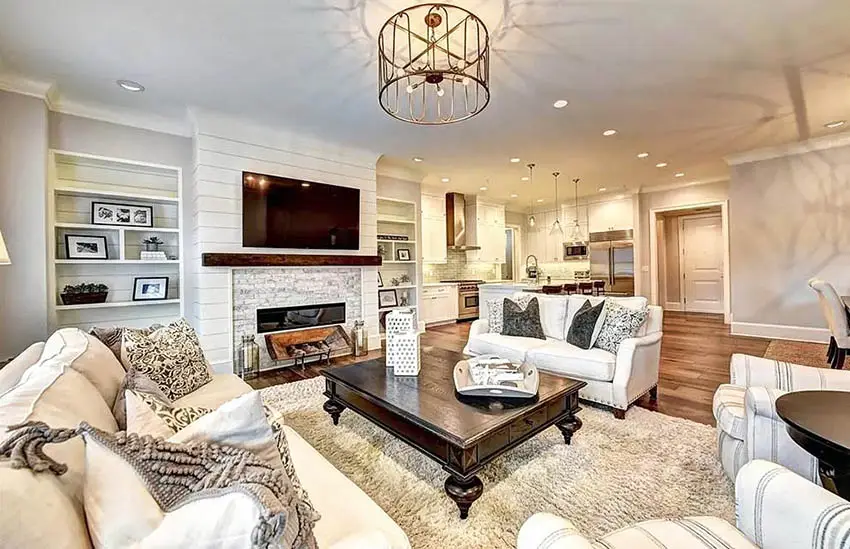 Modern craftsman living room design with shiplap fireplace and wood mantle
Kitchen Designed in Craftsman Style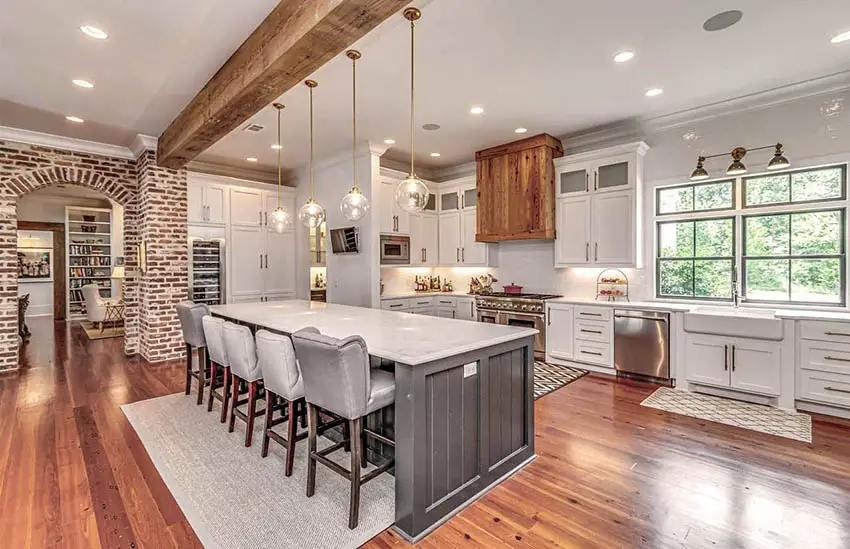 Large, spacious and open-concept kitchens are the key design style of a modern craftsman house. Light is at play everywhere – bouncing off the stark white walls to the clean and crisp tabletops in the kitchen. These modern kitchens have comparatively higher ceilings, with open beams, bright-hued cabinets with metal tinted accents.
The concept of partition less kitchen creates a welcoming aura in the house while encouraging social activities and direct connectivity with the living and dining area. Simplicity is maximized while flamboyancy is minimized.
Life in the modern craftsman homes usually revolves around the common areas of the house which are centrally located while the personal spaces such as bedrooms on each of the corners. Visit this page to see our gallery of traditional craftsman kitchen designs for comparison.

Craftsman Interior Design Lighting Elements
Just like the period, it associates with; the modern craftsman lighting displays the most creative designs from the Arts and Crafts movement. Industrial in style and as artsy as their rich history, these lighting fixtures do create a sense of focal point in the house while defining itself as a chief element of the design style.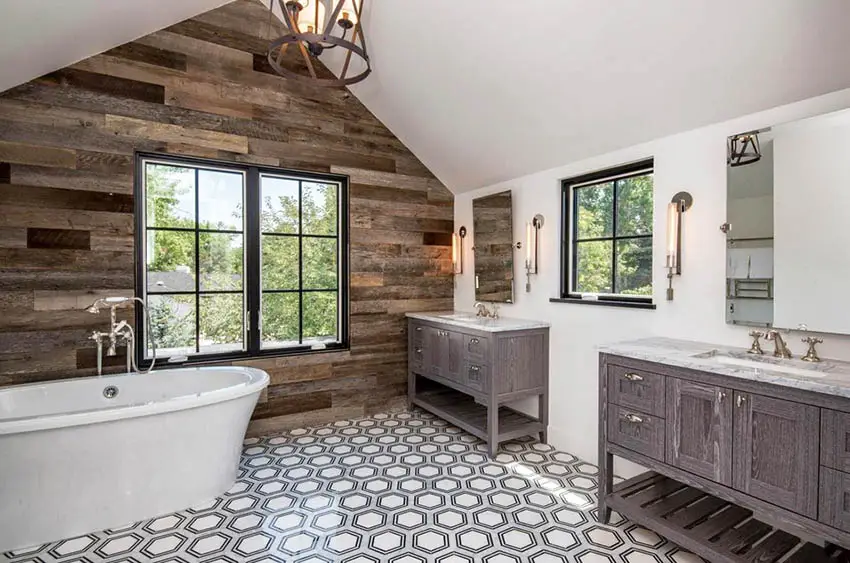 Master bathroom with rustic iron chandelier and modern wall sconce lights. See more craftsman bathrooms here.
Colors for Craftsman Inspired Interiors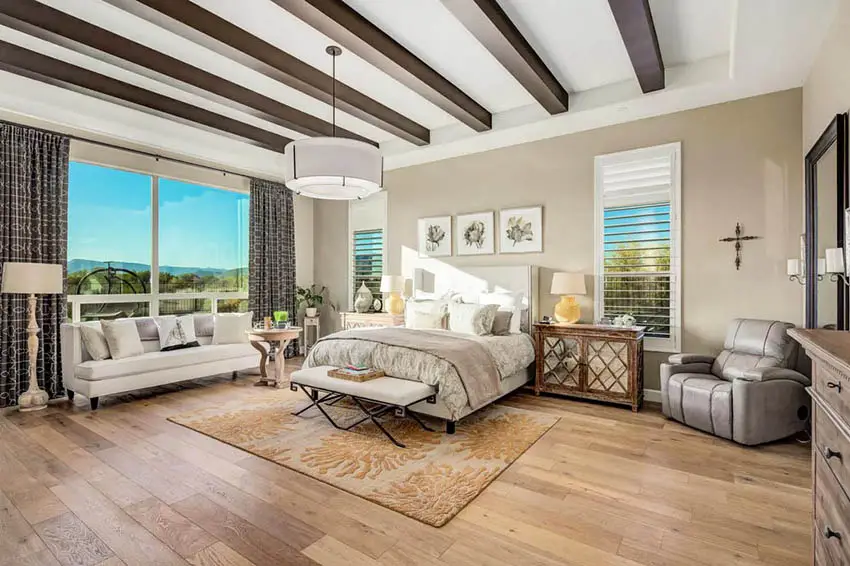 Calm neutrals seamlessly bring charm to these historic homes. The upgraded interior contemporary design follows whites, off-whites, beige, greys, and lighter earthy browns to make their interior space look bright, spacious, and airy. Trims and decorative ornamentation are usually painted in stark white while the walls and ceilings are contrasted with cloudy or non-white shades. Meanwhile, the furniture is poppy, cheerful, and eye-catchy to divert the minds into a more colorful theme and create a dramatic effect in the interiors.
All of these features bring into limelight the importance of the historic charm while modernizing the space for a more 'present era' feel. Without a doubt, this unique architectural style wins over the hearts of many homeowners around the country.