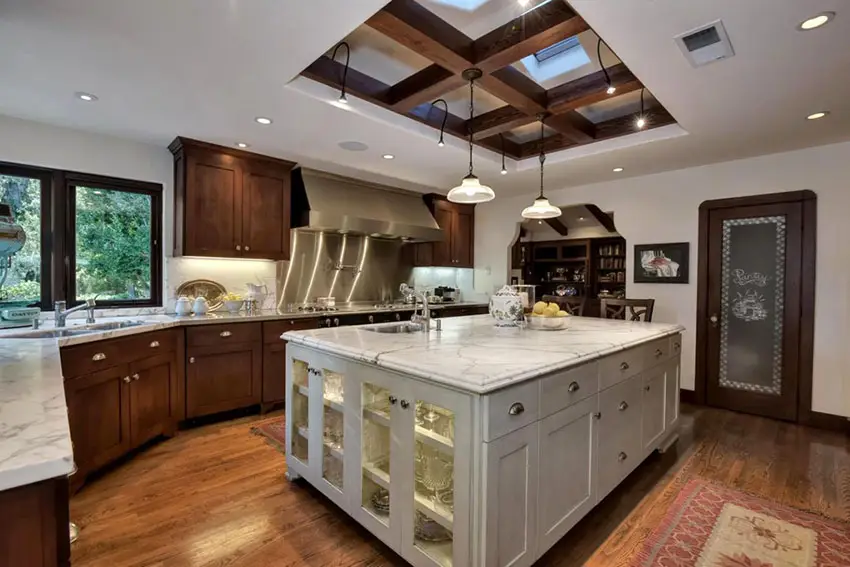 This gallery features beautiful craftsman kitchens. The craftsman design style is known for its clean lines, rich wood cabinetry and quality construction. The style of craftsman style kitchen cabinetry relies on natural wood rather than artificial materials. The types of wood often used for cabinets includes oak, hickory, maple and cherry. The overall design aesthetic of a craftsman kitchen is traditional with simple custom crafted elements and high quality materials.
This kitchen uses a combination of two finishes for the kitchen cabinets. The main cabinets uses natural teak wood finish, while the large kitchen island uses white wash finish over the wooden cabinets. All counters were topped with white marble for an elegant look. Right above the kitchen island is an accent ceiling design, with a recess the same size as the island, and decorative wooden beams. It also has skylights to help bring in more light to the space.
Craftsman Style Kitchen
What is the craftsman style? To understand the design sensibilities of the craftsman style kitchen, let us take a look at its origin first. The craftsman style originated in England during the 19th century as a result of the Arts and Crafts Movement. The Arts and Crafts movement was an international movement that aimed to reform design and decoration, and stood for traditional craftsmanship. Machinery and factory production were prevalent during that era, thus causing a decline when it comes to standards in design and the use of materials which are artificial and of less quality.
Consequently and in reaction against the intricately decorated and mass produced furniture of the Victorian era, the craftsman style was born. Following the main principle that "utility must have precedence over ornamentation", it placed priority on functionality above everything else. And unlike the ornate details of a Victorian inspired design, the craftsman style put great premium on simplicity and gave more emphasis to craftsmanship. Although utilitarian in nature, the craftsman style still became one of the most visually captivating and stand out design styles in history. It is the perfect marriage of form and function.
Overall, the craftsman style kitchen is defined by three basic principles, a straightforward design with clean lines, high quality construction and minimal ornamentation.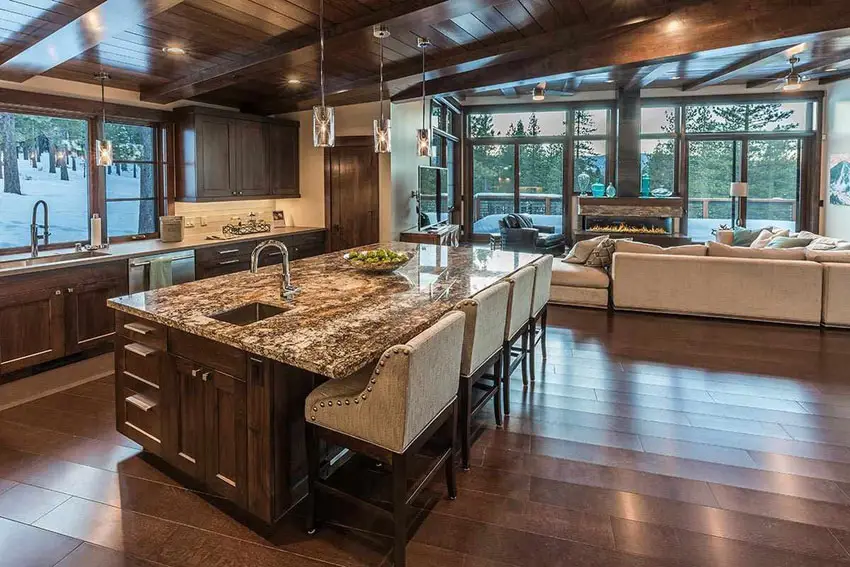 Gorgeous wengue floors with matching ceiling boards and beams create a classy feel to this open kitchen space. The kitchen itself is made of dark oak wood, showing its natural grain and color as it wasn't overly sanded and layered with varnish. A gorgeous slab of granite was used on top of the kitchen island, while a more toned down gray quartztite was used of the main cabinets.
Craftsman House Kitchen Design
The craftsman kitchen design is more geared towards an overall traditional style or antique look. It is the perfect addition to traditional inspired homes like a country home, bungalow or cottage. What elements make up craftsman style kitchen? There are a number of design features which make up a craftsman style kitchen.
Here are some of the elements that make a craftsman style kitchen stand out from the rest:
Solid wood cabinetry in rich colors – The main material that is on display in a craftsman style kitchen is solid wood. Instead of using artificial materials a true craftsman style kitchen makes use of heavy woods such as oak, cherry, maple, pine and hickory. The most popular wood used is oak. The craftsman style puts emphasis on the natural beauty of wood by showcasing exquisite cabinetry and simple millwork. Aside from featuring excellently crafted details, the wood is also usually finished in a deep colored stain. It can also be left unpainted, allowing the inherent graining pattern and distinct aesthetics to stand out.
Clean lines and no fuss design for the cabinetry – A craftsman style kitchen is generally straightforward when it comes to its design. It also favors function more than an overly ornate design. It does not focus on heavily carved details or elaborate ornamentation but instead highlights high quality craftsmanship. Instead of showcasing carvings, it features joinery instead. Cabinetry are usually frameless or feature simple aesthetics like flat paneled doors or simple framed glass doors.
A neutral color palette – Craftsman style kitchens also take inspiration from nature that is why its color palette is usually composed of warm earth tones. Typical color schemes include shades of browns and tans and shades of green like rich moss greens or forest greens. Other popular accent colors are rich honey tones, gold, rust and deep oranges. Read on as we go deeper into the details of a craftsman style kitchen color palette.
Natural Stone Finishes – Because craftsman style kitchens draw inspiration from nature, it seldom uses synthetic materials for its finishes. Natural stone is another material that is commonly used in craftsman style kitchens. It is usually applied as a backsplash material, countertop or flooring. Some types of natural stones which can be used for this application are granite, soapstone, slate, travertine, etc. Just like wood, the inherent and distinct beauty of natural stone conforms to the genuine aesthetics of a craftsman style design.
Features unornamented and streamlined lighting fixtures – The emphasis that a craftsman kitchen gives to functionality is also reflected on the choices of lighting fixtures. Craftsman style lighting fixtures pendants and drops lights which have strong lines and geometric shapes. It typically makes use of metal and keeps the kitchen not only well illuminated but gives off a warm and cozy ambiance. Read on as we discuss craftsman style kitchen lighting in full detail.
Built in breakfast nook – To highlight craftsmanship further and to maximize the kitchen to its fullest functionality, craftsman style kitchens also often include a form of built in seating. The practical benefit of such is that it eliminates the need for additional furniture pieces like a table and some chairs. A small breakfast nook which features a solid wood bench and a dining table serves as a seating area for casual dining and entertaining with family or friends.
Unique backsplash – The only decorative element used in craftsman style kitchens is the backsplash and along with countertops and islands, the kitchen backsplash is one of the stand out features in this design. The most common material used as a backsplash for craftsman style kitchens are tiles. These tiles are commonly handcrafted and painted with rich details. Read on as we explore some other options which you can use as a backsplash for your very own craftsman style kitchen.
Hardware and fixtures in deep or dark finish – The craftsman style kitchen gives its own unique touch even up to the small detail in your kitchen design. The "jewelry of the kitchen" or cabinet hardware like handles, knobs and pulls must also be geared towards functionality. These should be easy to grip and are usually large. When it comes to design, cabinet hardware typically have a strong architectural style and defined lines.
Because wood is abundant in this style of cabinetry, you may want to consider antique accessories. Cabinet hardware, faucets and other fixtures typically have deep and warm finishes. These include oil rubbed bronze, antiqued brass, warm patinas and dark colored brushed antiques. Black metal hardware and pulls are also popular for this style. Avoid shiny finishes for a craftsman style kitchen as they are leaned towards a more modern look.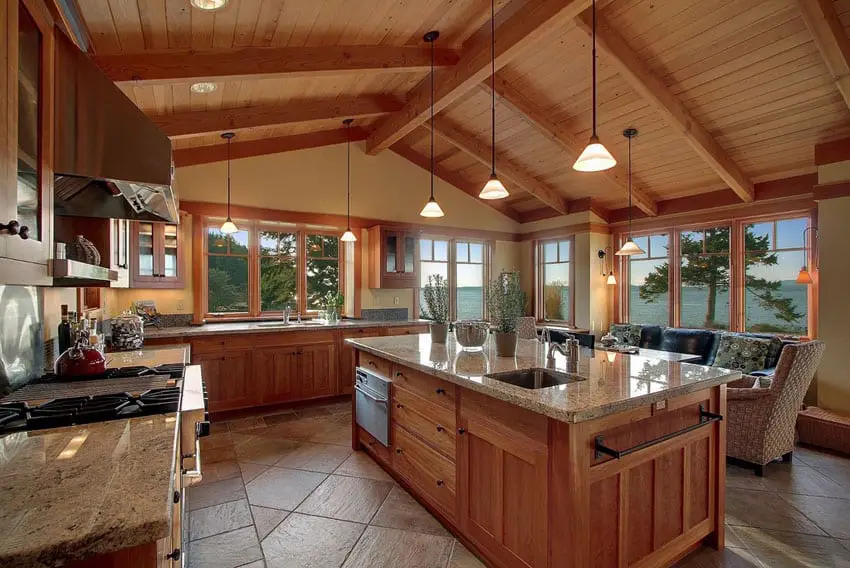 A solid teakwood kitchen with a gorgeous vaulted ceiling design, with exposed beams and trusses. Picture windows envelope the kitchen space and provide stunning views of the ocean. The kitchen area is typically damp, so instead of hardwood floor, this space opted for a wood finish ceramic tiles. All of these were topped with gray azurite granite, for a more laid-back appeal.
Kitchen Cabinets in Craftsman Design
The main attraction for a craftsman style kitchen are the stunning cabinetry. The craftsman of artisan kitchen style originated in the early 1900's and is focused around a deep appreciation for handcrafted custom cabinetry with warm wood tones and an open floor plan. Craftsman style kitchen cabinets are characterized by functionality, a high quality construction and superior sturdiness.
In addition to that, craftsman kitchen cabinets are all about authentic details. Solid wood was always used and artificial materials are never utilized. Quarter sawn oak with its beautiful graining, cherry and maple woods are traditional favorites used in craftsman style cabinets. These solid wood cabinets are typically left unpainted and true to their natural state, allowing their inherent distinct beauty to stand out. In order to enhance the undertones and the rich color of wood, stain can also be applied on its surface.
Generally, square straight edges are used with either a flat or raised panel cabinet door design. Leaded glass doors are also common in Craftsman architecture. It's the small details such as decorative molding, valances, corbels and period hardware that really bring out the attention to detail that is characteristic of craftsman kitchens.
True craftsmanship is also achieved through the use of different joinery techniques in building the cabinets. Some joinery which are featured in this type of cabinets are dovetail joints, mortise and tenon joints, miter joints and butt joints. Dowels can also be used instead of nails.
Quality construction, a sturdy build and exquisite wood work can be achieved through employing professional custom cabinet makers. Rather than building a craftsman style kitchen as a "do it yourself" project, it requires the services of an experienced craftsman. This is also one of the reasons as to why craftsman style cabinets and craftsman style kitchens can get a bit pricey. The materials which make use of high quality wood and the installation costs are both expensive and the cabinetry take a big percentage of the budget. Thus, when deciding to create one for your home, make sure that enough budget is allocated for your project.
However, if you still want to create craftsman style kitchen cabinets but do not want to spend much, modern alternatives to traditional woodworks can be used. Some homeowners make use of readymade or prefabricated versions of these cabinets. Alternatively, hardwood veneer can also be used to achieve the craftsman look for less.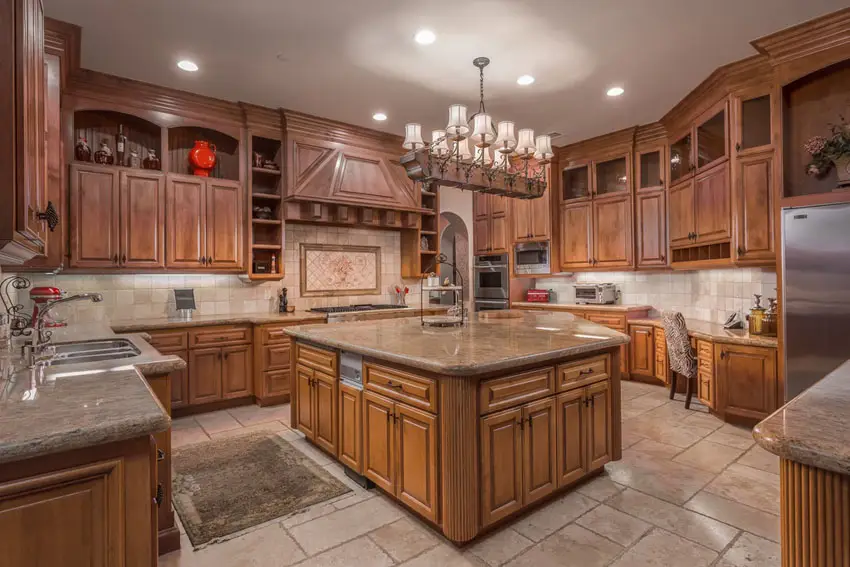 Gorgeous natural walnut was used throughout this full sized kitchen, and was polished to perfection, enhancing its elegant appeal. It uses pale cream granite countertop with rounded edges and a well-polished surface. The rest of the kitchen keeps it toned down and neutral, with natural stone floors, matching backplash tiles and off white walls.
Craftsman Backsplash Designs
As mentioned earlier, the only decorative element in a craftsman style kitchen is the backsplash. Since the cabinetry is all about simplicity and functionality, the backsplash offers the perfect opportunity to introduce an accent or decor to a craftsman style kitchen. The backsplash breaks ups all the monotony of the heavy woodwork and gives the space an eye catching accent. There are a number of backsplash materials which can be explored for a craftsman style kitchen and this include artisan tiles and several types of natural stone.
During the Arts and Crafts movement, fine tile making reached its peak. Consequently, handmade artisan tiles took the center stage when it comes to backsplashes. Traditional craftsman style tiles are created using handmade molds and are typically colored with natural glazes. Artisan tiles were usually hand painted with floral motifs or scenes which depict nature or Art Nouveau inspired. These hand painted tiles are commonly in shades of blue or green which gives a stark and cool contrast to the rich warm tones of wood. Nowadays, handcrafted tiles are quite rare to find, making them quite expensive. However its exquisite beauty makes it price worth every penny.
Aside from hand painting, another common finish for tiles is glazing. Glazing gives tiles a wear layer of glass which results to their glossy appearance. Glazed tiles are a perfect match to the matte finish of solid wood cabinetry because it provides diversity and variation in texture. Glazed tiles are also available in many tones and hues. Aside from glazing, tiles can also be etched or carved with a custom design like small leaves, flowers or nature inspired details to give them depth and a more interesting look.
Natural stone backsplashes are also common for craftsman style kitchens. Slate is an example of natural stone which can be used for craftsman style kitchens. Characterized by a bluish, green, gray and rust color, slate adds warmth to kitchens when used as a backsplash. Its earth toned color makes it the perfect complement to rich solid wood cabinets, while adding a subtle touch of accent color to the palette of the kitchen. A slate backsplash also blends well with the antique and traditional inspiration of a craftsman style kitchen.
Another natural stone which can be used as a backsplash material for craftsman style kitchens is travertine. Travertine is made up of limestone and is usually light colored or creamy beige or white. It also has warm undertones which are brown or tan in color, which serves as the perfect complement to rich dark woods. This is highly suitable for those who want to create a subtle contrast using light colors. Just like slate, travertine is perfect for the antique and traditional inspiration of a craftsman style kitchen.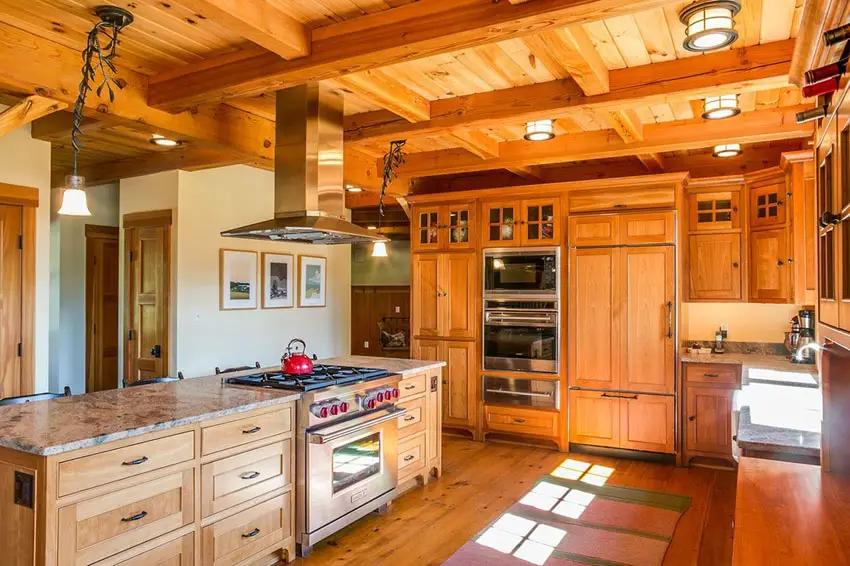 Going for a clean modern look, this resort kitchen design is exudes the elegance of classic designs, yet posses the straight & slim aspects of modern design. It has natural fruitwood floors and ceiling, while the kitchen cabinets used natural teakwood as well. The countertop material is gray granite, to help neutralize the bright natural colors of the wood. Rustic pendant lighting over the island and lantern style drop lighting provides plenty of illumination and helps add to the charm of the kitchen design.
Craftsman Lighting for the Kitchen
As mentioned, the craftsman style showcases utilitarian features and gives emphasis to straight lines and a straightforward design. This is also exhibited even in the type of lighting fixtures used for a craftsman style kitchen. Drop lights, pendant lights or chandeliers are commonly used as the main light source for these type of interiors. Typically, these fixtures are placed at the center of the kitchen or just above the island. They do not only illuminate the space but also serve as a stunning accessory.
Craftsman style kitchen lighting fixtures are characterized by strong lines, simple forms and geometric shapes. They are unornamented and exhibit practicality and functionality too as they stay true to the design principles of the craftsman style. Mission style lighting are also prevalent in this design. These type if fixtures are usually made up of ironwork, glass and dark finishes. Mica is another material which is classically used for these types of light fixtures. Aside from pendants, sconces and surface mounted lights can also be used.
Tiffany Lamps are also commonly used for the craftsman style. Tiffany lamps is a type of shade that is made up of colorful pieces of glass. One of the most popular designs of the Tiffany lamp is the stained leaded glass lamp. The colored pieces of glass are usually arranged in a pattern which displays elements in nature like flowers, trees, leaves, shrubs, butterflies, dragonflies or peacock feathers. To form these pattern and showcase these designs, colored glass is cut in geometric shapes like triangles, squares, ovals and rectangles. The beauty of having a Tiffany lamp in a craftsman style kitchen is that it gives a focal point to the space without competing with the natural beauty of solid wood cabinetry. Also, its colorful design contributes accent colors to the neutral palette of a craftsman style kitchen design.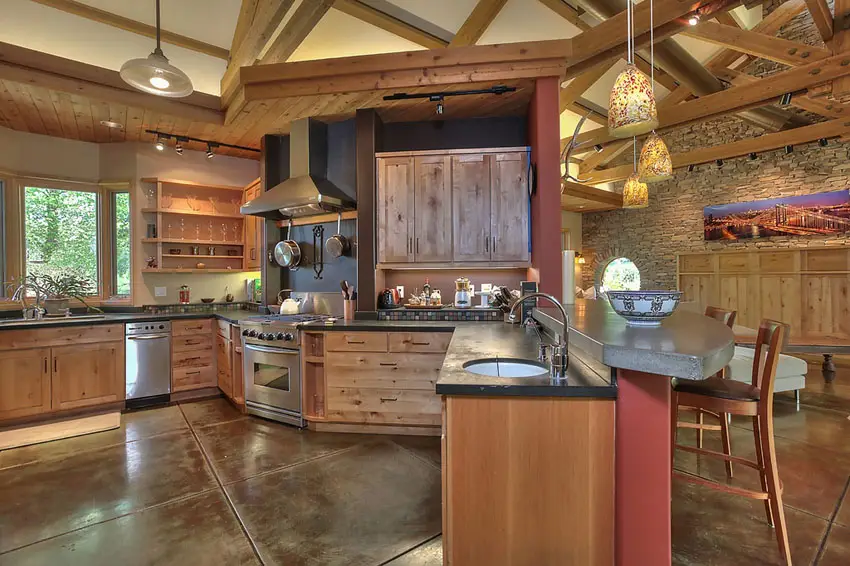 Natural beech wood was used in this modern style craftsman kitchen, showcasing the natural knots of the wood panels, giving it a more country/rustic appeal. The matte black and gray counters also help enhance this rustic look, giving it a more laid-back, natural look. Pendant lights with painted glass showcase some of the craftsman flair the design style is known for.
Craftsman Colors Used for Kitchen Design
The craftsman style kitchen is dominated by a neutral color scheme. Since it takes inspiration from nature, muted shades, earth colors and neutrals are widely used. Examples of which are off white, cream, grays, soft and strong shades of brown, green, rust orange, golden honey and deep reds. Shades of brown are often reflected through the use of rich wooden cabinetry and hardwood flooring, while accent colors like a muted shade of green or rust orange is often displayed through the backsplash material.
The countertops can take any color which range from soft creamy beiges, off whites to dark browns and greens. Other subtle accent colors are also introduced to the interior using the lighting fixtures or cabinet hardware and other accessories. Complementary colors may also be used in the kitchen further accentuate the deep color of rich woods.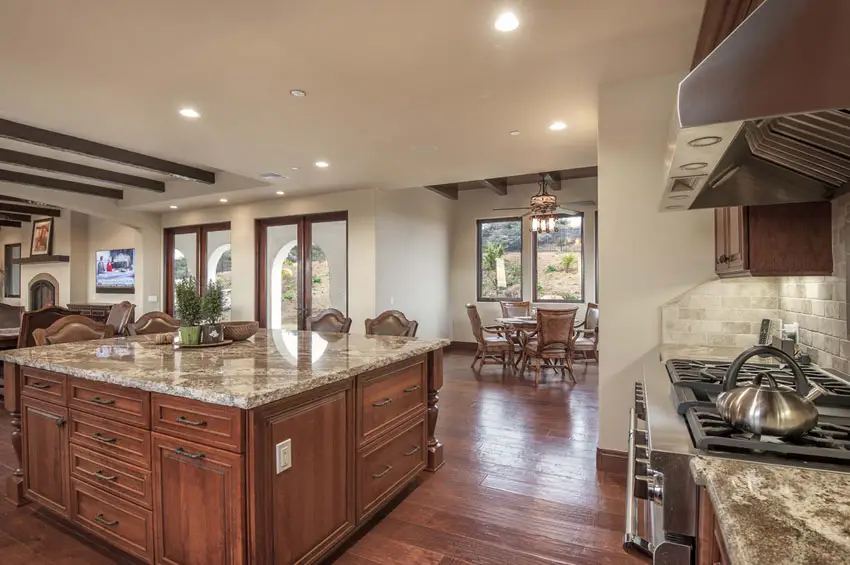 Showcasing excellent craftsmanship, this kitchen exudes elegance & quality expected from classic kitchens. It uses solid mahogany wood for all the cabinetry with oiled brass pulls to match the classic panel design of the cabinets and topped with a light beige granite counter, polished to perfection for that extra spunk.
Craftsman Countertops
Natural stone countertops are also another key feature in craftsman style kitchens. Some examples of natural stones which can be used as countertops are granite, marble and soapstone.
In general, granite is the most popular kitchen countertop material. It is composed of quartz, feldspar and mica. This unique composition gives granite its hardness and distinct natural beauty. Aside from the stunning visual aesthetics, granite is durable, heat resistant, stain resistant and scratch resistant. Granite is also well known for its unique appearance which is consisted of flecks, speckles, veins and striations. When used as a countertop material, go for honed or polished granite and stick to those with neutral colors like white, black, brown or gray. You can also explore honey colored granite and green granite if you want to add more life to your craftsman style kitchen.
Marble is another type of natural stone which is characterized by an appearance of freely flowing veins. It is a type of limestone that is mainly composed of the mineral calcite and other minerals like clay, mica, pyrite, quartz and graphite. It is also a durable countertop material and has a naturally cool temperature which keeps the workspace thermally controlled. When used as a countertop for craftsman style kitchen, marble's classic beauty adds natural elegance and sophistication. Its natural beauty is worth showcasing and can serve as a stunning main attraction for kitchens. When used as a countertop material for craftsman style kitchens, choose marble which has a beige or cream color as it complements and contrasts well with the warmth of solid wood cabinetry.
Soapstone is another type of natural stone that is mainly composed of talc. It is inherently soft, but when used as a countertop material, it is mixed with a high percentage of quartz to make it more durable and long wearing when it comes to everyday kitchen use. Soapstone is also characterized by its ultras smooth surface. It is resistant to acids and scratches can be repaired easily by oiling or sanding. However what sets soapstone apart from all the rest is its unique color. The distinct quality of soapstone is that it usually has a light gray color at first and then changes into a charcoal or dark gray color once applied with mineral oil. The subtle natural color of soapstone does not deviate away from the neutral color palette of a craftsman style kitchen.
As a substitute for natural stone, wood is also used as a countertop material for craftsman style kitchens. This is the ideal choice if you want to add more warmth to the overall look of your kitchen and if you want to make the space more welcoming. This countertop material is commonly used for kitchen islands – particularly those which have a contrasting color to the main kitchen cabinets, because it keeps the decor and finishes cohesively tied together.
Solid wood countertops are also highly durable and are proven to last for years. The main advantage of solid wood countertops is their versatility and highly customizable form. However, when using a solid wood countertop, make sure that the surface is properly sealed to protect t from water damage. The ideal thickness for solid wood countertops in craftsman style kitchens are 1 ½ inch or greater. Some wood species which can be used as countertops are cherry, teak, oak and walnut.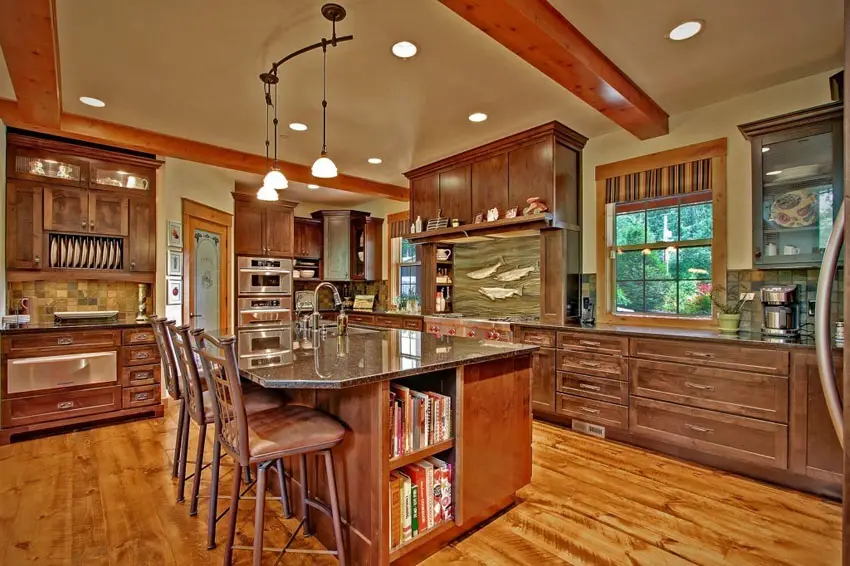 Definitely fitting in to the definition of craftsman kitchens, this room is warm and inviting. Solid natural teak wood floors were combined with oak wood base cabinets, giving it a nice natural contrast. The countertop material used is a reddish brown tone of granite, which matches well with the cabinet base color. Adding more depth to the the colors is the forest green mosaic tiles placed on the backsplash.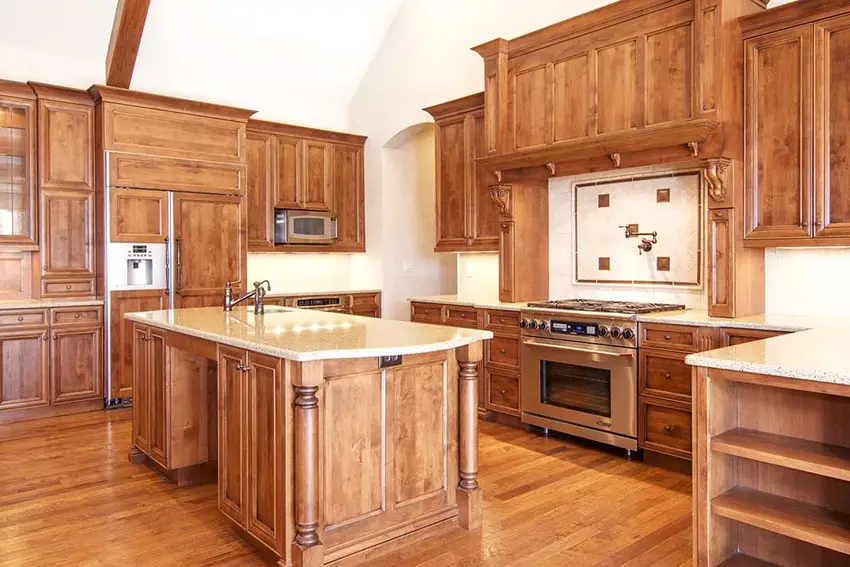 Craftsman kitchens are known for their beautiful wood cabinetry and this room provides plenty of them. Golden walnut cabinets with classical-inspired corbels and posts was used throughout this kitchen, and was topped with light cream granite counters to match with the off-white backsplash tiles.
Craftsman Flooring
To complement solid wood cabinetry, hardwood flooring is commonly used for craftsman style kitchens. The color of the floor is usually dark and rich, like cherry wood, oak or maple and is in a non-glossy finish. Avoid "piano finish" or ultra-glossy floors. If you do not like the upkeep that a solid wood flooring requires, you can use alternatives such as ceramic tiles with a wood like design or linoleum flooring.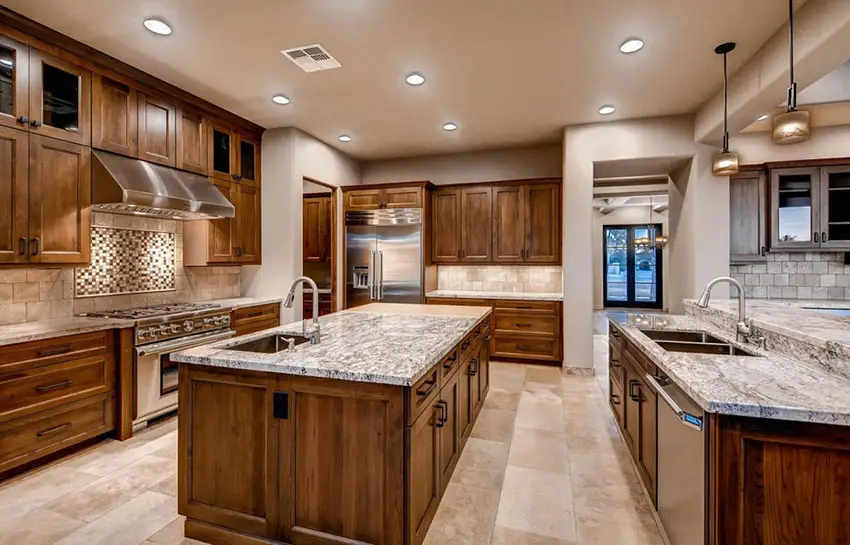 While typical modern kitchens use laminated cabinets, this design opted to use an arts & crafts inspired kitchen, using solid walnut cabinets with excellent craftsmanship and finishing. The large kitchen has a uniform wood finish and is topped with light gray soapstone with a straight edge for that sharp modern look.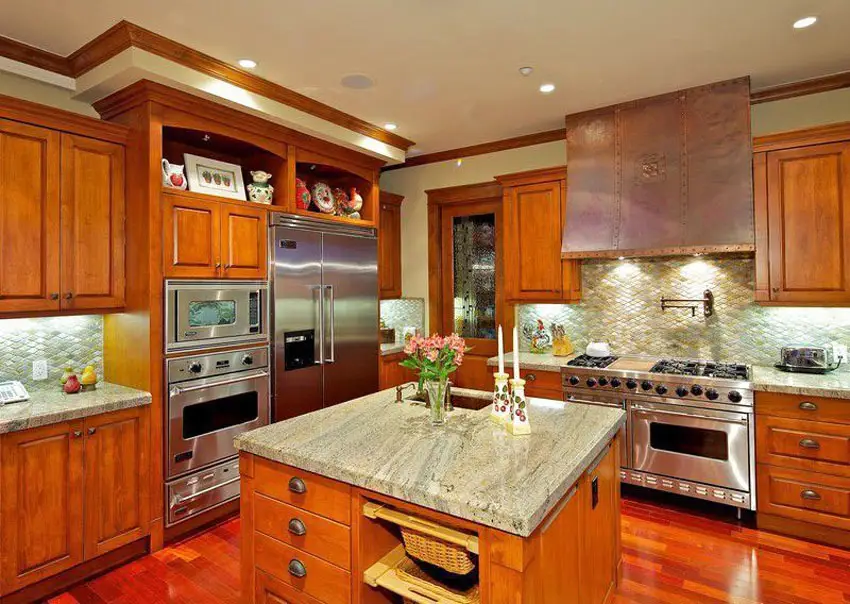 Beautiful craftsman kitchens with cherry wood flooring and cabinetry are warm and inviting. This kitchen features a variety of luxury finishes such as Wolf and Sub Zero appliances and a custom copper range hood that help the space stand out.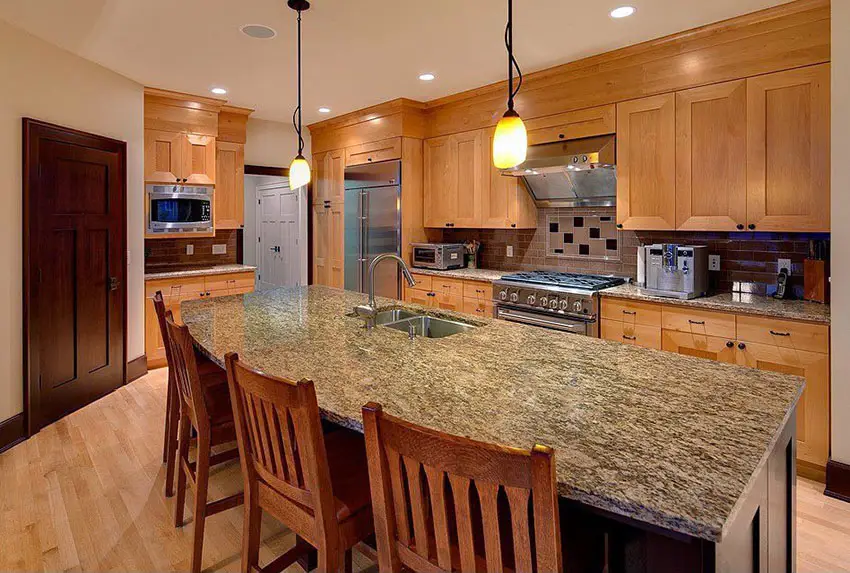 The large breakfast bar island in the craftsman kitchen is the ideal place for a family to gather and experience meal prep together. The custom cabinetry, light wood floors and light granite countertops exude a warm ambiance and helps keep the design bright.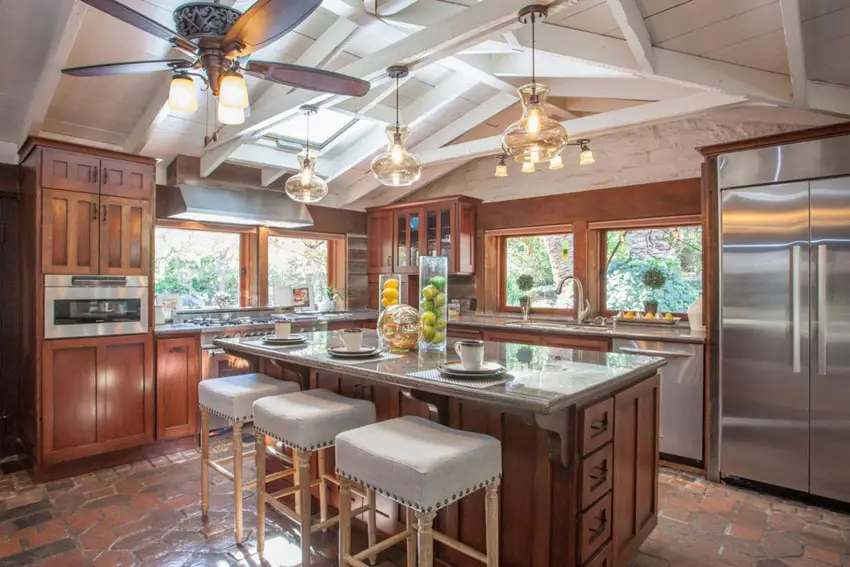 A lovely l-shape kitchen which uses well constructed cabinets made from solid teak wood, and given a varnish coating. This helps emphasize the natural beauty of the wooden cabinets, as well as complement the brick floors with polyurethane coating. Another interesting feature would be its ceiling, with visible roof trusses and even a skylight.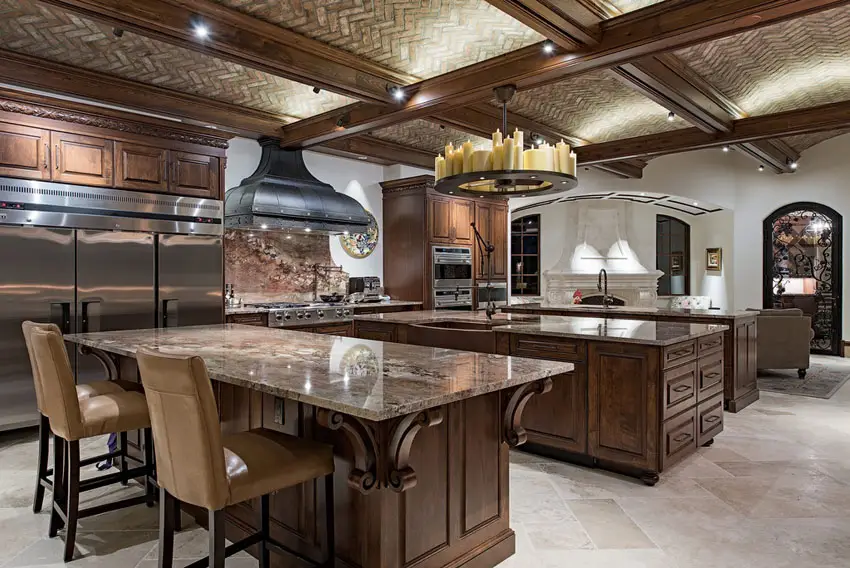 This kitchen has a very unique elegant appeal. It uses uniform walnut finish on all its cabinets, but what makes it special is the ceiling design. Beams clad in wood and moldings were used and finished in walnut to keep it looking uniform with the rest of the kitchen. Additionally, you will also notice the texture provided by the chevron pattern bricks placed on the ceiling.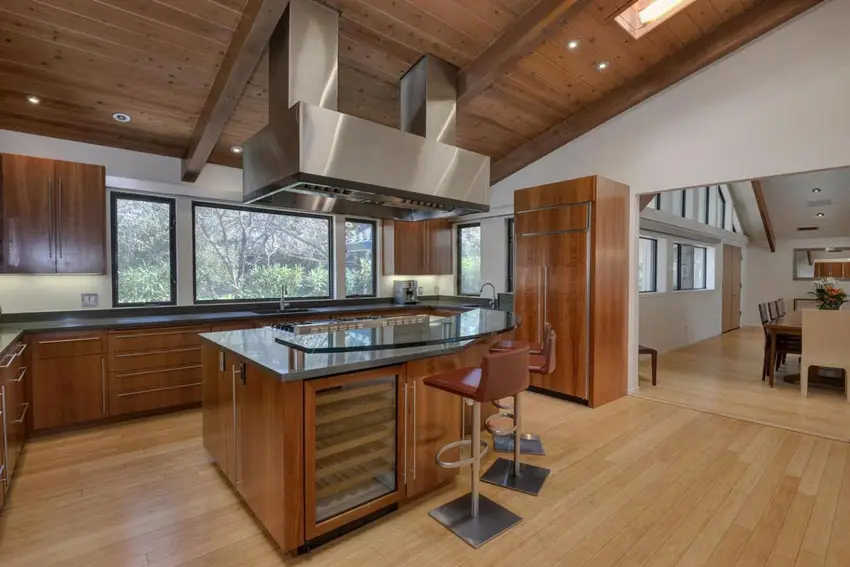 This modern kitchen as a bright and clean feel to it because of its choice of colors and finishes. All kitchen cabinets used solid teakwood and topped with with gray quartz counters. The orange tone of the cabinets complements the maple wood floors well, while the sloped ceiling with a more neutral fruitwood color adds a touch of warmth to the space.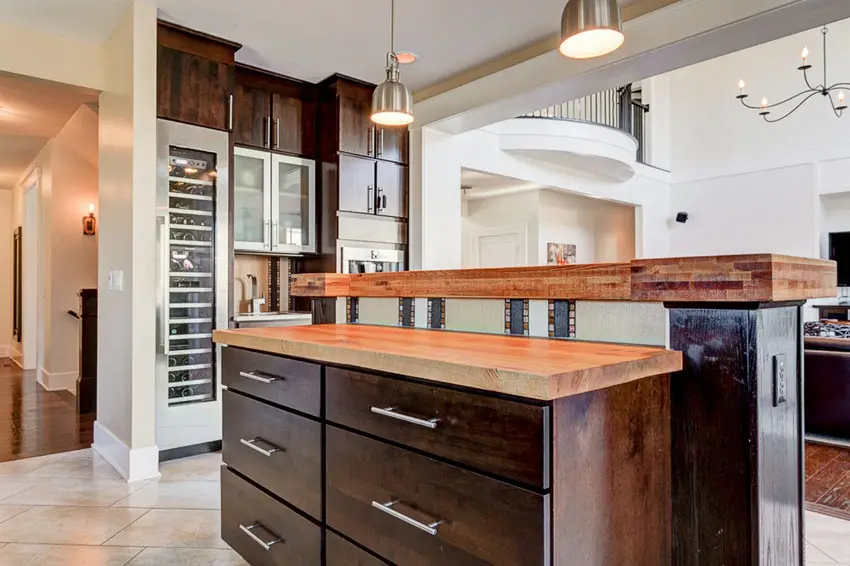 A small modern kitchen space with a compact design perfect for the limited space. This has a more rustic style to it, as it definitely showcases even the imperfections of the natural wood they used. The main base cabinet is dark stained fruitwood, while the bar counter bas is made from redwood. They are only lightly sanded so it shows the natural texture of the wood. For the kitchen islands, solid Teak wood were used as countertop.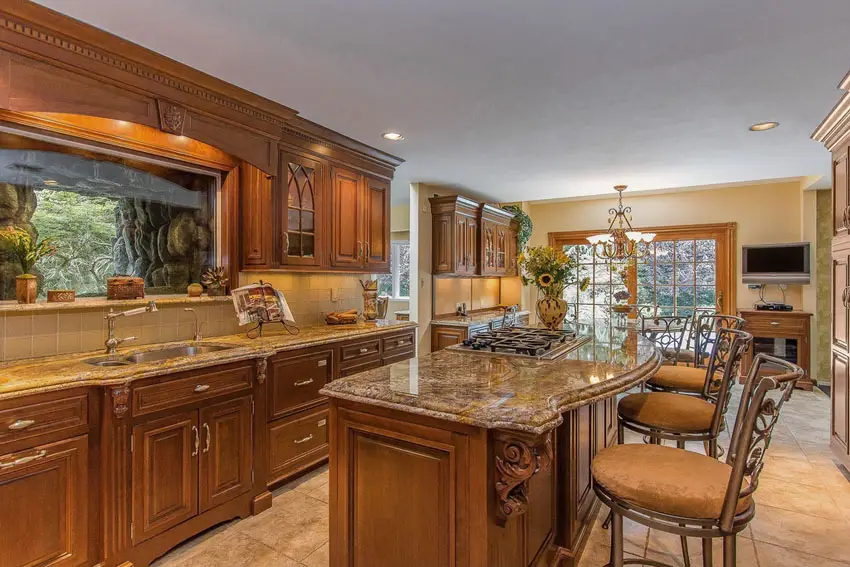 Classical design elements and motifs are definitely evident in this kitchen design. You will see Corinthian style corbels which serves as a decorative accent to the cabinets, as well as gothic arches on the glass cabinet doors. All cabinets uses a perfectly-polished golden teak wood and tops it with pale warm gray granite with a sinuous profile/
With a bit of empire period style inspiration, this interior space exudes the usual elegance and grace of classic interiors. The flooring is a combination of marble ceramic tiles and brown granite ceramic tiles, creating an interesting pattern on the floors. The kitchen cabinets on the other hand, uses natural walnut with a satin finish, and tops it with chocolate colored granite.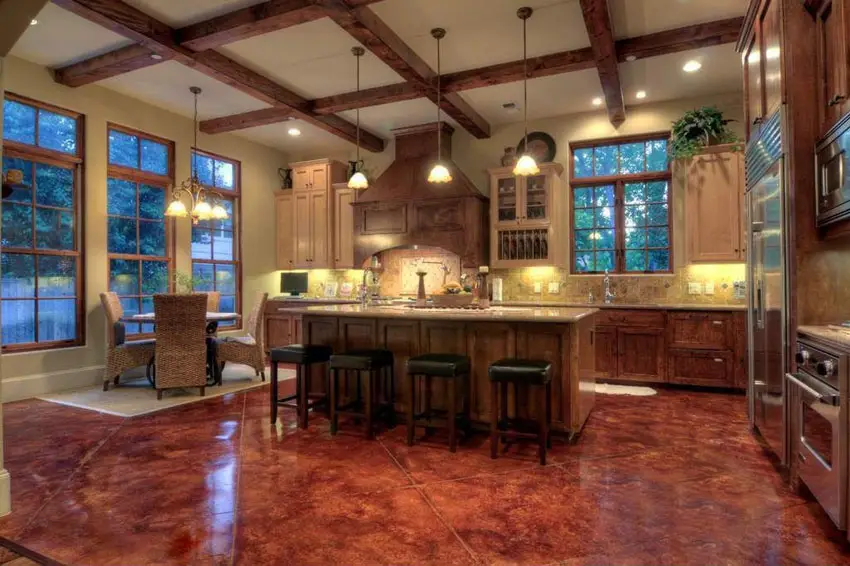 Natural maple wood with burly grains and marbled finish floors gives this kitchen space a rustic and aged feel to it. The red-orange tones of the flooring complements the light yellow tone of the kitchen cabinets, as well as the pale yellow walls.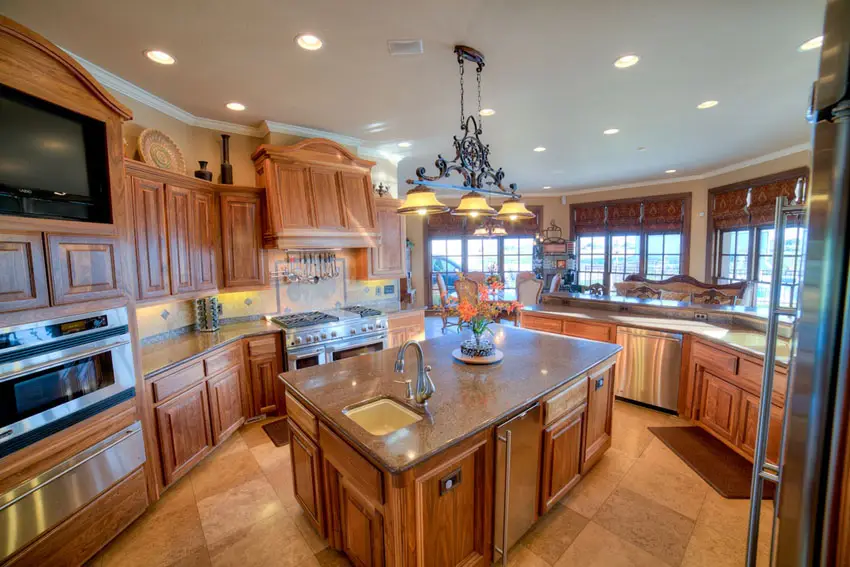 A classic-inspired kitchen with paneled hardwood cabinets and cornice details, given a modern twist by using no visible knobs and pulls for a cleaner look. The kitchen uses solid teak wood all throoughout giving it that gorgeous orange tone, and tops it with reddish brown granite countertop.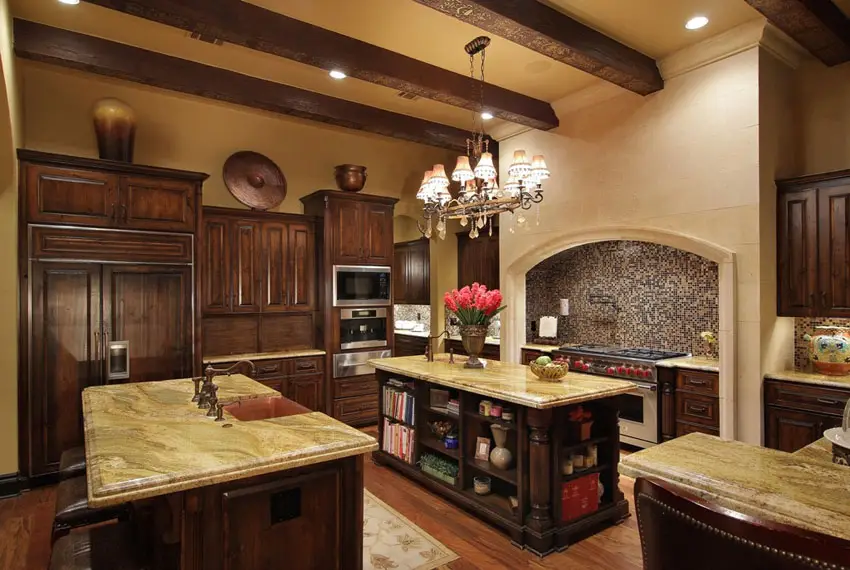 Light yellow walls serves as the perfect background for the dark oak wood kitchen cabinets used in this kitchen. These cabinets were paired with yellow sandstone counters which has a very gorgeous grain pattern. Aside from this, the kitchen also uses mosaic tiles for the backsplash in a combination of purple and gold.
This well-illuminated kitchen features simple styled kitchen cabinets which uses cherry wood in its natural finish, topped with dark brown granite counters and matching backsplash. An interesting bundle of bare bulb pendant lights is suspended above the center island with breakfast bar and makes a noteworthy design impression. The kitchen cabinets uses a matte varnish finish to give it a more modern look, while the pale beech wood floors helps balance the oranges from the cabinets.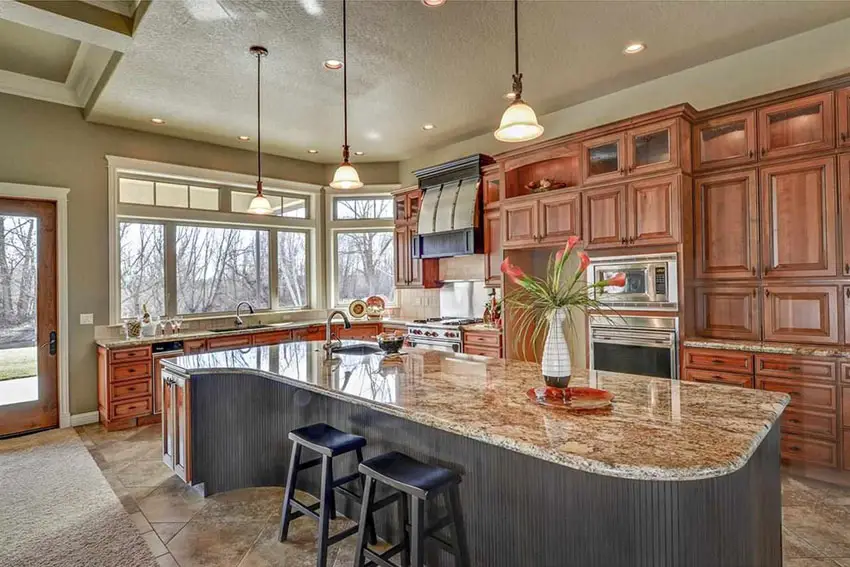 Solid Mahogany paneled cabinets with golden granite counters gives this kitchen the classic elegant vibe, while the uniquely-shaped kitchen island counter helps give this kitchen space a more modern appeal, using gray-painted vertical slats on its base to help it follow the shape of the counter.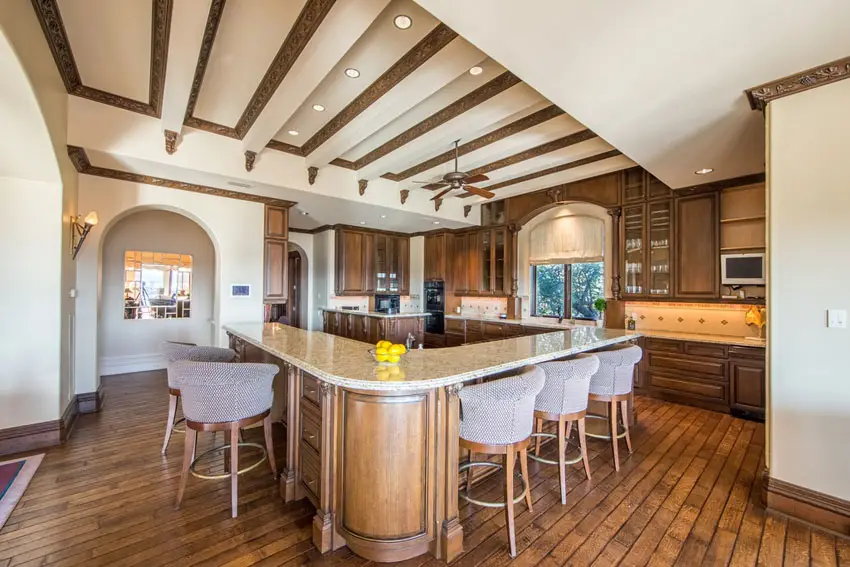 Another neo-classic inspired kitchen design which uses gorgeous walnut kitchen cabinets with light cream granite counters, creating a perfect balance of colors. Excellent cabinetry craftsmanship combined with rustic wood flooring gives this kitchen space an authentic antique vibe, without being too intimidating.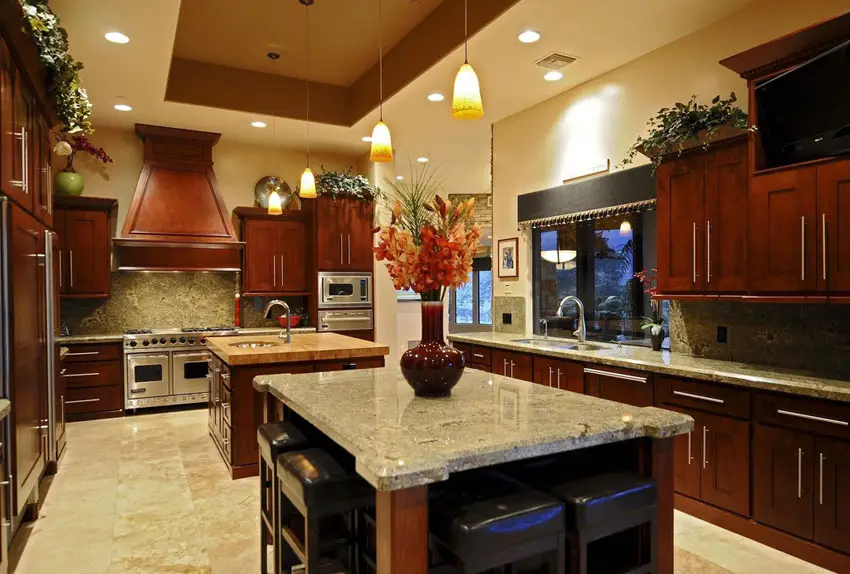 The burls of natural maple wood are again emphasized in this kitchen design, but given a more modern look, as it is polished into a good satin finish and stained in a reddish mahogany color. Helping balance out the red tones of the cabinets are the gray countertop and the light cream stone floors.
With a country style vibe, this kitchen confidently flaunts the natural look of the wooden finishes used through the space. From floor boards to cabinet body and up to the window frames, you will easily see the natural pigmentation, and even imperfections of the wood. The kitchen cabinets in particular uses natural walnut with light warm gray granite counter. This kitchen looks bright mainly due to the abundance of natural lighting, with the help of modern lighting as well.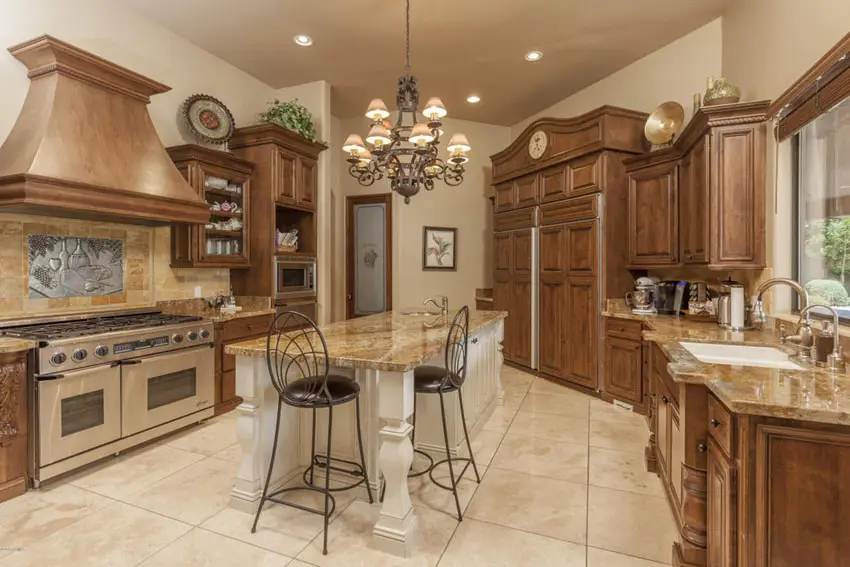 A classic-inspired kitchen design which uses a combination of natural walnut finish cabinet carcass, with white-painted kitchen island base. These cabinets have ornamental corbels and ornamental turned posts to give it more personality, and are both topped with a gorgeous granite slab.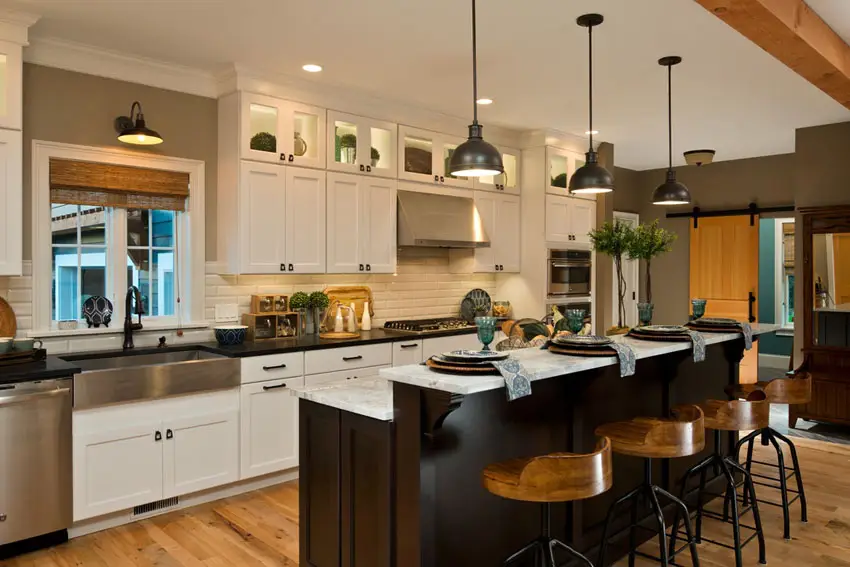 Going for a more modern look, this kitchen focuses on simplicity and excellently executed finishes. The main kitchen cabinets were all painted in white and were placed against a gray wall. Black granite was used for the countertop, and white beveled subway tiles were used for the backsplash. The kitchen island on the other hand, uses wengue finish with a perfectly even sheen, and topped with white marble for an excellent contrast.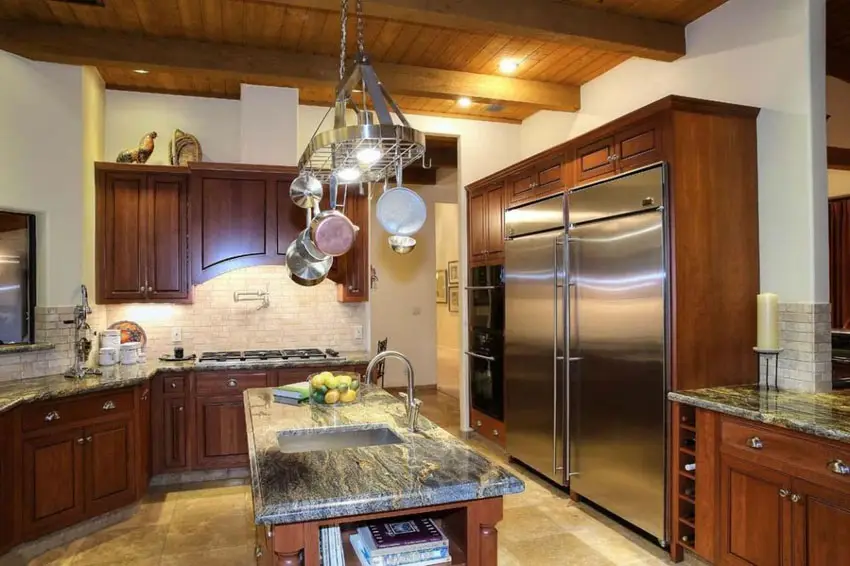 A small kitchen space which uses natural mahogany kitchen cabinets with a satin varnish finish on top to give it that subtle shine. It uses unique green soapstone on for the counters, giving in a unique yet natural texture.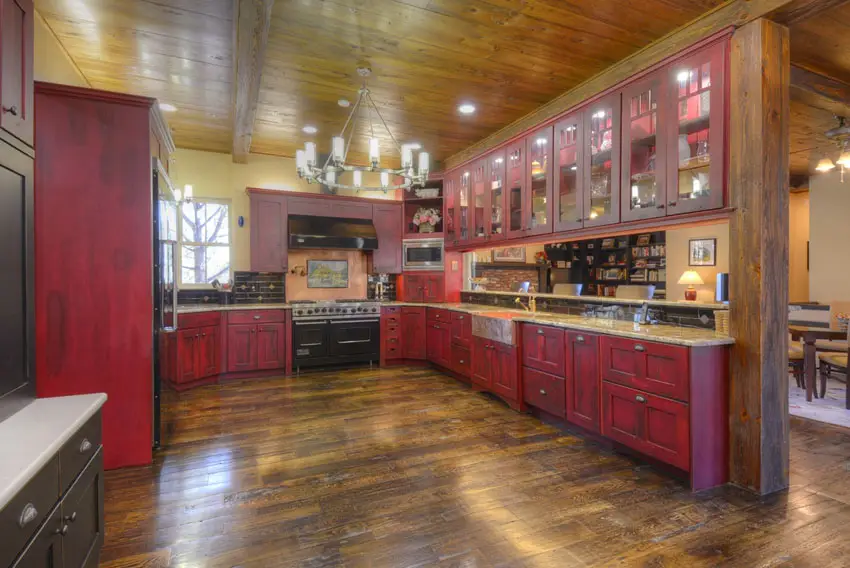 Weathered cherry floors were combined with redwood kitchen cabinets, creating a rustic feel to the kitchen. Placed against light yellow walls, the yellow-cream counters perfectly matches the walls, while the black subway tiles on the backsplash matches the black kitchen equipment used in the kitchen.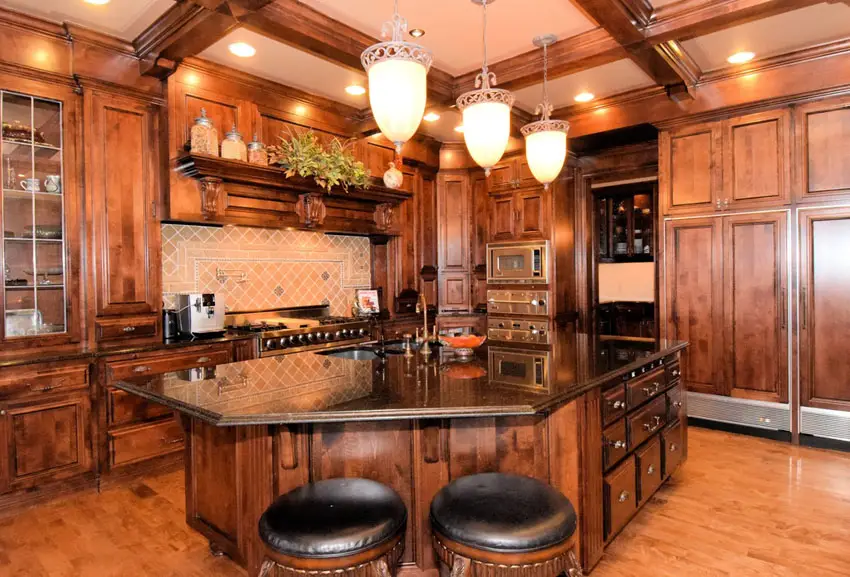 Another classic-inspired kitchen that confidently combines different wood finishes. Light maple wood floors were paired with dark walnut kitchen cabinets which maximizes the full height of the ceiling, making it a bit intimidating. The black galaxy granite counters and black leather barstool upholstery further gives a bolder contrast to the space, and at the same time, serves as a neutral ground in a space full of warm wood tones.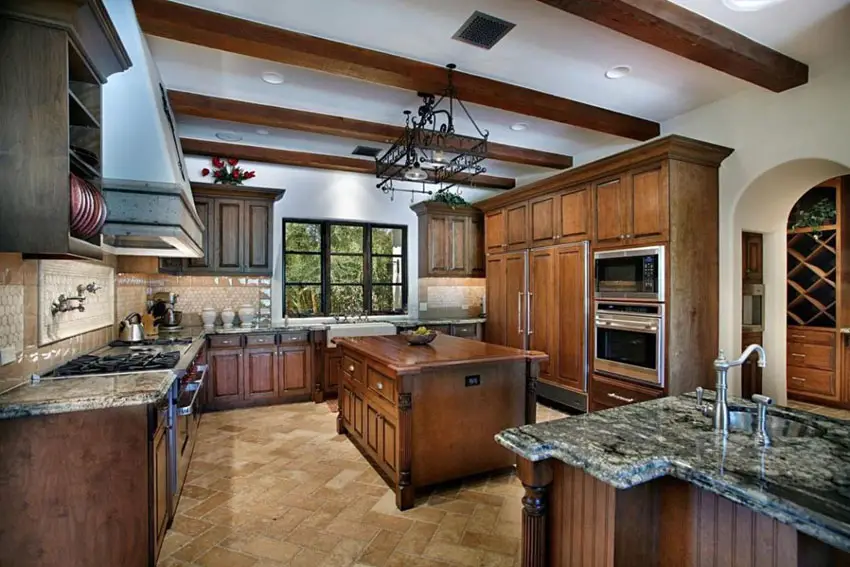 A country-style kitchen which uses textured stone tiles in chevron pattern for the flooring, and combines it with natural mahogany kitchen cabinets with ornamental posts to give it more depth and enhance its classic feel. The countertops uses a unique type of granite with a greenish gray color, while the backsplash combines hexagonal mosaic tiles with glossy beige ceramic tiles.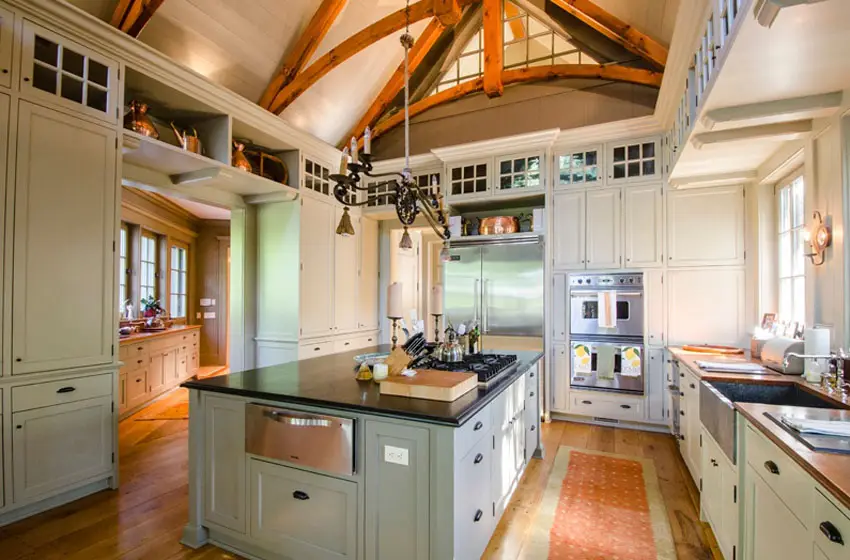 This kitchen definitely maximizes the available wall space for storage, occupying almost the full-height of the room. The gabled ceiling with gable windows and teakwood ceiling trusses helps enhance the verticality of the space and make it look more spacious, while the mint green adds a refreshing and modern touch to the kitchen.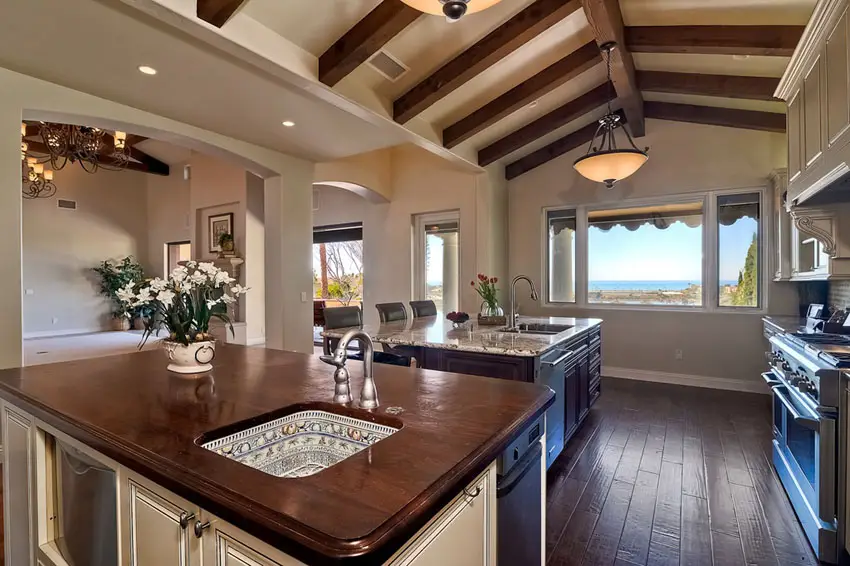 This modern kitchen with an open layout uses a reversible combination of white and mahogany finish. The main kitchen cabinets uses white base with mahogany butcher's block counters, while the kitchen island uses a mahogany base with white marble countertop.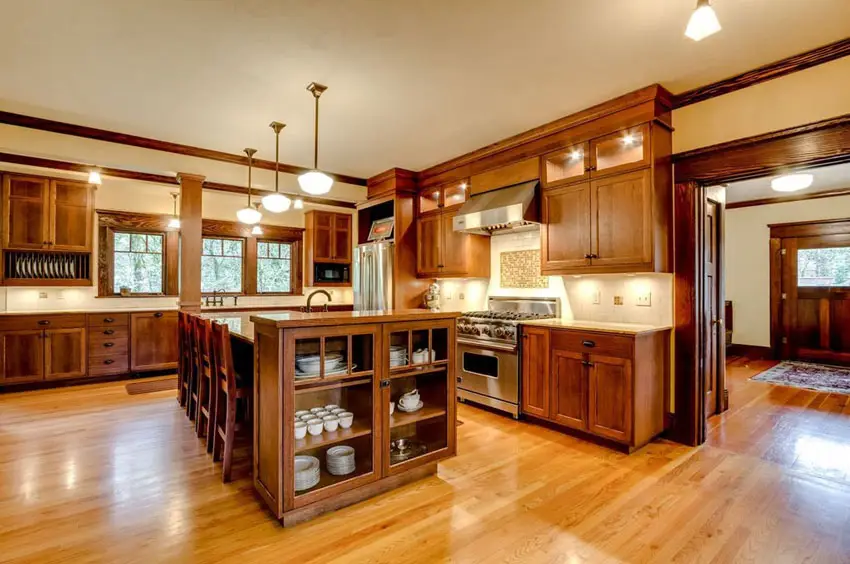 Light teak engineered wood floors gives the the floor surface a nice clean shiny surface, which helps bring out the beauty of the natural walnut kitchen cabinets. All cabinets uses the same finish and wood, even including the cornices and window frames, making the whole space look cohesive.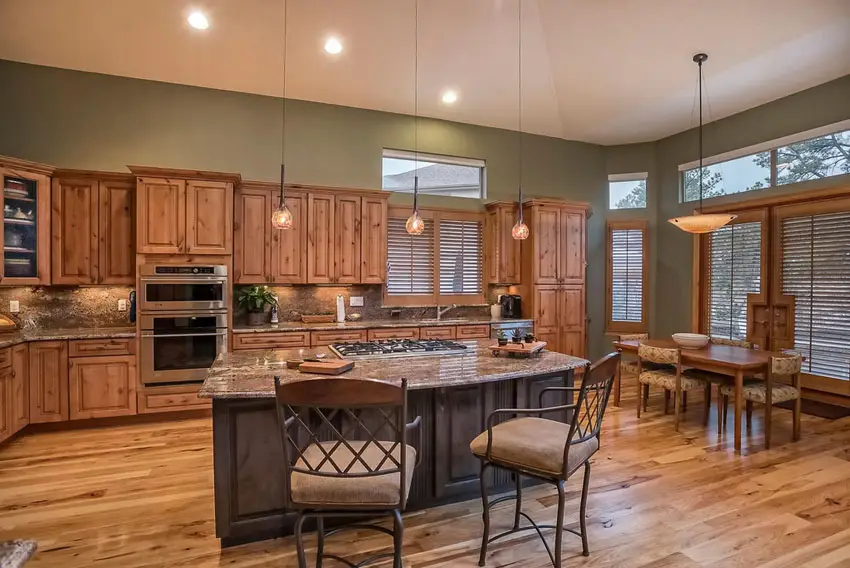 Sage green walls give a subtle cool tone to this space, as it uses a variety of wood finishes with dominantly warm undertones. Floors are light beech wood, while the kitchen cabinets used are natural fruitwood, sanded and topped with a matte varnish finish. The kitchen island uses the same wood, but finishes it with an ashy brown tone for contrast.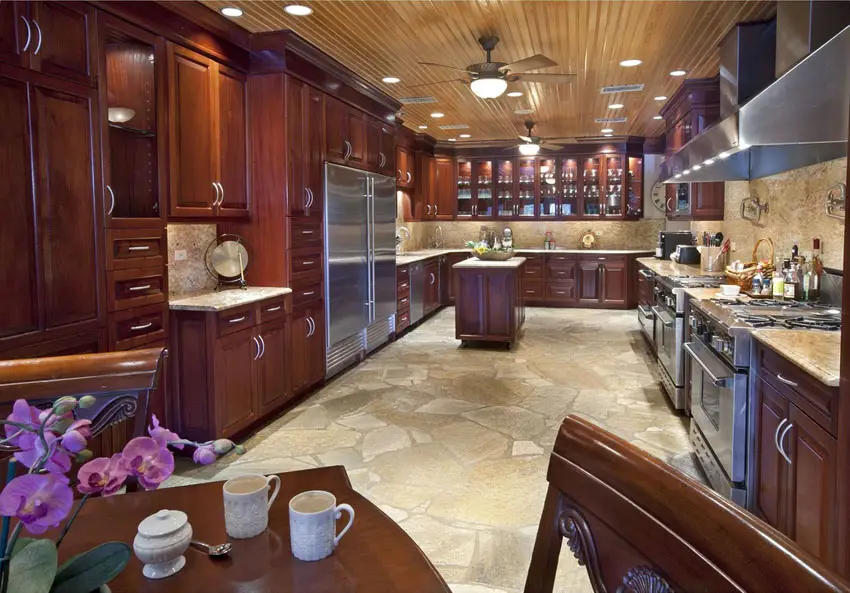 Quarry stone floors give this kitchen space a unique feel, while the classic paneled kitchen cabinets in Mahogany wood gives it more sense of familiarity. The ceiling of the space are maple finish wood slats, adding texture and pattern to the ceiling surface.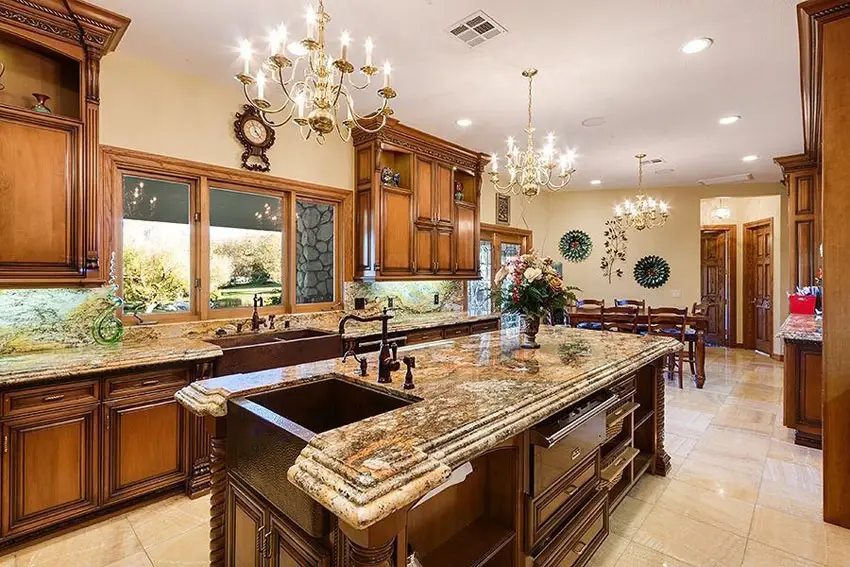 Craftsman kitchens are known for their decorative wood cabinets. The intricate carvings, motifs and turned post details of these kitchen cabinets evidently suggests its Spanish style inspiration. Using golden walnut wood which matches the wood used on the doors, baseboards and windows, the design looks cohesive and well thought-of. The custom kitchen island provides plenty of storage and cutting boards at the ready. Rubbed bronze kitchen features such as the dual basin sinks adds a touch of antiqued feel to the space, while the gorgeous slab of granite makes it look classy and elegant.
Related Kitchen Design Galleries You May Like:
Mediterranean Kitchens – Dark Wood Kitchen Designs – Kitchen Design Ideas – 143 Luxury Kitchen Designs – Spanish Style Kitchens– Traditional Kitchen Designs