Here we share our color schemes for kitchens with hickory cabinets guide, including what paint colors go with this wood, and choosing the best shades & designs.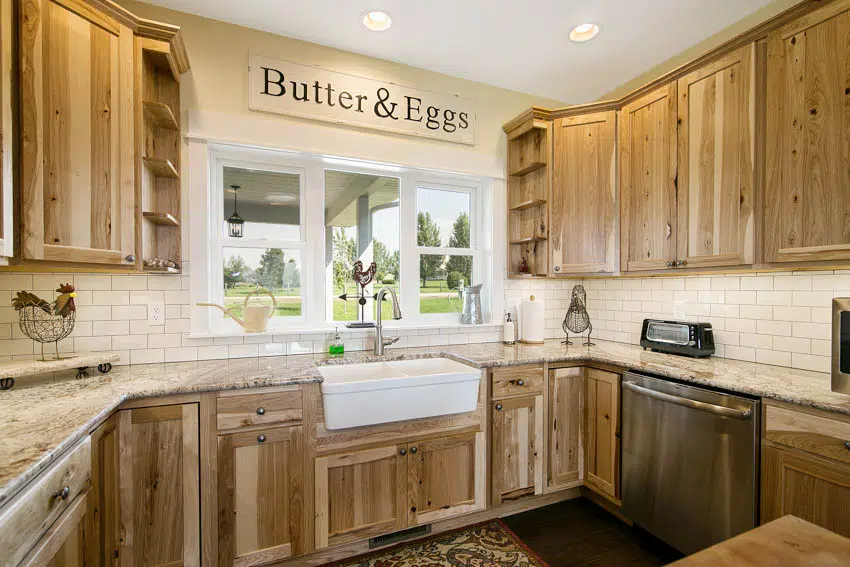 Hickory cabinets offer an impressive natural look with varying tones from creamy yellow to dark brown and reddish hues. While it effortlessly showcases its wooden aesthetic, hickory also serves as durable furniture that's perfect even for the busiest kitchens.
The dense wood doesn't dent easily and, with good structural support, can hold up heavy kitchen items. Aside from a scratch-resistant surface, the hard-wearing hickory kitchen cabinets are also moisture-resistant, making them a fitting choice for rooms with high moisture and dampness.
While hickory cabinets are beautiful and durable, the robust and distinctive graining with knots and dots can be challenging to match with other colors, especially when aiming for a modern look.
Does Hickory Make Suitable Kitchen Cabinets?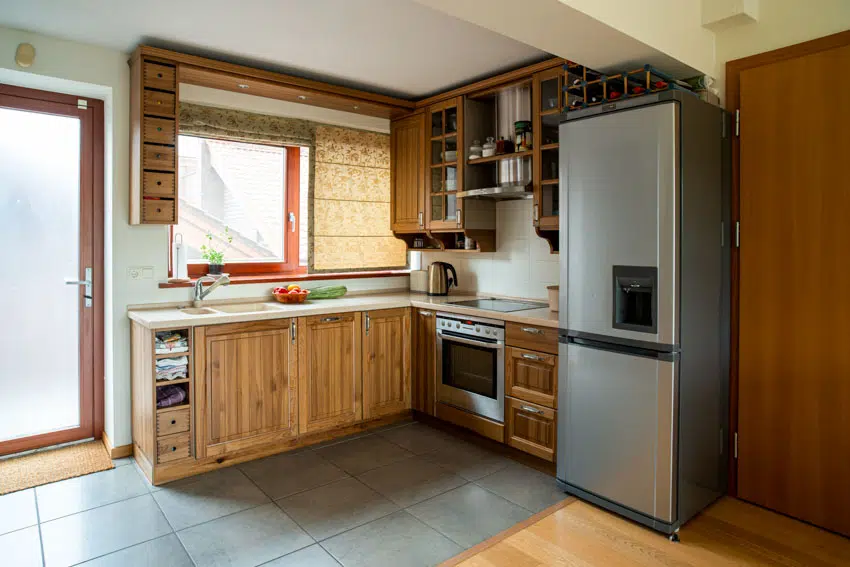 Hickory wood is an excellent kitchen cabinet material due to its hardness and distinctive look. Moreover, its resistance to moisture makes it a suitable material for kitchens known to have high humidity levels. This means your cabinetry is less likely to form mold or mildew that can harbor bacteria and eventually damage the structural integrity of your furniture.
Hickory kitchen cabinets make durable base cabinets that are very good at handling stress, shock, and weight. The dense wood also means it can handle the constant banging of doors against your frame.
Due to its tight wood grain pattern, you'll find staining your cabinets a lengthy process but worthwhile as it brings out the gorgeous wood features. When the lumber is sanded and conditioned, it seals off imperfections and prevents blotching.
Natural maple, hickory, and ash kitchen cabinets will typically lose their snowy white color and begin to yellow with exposure to light. Though belonging to the more costly wood lumber, hickory cabinets are a worthy investment for your kitchen if you want longevity and unique aesthetic appeal.
What Colors Go With Hickory?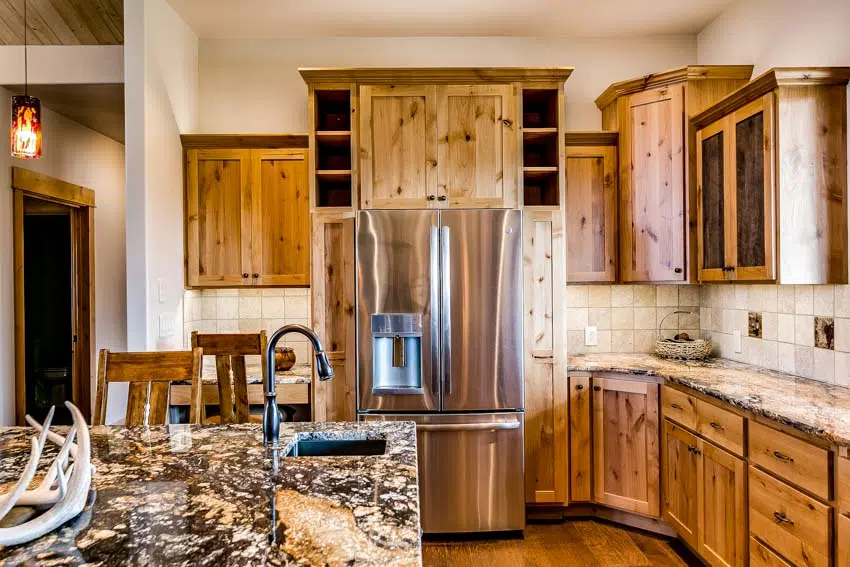 A good guide when choosing colors for our hickory kitchen cabinets is deciding whether to go with contrasting or monotonous colors. A natural consideration is the primary tone of your wood cabinets and their undertones. Another consideration is the size of your kitchen and existing colors and textures.
Neutral hues are the best balancing colors that work well with any tone (light to dark) of your hickory kitchen cabinets. They are also the safest colors for your walls, ceiling, and flooring as it does not overwhelm this wood species, which is among the strongest and most distinct types of wood grain patterns.
White is a popular choice for most kitchen spaces, but you can add depth by adding variations such as different gray or blue hues. Shades of gray are another good option to pair with this wood's coloring. With a wide range of tones, you'll find the best level of lightness and darkness to match your cabinetry.
Aside from neutrals, a trending combination with wood is colors from the blue and green spectrum. The cool tones perfectly balance hickory wood's warm and rustic look. These popular choices include teal, emerald green, sage, turquoise, and royal blue.
Don't forget undertones, as it dictates the temperature of your color. For warm hues, beige, cream, and lemon yellow are great colors to combine with your hickory cabinets as they brighten and cozy up your kitchen. Varying dark brown hues with black or darker elements will allow your colors to look coordinated and not too overwhelming.
Neutral Color Schemes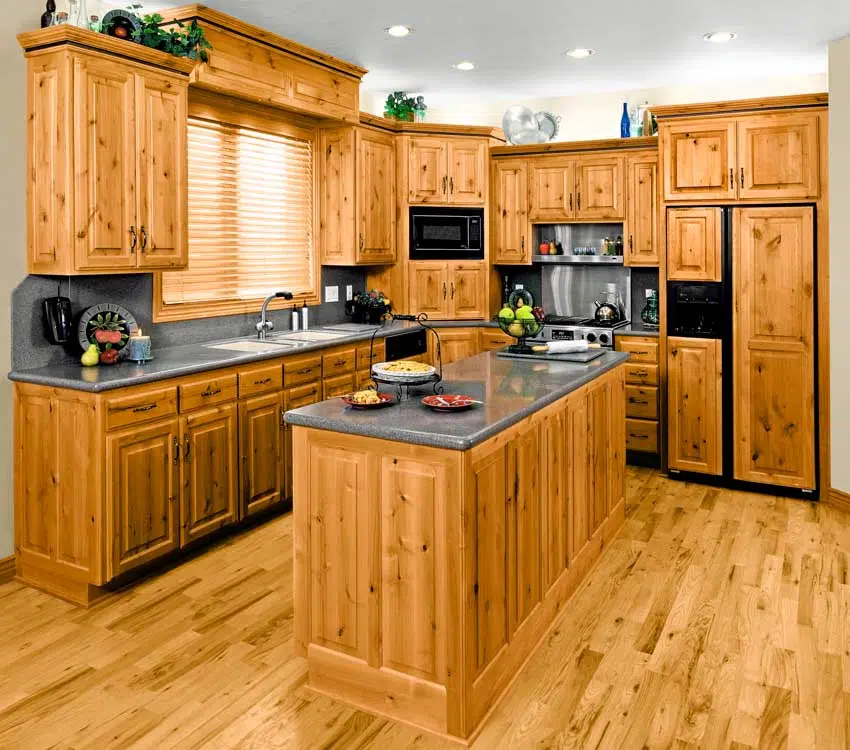 Hickory cabinets matched with neutral hues are a desirable color scheme for modern-themed kitchens. As neutral shades such as grays and whites look great with any color, it's one of the easiest color ranges to match with your strong-grained wood. In addition, earthy tones and neutrals go along very well with interior color schemes.
With neutral color schemes for kitchens with hickory cabinets, it's easy to choose between going contrasting tones or going monotone with the other elements. Contrasting tones are great for large areas as they give depth and dimension to your space, highlighting architectural and interior features, while monotone color schemes look good in small kitchens as they allow the space to breathe.
Bleached and lighter-toned hickory cabinets look great with contrasting floors, such as a dark gray granite countertop or flooring. Read more about what flooring goes with hickory cabinets here.
Warm creams and grays are welcoming matches with your light to honey-colored hickory.
1. Rustic Industrial
• Hickory Wood: Light and Cream
• Walls: Warm Gray # c1b5b5, #b2a4a4, #bdb3a7
• Countertops: #49382c
• Backsplash: #636864
• Flooring: Light to Brown Wood Floors
2. Warm Contemporary:
• Hickory Wood: Dark Brown to Reddish
• Walls: #bca078
• Countertops: #000911 (Black)
• Backsplash: #DAB38C
• Flooring: Reddish Brown Wood Flooring
Warm Color Schemes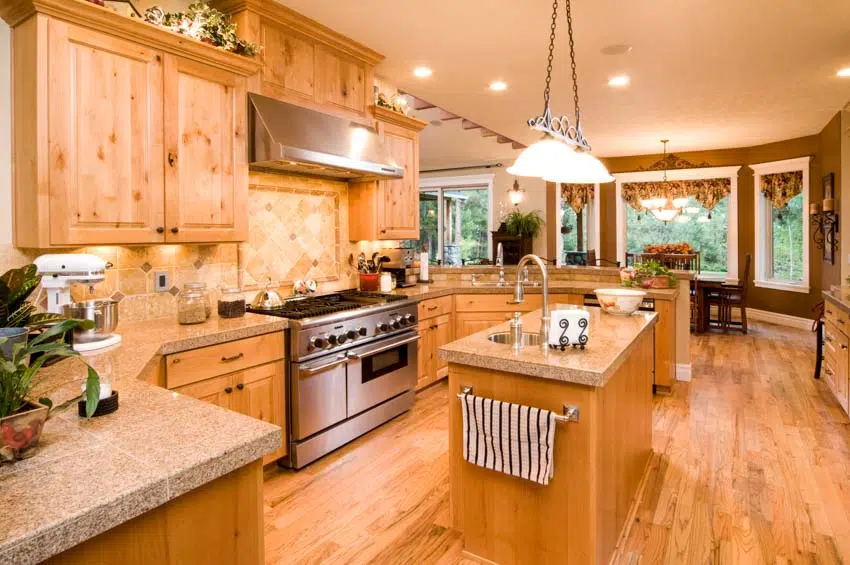 Hickory cabinets effortlessly bring warmth to a space. When strategically paired with warmer hues, it provides an inviting space. When choosing warm colors, coordinate tones next to each other on the color wheel, known as complementary colors, and then ground them with neutral hues.
Since warm colors are typically visually forward, you'll need a neutral tone to balance off the bright colors. Warm color schemes for kitchens with these cabinets can make a room look cozy and reminiscent of the sun, fire, or sand, brightening up the room and balancing off your cold surfaces from your countertops and other equipment.
One idea is to use warm colors for the paint colors and decor items, paired with neutral colors complementing countertops, and backsplash with hickory cabinets. Not all warm colors will look good with this wood species, and pairing will depend on the shade of your wood. Add dark gray or black hardware and appliances to contrast a warm color scheme.
1. Nordic Modern
• Hickory Wood: Dark Brown to Reddish
• Walls: #bca078
• Countertops: #b79e6f
• Backsplash: #847048
• Flooring: Reddish Brown Wood Floors
2. Rustic Farmhouse
• Hickory Wood: Dark Brown to Reddish
• Walls: #d5bc93
• Countertops: #6c523d
• Backsplash: #55452d
• Flooring: Reddish Brown Wood Floors
Cool Color Schemes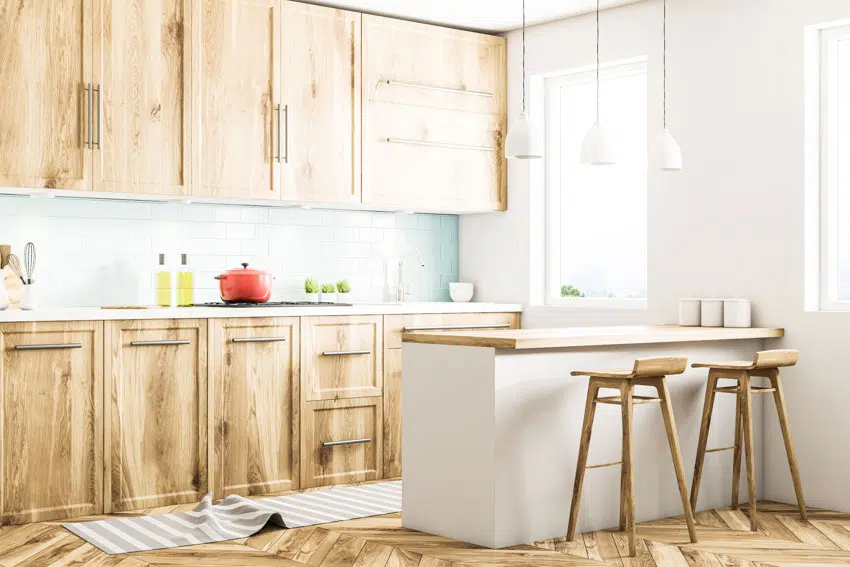 Greens and blues are the best cool color schemes for kitchens with hickory cabinets using light to medium-toned browns. These cool shades dampen the warm and rustic material and look excellent with many wood shades. The great thing about these cool tones is that you can paint your room extensively with calming colors.
But while cool colors such as green and blue bring calming and sophisticated energy to your kitchen, too many hues can convey sadness. While your warm wood balances this look, lighter-colored hickory wood can make it look drab or boring.
Make sure to add a darker contrasting color; the best is a dark neutral to add depth and dimension to the look. Teal, sage, and naval blue are trending colors these past years, and you'll find them giving a youthful touch to your traditional wood cabinets.
1. Sea and Sand
• Hickory Wood: Light to cream with reddish undertones
• Walls: #7f9382
• Countertops: #f4e9dc
• Backsplash: #a2b2a5
• Flooring: Light to cream
2. Calming Blues
• Hickory Wood: Light to cream with reddish undertones
• Walls: # 94a6b5
• Countertops: # ffffff
• Backsplash: # 918789
• Flooring: Light to cream
2. Relaxing Ivory and Green
• Hickory Wood: Light to cream with amber undertones
• Walls: #595b42
• Countertops: # c3bdad
• Backsplash: #b2b2b2
• Flooring: #986737
Paint Colors That Go With Hickory Cabinets 1. Storm Cloud (SW 6249): Blue Green Hue with Gray Undertones
Coordinating Colors: Extra White (SW 7006) Quest Gray (SW 7080) Plum Brown (SW 6272) Storm Cloud (SW 6249)
Use white types of kitchen countertops with gray or bluish veining to complement your walls.
Match your white countertops with SW 6272 Quest Gray accent colors and SW 6272 Plum Brown. Then, accent with blue-green subway tiles with white caulking.

2. Benjamin Moore Balboa Mist (OC 27) – Warm Gray: Has a slightly taupe undertone. Or Sherwin Williams African Gray (9162) – Cool Gray: Has blue-green undertones.
Coordinating Colors: Extra White (SW 7006) Salty Dog (SW 9177) Site White (SW 7070)
Gray is an excellent color pairing for your hickory cabinets as it allows them to pop visually without competing with the strong wood aesthetic. Neutral hues are great with wood, and with the varying gray shades available, you'll have an easier time deciding on the best tone for your design. 3. Benjamin Moore Pale Avocado (2145-40)
Coordinating Colors: Pueblo (SW 7711) Benjamin Moore Cinnamon (2170-20)
Create a French Contemporary with a twist with Benjamin Moore Pale Avocado 2145-40. The fresh color can give life to traditional themed kitchens as it breaks the monotonous colors of yellow and brown hues from your kitchen cabinets. Black hardware is an excellent match for the combination.
4. Dunn-Edwards Bone White (DEC741)
Coordinating Colors: Behr Premium Plus Interior Eggshell Paint in Broadway (PPU18-20) Behr Tangerine Dream (210B-5) Behr Peppery (MQ2-62)
Match black or dark built-in kitchen equipment with your hickory cabinets and add a pristine backdrop such as Dunn-Edwards Bone White DEC74. Add gold hardware for a retro look. Add other white color variations to add depth to other sections of your walls or architectural features, such as your columns. 5. Benjamin Moore 2066-20 Evening Blue
Coordinating Colors: Benjamin Moore Swiss Coffee (OC-45)
Royal blue is a surprising tint to match your hickory cabinets but with the right coordinating colors and accents. The kitchen color scheme is perfect for a fresh twist on farmhouse or mid-century modern themed kitchens. The gold and black accents are perfect with a white or off-white countertop. The ensemble can convey a cozy, inviting feel and glamorous interior.
See more related content in our article about red oak kitchen cabinets on this page.