This gallery of centerpieces for the dining room table showcases what can be used for a table centerpiece and ideas for year-round, holidays, everyday use, & ideal size.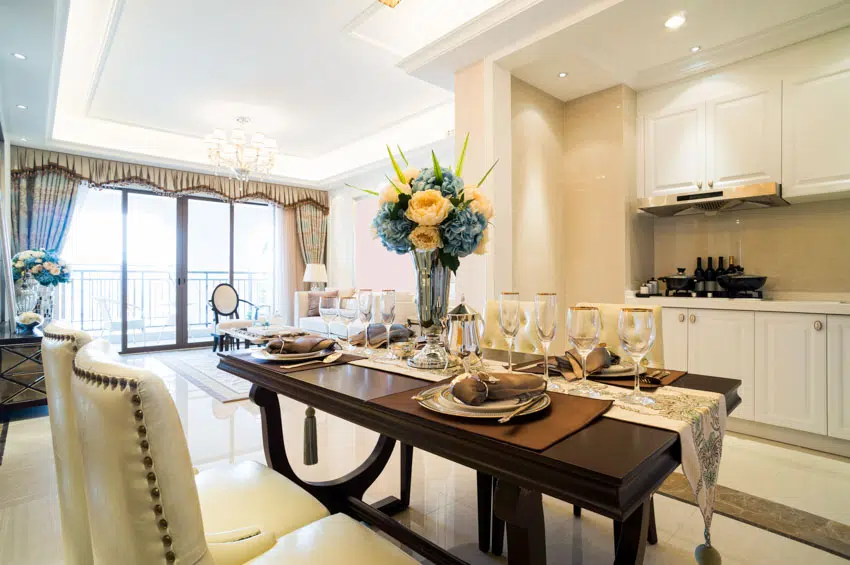 Your dining room may be decorated with beautiful artwork hung on the walls, elegant window treatments, or a unique chandelier, but do you have a centerpiece for the dining room table?
Your dining room table is likely the largest surface space in your home and may be used for special occasions or everyday meals. Either way, centerpieces for a dining room table add a finishing touch to a room's theme and interest to the table.
A centerpiece replaces an empty look with an inviting welcome. Centerpieces are not permanent, so you can experiment with new ideas until you find one you like or switch out several types based on the season, approaching holiday, or occasion.
For everyday dining room use, the centerpiece may be centered more on practicality with items such as a decorative serving set with a matching pitcher, sugar bowl, gravy boat, and a vase for fresh or silk flowers.
This guide includes information about what items can be used for a dining room centerpiece, how big it should be, popular centerpieces, and what items should not be used for a dining room centerpiece. Read on for inspirational ideas and suggestions.
What Can Be Used For A Table Centerpiece?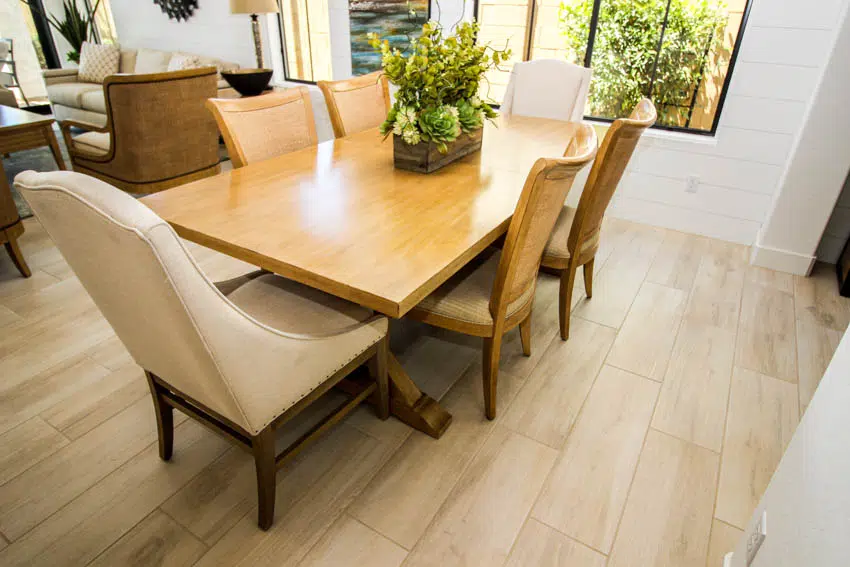 What you use for your table centerpiece will depend on whether it's an everyday centerpiece you plan on using all year long or a decorative addition for a special occasion and gathering.
The combinations are endless when creating a customized DIY arrangement that will reflect your design preferences and style, and everyday items in your home also make a great table centerpiece.
The easiest option for a centerpiece is to purchase a premade home decor piece or use a vase filled with fresh flowers. Let's explore the possibilities.
Year-Round Centerpiece Ideas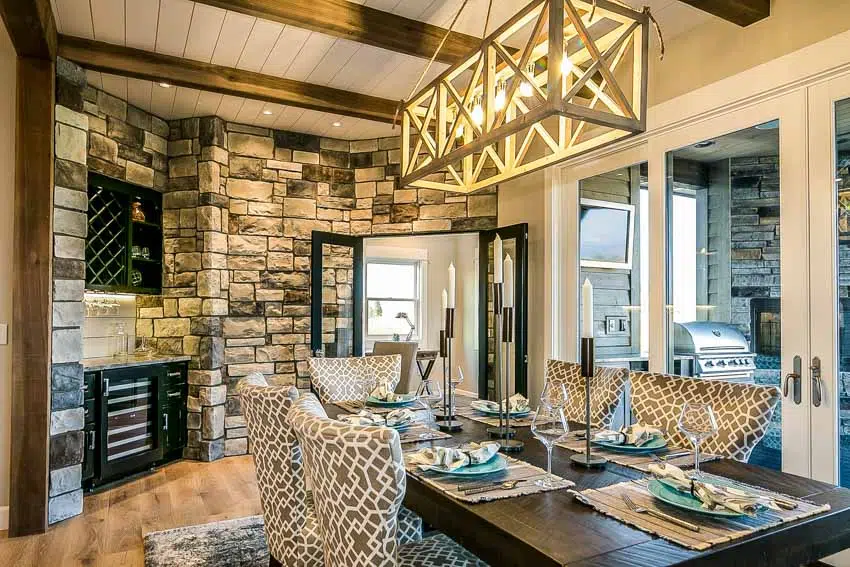 Suppose your dining room is decorated with a rustic style, including natural wood, outdoorsy artwork, clay artifacts, pottery, and picture windows. In that case, the centerpiece can include an arrangement of pine cones and faux evergreen branches.
These dining table centerpieces for can be arranged on top of an oval piece of burlap. This makes a perfect base for brass candlesticks. Change the color of the candle holders and candles according to the season or holiday.
For an elegant colonial dining room with a touch of Williamsburg style, consider a centerpiece made from three white colonial stagecoach lanterns with a white candle in each. Place them evenly in the middle of the table on a light blue cloth runner adorned with magnolia trees.
Many dining room centerpieces that reflect colonial décor include elements like fruit and nut arrangements. Faux fruit and nuts in a wicker basket make a simple centerpiece for a smaller table.
If your dining room is more of a traditional space, use several ceramic vases, decanters, and metallic candlesticks arranged on a charger. Include family heirlooms, different shapes, and contrasting colors or designs to create an interesting collection. Switch up flowers, candles, and dried flowers or branches according to the season.
Special Occasion Or Holiday Centerpieces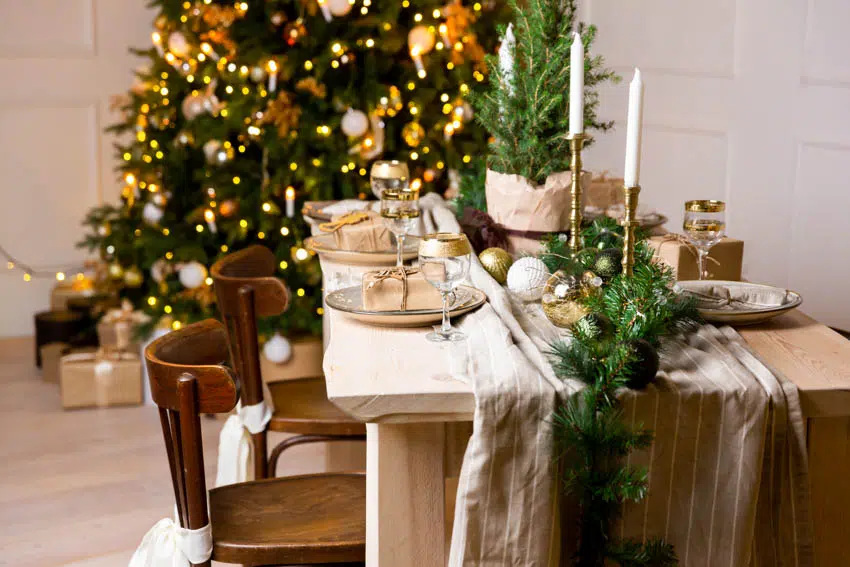 Whether your dining room table is used daily or for special event dinners, the holidays or special occasions such as birthdays or graduation are opportunities to switch up your centerpiece.
Easter calls for appropriate dining room essentials, like a light-colored basket filled with crumpled tissue and lovely figurines, while Christmas is a perfect time to display your Christmas village on a dark green mat.
From the arrival of fall to Halloween and Thanksgiving, you can enjoy combining boughs of fall-colored silk leaves, pumpkins, and pine cones in a shallow, natural-wood rectangular box placed on a fall-themed table runner. Add and change out decorative knick-knacks according to the holiday while leaving the main display.
Centerpieces for Dining Room Tables Used Everyday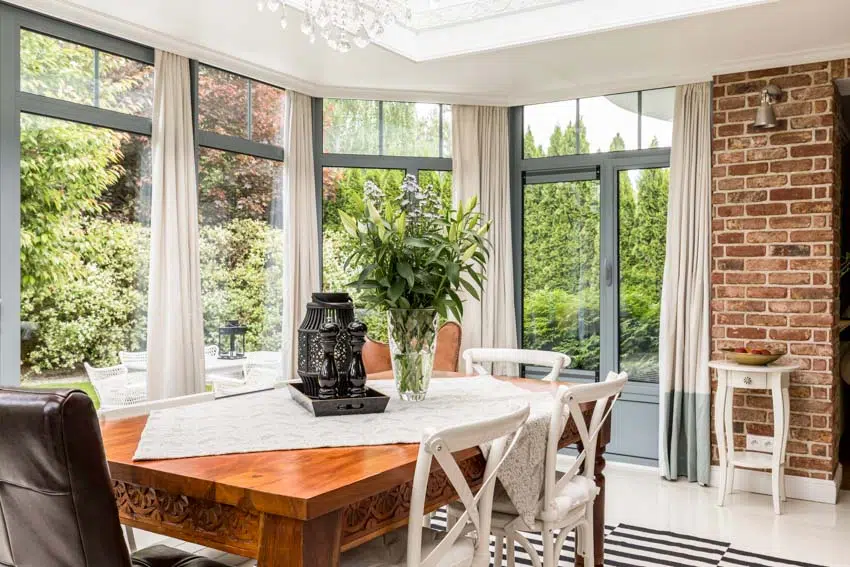 If you have a large family that eats daily meals together on the dining room table, but you still want to have a nice-looking centerpiece, use a coffee or tea set that's for decoration, not serving.
Arrange a teapot, teacup sets (how many depend on the table size), a sugar bowl, and creamer on an elegant serving tray. To deter use, place dried or silk flowers in the teapot or creamer to indicate the items are for display only.
For a functional everyday dining room centerpiece, use a serving tray or wire basket to arrange condiments, seasoning, sauces, and toppings used for each type of meal.
Choose serving bowls with the same design or mix them up to create a whimsical grouping. Add a decorative napkin holder with plain white napkins and sprinkle salt and pepper, sugar and sugar substitute packets on the tray for easy access.
Plants in s a decorative pot or cut flowers are another alternative that never go out of style.
How Big Should A Centerpiece Be For A Table?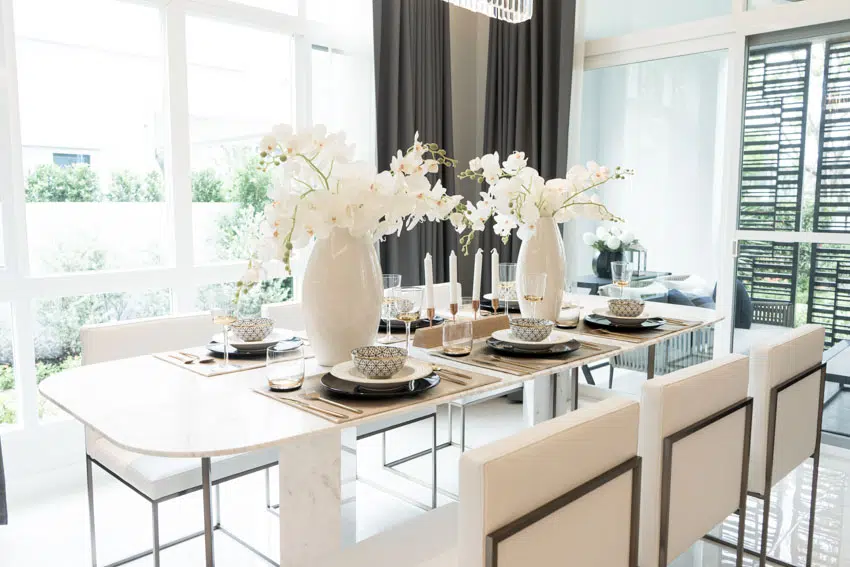 The first thing to consider is the size and shape of the table when determining how large or small a centerpiece should be. Most types of dining room tables are wide and allow for focal points such as large vases with flowers or multiple flower arrangements.
However, a small, minimalist collection of a simple, sleek vase and a handful of fresh-cut flowers will create a dramatic effect even on a large table. This will leave plenty of room for food items, drinks, silverware and accessories.

Keep in mind the amount of "blank space" left after you place your table decor centerpiece and place settings on any table. If you enjoy an eclectic mix of items or a minimalist design for your centerpiece, too much table showing may look unfinished.
For instance, a 10-foot round table with one small vase filled with three or four flowers will look unappreciated and plain. It's better to use a wider centerpiece with 12 inches of height.
Long and narrow tables look better with smaller pieces in a row down the middle of the table. However, beware of creating a "flat" look by using small or very short items. This leaves the table without a vertical presence and deters from having a welcoming feel for guests.
What Is The Most Popular Form Of Centerpiece?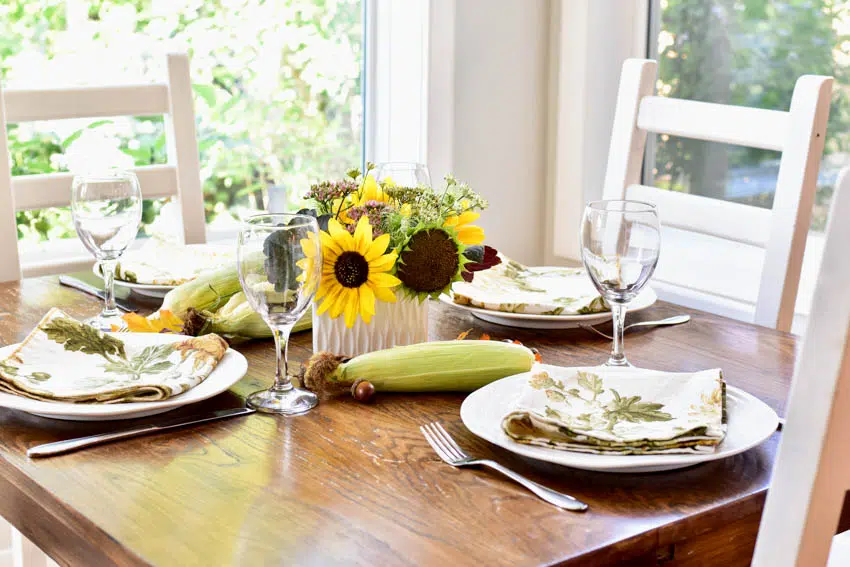 The most popular centerpieces for the dining room table are vases with flowers, especially for a wedding or outdoor party. Regardless of what size and how many, vases filled with flowers of any kind are popular and the most widely used centerpieces.
Options include fresh flowers, branches and twigs, silk flowers, and a mixture of garnishes. Keeping the vase a solid color without a design will highlight the flowers and create an elegant centerpiece. If you are looking for ideas for kitchen island centerpieces visit this page.
What Should Not Be Used For A Table Centerpiece?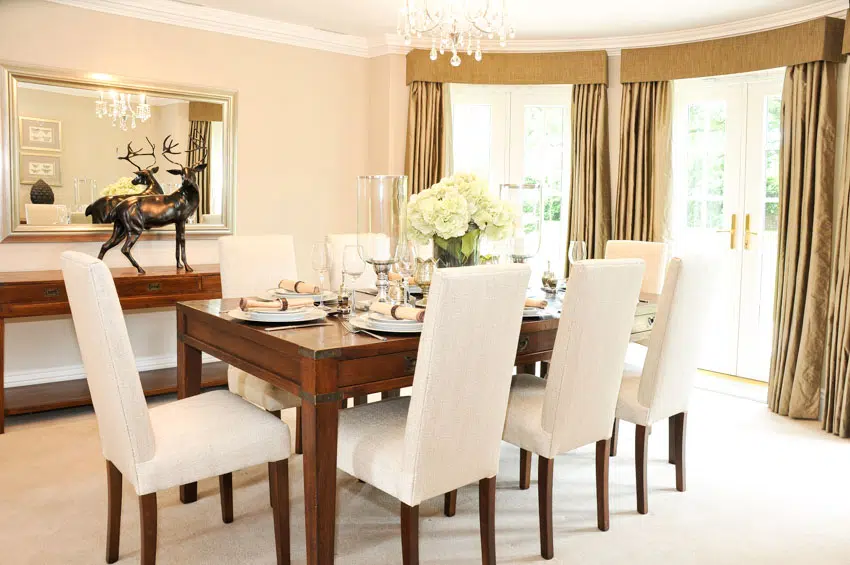 When having guests for a dinner party, you'll want your dining room centerpiece to be short enough for people to see each other across the table. It's not conducive for conversation to have a tall, wide vase with bundles of peonies hanging over the side, making it impossible for guests to interact.
Keep your centerpiece at or below 18 inches tall but not less than 12 inches. Too short, and the centerpiece will get lost among the place settings and serving bowls.
Also, beware of adding a centerpiece that's too wide for the table. If the piece is made with flowers, leaves, or branches, you risk these embellishments ending up on a guest's plate or in their drink.
Centerpieces with lights may cause shadows or bright light that interferes with guests' ability to see each other, causing awkwardness. You want your friends and family around your dining table to be relaxed and comfortable.
Stay clear of using scented candles, potpourri, or any items that are perfumed. No one wants to sit at a dining room table to eat a meal or enjoy dessert and smell a strong candle aroma or artificial scent. Be aware that some florists sell fresh-cut flowers sprayed with a canned scent that contains perfumes.
Guests with chemical allergies will also appreciate not having a scented centerpiece. Armed with information about centerpieces for dining room tables, you can get creative and enjoy creating a centerpiece that fits your style and design.
Did we miss any important dining table decor or accessories? Share your best tips for table decorations in the comments. See more related content in our article about the best fabric for dining room chairs on this page.