Welcome to our dining room essentials gallery that showcases dining room furniture, accessories, lighting, decor, and interior design considerations for your home.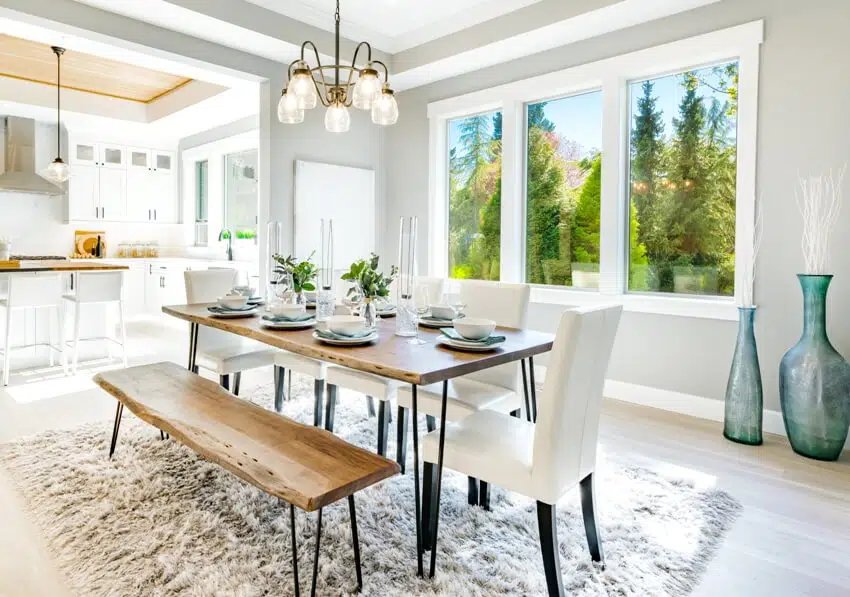 The dining room is the place where social gatherings are held, a place to enjoy a hearty meal, and a place to have fruitful conversations with friends or family. So naturally, it makes sense to make that this place is given high regard when it comes to the required essentials.
Dining Room Furniture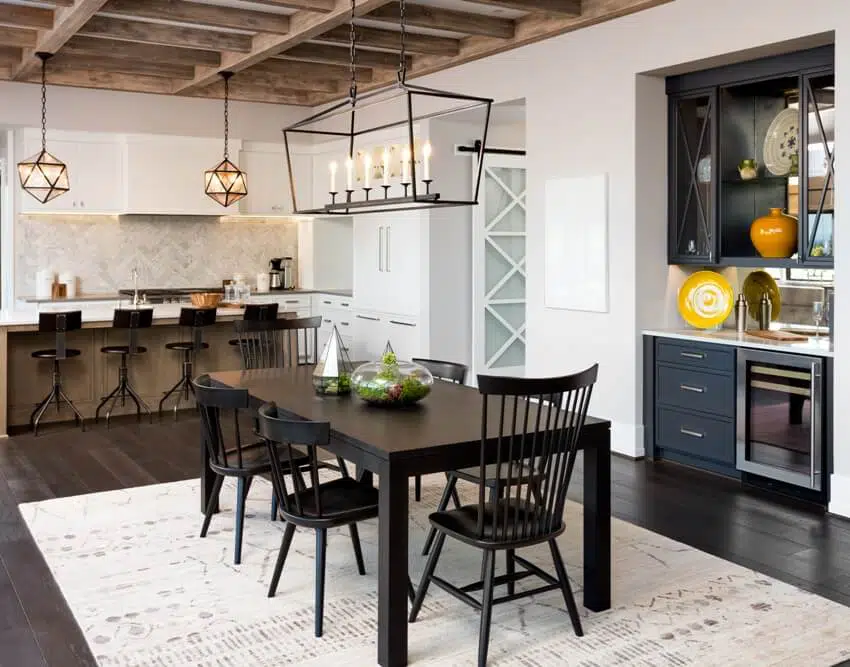 When filling up the essentials of your dining area, it is important to decide carefully on the larger pieces as décor and accessories are easier to swap anytime you choose to.
It is also to keep in mind to prioritize functionality and comfort above aesthetics. As furniture is an investment, it is crucial to choose pieces that are quality-made and versatile in style.
When Planning, Consider:
• The dining room size.
• The number of persons to be seated.
• Accessibility and clearance spaces.
• The type of furniture to be included.
• The space is occupied by the chairs.
• The design theme of the dining area.
Dining Table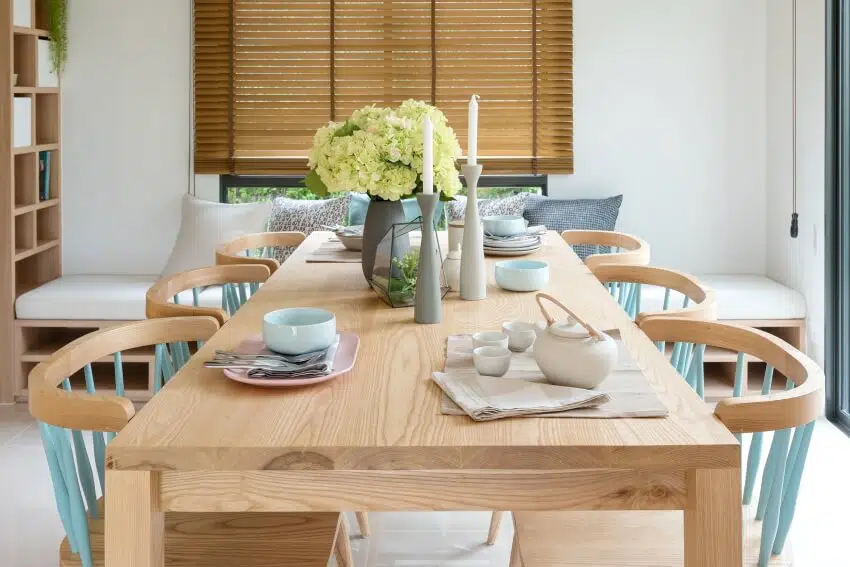 When choosing your dining table, start with measuring the clearance space between the edge of your dining table to an adjacent wall, door, window, or furniture.
The recommended clearance space is 30 to 36 inches. If you've got a spacious dining area, a 42- 48 inches clearance space is more proportion than your recommended measurement.
An ergonomically sound dining table should have a comfortable space between individual seats. As a rule of thumb, allocate 24 inches in between seats.
For a comfortable table height, use 28 to 30 inches tall, which is common for standard dining tables, and remember to consider your chair's height as well.
Flexibility should also be considered when choosing your dining table. If you frequently invite guests, an extendable table where sides can fold up when there is a need for extra space for guests.
When choosing the shape for your dining table, consider the size and layout. Square and round tables are recommended for small dining areas, while the oval and rectangular tables are suitable for spacious dining rooms.
You have a wide range of designs and materials to choose from for the style. There are versatile collapsible or expandable dining tables, as we've mentioned, and trending dining tables today, such as the Nordic dining tables with rustic reclaimed wood or the sleeker alternative made of light wood and with a sleek profile.
Marble dining tables are great for adding weight to the overlook of your dining area and lend those soft and subtle hues that are great when you want an eye-catching material for your focal point. Types of dining tables made of glass are elegant and modern and bring in that airy vibe allowing light and views through.

Dining Chairs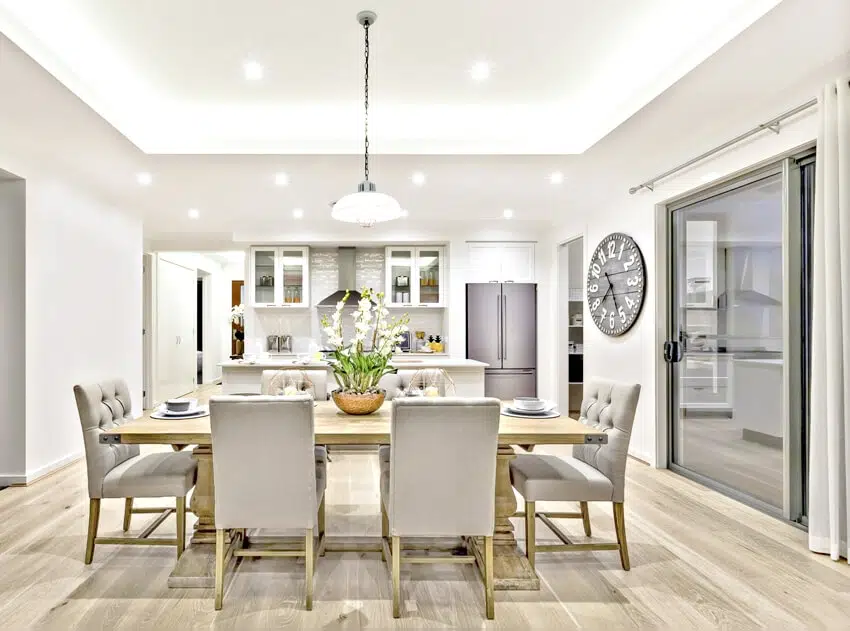 The available standard seat heights for dining chairs are 18 to 23 inches and 24 to 36 inches. These sizes are compatible with your standard dining tables. If you wish for a custom-made dining chair or table, remember that the recommended clearance between the top of your seat to the backside of your dining table is 12 inches.
However, not all people will need the said 12 inches clearance, such as children or people who are shorter than the average height.
The width for a comfortable dining chair size is 16 to 20 inches, with every person having an eating space of 24 to 26 inches, and an extra 6 inches should be added in between chairs for accessibility.
To determine the number of chairs a dining table can accommodate, measure the longest length of your dining table, then divide it by 32 inches (26" width of chair + 6" spacing in between). You can also add extra benches to be easily pulled from the side when you need more seats during occasions.
There's a wide range of different types of dining chairs available:
Host Chairs – Placed at the ends of a dining table.
Side Chairs – Placed along the longer sides of the dining table with no armrests making it easier to go in and out of the seats but less comfortable.
Most users prefer dining chairs with a backrest. Lower backrests with the same level as the dining table tend to give a more modern look, while 32 inches to 34 inches give a more traditional look.
Trends: Transparent Dining Chairs, Bistro-style Chairs, Farm-style Vintage Seating
Storage Spaces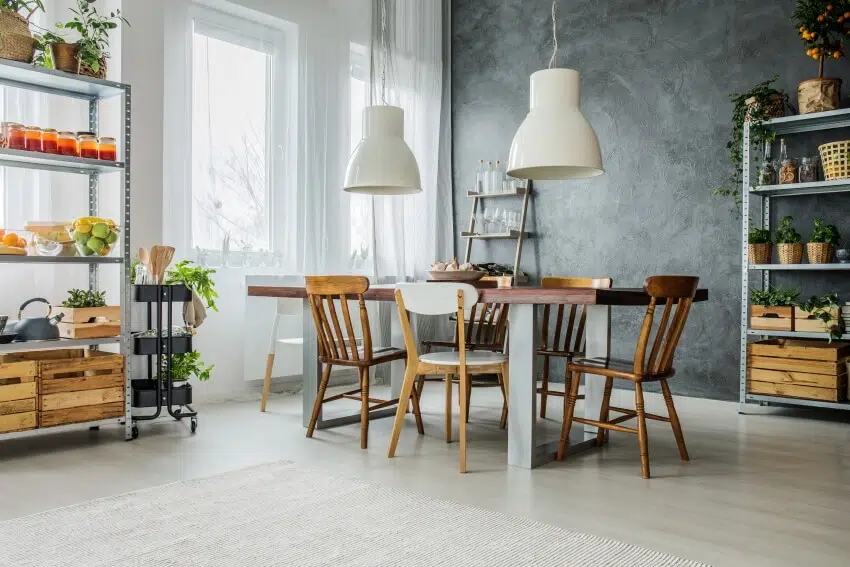 From repurposed bookcases to your classic credenzas, storage design possibilities are endless. When selecting your dining room storage
Bespoke dining room storage options are always best for making your space look not just neat but beautiful for those occasions when you open your home to friends and family.
Classic Credenza. A statement piece with discrete storage. You know you have a credenza if it has no legs or extremely short legs with sliding doors and mostly a rectangular profile.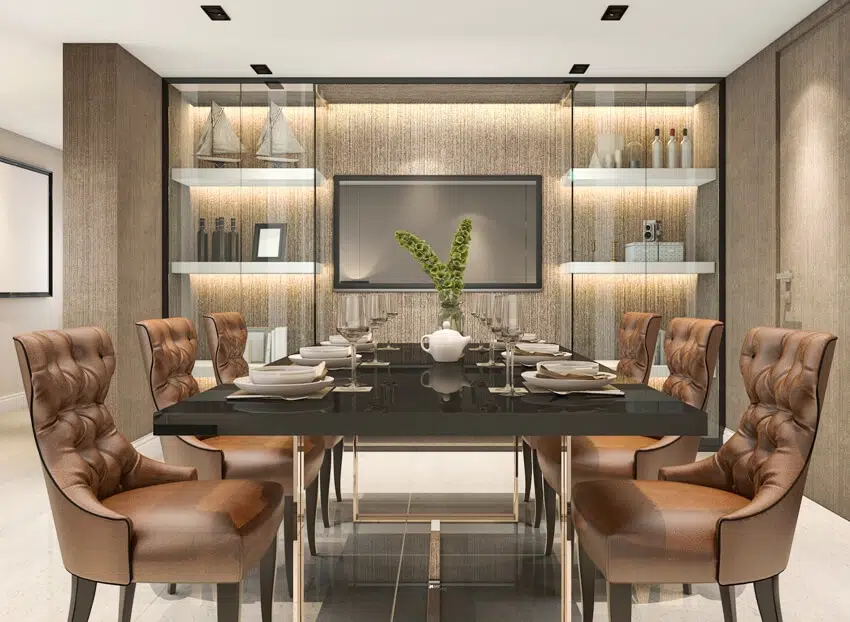 Floor-to-ceiling Shelves. Maximize space with a floor-to-ceiling shelf.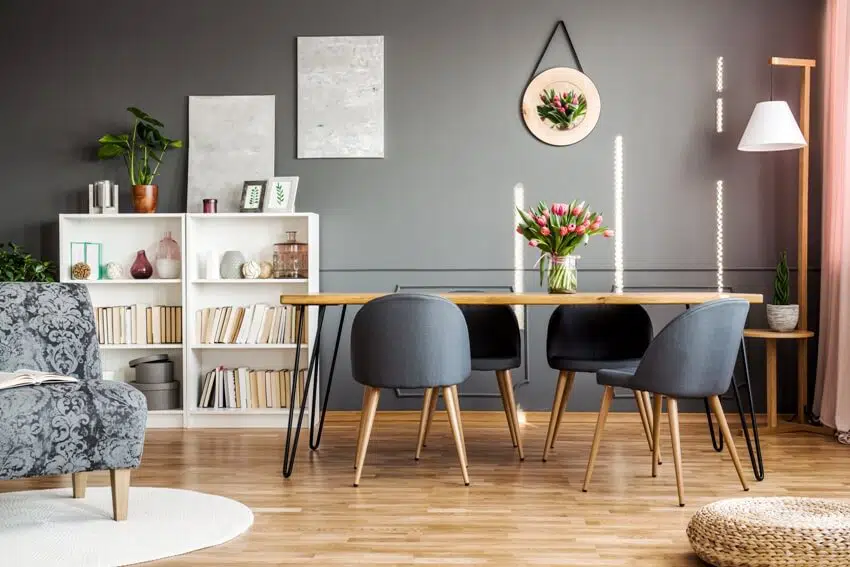 Bookshelves. The open shelving or glass sliding doors are the perfect showcase or storage space for your silverware. You can even repurpose an old bookcase to serve as your dining room storage.
Buffets. The flat-topped furniture functions mainly as a space where a selection of dishes is laid to be served and showcased. Often it has extra shelves below to store utensils, China, or any items that need quick access when using your dining area.
Buffets and credenzas are quite similar in function. The difference, though, is that the buffest are characterized by long legs and taller than credenzas and sideboards.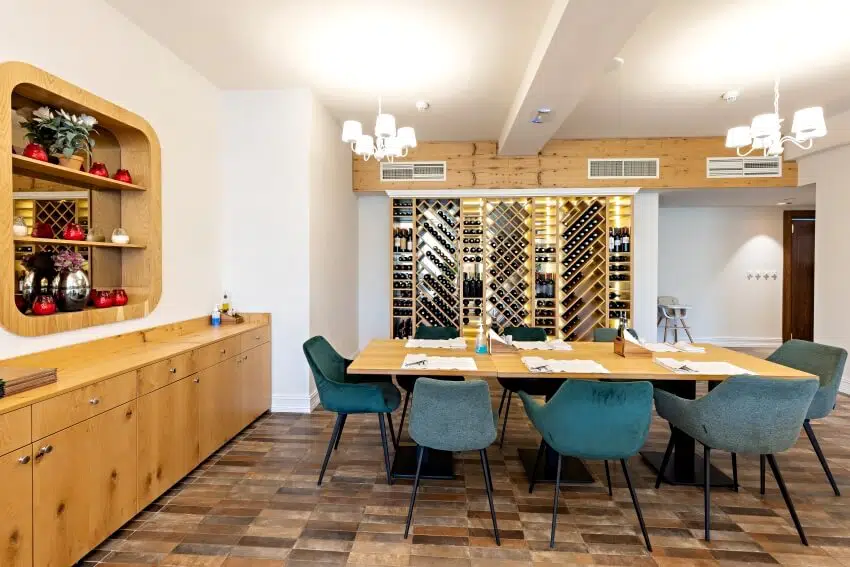 Hutch. The hutch furniture, sometimes called a hutch dresser, is basically a set of cabinets or shelves combined with a counter. In addition, lower storage units are available below to be used as cabinets or drawers to store other dining or kitchen items. The most common type of hutch is the buffet hutch.
Sideboard. Like the credenza, sideboards in kitchens have the same low and elongated shape. The difference between a sideboard and a credenza is that sideboards will have cabinets that reach the floor that come with hutches. Dining rooms take advantage of the extra storage below to showcase fine China or other decorative pieces.
Accessories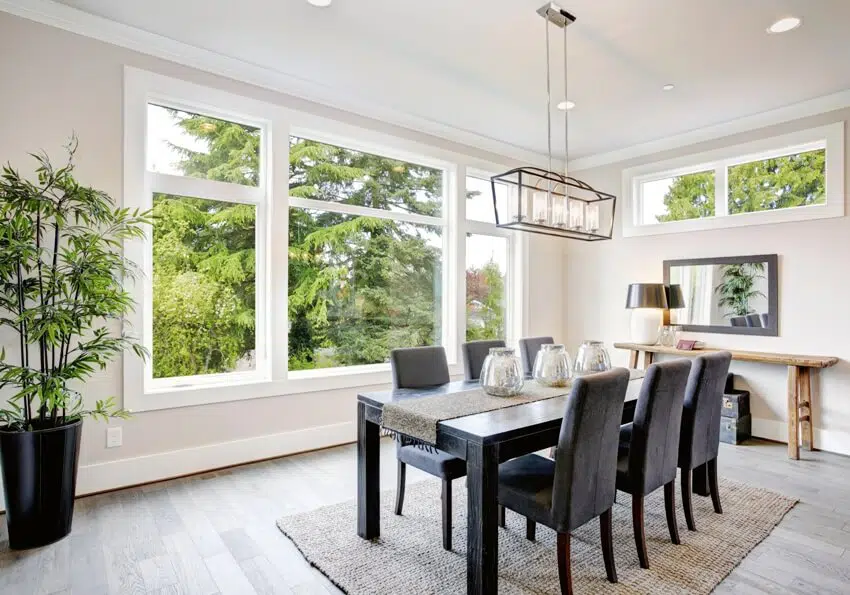 Dressing up your dining room with the right accessories, regardless of their size or theme, makes a whole lot of difference. And since there's a wide range of decorating ideas for dining rooms you can explore, you can add your own personal touch.
Tablecloths
Having a few sets of tablecloths at your disposal, whether for daily use or special occasions, can improve the dining room's aesthetic and influence even the quality of food. According to a study, fabric table linen can suggest a higher preference for the quality of food in general.
Trends: Bold Tablecloth, Playful Plaid
Serving platters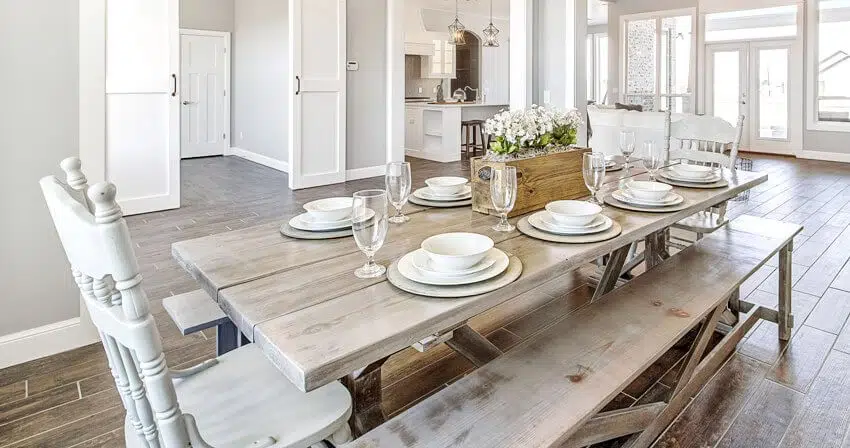 From large woven serving platters to cute ramekins (a tiny dish to serve small portions of meals), an abundance of materials and designs are available. They usually come in sets with different sizes, but similar designs or have entirely different shapes and colors.
Trends: Parisian-inspired serving platters
Table centerpiece
In a table setting centerpieces are important because they tie all the elements from your dining setup together and serve as your ensemble's focal point.
When it comes to table centerpieces, you can have a collection of urns, foraged leaves, flower bouquets, candle pillars, potted plants, and so many more. You can collect different designs for your centerpiece over time which you can use on different occasions.
Serving trays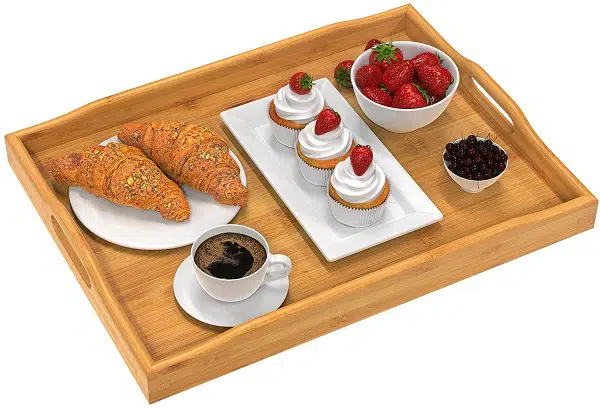 See this bamboo serving tray with handles at Amazon [sponsored link]
With typically having a larger size than the platter, serving trays are used for carrying food from your kitchen or buffet area to your dining table. There are different designs and materials of serving trays, such as those made from glass or wood but don't forget to include plastic ones (food grade), especially if you have young ones at home.
Serving bowls.
Also known as salad or vegetable bowls, they are characterized by having a deep center with an open top that can hold liquids, fruit, and any food items that need to hold large quantities.
Trends: Copper bowls, Finger bowls
Dinnerware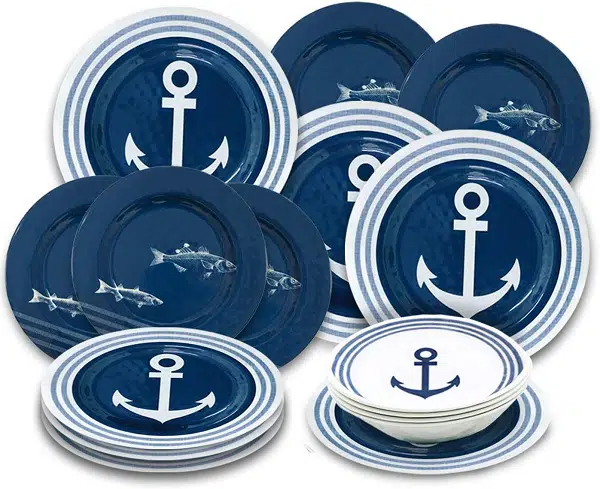 See this nautical theme set dinnerware at Amazon [sponsored link]
The dinnerware or tableware you use can influence your dining experience. Have both sets of dinnerware for special occasions and daily use. Themed tableware such as lace cutwork designs on plates for a springtime-themed set or hand-painted plates for a special Spanish meal.
The styles and themes are endless. You have different materials to choose from, such as glass, stoneware, porcelain, and earthenware. The most common material used for dinnerware is made of ceramic for special occasions for unexpected guests. Have an array of these dining room essentials and store them in your storage compartments so they can be accessed anytime you need them.
A complete dinnerware is not only for display but also ensures portion control, keeps food warm, and stores food with the right type of dinnerware.
Trends: Nautical-themed
Glassware
There's a certain luxury and sophistication that glassware gives. You can place the glassware in almost any type of table setting to layer your textures. Drinking, hurricane, and other shot glasses are just a few types of glassware you can add to your collection.
Silverware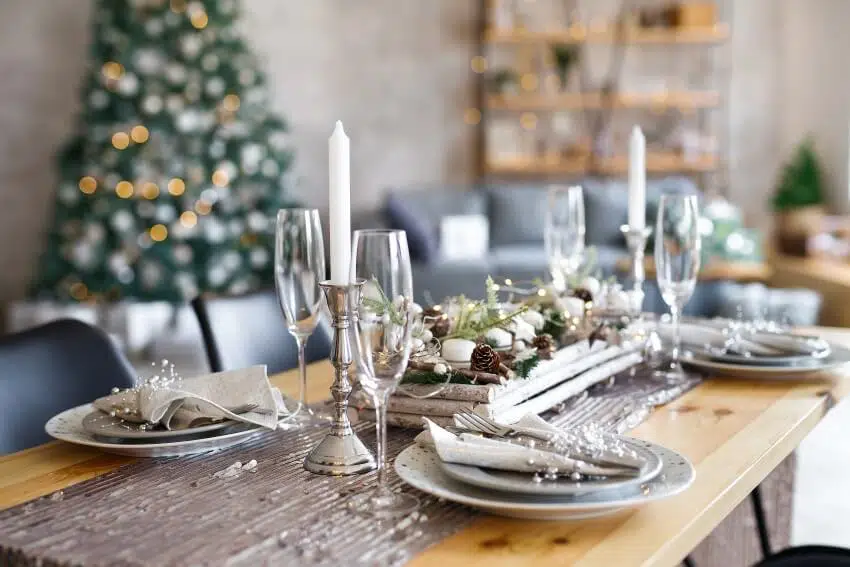 Research suggests that silverware can help in digestion and absorption while having antibacterial properties. Moreover, silverware adds an elegant look to your table setting much needed for formal and festive dining activities.
Serving utensils
Find quality serving utensils that are food-grade to match up with the rest of your dinnerware. Silver knives, spoons, scoops, ladles, caviar spoons, and grapefruit knives are a few common types of serving spoons you can start adding to your list.
This platter service of having the needed serving utensils provides that special touch and contributes to the ambiance of your dinner setup.
Candles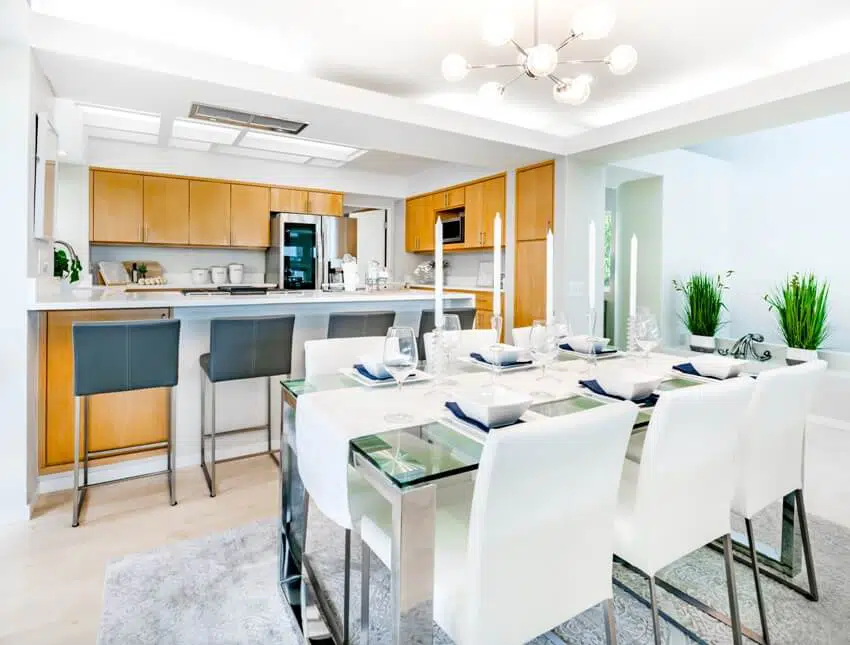 Many may not realize it, but setting up candles in a table setting can actually be challenging as you need to balance the look so as not to make it like a vampire's lair or have it lost among the other elements.
Start with a suitable candle holder which matches the theme you are going for, and have several types of candles ready for any special event.
Lighting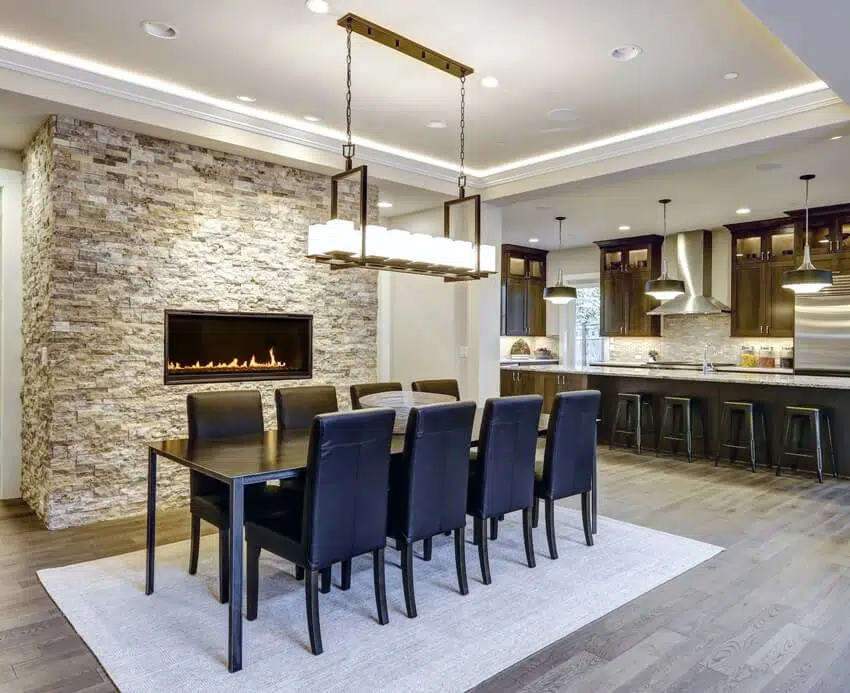 Like any room, you'll need to consider the three types of lighting to create the perfect mood for your dining experience: ambient, task, and accent lighting. Ambient light is mainly the general lighting that will illuminate the walls and floors, especially for navigation.
A brighter task lighting functions as a place where you perform a task, such as placing a task light along with your buffet. Accent light, meanwhile, should provide a warm glow to showcase focal points such as artwork or architectural features in your dining area. Find more about dining room lighting ideas here.
Trends: Recessed Lights, Track Lights, Monorail Lighting.
Overhead lighting
The most common overhead lighting is chandeliers, usually placed just above the dining table. This can fill in the void in a high ceiling dining area, creating an intimate space.
It can also define the dining area, especially if you have an open plan where the kitchen, living, and dining area are in one open area. Overhand lighting can also be a statement piece.
Trends: Oversized pendant, sputnik chandeliers, vintage-styled chandeliers.
Lamps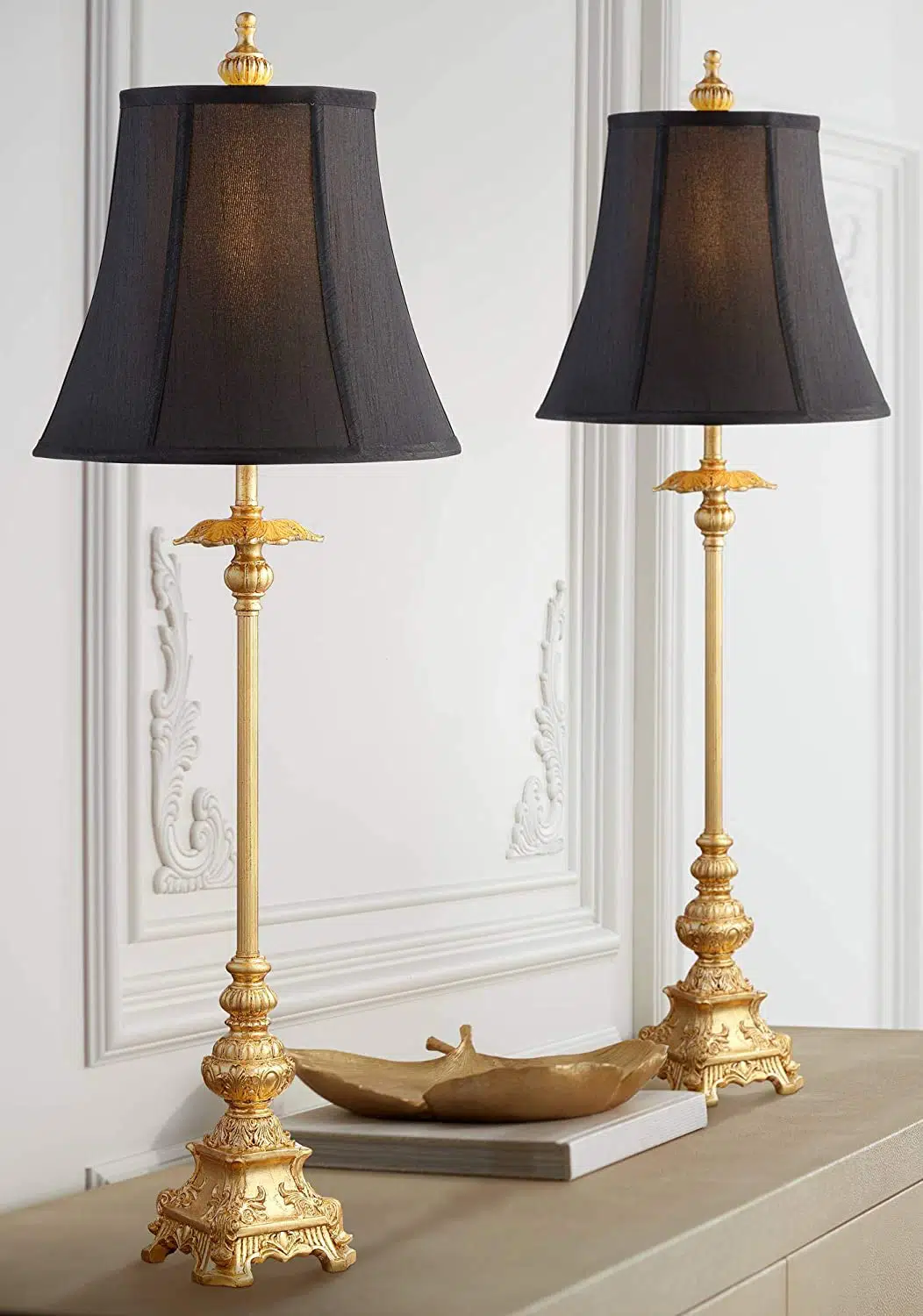 See this traditional french country buffet table lamps at Amazon [sponsored link]
If you have a small dining space, you could add a table lamp 32 to 40 inches high, which is perfect for your lighting layer. Remember, though, to keep the bottom of the shade at eye level to avoid glare.
Trends: Buffet-style lamps (40 inches in height), floor lamps.
Décor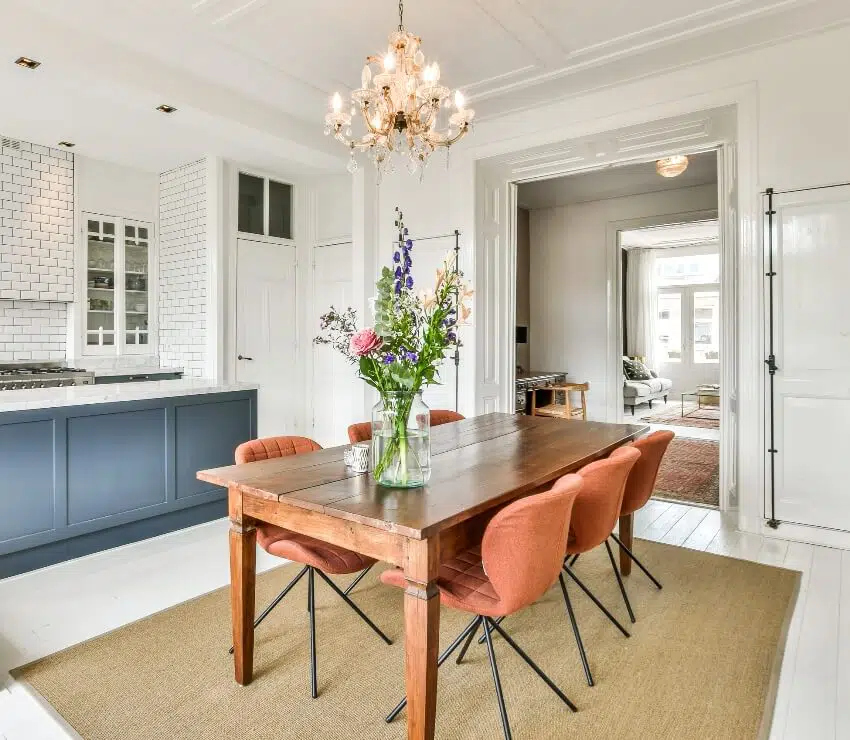 For the keen entertainer, you'll need a well-collated dining room décor that can give your dining area a welcoming and comfortable vibe. When selecting your dining room décor, it is beneficial to have several décor pieces that you can mix and match to avoid a stale and boring look.
Area rugs
Protect your floors from the high foot traffic and dents from chairs with area rugs. They also add a cozy feel to your dining area while anchoring down furniture and other elements to the space.
Just like the chandelier, an area rug can pull together your elements while creating a more live-in feel to the space. Though area rugs are not only limited to your floor, you can hang your area rugs on your wall to create visual interest.
When placing your area rugs in the dining area, choose a flatweave or lower pile rug ½" or less to make it easier to clean as food crumbs and liquid spills can get trapped in the fibers. Read more about dining room rug sizes here.

Trends: Vintage/faded
Wall Mirrors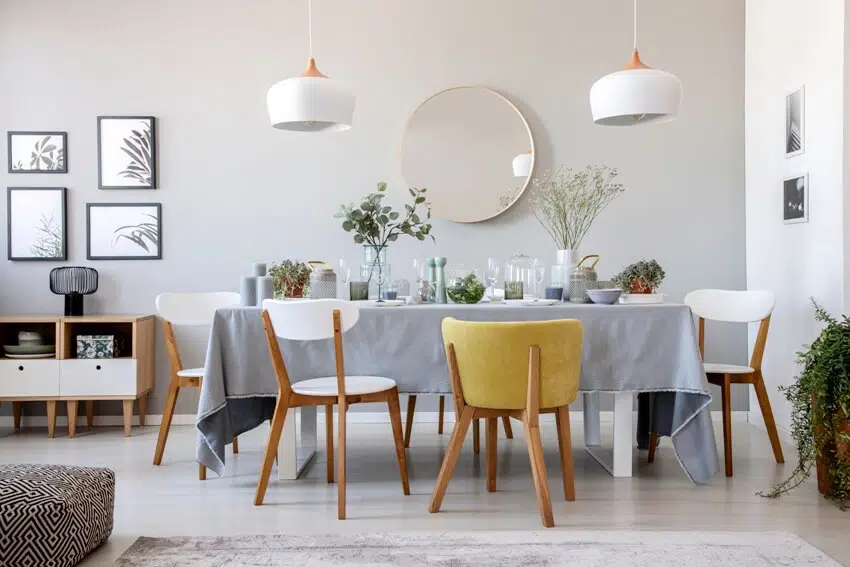 A wall of mirrors is a classic wall feature that's a favorite for traditional homes such as Parisian-inspired or mid-century-inspired homes. You can still install wall mirrors for modern homes with more streamlined profiles installed seamlessly to your wall.
Wall mirrors can fill in a bare window while creating an illusion of space which is helpful for tightly-spaced dining areas. Meanwhile, floor to ceiling wall mirrors are also great for larger dining areas to create that sense of grandeur.
Trends: Circular, Abstract forms
Window Coverings
When selecting your window treatments, determine the main function of your dining area. Today, most dining rooms are more casual and multi-functional. You should also consider the size of your windows before selecting your window coverings.
Layering your window curtains or draperies will create a complete and finished look. Aside from aesthetics, also consider the energy efficiency of your window coverings, so the color and the fabric or material choice should also be a factor.
Trends: Nature-palettes
Wall Décor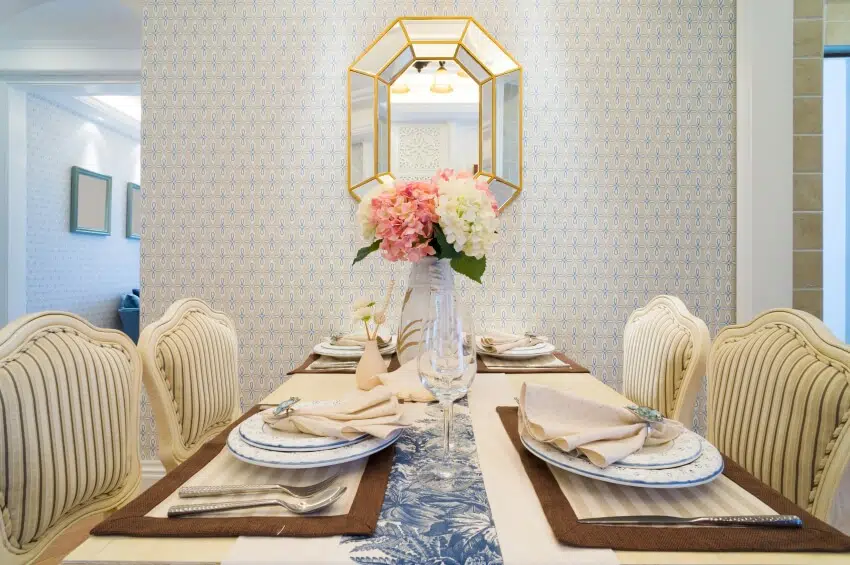 Whether you've got a large dining area or a small one, wall décor is as important as the paint color you choose. Don't leave your dining room looking bare add interest by adding a wall décor that is personal and meaningful.
Look at trends as a source of inspiration but don't forget to inject your personal touch into your wall décor. To fill a void for large walls, use gallery arrangements such as hanging family photos, paintings, or different types of mirrors. You can also add a single piece of large artwork as a statement piece.
Trends: Patterned Wallpaper
Shelving
Built-in or stand-alone shelves are typical furniture pieces that you'll often find in dining rooms as it offers extra storage and a display area for decor. You can use hanging shelves if you've got limited space or a floor-to-ceiling cabinet.
Lazy Susan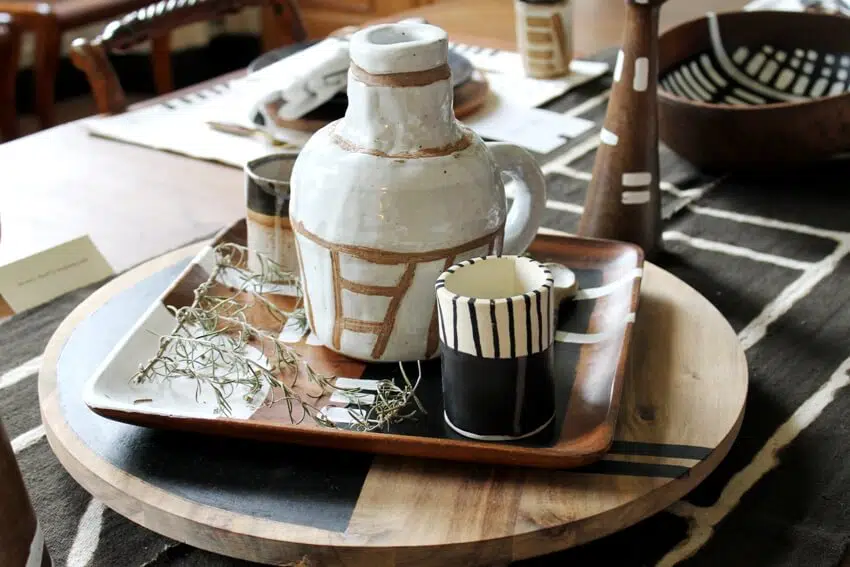 This is a great accessory to have at the table that allows diners to obtain what they need without standing or asking another person to fetch for them what they need.
It's a smaller circular table installed on top of the table that rotates at the base. You get to play spin the wheel and get what you want every time, but be careful not to spin too fast.
Trends: Hexagon-shaped shelves
Bar Carts & Storage
If you're short in space and want a place to showcase your wine in the bar cart, you can opt for a bar cart instead. The bar carts can have that 1950's vibe or the more classic touch of brass or silver materials. There are also modern styles with geometric or sleek profiles that fit contemporary-themed dining rooms.
Trends: Mid-century
Oversized Art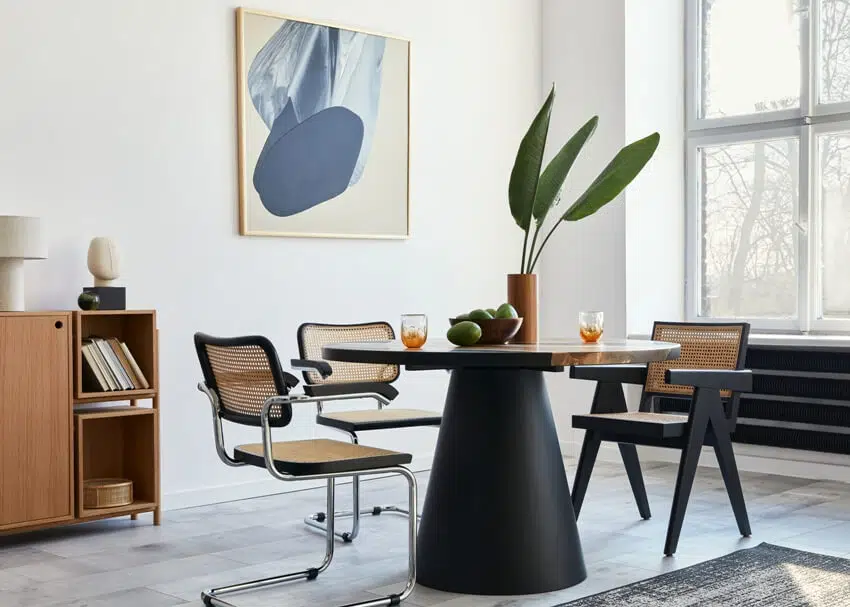 Is your taste in food as good as your taste in art? Eating in a room surrounded by bare walls is just bland. Surround yourself with colorful artworks, and have some landscape paintings on there. If you are more into contemporary style and minimalism, hang abstract artworks, and the larger the painting, the better.
Trends: Digital 3D motion Graphic Design
Design Considerations
It is crucial to consider certain factors when renovating the home or building them from scratch when it comes to design considerations.
• Determine the average number of persons that usually use the space.
• Compute the needed space occupied by the dining table
• Compute the needed space occupied by the dining chairs
• The traffic/circulation space e.g., behind chairs
• The seating arrangement/s is possible.
• The size of storage.
• Types of other furniture to be added.
Room Size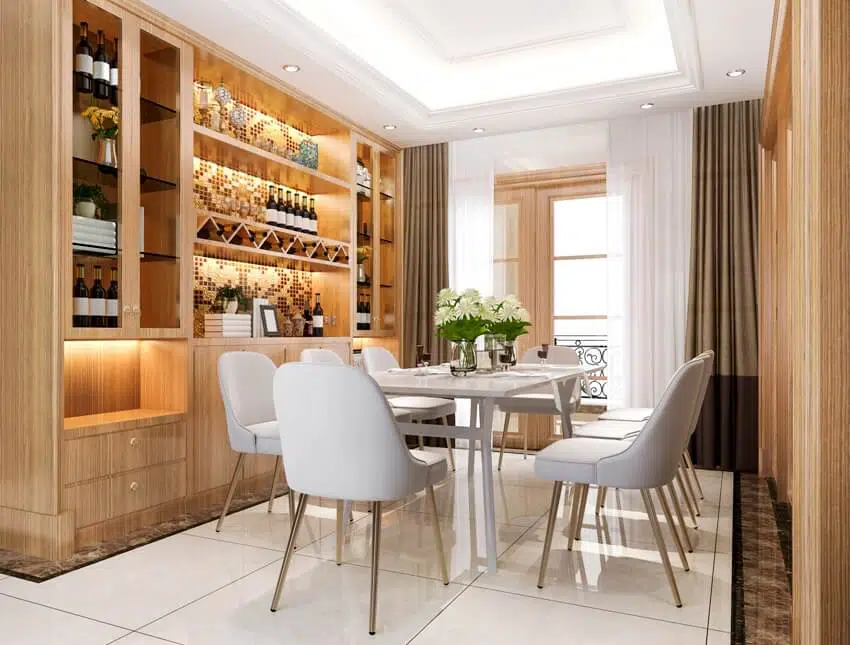 You can't have much without adequate space. Space is a luxury, and sometimes this is what dictates what we can have in our dining rooms, so utilize it wisely.
For homes with a large dining room area, the owners have the privilege to experiment and be creative with it. See our guide to dining room dimensions with different types of dining room sizes here.
Room Layout
An efficient layout is crucial to your dining room. There is no point in having lots of chairs and accessories if navigation is a nightmare, especially during large gatherings.
Whatever layout you choose, make sure there is enough space to traverse different parts of the room. This reduces stress and the risk of dropping dishes. A proper layout is essentially the smaller the area.
For a more related article visit our guide to modern dining room ideas.