For those looking for modern dining room ideas you've come to the right place. This gallery showcases a variety of modern dining room designs with a variety of tables chairs, lighting, colors and decor. We hope these images will give you furniture and decorating ideas for creating your own inviting dining area.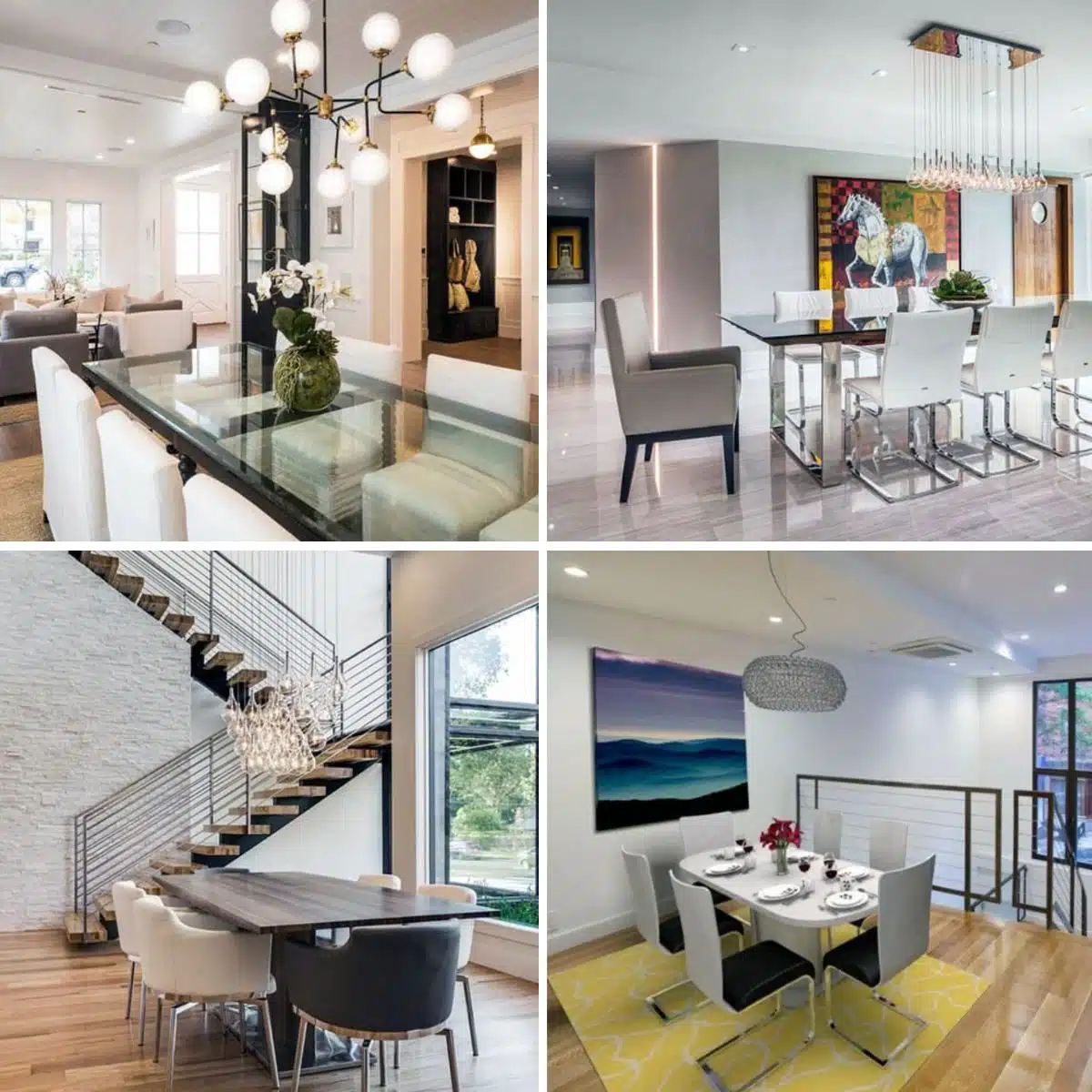 The modern dining room in the picture has a very calming and relaxing color scheme, composed mostly of whites, light beige, and an accent of slate blue and slate gray. The massive dining table uses a solid reclaimed wood top with an ash wood finish and a shiny stainless steel base, matching the framing of the dining armchairs. The chairs in this dining room are very plush and comfortable, with white leather-upholstered seats, and even throw pillows for added back support.
Modern Interior Design is often defined by the following elements: materials, furniture style, layout, and architectural details. What makes modern interiors distinct from the other design styles is its simplicity: modern interiors often prioritize space function, removing unnecessary ornamentation and details typical of more classic design styles.
Modern Dining Room Design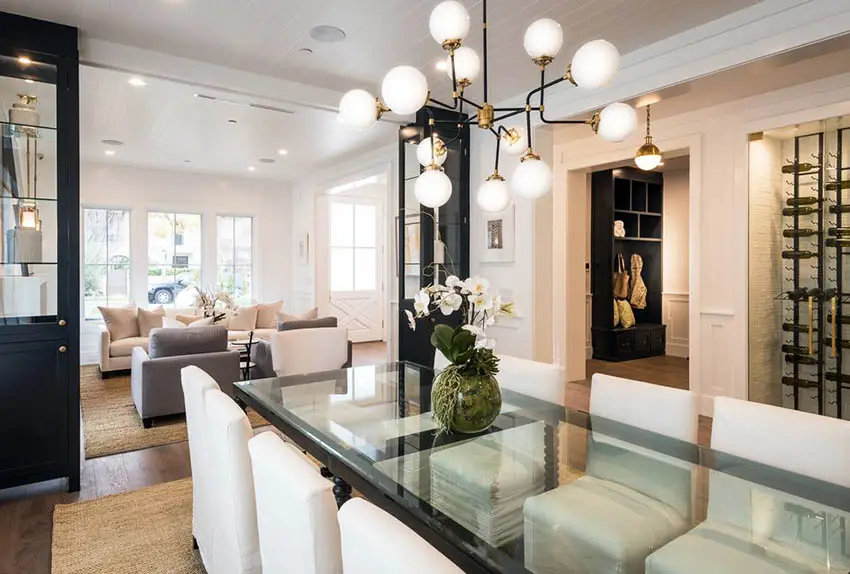 In this post, we are featuring various modern dining rooms which have a modern design style. Here are some elements you can typically find in modern interiors that can be observed in some of the examples below as well:
Open floor plan / layout: Modern homes typically prefer using an open layout, wherein common rooms in the house like the kitchen, living room and dining room are in one open area, with no walls to separate them, making it feel more casual and more spacious at the same time.
Natural light: most modern homes would boast of large windows which brings in natural light into the interiors, creating a very positive mood into the space, as well as minimizing dependence on artificial lighting.
Natural daylight is always the best source of energy as it offers the benefits of cooling, heating, and ventilation. – Decorating Your Lifespace With Inner Vision, Willa Roberson-Mitchell
While most traditional style homes would emphasize coziness and privacy of darkly-lit rooms, modern homes tend to prefer brighter spaces, allowing nature or the cityscape to be part of the background.
Simple forms: be it on the furniture pieces, interior architectural elements or accessories, modern designs typically use simple geometries. Rectilinear forms and favored over more curvilinear ones, doing away with heavy ornamentation for a more casual and clean look.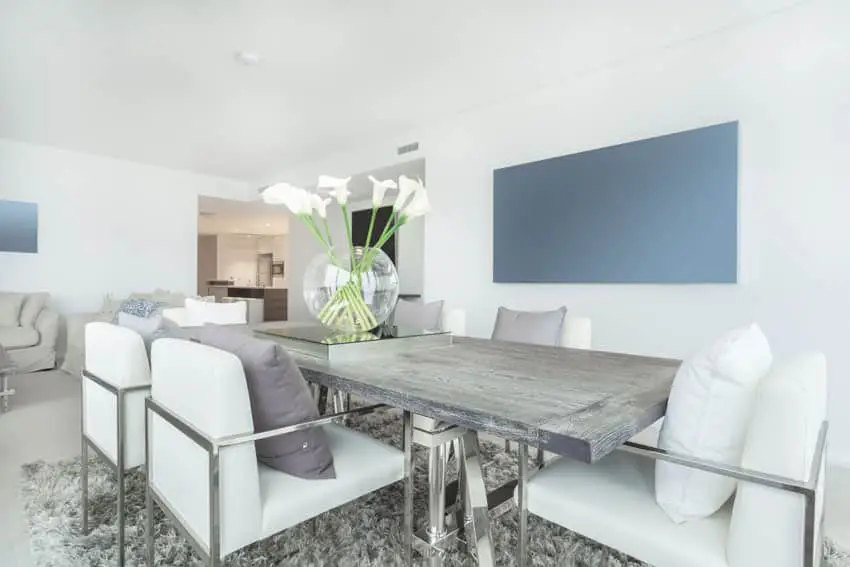 Light color schemes: staple colors in modern interiors include black, white, beige, taupe, gray and its various hues, combined with a more vibrant or a pastel accent color. Also, because modern interiors typically adapt an open floor plan, the color scheme is very well-coordinated to make a cohesive look for all its common spaces.
Modern materials: with the development of technology comes the development of more modern materials, and with this, interiors can also be found using these newly-developed materials. As modern designs typically go for a simpler, more streamlined look, smooth and reflective materials such as glass, high-pressure laminates and stainless steel are common.
For furniture, you will also encounter lighter materials such as PVC, bent plywood, mesh and molded plastic, creating unique modern furniture pieces which can be easily stored. And for architectural finishes, PVC-framed windows, engineered wood floors and other modern wood alternatives are widely used.
Below are some beautiful representatives of modern dining room designs, showing a variety of styles and color schemes.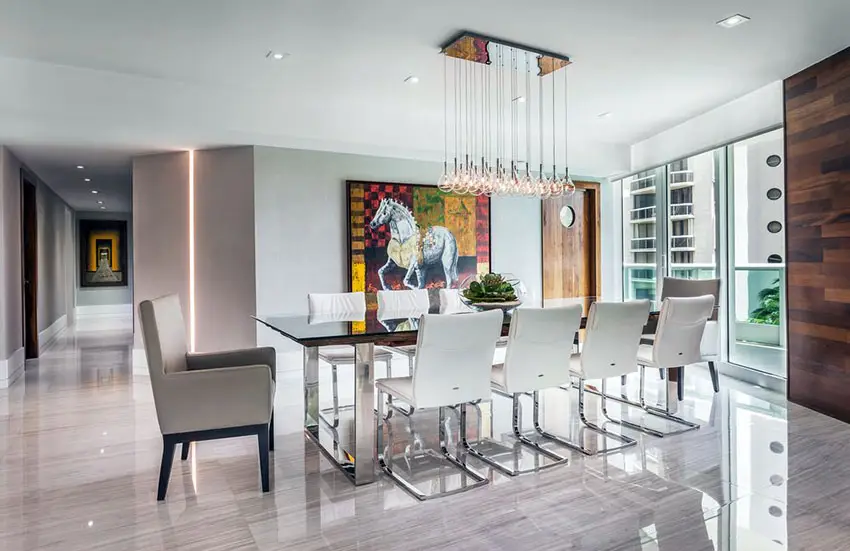 A modern dining room which has a minimalist color scheme composed of white, gray and teak wood finish. Flooring material used are gorgeous glossy porcelain tiles in a light gray color with horizontal streak patters, while the walls simply use a matte light gray paint. There is a wooden accent wall on the wall beside the large windows, which matches the teak wood finish of the doors.
The dining table is a large 10-seater black glass topped table with stainless steel legs which has 8 matching sets of white modern cantilever leather chairs and two beige armchairs at the opposite ends of the table. The dining area is further accentuated by a modern blown glass chandelier with edison bulbs.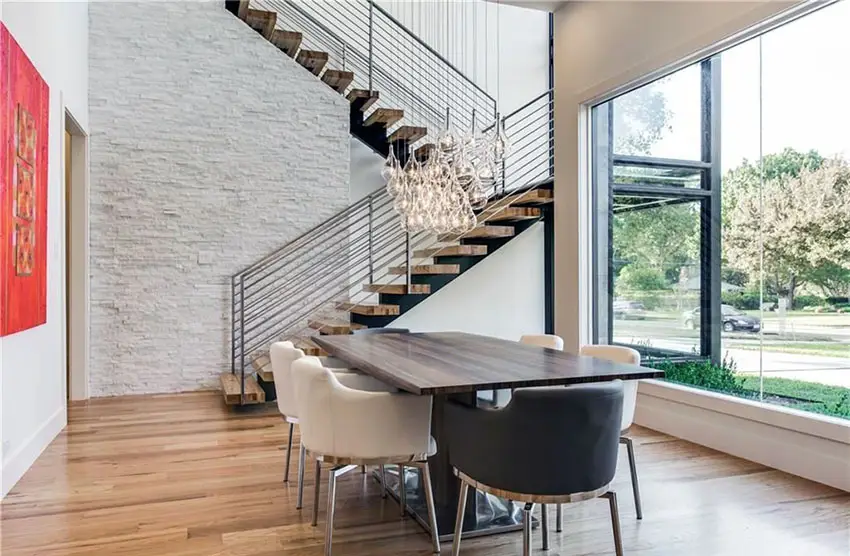 High ceilings and large picture windows set a bright and positive atmosphere in this modern dining room. White walls with white accent slate tiles are given more life as it is paired with golden teak wood floors, adding a natural warm tone to the space. The modern stairs are visible from the dining area, enhancing the space's verticality.
The dining table is a small 6-seater table with matching modern tub chairs made from leather seats and stainless steel base. Four chairs are upholstered in white, while the two chairs at the end of the table are black. You can get more ideas for popular types of chairs here.
The dining table itself is a pedestal-type table with a stainless steel base and a solid oak wood top polished to perfection. An asymmetrical chandelier with blown glass lights and Edison bulbs finish off the look.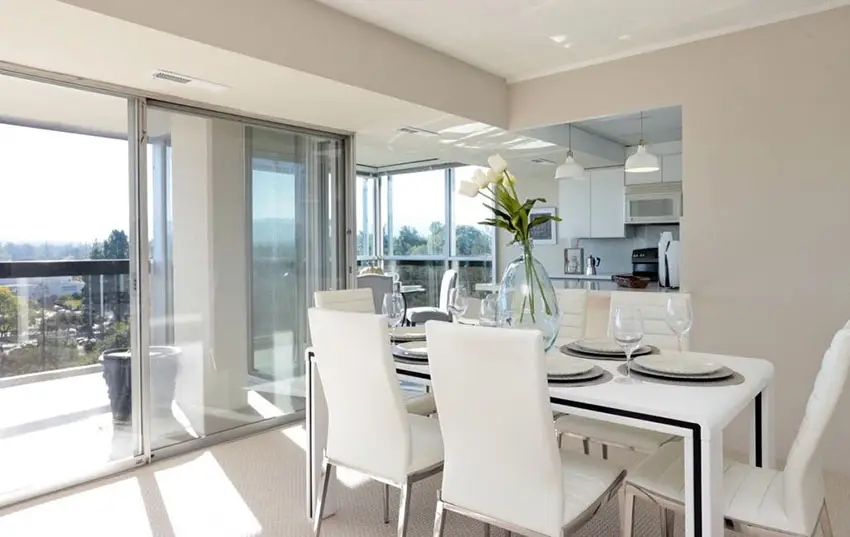 Large door and window openings and an open layout create a very pleasing feel to any modern kitchen designs. This example goes for a simple, clean palette of oatmeal and white, creating a crisp-looking space. The dining table is composed of a glossy white laminated dining table with matching high back white leather dining chairs with stainless steel base, to match the all-white look of the adjacent kitchen. There is also a secondary dining area closer to the kitchen, which uses a round dining table a more classic set of upholstered chairs with a wooden base.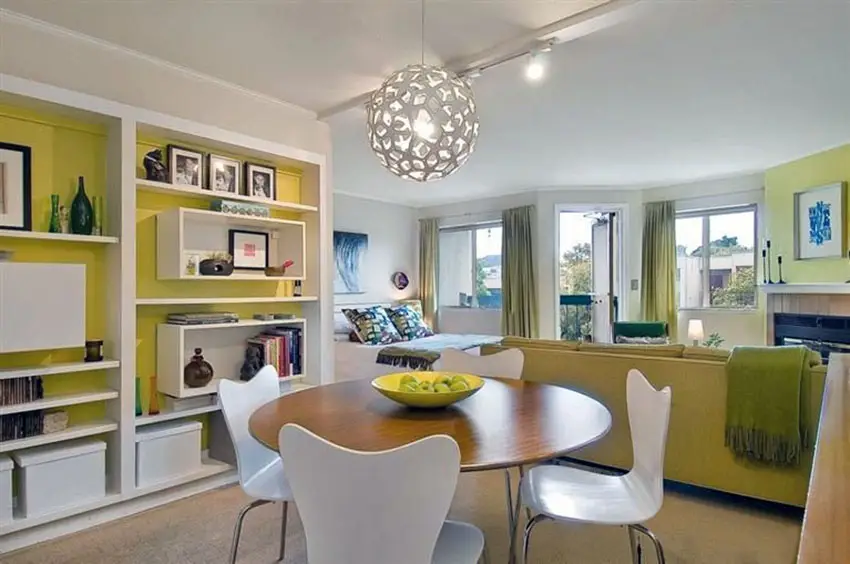 The use of bright yellows in this space keeps a cheerful and positive mood, not only in the dining room, but in the connecting rooms as well Walls of the space is mostly painted in white, but has accent walls with yellow paint, as well as yellow curtains, creating a lively yet warm atmosphere.
The dining area is right in between the kitchen and the living area, making it a multi-purpose area. It is furnished quite simply with a round modern dining table with a mahogany-laminated top and 4 PVC dining chairs with stainless steel legs to match the dining table. There is also a white storage/display shelf placed right against a yellow wall, making it stand out from the surface.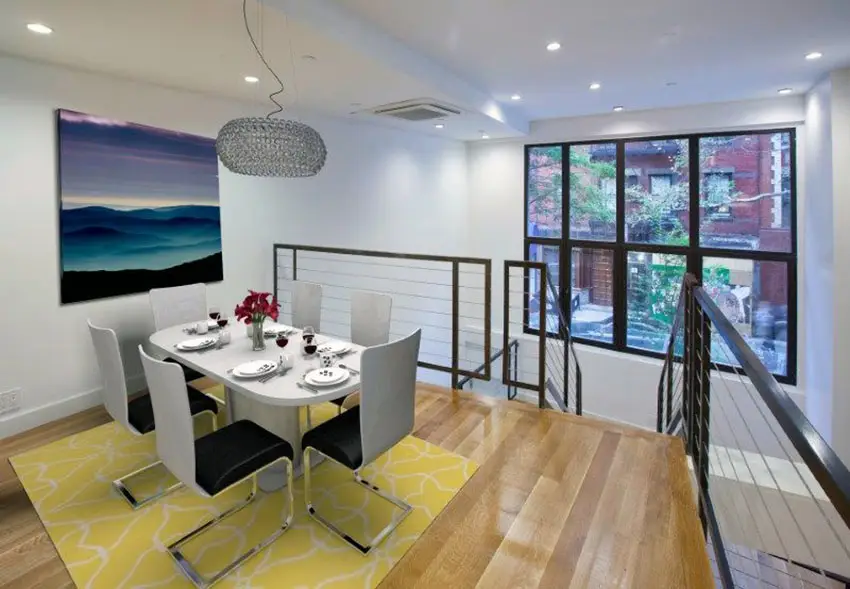 This apartment demonstrates a unique of its mezzanine floor as a formal dining area. While the mezzanine is usually reserved for additional storage space or a small private room, this one creates a private dining area by separating it from the rest of the spaces.
Like typical modern homes, its walls are simply painted in white with black window frames and matching railings, combined with golden walnut flooring for added warmth. The dining area itself has a white pedestal dining table with 6 mid-back cantilever chairs made from bent PVS with black leather seat padding and stainless steel leg supports. A large yellow area rug further accentuates the dining area, while the blue wall art adds a touch of cool blue into the color scheme.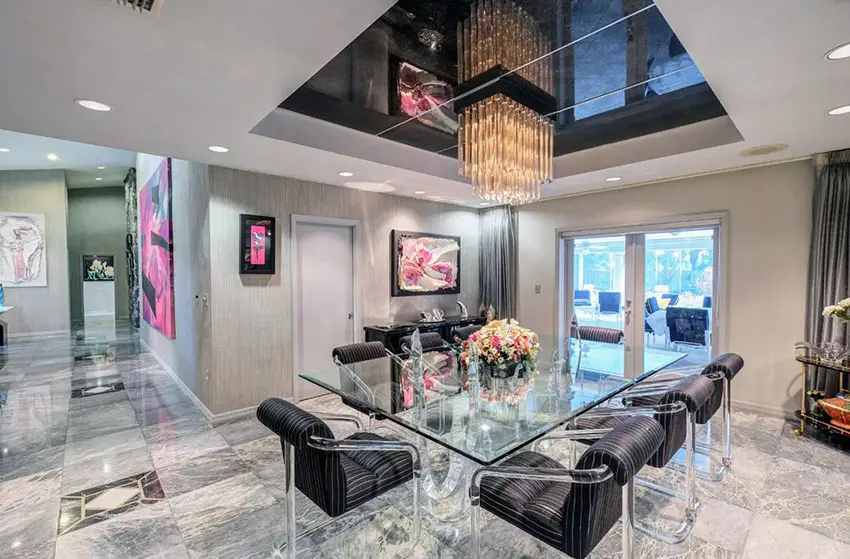 This gorgeous modern dining area goes all-out with its bright hot pink accent color and an abundance of glossy/reflective materials. Flooring in this dining room uses gray polished granite, while the walls uses a combination of textured wallpaper and light cream matte paint. The recessed ceiling right above the dining table is clad with black back-painted glass, creating a very modern, reflective surface on the ceiling.
The dining set emphasizes transparency. The dining table has a clear glass top, as well as clear acrylic base which matches the acrylic framing of the modern dining chairs. The transparent finishes helps make the look bigger than it already is, and adds a sophisticated modern appeal.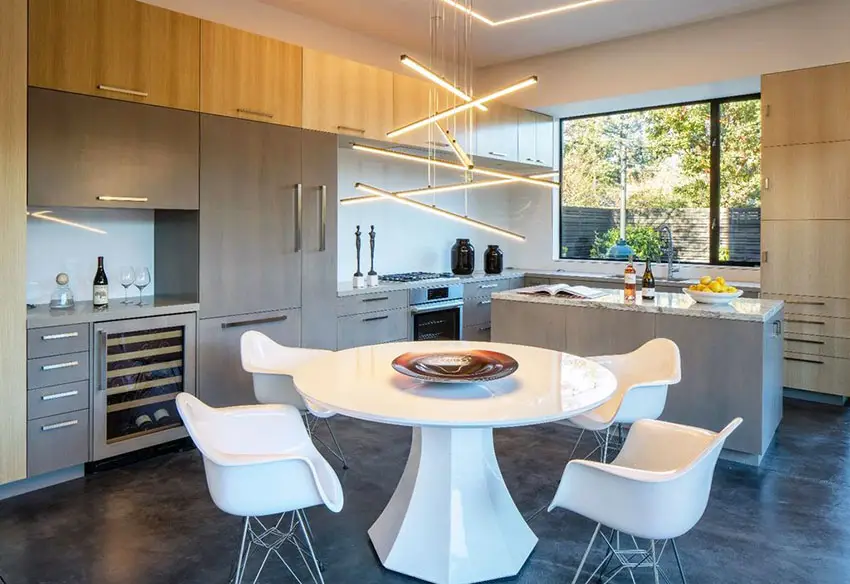 This small dining area placed in the middle of the kitchen was made to stand out from the rest of the surrounding space. The kitchen cabinets all use a matching light maple laminate finish and is placed on charcoal gray flooring, which makes the all-white dining set stand out. A large round all-white dining table is set in the middle and is surrounded by 4 Eames molded plastic armchairs with stainless steel legs.
When coming up with modern dining room ideas for small spaces its important to select furniture that doesn't crowd the space. Selecting a lighter color dining table and bright color walls and ceiling can help the space look brighter as the space reflects more light.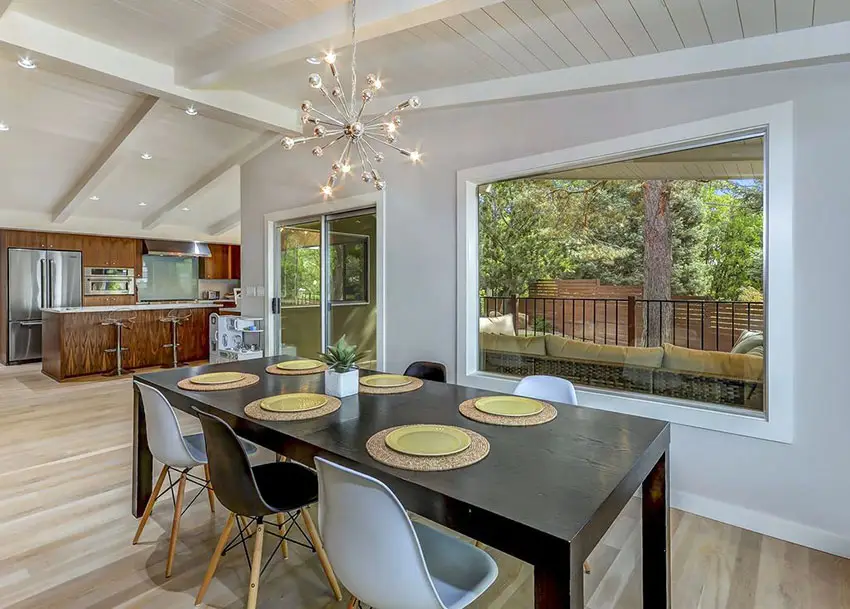 Going for a more tropical look, this modern dining room adds a touch of natural finishes and texture to the space, cutting down the use of hard, glossy materials for a more raw look. Instead of a glass top dining table, a rectangular dark wengue dining table was used and paired with a set of Eames side chairs in a combination of black and sky blue, adding a fun pop of color.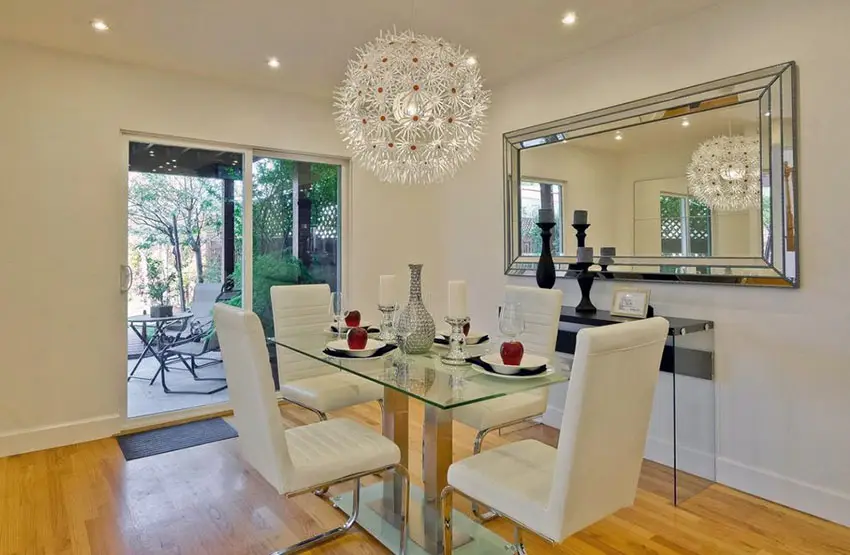 A small yet lovely dining room set-up right by the door to the backyard adds nice place to dine and unwind. The small dining area has a 4-seater rectangular glass pedestal table, with 4 sets of cantilever high back chairs in white leather upholstery.
The stainless steel base of the dining table matches with the base of the dining chairs, as well as the look of the console and the mirror on the wall. Adding further emphasis to the dining table is the large modern daisy chandelier hanging right above it, giving it a unique-looking light fixture.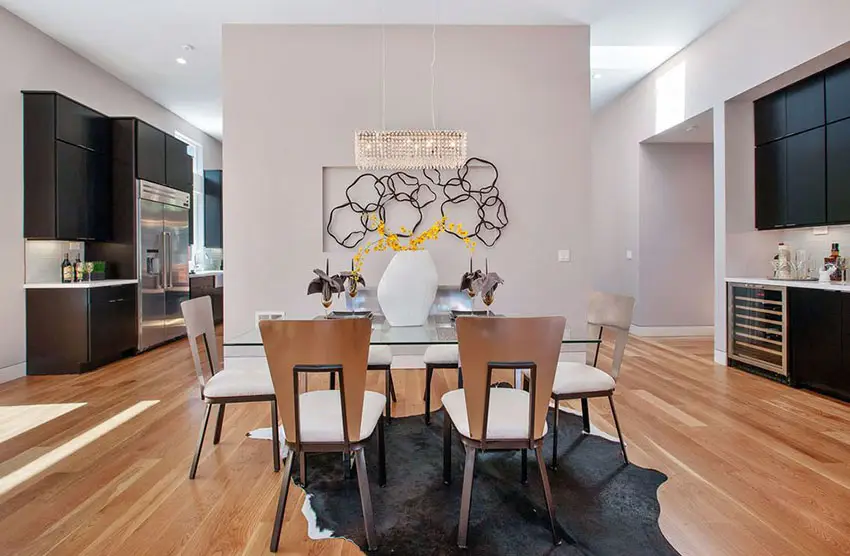 This gorgeous and spacious dining area sits right in the middle of a large open plan kitchen, creating an excellent communal space where everyone will gravitate into. Unlike the previous examples, this dining area has more warmth to it as it combines its hard, glossy materials with more natural materials and finishes.
For example, walls are painted in taupe instead of flat white, and the floors are a gorgeous golden teak. While the dining table is the commonly-used clear tempered glass top dining table, it uses wood-framed chairs with white and beige suede upholstery and even adds a faux cow hide rug underneath to add a bit more texture.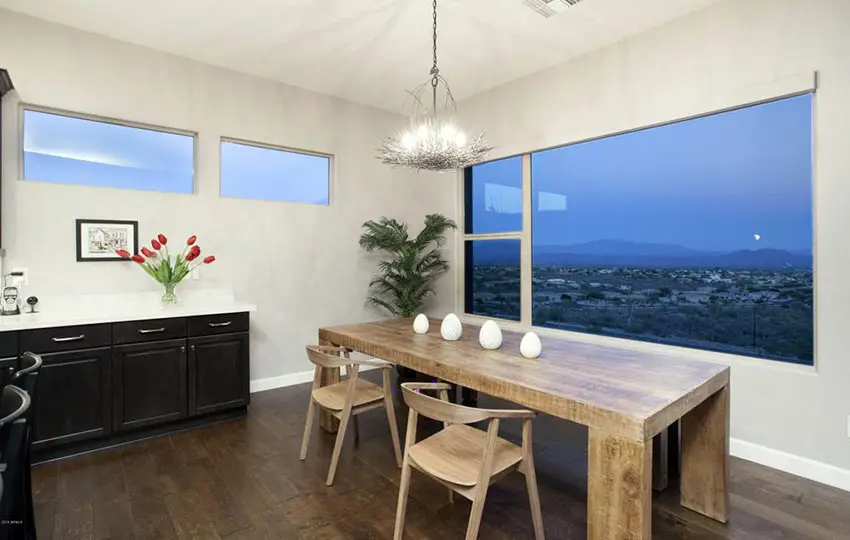 The addition of rustic wood finishes in this modern kitchen/dining area adds more warmth and life into the space. he light cream walls with large windows could appear dull and boring, but adding in the dark oak wood floors and the rustic walnut dining set, as well as a few indoor plants, the room subtly comes to life. Modern dining room ideas that bring in rustic furniture pieces and decor can add a touch of your own personal style to the space.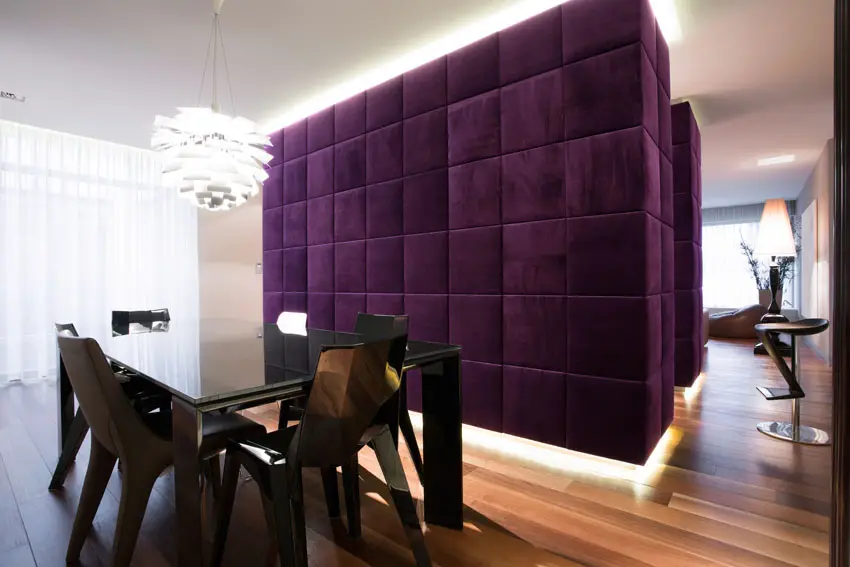 This modern dining goes for a more posh and extravagant look, opting a darker, high-contrast color scheme. The basic finishes of the room are quite plain – white walls and ceiling with teak wood floor. The focal point of this room would be it's accent walls which uses square velvet-upholstered padding in a deep violet color.
To keep the padded walls safe from dirt, a kickspace was provided so that it is slightly elevated from the floor, and a kickspace light was added for additional accent. While the walls keep most of your attention, the dining set is more low-key, using an all-black dining set with black tempered glass top and matching glossy acrylic chairs.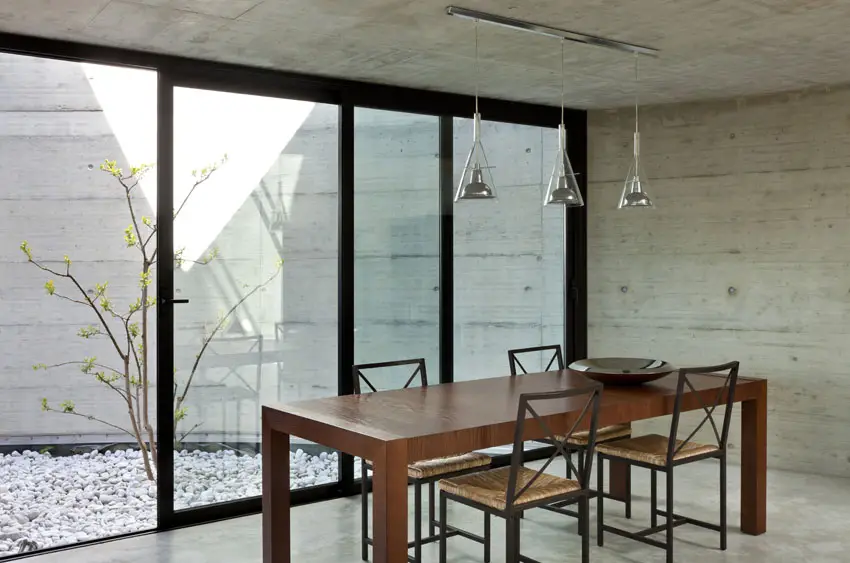 This dining room is a gorgeous example of a minimalist industrial style space, using rough/raw finishes, in combination with wood & metal, with smooth, symmetrical silhouettes. The walls and floors of this room use plain concrete, giving it a raw and rugged texture, while the straight symmetrical lines of the furniture pieces balance out the ruggedness of the walls and floors. The dining table is a large walnut-laminated table with metal-framed dining chairs with classic rush seats. A simple accent bowl and three glass pendant lamps accentuate the simple dining area.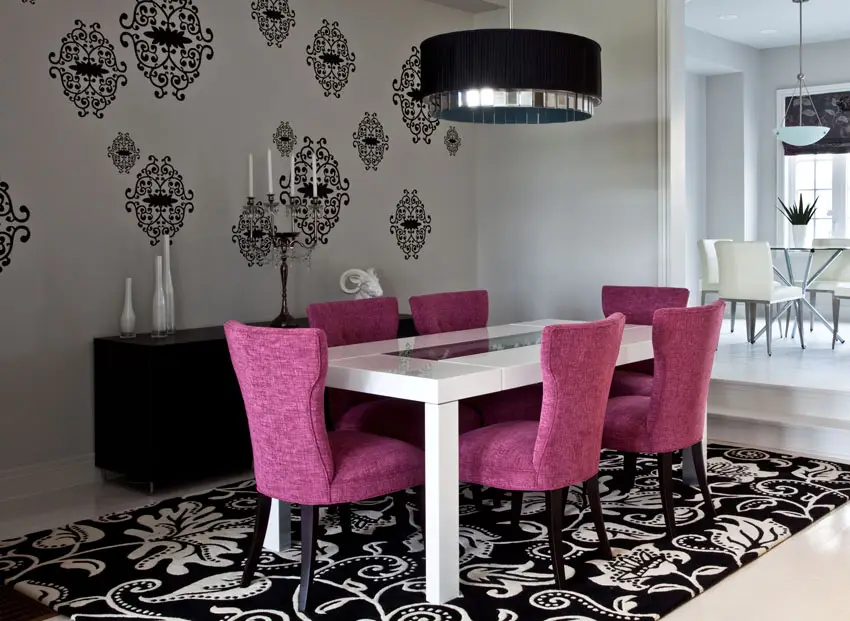 This dining area goes for the transitional glam look, using classic furniture silhouettes and patterns, and giving it a more modern appeal by using bright colors and more modern materials. In this case, the dining room adapts a white, black and hot pink color scheme. Walls are white with one accent wall which has black stenciled patterns inspired by Art-Noveau wrought irons. The dining table is laminated white with a clear glass center, while the dining chairs are classic high back chairs upholstered in hot pink velvet fabric.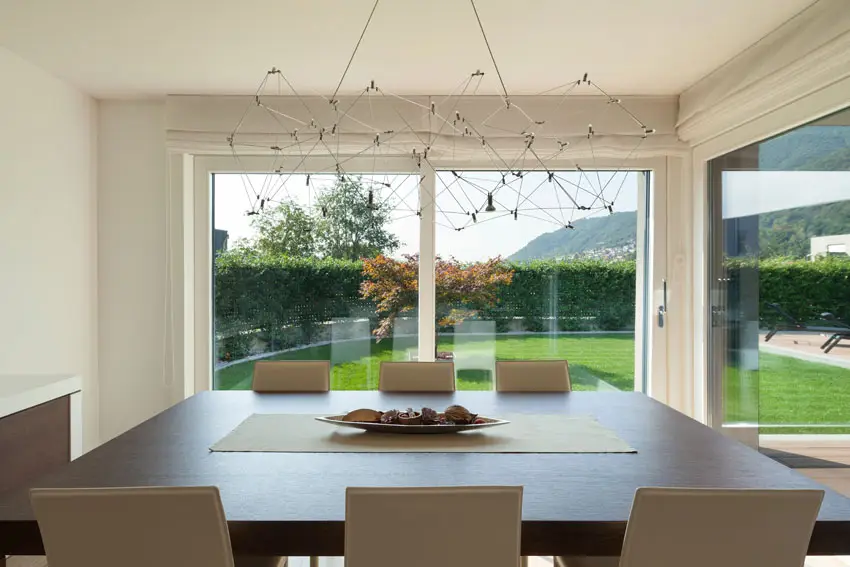 This stunning modern dining room capitalizes on its simplicity and its pleasingly soft color scheme which would definitely be attractive to a wide variety of audiences. Cream walls sets the base of the room, and on its center is a wide dining table with satin-finish wengue veneer, and 3 leather-upholstered mid-back dining chairs with a thin profile for a very modern aesthetic. Most notable accessory in the space would be its metal chandelier which serves not only as lighting, but an non- obstructive wall-hung piece of sculpture.
Warm neutral tones paired with plain white surfaces and light, earthy texture give a soft, yet tropical appeal to this modern space. The contrast between the light-colored walls and the dark wengue finish of the wood elements in the space looks wonderful, emphasizing the beauty in its simplicity. Since the space has an open plan, the dining area is directly connected to the living area, making it look more spacious. The dining table used matches the wengue finish of the flooring, while the dining chairs uses white slip covers to match the fabric of the living room sofa.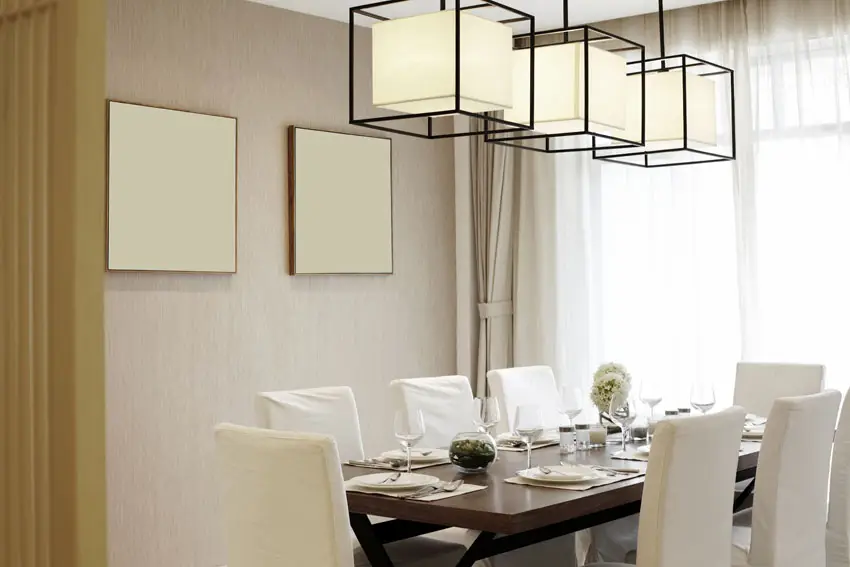 The use of a warm neutral color scheme makes any room become very versatile and easy on the eyes. This allows you to add in seasonal accent colors in the space, without clashing with the existing color in the space. This dining room is a great example of such. Colors used are light cream, white and natural oak, creating a soft & welcoming ambiance. The walls uses a textured cream wallpaper, while the large windows are adorned with white and beige curtains and sheers. For the dining table, solid natural oak was used and paired with high back chairs with white slip covers.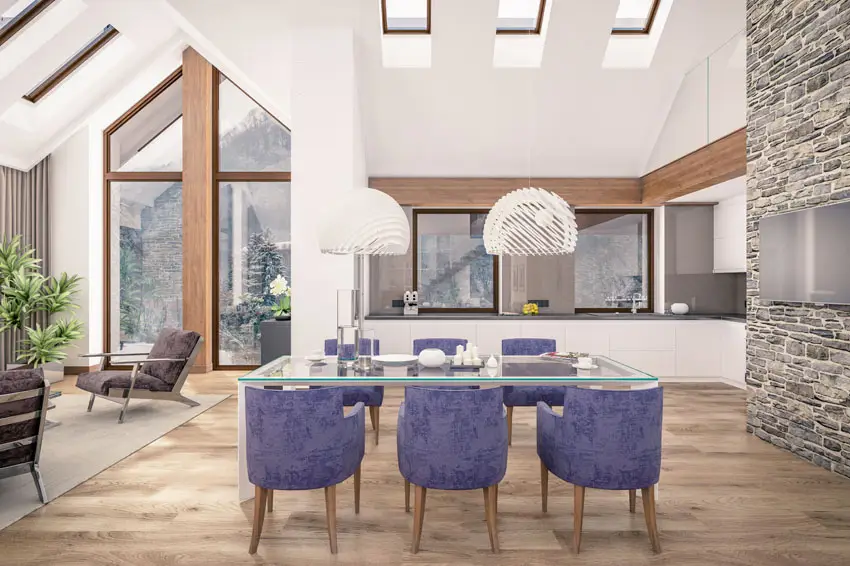 The use of purple as accent color in this dominantly-neutral color scheme gives it a very fun & youthful vibe, without going overboard with vibrancy. The open plan and high, sloped ceiling with skylight already sets a bright and airy atmosphere to the space. Walls and ceiling are all in plain white, while the door and window frames uses a golden walnut finish which slightly contrasts with the lighter walnut flooring. The dining room is situated perpendicular to the living and kitchen area, making it an ideal communal space. The dining table has clear tempered glass top with white laminated legs, while the dining chairs used are tub armchairs with purple velvet upholstery, giving a subtle yet fun pop of color to the space.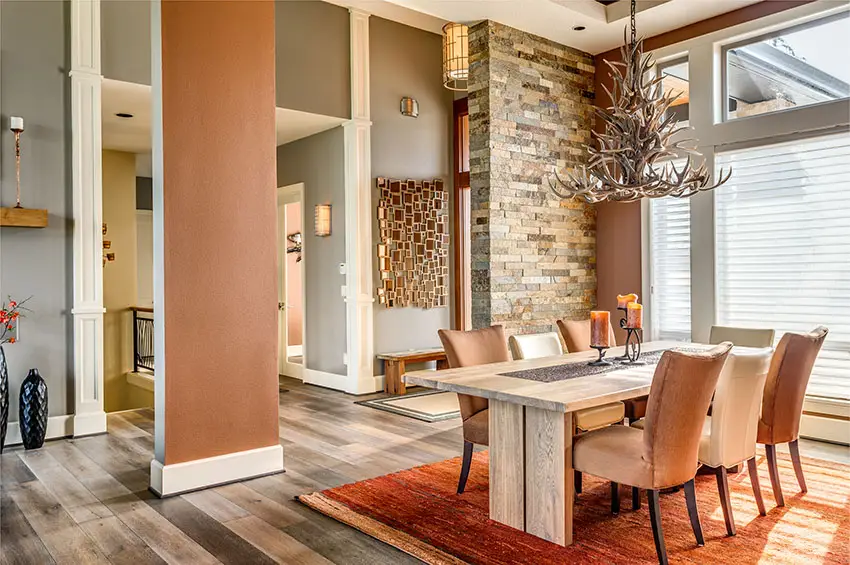 This space has an interesting combination of colors and textures, as well as styling. Unlike most modern spaces, this supper area uses moldings on its walls, albeit with a much simpler profile. The color scheme is an interesting combination of rusty orange, gray, white and wood finish. Walls are mainly painted in gray, while some walls are painted in a rusty orange color, giving the space a nice, earthy glow. The flooring used are stunning reclaimed wood planks, giving it various natural wood tones, adding a natural, rustic feel to the space.
The supper area itself is quite interesting, combining elements of both rustic and modern design. Framing the area is a large orange ombré area rug to give it emphasis. The large table has a modern form, with straight, sharp edges, but has a rustic natural oak wood finish. The chairs softens the hard edges of the table as it has a more curvy, classic form, and are upholstered in orange velvet and white leather.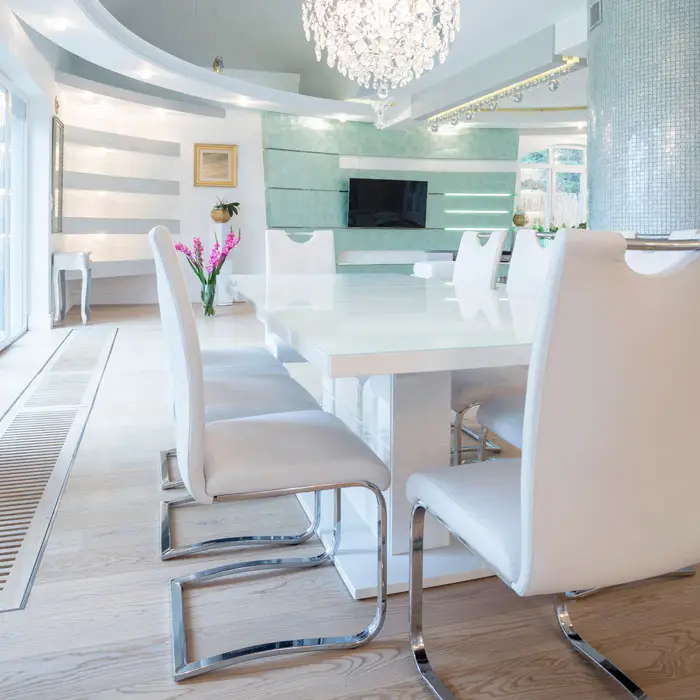 This dining room's combination of colors and finishes is the epitome of typical modern interiors. The space is dominantly composed of light-colored materials, and has a particular inclination to white. It also uses shiny / reflective materials extensively, giving it that polished look. The supper area in this example has light maple wood flooring and an all-white furniture ensemble.
The glossy white laminated table is topped with clear tempered glass and paired with 8 leather-upholstered cantilever chairs with stainless steel legs. Adding a bit of accent to the space is the media wall visible from the supper area, which uses mint green accent paint, and the round column clad with green mosaic tiles.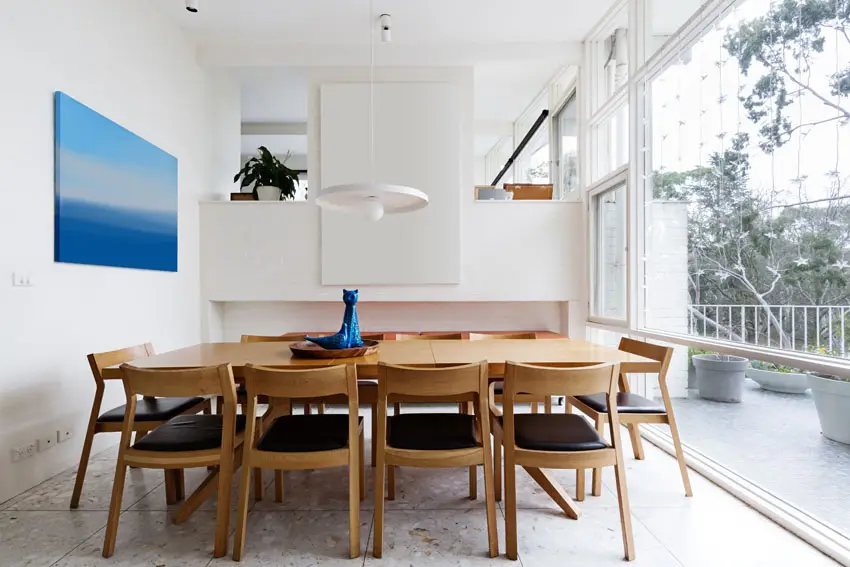 This stunning Mid-Century modern supper area design exudes simplicity and visual impact without over-decorating. The selling point of this supper area would be its full wall of floor-to-ceiling windows which opens up to outdoor patio area. This brings in lots of natural light into the space and sets a picture-perfect mood to the space. Finishes are very simple: white walls, white brick accent wall and white-framed windows paired with light gray vinyl tile flooring. Because of the extensive use of matte whites in the space, the blue artwork on the wall and the 10-seater golden teak dinner set stands out more, emphasizing the beauty of its form and craftsmanship.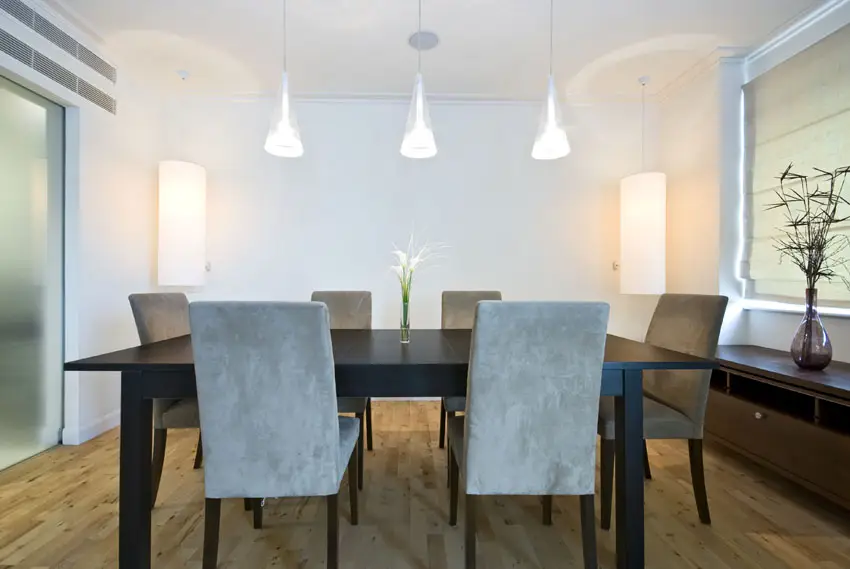 Simple elegance is emphasized in this small supper area which keeps ornamentation to the minimum, and emphasizes the colors used in the furniture pieces. The walls are plain matte white, paired with bamboo ply flooring, setting up a nice, light background. Wooden furniture pieces use a dark wengue finish, which stands out from the light basic finishes. The high-back chairs upholstered in taupe velvet adds a bit more texture and a bit of softness to the space.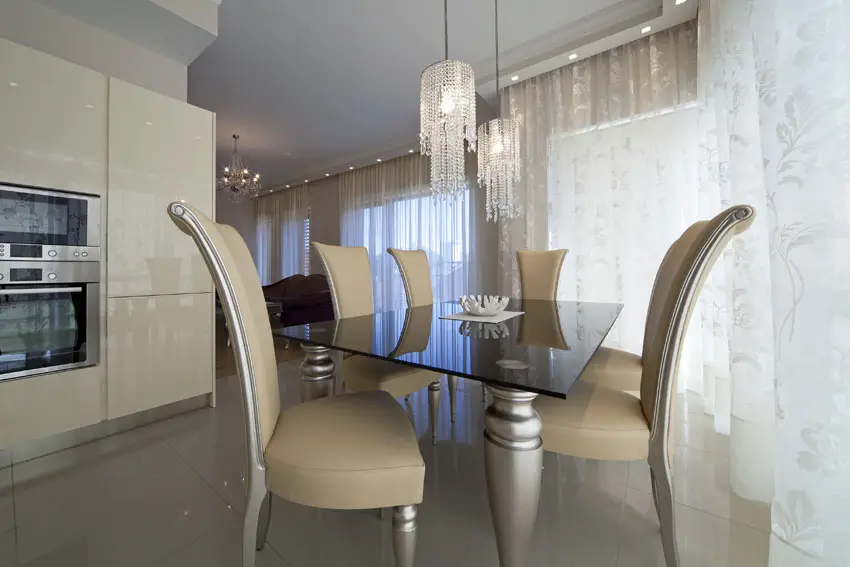 An eclectic mix of modern and traditional elements are combined in this small supper area placed right beside the kitchen area. The kitchen uses modular cabinets with glossy off-white laminates. The large sliding doors and windows on the walls on the other hand, are covered by sheer white curtains, adding a dramatic effect to the space. The supper area uses modernized furniture pieces. Wooden turned legs were painted in silver and was used as the base of the black tempered glass top of the table. The high-back chairs matches the silver finish of the table and is upholstered in a light cream color.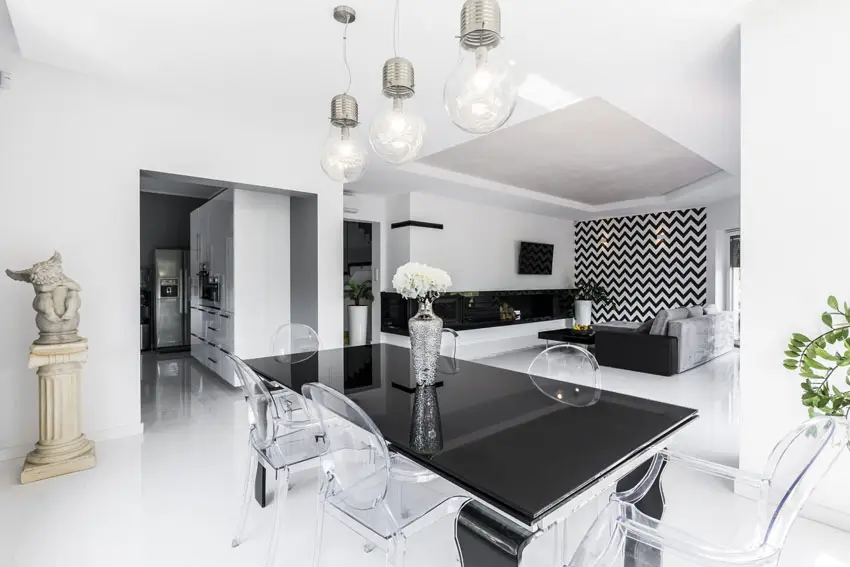 Going for a minimalist achromatic color scheme, this house looks like something straight out of a magazine. Most surfaces use white finish, save for the walls of the white modern kitchen area, which uses gray to make the white cabinets really stand out. The supper area is perpendicular to the kitchen and the living area. It uses a modern black glass table and Louis Ghost Armchairs, accentuating the area with oversized bulb pendant lamps.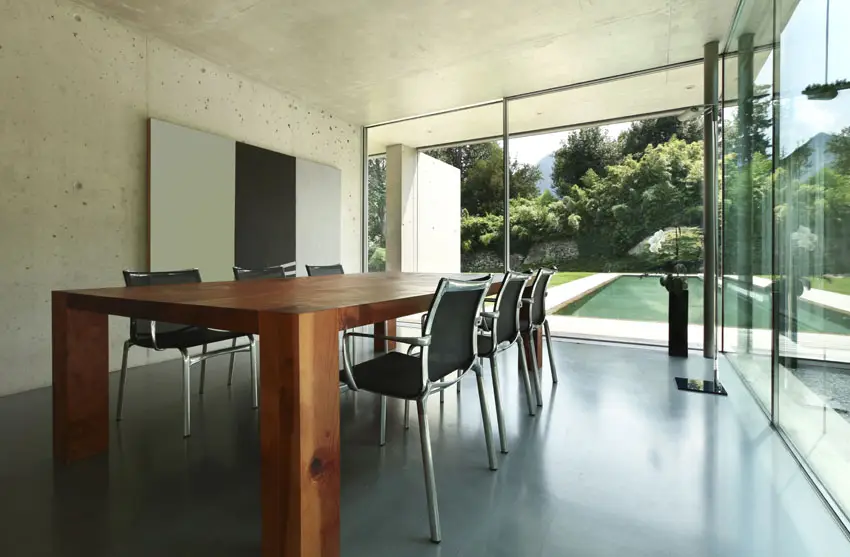 The use of rough, industrial finishes and dark colors give this supper area a very formal, office-like feel. 2 full walls have clear glass windows with thin metal framing, giving an almost unobstructed view of the pool area and backyard. In contrast with the warm scenery, the supper area itself has a sense of formality due to its choice of finishes. Painted concrete floors in dark gray create a seamless flooring without grout space, while the walls and ceiling keeps its raw light gray concrete finish. To add a bit of life and warmth to the space, the table used is a massive solid walnut table with large block legs. On the other hand, the armchairs are very modern as they habe an aluminum framing and mesh back and seats.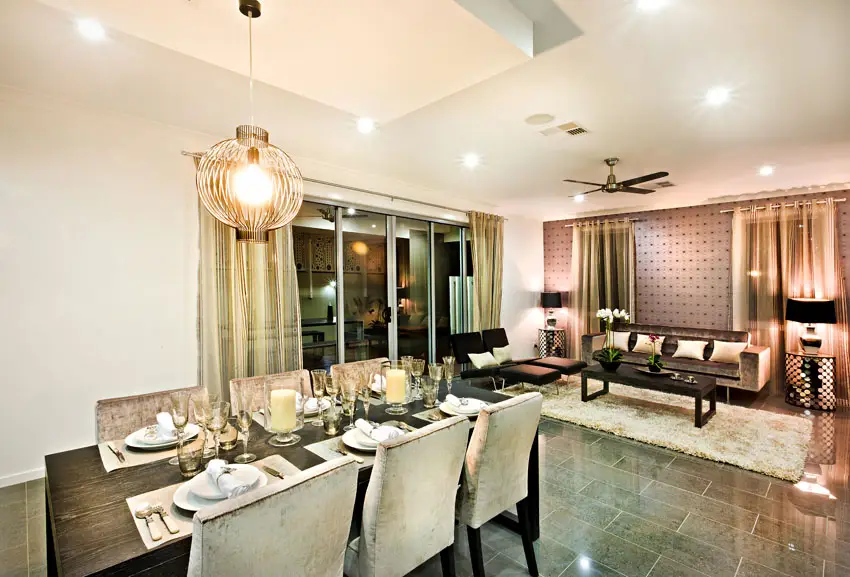 This supper room combines the simplicity and the sharp, straight lines of modern design with the luxurious and posh feel of classic design. The dark gray polished ceramic flooring is paired with plain white walls and ceiling for an excellent versatile background. The supper areaa is composed of a solid wood table in dark oak finish, paired with 6 mid-back chairs upholstered in an off-white velvet fabric. Adding to the luxurious feel of the space is the elegant table setting and the gorgeous pendant lamp hanging right above the table.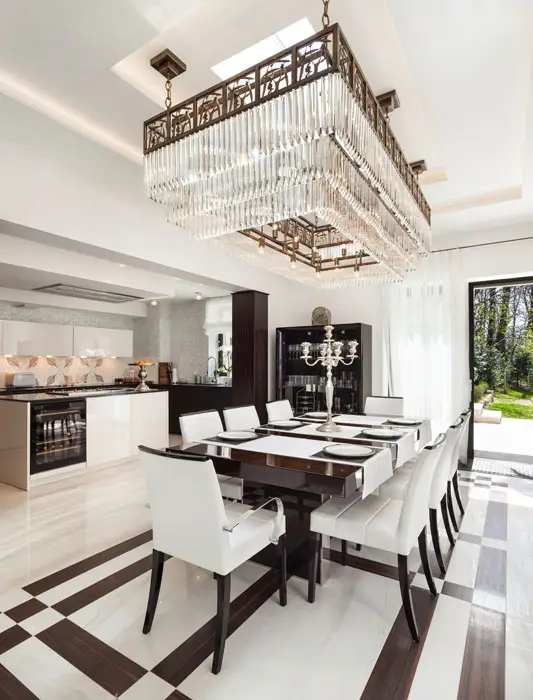 Going for a very simple and straightforward color scheme of white and brown, this supper area exudes formality and elegance despite its simple styling and color scheme. Walls and ceiling are white, and the flooring uses an off-white polished stone flooring, save for some border tiles which uses mahogany wood finish tiles. The table is a massive lacquered table in Mahogany finish and has matching chairs, two of which are armchairs. These mid-back chairs are upholstered in white leather and has the same wood finish as the table to match. To further amp up the elegance and luxurious feel of the supper area, a large rectangular crystal chandelier almost the same size as the table hangs right above it.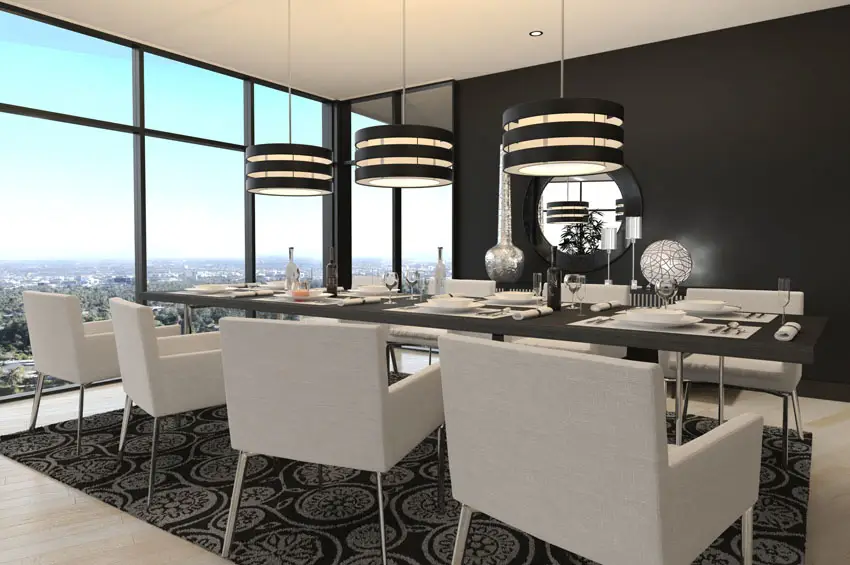 Going for a darker color scheme, this gorgeous apartment supper area gives a very stylish and sophisticated vibe. It combines grays and blacks with a little mix of white and light maple to balance the dark colors. You will see that one wall is painted in matte black, with an accent black-framed round mirror to give it more dimension. The modern table is quite long to accommodate the wide armchairs, and has a ebony stained veneer wood finish with stainless steel legs, to match the boxy light gray armchairs. To set a romantic mood and to complete the look, 3 black drum lights were hung above the table, giving it more emphasis.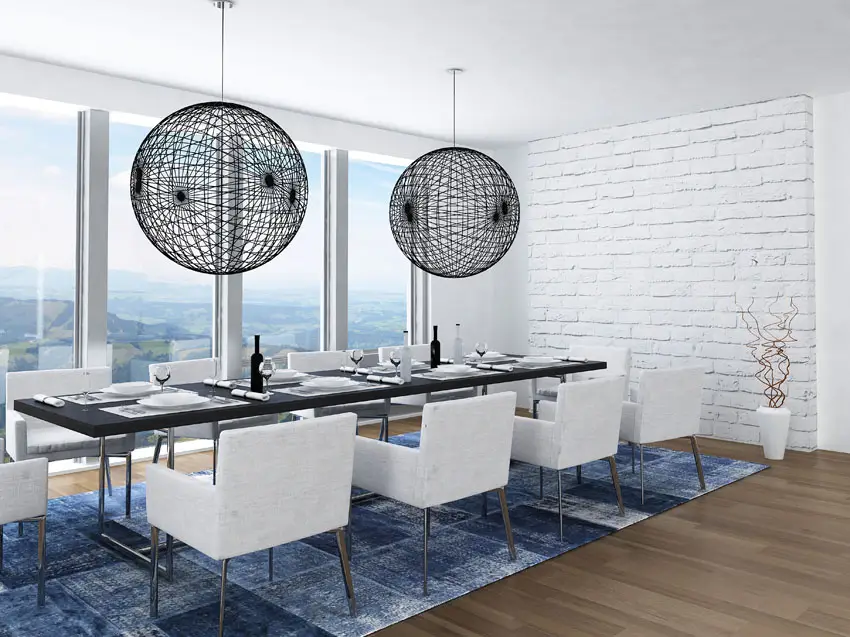 Sometimes, you do not have to use too much colors to give more life to a space. This supper area is an example of such. As the room basically follows a simple black and white color scheme, save for the engineered wood flooring, there isn't really much to look at the space aside from the white-painted brick accent wall. To remedy this, a large royal blue area rug was placed underneath the supper area, framing it and giving it a nice boost of color, bringing it to life.
A modern Zen design-inspired supper area that emphasizes the importance of negative space, or "empty" space in a design. If you observe, despite the large floor area being free to use, the supper area used was quite compact, leaving you lots of free/open space around it. Wall niches and display shelves are also not filled, leaving empty spaces to keep it balanced. The table and chair are all matching, aside from two chairs which are fully upholstered, unlike with black and white floral fabric.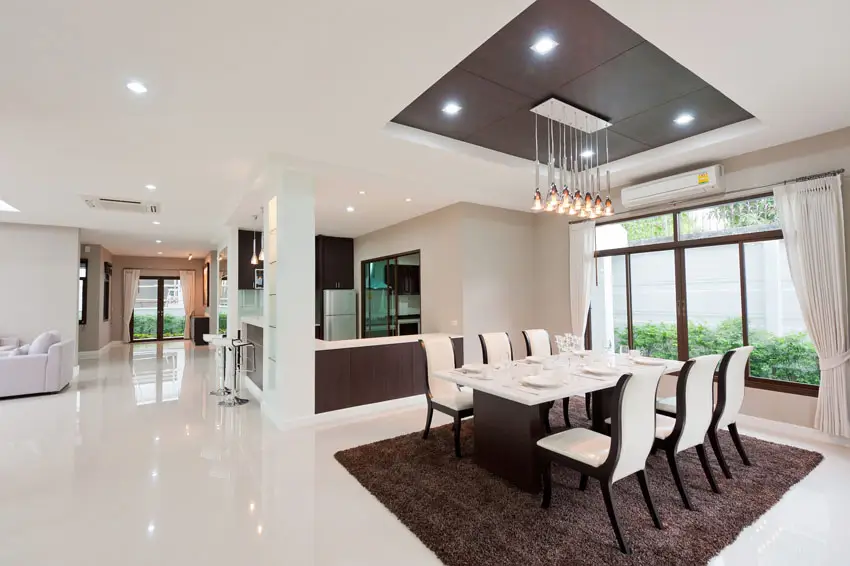 Another supper area adapting the white and brown color scheme, adding in a bit of light taupe on the walls to give it more dimension. Since the floors, walls, and ceiling uses a white finish, a large brown shaggy rug serves as the "frame" of the area, making it pop out from its shiny white floors. Matching the house's color scheme, the table has a Mahogany base and white-laminated top, while the chairs are sleigh-shaped high-back chairs with white leather upholstery and mahogany wood frame.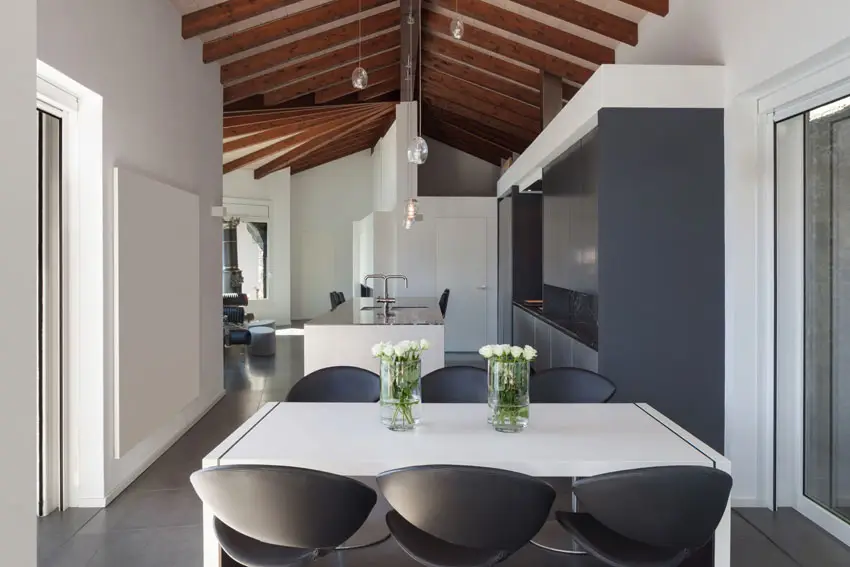 A small breakfast nook / informal supper area situated right beside the small modern kitchen. It adapts a very masculine and minimalist color scheme of white, black and gunmetal gray. It uses an all-white table, with 6 retro swivel chairs as the chair, upholstered in black.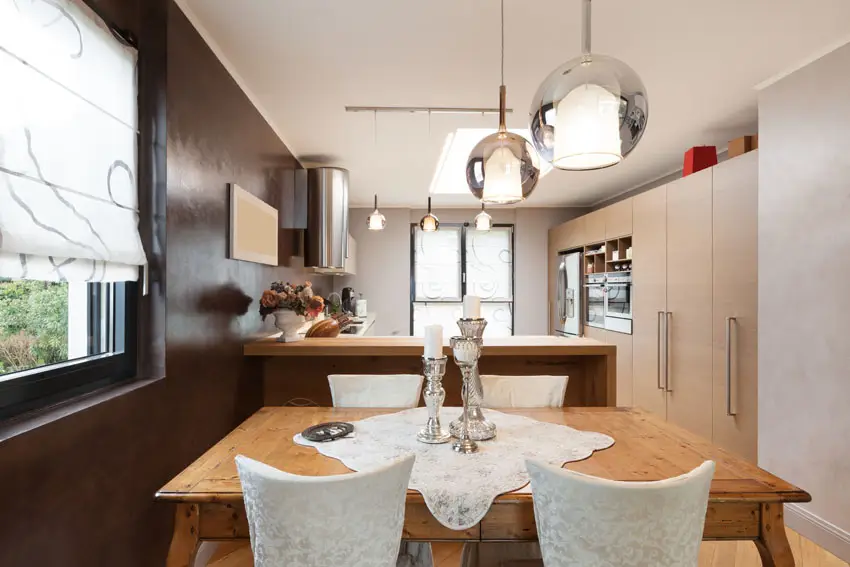 Serving a small breakfast area or an informal supper arearight by the modern kitchen, this supper area stands out as it uses classic furniture pieces which look different to its immediate surroundings and adapt a very modern look. It uses an antique table in a natural teak wood finish and 4 classic chairs with white slipcovers that match the table cloth.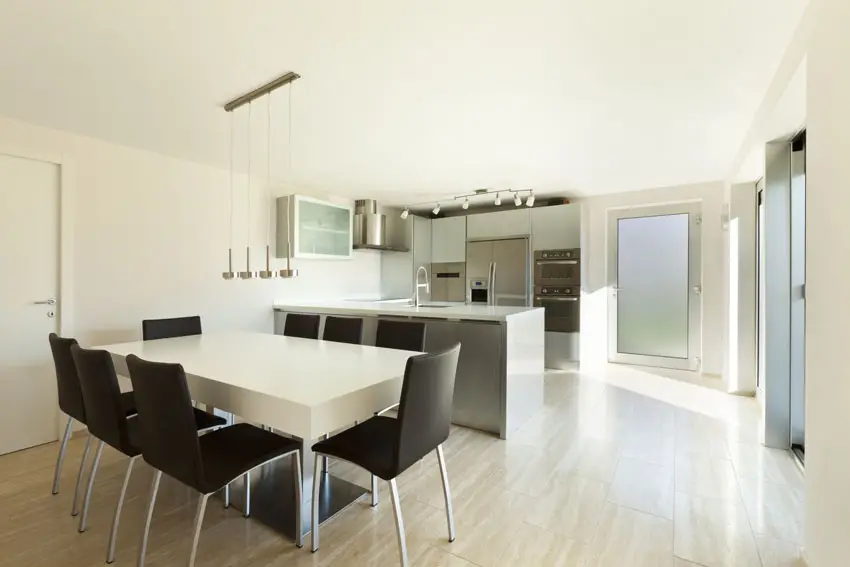 Going for a clean, crisp, magazine-worthy look, this kitchen and supper area achieves a minimalist feel, perfect for places with limited space. The simple styling keeps ornamentation to almost none at all, and emphasizes the use of functional pieces, as much as possible. It has a U-shaped modular kitchen, right beside it is the simple supper area. The table looks massive as it has a thick white-laminated top and a solid stainless steel base. It has 8 mid-back chairs with aluminum legs and black leather upholstery.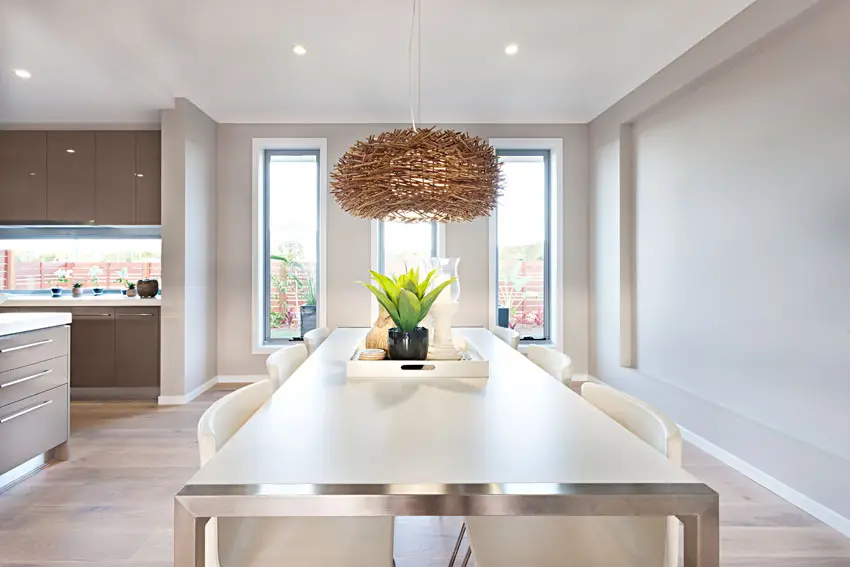 Despite the very modern furniture pieces used in this dinner room, it manages to achieve a very subtle tropical look by simply adding two key pieces: a driftwood accent lamp, and a tray of decorative accessories at the center of the table, containing plants and other natural-textured items. So despite the typical white and stainless steel look of the supper area, the adding of these two elements already make a difference in giving the space a warmer feel.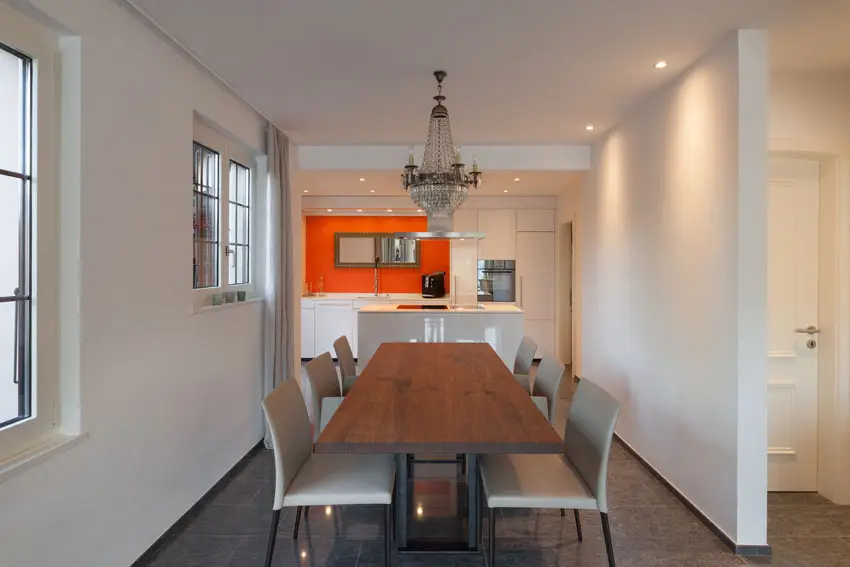 This formal dinner area is placed in the space between the full-sized kitchen and the living area, separating the wide hallway into two. The space has dark gray floors and white walls to keep a simple yet timelessly elegant feel, while the furniture pieces are of modern rustic design. The dinner table in the middle has a natural solid oak wood top with a black metal base, matching the black-painted legs of the taupe-upholstered chairs.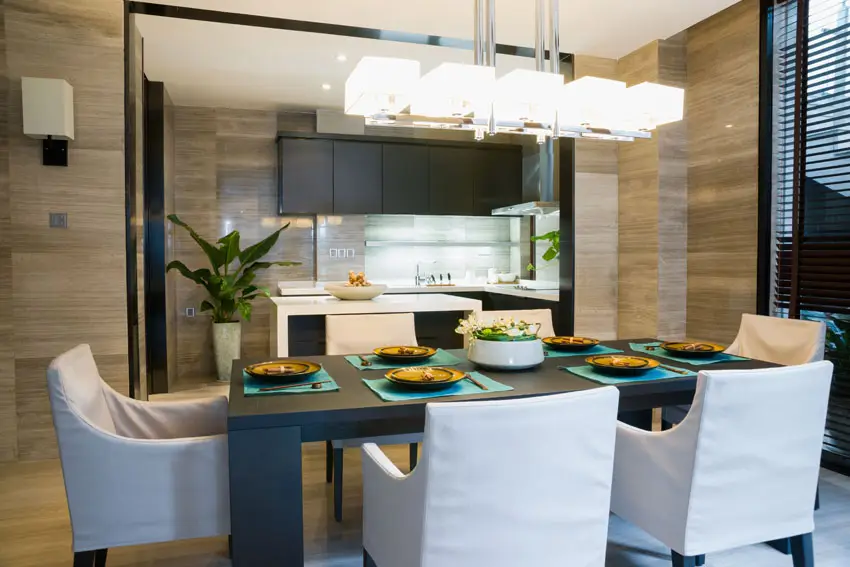 Modern spaces typically have very plain basic finishes, and adds texture through the furniture pieces and fabric selections. However, this examples is a reverse. The walls and floors are the ones which has textures and patterns, as they are clad in beige sandstone tiles, giving it a natural horizontal pattern. To balance this out, the furniture has very plain finishes, like the dark wengue dinner table and the taupe-upholstered chairs.
The modern kitchen island features a white Corian countertop that contrasts against the backdrop of the rich brown veneer cabinetry.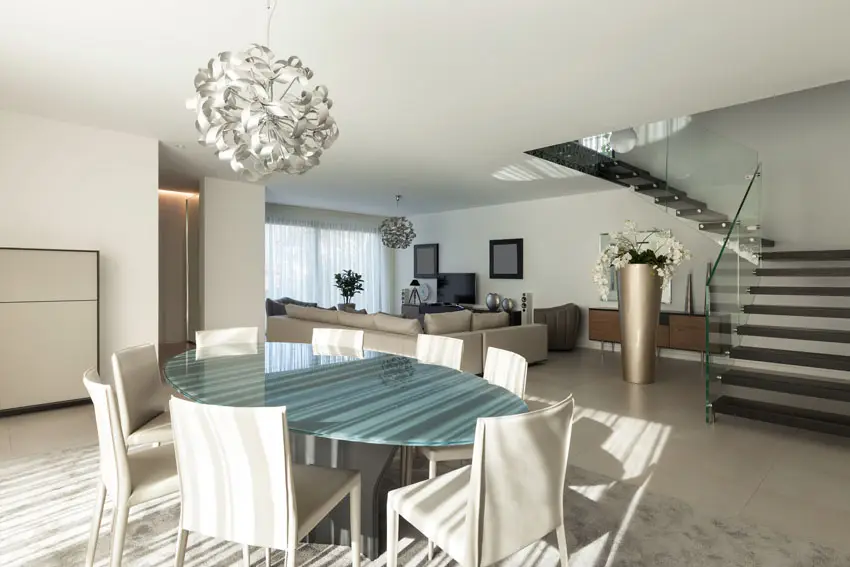 Modern dinner rooms typically use rectangular or square dinner tables, but this example breaks the norm, as it uses a massive elliptical-shaped dinner table with a unique emerald green glass top, which really stands out, as all the other finishes in the room are either white or off-white.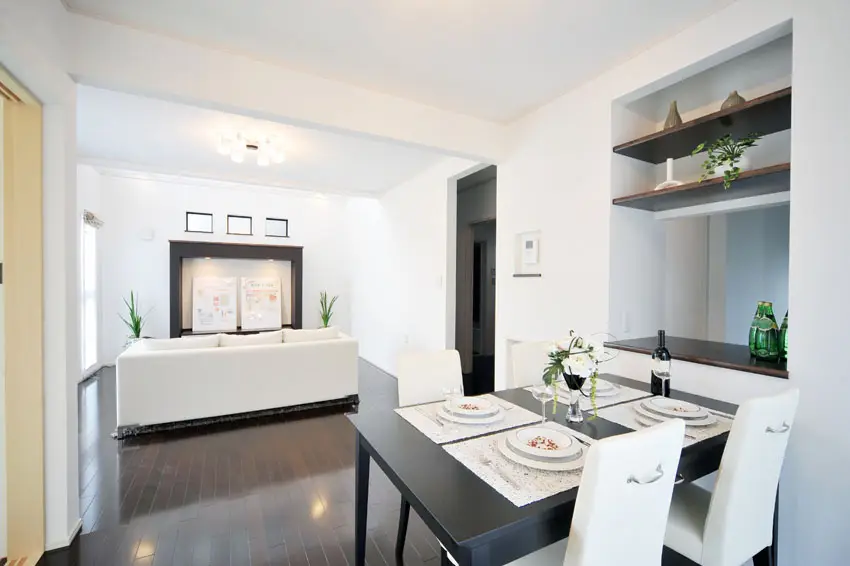 This supper area is a great example of saving space for small or limited spaces. Because of the limited hall area, the dinner table was pushed against a wall, instead of placing it in the middle of the hallway, allowing you to have a wider hallway space. It uses a simple wengue finish dinner table and 4 matching high-back dinner chairs in white leather upholstery.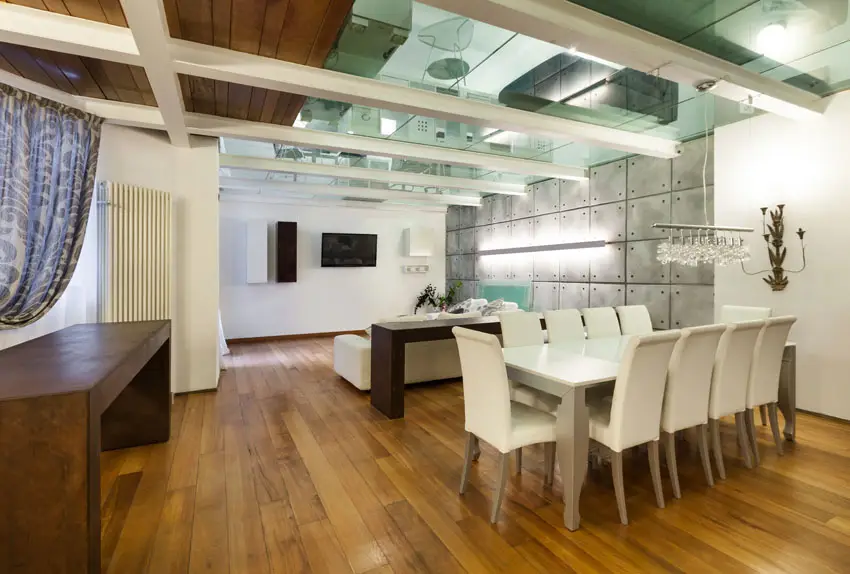 An eclectic mix of modern industrial design and modernized classic furniture pieces, this open-plan space offers much to look at in every corner. Just beside the supper area is a very industrial-modern-inspired living room, contrasting with the neo-Victorian style of the supper area. It uses a modernized version of classic furniture silhouettes and adds a modern touch to it. In this particular example, it uses a matte silver finish for its wooden legs, white laminate for the tabletop and white leather upholstery for the seats and back of the chairs.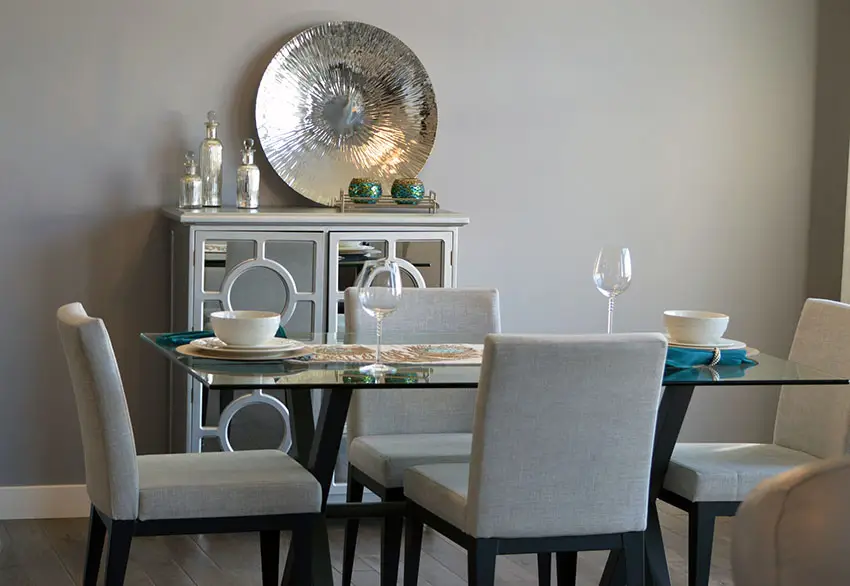 This is a simple modern transitional supper area that combines elements of modern and classic design. It simplifies classic furniture forms and gives it an updated, simpler modern look. The supper area comprises a tempered glass-topped x-frame supper area and 4 mid-back chairs upholstered in a light taupe fabric with dark wengue legs matching the x-legs of the table.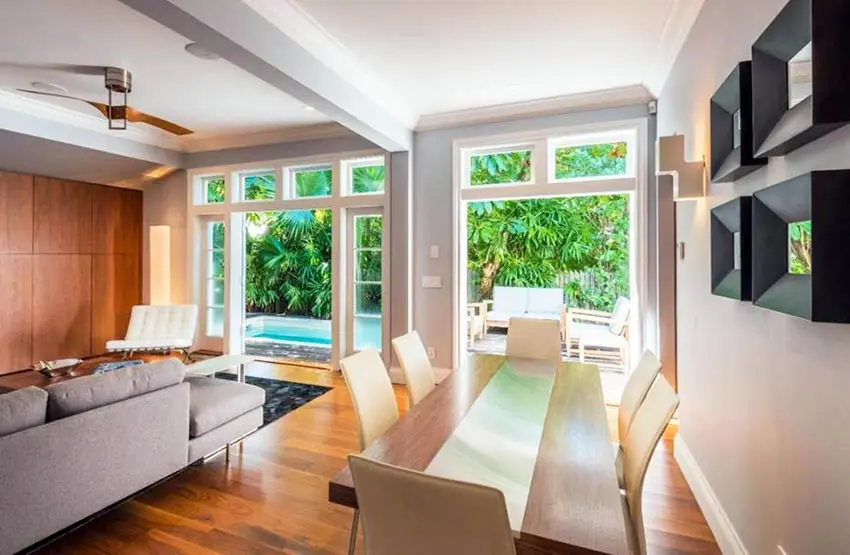 This modern dining room with French doors features an abundance of natural light. Wood finishes found in the rectangular supper table with stainless steel runner, wall paneling and wood flooring create a cohesive and stylish design with a natural feel.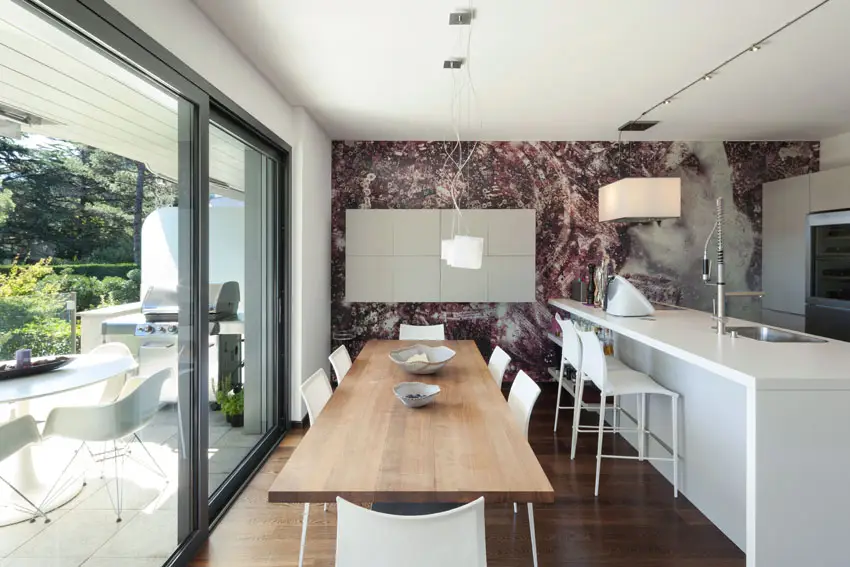 A mid-century modern inspired supper area, this design squeezes in the limited space and efficiently divides the area into a kitchen and a supper area which opens up to the porch. Because of the limited space, a narrow table was used. It has a solid teak wood top in its natural non-gloss finish and paired with modern white mesh chairs which matches with the white bar stools.
The most notable feature of this space, however is its violet graphic wall, adding a very unique finish to the large wall and doubles as an art piece. Modern supper area ideas that benefit from a lot of natural light can open up the space and allow one to be creative with textures and patterns that might otherwise be seen as too dark.