On this page, we share our favorite dining room lighting ideas showcasing a variety of fixtures and design styles.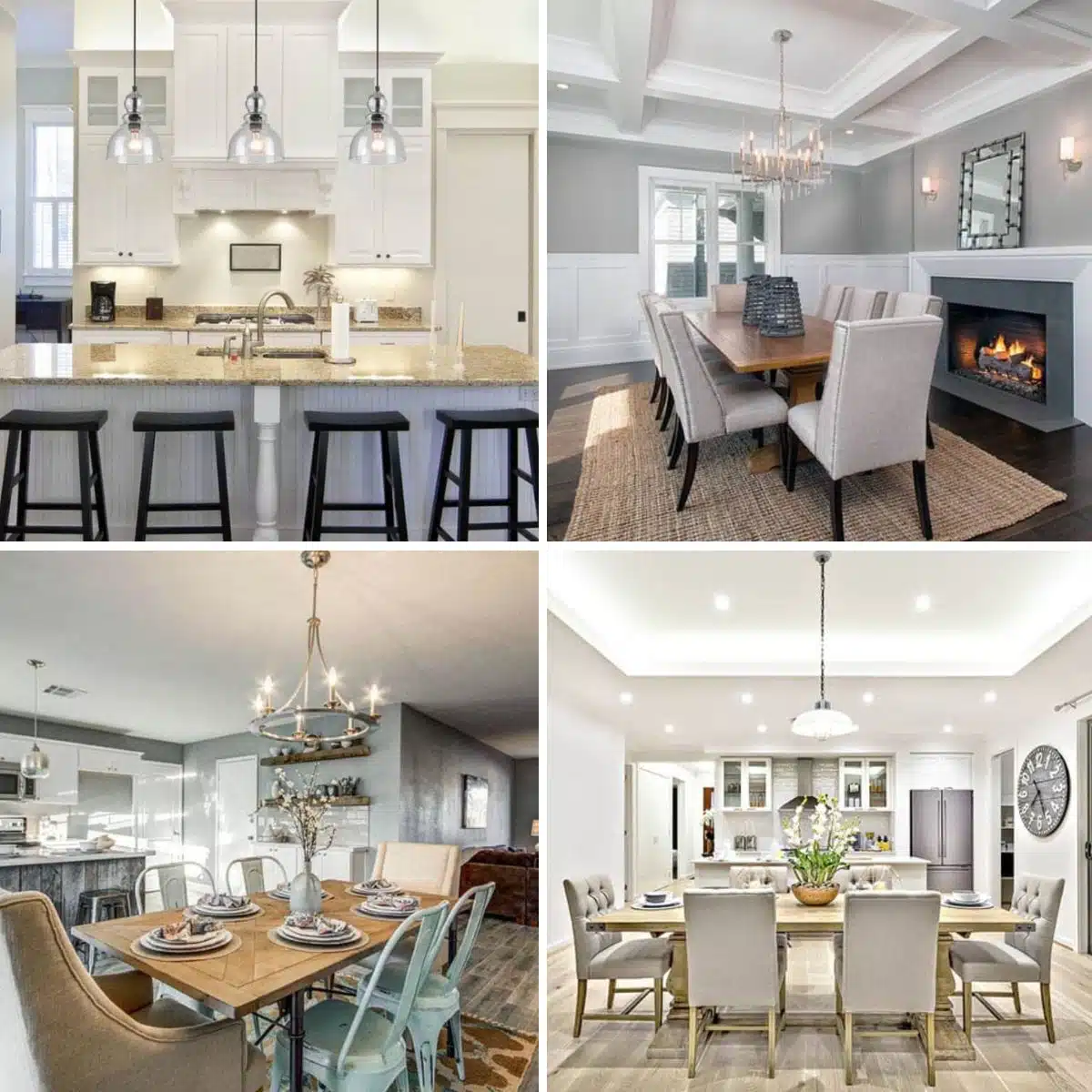 The dining room is considered to be one of the most versatile spaces in the home. Offering maximum benefits in terms of functionality, the dining room also plays a big part when it comes to socializing. As it where the family congregates to enjoy meals together and it is where guests are frequently entertained. It has also become a hub for other daily activities such as doing day to day chores, studying, working or enjoying hobbies.
Because of the wide array of activities done in the dining room and the frequency of its use, it is important that it meets good lighting design not only for the added aesthetics but also for the added efficiency of use.
Below we give you our very own ultimate guide on dining room lighting ideas, along with some useful pointers to help you pick the right one for your home.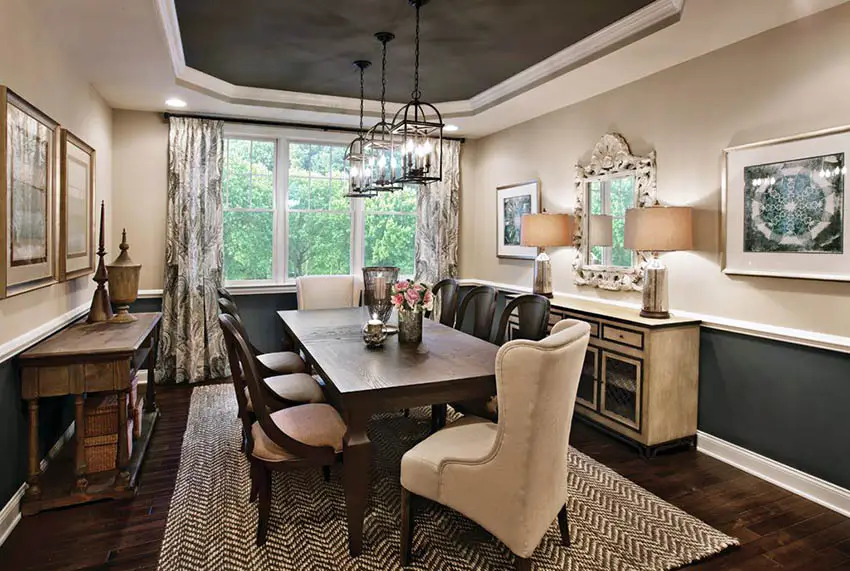 Lighting is integral to producing a well balanced and stunning interior design. lt plays a big part not only on creating a visually appealing aesthetic but also in enhancing the mood, ambiance, atmosphere and the way you experience a space.
So when deciding on lighting for your dining room, it is important to consider beauty and functionality.
The lighting design for dining rooms need to be practical, adaptable and capable of providing a well lighted space in order to provide efficiency in terms of everyday use. It is also important to note that the function of the dining room may also change from day to night.
As in the mornings, it can double as space where you and your kids can study, while at night it can be a place where you and your friends can enjoy some chit chat over a glass of wine.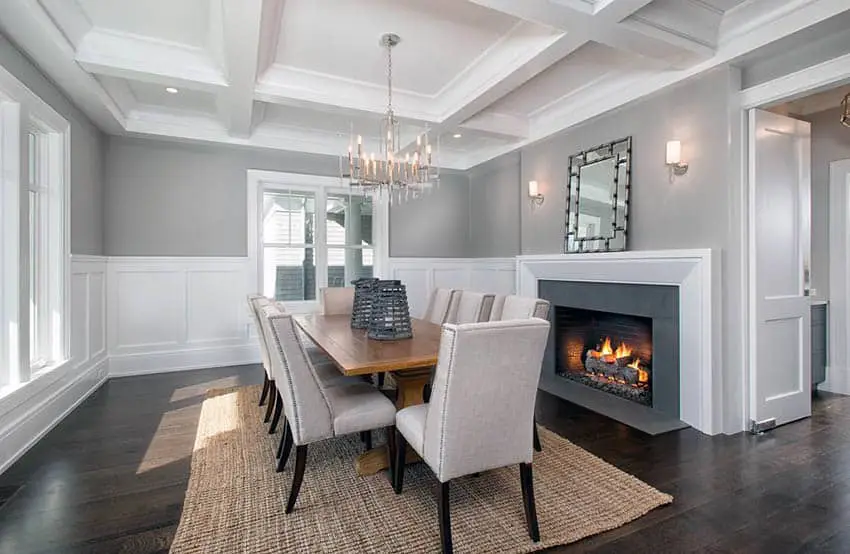 Getting the right lighting design is the key to maintaining the balance between the traditional function of the dining room and its modern use as a common area for family and friends.
The primary focus in the dining room is the dining table; since it is the centerpiece of the room, it offers the perfect opportunity to create a big statement for your home.
The lighting fixture that is placed above the dining table is often also the most noticeable feature or decor in a dining room so it is essential that it is planned and chosen with care. It must be a well rounded central lighting piece which will not only provide general illumination for the space but will also bring ambient and task lighting to the area.
The traditional lighting design for most dining room consists of a chandelier or drop light above the dining table. Typically, this is combined with a pair of wall sconces which flank the ends of a buffet table.
Some homeowners opt for an upgraded lighting plan by incorporating cove lighting into the dining room's ceiling design These lighting fixtures are usually all set on dimmers However, there are a wide option of modern dining room lighting fixtures which allows you to create a more unique and interesting design.
Dining Room Lighting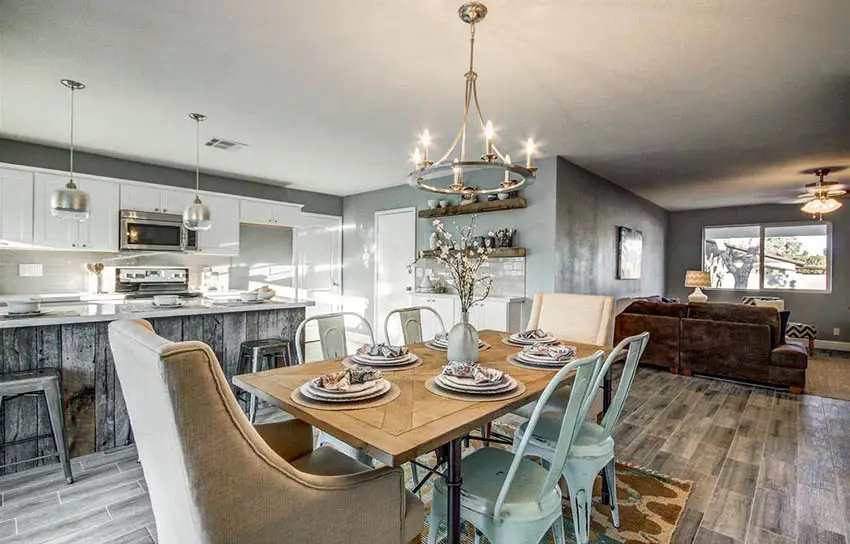 Ambient, task or accent lighting? Lighting, in general, is classified into three main categories namely ambient lighting, task lighting and accent lighting. And all of these three types may be used in creating a stunning lighting design for your dining room.
To create a successful lighting design for dining spaces, make sure to combine all three basic types and incorporate them as different layers of your design.
To better understand each type of lighting, we will give you a short overview of each.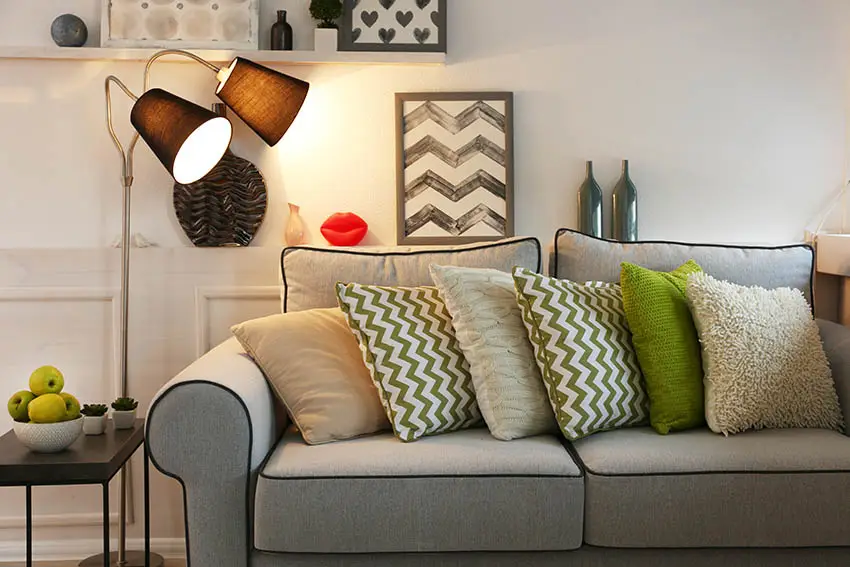 Ambient lighting is the most basic form of lighting that is used for spaces. It is also referred to as general lighting because it provides an overall illumination to a space. It's main goal is to provide an even lighting, rather than just filling in a certain spot of a room.
Ambient lighting also need to have a comfortable level of brightness and must have no presence of glare.
Typically, ambient lights are a central source of light for a space. It is the most basic fundamental to a good lighting design. It acts kind of like a "base" for lighting wherein you can add all the other decorative layers afterwards.
Ambient lighting is usually accomplished through the use of ceiling surface mounted fixture, beautiful chandeliers, track and recessed lighting or a beautiful chandelier.
Wall-mounted lighting like a sconce also provides ambient lighting. Table lamps and floor lamps may also be used for the same purpose.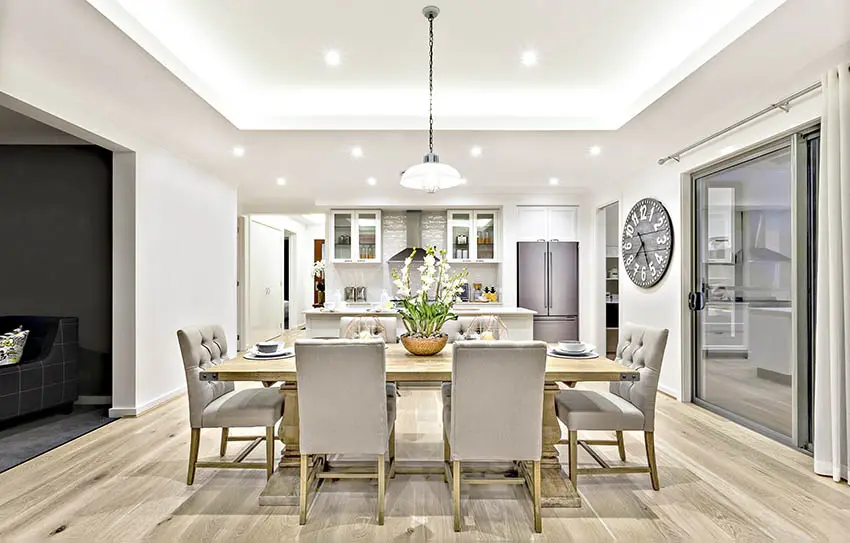 Task lighting, on the other hand, is typically used for performing specific tasks in the home. They aid in the efficiency of workflow by providing a more directional form of illumination and added brightness to a room.
The main goal of task lighting is to enhance visual clarity and prevent the risk of eye strain during daily activities. Essentially, these lighting sources should be free of distracting glare and shadows.
Task lighting is essential in doing activities like reading, studying or doing homework, working, cooking, applying on makeup or getting ready in the bathroom.
Task lighting is more commonly found on living rooms, bedrooms and kitchens, rather than dining rooms. The most common types of task lighting are recessed and track lighting, pendant lights, table and desk lamps, floor lamps, under cabinet lighting, bath bars and sconces.
Accent lighting, or also known as directional lighting, is a typically used to create different focal points in the room. It is usually used to highlight certain objects or design features in a spaces like architectural components, textured walls, wall accents, sculptures, paintings, houseplants, bookcases, decor, etc.
In terms of the brightness or illumination level, accent lighting must always be at least three times greater than the general lighting. Some common forms of accents lights are recessed lighting, track lights, chandeliers, dimmers, wall scones and other specialty lighting fixtures.
Dining Area Light Fixtures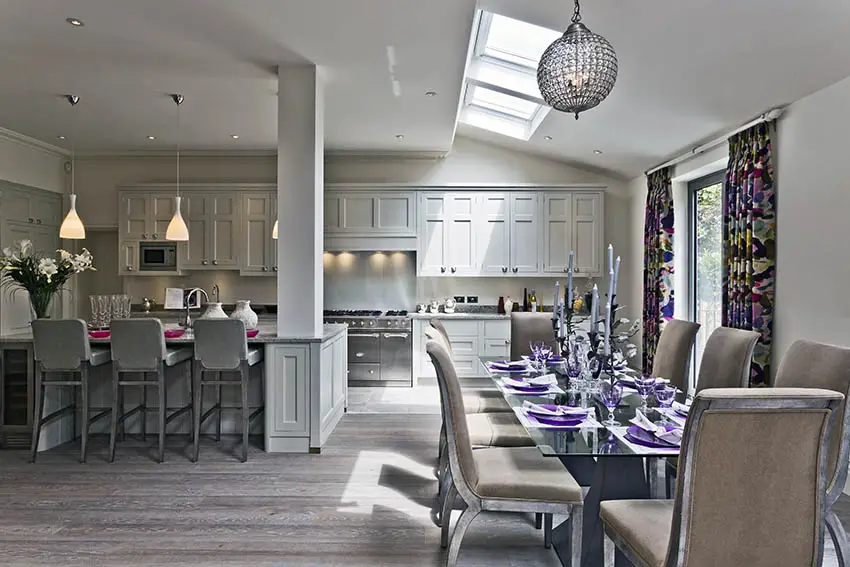 Lighting fixtures come in different types, shapes, sizes, and materials. The market does not only present hundreds, but even thousands of options to choose from. And out of all these possible choices, there are several types which work well for dining rooms.
Here are some types of lighting fixtures which are best suited for dining rooms:
Drop Light and Pendant Lights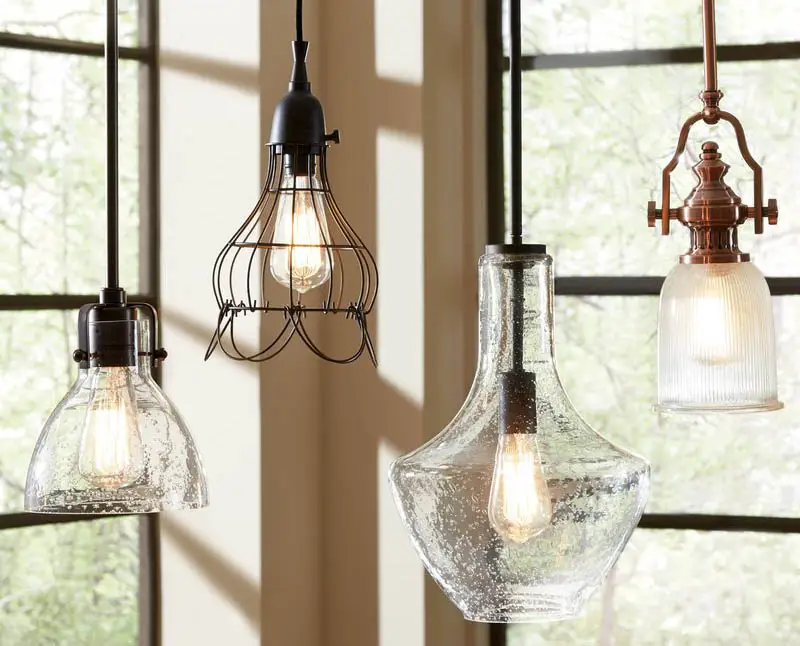 (Rustic dining room pendant lights)
By definition, a pendant light is a single lighting fixture that is suspended from the ceiling by a metal rod, chain or cord. Pendant lights may either be hung as a single piece or may be used in multiples as a series of lights.
They are typically used to provide general or ambient lighting, task lighting or general lighting. Drop lights or pendant lights are best used for dining rooms because they create a focal point in a space and balances out well with most dining table shapes.
Hang a beautiful pendant lamp or chandelier above the table to draw people in. Usually, this is the only place in the home that really requires a pendant light. – Feng Shui Modern, Cliff Tan
Drop lights come in a variety of shape and sizes. It is also available in different types namely mini pendants, multi light pendant, down light pendants, uplight pendants globe, and drum pendants.
Mini pendants are the smallest versions of pendant light fixtures and are commonly used to give light to isolated work spaces like desks. Mini pendants are not really meant to be used for general lighting, but rather, they are meant to redefine the mood of the space.
Although small, mini pendants command attention well since they usually feature elegant styles and designs. For dining rooms, mini pendants are typically used as a series of fixtures installed in staggered intervals.
Multi Light Pendants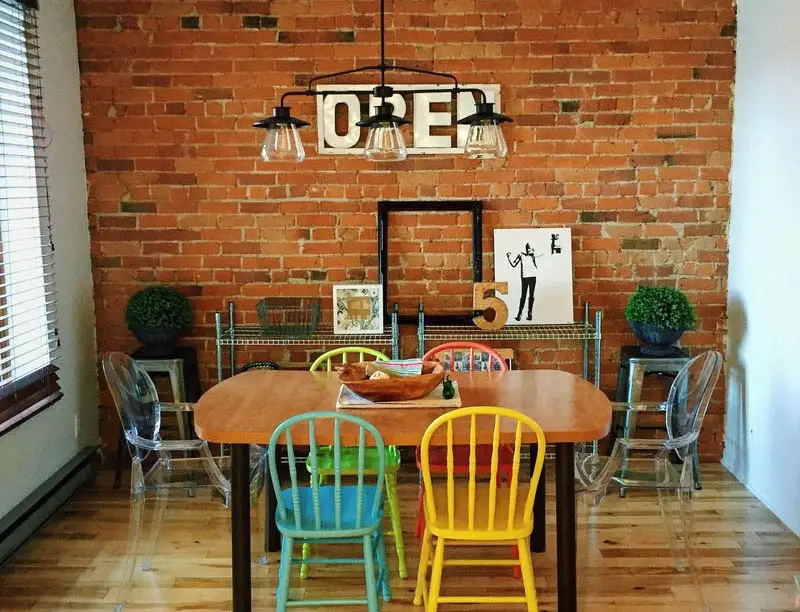 These are hanging fixtures that have multiple lights connected to one central fixture. Although made with three or more fixtures, its look is almost similar to an individual pendant light. Multi light pendants are perfectly suitable for dining rooms which only have one electrical opening or provision. They work best for rectangular-shaped dining tables.
Down Light Style Pendants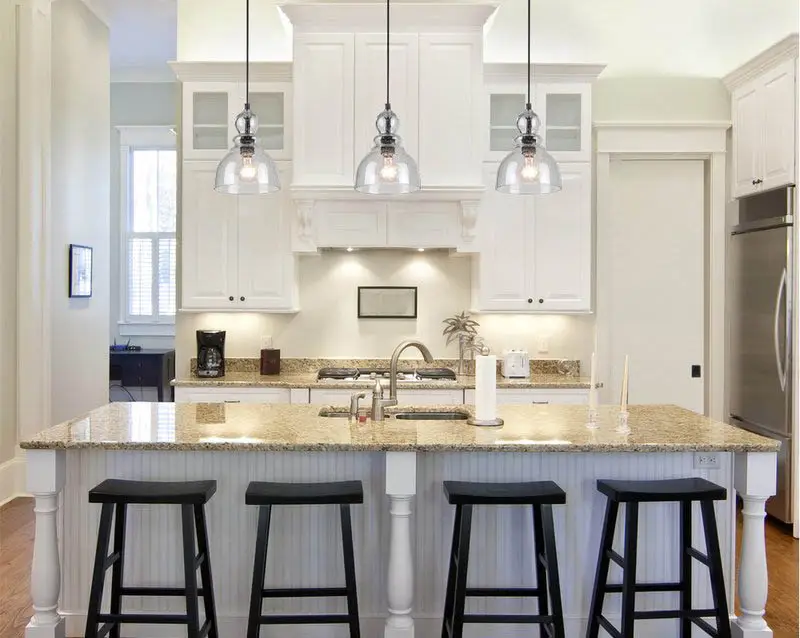 Downlight pendant lights above kitchen island
These are hanging light fixtures which direct light downwards. Although down light pendants can be used for general illumination, they are more suited for use as task lighting since they can direct the light source towards the task at hand.
Down light pendants are best used for small dining nooks or small round dining tables for two or four people.
Up Light Design Pendants
On the other hand, this style is the opposite of down light pendants. But rather than having a downward direction, these lighting fixtures direct light upward.
Compared to down light pendants which are best used as task lighting, up light pendants are perfectly suited for general illumination since it shines upward. Up light pendants are ideal for small dining rooms since they can make spaces feel larger.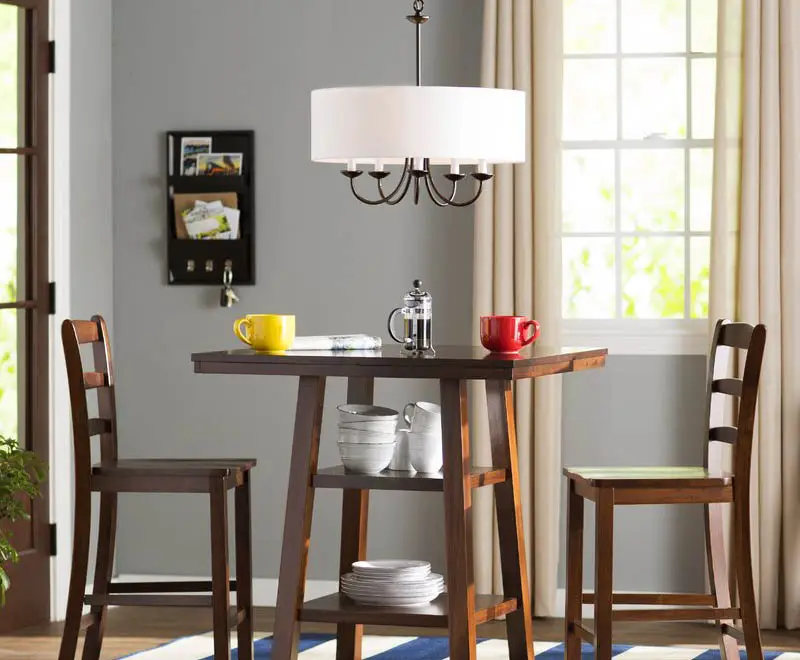 (Small dining room drum pendant light)
Drum Pendants
As their name suggests, these are hanging light fixtures which have a cylindrical drum shade. Drum pendants are typically made up of cloth or linen in a metal frame.
The most basic versions are white in color, but it also comes in other variations such as patterned shades with metal accents, double or triple concentric shades or woven shades.
The main advantage that drum pendants offer is that they are very versatile and stylish. Drum pendants are popularly used in contemporary and classic inspired dining rooms and they work best for square and round tables.
Globe Pendants
These types are generally of a contemporary style and feature an outer globe with an inner lighting fixture. They come in a wide variety of shades, designs and size and can bring a sense of style to your interior.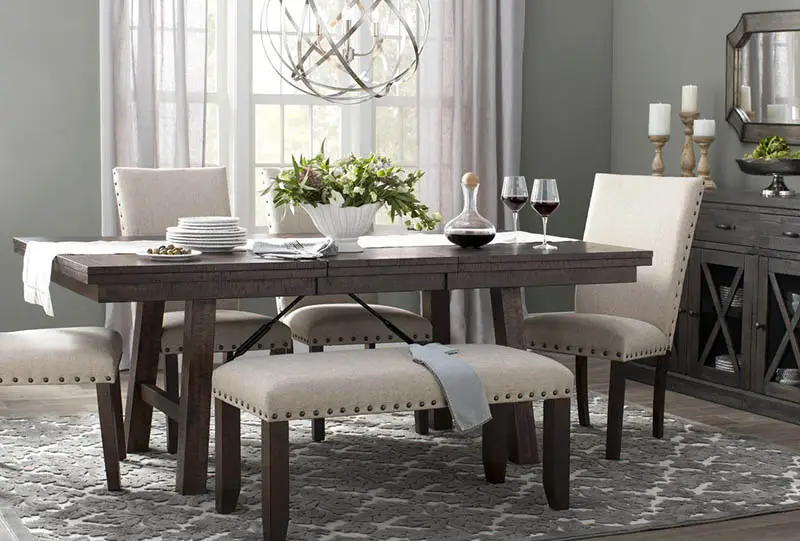 (Contemporary globe chandelier)
Chandeliers
Chandeliers are statement-making light fixtures. They are suspended from the ceiling using a hook and typically have "arms" or branches with bulbs at the ends. The minimum amount of "arms t" that most chandeliers have is three, but the maximum is ultimately limitless.
The size of the chandelier varies, while the length of its arms depends on the size of the chandelier. Common materials for chandeliers are crystals, glass, acrylic, metals, etc.
Typically used for general or ambient lighting, chandeliers command attention to a room and render an elegant vibe to dining rooms. They pair well with most shapes of dining tables and are usually available in different designs, which can practically match any interior style.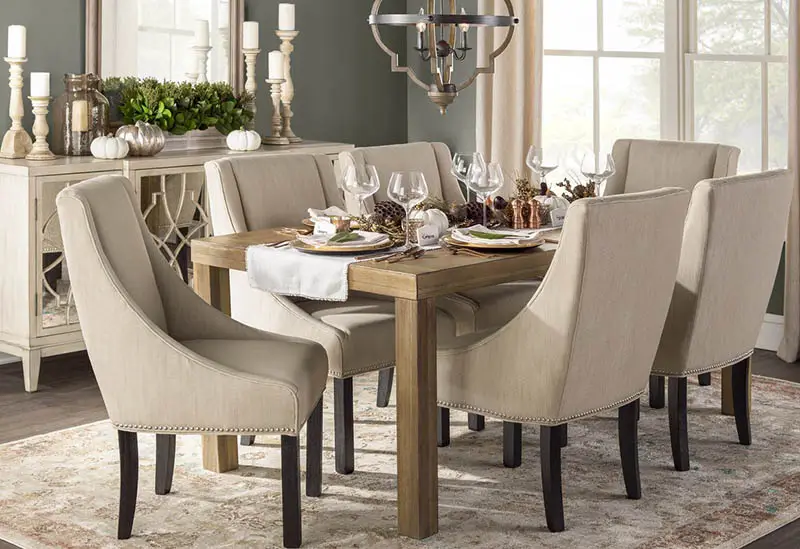 (Dining room candle style chandelier)
When choosing a chandelier for your dining room, the general rule of thumb in sizing is that the chandelier should be about 12 inches smaller in diameter (for round tables) or narrower than the width of the table over which it hangs (for rectangle or square dining tables).
When hung from the ceiling, the the bottom of the chandelier should be approximately 30 inches above the surface or top of the dining table to ensure proper illumination and to prevent heads from bumping into the fixture while the guests are seated.
Island Chandelier or Linear Suspensions
Linear suspensions, also known as linear chandeliers or island chandeliers, are hanging lighting fixtures which typically have an elongated or rectangular shape. This type of lighting fixture provides optimal lighting coverage from a single lighting source because it typically has multiple light bulbs
Linear suspensions provide a bold statement to dining rooms and give your guests a captivating reason to look up the ceiling. They provide the perfect opportunity to play with scale while adding dimension to a space, while their modern design puts emphasis on angular forms and sharp lines.
Linear suspensions work best in leaving a lasting impression and ample illumination over dining tables for casual dinners and intimate parties.
Linear suspensions are available in a variety of design styles so whether your dining room is traditional, transitional, contemporary, retro inspired or ultra modern, you can surely find one that will possess the right aesthetic quality to match your homes decor.
When choosing the right size of linear suspension for your dining room, it is important to take note of the space's measurement and your dining table's dimensions. Having the accurate measurements for such allow you to gauge the right width, height and length of your linear suspension fixture.
Linear suspensions are best used for rectangular dining tables. It is more suited for larger dining rooms a s they have the tendency to become too overwhelming when used in a small space.
In terms of installation, it is important to examine existing ceiling structure of your dining room in order to check whether it can support the weight of the lighting fixture, as well as accommodate its cable suspension. Make sure to examine the product page before buying and installation.
Semi Flush and Flush Ceiling Mounted Light
The most popular type of lighting fixtures for the home are flush and semi flush ceiling mounted lights.
Unlike pendant or drop lights which hang, flush mount lighting fixtures are directly attached to the ceiling without a chain or stem. Semi flush ceiling mounted lighting fixtures hang down slightly from the ceiling.
These types of lighting fixtures are the least conspicuous type of lighting fixtures and are designed not to be noticed, unlike pendants or chandeliers which are often statement making pieces.
Semi flush and flush ceiling mounted lights are intended to provide maximum lighting and to create a comfortable, well illuminated room. They are functional, and less ornamental, but are available in a wide variety of stunning designs.
These lighting fixtures are made in different types of materials like glass, metal, acrylic with wood accents, and come in different designs which can suit any dining room style.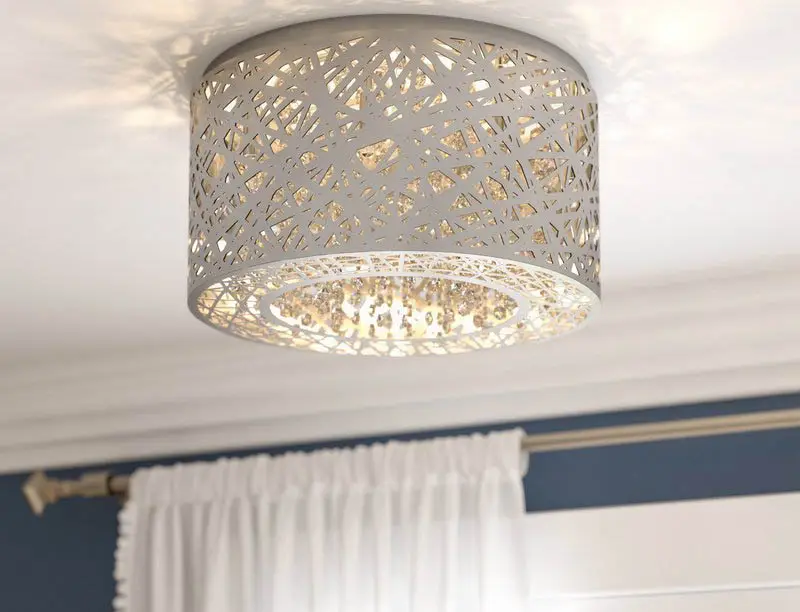 (Flush mount drum light)
The major advantage that semi-flush and flush ceiling-mounted lighting fixtures offer is their high versatility. They can be used in various applications and match most dining table designs.
Usually, semi-flush and flush ceiling-mounted lighting fixtures can be used interchangeably, however, there are certain ceiling designs which work best for each type.
Flush ceiling-mounted lighting fixtures are typically used for areas with low ceiling and limited spaces, so they are highly suited for dining rooms with drop ceiling designs.
Semi flush ceiling-mounted fixtures, on the other hand, work best for dining rooms that have flat ceilings or recessed ceiling designs. They help give an illusion of a higher ceiling as the direction of the light they emit goes upward to the ceiling and downward into the room.
When choosing semi-flush and flush ceiling-mounted lighting fixtures in relation to the ceiling height of your dining room, opt for flush ceiling-mounted lights for low ceilings or those with a height below 8 feet.
While for dining rooms with higher ceilings or those with a height of between 8 feet to 10 feet, semi flush ceiling mounted lights can be your option as they generally hang less than a foot away from the ceiling.
Typically, the shape of semi flush and flush ceiling mounted lighting fixtures are matched with the same dining table shape. Square semi flush or flush ceiling mounted lights, for example, are best used for square dining tables as they reflect the same shape. Those that are round in shape are best paired with round dining tables, and so on and so forth.
In terms of maintenance, semi flush ceiling mounted lighting fixtures offer a much easier way to change bulbs as compared to flush ceiling mounted lighting fixtures .
Dimmers – Dimmers are more of a kind of device, rather than a type of lighting fixture. These are switches which enable you to adjust the brightness of your lights, allowing you to go from general lighting to accent lighting instantly.
Dimmers are ideal for dining rooms since it provides a centralized lighting system which caters to all of the uses of the dining room, whether for dining or for entertaining. They provide flexibility in establishing a relaxing atmosphere which feels warm and cozy.
Frequently Asked Questions About Lighting Fixtures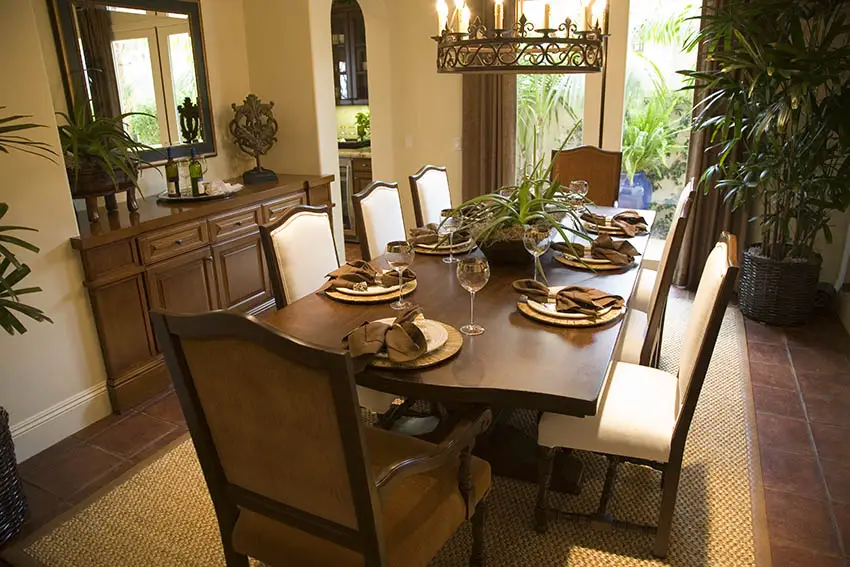 Whether you are looking for a simple ceiling mounted light , a stylish floor lamp or a grand dining room chandelier, your main consideration must not only be to choose a fixture that is stunning but also to provide the room with an adequate amount of light.
Here are some frequently asked questions for choosing and using common dining room lighting ideas and some tips to address them all.
Determine the activities or task you do in a room. One of the primary factors that need to be taken into consideration when choosing lighting fixtures for a dining room is the type of activities done in the area.
Tasks and activities are significant because sometimes, general lighting is not enough to provide the right illumination in a space to see things clearly. Some tasks can be accomplished more easily, quickly and efficiently if the area is well lit.
Take into consideration the general type of activity to the most specific task done in the space. For example, the general activity in a kitchen is food preparation and some of the specific tasks involved in the process are cooking, peeling vegetables chopping ingredients.
These activities all need a specialized lighting source such as under cabinet lighting. Another example would be, reading a book in your bedroom, which will require a more direct lighting source near the bed, such as a table lamp or wall sconce.
For dining rooms, the primary activity is serving and enjoying food and drinks or eating meals. The activities are more centered on gathering or congregating with friends and family.
Unlike a kitchen where most heavy food prep work is done, a dining room has fewer tasks. Thus, most of its lighting comes from a general lighting source. Sometimes, this is accompanied by an accent or mood lighting to enhance the ambiance.

If you plan on using your dining table for other everyday tasks, like doing homework, playing board games, studying or working, consider a chandelier that is equipped with a down light or a down light pendant light.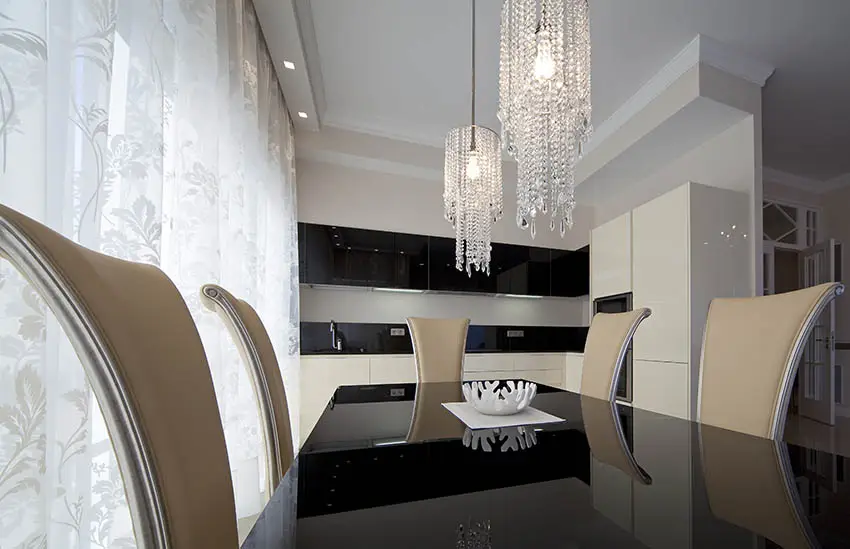 How much light do I need? Lighting fixtures come in different shapes, sizes and color, but aside form the physical attributes which make up their design, one of the most common things that we hear when shopping for lighting is the wattage of the bulbs that goes into the fixtures and the amount of lumens that it has.
Light bulbs typically come in 25, 40, 60 or 100 watts, and as most of us know, the greater the wattage of the bulb, the brighter it is. But the wattage of the bulb, does not necessarily determine its brightness. The amount of watts a bulb has pertains to the amount of energy it uses.
The lumens, on the other hand, is the amount of light emitted by a light source. In short, it is the measure of light output .

Although this all sound a bit too technical, determining the amount of lumens a room needs to be fully lighted can be computed using a simple formula. First, you need to get the room's total area by multiplying its length by width.
Then multiply the total area of the room by 40. The resulting number now determines the amount of lumens you need for a room, thus it dictates the type of lighting fixtures you need
For example, a room which measures 10 feet by 10 feet has a total area of 100 square foot and needs 4000 lumens for illumination (10 square foot x 40 = 4,000 lumens). So look for lighting fixtures which produce a total of 4,000 lumens.
The resulting amount of lumens is just a guide, however, you can choose to apply more lumens for areas wherein most work and activities in the house are done like a bathroom, kitchen or home office. Or you can choose to lower it down for low light areas like bedrooms.
The recommended number of lumens for combined ambient and task lighting in a dining room should be at least 3,000 to 6,000 lumens.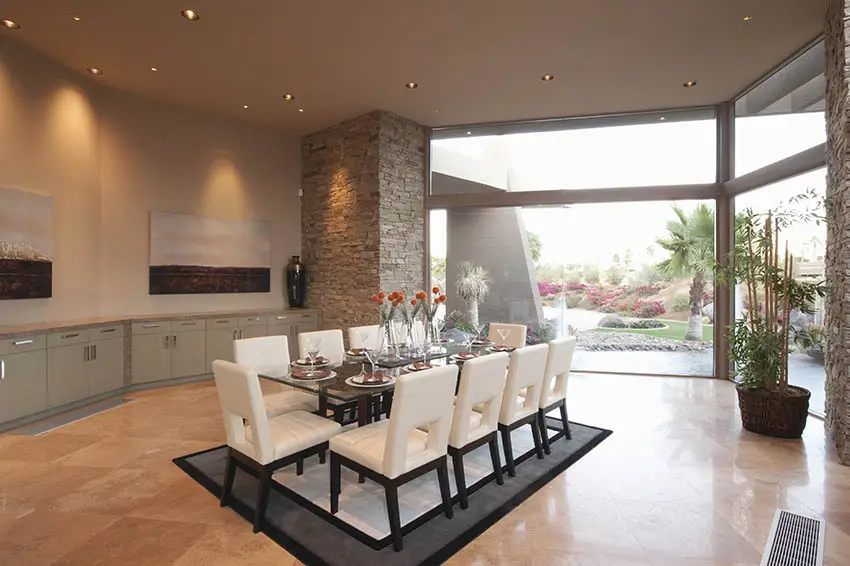 What is the overall style in the space? To create a well cohesive design for a dining room, it is important to ensure that all decor in the space follow a specific design style (unless, you plan on pulling off an eclectic theme).
While everything doesn't have to match in the space, you must at least make the area feel closely tied together and feel comfortable.
The prevailing style of your house, or your dining room, is a good guide to narrow down hundreds of lighting options which are available in the market.
Determine whether the decor, furniture and design details in the space are ornate and geared towards the traditional style, or if it is more minimalist like the modern style. Consider even the smallest detail in the space, including the finishes of your hardware or accessories.
Traditional style dining rooms may call for more opulent designs which have antique finishes while modern style dining rooms may opt for sleek, metal and glass lighting fixtures. Some popular design styles for dining rooms are traditional, transitional, rustic , contemporary or modern dining setting.
Do you need accent lights? As mentioned, the primary function of accent lighting is to enhance the mood in the room and add visual interest in a space. Aside from creating a cozy environment, accent lights also tend to bring that specific area into the center stage, giving emphasis on the space. While also providing enough functional and directional lighting.
So if you want to showcase your dining room as a striking feature in your home, make sure to include accent lighting. Accent lights are typically in warm white or slightly yellowish in color and typically come in the form of strip lights, halogens, dimmers or recessed pinlights.
LED based products are the most recommended types of accent lighting as they perform well, and cost reasonable. Also, for dining rooms, add accent lighting on alcoves, tray ceilings, bar areas, or on top of a buffet table.
Tips on Choosing the Best Type of Luminaires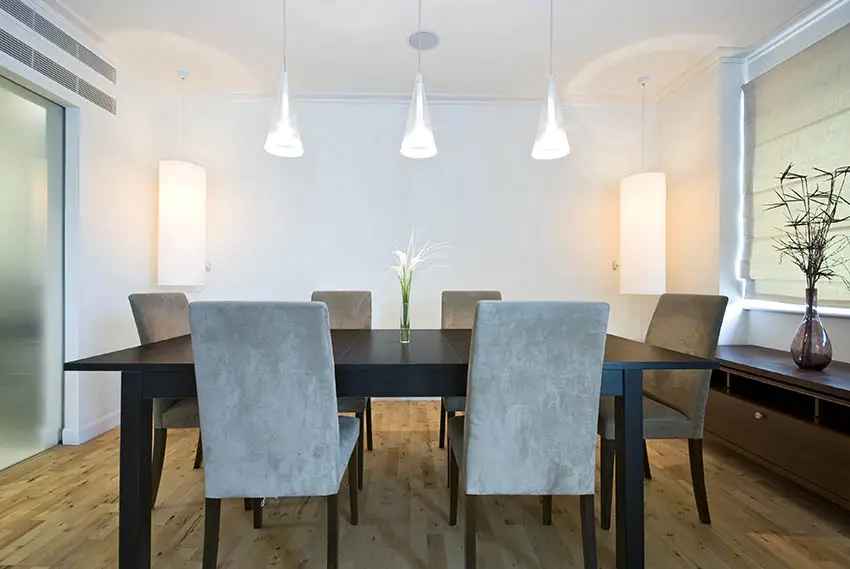 Take the shape of your table into consideration. Balancing shapes is as important as balancing scale and proportions when it comes to choosing the right type of lighting fixture for your dining room. The shape of your fixture must always be in harmony with the shape of your dining table.
Imagine how a long chandelier would look like when placed above a circular table – looks quite off, right? Some shapes of lighting fixtures do not fit right with specific shapes of dining tables. Rectangular and oblong dining tables, may either may use long lighting fixtures or those that spread since they follow the elongated form of the table.
Some lighting fixtures which perfectly fit with rectangular or oblong dining tables are linear chandeliers, large rounded fixtures or multiple lighting fixtures such as a series of small pendant lights or two hanging fixtures on either end of the table.
For square and round dining tables, opt for fixtures which are contained within the dimensions of the dining table. They are best suited with a single piece of central lighting fixture such as a ceiling surface mounted light, a drop light or clustered small or mini pendant lights in even intervals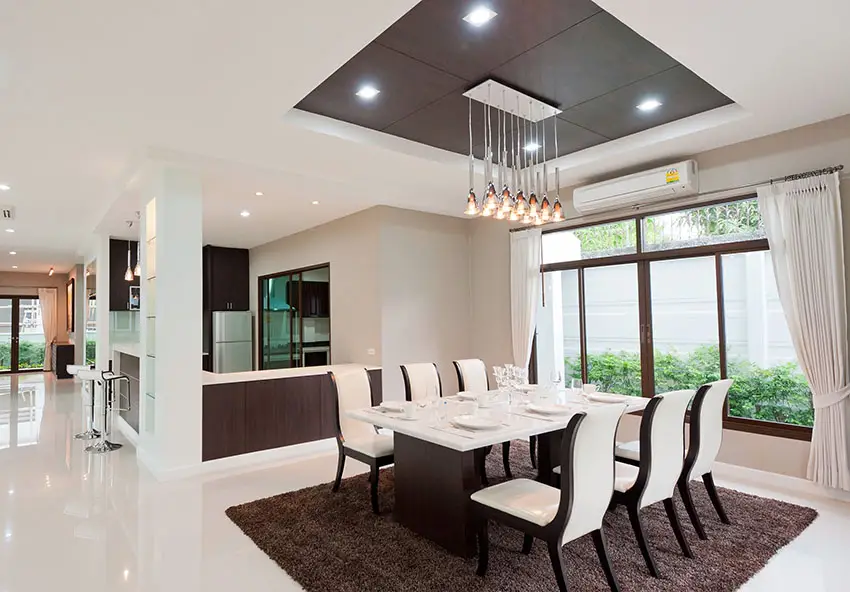 Pick the right size. Putting an over sized chandelier over a dining table, can sometimes make the space feel to heavy or overwhelming.
On the other hand, a small chandelier or pendant light may get lost in the entirety of the dining room's view. But choosing the right size of lighting fixture for a dining room helps create a proportional look and maintain visual balance
Scale, proportion and the size of the lighting fixture is a critical aspect of a well planned lighting design. In some cases these rules are bent, however the disproportional look is more trick to pull of. Small dining rooms can also make use of large lighting fixtures since it creates a very bold statement. Small fixtures, on the other hand,may offer a subtle presence in a room.
To determine the perfect size of lighting fixture for a dining room, a simple formula may be used. For lighting fixtures over the dining table, the general rule of thumb is to get the length and width of the room in feet.
These numbers must then be add up and the resulting sum would be the minimum width of the fixture. But instead of taking on "feet" as a unit of measurement, change that into inches. Just to clarify, there is no need to convert from feet to inches, just change it.
For example, a 10 feet by 12 feet room needs a lighting fixture which is 22 inches in width or 22 inches in diameter, depending on your choice of shape. Because 10 feet width + 12 feet length = 22.
The formula above is best used if you are starting with any empty room, however if you already have an existing dining table, you can scale the fixture to at least three quarters or ¾ of the table's width.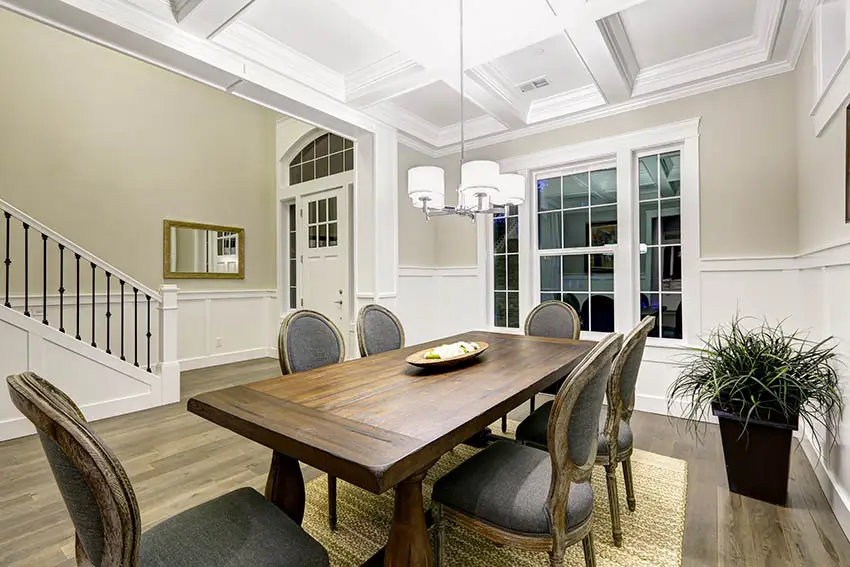 Hang it at a correct height. Hanging your lighting fixture at a correct height ensures not only a pleasing visual aesthetic but it also prevents the fixture itself from touching your table, your food, or even the heads of the people dining.
When hanging lighting over a dining table, the general rule of thumbs is to leave about 30 to 36 inches of space between the top and bottom of the lighting fixture.
The standard optimum mounting height, which provides the best quality of light in dining rooms is 36 inches from the bottom of the lighting fixture to the top of the table. However, for double-height rooms, large architectural; spaces for dining areas with high ceilings, 40 inches can be used as an adequate amount of gap.
Make sure that the light fixture is centered on the table. Most dining room use a single piece of lighting fixture, best placed just above the center of the dining table. But if you prefer to add a twist to your room's decor, you can play with placement, pick multiple lighting sources, and mount them in clusters or a linear arrangement.
Install French Doors – The best type of lighting is natural light as it cuts down on energy costs and brightens up the ambiance of a room. Installing a dining room with French Doors and windows can allow in an abundance of natural light and increase the beauty of your space.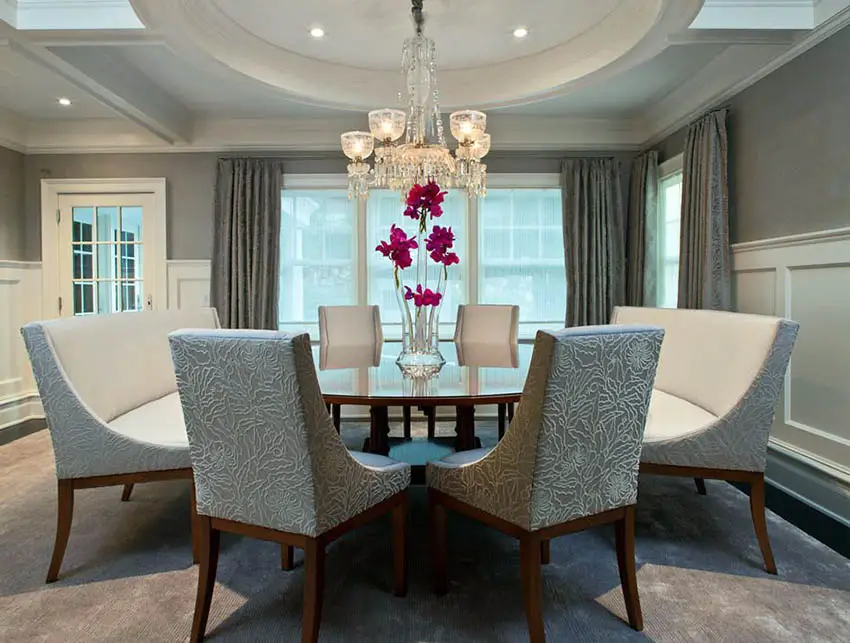 Layer with accent lighting. Aside from enjoying everyday meals with the family, hosting occasional dinner parties or using it as a work area, the dining area is a versatile space in the home. And between the multiple functions it serves, its lighting must also be able to cater to all of its activities.
Typically, bright light is much more suited as a general form of lighting when dining, however, ambient lights are not always suitable when you want to create a certain mood in a space as you entertain guests.
Its brightness can sometimes create glare, reduces clarity or make the eyes feel to tired. At the same time, the brightness of ambient lighting has the tendency to just lack a cozy atmosphere
Ideally, dining room lighting ideas must be capable to work with both of these possible scenarios, whether setting the mood or providing adequate general illumination to fill a space.
And as mentioned earlier, one of the best ways to achieve a successful lighting design is to combine all three general types of lighting. Mixing ambient, task and accent lighting in a space is sometimes called "light layering".
Light layering allows you to enjoy the best of both worlds when it comes to dining room lighting design, This can be achieved through the use of dimmable lights such as halogens to set a dramatic mood in a space, halogens for a warm, glowing atmosphere or energy efficient LED's and CFL's to provide a bright white light that is similar to natural lighting which is perfect as a general lighting source.
Another form of adding visual interest and variation in lighting is to install a central lighting fixture and combine it with indirectly aimed recessed lighting fixtures or low voltage LED strip lights. These can be run through the perimeter of a cove ceiling, inside tray ceilings or around the mill work of a coffered ceiling above the dining area.
In the absences of a cove, drop or recessed ceiling, wall sconces may also be used to flank buffet tables. Tape lighting or directional lights may also be used to accentuate displayed objects and artworks.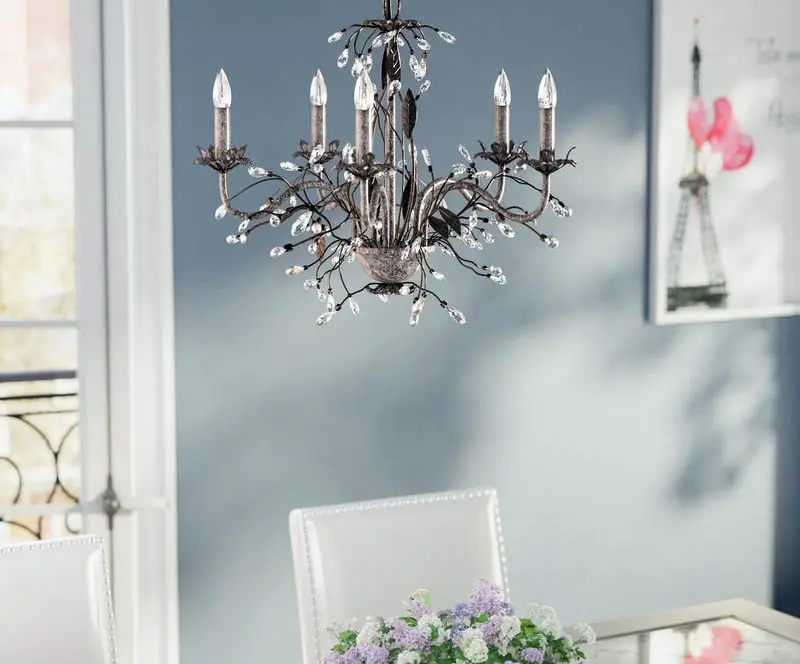 (Candlight chandelier with dimmer)
Always use dimmers with ambient lighting. Eating your meals at day time may require plenty of lighting, but as the day ends, you'll want to turn it down low, especially if you are drinking wine with friends. And the best way to go from a bright lighting to low lighting in just a quick turn of a switch is through the use of dimmers.
Dimmers are best used to adjust the lighting level based on the time of day or to control the mood in a dining room. For dining rooms, you may opt to include multiple dimmable lights within the area so that you can still keep some your lights bright while other are dimmed.
If possible, install dimmers on all your decorative lighting fixtures. You can use 60 to 75 watt bulbs for this type of lighting.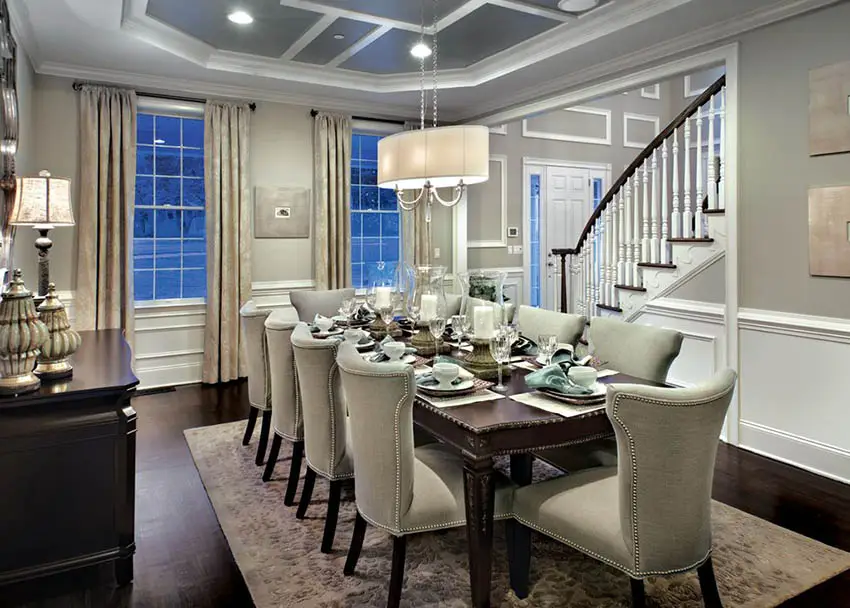 Warm light is the most flattering in a dining room. Low level warm white light is the best light for dining rooms because aside from creating a dramatic mood and a more intimate atmosphere , it also has the ability to make things look more appealing. Food under warm white lights also look more enticing and appetizing.
Opt for LED lights. Another alternative to using warm white bulbs is to use LED lights. Not only are they cost effective but they are more energy efficient and have a longer lifespan compared to CFL's. In addition, the pure white light of LED can also make glass, crystal and silverware sparkle.
If using multiple pieces of pendant lights, make sure to go with odd numbers. Asymmetry is one of the main attributes which works well in creating a visually appealing design. And to keep a heightened visual interest in your dining space, make sure to go with an odd number of ceiling lights.
A series at least three to five pieces of matching pendant lights may be used to accentuate a long dining table. Essentially, you can create a longer row of lights by adding to the number of lights but sometimes this can look a bit off, so instead stick with a maximum of five pieces and placed them on even intervals, depending on the length of your dining room table.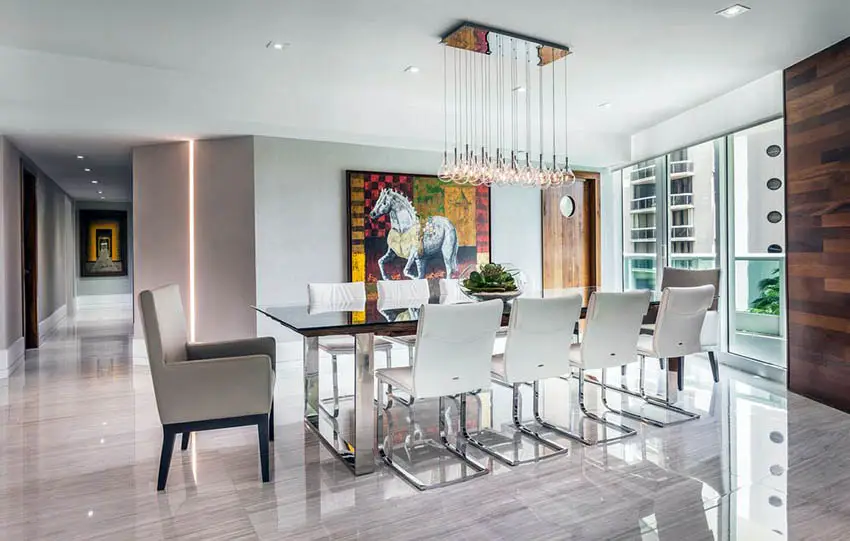 When dealing with an open plan for your dining room, use a pendant light or chandelier instead of a ceiling surface mounted light. Some homes have open plans wherein the dining room, living room and kitchen all smoothly transition into one another rather than being separated by partitions.
A good way to delineate open spaces, is to use a pendant light or chandelier above your dining table. These type of fixtures help with zoning as it focuses the eye on the dining table and separates the "eating space" from the rest of the room.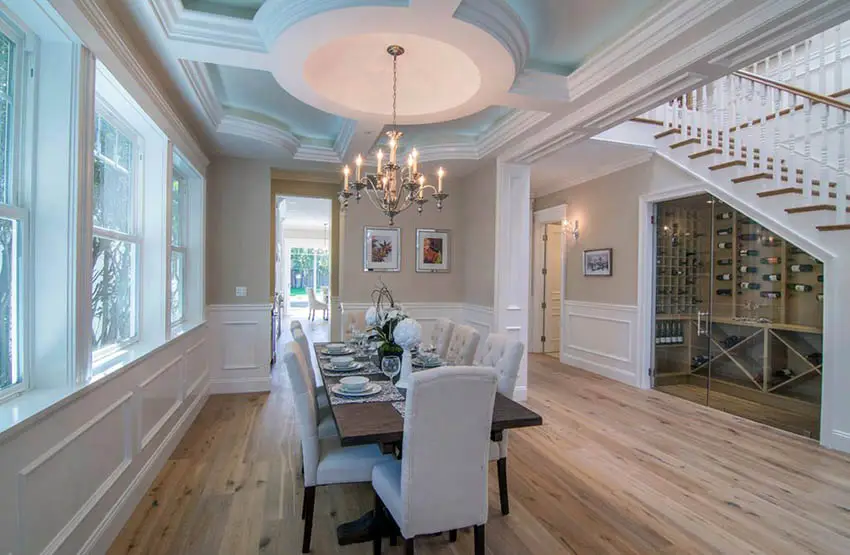 Consider the color of the paint of your dining room walls. Lighting and color are two visual elements that come hand in hand. The way we perceive color is greatly affected by the lights in our surroundings.
When choosing the right lighting fixture for your dining room, make sure to take into consideration the color of the room and the finishes used. Most dining rooms employ special wall treatments like decorative paint or wallpapers. When using printed wallpaper, make sure to choose the proper color of light bulbs which will help reflect the colors of your wall treatment.
Also, lighter colors reflect light a little more, whereas darker colors tend to absorb more light. So if your dining room has rich, deep paint color schemes like navy or burgundy walls, slate grays, you might need a brighter light source. You can get more dining room paint ideas on this page.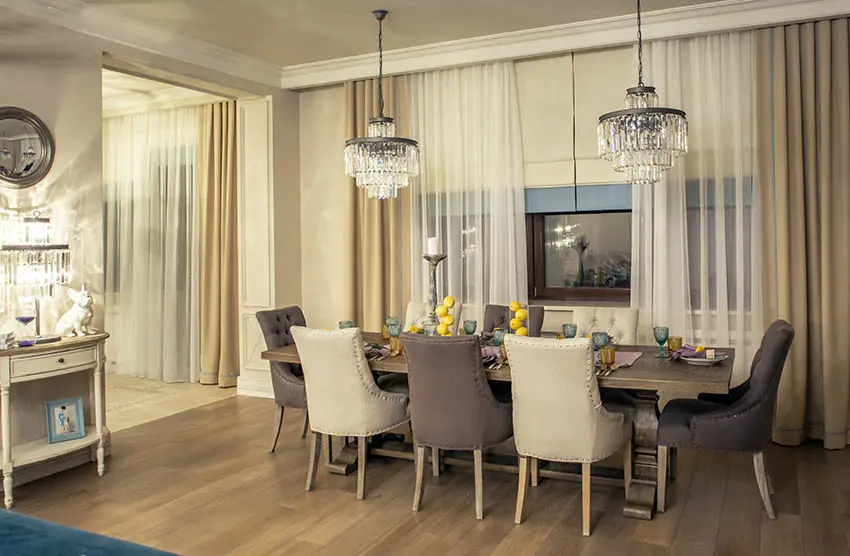 Choose fixtures that complement the style of your chandelier. If you plan on putting a chandelier just above your dining table, make sure to complement it with the right type of accessories.
Again, this is to put emphasis on creating a well balanced and cohesive look for your home. Pair elaborate traditional crystal chandeliers with precious centerpieces like an ornate glass bowl or attractive golden candelabras.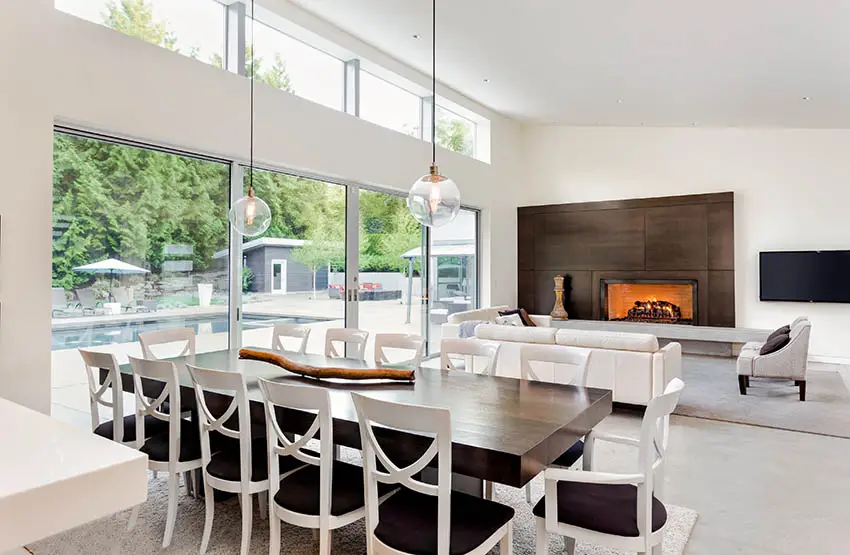 Choose light fixtures which go well with the prevailing style of your home. As mentioned earlier, the prevailing style of one's home is an important guide to choosing the right lighting fixture for your dining room.
Before you purchase that luxurious crystal chandelier or that sleek oversized pendant lamp, think about the architectural or interior style of the dining room and the accessories that you already have in place.
Although you can go with whatever fits your personal taste and style, you need to think about the end product or the resulting overall look of the space. Unless you are going for an eclectic look, your lighting fixture must at least be of the same style as the other decors that you have in the dining space.
Dining room lighting based on styles
Fortunately, when it comes to lighting fixtures, there are a lot different styles to choose from. This in fact makes it easier to find the right fixture that complements your space and decor.
It also offers the perfect opportunity to get creative and choose designs which perfectly reflect your taste and style. Below are some of the most popular dining room lighting styles for your home.
Luminaires for Contemporary Rooms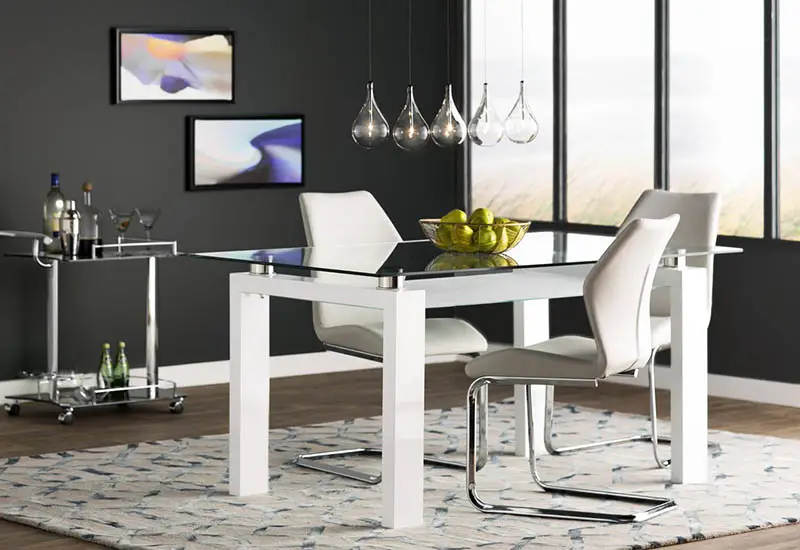 (Contemporary 5 light pendant fixture)
We all know the contemporary style as something that is current, trending, a latest fad or a style that is "in" right now, but from an academic standpoint, this design style may encompass any theme that emerged after the 1930's to the present in Europe, particularly in Italy, Germany and Scandinavia.
The contemporary style is best known for its simplicity, stylish aesthetics, clean lines and minimalist details. In general, the contemporary design is often confused or used interchangeably with the modern style, because the former borrows inspiration from the latter.
The key facets of contemporary design is borrowed from modern design, but a good way to tell these two apart is that the contemporary design is more refined and formal as compared to the modern design which is usually more bold and playful.
The contemporary style is also more dynamic, as it continually evolves reflecting all the different trends in the design scene.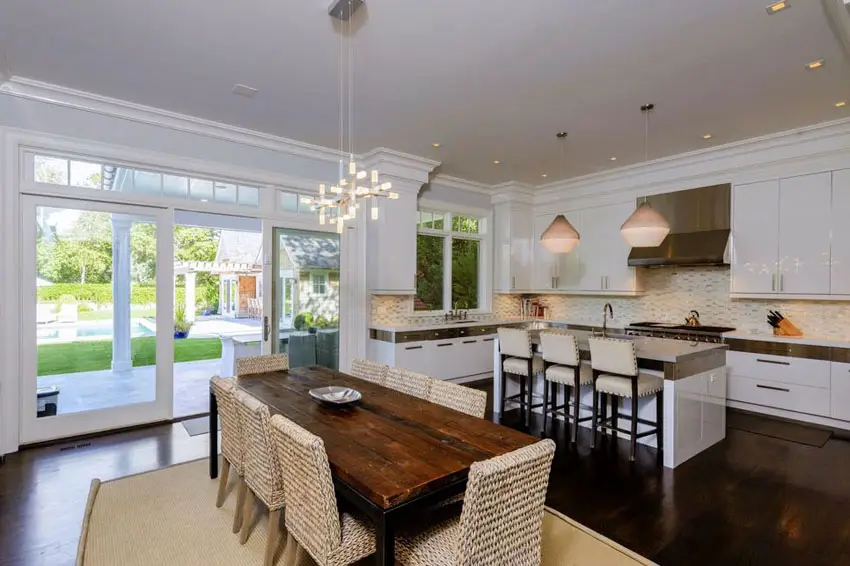 Contemporary dining rooms are typically more geared towards a minimalist aesthetic that puts emphasis on lines and a neutral color palette.
Clean lines and the emphasis on angular shapes forms one of the major facets of contemporary dining room design. And often times, this is also reflected through its lighting fixtures.
Contemporary dining room lighting ideas typically have prominent lines and are usually streamlined in form. Most of them are rectangular or square in shape but they also come in round variants.
Contemporary dining rooms also conform to a "less is more" kind of design aesthetic. With such, contemporary lighting fixtures typically have little to no ornamentation found in their designs.
The shades or the fixtures itself are usually plain and have a very clean look. In terms of lighting itself, contemporary dining room lighting aims to produces a bright and airy atmosphere, rather than being dramatic, so with that, their bulbs are typically in cool white color or LED.
When it comes to color, contemporary dining room lighting usually have neutral shades which are accentuated by bold and bright hues.
The most common colors for contemporary dining room lighting are white, beige, black, gray and shades of brown, but the most used color is white. While with regards to the materials, the common materials for contemporary dining room lighting fixtures are metal, fabric, acrylic and glass.
Wood is also a key element in contemporary dining room lighting fixtures and the wide use of plastic also leads to more options when it comes to color and designs.
Single tone finishes with no form of rough textures are also common for contemporary dining room lighting fixtures. Overall, these lighting fixtures also have a "light feel" and construction as compared to the ornate nature of traditional lighting fixture designs.
Contemporary dining room lighting ideas for fixtures come in different forms which range from simple recessed pin lights to drop light, pendant lights, ceiling mounted lights and chandeliers.
The most popular forms of lighting fixtures used in contemporary dining rooms are metal chandeliers with clear or frosted glass accents, drum pendant lights with white fabrics and metal cords, series of mini pendants which are cylindrical, square or box shaped.
Luminaires for Modern Style Rooms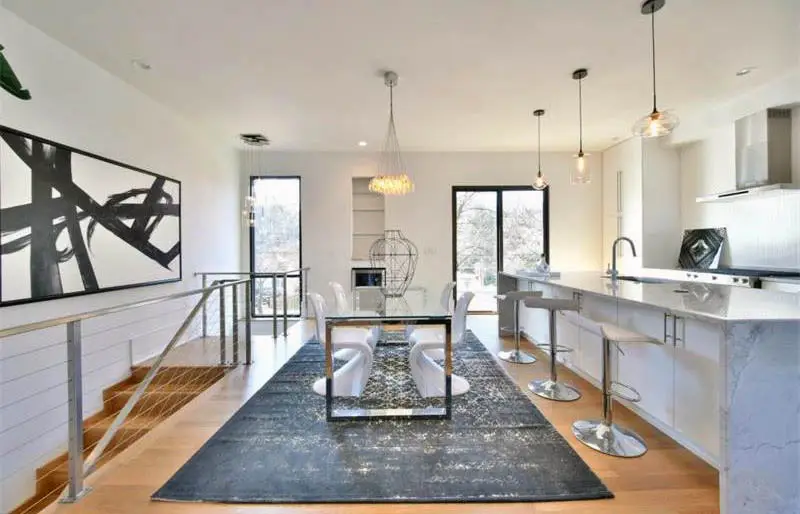 When it comes to interior design, the modern style can encompass a lot of things. It is often associated with something that is current or less traditional, but if we go over its history, the modern design actually originated during the late 1800's through the German Bauhaus School of Design.
It gained popularity during the early to mid 20th century, that is why it is also often referred to as "Mid Century Modern design". The modern design style embodies simplicity and function.
In general, the modern style is also best known for it's strict minimalist look, streamlined aesthetics, clean and unadorned design. Modern homes typically have rooms that exhibit a sleek and industrial appeal, and this is directly reflected on all of the details and decor in the space, including the lighting fixtures.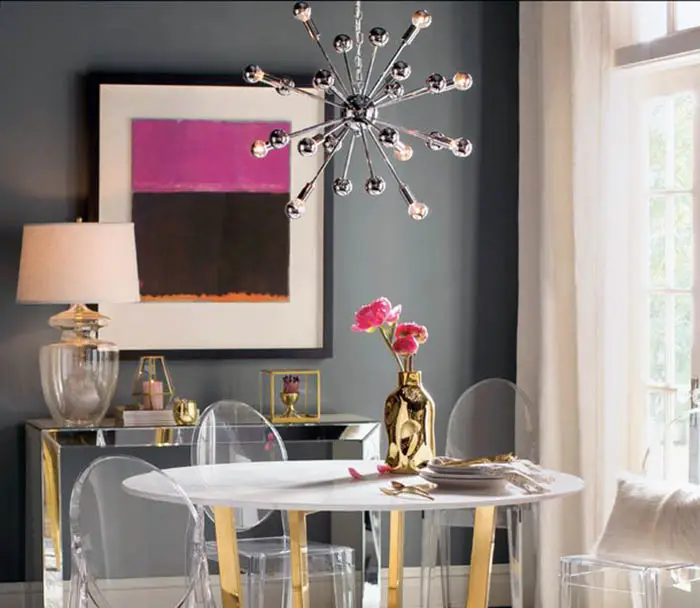 (Modern sputnik chandelier with 12 lights)
In terms of form, modern dining room lighting fixtures typically have geometric shapes such as squares, rectangles, ovals and circles. Their designs usually use sharp lines to produce these prominent forms.
Modern dining room lighting ideas also commonly have little to no ornamentation – putting emphasis on horizontal lines such as straight bands or linear metal accents, but more often they have plain surfaces with smooth, polished and sleek textures.
The most common materials used for modern dining room lighting fixtures are glass and polished metals such as stainless steel. While for the color, the most common hue is white, followed by other neutrals such as gray or silver, black and bright colors like intense reds, vibrant lime green, sunny yellows and deep oranges.
Modern dining room lighting can also sometimes be playful and experimental when it comes to forms and design. Some pendant and drop lights feature organic shapes such as waves and curves. While others have a more unique aesthetic as they look like sculptures and stunning pieces of art.
Recessed down lights with LED bulbs are also popularly used for modern dining rooms as they provide a more minimalist look compared to pin lights with CFL bulbs. Typically, they are incorporated on each corner of the ceiling. While for cove ceiling designs, LED strip lights are commonly employed.
Frequently used light fixtures for modern dining rooms are tracked or recessed lighting, floor lamps, pendant lamps with glass and metal accents. (Visit our modern dining rooms gallery for additional ideas for this style)

Luminaires for Rustic-Designed Rooms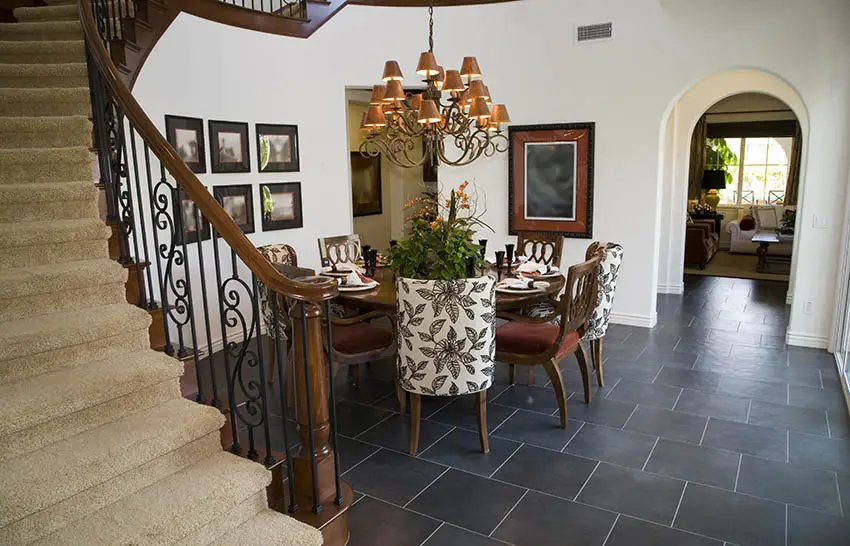 Warm, rugged and timeworn are some of the the words that best describe the rustic design style. Projecting lived in looks and down to earth aesthetics, the rustic style exudes in warmth, comfort and an inviting atmosphere. Its earthy inspiration all contribute to its age old charm and relaxed style.
Rustic dining rooms are well known for their rugged aesthetics, natural appearance and strong character. From long farmhouse tables to reclaimed wooden ceiling beams to country inspired decor and lighting fixtures which exude in an aged appeal – all of these features are tantamount to the rustic dining room style.
Rustic dining room lighting fixtures also reflect the same strong, rugged character. Compared to other traditional lighting fixture designs, the rustic style is less refined in appearance and has a nature inspired look, so its materials are geared towards natural materials in rough finishes.
Typically, rustic dining room lighting fixtures are made up of wood or antique metals like aged bronze, wrought iron or weathered steel. But in some cases, lighting manufacturers get more creative and offer exotic designs such as chandeliers which mimic deer antlers or candelabra style linear suspensions and meta sculptures suspended on dark metal chains and wooden frames.
Another key characteristic of rustic dining room lighting fixtures is their unique timeworn appeal.
Typically, they look as if they were furnished over time and as mentioned, this is achieved through the use of antique metals which are subjected to distressing and weathering techniques.
Unlike modern dining room lighting which is sleek or smooth, there is nothing polished about rustic dining room lighting, and this unique unrefined character makes them so appealing to most homeowners.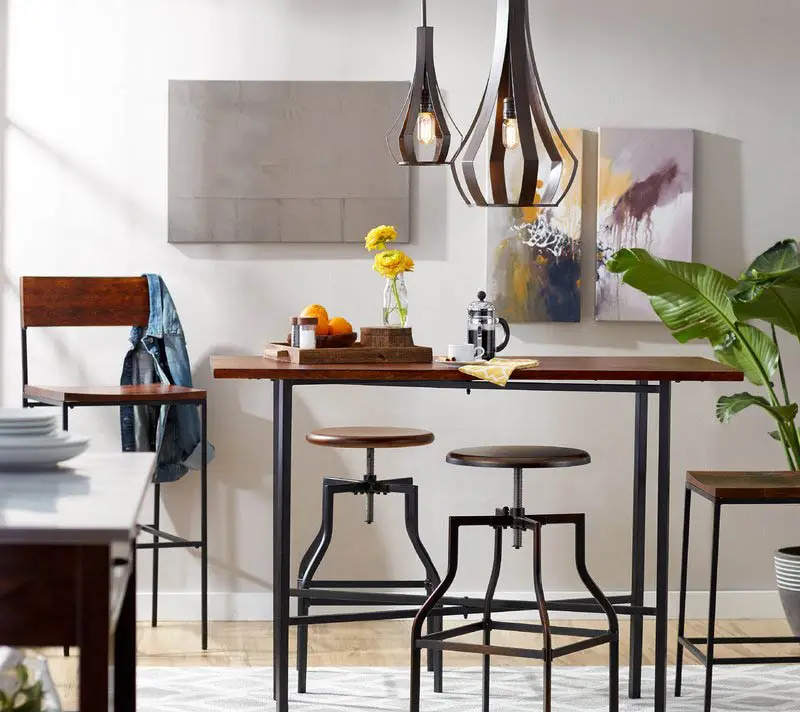 (Rustic metal pendant lights)
In addition, rustic dining room lighting fixtures also typically feature heavy ornamentation. Chandeliers and hanging pendant make use of engraved and carved decorative motifs and intricate metal or ironworks.
From the details of the chains which are used to hang the lights, down to the arms of the chandelier, you can see the attention to detail that was put up to their design.
When it comes to color, rustic dining room lighting fixtures are generally warm and is comprised of rich shades of brown, dark metal finishes, black ironworks and white glass.
Often complemented with earth colors like deep reds, greens and yellow. Unlike modern lighting which typically feature bright white lights to produce a clean, uncluttered atmosphere, the color of the light itself are generally geared towards white white or yellowish, since these spaces aim to produce a cozy and inviting atmosphere.
The most common type of rustic dining room lighting are linear suspensions. Most of these lighting fixtures are elongated and suspended on black colored chains, typically made up of welded metal in dark finish.
Candelabra style chandeliers and island suspensions are also common, wherein the lighting fixtures feature around six to eight pieces of candles placed on a base and hanging from the ceiling.

Luminaires for Transitional Style Dining Areas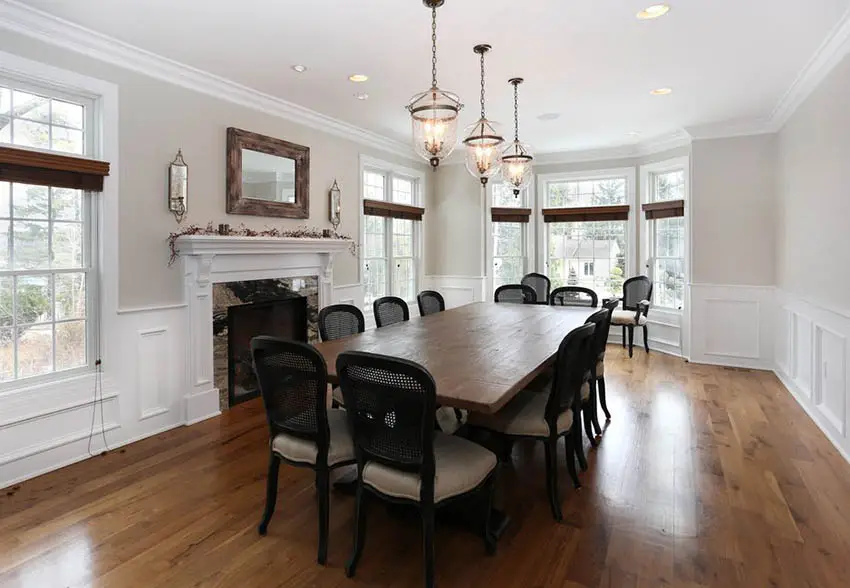 The transitional style combines both traditional and contemporary design styles to create a well balanced look for the home. It takes inspiration from traditional design and softens these details to produce a simple, warm aesthetic.
Transitional design is more geared towards traditional features but it foregoes its ornate nature and sticks with a more casual style.
With the intent to produce a warmer and more inviting atmosphere, transitional style dining rooms tend to stick with warm, neutral toned palette in its walls, floors, furniture and even the lighting fixtures.
Transitional dining room lighting often displays white, beige or earth colored shades with metal accents such as bronze
The forms for transitional dining room lighting fixtures typically have traditional lines without any form of heavy ornamentation.
Unlike traditional lighting fixtures which often display heavy details like floral motifs and decorative embellishments, transitional dining room lighting typically have simple linear patterns or geometric motifs to produce a more casual and laid back appeal.
When it comes to the materials used, transitional dining room lighting typically employ metals in warm finishes like bronze, black and gold. Glass is also another popular material, along with acrylic which is commonly found in drum pendant lights.
The most common types of transitional dining room lighting fixtures are mini pendants in simplified geometric forms, drum pendants and chandeliers with dark metal finishes and warm accents.
You'll seldom find elaborate crystal chandeliers for transitional dining rooms, but instead most of the dining room centerpieces make use of pendant lights in simple silhouettes which are either single or multiple.
Luminaires for Rooms in Craftsman Style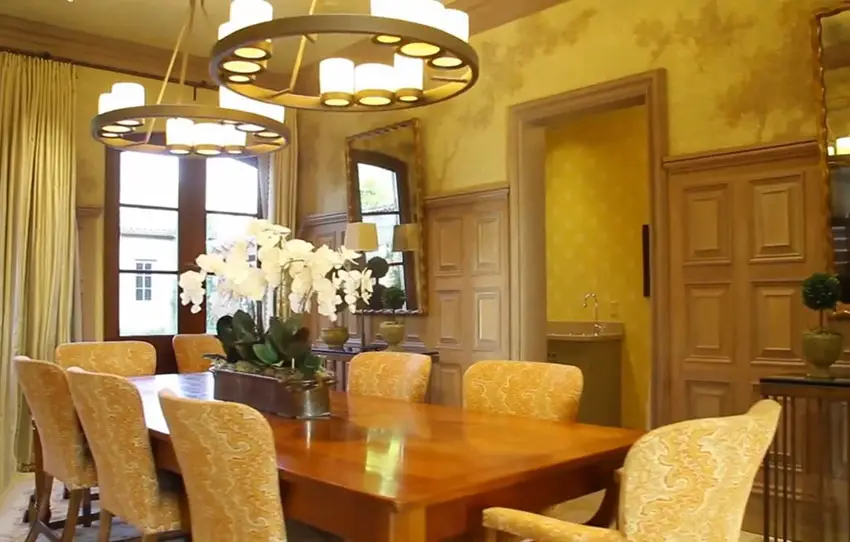 The Craftsman style is best known for its exquisite artisan craftsmanship, durable construction and straightforward design.
The Craftsman style originated in England during the 19th century and was a product of the famous Arts and Crafts movement which aimed to reform design and decoration. Its main goal was to uplift traditional craftsmanship which declined due to the abundance and popularity of machine, factory and mass produced furniture in the Victorian era.
In order to change the decline in design standards and the use of artificial and lesser quality materials, traditional craftsmen and artisans once again made use of genuine articles to produce furniture, home decor and lighting fixtures which were of a sturdy build.
Craftsman style lighting is also sometimes referred to as Mission style lighting. Both design styles brings focus to simple forms and functionality. These types of lighting fixtures typically feature a straightforward design and puts emphasis on strong straight lines.
Craftsman style dining room lighting fixtures typically have simple forms and geometric shapes such as squares, rectangles or circles.
Often times, they are unornamented, but may also feature uncomplicated embellishments such as vertical or horizontal lines. Some other authentic details for Craftsman style dining room lighting fixtures are twisted ironwork and simple silhouettes.
When it comes to color, Craftsman style dining room lighting fixtures typically have earth colored tones. The shade of the lighting fixture is typically beige or sand colored, with accents of yellow, orange or green while the frame itself is usually in a dark brown color.
Antique metals, black and wood are also popular accents for this style of lighting fixture. The most common materials used for Craftsman style kitchen lighting are glass such as textured glass, colored glass or stained glass with leaded inserts or metal accents.
Wood is the second most popular material for the frames of craftsman style lighting fixture next to metals.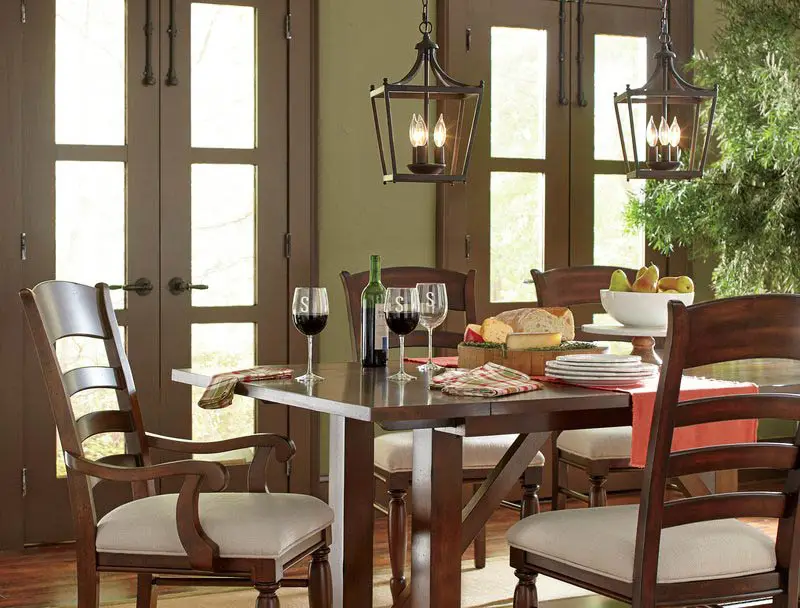 (Craftsman style pendant light)
The Craftsman style is also best known for showcasing utilitarian features and puts emphasis on functionality rather than ornamentation. To stay true to these design principles, Craftsman style dining room lighting fixtures often exhibit practicality and functionality too in terms of illumination and providing a warm, homey atmosphere to a dining room.
In addition, most Craftsman style lighting fixtures are also typically used as a main decor for dining rooms. The most common forms of lighting fixtures for this Craftsman style dining rooms are drop lights, pendant lights or chandeliers. In addition, wall sconces and surface mounted lights can also be used as an alternative.
Mission style lighting are also prevalent in this craftsman style dining room lighting. These type of lighting fixtures are usually made up of ironwork or glass, and are commonly finished in a dark color. Mica, a type of mineral, is another material which is traditionally used for Mission style lighting fixtures.
Mica gives lamp shades or lighting covers a distinct hazy brown color which looks exquisite with warm white bulbs. Typically, Mission style lighting fixtures have thick and solid material sections and flat, stylized design elements.
Another form of lighting fixture which is tantamount to Craftsman style dining rooms and interiors are Tiffany Lamps. Tiffany lamps are a type of lighting fixture with an umbrella type of shade made up of colorful pieces of glass.
The most popular design of Tiffany lamp is the stained leaded glass lamp, which is characterized by colorful pieces of glass are usually arranged in a mosaic like pattern. The most common designs feature elements in nature such as flowers, trees, leaves, shrubs, butterflies, dragonflies or peacock feathers.
When you look closely, these patterns are made up of geometric shaped cut glass in triangles, squares, ovals and rectangles.
The beauty of having a Tiffany lamp in a craftsman style dining room is that it gives a focal point to the space without competing with the the rest of the elements in the space. Its myriad of lively colors bring an endearing feast for the eyes, while also contributing life and an accent color to the neutral palette of a craftsman style dining room.
Lighting Tips for Small Rooms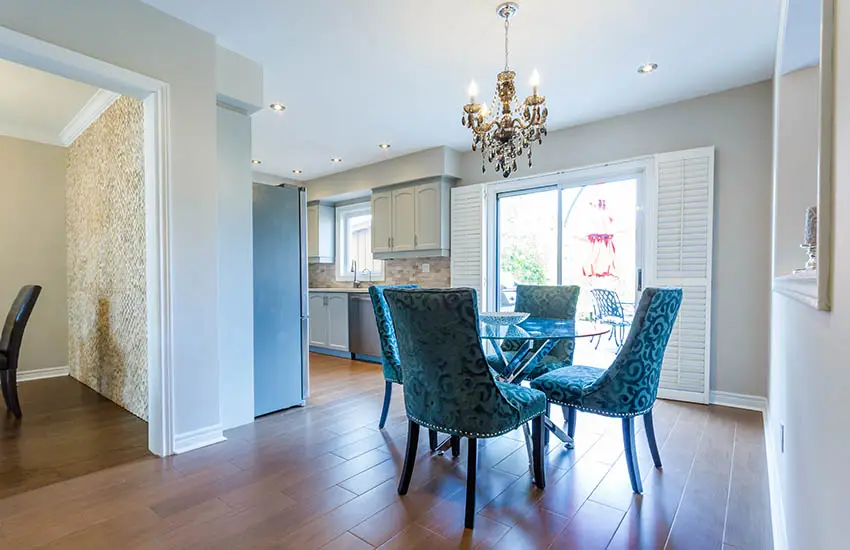 Lighting gives a big impact in terms of interior design and along with its proper use, one can totally transform the overall perception of a room. Not only can lighting change the atmosphere, ambiance and mood in a space, but it can also affect the way we perceive their size.
There are actually several techniques which one can employ to make small dining rooms feel larger than their actual size. Here are some of the tips which you can use for small dining room lighting :
Vary the amount and direction of lights. The first key tip to making small dining rooms appear visually larger is to vary the amount and the direction of the lights. Direct light towards walls and ceilings rather than the floor, in that way you can create an illusion of a more expansive space.
Direct light toward the ceiling. Directing the light towards the ceiling provides an illusion of a bigger space. Well lit ceilings also seem higher and visually add more room to small dining spaces. You can either use track lights and layer them with directional wall lamps or use up light pendants since they can make spaces feel larger.
Direct light towards the walls. Select bright wall lights and direct them to the walls. Pair bright white lights with glossy light colored walls as they reflect light into the room better.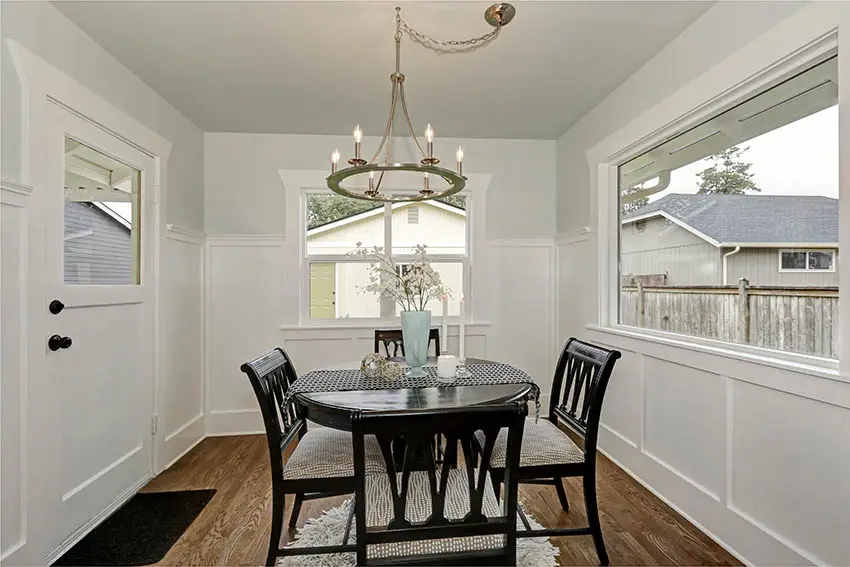 Opt for a white colored ceiling with bright white lights. Color and lighting goes hand in hand, so if you want to make the most out of your design, make sure to combine both not only to produce a visually appealing aesthetic but also to bring practical benefits for your home.
White ceilings, in itself, already have the ability to make spaces feel instantly larger, more airy and spacious, and combining them with proper illumination can optimize this effect.
Choose lighting fixtures which are made up of shiny materials. Lighting fixtures which are made up of glass, shiny metal or plastic as they also reflect light from any surfaces and can help visually increase the size of a small dining room
Use recessed lighting. If dealing with a small dining room with low ceiling, it is more advisable to use recessed lights or flush ceiling mounted lights as they do not take up much of your room's vertical space.
Hanging lighting fixtures, pendants or chandeliers are less advisable for dining rooms with low ceilings because aside from making a space appear smaller, they also present the risk of bumping into heads.
Use cool white light . Warm white lights can instantly make a space feel cozy and warm, but if you want to produce an illusion of a bigger space, it is best to stick with cool white light for your general lighting. Cool white lights can also make a space feel more airy and provide a cleaner look, especially when combined with a light color palette.
Consider scale and proportion. Avoid using oversized chandeliers, pendant lights or long track lighting as they can make small dining rooms feel more cramped and limited. For track lighting, opt for the types of lighting fixtures that have fewer bulbs.
However, also keep in mind that when using smaller models, it can make your dining room appear shorter.