Here we share how to mix and match dining chairs including popular tips and design ideas.
Dining room sets traditionally consist of a rectangular or oblong table with six matching chairs. If all you require from your dining room is functionality and a cohesive look, this default option meets your need. If it feels a bit boring and too matchy-matchy, you're not alone.
Mixing and matching dining room seating to create a customized and attractive dining area is easy to do, as long as you pay attention to a few key details.
Mixing Dining Chairs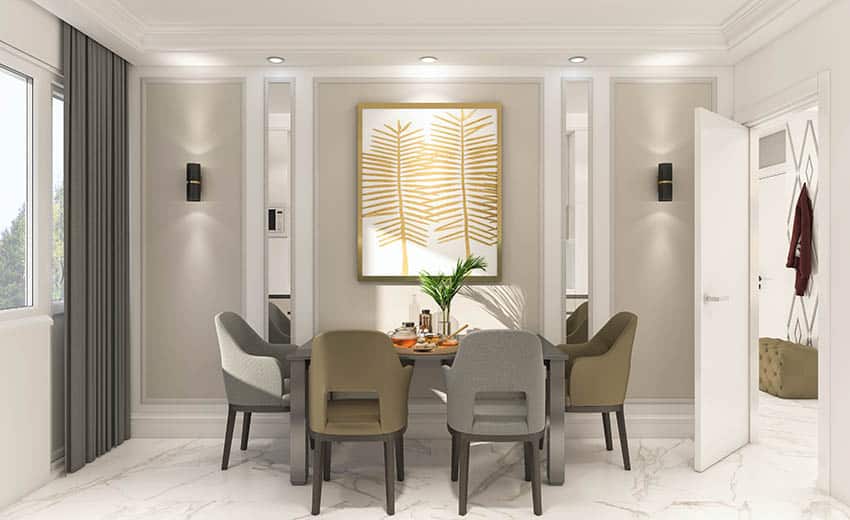 Mix seating style, design, or pattern, but never all three. Make sure to include unifying elements in the form of color and/or material.
Six completely different chairs will make your dining room look like a rummage sale unless you have a firmly established eclectic decor throughout your home.
As long as you prioritize those three elements, the sky is the limit! Need inspiration? There are several established design strategies to get your creative juices flowing.
Change the Chairs at the Head and Foot of the Table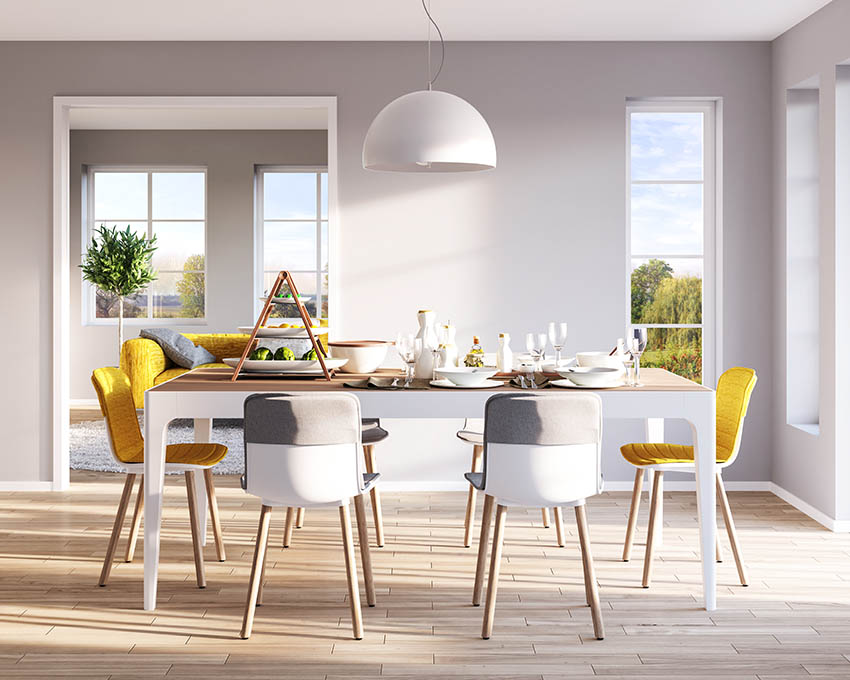 The subtlest and easiest way to mix and match dining chairs is to change something about the chairs at the head and the foot of the table.
In many traditional dining sets, only the chairs at the head and foot of the table have arms, Since we're already primed to accept minor differences in style, you can stretch those differences without wandering too far off the beaten path.
For example, you could choose chairs from the same collection, but have them upholstered in a different, complementary fabric.
Different Style Chairs with the Same Fabric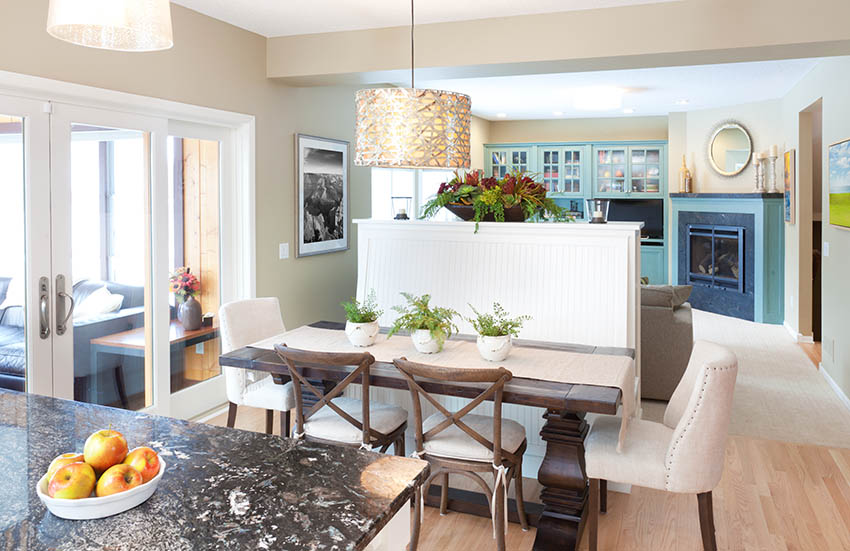 You could also choose chairs of a different style, from a different collection, but unify them through the upholstery.
You don't have to limit yourself to dining-style chairs, either — a pair of velvety matched occasional chairs at the head and foot of a dining room table is a tried and true way to introduce variation into the set.
Add a Dining Table Bench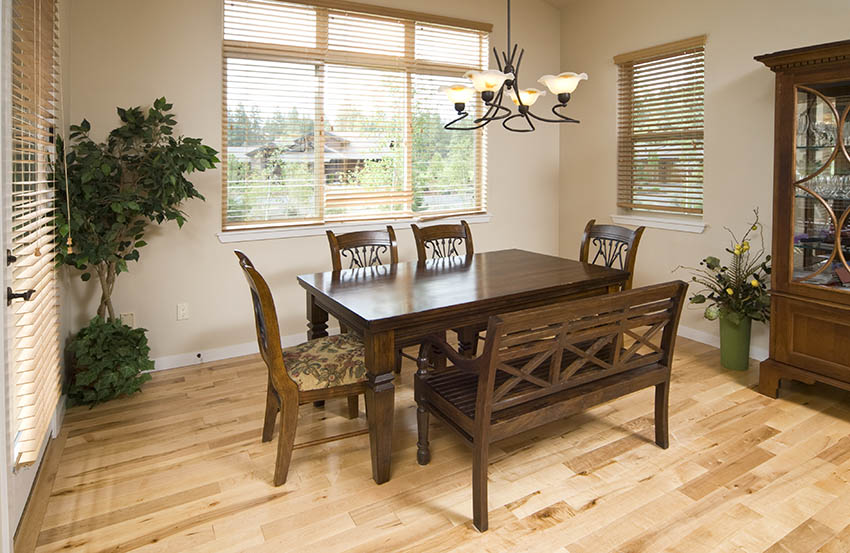 If you're craving more contrast, consider mixing and matching chairs and benches. This is a great way to create a streamlined look in a small space since it doesn't visually break up the line of the dining table.
The best way to do this is to put the bench on the side of the table that faces the door in an enclosed dining room. If you have an open-plan dining area, place the bench on the side of the table that faces the rest of the living space.
If you've already got a pair of chairs that you love and are looking to build your dining set around them, look at the legs. If they're square and blocky, consider a bench or wooden kitchen chairs. If they're spindly and round, bentwood cane chairs might be a better choice.
Paint Different Chairs the Same Color
For an easy, cheap, and cohesive look, assemble six wooden chairs of varying designs. Paint them in a bright and bold color like turquoise or sunflower.
Use chalk paint to avoid time-consuming prep and clean-up — this versatile material can be applied directly to almost any surface. This mix and match style pairs best with informal dining rooms and eat-in kitchens.
You could also purchase six basic, matching, metal, or wood chairs, and paint each chair a different color. Avoid primary colors if you're not looking to create a pre-school vibe.
Alternate Dining Chairs By Using Two Colors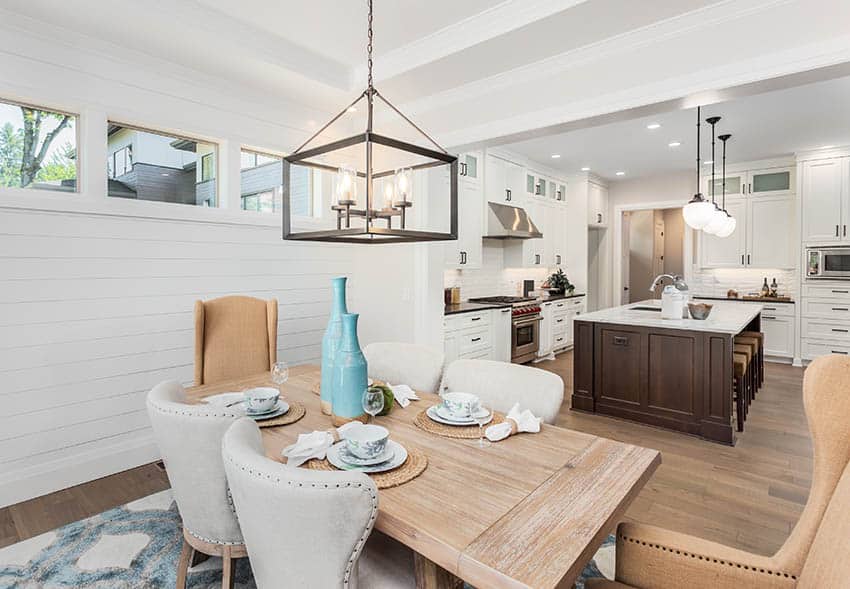 By keeping it simple and using only two colors its easier to avoid matching a large color palette.
Some ideas to try are to use chairs with two complimentary neutral colors. Another idea is to go monochromatic and use two different shades from the same color to create visual interest.
Finally, one may try going bold by adding two contrasting styles of chairs from opposite ends of the color wheel.
Go Bold with Three Styles
For the boldest look of all (and the most difficult one to pull off) mix and match three different styles of seating.
A bench on one side, a set of slipper chairs on the other, occasional chairs on either end, will make for a cozy and inviting tablescape.
Slipper chairs are upholstered and armless. They were originally used as a place for ladies to sit when they needed to put on their shoes. Due to this, they are sometimes lower to the ground than the average dining chair, so make sure to check your dimensions. If you can't find slipper chairs, rattan chairs are another good choice.
Use Dining Chair Slipcovers or Cushions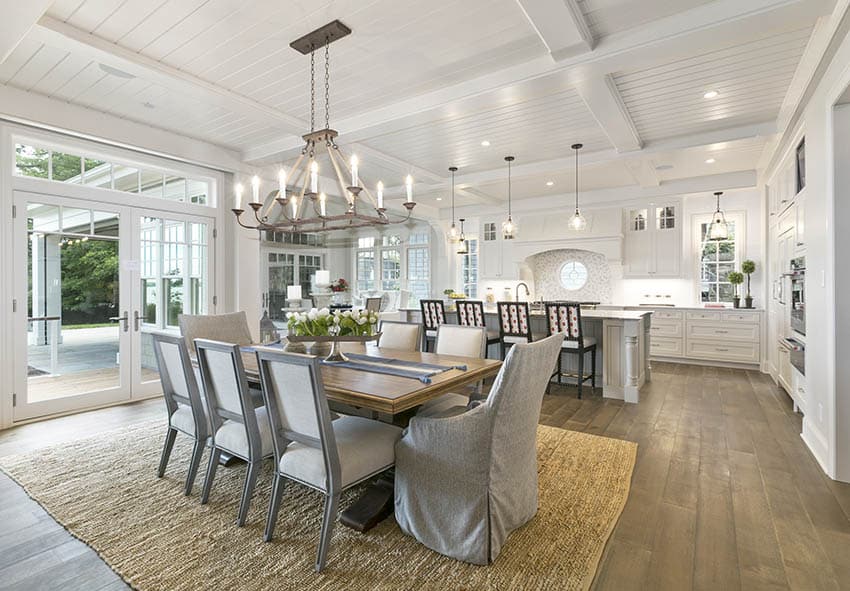 If you want to try out a look without breaking the bank and buying new chairs try buying slipcovers to experiment with the style you want. Using slipcovers you can alternate different shades to find the pattern you like the best.
For those with wood chairs, one can buy seat cushions or pads with different colors to get similar results.
Avoid Dividing Dining Chairs by Each Side of Table
Don't divide the table in half by alternating or staggering two types of dining chairs — it looks accidental rather than intentional. Instead, divide the table into thirds or sixths, and play around with different options for each section.
Use the Same Dining Chair Height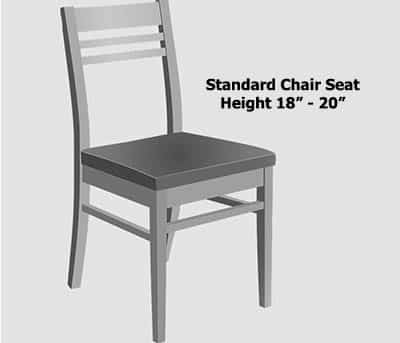 When the table is full, all the occupants should be seated at the same height. No matter the style of chair or bench, the seats must all be the same distance from the tabletop and the floor.
For the comfort of your guests, plan for 12 or 13 inches between the tabletop and the seat. This will allow most people to sit comfortably, and many people to cross their legs.
Most dining room tables are between 28 and 31 inches high, so the appropriate seat height would be about 18 inches. If you have a lower or higher tabletop, adjust the seating accordingly. Read more about dining room table sizes here.
When considering how to mix and match dining chairs its important to consider your own personal taste and sense of style. Mixing your chairs creates a more inviting and relaxed space that you may love.
What is your favorite way to mix and match dining chairs? Let us know in the comments below.