Welcome to our ultimate guide to the types of dining chairs, including popular styles, materials, seat fabrics, and back designs.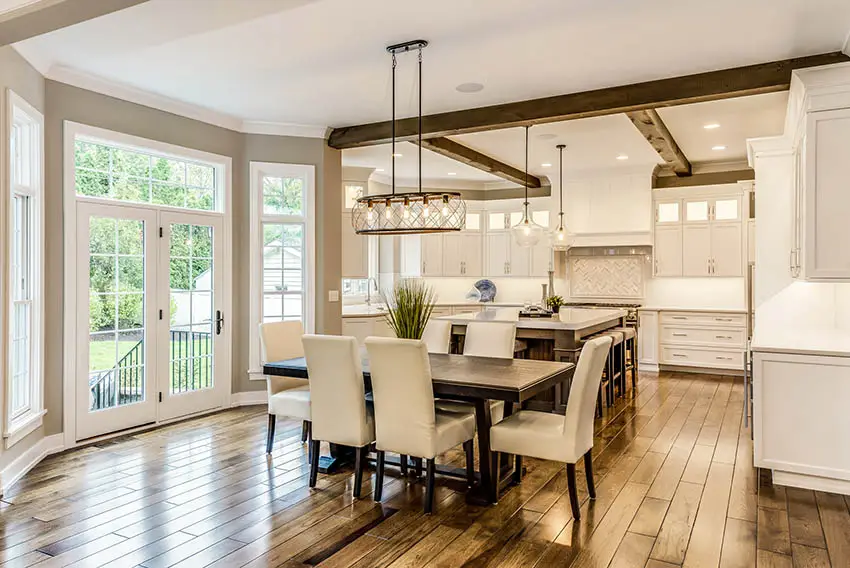 Choosing the type of dining chairs is an essential part of your dining room theme's interior design elements. The color of the walls, flooring, and other furniture pieces all determine which style of dining chairs will finish the room.
Dining chairs come in many styles and functionality. When choosing chairs to place around your dining room table, it helps to already know the style and type you want to purchase.
When shopping, consider whether you want them all to match or if you want to mix and match the chairs for a personal design statement.
Characteristics to look for when choosing dining chairs include the overall design, material, seat fabric or cushion, and comfort level.
This guide contains the many dining chair styles, designs, and seats available to help you decide the best chairs for your dining room.
Dining Chair Styles
Dining chair styles include the structure or lines of the chair, influenced by the designer and era.
Furniture designers and makers pioneered furniture inspired by architectural and artistic form evolving into today's design era; mid-century.
However, a trip back in time reveals the iconic styles defined by the culture of generations and designers prominent in their time. Each era's style had its particular characteristics and look, and those same principles still exist today.
The following dining chair styles encompass many of the offerings from those eras and today.
Armchair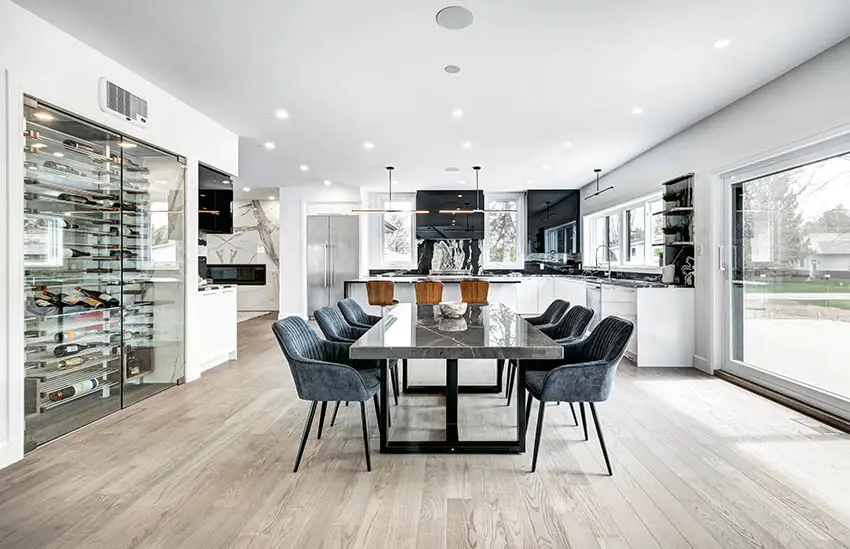 An armchair features two arms, which, based on the design, may be pieces of straight wood or curved arms with designer ends in many different thicknesses.
The arms attach to the back of the chair, typically a straight back, and the seat. These larger types of dining chairs have comfortable, upholstered seats.
If a dining room set includes mixed chairs, the armchairs usually go at the head and the end of the table.
Side Chair
Side chairs do not have arms and adopted the moniker "dinnertime staple" as they're the most traditional dining room chairs.
The name side chair originated from placing the chair on the sides of a dining room table.
Side chairs range from casual designs to formal depending on the dining room décor and table.
Side chairs fit easier under dining room tables with lower edges when an armchair does not.
Parsons Chair
Like side chairs, Parsons chairs are armless and have a straight back, but Parson chairs are upholstered.
Parsons chairs entered the dining chair market in the early 1900s, and they're much like side chairs but have a clean-line look.
The design aimed to eliminate the ornate and historical influence while maintaining the chair's comfort and function.
Any fabric or material can be used on a Parsons chair, leaving the choices open to match the dining room decor.
This simple chair fits perfectly in any area of the home and looks elegant as side chairs for dining room tables.
Slope Chair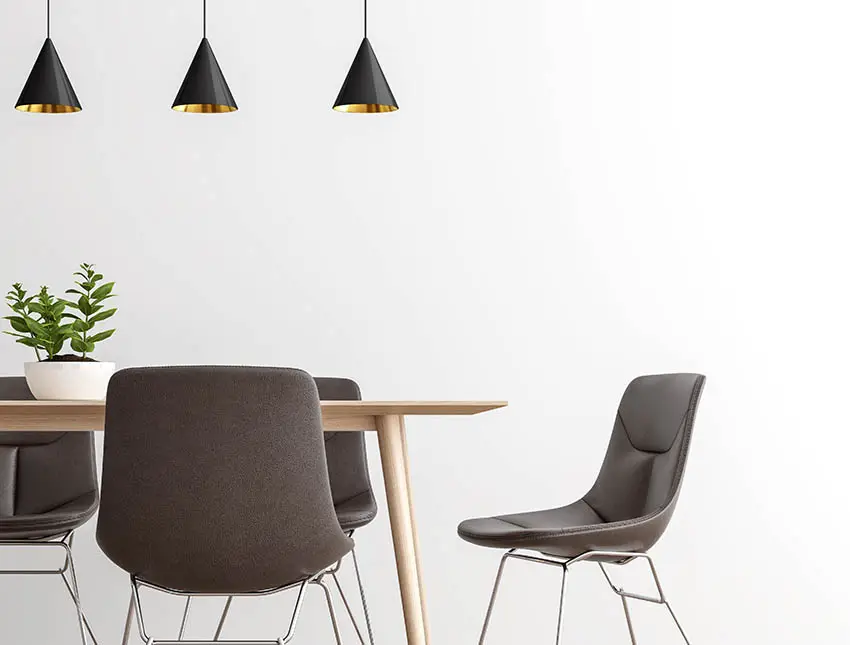 The slope dining chair has a wide seat and a shallow sloped back for ultimate comfort. The sleek design features an upholstered seat with choices of almost any fabric, including leather or faux leather.
The posh design fits perfectly with modern rustic décor or industrial interior design. Some sloped dining chairs come with an open back.
Ladder Back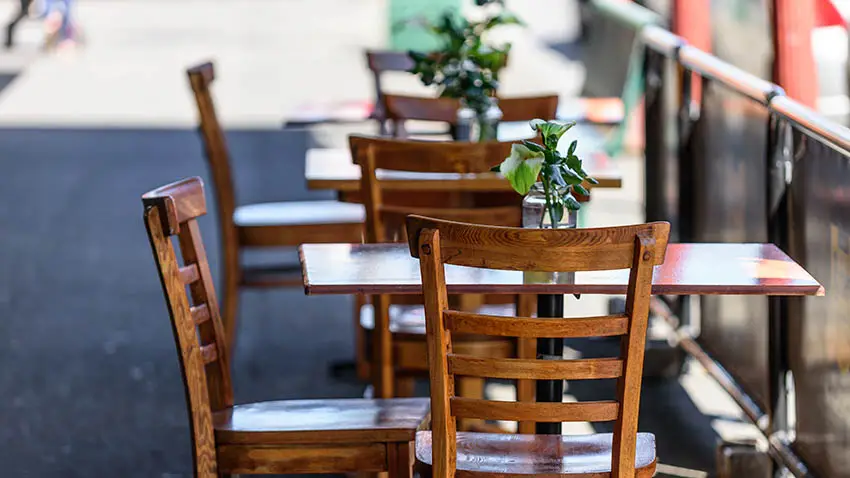 The ladder back chair is also known as a wooden slat-back chair as the back is made with horizontal wood slats similar to the rungs of a ladder. These classic dining chairs are simple but durable enough for everyday use.
Although ladder back chairs are a more traditional chair, they maintain their timeless place in dining chairs even as modern furniture. Ladder back dining chairs are generally made from wood with stained or painted finishes.
Spindle Chair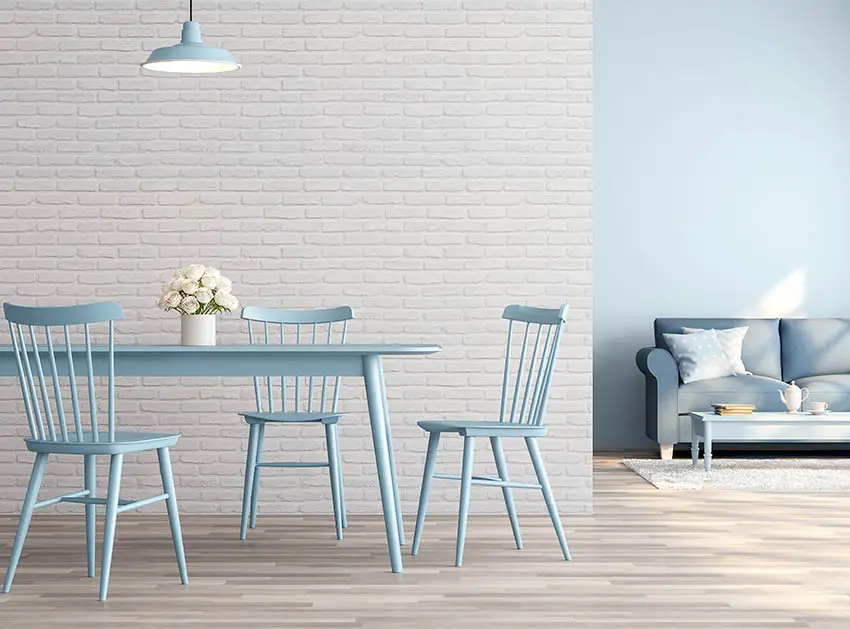 Designed by the Danish in the 1940s, the spindle dining chair is functional and comfortable.
Spindle chairs have a plastic seat with a shallow dish indent for comfort.
The legs are separate, round-tenoned wooden legs that fit into drilled holes in the seat, making it very different from a standard chair's continuous line.
Windsor Chair
English furniture makers designed this chair in the English town of Windsor around 1710, naming it the Windsor chair.
The Windsor dining chair is wooden, with the back and sides formed with numerous thin, turned spindles. The spindles attach to a solid wood seat with a shallow, round indent for comfort.
The back of a Windsor chair reclines slightly, and the straight legs, often spindles, turn out on a slight angle. Windsor chairs are perfect for traditional, country, or vintage décor.
Barrel Back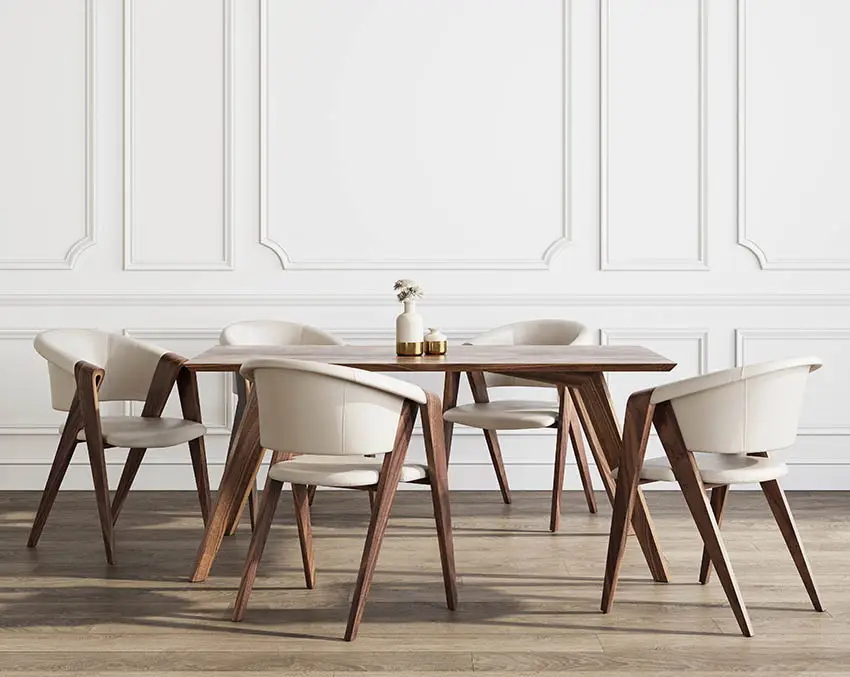 The barrel back chair has a bowl-shaped back, typically covered with soft, cushioned upholstery.
Some of these chairs swivel back and forth, making great seats for sitting for long periods, such as a holiday dinner.
A cascading side makes an extraordinary armrest, and contrasting wooden legs that splay give this chair a modern, contemporary demeanor.
Wingback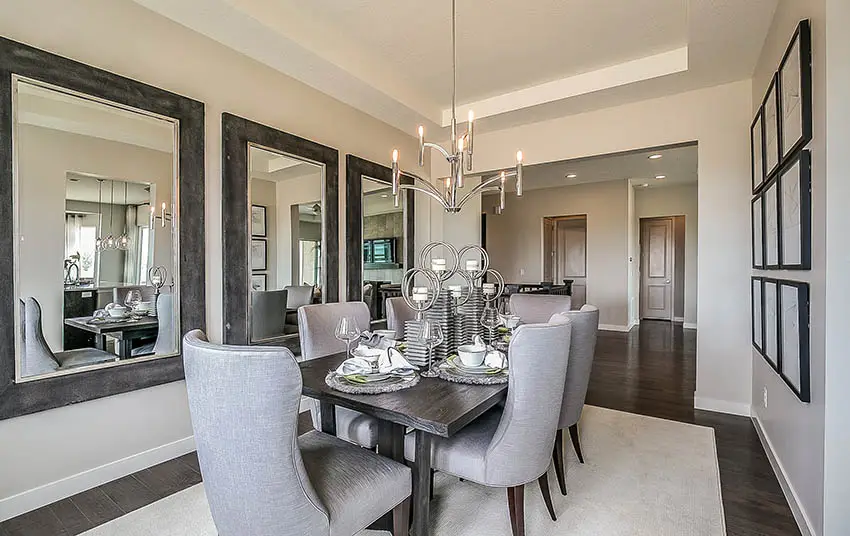 Wingback chairs get their name from the wings on the sides of the chair rising into the high back. They provide a sophisticated look and create an elegant motif in any dining room.
These graceful chairs began as a part of residential seating in the 18th century, and their design was inspired to keep drafts off of people's shoulders.
Designs today include ornate wingbacks, high-back wings with a continuous line, and lower placed arms to fit around a dining room table.
Wingback chairs come upholstered, and homeowners can choose fabrics to match any dining room décor.
Cross Back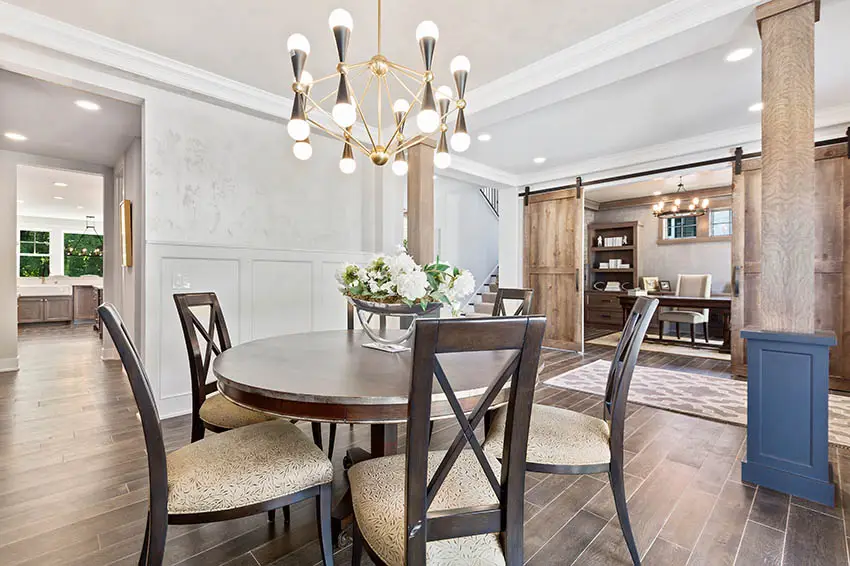 For a different look from ladder chairs or solid backed chairs, the cross back chair features an x-shaped design on the back for an open and light look.
With curved legs and rattan seats, they make a great dining chair for a natural and rustic dining room. Cross back chairs also come as contemporary and modern accents to a dining room and usually are made from wood.
These types of dining chairs are sturdy, and the solid wood construction allows them to hold more weight than other dining chairs.
Splat Back
A splat is the central element on the back of a chair and runs vertically, attaching to a chair's frame. While the splat is often the chair's central design element, it also provides support for an average adult.
Splats made of wood often display intricate carvings related to the era in which it was designed and the country of origin.
This provides an ornate contrast from the rest of the chair's simple lines, and the more familiar splat back chair is recognized as the fiddle back chair. Fiddle back chairs are indicative of Queen Anne style furniture.
Wishbone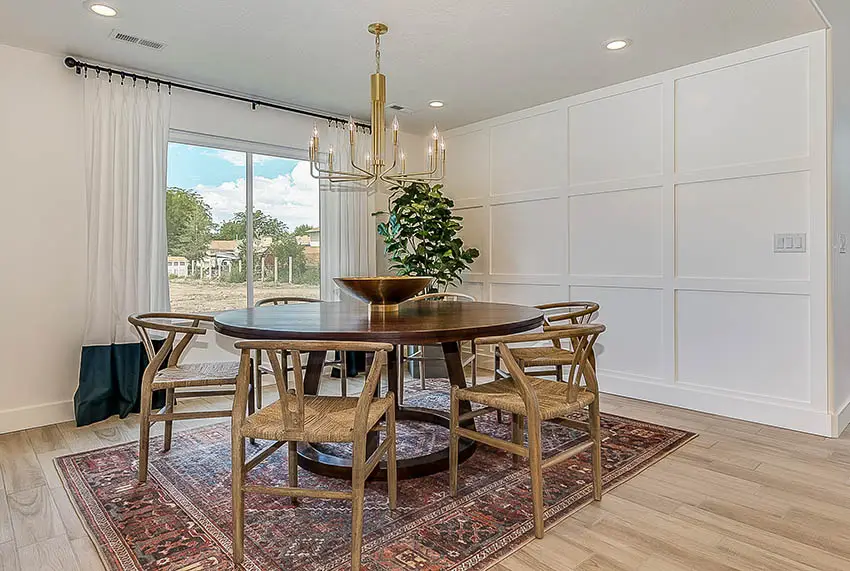 In 1949, Hans Wegner designed the Wishbone chair featuring a bentwood armrest and a woven paper cord seat. The backrest is shaped like a wishbone and is often called a Y chair.
Wegner, a furniture designer in Denmark, obtained renowned status as the most famous mid-century designer for this sleek, ergonomic chair design with its wooden frame and woven seat.
The seats also come upholstered, and this decorative dining chair goes well in many styles of décor, including minimalist, eclectic, and boho.
Slip Covers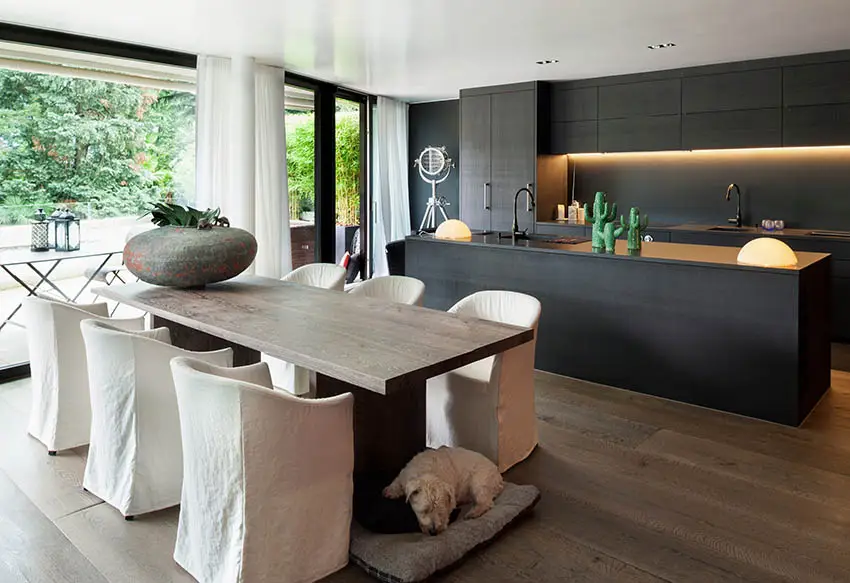 A dining chair with a slip cover comes with a removable cover made of different fabrics to protect the chair and create an easily customized design element.
Depending on the occasion, homeowners can switch out the fabric pattern, colors, and theme. Slip covers come pre-made for many types of dining chairs to easily allow a change in the design theme or update older chairs.
Slip covers provide a more formal atmosphere in any dining room by upgrading the look of ordinary chairs such as a ladder back or a Parsons chair.
Eames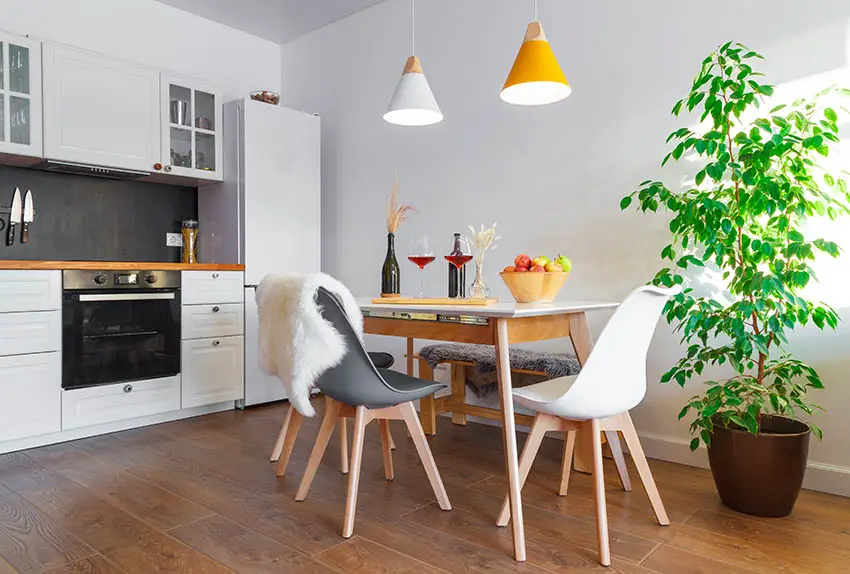 Eames dining chairs, designed by the American mid-century furniture designer, Charles Eames represent his interest in newer materials such as fiberglass and plastic.
Eames manufactures products from plastic dining chairs to toys, but his dining chairs gained popularity for this emerging company.
His first chairs were made of stamped steel, but they needed a neoprene coating to reduce the cold feel of the steel. This made the chairs very expensive.
Eames wanted a chair people could afford and began producing them in a plastic resin mixed with fiberglass for added strength. Their smooth, curved lines make this iconic chair comfortable and come with or without side armrests.
Today, Eames dining chairs are made from 100% recyclable polypropylene and come in many color choices. The chairs are molded as one piece with legs attached underneath the seat. The legs are typically wood or metal.
Curved Back
These curved back chairs offer a concave back allowing the user to lean back into the chair, releasing stiffness and providing a comfortable recline.
These types of dining room chairs have upholstered seats and provide great functionality for a chair with a mid-century design.
Curved back chairs come in many designs, including a lower back wood chair with a leather seat for a minimalist look or high back chairs upholstered with elegant fabrics tufted with hammered nail accents for a more formal look.
Cantilever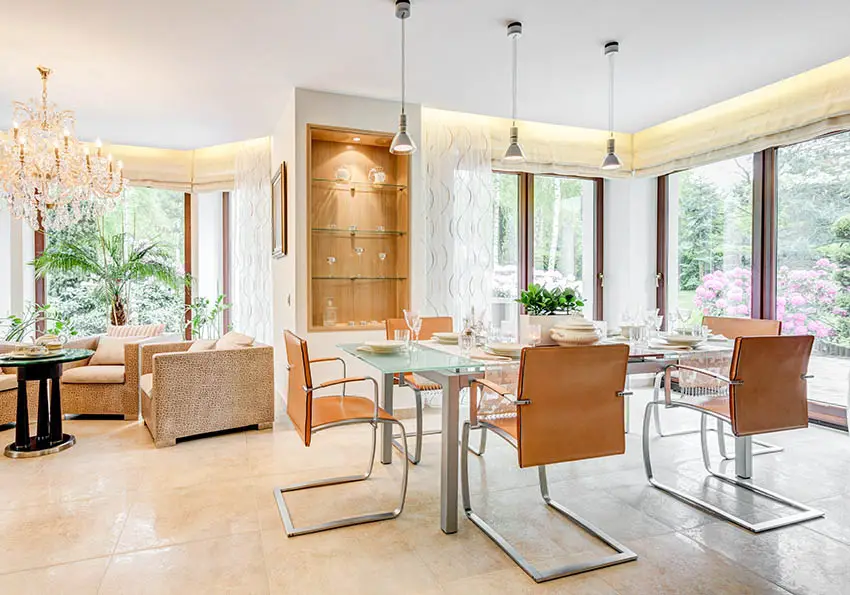 One of the sleekest modern dining chairs is the cantilever chair. This unusual chair was introduced into the furniture market in the 1920s.
Instead of four legs, it's held up with a single tubular piece of metal shaped into a double L that allows for a gentle bounce when used.
Cantilever dining chairs fit in naturally for home dining rooms with modern décor. The seats and backs are upholstered for comfort, and the high back offers optimum support. Although lightweight, cantilever chairs are sturdy and durable.
Bench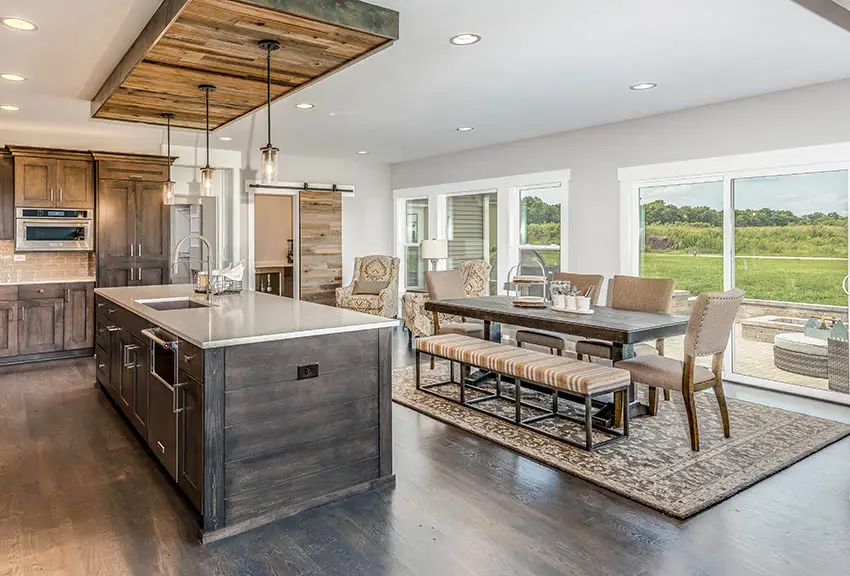 The bench dining chair is a chair that most often is without a back and armrests. A bench chair works well in smaller dining rooms with a shortage of space.
These convenient chairs can be slid under the table for storage when not in use. When using the dining table, bench dining chairs make it simple to pull out the ones needed at the time.
Bench dining chairs come in many styles and lengths and are typically made from wood with an upholstered top seat.
Dining Chair Designs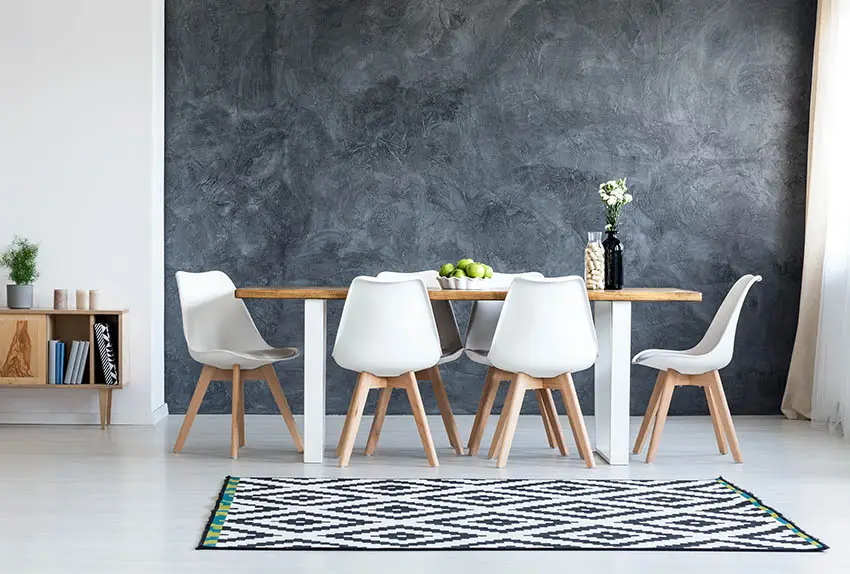 The designs are unlimited when it comes to dining chairs. Choices include styles, materials, colors, types of fabrics, and custom-built dining chair options.
Whether you're looking for a specific type of dining chair or unsure what to purchase, many designs exist.
Materials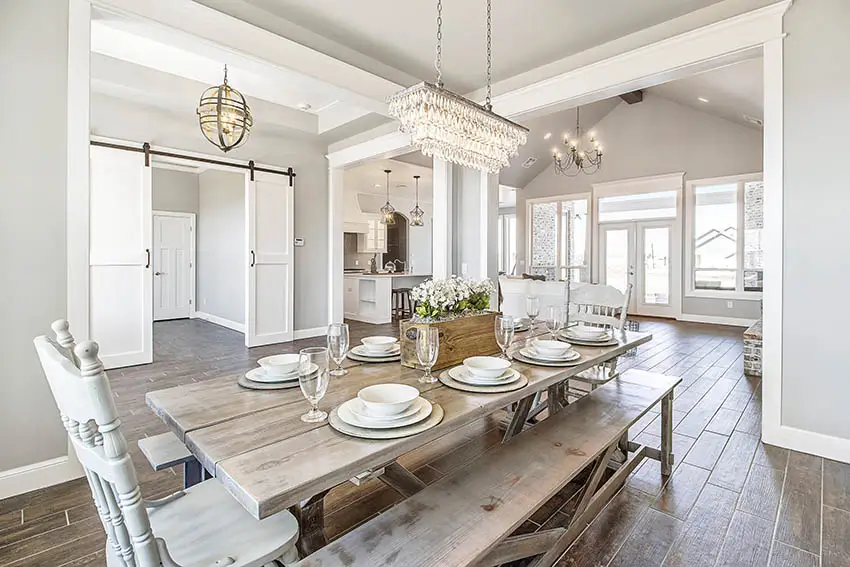 The type and style of the chair often determine the material used for a dining chair.
Many dining chair designs use different materials to accommodate the intended décor theme, such as metal for a contemporary look, plastic for modern and ultra-modern, and ornate wicker for country décor. Many chairs combine these materials for a diverse and exciting effect.
Wood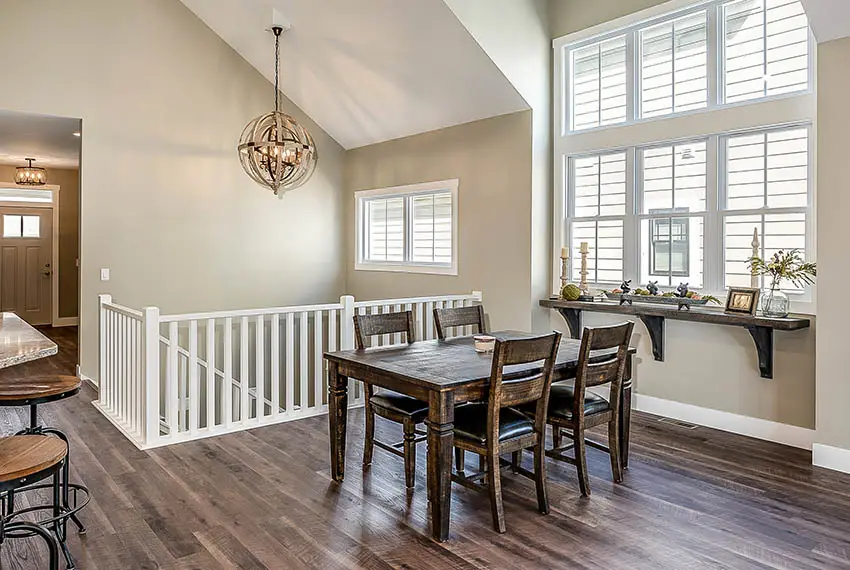 Wood is the most common dining chair material, often including oak, ash, pine, and beech. Wood offers a light and elegant feel but may not provide the strength of other materials.
Wood is organic, and wood flexes, causing joints to separate, so proper hardware should be used with wood glue.
Metal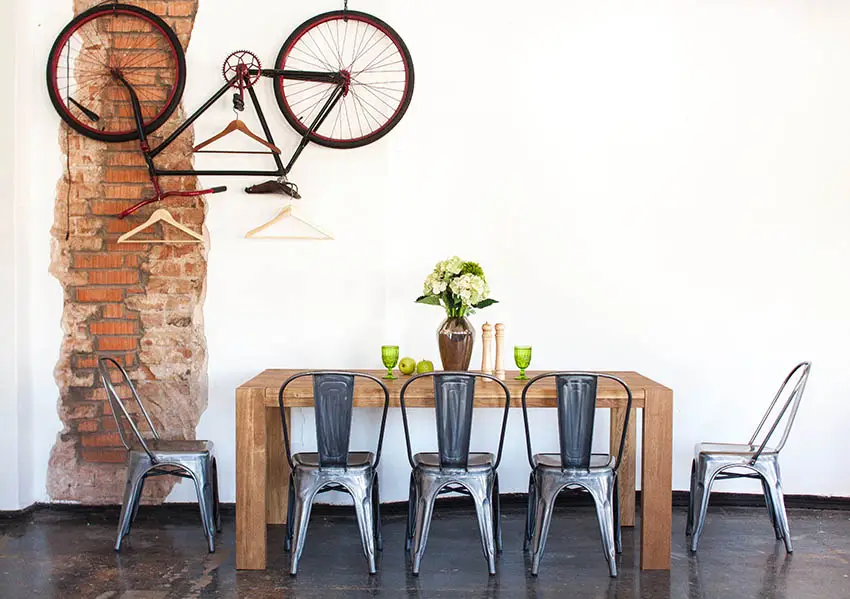 Metal provides the strongest material for a chair and is unlikely to snap or bend. Metal chairs are less expensive than wooden ones, and metal is often used for legs and bases with dining chairs made of wood or plastic.
Plastic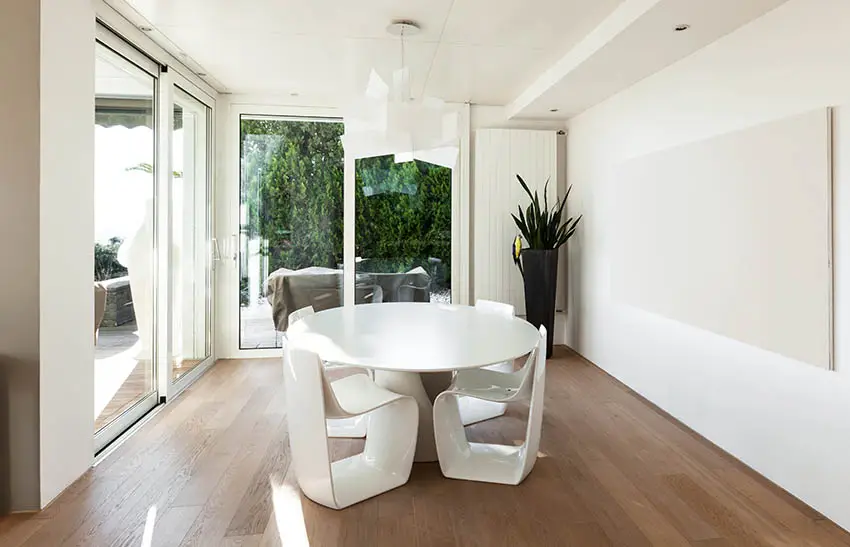 Today's plastics are stronger, better looking, and often environmentally friendly. Plastic is used for molded chairs and makes an excellent option for easy cleanup.
Plastic chairs are unmistakably modern-looking and offer an understated addition when paired with other dining room elements.
Wicker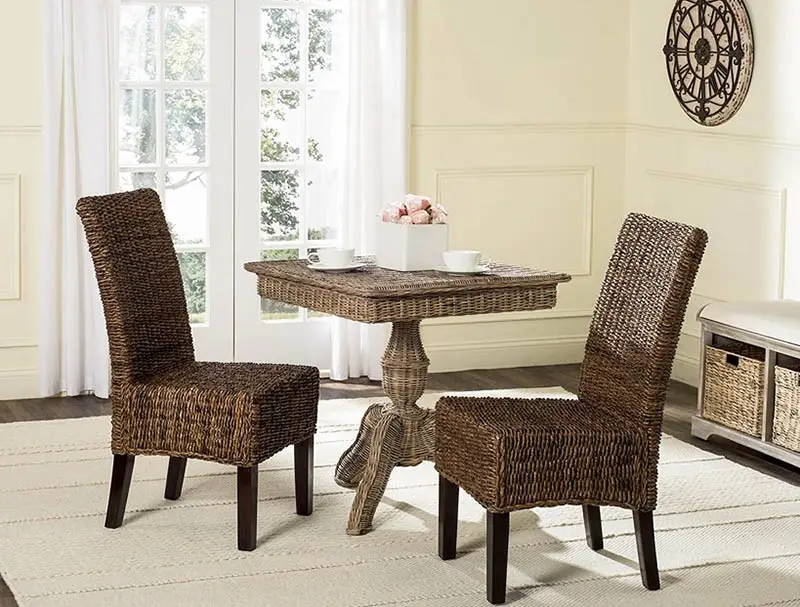 See this wicker dining chair set on Amazon
Wicker dining chairs bring a whimsical and airy look to a dining room. There are many colors, designs, and seat pad choices to match your dining room.
These versatile chairs are made from broom-sized rattan poles with smaller pieces woven and wrapped over the frame.
This process of hand-weaving the rattan classifies the chair as wicker. Wicker chairs have a long life span, often outliving their cushions.
Types of Dining Chair Seats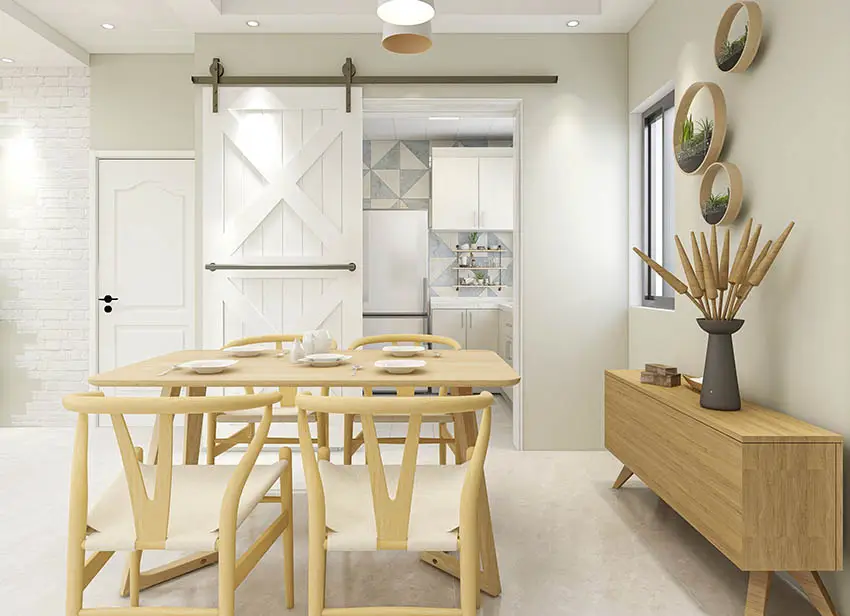 Dining chair seats are usually separate from the frame, but the seat is part of the chair top in the case of molded seats made of plastic.
The seat determines comfort, visual appeal and may be created with different materials than the rest of the chair to achieve a particular style.
Choosing different elements for the seat gives a dining chair the right touch to complement your dining room décor.
Upholstered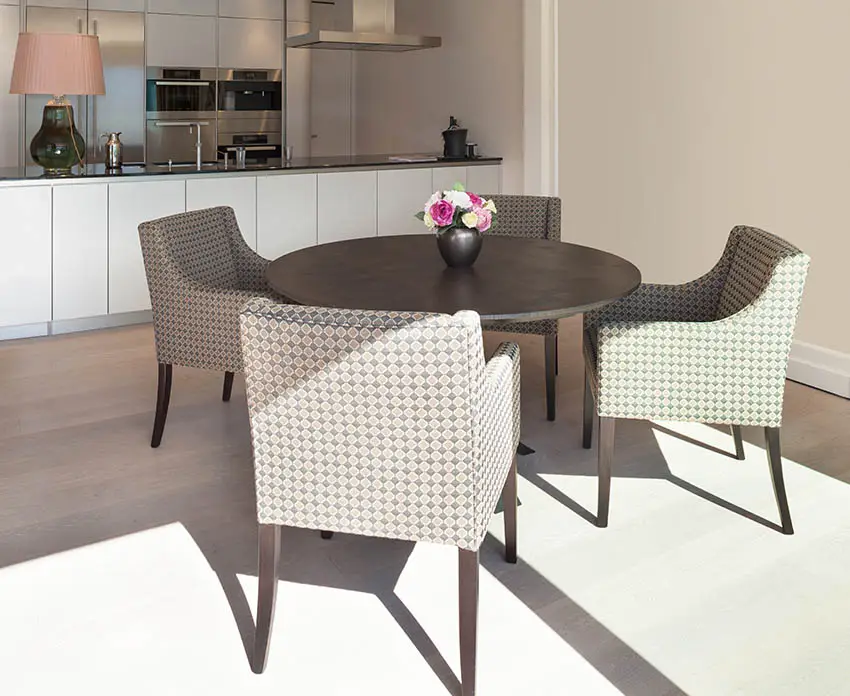 Upholstered seats provide padding for a soft and comfortable chair, and the type of fabric adds to the room's design.
When choosing the material, keep in mind the kind of use the chair will be subjected to. If children frequently use the chair, a stain-proof fabric, such as a cotton blend, will last longer and make it easier to keep the chair clean. Ornate materials are good for hiding stains.
Metal
Metal chair seats certainly provide a rustic and art-deco style but can be very cold to sit on. These seats are often covered with solid covered or decorative vinyl or plastic, and separate cushioned seat pads can be used with ties to hold them on the seat.
Plastic
For ease of cleanup and simple design, plastic seats are hard to beat. Chairs such as a slope dining chair and Eames chair are sturdy, decorative, and can withstand spills, crumbs, muddy clothes, and prolonged use.
Wicker
Wicker is stylish and sturdy, and when treated with stain-resistant coatings, wicker is easy to care for.
Woven wicker seats offer comfort, and they clean up easily with a vacuum extension to remove dust and a slightly damp, soapy rag.
Leather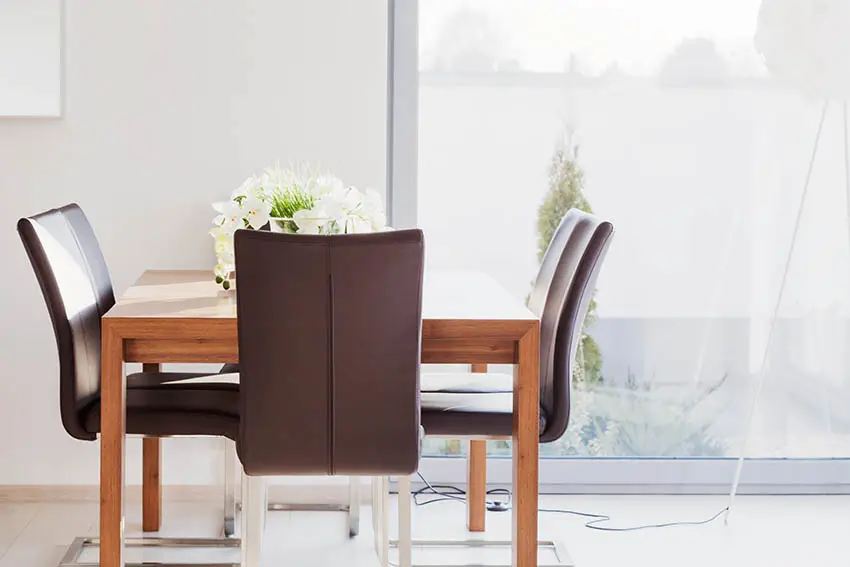 Leather seats are timeless, and when kept treated with leather conditioners, they last for many years.
Leather is easy to clean up after a spill, and as long as the leather is not allowed to dry out and crack, it's also very stain resistant.
Types of Fabrics
The seat fabric may be the finishing touch for your dining chairs. Many popular types of dining chairs have durable linen and drapery fabrics to create a long-lasting seat covering.
Popular chair fabric types include:
Cotton blend
Vinyl
Faux suede/microfiber
Leather
Velvet
There are infinite types of patterns and colors when selecting a material. For a simpler look, solid fabrics, leather, and faux leather create an understated look to focus on the chair design.
The choice of seat fabric can tie together the look of your dining room set.
Fabrics Pros & Cons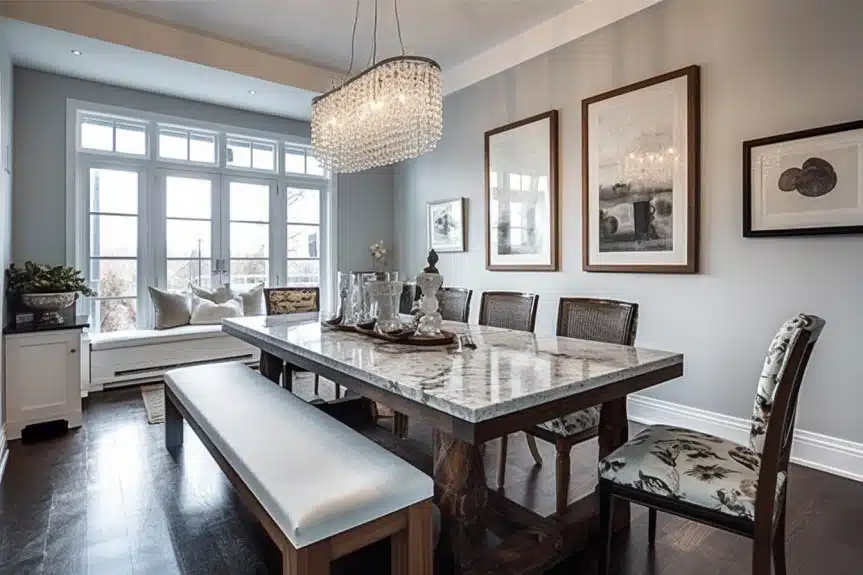 Here's the most popular pros and cons for different types of seat fabrics:
Cotton Blend
A cotton blend is a natural material inter-weaved with some synthetic materials to create a strong fabric.
It's a great choice for dining seat fabrics as it is durable, budget-friendly and offered in many different colors and styles. Since it has breathable qualities it remains cooler.
The downside is it can absorb moisture creating dampness and possibly staining.
Vinyl
Easy to care for and less expensive when compared to leather, a vinyl material makes a good choice for dining seats. It's also easy to clean and care for and available in various textures and colors. A marine vinyl style fabric can look similar to leather.
On the downside, some vinyl materials can dry out and crack over time.
Faux Suede/Microfiber
Faux suede or microfiber is constructed of a synthetic fabric that's inexpensive, easy to clean and durable. It looks similar to real leather, but resists staining and cracking much better than leather.
One of the cons of faux suede is it can show dirt especially when used for light color fabrics.
Leather
Leather is a solid choice as a seat fabric because of its luxurious feel. The main types being Top-grain leather, Full-grain, or corrected grain. Leather is a stylish material for dining chairs that's naturally hypoallergenic and easy to clean.
However, real leather can become sticky in hot climates, is prone to cracking if not cared for properly and expensive.
Velvet
Velvet is a luxurious material with a soft sheen that can withstand heavy usage. It has stain resistance properties that cleans well as long as any spills are attended to carefully and promptly. Velvet is available in a wide variety of styles and colors. It's durable and makes a comfortable seat.
Some of the negatives are its vulnerability to being damaged by direct sunlight. Additionally, it can attract pet hair making it a hassle to keep clean.
Kid Friendly Fabrics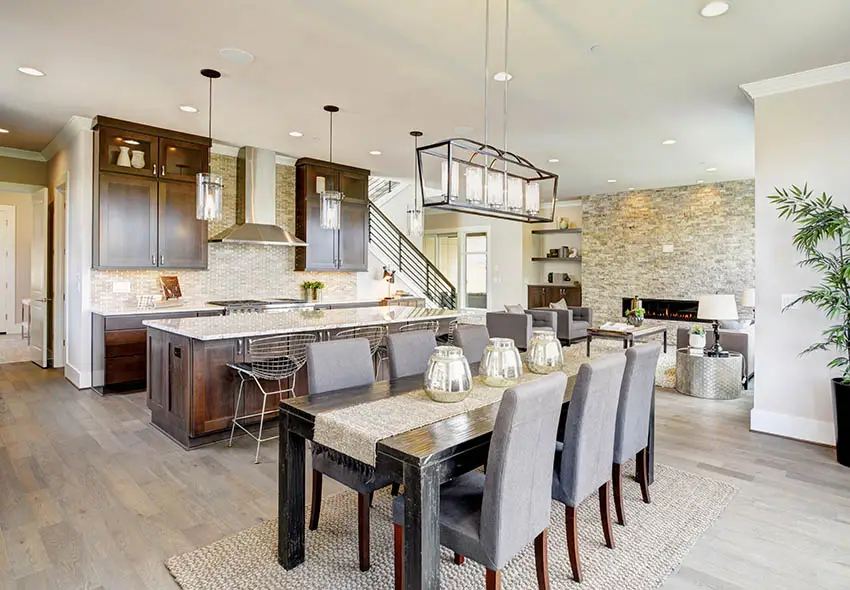 Kid friendly fabrics are easy to find, but for some, it's advisable to treat the fabric with a stain-resistant finishing spray.
For durability, flatweaves and heavier fabrics last longer. Leather complements many chair styles, and they're easy to wipe up juice spills, condiment spills, and splattered spaghetti.
Microfiber fabrics are naturally stain-resistant and clean up easily with water, while vinyl, like leather, is easy to wipe clean.
Although not a common choice, wool, and wool blends are easily spot cleaned and resist snagging, wrinkling, and piling.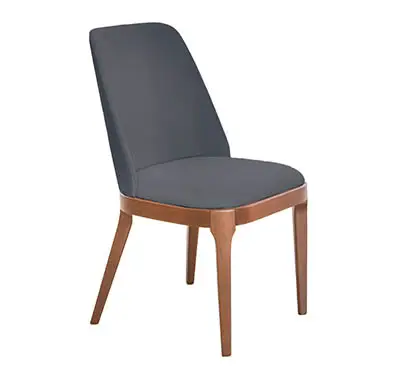 Best Seat Fabric
A cotton blend seat fabric weaves natural cotton with synthetic materials such as nylon or polyester to add many benefits.
A cotton blend can increase durability, stain resistance, wrinkle resistance and maintenance.
Cotton blends are easier to keep clean over pure cotton seats while still maintaining the breathable fabric qualities.
They are also a cost effective option that are available in a wide assortment of styles and colors.
Best Choice for a Dining Chair
To round up chair seat materials and fabrics, here is the best choice for a dining chair material.
Wood: Wood may be a hard surface to sit on for prolonged periods, but it's beauty and natural appearance add elegance to dining chairs.
Several styles of chair designs include a softly contoured indent for comfort. A chair with a curved back will be much more comfortable than one that is straight backed.
Wood is long-lasting and doesn't require cleanup as fabrics do. With so many choices of stain colors, wood is also versatile. To add to its comfort one may select a chair with a cotton blend or microfiber fabric seat.
When choosing, it's also crucial that the chair dimensions are comfortable and fit your table correctly. Everyone should have adequate arm and leg room for a relaxed dining experience.
You'll also want to ensure your dining room set goes with the look of your room style. This is especially true if you have an open concept dining and living room design.
You can tie in the materials on the seat cushions with the sofas. If your room is open to the kitchen, you can match elements such as the countertop finishes, curtains or hardware.
What is your favorite types of dining chairs? Please let us know in the comments section what you think. For more content like this, visit our gallery of chair styles here.