Here's our guide to breakfast nook dimensions including different types of dining alcove sizes, floor plan space needed, and cost to build a seating niche.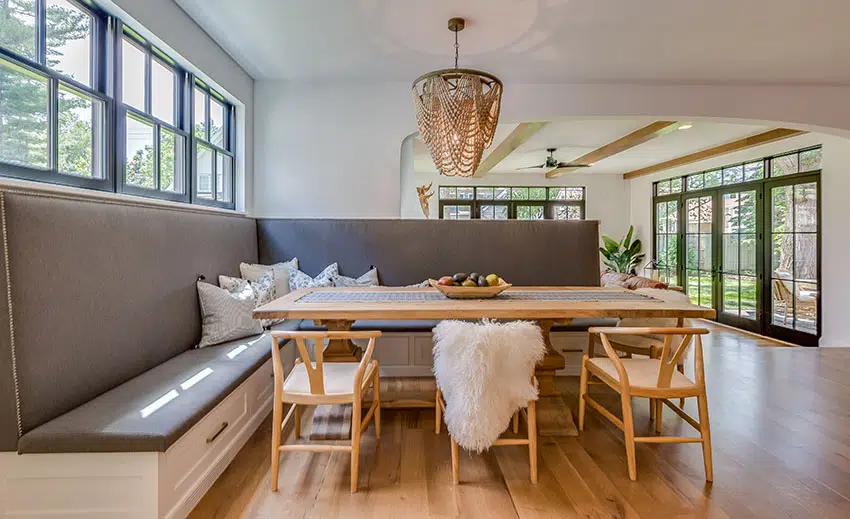 A breakfast nook is a cozy, small area to have coffee, toast, and relax. Adding purpose and style to an odd space is a great way. However, it doesn't have to be large for an impact.
You can build it under a window or into a corner where you can sit at a small table. Fortunately, we can all build our dream eat-in area. But what are the standard kitchen breakfast nook sizes?
Standard Breakfast Nook Dimensions
The breakfast nook comes in all shapes and sizes. There's no one-size-fits-all for built-in dining niches. Ultimately, it always depends on the homeowner looking to construct one for their home.
There are three points to look at when deciding to make a breakfast nook.
First, you need to look at the location where you picture having that quiet and casual place in your space.
Second, you pick the layout. Will it be curved out to hug one corner or both? Or will it be a banquet-style seating area where two seats are adjacent to each other?
Last, you consider the lighting. If you want a relaxed breakfast overlooking the beach, it would be wise to situate the nook by a window.
Building your dining area is determined by the number of family members the homeowner has. It also heavily depends on how much space is available in the desired location.
Here are some essential dimensions to consider. Ideally, there should be an 18 to 24 inches space between the chair and table to ensure everyone is comfortable.
You should also allow 12 inches of space so that individuals can pass around the tabletop with ease. Usually, a two-person breakfast nook should have at least 5 by 5 feet of free space. If the person being accommodated is four to six individuals, then an area of at least 7 by 10 feet should suffice.
Built In Dining Nook Sizes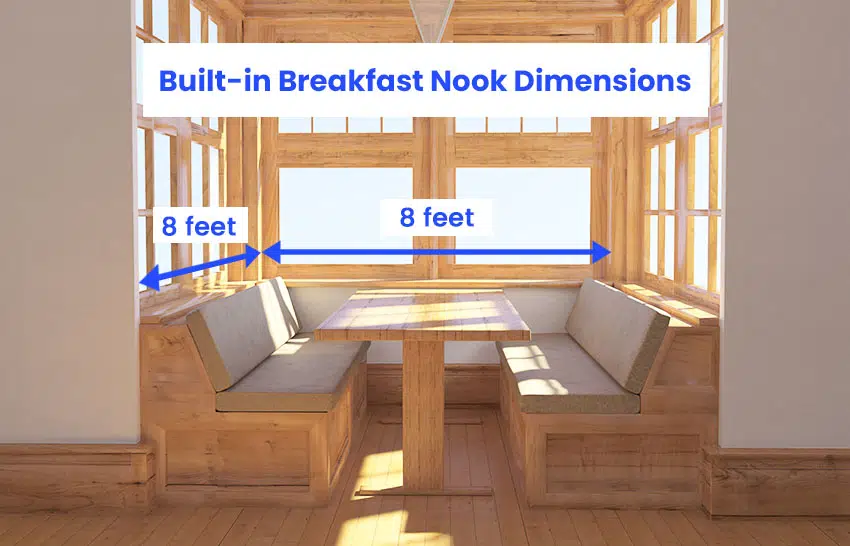 A built-in breakfast nook has a diner booth style and banquette type seating where the seats and the tables are fixed or bolted during construction and are immovable. These types of booths provide plenty of places to sit and are great for creating a welcoming place in the dining room or kitchen.

These built-in breakfast nooks are usually square and rectangular but also sometimes curved to accommodate a corner.
With the dimensions of this type, like that of the other standard floor plans, it's heavily dependent on the space available and how many people the design has to accommodate.
For example, in a family of 8, a square-shaped built-in breakfast nook should at least have an area of 8 by 8 feet to fit everyone comfortably. Setting it on a corner could help the space, too.
A circular built-in breakfast nook could take a lot more space than usual, seeing as to be able to curve at an angle, it could be constructed to fit the area first.
An 8 by 8 feet built-in circular dining niche, instead of seating a family of 8 to 12 might only be able to seat 6 to 8 persons snugly.
If one is short in space and wants more kitchen storage options when building the homeowners might want to consider creating a built-in rectangular-shaped dining alcove.
This type of breakfast nook not only has adequate space for everyone, but the built-in factor of the benches could also double as a storage unit. With a rectangular-shaped eat-in area, a family of 8 could fit in a 3'6" by 8 feet niche design.
Small Eating Niche Dimensions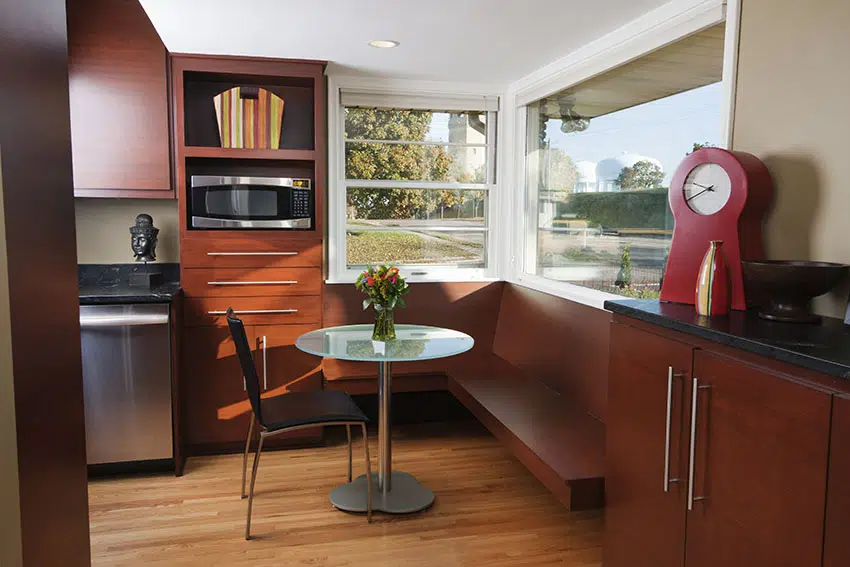 Small breakfast nooks are perfect for couples, for a family of three, or for individuals who would want them. These breakfast nooks could be built-in or could add chairs on the sides for more seating options.
A small, square breakfast nook for 2 to 4 people to sit comfortably should at least have an area of 3 by 3 feet or 4 by 4 feet.
A small circular dining niche hugging a corner could fit 2 to 4 individuals with a space somewhere between 4 by 4 feet and 5 by 5 feet. This type of small eating area could easily seat six individuals if homeowners added chairs to the sides.
A small rectangular breakfast nook that could fit 2 to 4 individuals could only be 2'6" by 5 feet, and it would suit everyone comfortably.
Dining Nook Table Dimensions
There are no rules as to what size of table you need for your breakfast nook. Ultimately, it's up to the homeowners on what table they feel comfortable in.
If the seating area is being constructed simultaneously with the house, chances are the contractor or architect would choose a table fitting for the size you chose for your eat-in niche.
For the most part, it's better to match your table with the shape of your floor plan. Rectangular tables would look better in narrow and long spaces than in a circular area and vice versa.
In a square 5 by 5 feet built-in breakfast nook, a 30 inches square or circle table is most appropriate to look cohesive and balanced.
In a circular built-in breakfast nook that could seat eight persons with chairs surrounding it, a circular table situated between them would fit perfectly. On a 7 by 10 feet rectangular dining alcove, a 5 by 2'6" table would fit the space perfectly. Go to our article about dining table dimensions to learn more.
Eating Nook Bench Seating Dimensions
The measurements of the chairs in the dining space could vary depending on whether it is built-in or not. A plus for built-in benches and banquettes is they could double as added storage for the household.
The benches, chairs, or banquettes on a breakfast nook could be around 18 to 20 inches in height for the average individual to comfortably sit with their feet on the ground and their knees at a 90-degree angle.
Here is a breakdown of common measurements needed for bench seating around a banquette space.
| Aspect | Standard Dimensions | Notes |
| --- | --- | --- |
| Bench Height | 18″ to 20″ | Same as chair height for comfort. |
| Bench Depth | 15″ to 20″ | Greater depth if adding back cushions. |
| Bench Length | 24″ per person | Allows for elbow room while eating. |
| Backrest Height | 12″ to 16″ above seat | Provides good back support. |
| Seat Cushion Thickness | 2″ to 4″ | Provides adequate comfort. |
| Under-Bench Clearance | 4″ to 6″ | For storage space or cleaning. |
For kitchen dining designs that are not built-in, when you decide on any layout and table shape, allow at least 36 inches of space all around so there is room to pull out and add chairs.
How Much Space Do I Need For A Kitchen Eating Nook?
When considering the amount of space you need for a breakfast nook or banquette its important to consider the amount of people who will be using the space.
Each person dining should have about 27″ or space to accommodate them comfortably while sitting without crowding.
Your benches will need a minimum depth of 24″ which should provide room for cushions or an angled backrest.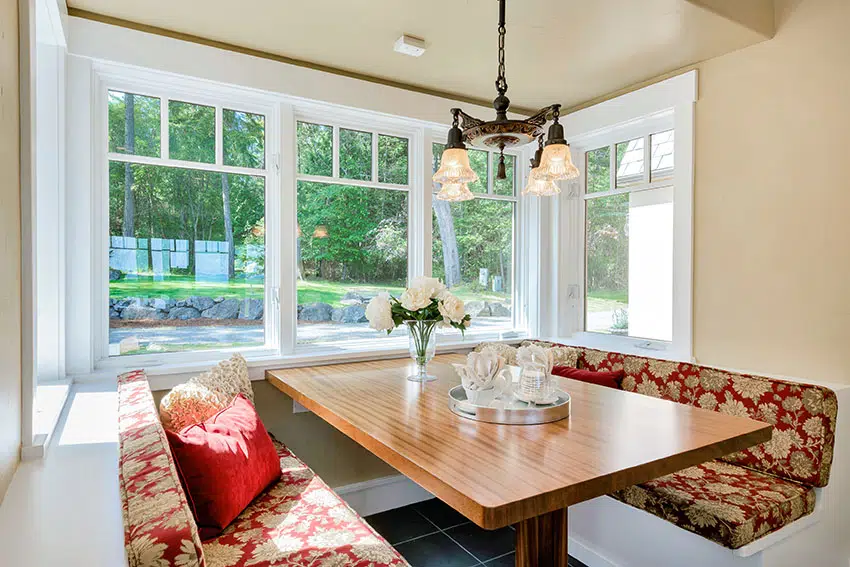 What is the Cost of a Breakfast Eat-In Nook?
Most of the cost of building or having your dream eat-in dining area constructed will come if you decide to build it. Here is a quick breakdown of the costs for creating a dine-in area in the kitchen.

| Type | Cost Range | Details |
| --- | --- | --- |
| Basic Pre-made Furniture | $300 – $800 | Small table, bench, or chairs. |
| Mid-Range Furniture | $1000 – $2,000 | Higher-quality furniture, comfy cushions, minor trim work, or remodeling. |
| High-End Custom Built-in Nooks | $2,000 to $8000 | Built-in seating, custom cabinets, and pro-contractor services. |
| Additional Costs | Variable | Dining accessories like cushions, upholstery, and decor. |
| DIY Savings | Variable | Savings on construction assembly by doing it yourself. |
Expect to shell out $2000 to $8,000 for an L-shaped built-in breakfast nook inclusive of the table; the cost will depend on the type of wood you choose, the cushion, the seating material, and the size you want to have it done.
For more related content, visit our guide to dining room dimensions here.