Here's our guide to dining room dimensions with different types of dining room sizes and why it's beneficial to have the most suitable dining room size.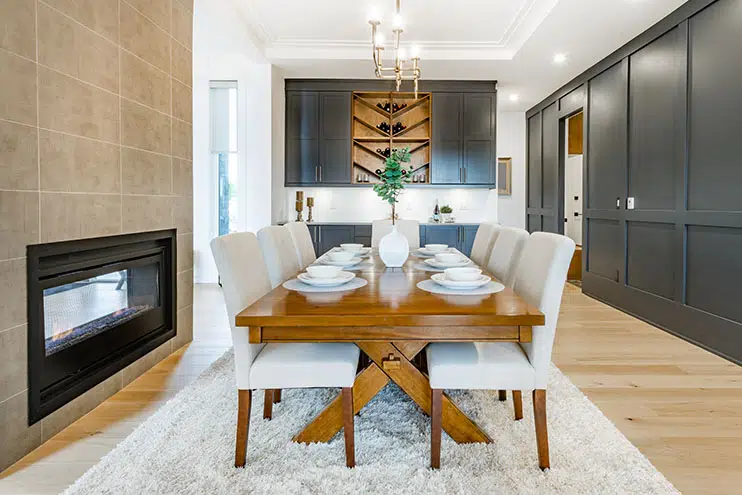 Dining rooms must be designed carefully. From the dining table sizes and clearances around the chairs and tables for human movement – the size of your dining room must be well-proposed first before making constructions and renovations.
Why is it necessary to ensure the perfect dining room size? Well, not having the most ideal dining room size might cause awkward human movements and inconvenient spaces.
Of course, we would want to spend time eating in a well-constructed, organized, and spacious dining room, right?
Nonetheless, what are the different dining room sizes? What's the most ideal dining room size for my family? Well, in this article, these questions will be discussed.
Standard Dining Room Size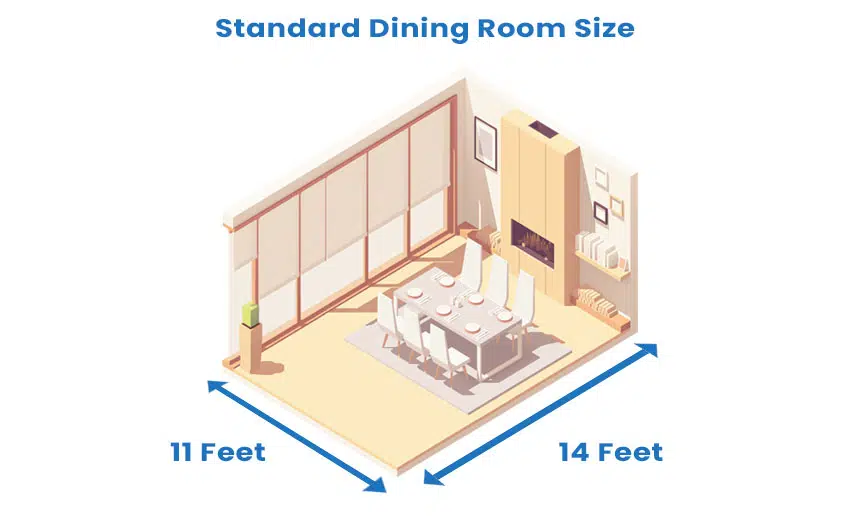 The size of a standard dining room has a measurement of 11' x 14' (154 square feet). This standard dining room size allows enough space for 6 people to sit on their chairs and move around the room conveniently.
The said size will provide enough space for a dining table, 4 to 6 chairs, and a short-sized buffet.
However, other activities such as dancing or various games won't be ideal for a standard dining room. It might not accommodate other activities that require plenty of movement.
Average Dining Room Size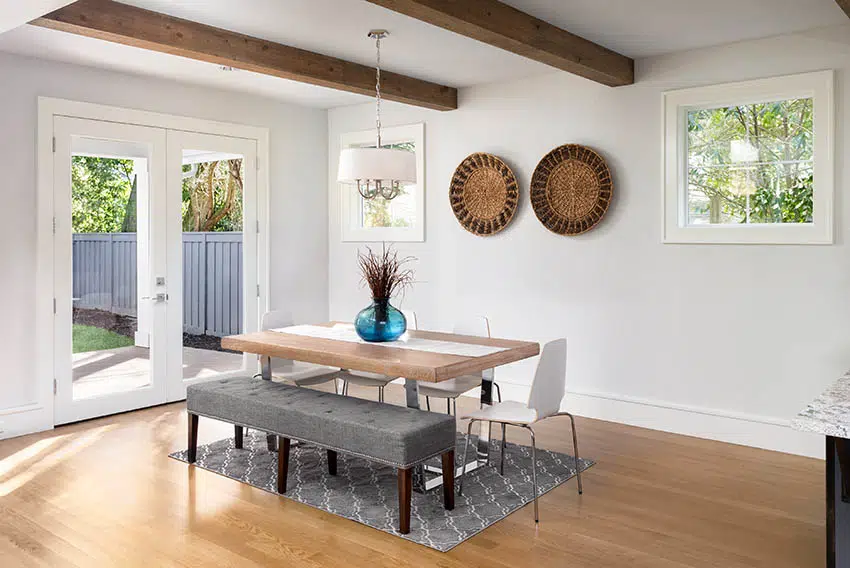 The common size of an average dining room, especially in the United States, is 14' x 16' (224 square feet). However, some homeowners prefer more spacious average dining rooms so they can accommodate more guests without any difficulty.
In some countries, the average dining room size is 10' x 20' (200 square feet) and 11' x 14' (154 square feet).
Minimum Dining Room Size
The most ideal size of a minimum dining room is around 11' x 11' (121 square feet) or smaller. Minimum-sized dining rooms are perfect for small houses that are limited in interior space.
However, a dining room of this size can already accommodate 4 people. These 4 people can comfortably move around the dining room without the possibility of always bumping each other.
A regular-sized dining table and 4 chairs can fit in a dining room of this size. Read more about dining chair dimensions here.

How Big Should a Dining Room Be?
The size of your dining room will just mostly depend on the overall size of your house. It will also depend on the number of your family or household members and the size of dining objects you wish to put in your dining room.
To help you visualize it better, let us say you only have 4 household members and a small-sized house, and your dining objects (tables, chairs, etc.) are regular-sized. The most ideal dining room size for your situation should be around 11' x 11' (121 square feet) or 11' x 14' (154 square feet.
If your interior space is more spacious than other regular-sized houses and you have 6 to 8 household members, a dining room that has a size of 14' x 16' (224 square feet) or 14' x 18' (252 square feet) might be the most recommended dining room size for you.
However, these are just the general dining room size recommendations. The final decision will still be yours as it will still depend on numerous factors.
In a nutshell, the bigger the dining room, the more movements and activities will be possibly accommodated. One great thing about having a large-sized dining room is that it won't restrict a lot of things that you want to do in your dining room.
Aside from just putting chairs and a table in your large dining room, you'll have more space for other sophisticated dining additions such as windows and fireplaces.
In short, having a bigger dining room will allow you to easily incorporate other things that will truly revamp the appearance of your dining area.
Adding another dimension, regardless of your dining room size, you have to ascertain that you are mindful about centering your dining objects. All the things around the dining table must be properly arranged.
Disorganized objects will make your dining room look tight-spaced and congested. This will hinder several movements.
Whatever dining room size you have, you need to make sure it's organized, pleasant, and welcoming. By doing this, no doubt your guests will enjoy the atmosphere.
One of the main goals of ascertaining the correct dining room size is to make sure that the people who are in your dining room are having a great time eating their meals without being distracted by disordered things and uncomfortable space.
Dining Room Size for 6 Persons Table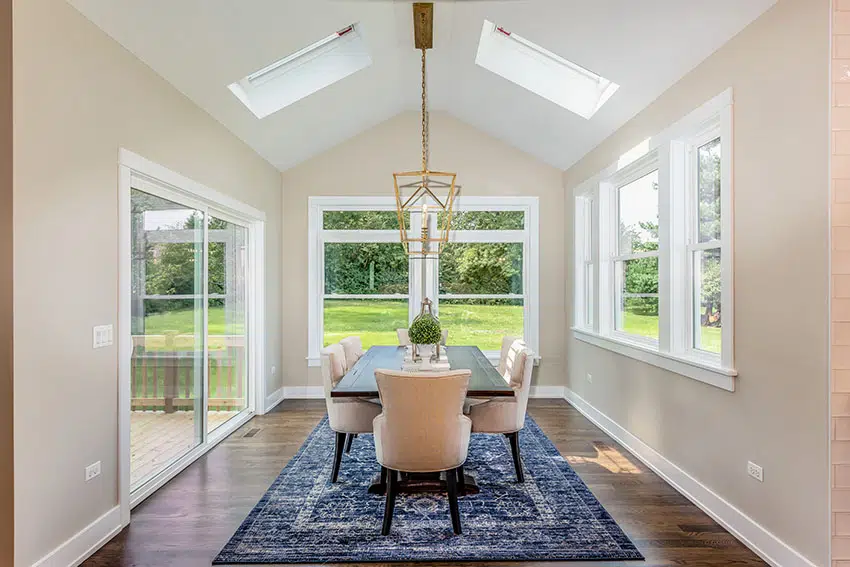 A dining room with a size of 11' x 14' (154 square feet) is already ideal for a 6-person rectangular dining table. A dining room with size can accommodate 6 people with sufficient wiggle room.
Dining Room Size for 8 Persons Table
A dining room that can accommodate an 8-person table has a common measurement of 12' x 16' (192 square feet) and 14' x 18' (252 square feet).
This big dining room size would be capable of accommodating 8 people, long dining tables, and huge-sized chairs.
Dining Room Size for 10 Persons Table
To fit in a 10-person table, the size of the dining room must be at least 15' x 16' (240 square feet). This is the most ideal size for houses with 10 household members.
Dining Room Size for 12 Persons Table
To accommodate a 12-person table and some additional dining objects such as buffets and a few plants, your dining room must have a measurement of at least 16' x 17' (272 square feet).
Know more about dining table dimensions here.
Why It's Beneficial to Have the Most Suitable Dining Room Dimensions
The dining room is one of the most valued and major rooms in every house. It plays a very vital role in terms of making family bonds stronger and welcoming guests in a hospitable manner.
Lots of people enjoy spending time with their loved ones while appreciating a delicious meal in their dining rooms. Even so, that joy might be lessened if your dining room is not well-organized, or worse, not having a suitable dining room size.
That's why it's very crucial to ensure that you have the most suitable dining room dimensions to accommodate the correct amount of guests for the space.

For more content related article visit our article about the types of dining room chairs here.