In this board and batten dimensions guide you'll find the proper spacing measurements, and standard batten, wainscoting & siding board sizes for your home design.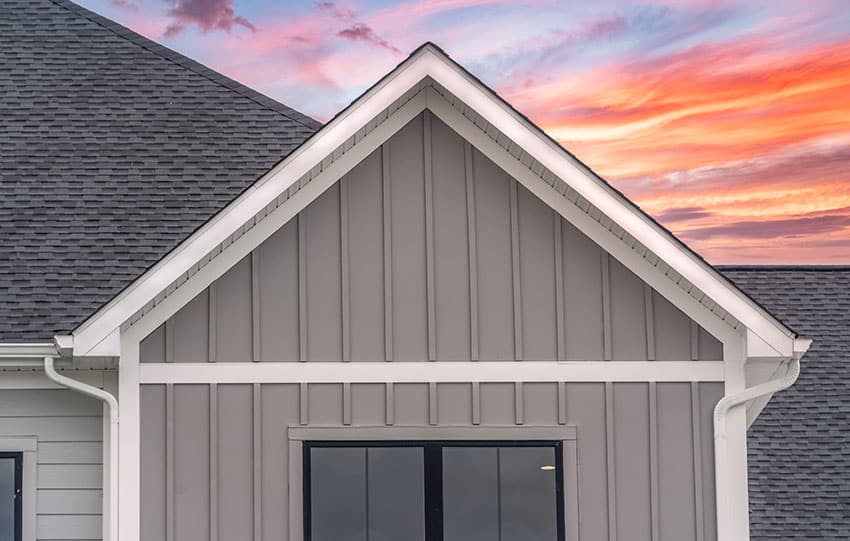 If you are looking for standard and classic siding for your home, then board and batten are for you. This siding style is one of the oldest cladding styles and was known to be created when sawmills were made available and accessible to many people and communities.
A long strip of woods called board is laid vertically on a home from the bottom up, and to make sure that it is weather and air-proof, battens are secured over each seam.
Some boards and battens may have irregular spacing during the olden times due to not having uniform cuts. However, moving on to today, it can be said that it is regularly sized for easier installation across the boards.
Board and Batten Standard Size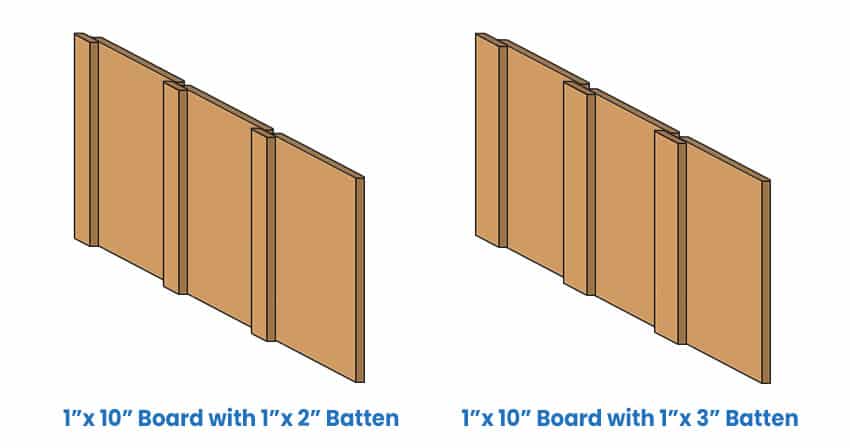 What was once a functional addition to the side of the house to trap moisture and air from the siding is now more decorative than practical.
With that being said, when installing one for your home, you should still be mindful about getting the size right so that the board and batten exterior walls will look stylish and beautiful.
The size of the boards will depend on the overall size of your wall and the suggestions from your contractor, but overall the most commonly used boards are the 1×10 partnered with a 1 by 2 or 1 by 3 battens.
Common Board and Batten Sizes
Aside from the commonly used size for board and battens of 1×10 partnered with a 1 by 2 or 1 by 3 battens, homeowners can also choose to line their homes with the standard 1 by 8 or 1 by 12 boards that they can easily partner with 1 by 4 battens.
If you have a larger abode, you will need a more extensive and more prolonged board and battens. There are boards available at 6 to 12 inches or about 15 to 30, and such board sizes can be paired with battens at 2 to 4 inches or 5 to 10 centimeters.
Board and Batten Width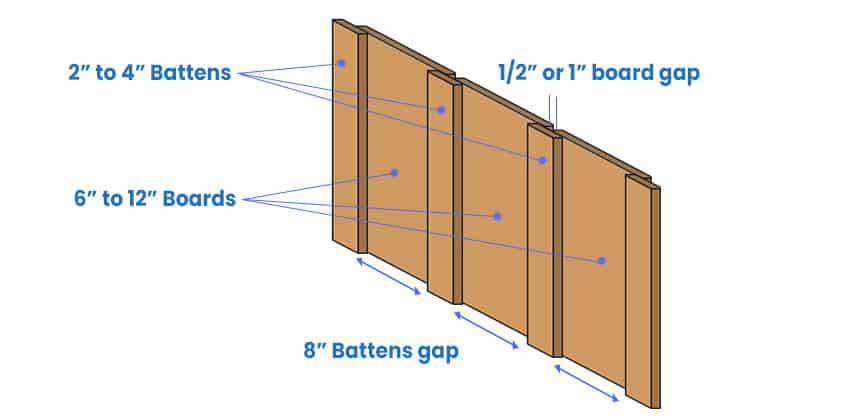 The farmhouse chic that a board and batten will add to your home is not just charming but also highly durable and easy to maintain. Although the design and the way it is installed to achieve the design have been pretty standard, the size, like the widths, is available in variety for whatever size of walls you may have.
Vertical boards to be used in this project will be at least 6 to 12 inches or 15 to 30 centimeters, with at least a half-inch or an inch of gap between each board. With this size, a homeowner can use battens at least 2 to 4 inches or 5 or 10 centimeters in width.
How Far Apart Should Battens Be?
One of the generally asked questions about board and battens is how far apart they should be in installation, and here is the answer to the question. Each batten should have at least a space of 12 to 24 inches or 30 to 61 centimeters from each other.
This is optional since you can easily consult your contractor if you want to achieve a particular look for your home's exterior design.
You can also achieve an 8-inch board reveal if you utilize 2 inches or 5 centimeters of batten. This way, each batten is about 8 inches or 20 centimeters apart.
How Thick Should Wood Be For Board and Batten?
One of the methods by which you can customize the total look and design of your home's exterior is by choosing the thickness of the board and batten that you or the contractor have agreed upon.
They could suggest the right thickness of board and batten to go with your home, but here is the usual thickness most homeowners go for: there are wider boards that are at least 12 to 14 inches or 30 to 36 centimeters thick, but there are also thinner ones at 1 to 3 inches or approximately 3 to 8 centimeters.
Board and Batten Wainscoting Dimensions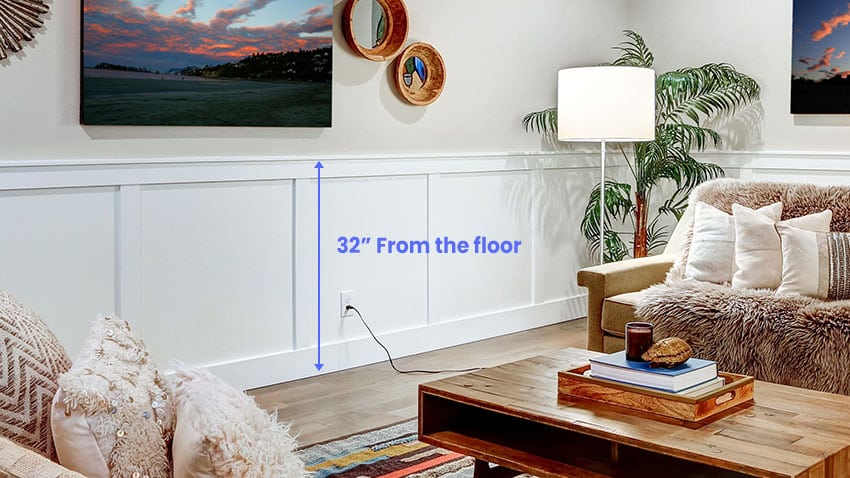 Wainscoting is lining the lower part of your home using a board and batten. This is the traditional look you can see in most living and dining rooms of older homes and gives a classic farmhouse feel to the whole interior of your home. See more examples of dining room wainscoting here.

Wainscoting is usually done at least 32 inches or about 81 centimeters from the floor up to the walls. The most promising thing about this design is that anyone can easily install and do this design, no matter their carpentry experience.
The average wall of a home is about 8 feet or 96 inches, so if you want to cover about one-third of the wall's overall surface area, then 32 inches or about 81 centimeters of wainscoting is the way to go. Visit our design guide to board and batten wainscoting here.
Board and Batten Siding Dimensions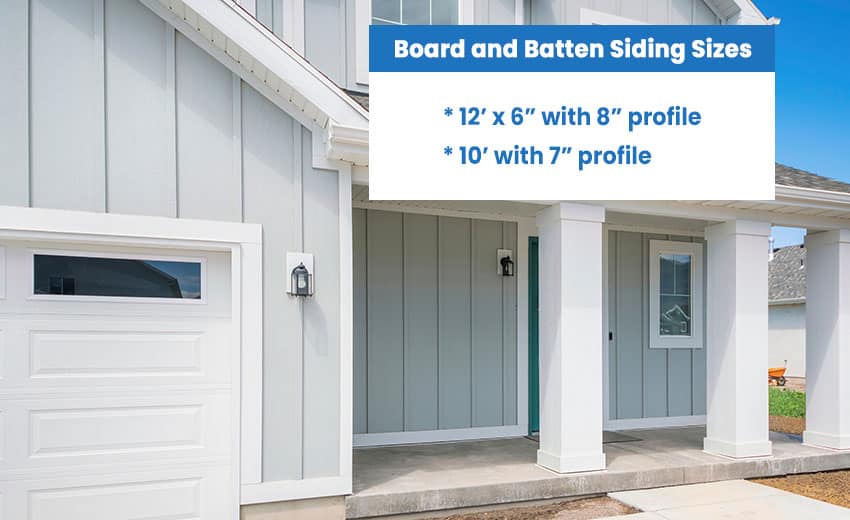 If individual board plus battens are too expensive for you, you can still easily achieve the classic narrow, wide wood-look by opting for a siding with a board and batten design. This will not only be cheaper for the homeowners but can be easy to maintain since it is typically made in vinyl.
There are usually two lengths available for a board and batten siding, and that is the 12 feet by 6 inches with an 8 inches profile and the 10 feet one with a 7 inches profile.
Typical Board and Batten Spacing For The Exterior
Knowing the spacing for your board and batten will dictate the total outcome of its final look. The closer each of the battens are spaced together will provide more dimension and texture to your design.
While the further apart you place each batten will provide you with a more subtle look to your siding. An eight inch interval in the spacing will give you the best look overall.
Hardie Board and Batten Dimensions
Hardie boards and battens are some of the most used across homes in the US because of their look and durability. Most of the board panels available will have a size of 5/16 inches by 4 feet by 10 inches, while the battens are usually 0.75 inches by 2.5 inches by 12 feet.
Visit our gallery of wainscoting ideas for more related content.