Here we share our bathroom with black countertops picture gallery including different designs, pros and cons and types of black countertops such as quartz, granite & soapstone.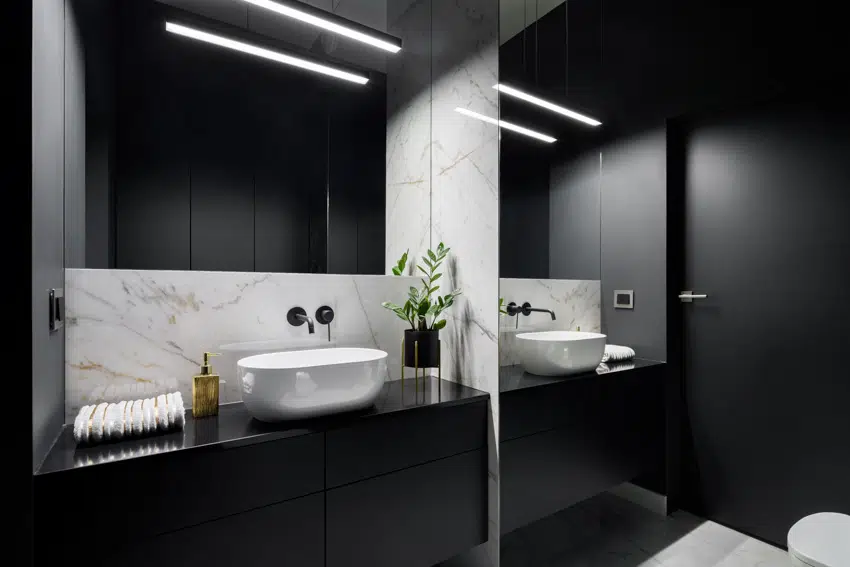 Black countertops always give off a sleek and sophisticated ambience and go with practically any design style, whether it be classic or modern. A black bathroom countertops elegant look and variety of tones, textures, and patterns make it a really attractive option for bathroom countertop material.
Pros And Cons Of Black Countertops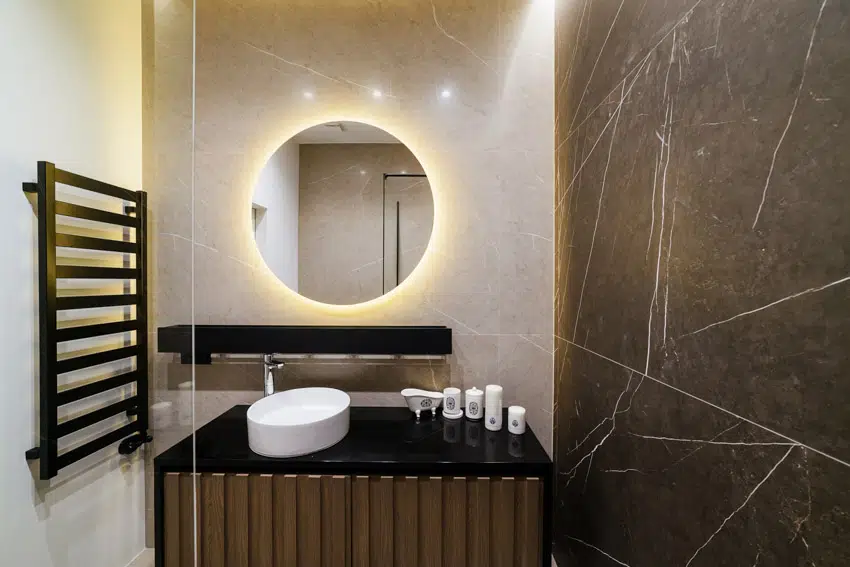 Here's our list of the pros and cons starting with the advantages.
Pros Of Black Countertops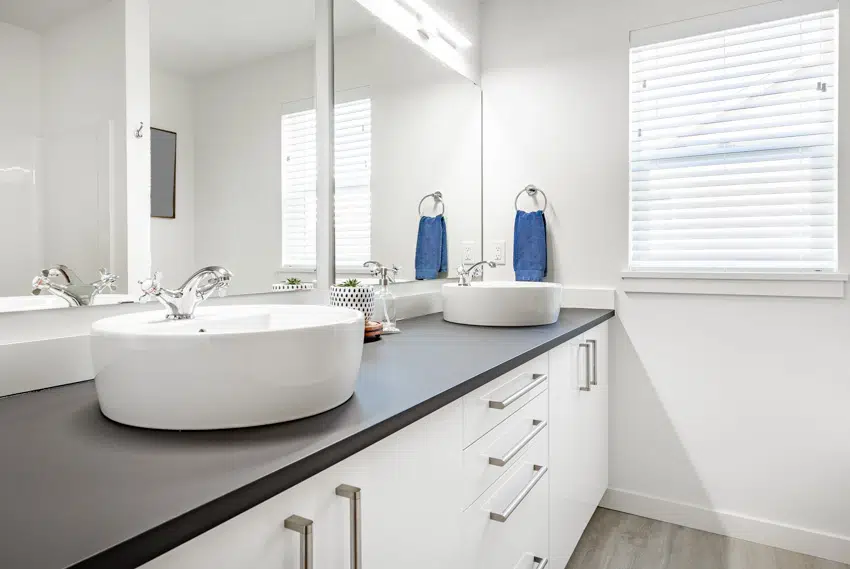 Attractive design: The stylish simplicity and accessibility of bathroom with black countertops make it a very popular choice amongst developers and homeowners.
Hides dirt and stains: Aside from that, black is favored for its ability to mask stains and dirt (because of its dark color), making upkeep and maintenance easy.

Can provide an interesting room contrast: When used with whites and other lighter color cabinetry a black countertop can create an appealing contrast. Black countertops can be used for traditional or modern designs with great results.
Black matches well with other finishes and colors: These are a wide assortment of different types of countertops in a variety of black shades. These can be paired with many other colors and finishes with great results.
Cons Of Black Countertops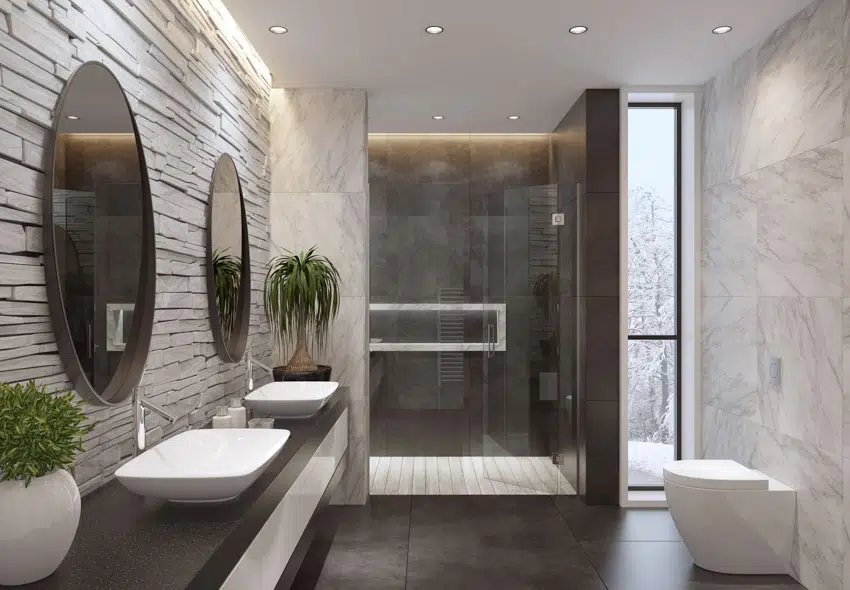 Soap Residue is very visible: The main con of black countertop would also be related to its pros – because of its dark color, you will not immediately notice the dirt and stains.
This makes it hard to clean right away, and white-colored stains, such as dried toothpaste or shaving creams commonly found in most types of bathroom vanities are very visible.
Shows fingerprints and smudges: The other con of black countertop would be fingerprint marks, especially if you get a plain black glossy countertop.
Dark colors can make a room feel smaller: If you already have a small space than a dark color countertop may make the space appear smaller than it already is.
Types Of Black Bathroom Countertops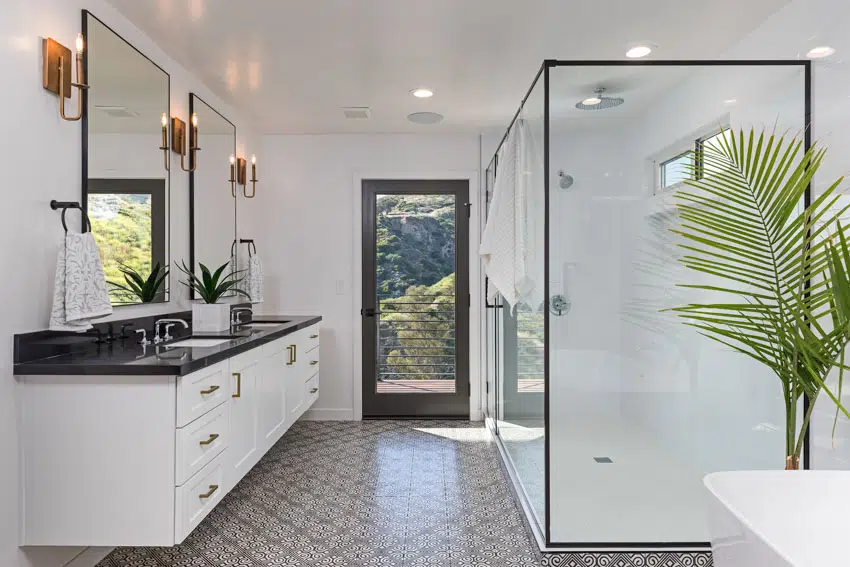 Here are some of the most popular types of black countertops to choose for bathrooms.
Black Granite Countertops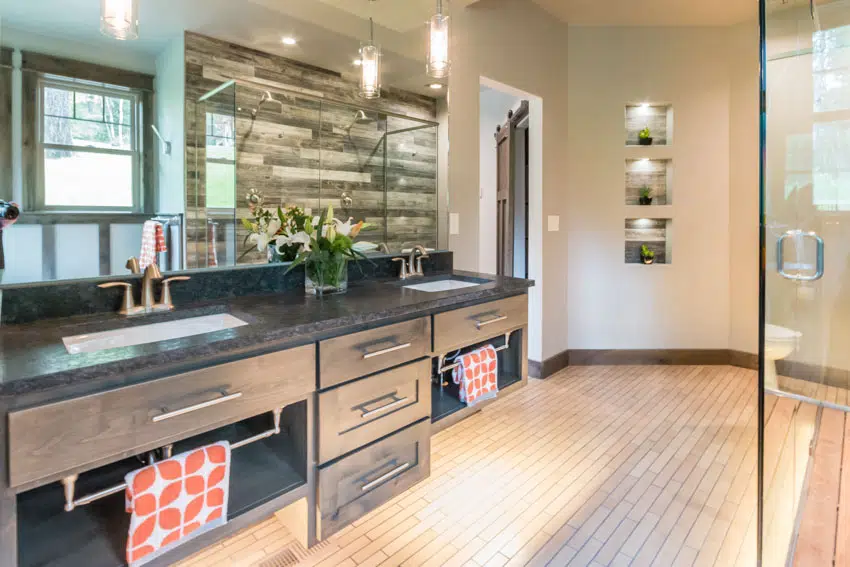 Black granite is highly accessible and is probably one of the most common black countertop options. But not all black granite is made equal, and the price will vary depending on the country of origin and quality of the stone.
Depending on the type of granite and its place of origin, there will be variations in color and grain patterns, as it is a natural product. The most common black granite would probably be Black Galaxy, which is black speckled with gold and white.
If you prefer a less dark color or leaning on a cool-black color, then Ubatuba from Brazil might be a good choice for you as it has splashes of black, gold, gray and green.
Granite is also very durable and less porous than Marble, so it is a good choice of material for a bathroom countertop that is always exposed to moisture.
If you'd like to use black granite bathroom countertops, it will cost you anywhere between $20 to $70 per square foot, depending of course on the size and type of granite you select.
Black Quartz Countertops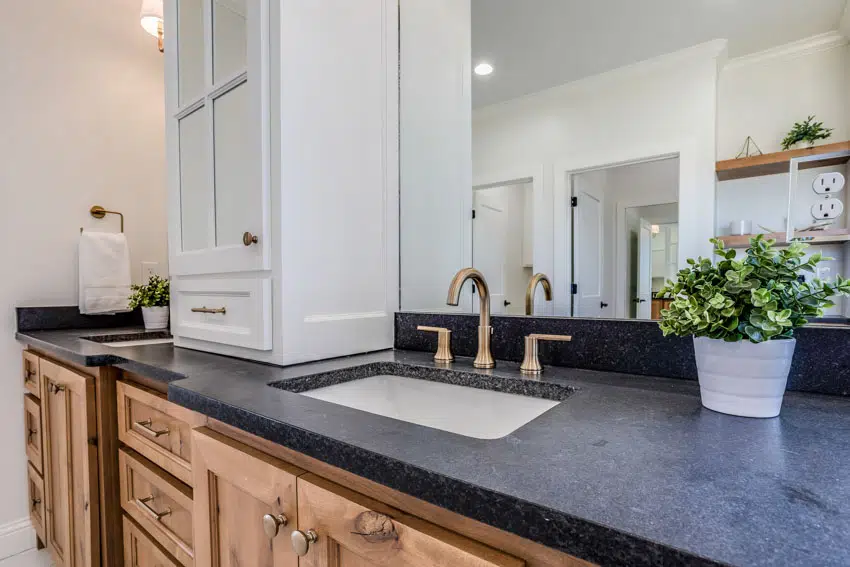 Quartz is also an excellent choice if you want to have black quartz countertops. These are more durable than Granite and are non-porous so you won't have to worry about molds or bacteria that will collect inside its pores.
Do note that, unlike granite, quartz is man-made and 10% of it is made from resins, polymers, etc, which also helps in its durability. But because it is man-made, it, of course, lacks that natural beauty and elegance of a natural stone.
It would also probably have fewer variations than a natural granite would so do consider that when choosing. Also, quartz can get really expensive so expect to shell out between $50 to $200 per square foot.
Soapstone Bathroom Countertops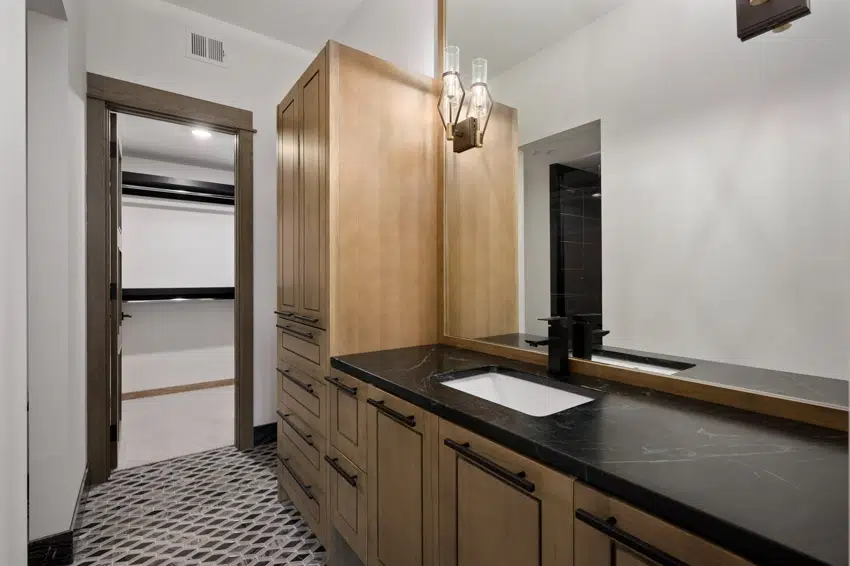 If you want a more rustic yet elegant feel to your bathroom, then a soapstone countertop might be the perfect match for you. Just like granite, this is also a natural stone so it will have a lot of natural variations.
Like quartz, soapstone is also non-porous so you will not have any issues with stains, bacteria, and mold. But the biggest issue with soapstone bathroom countertops that you need to remember, is that although they don't crack easily (and will less likely crack than granite and quartz), they do get scratched more easily because it is softer than granite and quartz.
So if you're a bit conscious of scratches and imperfection marks, keep that in mind. It also needs regular maintenance to maintain its look. On average, a soapstone countertop would cost you anywhere between $45 to $85 per square foot.
Black Laminate Countertops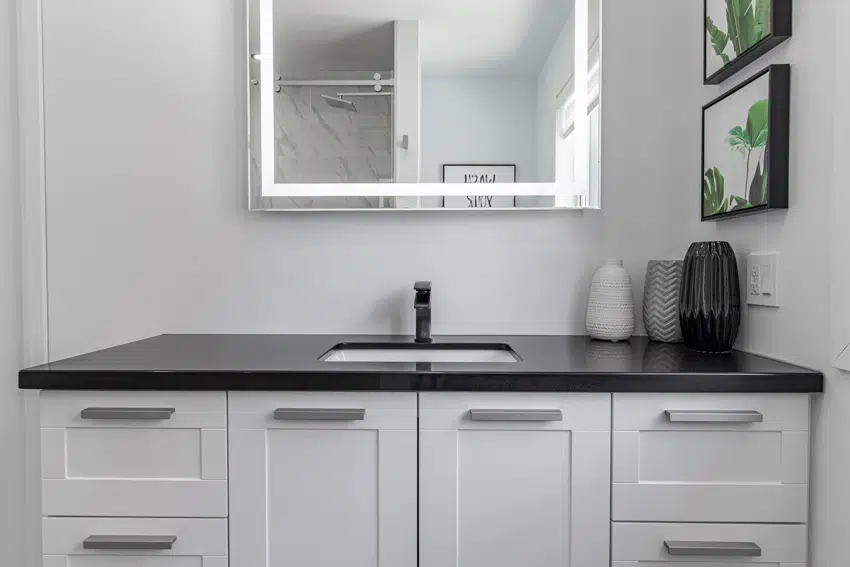 If you find that granite, quartz, and soapstone are out of your budget, then you might be considering getting a black laminate countertop instead. Modern laminate countertops come in a plethora of colors and finishes that mimic natural stone.
Looks-wise, you won't be missing out. Just like any other material, though, it does have its pros and cons. While laminate countertops are very cost-effective, easy to maintain, and easy to DIY, their few caveats include low heat resistance (although it shouldn't be a problem in bathrooms), short lifespan, and repair.
Once the color fades or the surface cracks, it's difficult to repair it, whereas stones can be ground down and re-polished to fix cracks or dents. It is around $10 to $40 per square foot, so if you're a bit tight, this is the perfect option for you.
Bathrooms With Black Countertop Ideas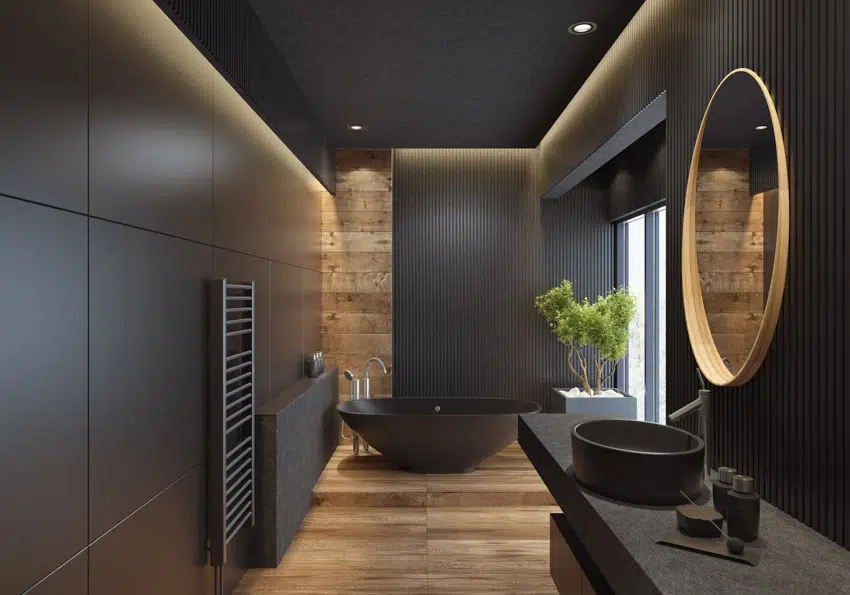 This gorgeous floating vanity features black granite covering the whole floating surface. Adding a gap between the countertop surface and the lower storage unit, further gives a feeling of "lightness".
The use of wood look tiles on the floors and walls also helps make the black color stand out. This is a great choice for those who love contemporary designs.
The luxurious black bathrtub with matching slat wall looks elegant with contrasting wood wall accents and an indoor planter with a small tree.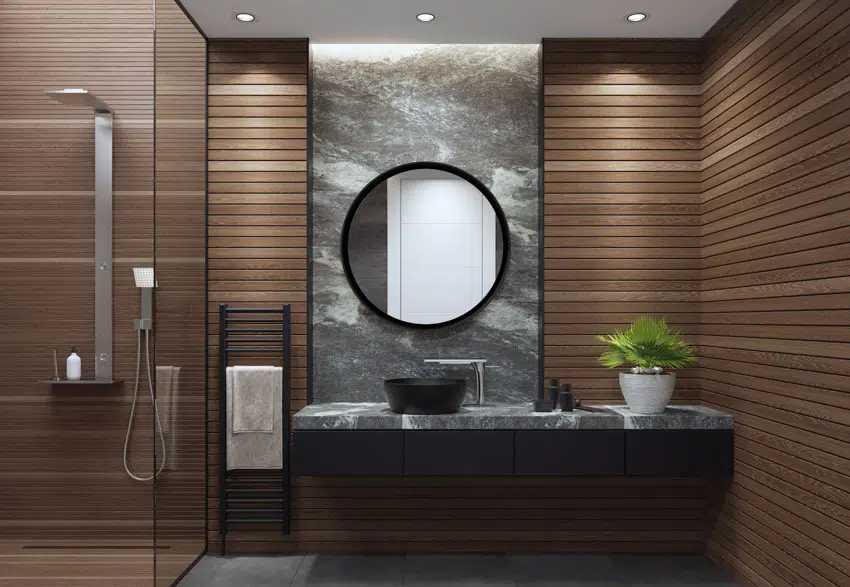 Another gorgeous combo that features wood and black, this floating vanity uses black marble for the countertop and uses the same material to clad the wall where the mirror is hung.
The horizontal wood cladding used on the walls and the black granite and black laminated vanity complement each other well and help each feature stand-out.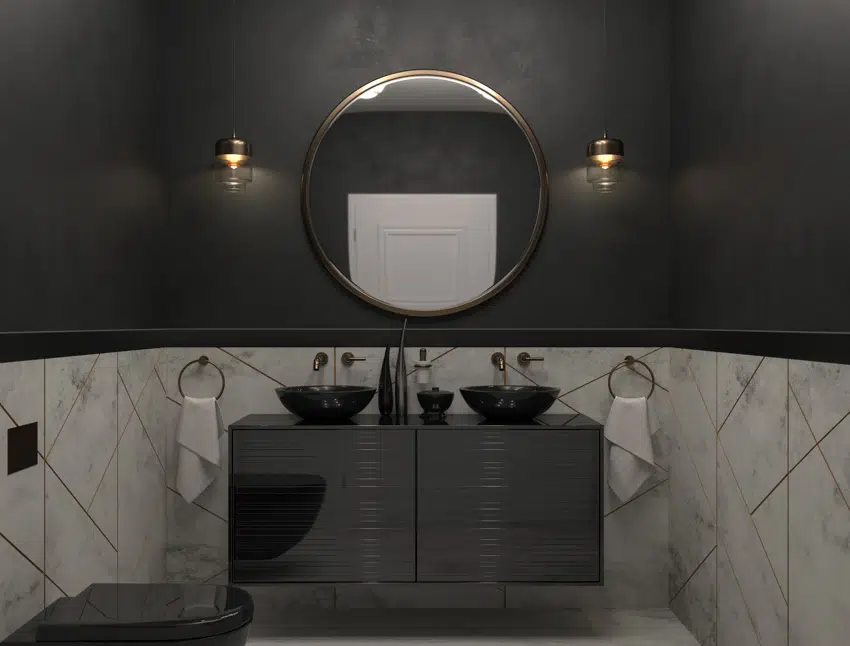 This floating vanity uses a glossy laminated countertop, to match the glossy texture of the whole floating vanity piece. It is complemented with a pair of vessel-type sinks, and the white marble tiles on the floors and walls make it pop out.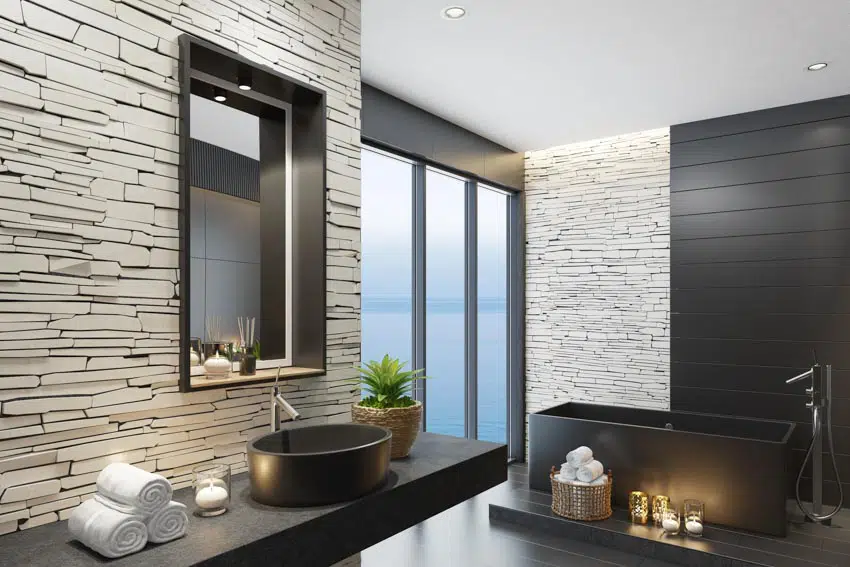 If you prefer to keep things simple, perhaps a quartz-clad floating vanity (without lower storage) would be a good choice. Pair it with a nice vessel sink and you have a minimalist vanity counter that still manages to look posh.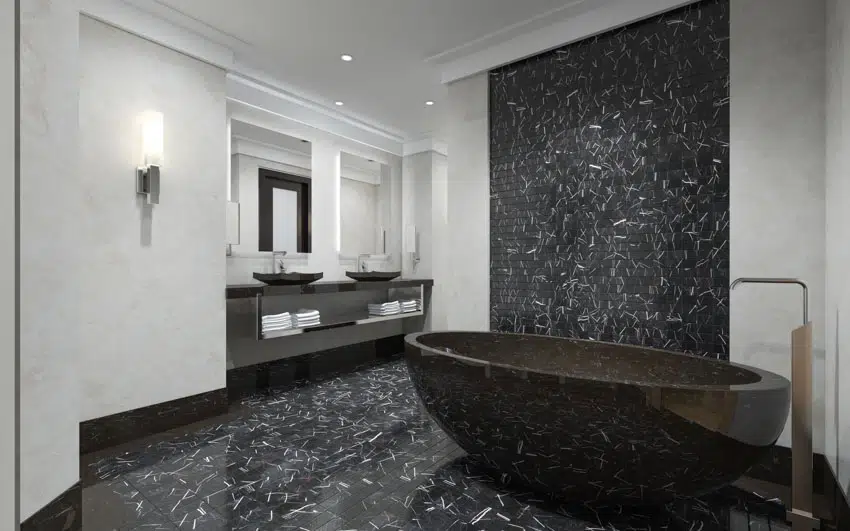 This bathroom design uses a lot of blacks and whites. The material is extensively used on the floors and walls, and of course, the vanity countertop is included. Walls use plaster paint in white to keep the space looking bright and to balance out the blacks.
For the countertop, black galaxy granite was used, to which a floating stainless steel open shelf is connected, to complete an elegant contemporary look. An elegant natural stone tub makes an exciting focal point with its oversized design and accent wall backdrop.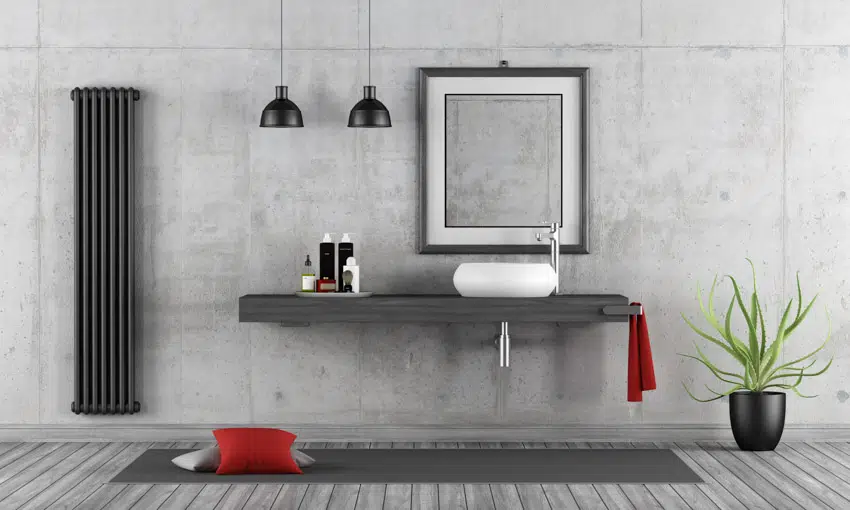 This design highlights the beauty of soapstone. By cladding a concrete slab with soapstone and designing a floating type of countertop with no storage, you will be able to appreciate the material more with no distractions.
This shade of soapstone is an excellent choice for people who are not a fan of deep blacks, as this is more on the dark gray color spectrum.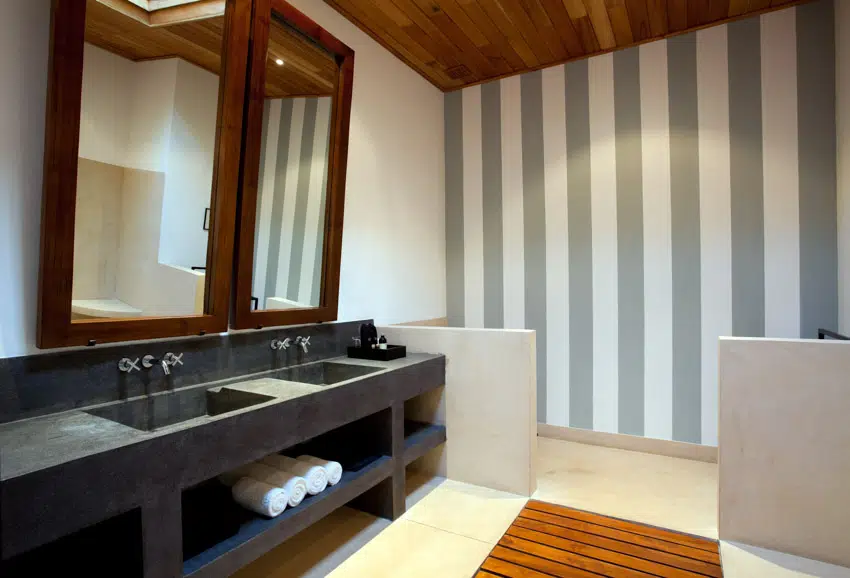 This is another gorgeous example of soapstone, but with a more tropical-industrial vibe. The whole vanity is clad in matte finish soapstone for a more rugged look, and even the double bathroom sink is just carved out of the countertop to make it look like it was sculpted from a giant slab.
A stained shiplap ceiling matches the other wood accents and teak floor boards next to the shower with pony walls.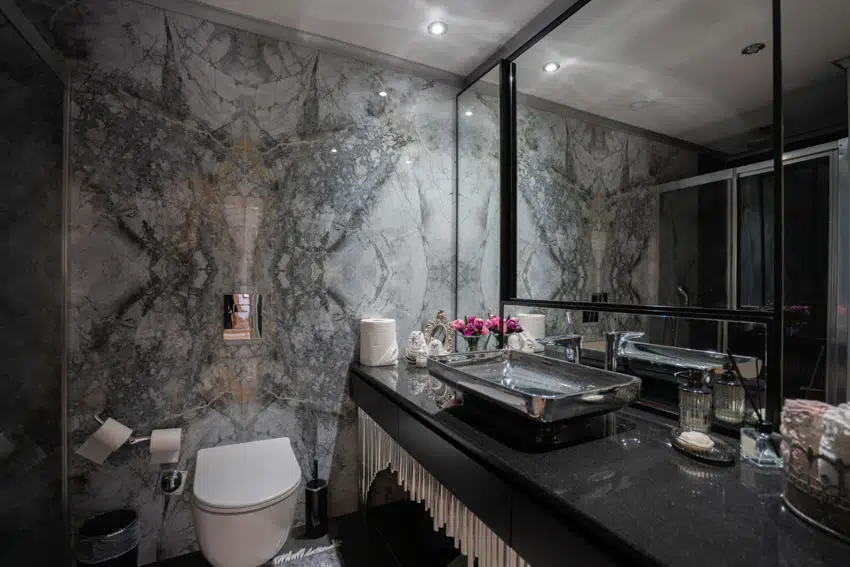 This eclectic bathroom design features black galaxy granite countertop to complement the bold silver vessel sink and the book-matched marble accent wall.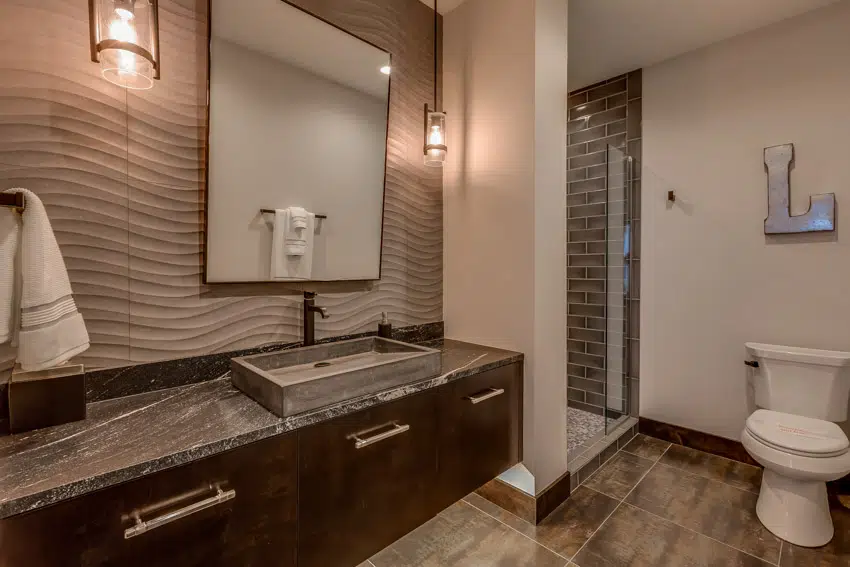 This gorgeous granite used in this vanity has bold specks of white, giving it a very unique, rugged vibe to complement the "rusty" finishes chosen for the floors and laminates.
Are Black Bathroom Countertops Hard To Keep Clean?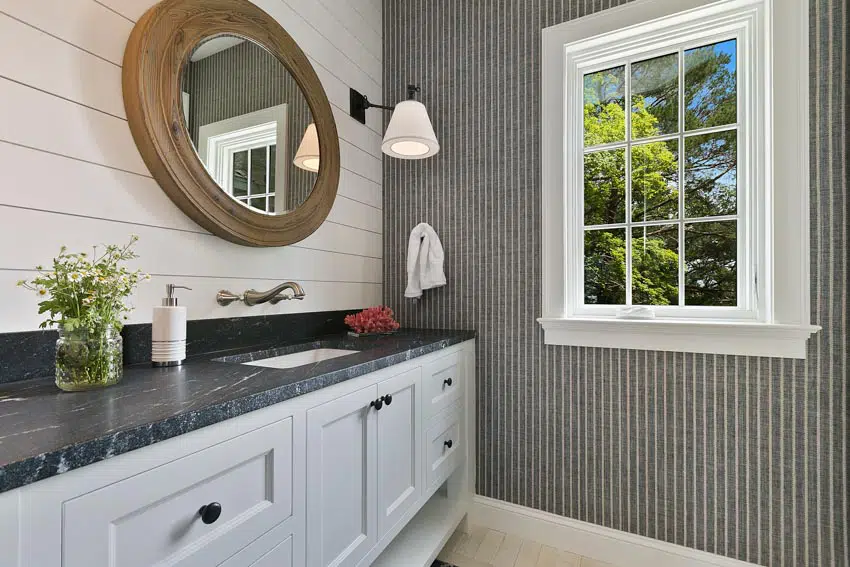 Black countertops are fairly easy to maintain. Just keep in mind these two important things:
1. Material: The cleaning and maintenance methods will vary depending on the material you are using for your countertop so use the recommended care and maintenance for your surface
2. Black masks dirt: Bathrooms are prone to moisture, and different chemicals spilling and using a black countertop can help mask vanity tops which helps keep a clean look in your bathroom.
Because it's black, it will be hard to see dark stains and dirt, so you should keep in mind that it might be dirtier than you think it looks. Keep a regular cleaning schedule to make sure you're not accumulating molds and germs, especially if you have a granite counter!
See more related content in our article about matte black bathroom fixtures pros and cons on this page.