This clawfoot tub feet types gallery showcases the different styles, their design features, materials, and how to install feet on a clawfoot tub.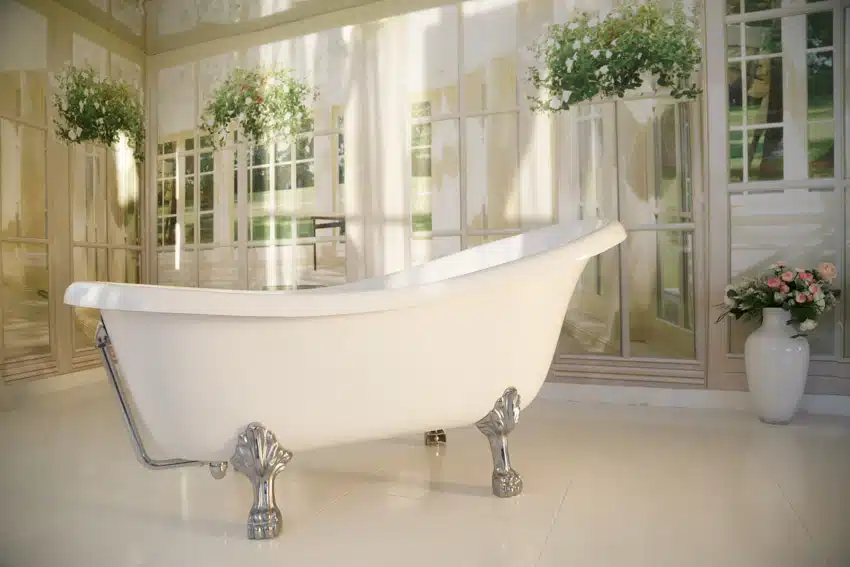 Clawfoot tubs come from simpler and, at the same time, grander times. It comes as no surprise that it's pretty popular even in today's modern bathrooms. There's something about these luxurious footed tubs that really are the epitome of style and design.
This classic is making a comeback these days, revamping the grace and elegance of past eras. If you're up for adding a dash of luxury to your home bathroom layouts, you should keep clawfoot tubs in mind.
Since the latter part of the 1800s, clawfoot tubs have been considered high-end luxury items in the bathroom. They started out as made out of a cast iron basin encased in porcelain. These materials are costly.
However, today's contemporary designs for clawfoot tubs also started producing them in more practical and affordable materials such as acrylic and fiberglass coatings. These days, anybody can afford a lovely clawfoot tub that fits right into their budget, whatever it may be.
Coming upon the decision to actually get a clawfoot tub installed in your bathroom really is the first step. It may not be something you would think about right off the bat, but once you get to that point, remember that that happens to be a significant redesign decision.
The next step is to pick out a tub design that aligns with your personal style and aesthetic preferences. Make sure that you keep sight of how much space you actually have in your bathroom. It's important to know, especially if you want to get it done right.
One feature of the clawfoot tub that makes it stand out from the other tub designs would have to be the feet. The kind of design your separate clawfoot tub delivers will depend heavily on what type of tub feet it has.
Types of Clawfoot Tub Feet Styles
There are different types of clawfoot tub feet, from the popular ball and claw feet to the cannonball feet, the lion paw feet, and so on.

Ball & Claw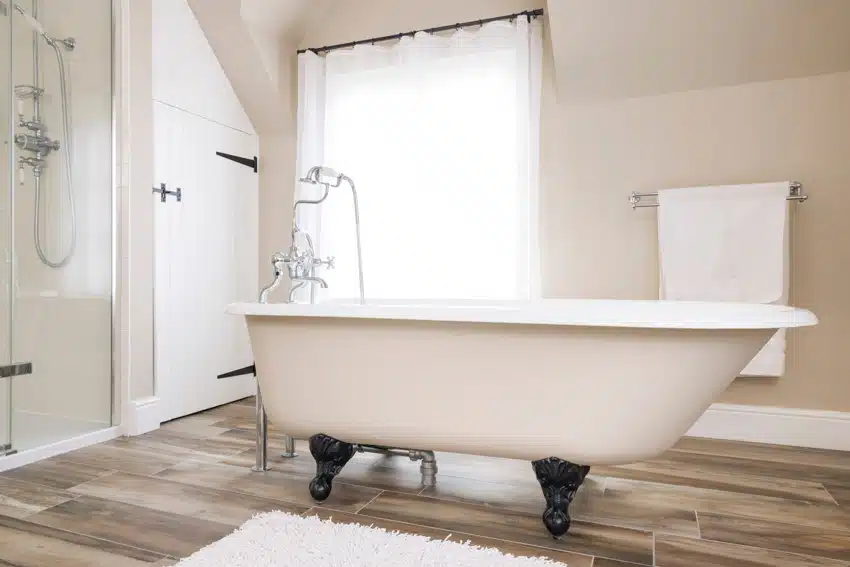 People typically think of the ball and claw feet the moment that a clawfoot tub idea comes to mind. As the name suggests, it looks like a ball and a claw. There are traditional designs of this foot type, but there are also modern variations.
This foot's design is mainly known for its ornate appearance. It resembles an eagle's talon holding a pearl or something relatively round in its mouth. Another moniker for this foot design is the "eagle ball and claw" feet.
These feet design is an elegant and classic choice. This design can be made of gold, polished brass, bronze, aluminum, or any other metal finish.
The most common ones in the market are those that are made out of either aluminum or heavy cast iron. These days, it can come in more modern variations such as copper, pewter, or stainless steel.
Lion Paw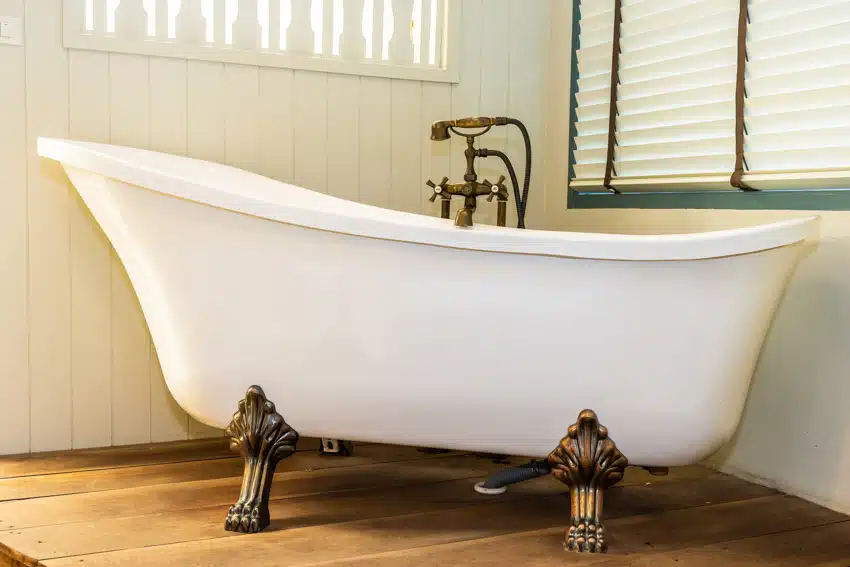 Another classic clawfoot tub feet design is the lion paw foot. This design, on the other hand, was popularized in Europe. Perhaps because it has more European roots as it resembles the paw of a lion.
Opting for lion feet for the feet design of your clawfoot tub is a great way to achieve that Old World charm and regal elegance. It is also available in several finishes, from brass to polished nickel and even chrome.
Like the ball and claw feet design, the lion paw feet are commonly made of aluminum or heavy cast iron.
Imperial Feet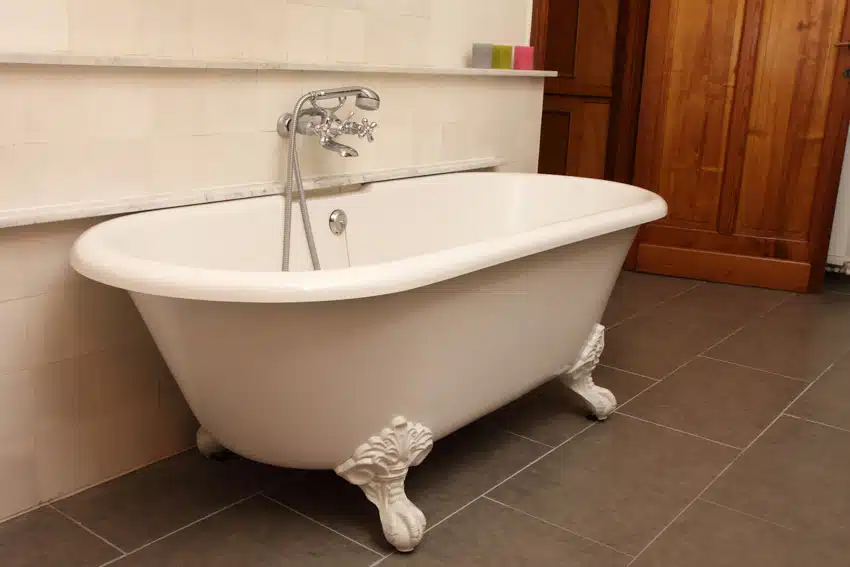 The imperial feet design can lend flair to your overall clawfoot tub aesthetics. It is generally similar to the traditional ball and claw design with some Chinese design influences.

Conventional freestanding types of bathtubs can significantly improve their appearance by adding this type of foot design into the mix.
What's great about this particular design is that you can adjust accordingly. Pick out the type of material and finish the feet can be made out of for it to better suit the way that it makes your bathroom design turns out.
Cannonball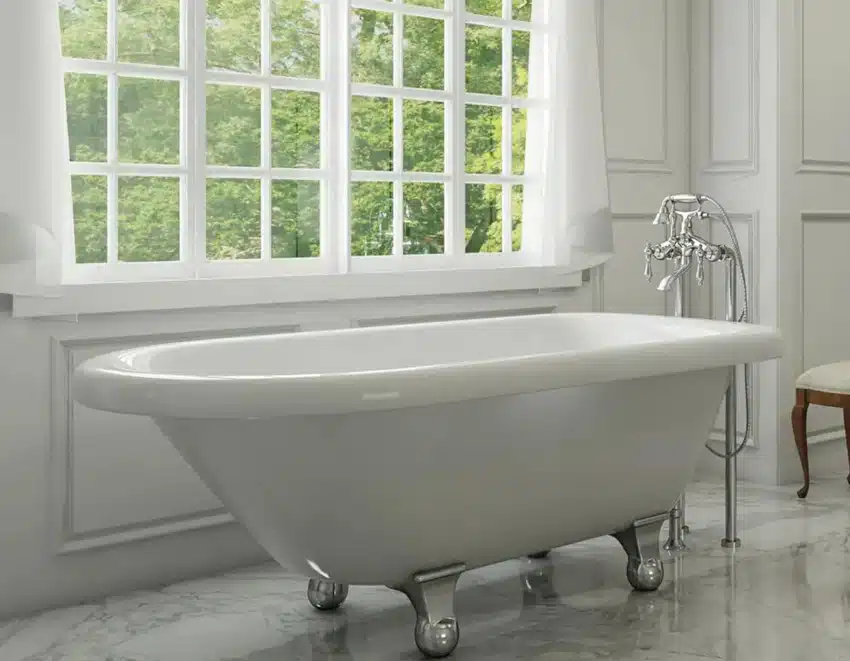 See this cannonball clawfoot tub feet set at Home Depot [sponsored link]
The cannonball feet design is an excellent option for a clawfoot tub if what you're after looks simple and neat. Because it looks so clean and classy, it can go nicely with any style, color scheme, or even tile pattern in the bathroom.
Making your bathroom décor more streamlined and cohesive is easy to accomplish with this foot design holding your clawfoot tub up.
The cannonball design is a far more contemporary approach to clawfoot tub feet. The name gives it away, but it is shaped like a cannonball and resembles one. Aesthetics aside, this foot design serves a more practical purpose.
Suppose you're worried about your tub feet eventually rusting due to age or cracking from the weight of the tub and the water. In that case, this cannonball design will work for you as it can support a tremendous amount of weight while also being less susceptible to rusting and water damage.
Leaf Shaped Feet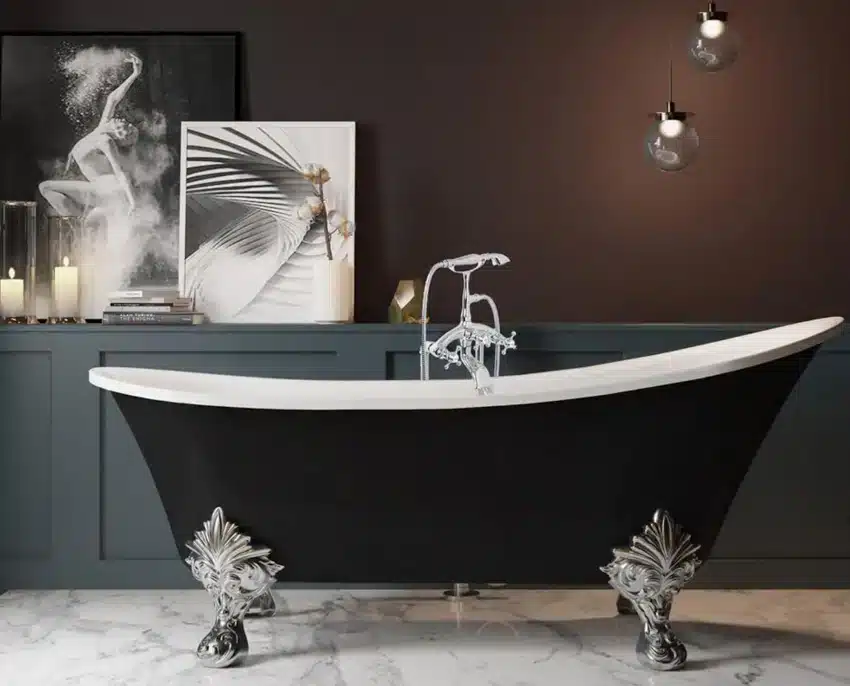 See this leaf shaped clawfoot tub feet set at Home Depot [sponsored link]
The leaf-shaped feet design looks like (you've probably already guessed it) a leaf. It's an exciting and refreshing take on clawfoot tub feet designs. It's also quite unique, intricate, and delicate.
Your clawfoot tub will look like it's being held up by a base of metal leaves. Nothing quite compares to the kind of effect it delivers. This type of foot design is available in either polished nickel or chrome.
Armada
The Armada feet design took its inspiration from naval shapes. It differs significantly from the other feet designs because instead of having balled edges, it has naked, flat wooden surfaces anchoring its base.
Another prominent feature that makes them stand out is that they have a much lower height compared to the rest of the other tub feet designs. This allows for offering better sturdiness and stability to the tub.
What Are Clawfoot Tub Feet Made Of?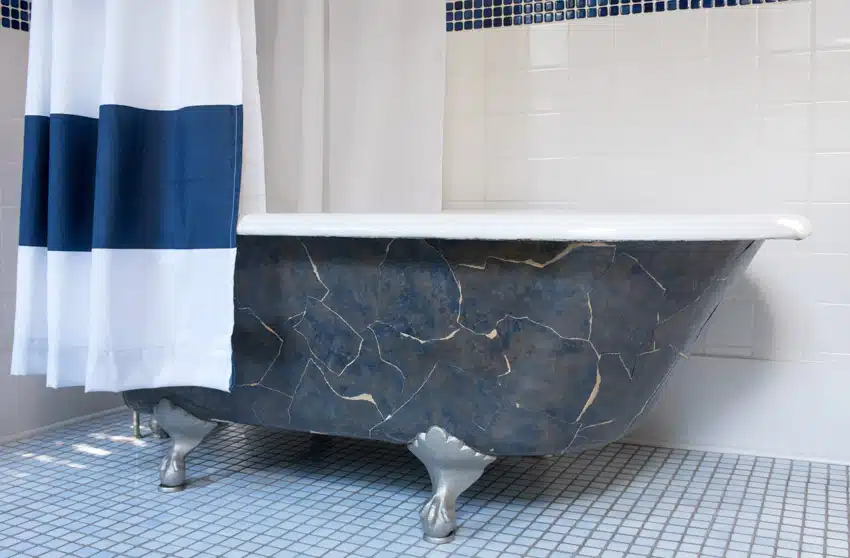 Clawfoot tub feet can be made out of myriad readily available types of metals. As previously mentioned, they are most commonly made of cast iron or aluminum.
However, special ones can come in many standard bathroom finishes, such as polished chrome, brushed nickel, brass, and even oil-rubbed bronze.
Cast Iron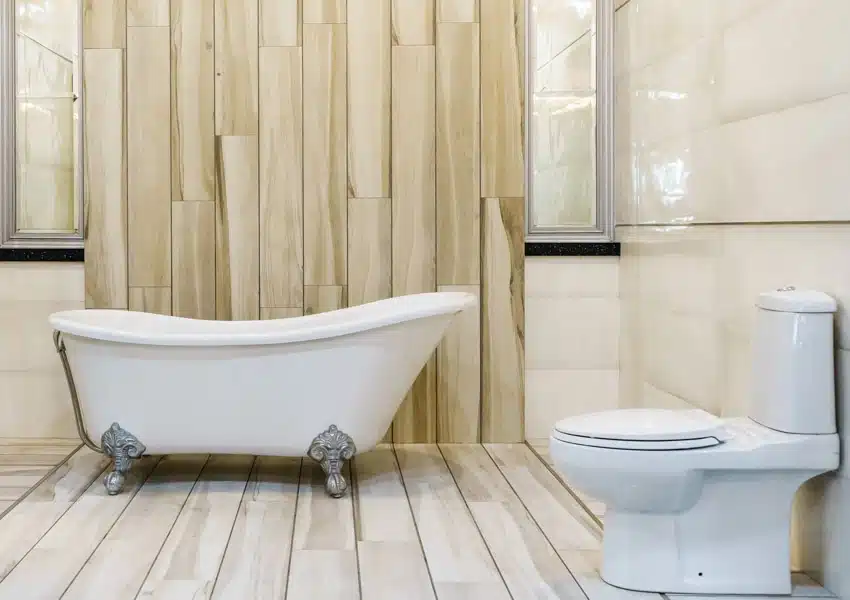 For tub feet made of cast iron, the metal is typically melted, poured into molds or castings, and let out to cool and harden. Cast iron can be made out of iron or steel. Common iron types used for casting are grey iron, malleable iron, and ductile iron.
There's also another particular type of material that's a combination of alloy and carbon steel. Steel castings have less than 2% carbon content, whereas cast iron is higher than 2%. And although they look pretty different on the outside, their chemical composition is relatively close, almost identical.
Aluminum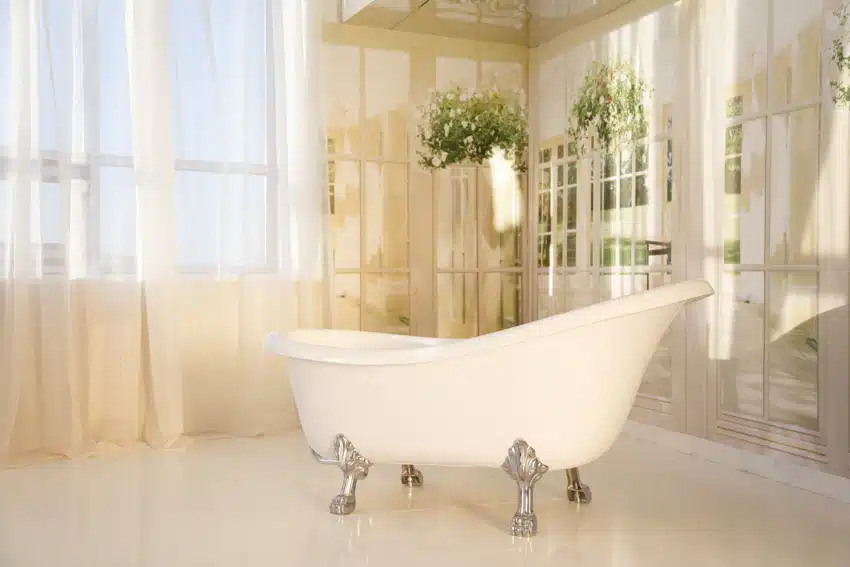 Aluminum is the most readily available and abundant metal in the Earth's crust. It's ductile, malleable, and soft. More importantly, it's considered a relatively long-lasting metal. It stands out due to its ability to resist corrosion and even has high thermal and electrical conductivity.
It's more expensive compared to other regular metals because it's theoretically nontoxic and recyclable without running the risk of getting its inherent qualities altered during the melting process.
Polished Chrome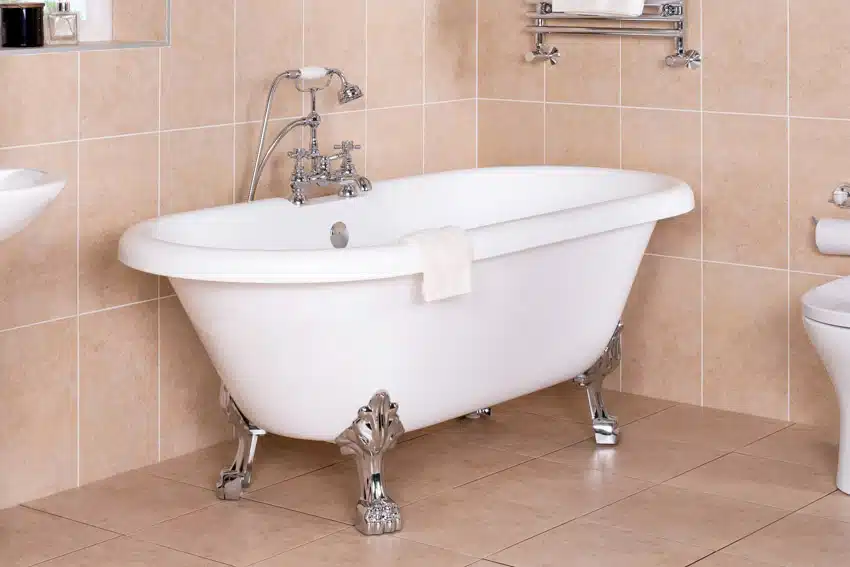 Another common material that clawfoot tub feet are made of is polished chrome. It's typically used to plate steel and brass. Once plated, it is then polished into a smooth mirror finish. Chrome takes on a silvery cast, especially once rigorously polished into a high shine.
It's flexible and can be used to coat other metal materials. Truly polished chrome will not corrode or rust. It also has the added benefit of making your clawfoot tub feet look new even as the years go by.
Brass
Brass is a type of copper alloy that has been toughened and further reinforced with the addition of zinc. It has a much improved tensile strength and can better withstand pressure, erosion, and corrosion compared to most other metals.
When mixed with a little bit of lead, brass becomes more malleable. It makes it easy to forge, stamp, or even mold them, making these brass bathroom fixtures a popular choice amongst homeowners.
Suppose you're looking for affordable and mass-manufactured clawfoot tub feet. In that case, brass can be a solid contender for you to consider.
Copper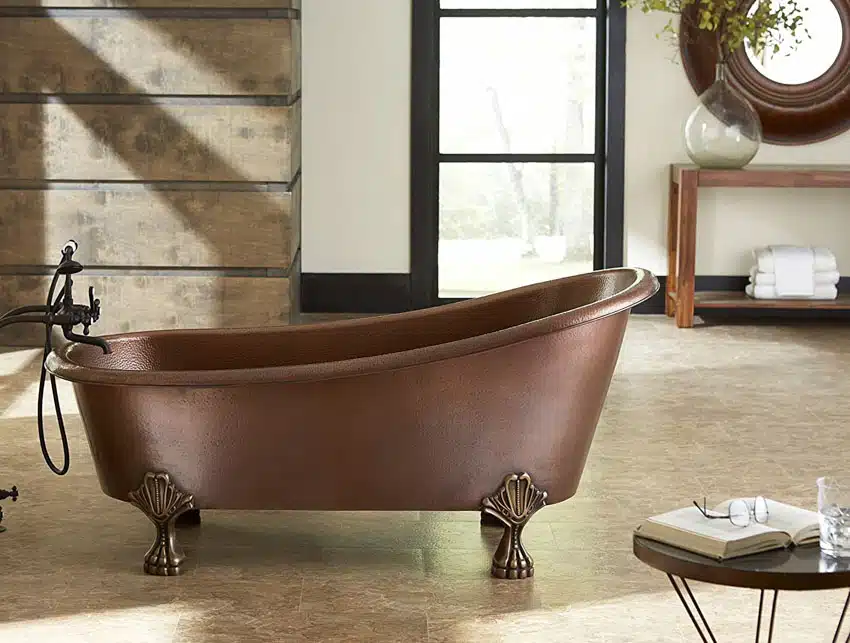 See this freestanding copper tub at Amazon [sponsored link]
Copper is another excellent material to consider for clawfoot tub feet. Copper oxide corrosion provides a protective surface coating the moment it contacts water. This means that your clawfoot tub feet will continue to look great and uphold their structural integrity for prolonged periods.
One thing to note, though, is that copper only works well when exposed to pollutants such as sulfides and ammonia. It may exacerbate the corrosion process and may even prevent the material from forming a protective oxide layer that helps it combat corrosion.
So, although it looks great and tends to look even better with time as it tacks on a patina to the metal, proceed with caution when considering this material, or even a copper tub itself.
Brushed Nickel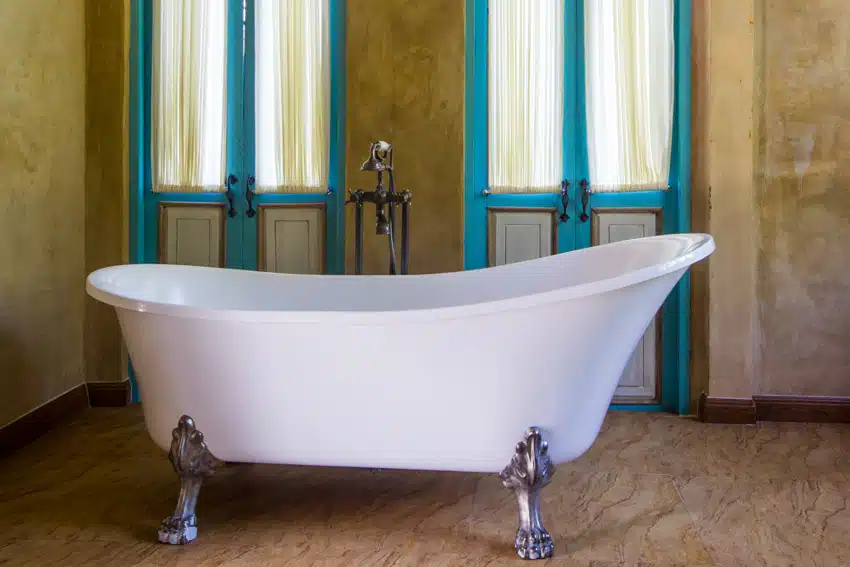 Brushed nickel is another excellent material to consider for clawfoot tub feet. They're highly functional and widely available. There have been instances wherein they have been put head to head with polished chrome.
Compared to chrome, brushed nickel has a sheen that has less luster. If you aren't into the flashiness of polished chrome, brushed nickel may be your preference.
It's a good midpoint between polished chrome and stainless steel. It looks great on any tub and becomes even more attractive as it ages.
Bronze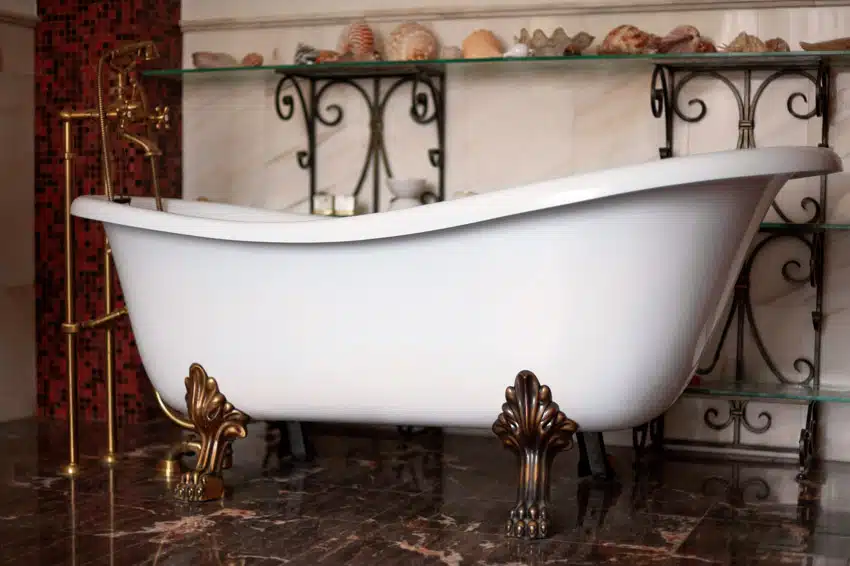 Bronze is a metal alloy constructed from copper and tin. One of its primary benefits is it has an exceptionally high resistance to corrosion.
On top of that, it has other qualities, such as being less prone to stress cracking, pitting, and even dezincification. Bronze is known to withstand the harshest conditions, even exposure to saltwater.
For these reasons, bronze clawfoot tub feet can hold up very well. A downside to bronze though is that the material's production can be highly complicated and time-consuming. This in turn explains why bronze tends to be a bit pricier than other metal materials.
Are Clawfoot Tub Feet Interchangeable?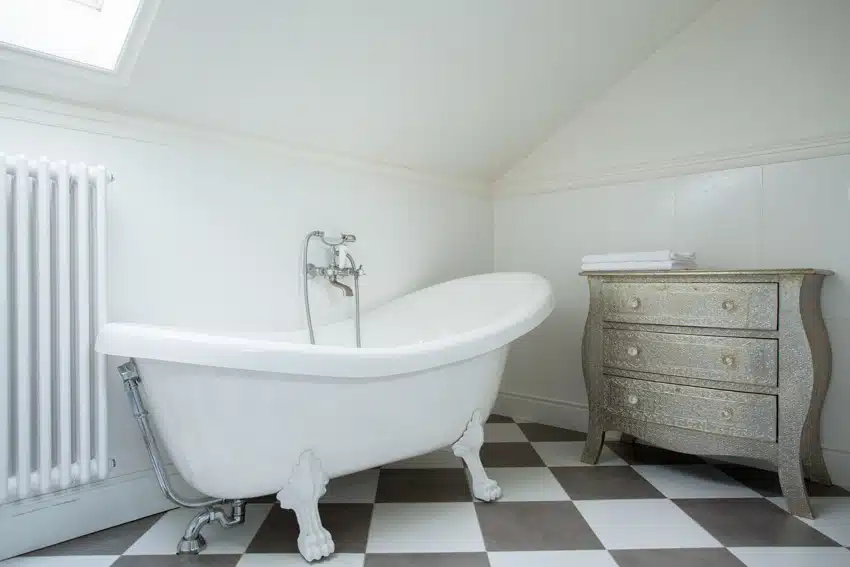 The short answer to whether clawfoot tub feet are interchangeable is no. clawfoot tubs traditionally have their feet built in the right along with the actual tub. It makes it impossible for you to interchange the feet for structural or design purposes.
It's worth noting that the more modern versions of the clawfoot tub can come with kits that allow you to change the feet. But these are exceptions to the rule and something you would have to confirm with the manufacturer before buying.
How Do You Put Feet On A Clawfoot Tub?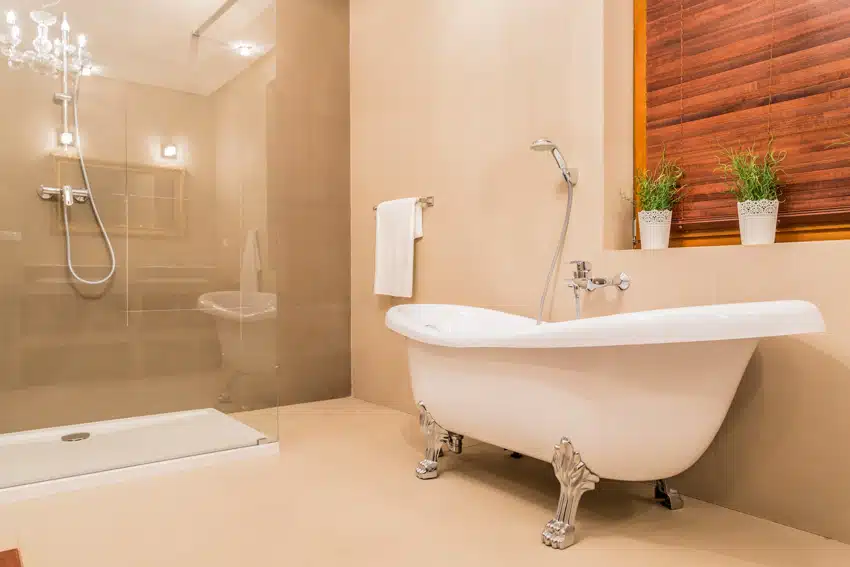 Having a claw foot tub and eventually missing some feet is a common problem. Finding replacement feet is challenging. Fortunately, there are recasting companies, which means you can have a brand-new bathtub set if you need one. However, note that new feet can come at such a steep price.
• Let's say you're thinking about refinishing your clawfoot tub, either on your own or with the help of a professional. You have the alternative of just swapping the tub feet out. Instead of fixing your current tub, replace it with a brand-new acrylic clawfoot tub.
• There have been a lot of instances wherein ordering and getting a brand new tub shipped out to you can cost so much less compared to looking for new tub feet.
• They can also be purchased pre-assembled and attached to the tub to restore it. If you want to know how to do it, here are the simple steps:
• Carefully position the tub with the bottom facing up on a pile of towels on the floor.
• To use one of the pods for mounting, insert a dovetail bolt into it. You'll need a mounting pod, an elevated object affixed to the base of the tub that features a slot carved into one side.
• You can then proceed to the actual installation of the tub feet. Water can't drain out of the tub if the feet aren't set up. See the different types of bathtub drains here for more details.
Even if the letters on your tub and feet don't match, you can still use these guidelines to determine where to place your tub and feet. Make sure that you read through the manufacturer's guide to make sure that you align the tub feet accordingly.

• Once the foot has been slid down, the flat washer, locking washer, and nut can be threaded onto the bolt. Do not over tighten the nut, or you might get the bold wholly stripped during the process.
• Once the feet are secured, flip the tub over so it is on its side. Don't ever try to lift a tub by its feet — just its rim.
• If the feet of the tub do not rest flat on the floor, you may need to shim them out with plastic. Remove each foot and insert a shim of the same material between the foot bolt and the nut to adjust the height of the tub feet.
The foot should be securely attached to the tub after being checked for proper placement. Cut off the excess plastic.
The instructions may sound complicated, but once you have the parts together, it's easy to piece them together like a puzzle.
Claw Foot Feet Types Infographic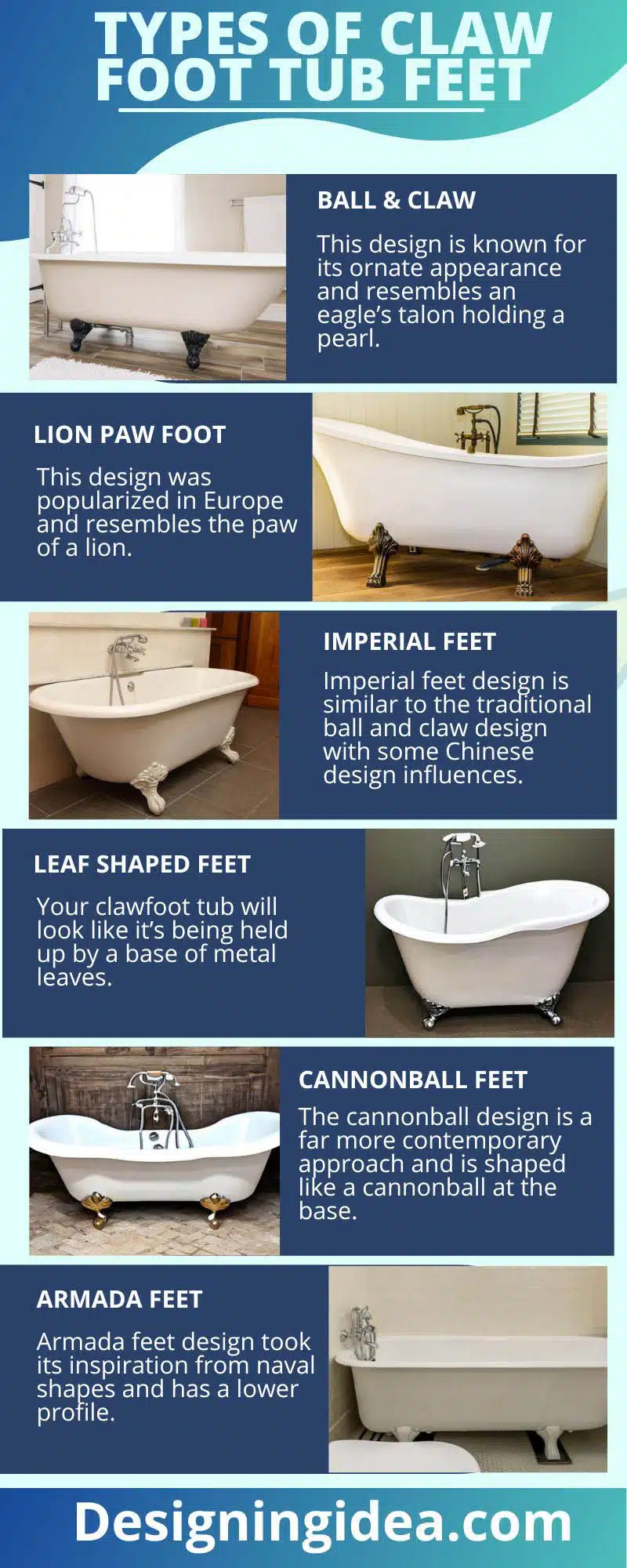 See more related content in our article about clawfoot tub dimensions on this page.