Here we share our Spanish style bedroom ideas including what it is, the different design characteristics, and ideal furniture, lighting, and decor options to consider.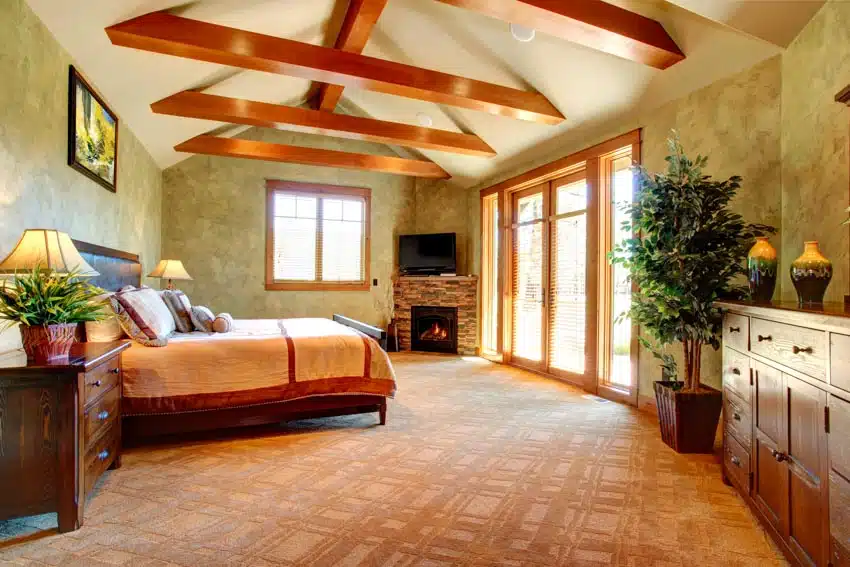 Styling and sprucing up a bedroom can be challenging if you don't have a clear vision of how you want it to look, as well as the vibe you want to feel when you're inside. One of the traditional and elegant styles you can consider for your bedroom is the Spanish style, bringing in different cultural elements that will take you to Spain.
Even after setting up a Spanish style bedroom, it can still get tricky to figure out precisely what you want. One thing you can do though is to explore and understand everything about Spanish style and how you can spruce up your bedroom using this style.
Start with the basics and learn what a Spanish style bedroom looks like and how you can incorporate some of the key elements of the style into your bedroom and home.
What Is A Spanish Style Bedroom?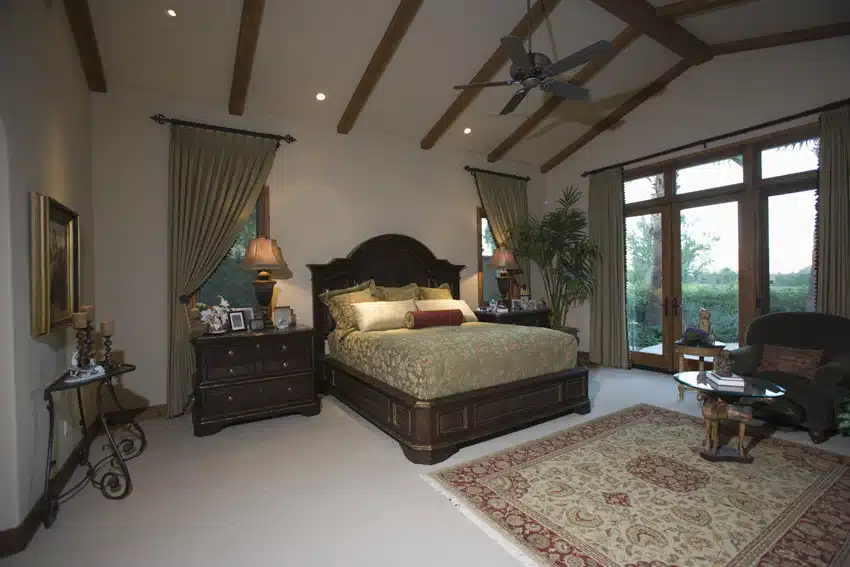 Drawing inspiration from traditional Spanish architecture and design elements, a Spanish style bedroom typically features warm colors, ornate details, and rustic textures that create an inviting atmosphere.
Here are some common features of a Spanish style bedroom:
Warm colors: Earthy tones like terracotta, clay, and deep reds contribute to the cozy ambiance of a Spanish style bedroom.
Ornate details: Wrought iron bed frames, intricate wood carvings, and patterned textiles add depth and visual interest to the space.
Rustic textures: Incorporating natural materials such as wood, clay, and stone creates a warm and aesthetic for a Spanish style bedroom.
Arched doorways and windows: Adding elegant arched doorways and windows is a common architectural feature in Spanish style bedrooms.
Intricate tile accents: The use of colorful ceramic tiles or hand-painted tiles adds pops of color and pattern to the room.
Exposed wood beams: To create a rustic and natural feel in the room, exposed wooden beams on the ceiling are often incorporated.
Prominent in many homes in the United States that were former Spanish colonies (Florida, California, Texas, New Mexico, and Arizona), the Spanish style is a timeless interior design style you can easily trace back to the 1600s when Spanish-influenced architecture was booming.
A Spanish style bedroom is associated with exposed wooden elements, from the flooring to the beams. The style may also include gray rugs and wall-mounted colorful abstract paintings, which are usually installed between two French windows.
Specific elements need to be combined in order to create a specific vibe and with Spanish style, it's all about this old-world feel of grandeur and cultural immersion into Spain. If you choose to incorporate the Spanish style into your bedroom, there are several types you can consider.
These types can differ based on different factors, from influences to prominent elements that define them. And the two major kinds you can look into are Spanish colonial and Spanish revival styles.
• Spanish Colonial: This style refers to the fusion of two cultures, including the Spanish colonizers and the Native Americans located in the Southwestern regions. Also known as the Mission style, the Spanish Colonial is heavily influenced by the old mission churches.
This style includes smooth stucco interior walls, terracotta tiling, natural stone application, and potteries. It also considers simple styling with rustic carved wood, metal accents, and stained glass.
• Spanish Revival: Recognized as the hybrid of old-country Spanish style, this style showcases classic elements. These include stucco materials, wood ceiling beams, and interior ceilings, dark carved wooden doors, and terracotta application mixed with the use of wrought iron. And finally, it features colorful patterns and both glossy and matte finish on their surfaces.
Characteristics Of Spanish Style Bedrooms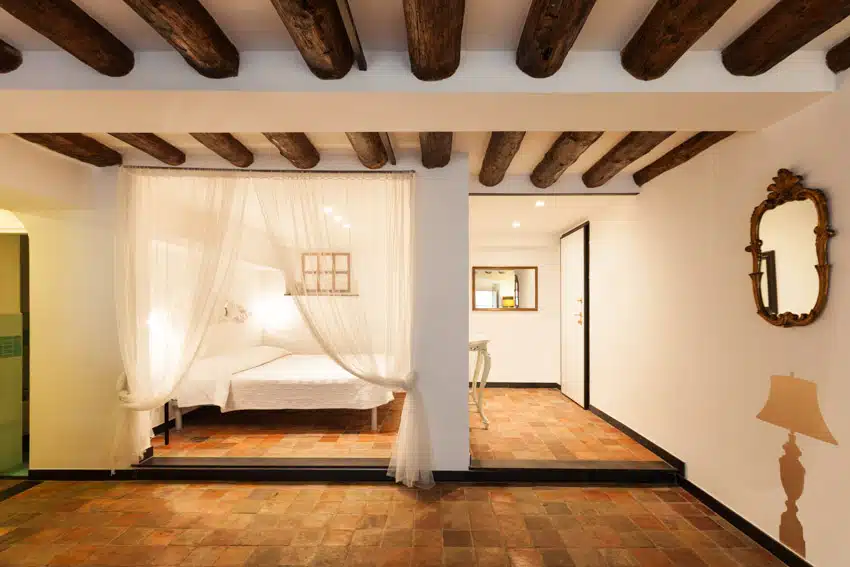 Designing a Spanish-inspired bedroom will require you to recognize all the different characteristics associated with the Spanish style. While there are no strict guidelines on how you can build a Spanish style bedroom, there are characteristics you go through one by one and consider integrating into your home to achieve the look.
To give you a vision of what a Spanish style bedroom usually entails, here are some of the popular characteristics you will find in one. While there is a great deal of freedom when it comes to mixing and matching elements for your Spanish style bedroom, there are specific elements that you can consider as basics, including the following:
Warm Colors Incorporation: From traditional to modern Spanish style, warm colors are constant in this style. These colors are incorporated in different corners of the room, from the stone walls to the flooring. For a traditional Spanish style look, red stone is more commonly used, which can pertain to terracotta clay or adobe brick.
The modern style though uses light-colored stone more like a white rock for the exterior and concrete for the interior, but this is balanced by elements in hues of red, brown, and oranges like the rug, lamp, and vases.
Besides being warm, the ideal colors for the Spanish style bedroom can also be described as earthy, welcoming, and vibrant. And your color choice won't be limited to neutral colors but instead will have more room for other options.
Wooden Element: Wood has always been a versatile material and with the Spanish style, it is an element that comes through a beam located across the ceilings.
You can also get wood accents using panels for your bedroom through the following:
• Relief carvings
• Wooden candle holders
• Picture or mirror frames with ornate detailing
• Carved wooden headboards
You can go with darker carved wooden furniture, as well as with the flooring to the ceilings (espresso-colored flooring will look wonderful with white stucco walls).
Wrought Iron: Usually in black, wrought iron is an accent element that's popular in Spanish interior design. This material can be used for the following forms:
• Candle holders (Elaborate candelabras)
• Frames of furnishings
• Metal sculptures
• Ornate mirror frames
• Unique lamps
• Magazine and wine racks
These are only some of the options you can integrate into your bedroom. You have the freedom to customize wrought iron into ornate accents and trims.
Interrelationship with Other Styles: The Spanish style can sometimes be mistaken for other styles because of its similarities with them, including French Country, Moroccan, and Tuscan styles.
Craftsmanship and architecture are somehow naturally similar in that they become common with each other but you have to pinpoint the elements that make them different.
One of the notable elements of the Spanish style is its incorporation of natural stone products in the home accents, including ceramic pottery and candle holders as well as copper and iron furnishings.
Play With Textures: A Spanish style bedroom makes use of texture to create layers in the interior of your space. Wall treatments are normally used to achieve Spanish-style interior design, resulting in different textures on the surface, including faux finish, sponge patterns, smooth textured surface, and brush strokes.
More than just creating layers in the aesthetics, texturing can also add warmth to your bedroom, especially through the flooring and with the use of dark grouting on your tiles. Some of the elements that can add texture to your Spanish style bedroom are the following:
• Stucco Walls: These walls are created by mixing sand with cement, plaster, lime, and water, making the solution pliable and easily molded into any shape you want. This durable material rose when the use of bricks became too expensive to get for the construction of homes in 1492.
Cost-effective and incredibly strong, stucco walls do not crumble unlike brick walls, and can even withstand earthquakes. You can even paint over your stucco walls without worrying about poison hazards.
• Painted Pattern Tiles: For a more utilitarian and decorative way to add texture to your Spanish style bedroom, you can choose to have painted pattern tiles for your flooring.
This addition easily adds color and makes a statement that can elevate the look of your bedroom. While extremely durable, patterned tiles can be costly and complicated to install.
• Terracotta Tiling: Another staple element in the Spanish style interior design, terracotta tiles offer these earthy tones that can add warmth to your bedroom and a rough and thick surface look that instantly adds texture and something bold to your walls.
The material is also easy to work with so that's another benefit you can enjoy if you choose to explore terracotta tiling.
Arched Doorways & Pathways: Finally, arched doorways are traditional for a Spanish style home. You can install one in the doorway of your bedroom, delivering a solid nod to the style you're using but also adding visual interest just by looking at your doorway.
Before you choose to build this arched pathway though, make sure to consider some of the important factors, including the overall size of the room, the height of the ceiling and its restrictions, and the light sources used from above.
Spanish Style Bedroom Furniture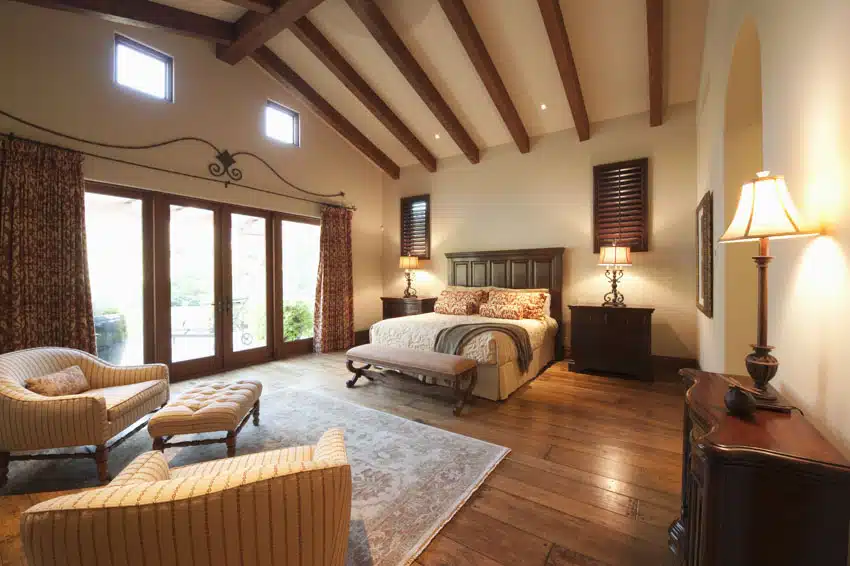 One of the factors you can focus on to incorporate Spanish style into your bedroom is the types of furniture styles you have inside. While the focus on basic construction materials, colors, and textures is important, details and accents also play an important role in achieving the aesthetics and vibe you want in your bedroom. And yes, your choice of furniture to use can help too.
For Spanish style bedroom furniture, using natural elements is vital to have this irrevocable connection to the earth (as depicted by many of the materials and colors used for walls and floors too).
The most common materials used for Spanish style bedroom furniture are raw materials and metals, including stone, wood, iron, and even ceramics for pottery and clays for tiling. Iron can be used more for ornate detailing.
Incorporating natural materials into Spanish style furniture is a challenging yet motivating task that many designers choose to dive into. The use of these materials helps them stay true to the style at the same time.be able to innovate and create new and unique designs that can be popular even today. The rampant use of wrought iron in accent pieces and furniture is also worth noting.
Spanish Style Bedroom Lighting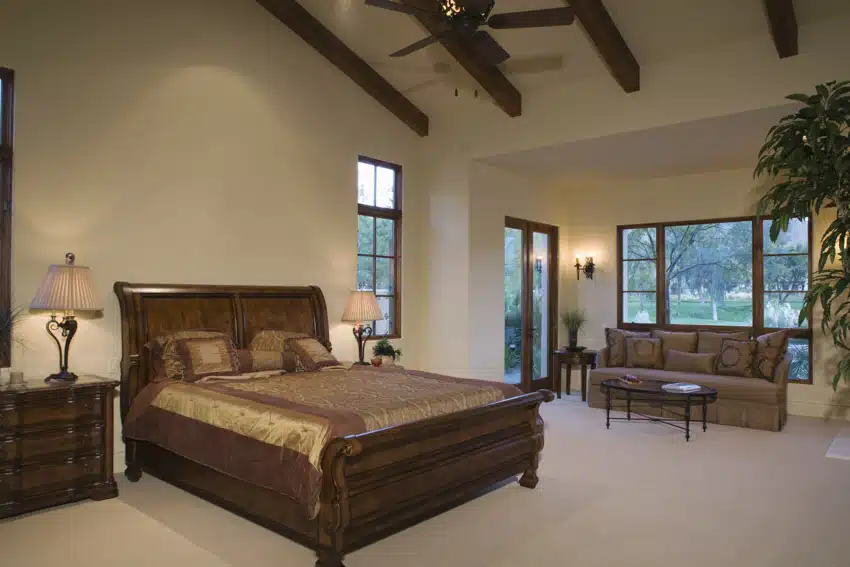 The lighting of your Spanish style bedroom needs to be bright to make up for the dark and warm look that is famous for this style. It is also not the usual lighting you find in other homes, especially if you want to achieve that Spanish style aesthetics and ambiance.
Besides the focus on bright lights, elegance and grandeur are two descriptions you can associate with Spanish style bedroom lighting. This can be possible by using stunning and unique types of lighting fixtures that can at the same make a statement. Two of the best options to go for are wrought iron chandeliers and Spanish pendant lanterns.
These two lighting fixtures can be hung from the ceiling, helping illuminate the entire space below. They can be chosen if you want that vintage feel to your bedroom and at the same time get that legit traditional Spanish decor look.
To add brightness in the corners and other spaces that might not be reached by these lighting fixtures, wall sconces can help and even serve as a visual addition to your walls.
Spanish Style Bedroom Decor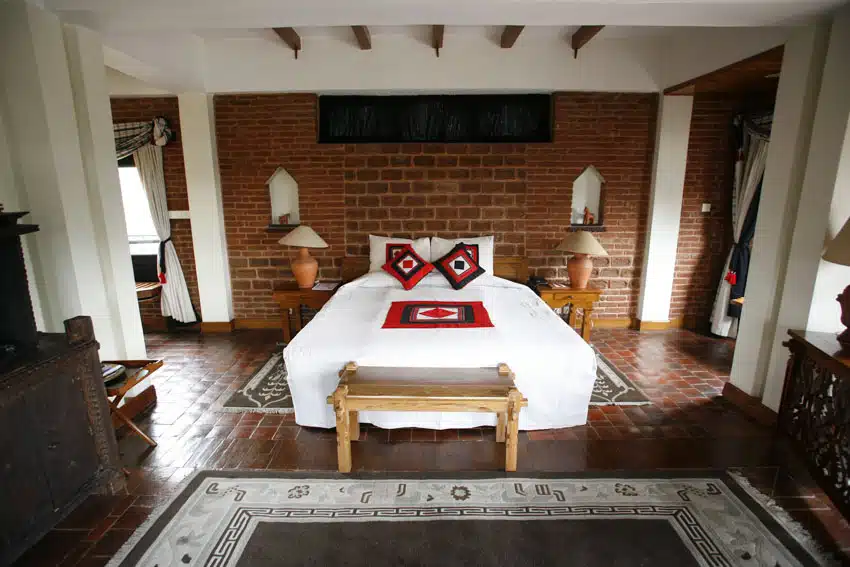 When considering the decor of your Spanish style bedroom, you will have to decide first if you're going all-out traditional in the application of this style or if you want a touch of modern and contemporary elements to the mix.
Whether you choose a traditional or a modern Spanish style look, the heavy use of seamless furniture and metallic materials like steel and iron is evident.
If you want help with the possible decor, accents, and accessories to add to your bedroom, here are some options you can explore.
• Antique lace on the bedding
• Intricate rugs on the floor
• Stained glass windows and murals on the walls
• Vines climbing up on a wall
• Wall paintings (With religious scenes or significance)
• Painted tiles on the accent wall
• Spanish pottery pieces with neutral tones and earthy shades
• Built-in bookshelves with wrought iron detailing
• Heavy blackout curtains in brown and dark red
• Mexican clay vases and pots
• Colorful Mexican ceramic pieces
• Patterned rug on the wooden floor
• Similar intricate patterns on the lamp (on top of the wooden side table), pillows, and french windows
• Subtle woven seagrass rug (With flower vases, lamps, and even sheets and blankets using the same subtle pattern on the rug
The key to the choice of details for the decor of your Spanish style bedroom is the unity of the design or pattern used. If wrought iron is rampantly used in the furniture, take into account the similar patterns on the walls and the lighting fixtures.
If you use patterned tiles, consider mimicking the same pattern on other elements like the lamps and even the accent wall. You can also use the design on your stained windows as an inspiration for what framed paintings to consider for your walls, as well as what colors to use for your bed sheets, blankets, rugs, and even curtains.
The use of the same patterns and designs on the different elements in your bedroom gives it a more unified and harmonized look. The bedroom will appear more put together.
See more related content in our article about the best Parisian style bedroom ideas on this page.